The 123 Affiliate Marketing program is a course that offers information, strategies, and resources for individuals interested in earning money online through affiliate marketing.
Now let's objectively assess whether it lives up to its reputation or falls short, through this thorough review.
When considering courses and programs that claim high returns and a luxurious lifestyle, it is important to make informed decisions. This comprehensive review of the 123 Affiliate Marketing program aims to assist you in doing just that.
We will analyze the components of the program, describe its pricing structure, and evaluate its value.
Prepare yourself for an in-depth exploration of 123 Affiliate Marketing.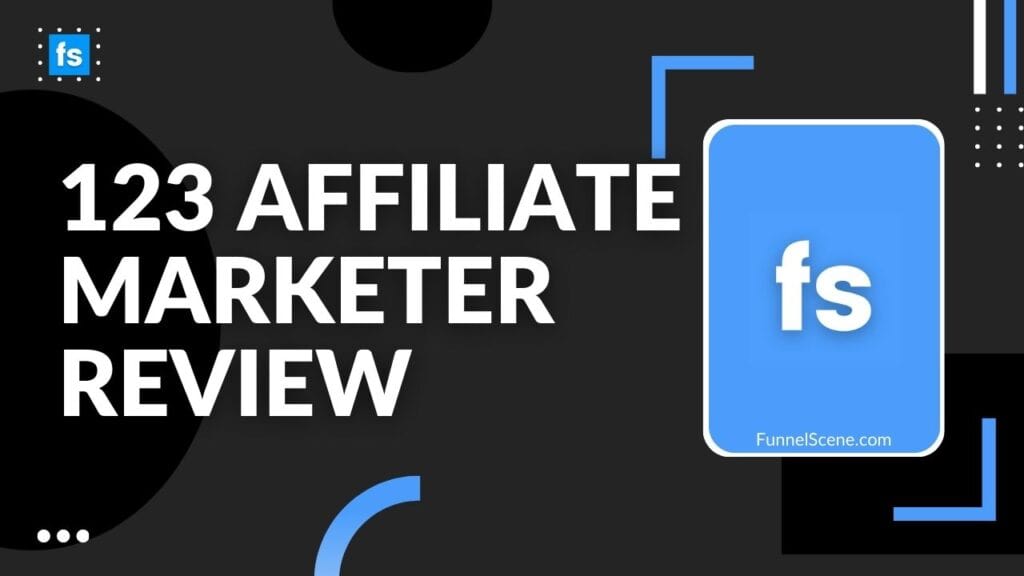 What Is 123 Affiliate Marketing?
123 Affiliate Marketing is an online course that provides instruction on how to generate income through affiliate marketing, offering comprehensive guidance on the intricacies of the practice.
This guide provides students with a step-by-step process for identifying affiliate marketing opportunities, promoting products, and earning commissions. It also includes tutorials, case studies, and resources to support the affiliate marketing journey.
The curriculum offers a thorough guide for students to establish successful affiliate marketing campaigns, which includes identifying high-potential products and creating compelling marketing messages.

Pat Flynn is the creator of 123 Affiliate Marketing. He is a respected affiliate marketer in the online business world and is also recognized as an entrepreneur, blogger, and speaker, particularly known for his contributions to the field of affiliate marketing.
Pat Flynn is the founder of Smart Passive Income, a platform that teaches people about creating profitable online businesses. In 2008, Pat was laid off and decided to enter the online business world, focusing on architecture. His venture quickly became successful and generated six-figure revenues within a year.
He expanded his business ventures and generated passive income through various sources, including digital products, affiliate marketing, software, books, coaching, public speaking, advertising, online courses, and more, eventually accumulating over $6 million.
Pat Flynn is a notable figure in the affiliate marketing industry, as evidenced by his impressive income reports and substantial following on YouTube.
Pat hosts a podcast where he covers a wide range of topics, including passive income generation, course reviews, and updates on his own projects. He provides insights on marketing strategies for Amazon and Kindle, as well as general business advice.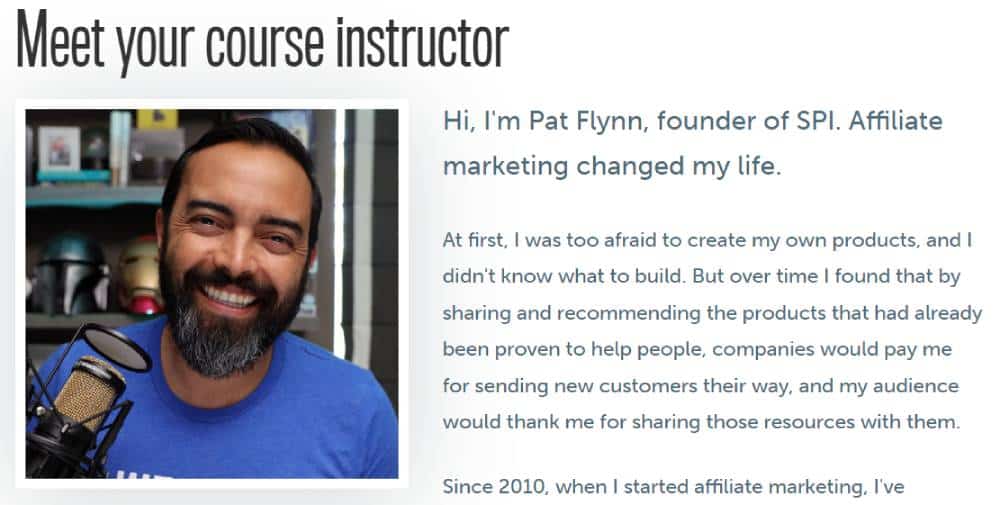 Who Is 123 Affiliate Marketing For?
The 123 Affiliate Marketing program is designed to cater to the diverse needs of online income generation, accommodating both intermediate and experienced marketers.
123 Affiliate Marketing is a comprehensive course that caters to individuals interested in generating online income through affiliate marketing, regardless of their level of experience.
The program provides a comprehensive guide for beginners in affiliate marketing. This course will not only help you understand the basics, but also assist you in successfully setting up your first affiliate promotions.
For experienced marketers, it is important to consider the potential value that this program could offer. Even if you have had previous success, there is always room for improvement.
This program provides valuable insights to improve your current efforts, whether you're looking to diversify your strategies or increase your income.
123 Affiliate Marketing is designed for individuals who understand the potential of affiliate marketing and are prepared to make a complete commitment.
What Do You Get Inside 123 Affiliate Marketing?
Now, let's take a look at the 123 Affiliate Marketing program. The program offers comprehensive training and a variety of resources, such as video tutorials and detailed guides.
The program is organized into different modules that cover various aspects of affiliate marketing. These modules are arranged in a sequential order to assist you in understanding the basics and implementing advanced strategies.
The training program offers 6 modules and 38 lessons. The lessons are short, with most of them lasting less than 10 minutes. The longest lesson is only 20 minutes. It's a quick and affordable way of gaining knowledge.
If you are interested in expanding your audience, this course may not be suitable for you as it does not focus on SEO or email list building. Instead, it provides a guide to help you maximize the potential of your current audience through affiliate offers.
The program starts with a welcoming introduction for new students. It provides an overview of what to expect, tips for making the most of the course, and guidelines for long-term success.
Each module in the affiliate marketing course covers a specific step in the journey, including selecting the appropriate product and effectively promoting it. The course also offers access to an exclusive student community and downloadable course materials to support your learning.
The 6 Step-by-Step Modules

Welcome, Students!
At the beginning, you will have a thorough tour of the entire course. You will see all the content, templates, and other downloadable resources that are available for you to use and learn from.
By enrolling in a course, you will also be joining a community of individuals who share similar goals and experiences.
Intro video, please watch.
Students together.
Download courses.

What You Need to Know Before You Begin
This course provides the foundation for learning the basics of affiliate marketing.
Introduction to Affiliate Marketing
The guidelines for long-term success are necessary and should be followed.
This course provides instructions on how to use it.

Step 1: Choose the Right Product
This module provides guidance on selecting the most suitable products for your niche and audience. It covers topics such as affiliate links, establishing relationships with affiliate companies, and more.
What types of products are most effective?
Let's think!
Choose your next product.
An affiliate link is a type of link.
How can I get an affiliate link?
No affiliate link?
What are the recommended actions to take with your affiliate link?
Establishing a partnership with the affiliate company.
Before starting promotion,

Step 2: Passive Promotional Strategies
In this guide, you will find useful information on effective strategies to passively promote your chosen products. This includes techniques such as adding links to your archive and new content, setting up profitable pages, implementing home page conversion strategies, and more.
What are the strategies used for passive promotion?
You can enhance your archive by including links.
Including links to your new content can be beneficial.
Creating a highly profitable page for your business.
Strategies for increasing conversion rates on the home page.
A page that is high-performing and likely not in your possession.
Unleash the Power of Your Email Autoresponder Sequence!
Unleash the Power of Passive Promotional Strategies!

Step 3: Active Promotional Strategies
This module provides information on various techniques to market your affiliate products, including demos, step-by-step processes, interviews, email broadcasts, and affiliate bonuses.
What are the strategies for promoting?
Here is a round-up of the top tools.
There is a demo.
There is a step-by-step process.
There is an interview scheduled.
The sentence "The Before and After" remains the same in a neutral tone of voice.
Email broadcasts are available for you.
Affiliate bonuses are available.
The initial affiliate campaign.
The next steps are to be determined.
Opportunities for affiliate partnerships are available.

Affiliate Marketing Recipe Book
This module provides a collection of resources, including books, software, and online courses, to further enhance your affiliate marketing skills as the final step in your journey.
This is the Recipe Book.
Books are a form of literature.
Unleash the power of software and watch your digital dreams come to life!
Learn online.
The 123 Affiliate Marketing program provides a comprehensive and step-by-step approach to affiliate marketing, covering various aspects throughout the 6 modules, ensuring that individuals are well-prepared to expand their affiliate business.
The course does not cover lessons on growing an audience or SEO. Its main focus is on monetizing your existing audience through affiliate offers.
How Much Does 123 Affiliate Marketing Cost?
It is important to understand the cost of a program like 123 Affiliate Marketing, particularly when assessing its potential return on investment.
With numerous online courses and training platforms available today, it is essential to determine if the cost aligns with the value provided.
The 123 Affiliate Marketing program provides students with two options: lifetime access or subscription-based access.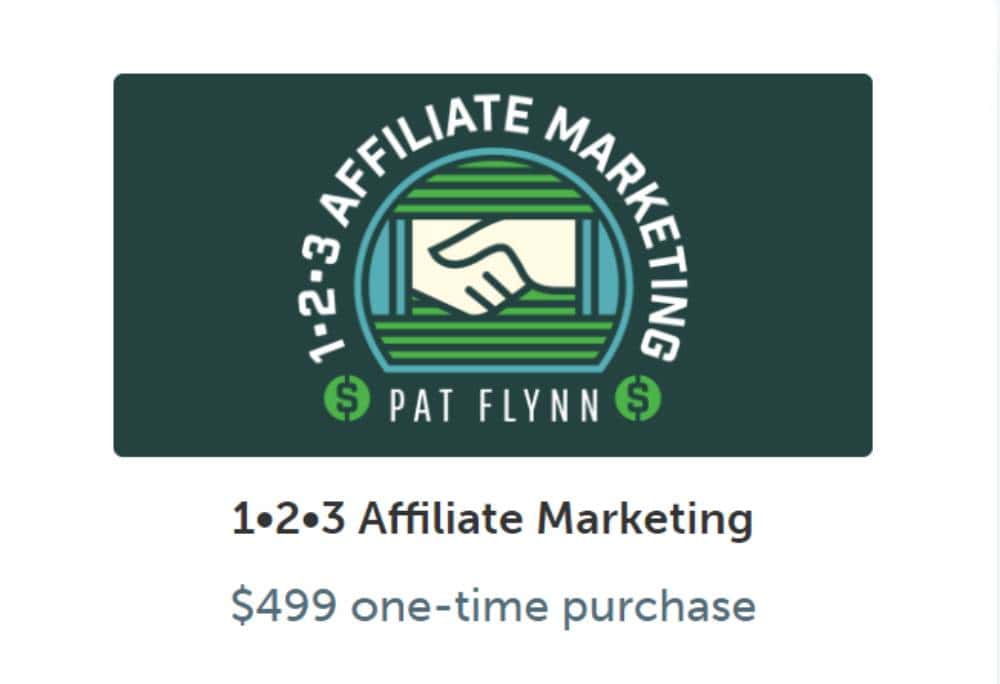 The 123 Affiliate Marketing program offers a lifetime access option for a one-time fee of $499. This option is suitable for individuals who desire unlimited access to the course and its materials for an indefinite period. It eliminates the need for recurring fees and allows for self-paced learning without the constraint of a subscription timeframe.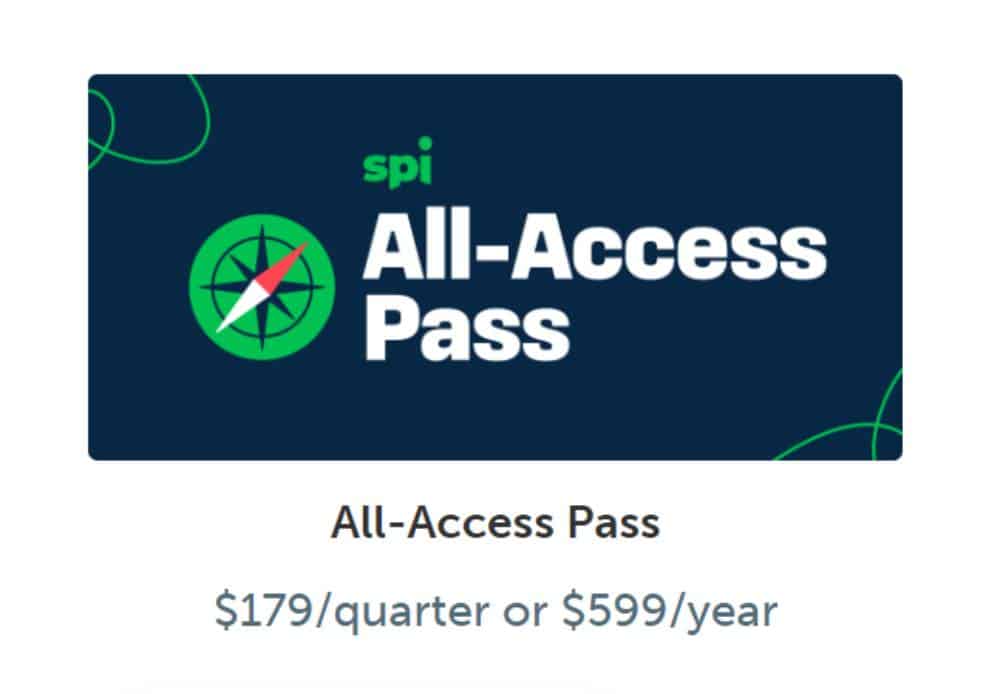 The Smart Passive Income All-Access Pass
You have the option to choose the Smart Passive Income All-Access Pass. It is a subscription-based access with a cost of $179 per quarter and $599 per year. This pass includes not just the 123 Affiliate Marketing course but also access to other courses. If you want to enhance your understanding of online business, this all-in-one access could be highly beneficial for you.
Prospective students should be aware that there are additional costs associated with 123 Affiliate Marketing, including the need to invest in necessary tools such as an email marketing platform. These tools will enhance the learning and application of the course content.
According to Pat Flynn, the course creator, it is recommended to consider the course fee and the cost of an email marketing tool like ConvertKit when budgeting for 123 Affiliate Marketing to have a complete understanding of the financial commitment.
Pros and Cons of 123 Affiliate Marketing
The 123 Affiliate Marketing program has both advantages and disadvantages, and a list of pros and cons has been compiled to offer a balanced review of the program.
This evaluation is important in determining the program's value as an investment. Let's examine it further.
Pros of 123 Affiliate Marketing
Pat Flynn is a respected figure: One advantage of 123 Affiliate Marketing is its creator, Pat Flynn, who is well-known in the online marketing industry for his honesty and integrity. Flynn's reputation adds to the credibility of the program.
No Overhyped Promises or Shady Marketing: 123 Affiliate Marketing stands out from other online programs by providing an honest representation of what customers can expect, offering a refreshing perspective in a market often plagued by false promises.
The Training is Concise: The program provides training materials that are concise and straightforward, free from unnecessary details, allowing learners to quickly and effectively understand the concepts.
15-Day Money-Back Guarantee: The program offers a 15-day money-back guarantee, demonstrating the company's confidence in their product and offering a safety net for customers who may not find it suitable.

Cons of 123 Affiliate Marketing
Lack of Significant Success Stories from Students: One of the program's limitations is the limited number of success stories from students. Although there are a few testimonials, the lack of significant success stories may discourage potential students.
Somewhat Expensive for What It Has to Offer: While the program does provide valuable content, the cost may be a consideration for those with limited budgets.
No Training on Building an Audience or Generating Traffic: The program does not provide sufficient training in key areas such as audience building and traffic generation, which are essential aspects of affiliate marketing. This lack is a significant disadvantage.
Core Training is Rarely Updated: The world of affiliate marketing is constantly changing, and it is important for training tools to stay updated. However, 123 Affiliate Marketing's core training is not regularly updated, which can be seen as a disadvantage.
Training Materials Lack Depth: The training provided may have limitations and might not cover all necessary aspects, which could result in students lacking the skills required for affiliate marketing.
No Mention on Sales Page of Expenses Beyond the Price of the Training: An area of concern is the limited information provided on the sales page regarding potential additional costs beyond the training fee. This lack of transparency could result in students incurring unexpected expenses.
It is important to consider the pros and cons of any program before making an investment. This will give you a comprehensive understanding of what you are committing to and whether it aligns with your goals and budget. It is advisable to conduct thorough research before making a decision.
Is 123 Affiliate Marketing a Scam?
When we find online programs, we wonder if they're credible. We often find affiliate marketing programs that claim to help us succeed.
Regarding the legitimacy of 123 Affiliate Marketing, it can be safely stated that it is not a scam. It is a legitimate program that provides training and resources for individuals interested in affiliate marketing.
The transparency of the process is notable, as it focuses on building a strong foundation for long-term success rather than promising overnight results. The reputation of Pat Flynn adds credibility to 123 Affiliate Marketing.
However, like any other product or service, affiliate marketing has its drawbacks that may affect your decision to invest. While 123 Affiliate Marketing offers a comprehensive guide to improve your affiliate marketing journey, it is important to consider various factors.
One of the main disadvantages is the price. The cost could be a significant obstacle for those with limited finances. It is important to consider whether the potential return on investment justifies the initial expense.
Although the program provides a general overview, there have been reports from users about certain areas lacking depth. This could result in gaps in understanding that may impact success in affiliate marketing.
If you have an online audience and want to monetize it through affiliate marketing, this course could be suitable for you. However, if you're new to affiliate marketing, be aware that the course may not provide the level of detail you desire.
The legitimacy of 123 Affiliate Marketing as a potential scam has been discussed. While 123 Affiliate Marketing provides valuable insights and resources for affiliate marketing, its high cost and limited coverage in certain areas may not be appealing to some potential users.
It is important to consider the potential drawbacks and benefits of this program before making an investment decision.
Is 123 Affiliate Marketing Worth the Cost?
Investing in an affiliate marketing course is a significant decision. It requires both financial investment and time commitment. Is 123 Affiliate Marketing a worthwhile expense? Let's examine this query.
123 Affiliate Marketing is a program created by Pat Flynn, an expert in affiliate marketing, to assist individuals in navigating the affiliate marketing industry. The value of the program in relation to its cost varies depending on your specific goals, experience, and budget.
Experienced affiliate marketers may not find as much value in 123 Affiliate Marketing, as they may already be familiar with the information provided in the course. However, it could still provide useful insights, particularly regarding the strategies and techniques employed by Pat.
The cost of 123 Affiliate Marketing is high. However, whether it's worth it depends on your specific needs. If you're an intermediate marketer looking to improve, then it could be worth the investment. But if you're an experienced marketer already familiar with affiliate marketing, you may want to reconsider.
It is a fact that earning money requires effort, and the more effort you put in, the higher your potential earnings can be.