No doubt, if you've heard of the Roadmap to Riches course that offers resell rights, you may have had a mixture of emotions. For me, it sounded like a great opportunity, then the more I dug into it, it started to sound a little scam-like. So after a lot of research, here is my full Roadmap to Riches review.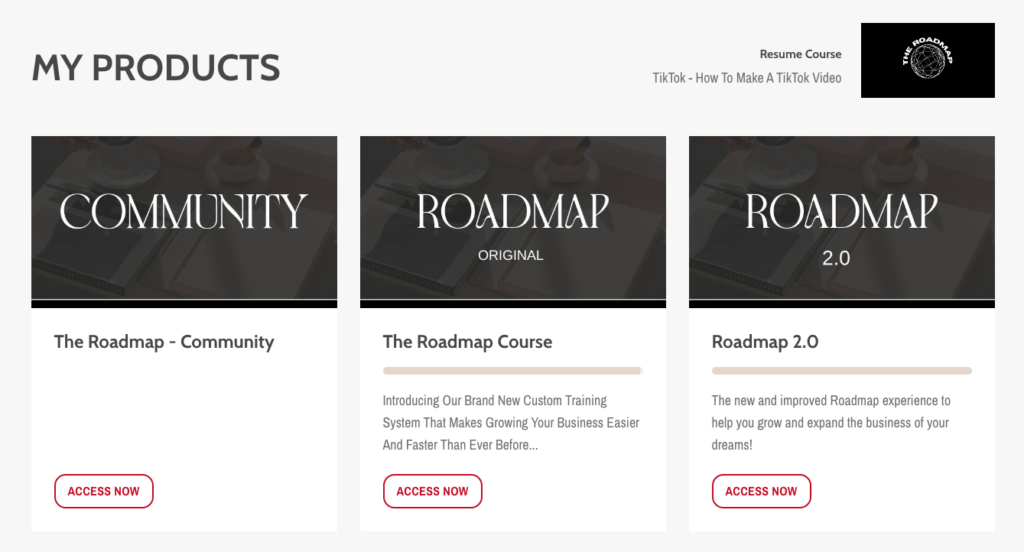 Roadmap to Riches Review: What is it?
The Roadmap to Riches program is a course and community created by 2 entrepreneurs that teaches all about digital marketing, online systems, online business, and, a success mindset. The course itself was designed for small business owners in mind who are looking for ways to market their business online to get more sales.
Before I purchased the course, I spent a lot of time researching reviews and checking out the course criteria. I had to admit, it actually looks like a pretty solid course!
There was one thing that really caught me off guard when I saw it, and you probably had the same reaction. If you purchased the course, you also have the ability to resell the course, market it as your own, and keep 100% of the profit.
This isn't something that courses normally include, and that's when I started finding other people actually selling their own version of this course.
You may have even seen some name variations to the course around the internet, including "The Roadmap" "Roadmap to Riches" or even "Master Resell Rights" or "MRR". It's safe to say, this digital product is really starting to get traction. 
What does Master Resell Rights (MRR) mean?
If you haven't heard of this term before, it's nothing uncommon. MRR (not to be confused with monthly recurring revenue) is a type of resale rights you can purchase for digital products which can then be resold at the same price or what is stated in the terms.
You can usually package the product with other offerings and name the package as a product, but with this type of right, you can not adjust the content or say you created the course.
Do the Roadmap distribution rights have rules?
Yes, you HAVE to resell the product at $497 which is the normal cost. You also can't modify the course contents or say you created the course.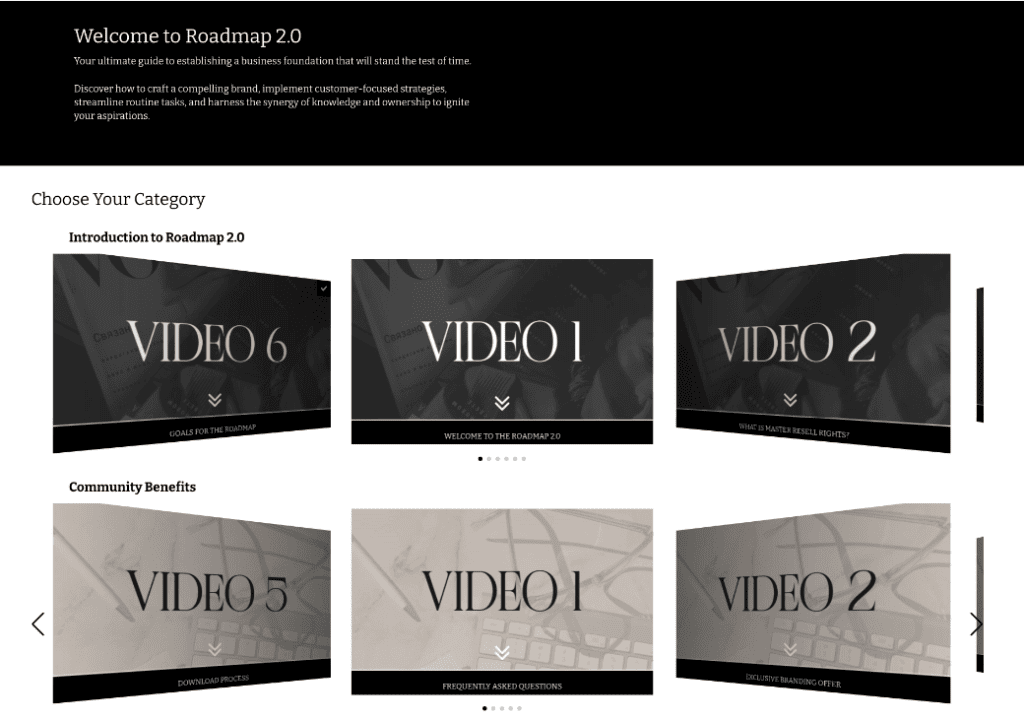 What is actually inside the course?
At the point of writing this review, the Roadmap 2.0 course has just been released. This includes 28x core modules, a community you can join and weekly calls you can attend via zoom.
The training modules include:
Introduction to Roadmap 2.0 (6 videos)
This first module is an introduction to the Kajabi platform (where the course is hosted) and navigating around the Roadmap 2.0 program. You'll also learn about Master Resell Rights, setting goals, and the community calls.
Community Benefits (5 videos)
This module goes through some of the bonus offers offered to Roadmap to Riches 2.0 members, as well as frequently asked questions and downloading content.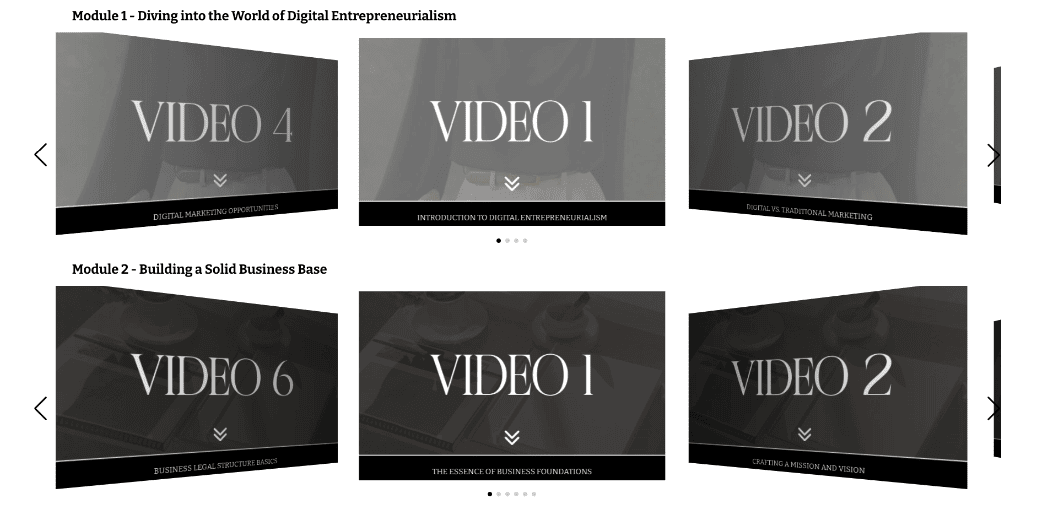 Module 1: Diving into the World of Digital Entrepreneurialism (4 videos)
Now we get into some of the interesting stuff. Perfect for beginners to the digital marketing world. In this module, you'll learn about digital marketing as a whole, the opportunities that present themselves and how this type of marketing is different to what you probably know.  
Module 2: Building a Solid Base (6 videos)
If you've never build a business before, you'll want to go through this module. In here, you'll learn about Core value's and ethics, creating business goals and objectives, crafting a mission and vision statement, etc. This module may take a bit of brain power, but will be worth it in the long run. 
Module 3: Tailoring a Business to your Vision (11 videos)
Before you dive into building your business, you'll first go through the brainstorming phase where you learn how to evaluate your ideas, how to document them, and analyze them compared to the market growth rate.
 After going through this module, you'll be able to identify opportunities and you'll be able to ask yourself if the opportunity is right for you. 
Module 4: From Idea to Market Ready Product (7 videos)
This module is all about deciding what kind of products you should promote or create. Whether a product or service, how to price it, how to test selling it, and how to make it.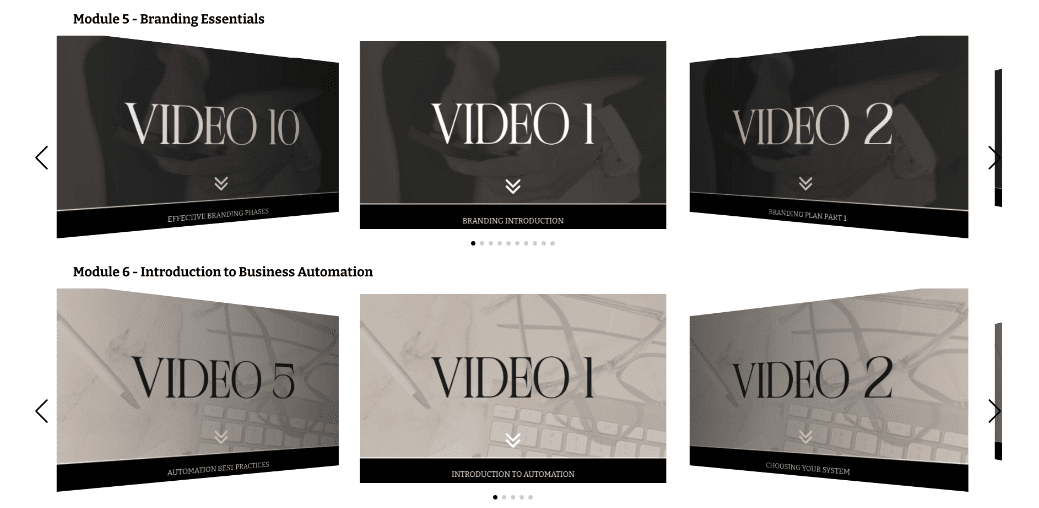 Module 5: Branding Essentials (10 videos)
While building a brand on social media looks like an easy feat, there's a lot to it. You'll learn everything from developing your target market, to developing your buyer persona, getting your brand colours and logo, then finally crafting your brand voice. If you follow this correctly, you'll have a long term branded foundation.
Module 6: Introduction to Business Automation (5 videos)
This is where the fun begins. In this module, you'll learn about the different types of business systems you can build to automate your sales. There are many different types of systems to sell products, so choosing the right one is vital for your success. 
Module 7: Legal Documents needed for the Roadmap (5 videos)
Like all online businesses, you'll need the right legals in place. In this module, you'll go through what's required for you for business including privacy policies, income disclosures, distribution rights, etc. 
Module 8: OPTION 1 – Bypass Funnel with Stan Store (9 videos)
One of the fastest ways to get setup to sell online products without having to use funnels, is by creating a Stan store. The platform Stan store has become wildly popular amongst TikTok users, and is a preferred platform to those wanting to get setup quickly.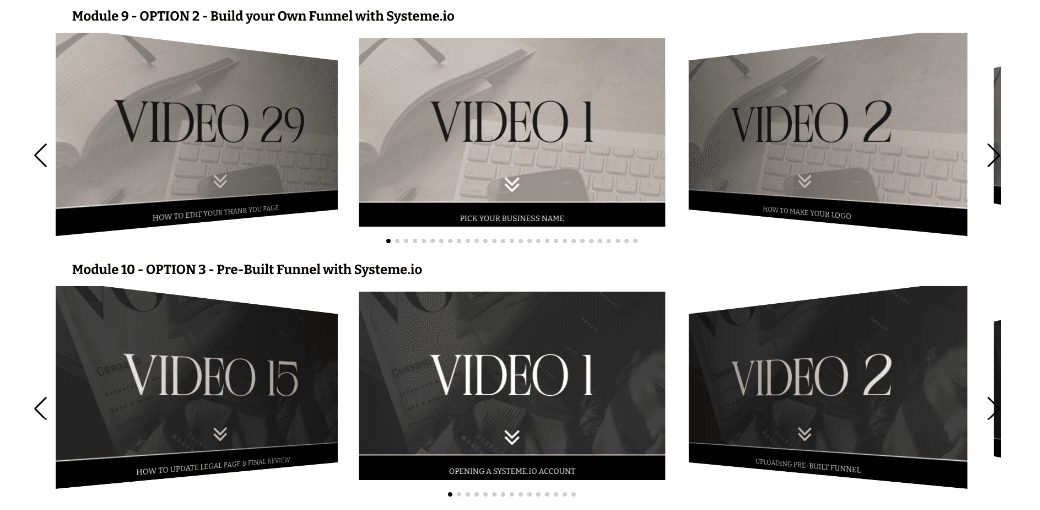 Module 9: OPTION 2 – Build your Own Funnel with Systeme.io (29 videos)
No doubt if you've followed my journey online, you'll know how powerful Systeme.io is, and this is the funnel platform they teach inside of the Roadmap 2.0. In this module, you'll go through all of the necessary steps to build your own funnel from scratch.
Module 10: OPTION 3 – Pre-Built Funnel with Systeme.io (15 videos)
The Roadmap program also includes a pre-built funnel inside of Systeme you can use to use to resell the Roadmap with Master Resell Rights. However, the funnel is very plain and requires a lot of editing.
Luckily, if you purchase the Roadmap through me, you'll get my custom Roadmap 2.0 sales funnel, training and email sequences to get set up in hours, not days or weeks.
Module 11: OPTION 4 – Using Stan Store and External Systems Together (2 videos)
In this step, they teach you how to build an additional website page using Canva to link to your Stan Store. This is a work around step, and personally I would stick to building an entire sales funnel if you treasure conversions. 
Module 12: How to Test a Funnel (4 videos)
Once you have built your funnel, this module will teach you all the steps to go through to test it actually works. Nothing worse than a funnel that has issues! That could be lost money. 
Module 13: Email Marketing Mastery (8 videos)
Next on the training schedule is stepping up your email marketing game. In this module, you'll learn about creating an email list, building your subscriber base, creating email automation and being compliant. This is probably one of the most important modules if you want ongoing sales!
Module 14: Email Marketing with Stan Store (1 video)
If you are using a Stan Store, this walks you through the process of email marketing using the Stan Store.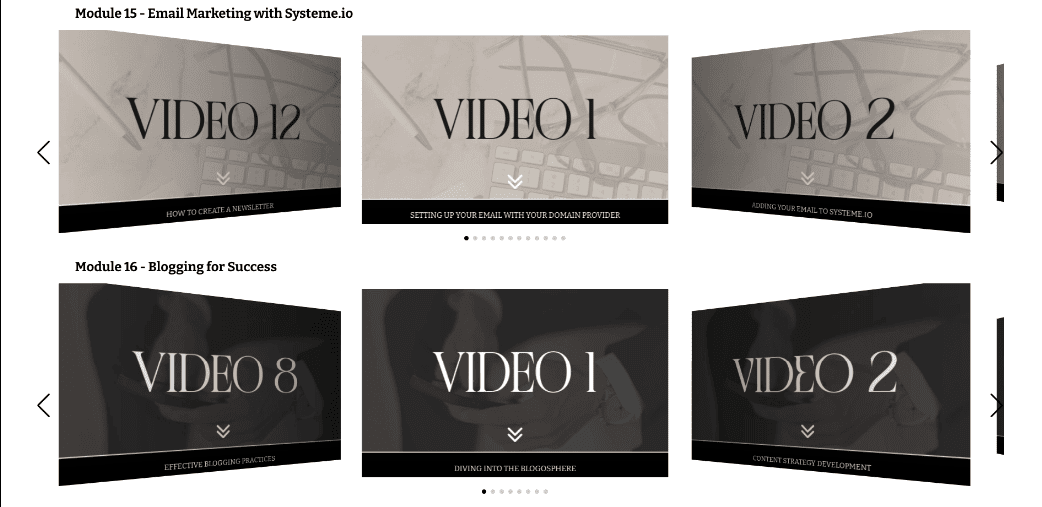 Module 15: Email Marketing with Systeme.io (12 videos)
Once you've gotten started with Systeme, you'll learn now how to build out an email list, email campaigns, and email automations. Systeme is a great platform for email marketing as the delivery rate is very high! Perfect for your marketing efforts as it will work for you all day everyday. 
Module 16: Blogging for Success (8 videos)
For those looking to get into Search Engine Optimisation (SEO) this module is for you. You'll learn about how to create your content strategy, keyword research, crafting blog posts and optimising them. Blogging by no means is a quick winning strategy, but if you are persistent, it's a long term rewarding one. 
Module 17: Online Marketing (13 videos)
Online marketing, probably one of the most relevant ones you will go through, especially for myself. If you create content, this module will teach you how you should be making it.
To tell you the truth, this module alone gave me more value than what I paid for the course. Reason being, is because I would always create content to hope something stuck. When in reality, I should have just followed these fundamentals of how to create content.
Definitely a goodie!
Module 18: Business and Content Optimization Tools (11 videos)
If more conversions with less effort sounds good to you, then this module will show you how you can use third party tools to help grow your business. Think of tools like Manychat, ChatGPT, etc.  This may be the crash course you need to get to that next level.
Module 19: Navigating Business Challenges (4 videos)
No doubt you will face some business challenges during your time in this course. This module will show you how to overcome setbacks to help business momentum stay consistent. 
Module 20: Customer Service Excellence (5 videos)
One of the most important modules is about Customer Service. By this, it's not necessarily directed at being a support system, but instead how you should communicate with your audience to increase lifetime value and conversions.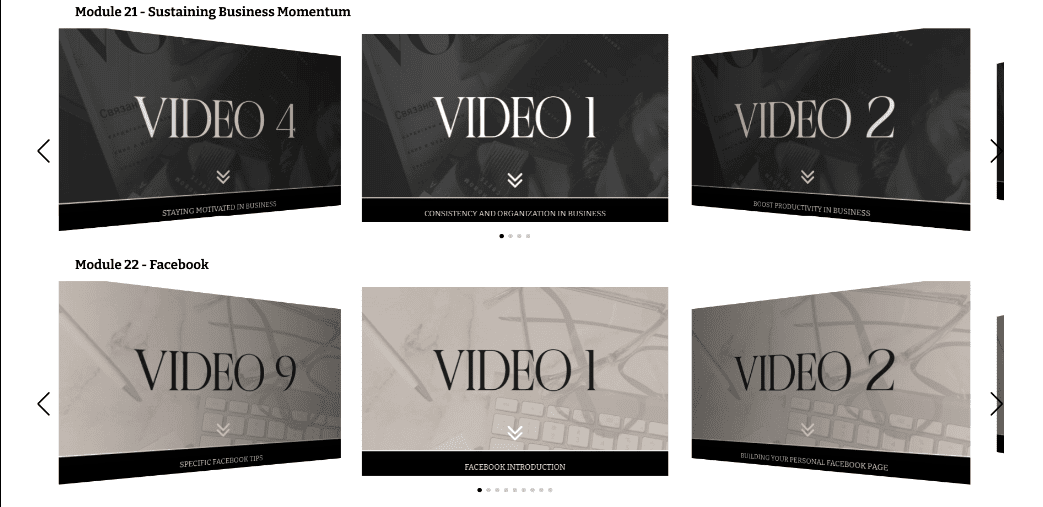 Module 21: Sustaining Business Momentum (4 videos)
Ever started something with full motivation and excitement, only to slow down and eventually fail? We've all been there. This module will give you ideas how you can stay motivated, as well as different tools to improve productivity and efficiency.  
Module 22: Facebook (9 videos)
The Facebook module is a goodie for those who use Facebook on the daily. You learn everything from optimising your account, building a business page, creating short form content and how to target your ideal audience.  
Module 23: TikTok (8 videos)
One of my favourite modules was the this TikTok one. While it seems pretty straight forward what you need to do to get success, there's actually some simple things you must do to maximise reach. 
Module 24: Instagram
Like TikTok, Instagram is another platform that currently has huge viral capabilities, especially with Instagram Reels. In this module, you'll learn how you need to build your account, the type of content you need to create, and how to post them.
Module 25: YouTube (12 videos)
Youtube is a traffic machine if you know how to use it. That's why in this module they teach you how to start from scratch, optimise your channel, and focus on building the right content right from the word go.  
Module 26: Pinterest
At the time of writing this article, Pinterest isn't yet available. It comes out in December 2023! Will update it then.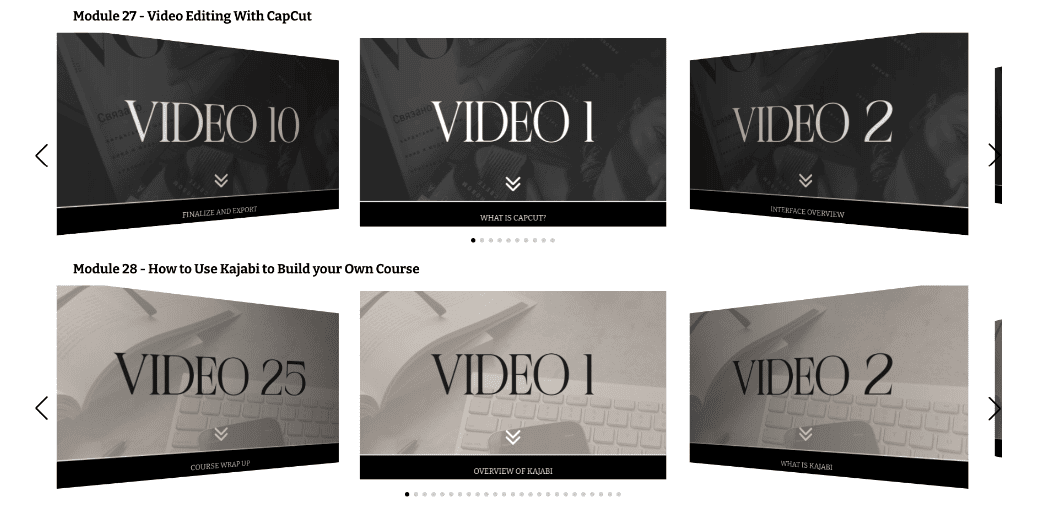 Module 27: Video Editing With Capcut (8 videos)
Capcut is a very popular video editing tool, especially for short form videos. In this module, you'll learn how to edit videos using Capcut, how to add captions, transitions and export videos how social media likes them. 
Module 28: How to Use Kajabi to Build Your Own Course (25 videos)
Finally, once you've gone through this whole course, you'll no doubt know more than 99% of all online marketers. The icing on the cake will be in this module as you learn how to build your own course using the platform Kajabi which the Roadmap 2.0 is hosted on.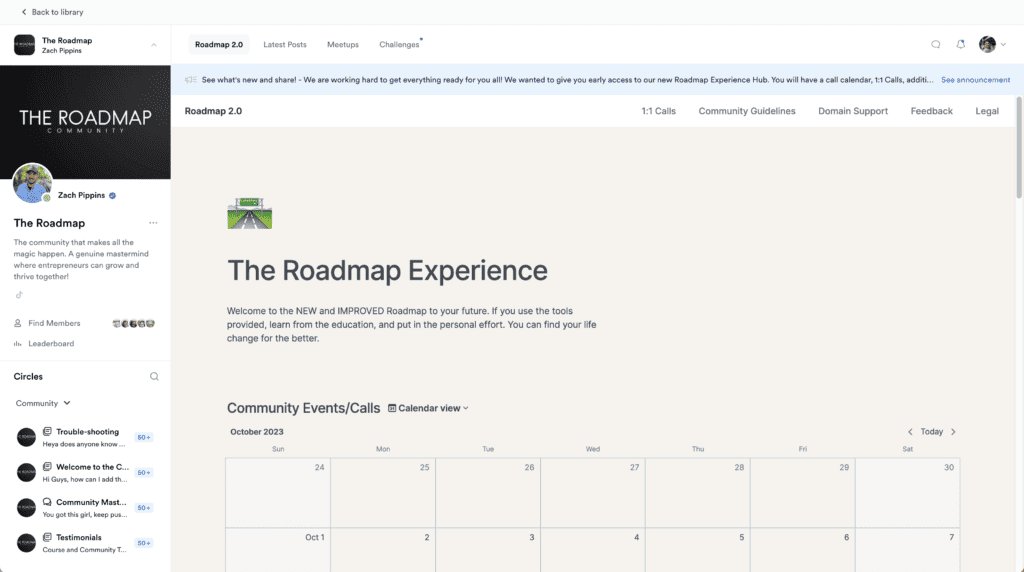 The Roadmap Community
On top of the core modules, you'll also get access to the main member's community where you can see how others are getting on with the program. For some users, this was one of the main selling points for them and they described it to be a "vibrant community helping them with their digital journey".
Who is this program for?
After going through the training and seeing users' results, there are a few types of people who would suit this program. 
I'd say the course itself would suit:
Small business owners who aren't yet online
Digital product and course creators who don't know how to sell
E-commerce store owners who want to know how to market better
And the incredible opportunity of MRR would suit:
Stay-at-home moms and dads
Network marketers that want to have another product to sell their downline
Affiliate marketers wanting a higher commission
Anyone looking to start making money online, but doesn't have a product to sell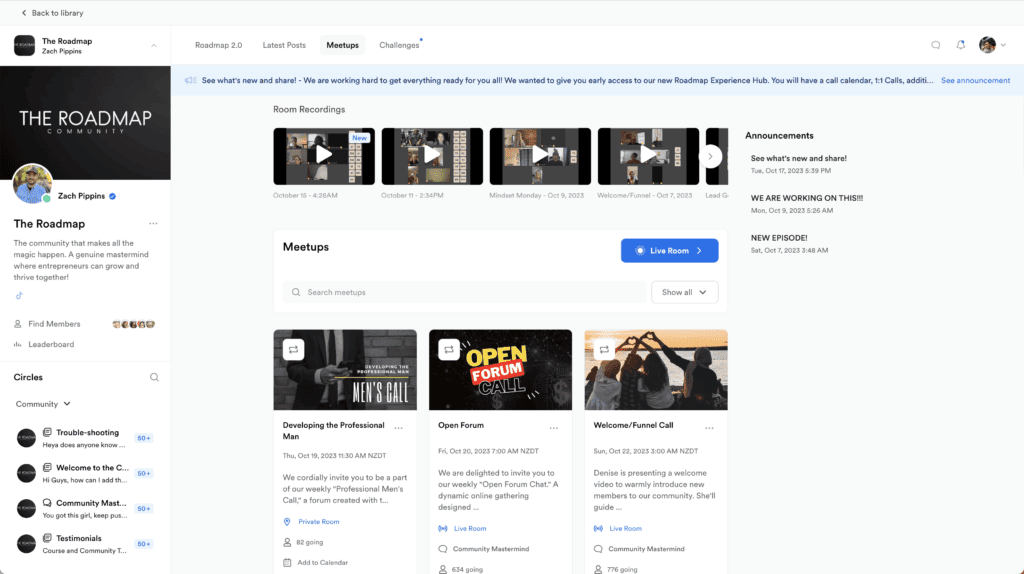 Roadmap to Riches Review: Final Verdict
As much as I didn't want to like the idea of this course, it's actually a great offering. The hardest thing I see people struggle with, especially in affiliate marketing, is they put in all of the effort of learning marketing and promoting other people's products, then upon making sales having to wait months for the commissions to clear before getting paid. On top of that, the commission is always less than half.
However, with the resell rights in this program, new marketers now have something they can market and earn 100% profit on so all their hard effort can be a much higher reward for effort. That and the money goes directly into the seller's account.
It's essentially like creating a course and selling it, except you can skip the creation process which speeds up the time frame to profit.
Would I recommend this course?
Yes. I do. It's the shortest path to learning how to set up sales funnel & automation, and sell products. This means, if you ever wanted to sell your own, you'd already know how to set it up and you'd also have the know-how to actually sell it.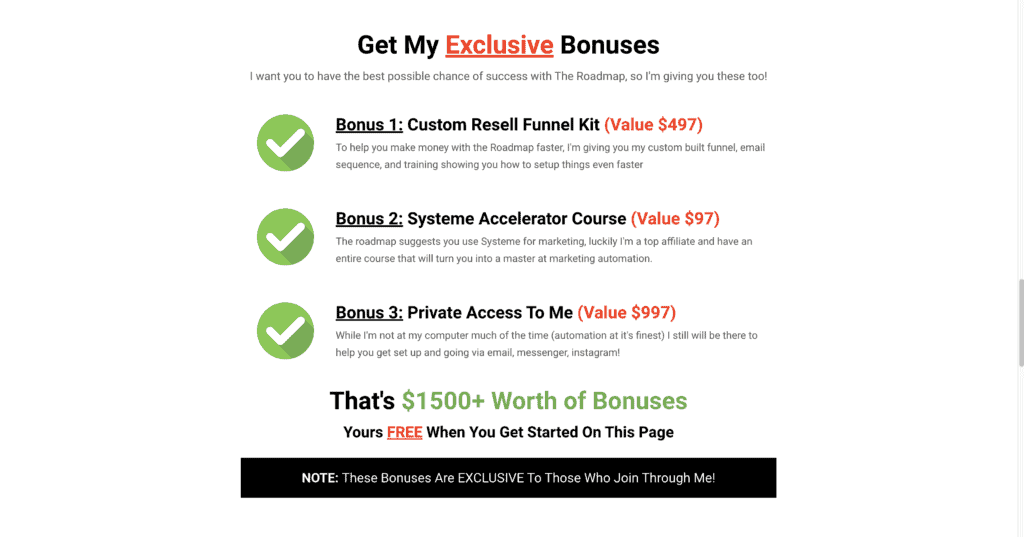 Roadmap to Riches with Master Resell Rights Bonus
As a thank you to those who decide to join this program using my resell link, I'm also giving you these bonuses to help you get success even faster
Bonus 1: Custom Resell Funnel Kit (Value $497)
Since I decided to resell the Roadmap to Riches course, I went and built a fully custom sales funnel complete with automations and emails. It took a solid few days to build, and is converting really well. I'll be giving this entire funnel system.
Bonus 2: Systeme Accelerator Course ($97)
The most comprehensive A-Z Systeme IO course on how to use the platform Systeme which is what you will use to build your own business in this program. This will heavily reduce your setup time.
Bonus 3: Private Support Access ($997)
If you decide to resell this program, I or my team will be available to message on Instagram, Facebook and email to help you with any issues. This can include but not limited to screen sharing videos, zoom calls, special training videos, etc.
Frequently Asked Questions
What is the Roadmap to Riches course?
The Roadmap to Riches is a course focusing on building a brand, building marketing systems, growing a social media presence, and selling courses. There is currently 27 modules to the course, and it includes a community with weekly calls.
How much is Roadmap to Riches?
The Roadmap to Riches course is $497 depending where it is sold. The master resell rights state it is not allowed to be sold for anything less than $497 so the price could be higher depending on the reseller.
What does the roadmap to riches teach you?
The Roadmap to Riches teaches you how to plan a business, build a brand, find your target audience, grow your audience, build systems to sell products, and eventually sell your own courses. It is comprehensive and also has a community that hosts weekly calls for it's members.
Is the Road to Riches Master Resell Rights course legit or a scam?
This program is legit, however, it seems some resellers are marketing it similar to how some network marketing companies have been marketed. This gives some people a bad feeling about it, however, there is nothing wrong with the course or rights being sold.
When I join, when do I get access?
After purchasing the course, you will receive login information and have lifetime access. This means you can visit it whenever you want in your own timeframe.
Will this provide financial freedom?
This is an educational course, nothing including the course content or reselling setup will guarantee you any type of income or results. There is a potential to make money, but there is also potential to make nothing. Only join this program if you're willing to learn from the course, or put in the work to resell it. 
Is Master Resell Rights affiliate marketing?
No. With master resell rights, you are directly taking payment from the consumer, and then the digital product or course is delivered to the consumer. In affiliate marketing, the consumer pays the creator of the digital product or course, and they pay you, the affiliate, after a certain amount of days specified in the affiliate program terms.
Is Master Resell Rights legit?
Yes. Master Resell Rights is a type of license you can obtain for certain digital products. This is a normal type of license that has been around for decades.
How many modules are in the Roadmap to Riches
At the time of publishing this article, there are 27 modules inside of the Roadmap 2.0 course. Each module has multiple lessons that build up the module, and there was well over 100 lessons in total.
Are there refunds for this program?
Unfortunately, part of the terms of this program include no refunds. If you have any hesitation or are unsure, don't purchase. 
There is no guarantees with business, the same applies with this. It's an educational course showing you what is working for others. What you do with it is entirely up to you.