This review will provide an overview of the Affiliate Lab course offered by Matt Diggity, a highly respected SEO educator, including some sneak peeks.
Matt Diggity is known for his success in generating substantial revenue through website growth and flipping. We have been a follower of his for three years, and his teachings are supported by data, experiments, and can be relied upon.
In just four days, We devoured the course and gained a treasure trove of valuable techniques that unlocked the secrets to building, optimizing, ranking, and making money from an affiliate website through the power of SEO.
This review provides an overview of what this course offers, including its strengths and weaknesses, as well as a $200 discount on its price.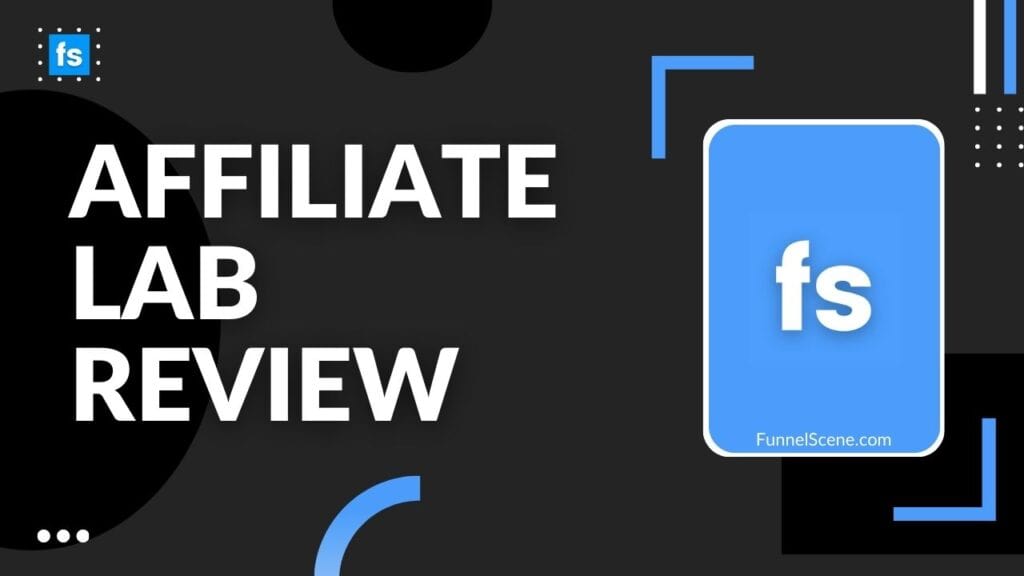 Pros and Cons of the Affiliate Lab
The course has both pros and cons that should be taken into account.
This article will provide a comprehensive overview of the advantages and disadvantages, with further details to be discussed later.
The Affiliate Lab is an online course designed to teach people the basics of affiliate marketing. The program is structured into four main sections, each teaching a different part of the process. At the end of each section there are tests and quizzes so that students can assess their progress. One of the key advantages of this course is its comprehensive coverage.
Pros:
Teaches techniques that fall within the grey hat category.
The process of simplifying complex topics.
The work has supporting evidence for the teachings.
The purchase is a one-time payment that grants lifetime validity.
Cons:
The pricing is challenging to understand.
Refunds are not available.
The sound quality was unsatisfactory.
Certain unethical practices are taught.
Some older modules require updating.
Some bonus modules may be challenging to understand.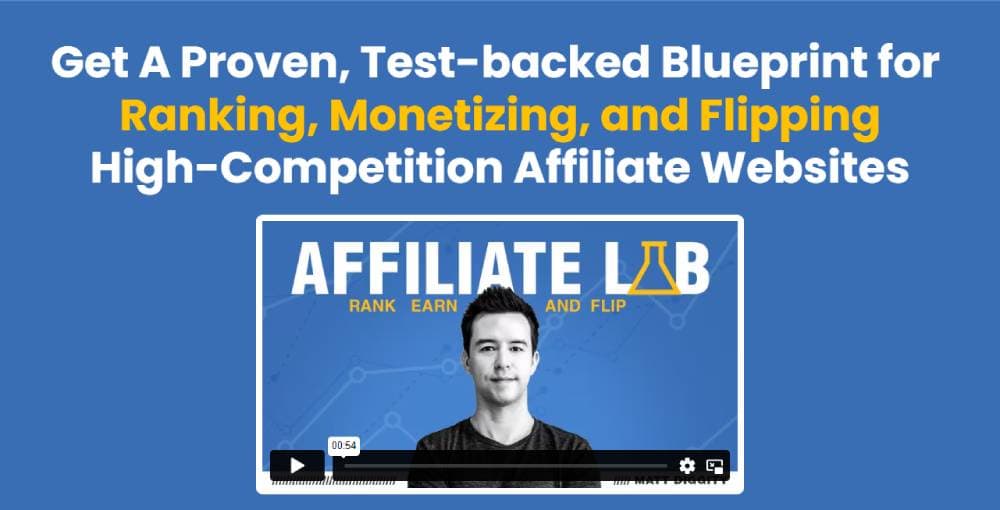 Matt Diggity transitioned from being an electrical engineer to becoming an SEO expert. Upon discovering the concept of website ranking and affiliate commissions, Matt made the decision to pursue it as his primary career.
After gaining expertise in website flipping and learning the ins and outs of it, he decided to create a masterclass on SEO and affiliate marketing to share his knowledge and techniques. This led to the creation of The Affiliate Lab.
Every year, he organizes an SEO conference in Chiang Mai, Thailand, which resembles an Affiliate lab community meetup and is widely considered one of the top SEO events worldwide. The success of his course is evident through the positive feedback of thousands of students.

How does the Affiliate Lab work?
Now, let's focus on the course and the experiences we had while using it. Upon completing the registration process, We are directed to the main dashboard of the website. The dashboard contains the primary Affiliate lab course and extra bonuses included with the subscription.
The course includes 12 main modules, with each module providing detailed lessons on various aspects of affiliate marketing. The course covers topics such as keyword research, content creation, link building, traffic generation, and email marketing.
The course also offers 24/7 support via email and a private Facebook group. We were able to get answers to my questions quickly and the other members of the group were very helpful.
We found the content of the Affiliate Lab course to be comprehensive and well organized. The modules are easy to follow and each one contains concrete examples in order to help you understand the material better.
Here are the bonus courses in the bundle:
Learn to flip websites with the Website Flipping Masterclass.
Beginner Lab
The file is available for download.
The facts about penalties.
There is a class called Outreach Masterclass.
Email marketing with affiliates.
The Affiliate Portfolio Playbook is a resource.
Maximize the efficiency of your life.
Testing SEO.
A guidebook for adapting content to different scales.
Learn from Koray Tuðberk GÜBÜR in his Topical Authority Masterclass.
Learn how to master 301 redirects.
AWEPlaybook
Mastering monetization.
Build your personal brand.
The Affiliate Lab course is a comprehensive training on SEO and affiliate marketing, with over 45 hours of intense content.
The course has been updated 84 times and doubled in length since it started.
The video series has over 210 videos, which initially seemed like a large number but were easily manageable due to the engaging explanations and appropriate video length.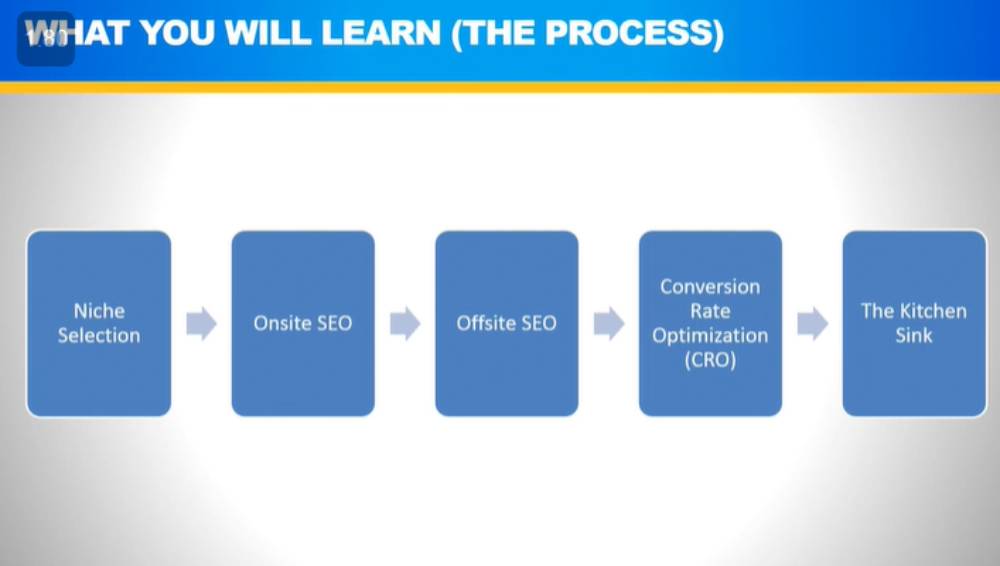 Overview of the Affiliate Lab Modules
Now, let's quickly go over what the course includes. Let me break down the content in a simple way
1. Introduction
The first module begins with an introduction and a welcome note from Matt Diggity. It covers the fundamentals and key areas of focus in the course, instructions for joining the community group, and a guide to utilizing the features within the course.
2. Niche Selection
The following chapters explain the process of selecting a niche and how it can impact a student's rankings and profits.
Matt provides a brief introduction and explains the key differences between a niche and an authority site, as well as the process of finding a niche and utilizing a niche grading tool with a live demonstration.
3. On-site SEO
During this module, we gained knowledge about On-site SEO and the importance of strategically incorporating keywords to enhance content ranking with the algorithm. This module offered a comprehensive insight into the subject.
Domain names are used to identify websites on the internet.
Researching keywords.
Website structure.
Build content.
Build a base.
Optimizing onsite.
Optimize your featured snippet.
Improve your conversion rate.
Furthermore, towards the conclusion, there was a section dedicated to "website maintenance" that outlined methods for creating new content, updating content, and optimizing for keywords. Matt emphasized the significance of On-site SEO and illustrated it using the analogy of a car's frame.
4. Off-site SEO
The Off-site SEO is an important component of optimizing content, as it can significantly impact search engine rankings. It is crucial to implement effective tactics for Off-site SEO in order to achieve desired results.
This module provided a summary of the lessons covered.
Creating a Google-friendly online persona.
Build a social fortress.
Analyze anchor text.
Local citations are important.
Social signals are important.
The strategy of incorporating backlinks.
PBN linking is optional.
Building Tier 2 links.
5. Technical audits
In this presentation, Jay Yap provides an overview of the importance of conducting a comprehensive website audit. He discusses the reasons for conducting these audits and the various factors that need to be taken into consideration. Additionally, he explains the utilization of tools such as Google Search Console, technical on-page and off-page audits, as well as for conducting an audit.
We delved into the fascinating world of Negative SEO, unraveling its intricate types and uncovering the secrets to safeguarding against its cunning tactics. It was a mind-blowing revelation that left me enlightened and empowered.
6. The Kitchen Sink
Additionally, the course introduced a chapter that explained a list of methods to resolve site issues. Matt taught these methods using various techniques, audits, and other important strategies for debugging the site.
The recommended method involved using all of them simultaneously, allowing for a period of time to pass, and then assessing the positive outcomes.
7. Authority-site module
This module specifically addresses authority websites and highlights the distinctions between niche and authority sites. It also provides insights into the common challenges that authority sites encounter.
Authority websites are some of the most powerful online presences today, but there is a difference between niche and authority sites. Niche sites focus on one particular subject or topic while an authority site covers many different topics that all relate to its main theme. This type of website often becomes the go-to source for information and is viewed as an expert in its field.
This includes everything.
Creating authority sites.
Backlinking techniques.
Activities for authority sites.
Possible pitfalls.
Create genuine expertise, authority, and trust.
8. What's Next
In the concluding module, Matt expressed gratitude for the patience and time We dedicated to providing valuable advice as important takeaways from the course. Matt emphasized that while learning is a significant aspect of SEO, experience accounts for the remaining 80%.
We agree with this statement because SEO is a constantly evolving field that requires diverse experience in order to gain mastery and utilize valuable insights from this course.
A new module titled "Scaling Multiple Affiliate Sites" has been added, which covers the reasons for flipping a site and how to determine the appropriate timing for doing so.
Additionally, there were methods in place to manage sites in both sandbox and authority modes.
Affiliate Lab Suit To Which Audience?
This course is beneficial for both beginners and experts in SEO. Beginners can establish a strong foundation, while experts can use it as a guide when facing challenges.
The course provides valuable insights into affiliate marketing techniques that effectively generate traffic and revenue. Reviews from satisfied clients attest to the success of Matt's methods and techniques.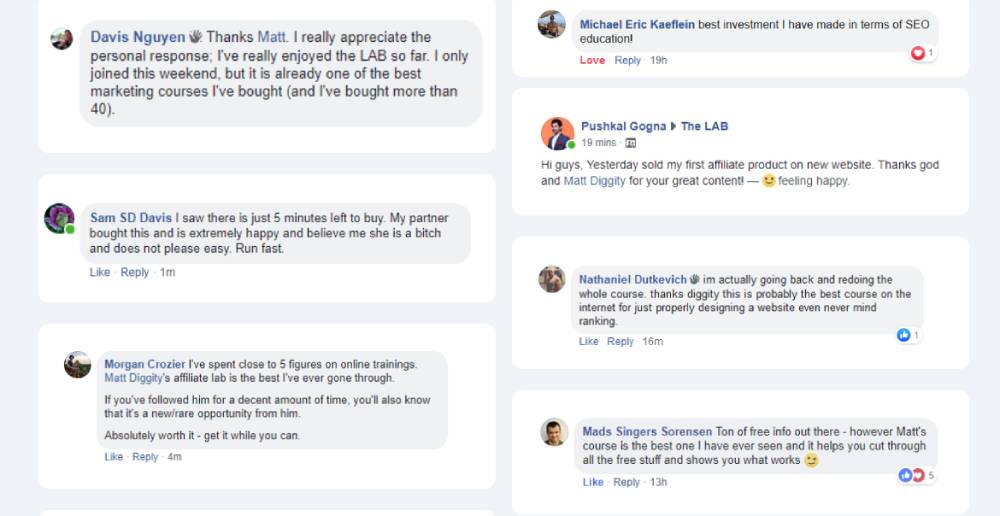 Here are some testimonials from our clients:
Why do we recommend The Affiliate Lab?
We appreciate Matt's proactive approach to exploring new ideas and experimenting. The information he shares is truly valuable.
The platform is frequently updated with new and relevant information on a range of topics. As mentioned earlier, it has been updated 84 times, and the content that was posted over 20 hours ago is now over 40 hours old.
Students have access to a Facebook group with over 3800 members from various industries who can share their different experiences. These platforms enhance the course and help students become self-sufficient once they complete the courseware.
Lastly, there are additional resources, templates, and documents available on the topics. Be sure to utilize them for your own benefit.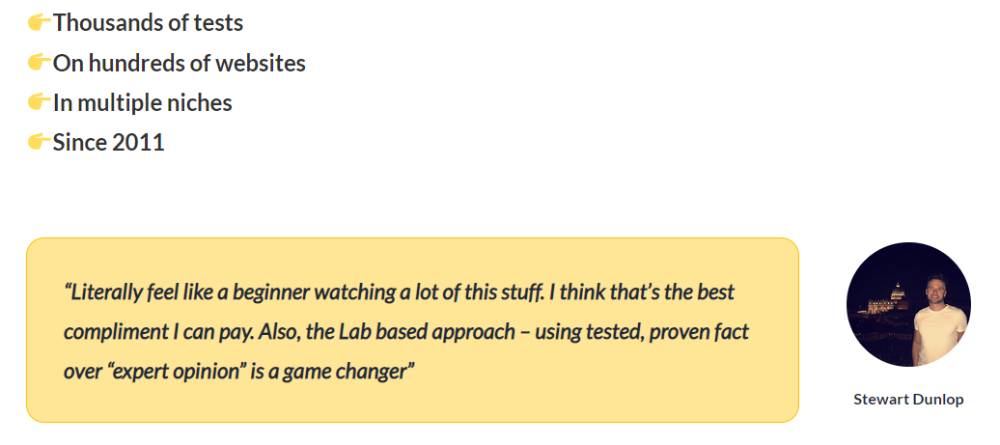 What We Didn't like about the Affiliate Lab?
During the course review, We found the inclusions and interface to be mostly satisfactory, however, there are a few things We did not like and would like to bring attention to.
Here's some important info you should know:
There is no available free trial for students to test out this course. It is necessary to make an informed decision to purchase the course as there is no trial option.
The bonus content included can be extensive, and the instructors may not always teach the subject as effectively as Matt does.
Access to the Facebook community is not available in the same way as other courses.
One potential drawback of the course is the varying audio quality, where some videos are well-edited while others give the impression of a video call with Matt.
Here are some suggestions that may enhance the overall experience.
The Affiliate Lab – Added Bonuses
The course offers additional content besides SEO and affiliate marketing, such as bonus modules, downloadable documents, exclusive member discounts, and an invitation to join Matt Diggity's annual SEO conference in Chiang Mai.
From a financial perspective, the value exceeds the cost, and there is the added benefit of lifetime access to the course and updates.
Some Great Affiliate Lab Alternatives
There are other platforms that offer similar courses with different prices, although this course is well-known and trusted for delivering results to students.
1. The Authority Hacker
The affiliate marketing program offered by Mark Webster and Gael Breton has assisted over 13,000 students from 120 countries. It is designed to cater to individuals of varying skill levels.
The course includes a large number of videos that provide detailed instruction on affiliate marketing, a community for members, templates, and case studies that illustrate the effectiveness of these techniques.
For more information on this course, please read our expert review on Authority Hacker to determine if it suits your needs.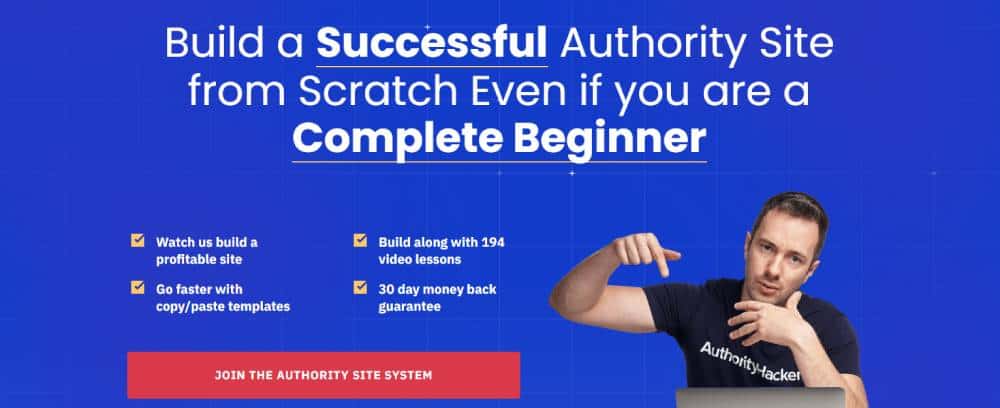 2. Blog Growth Engine
There is another highly rated course available that teaches you how to start, grow, and scale a blog that has the potential to generate up to $10K/month. The course is offered by Adam Enfroy, who has demonstrated his ability to generate seven figures in a year through blogging.
The price of this course may be considered high, but its value cannot be measured solely in monetary terms. Before making a purchase, you can attend their 80-minute masterclass to learn more about the course or read our unbiased Blog Growth Engine Review.
3. Project 24
The course on Project 24 offers comprehensive instruction for beginners on blogging and YouTube, including strategies for generating income from these platforms. It is one of the most affordable options available.
If you are looking for a comprehensive course to teach you the basics of blogging and YouTube, then the Project 24 course is a great option for you. This course offers step-by-step instruction for beginners on blogging and YouTube as well as strategies for generating income from these platforms.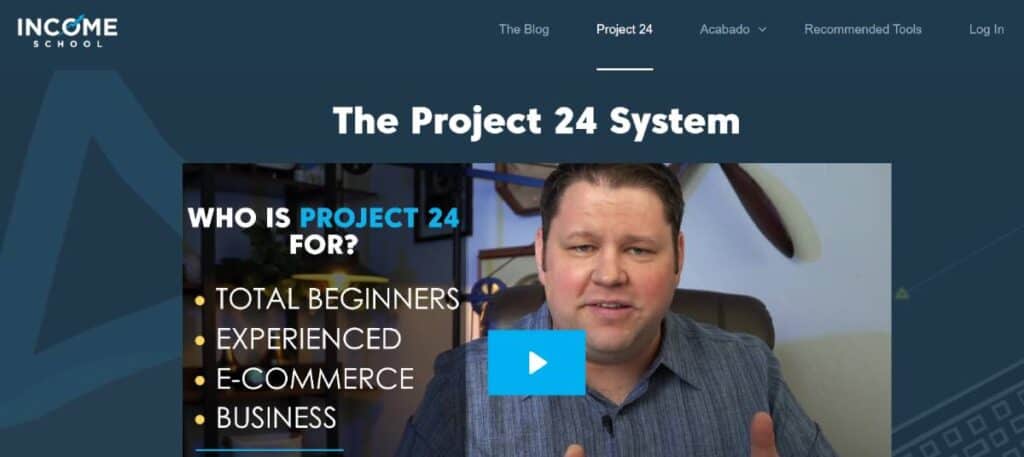 My Honest Verdict On Affiliate Lab
The Affiliate Lab has provided me with valuable information on topics that are often overlooked by others. The focus is on practical knowledge and updates on what works and what doesn't.
The course is priced reasonably and offers a good return on investment. Its focus on building and scaling niche sites can help you create a unique identity, setting it apart from its competition.
Here are some reasons to consider Affiliate Lab.
Matt shares proven techniques that have assisted him in successfully growing and selling multiple websites.
The course is affordable and offers a high value compared to other SEO and affiliate marketing courses.
Once you subscribe to the course, you will have lifetime access and receive free updates.
Accordingly, it is projected that affiliate marketing will reach 40 billion by the end of 2023, and The Affiliate Lab is a valuable resource for gaining an advantage in the market and staying ahead of competitors.
Is the Affiliate Lab course worth it for newbies?
Affiliate Lab is designed for individuals with no prior knowledge of affiliate marketing or SEO. It starts by introducing the fundamental concepts of digital marketing, making it suitable for beginners.
Affiliate Lab is a comprehensive digital marketing training platform designed to teach users the fundamentals of affiliate marketing and SEO. It provides step-by-step guidance for newbies in the industry, making it easy to understand even for those with no prior knowledge.
The course covers topics such as selecting the right affiliate networks, setting up campaigns, and optimizing websites for better visibility.
How long does it take to complete the Affiliate Lab Course?
The course provides 45+ hours of video content, allowing participants to complete it at their preferred pace. On average, most participants finish the course within 3 to 4 weeks.
The Affiliate Lab course is a comprehensive training program built to help aspiring affiliate marketers build and grow their own successful businesses. It provides 45+ hours of video content, allowing participants to complete it at their preferred pace. This is a great advantage, as it allows users to learn at their own speed and take as much time as they need to understand the information.
Are there any upsells to the Affiliate Lab course?
The course does not have any upsell, hidden charges, or extra add-ons. Once you pay, you get access to everything the course offers.
The Affiliate Lab course is a great way for anyone to learn how to make money as an affiliate marketing professional. It is a comprehensive course that teaches you the basics of setting up and running an affiliate business. One of the best things about this course is that there are no upsells, hidden charges, or extra addons.
Does the course help me decide the niche too?
The first module of the course includes comprehensive videos on choosing a profitable niche, providing all the necessary information to make a decision.
Does the course provide guidance about content creation?
The course includes a section called "Content Building" that consists of approximately seven videos focused on creating compelling content to attract more visitors.
How much does an affiliate lab cost?
The affiliate lab course is available for purchase at a price of $997 for a one-time payment or can be paid in two installments of $597 each.
The Affiliate Lab course is an online training program that provides detailed guidance and instructions on how to become a successful affiliate marketer. It was created by respected affiliate marketing expert Brendan Mace, who has been featured in publications such as Forbes and Entrepreneur.
The first module is a comprehensive introduction to the fundamentals of affiliate marketing, while the remaining 7 modules cover topics such as keyword research, content creation, SEO optimization and traffic generation.
Is Matt Diggity's course worth it?
The course offers great value for the price as it includes lifetime updates and bonus modules that can assist in scaling your affiliate marketing business.
Is there any discount on the Affiliate lab course?
For a limited time, there is a $200 discount available on the original price of $997. However, no discount is available for the installment payment option.
If you're looking for a comprehensive course to learn affiliate marketing, then Affiliate Lab is an excellent choice. The course is created by renowned internet entrepreneurs Mark Ling and Gerry Cramer and covers everything from the basics of affiliate marketing to advanced strategies. Affiliate Lab is an online platform that has been helping affiliate marketers for over 10 years.
Is affiliate marketing really paying?
The affiliate marketing industry is experiencing significant growth, with an estimated worth of approximately $17 billion and a projected value of $40 billion by 2023.
The affiliate marketing industry has been growing rapidly in recent years, with an estimated worth of approximately $17 billion and a projected value of $40 billion by 2023. This growth can be attributed to the increasing popularity of ecommerce, along with the increased use of social media and digital marketing. Affiliate marketing has become an attractive way for companies to reach their target audiences, as it offers them access