Various email marketing platforms are available for small businesses to easily send newsletters and campaigns. A selection of the best options have been compiled to aid in decision-making.
Email marketing services offer a range of features such as newsletter design tools, automation capabilities, and content personalization. They can assist in business growth by aiding with building mailing lists, engaging with subscribers, and enhancing customer relationships.
Selecting the most suitable email marketing software for your business can be challenging due the vast range of options available, which may require careful consideration.
In this article we have created a best lists of email marketing services and their key features to assist you.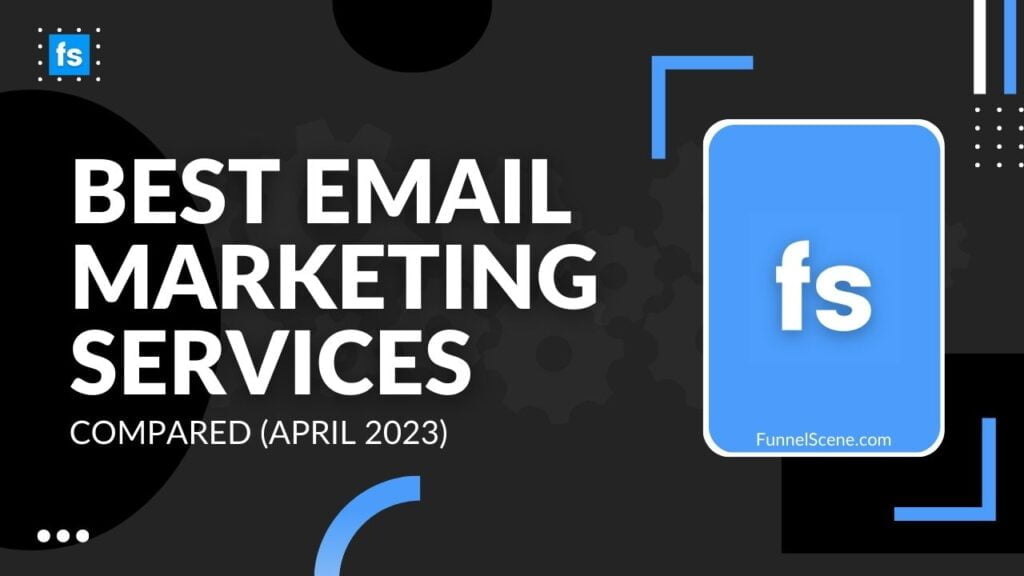 The 11 Best Email Marketing Services
Sendinblue
Mailchimp
ConvertKit
HubSpot
MailerLite
Klaviyo
AWeber
ActiveCampaign
GetResponse
Constant Contact
Campaign Monitor
Which Are the Best Free & Paid Email Marketing Services: Comparing Prices
This article provides a straightforward analysis of the leading email marketing services, outlining their respective features and benefits. It is worth noting that while free email providers like Outlook and Gmail have their advantages, they may not be the most effective option for large-scale email campaigns. As such, a dedicated email marketing platform is often necessary.
A Closer Look at the Best Email Marketing Services in 2023
Sendinblue: The #1 Email Marketing Service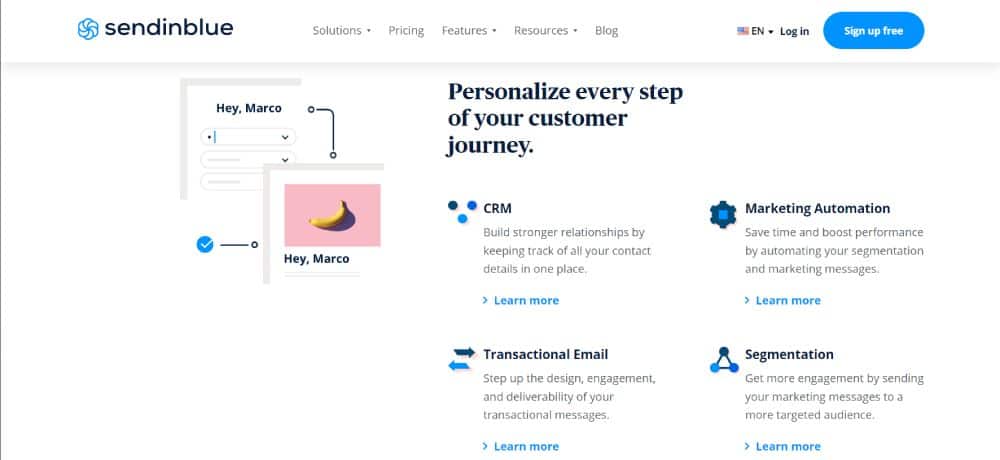 SendinBlue is a software that provides businesses with email and SMS marketing services. It has experienced rapid growth in Europe and is considered one of the fastest-growing email marketing platforms.
The platform offers user-friendly tools for creating visually appealing emails. The drag and drop editor is particularly suitable for those new to email marketing.
SendinBlue offers a range of marketing automation tools, including transactional email sending, automatic follow-up email workflows, user segmentation, and AI algorithms for selecting optimal bulk email send times for improved deliverability.
SendinBlue provides a free email marketing plan with unlimited contacts. The free plan includes a daily limit of 300 emails, but all emails will contain the SendinBlue branding.
The company offers a range of paid plans, with the Lite plan starting at $25 per month. Additional SMS services are also available, with pricing dependent on specific sending needs.
The premium plan has been updated to offer additional features such as a landing page builder, live chat, sales CRM, and Facebook ads integration. As a result, users can now receive greater benefits at no extra cost.
SendinBlue provides an additional SMTP bulk email marketing service, which can be utilized for automated or transactional emails from your WordPress site. While not essential for email marketing campaigns, it may be useful for larger websites that require automatic real-time content-based emails.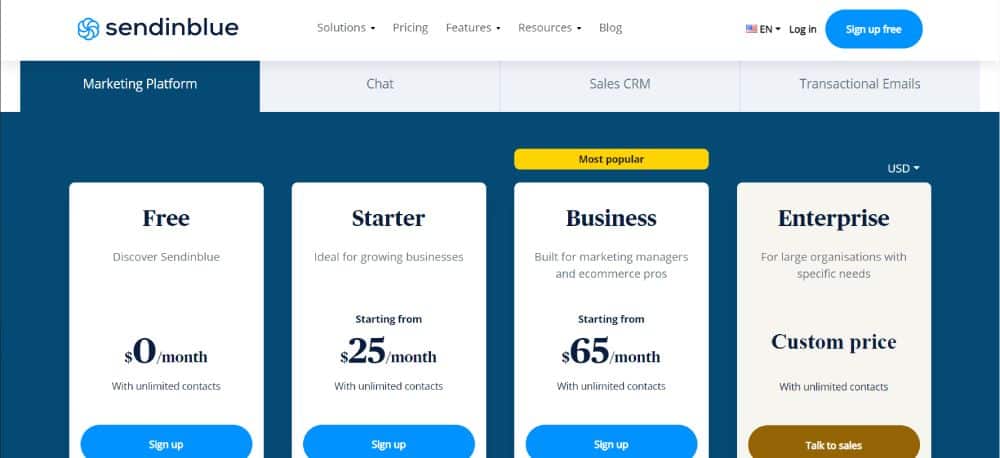 Pricing for Sendinblue's email marketing service
Sendinblue offers a free plan that permits users the ability of sending 300 emails per day without any contact restrictions. Paid plans commence with the Lite option at a cost of $25 per month, and offer increased email sending capabilities.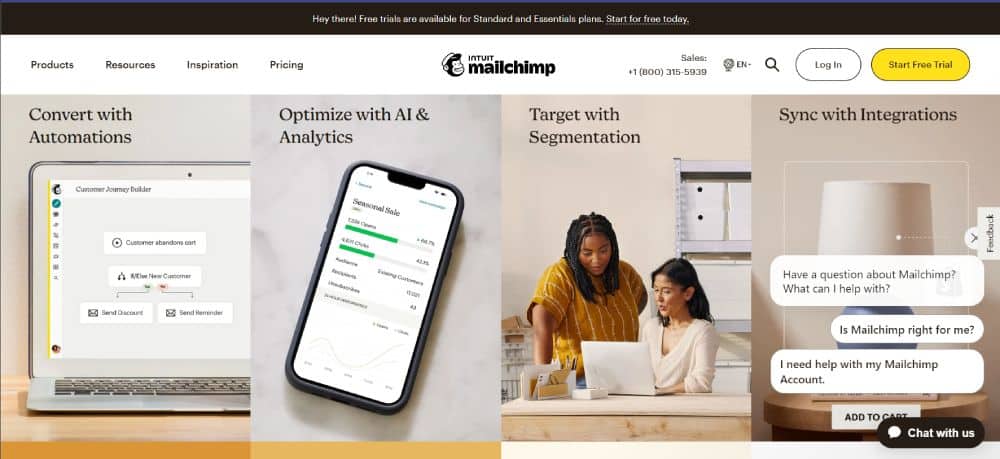 Mailchimp is a well-known email marketing service provider due to their free email marketing service plan that is available indefinitely.
While there are now superior options on the market, it would be remiss not to acknowledge Mailchimp's popularity when compiling a list of the best email marketing software.
Mailchimp offers a variety of features, including a user-friendly email builder with drag-and-drop functionality, autoresponders, contact segmentation, and analytics tracking. Additionally, users can set delivery times based on time zones and segment contacts based on geolocation.
MailChimp can be integrated with various platforms including WordPress, Magento, and Shopify. For WordPress users, detailed instructions on using Mailchimp with WordPress can be found in our ultimate guide.
In terms of marketing automation capabilities, the Mailchimp platform is relatively restricted when compared to other providers on our list, such as HubSpot, Drip, or ConvertKit.
Mailchimp has added several features in recent years that are marketed as "advanced," but upon testing, they may not meet the expectations of advanced users.
Mailchimp offers support through email, live chat, and a comprehensive tutorials knowledge-base, but their support may be slower and not of the same caliber as the service provided by Constant Contact.
Mailchimp has a forever free plan that lets you send 12,000 emails for up 2,000 subscribers. However, this plan is limited, lacking features like send-time optimization, advanced segmentation, and multi-variate testing.
Additionally, their branding must be displayed in your email. Support is only available through email, which may not be sufficient for serious businesses in need of reliable support.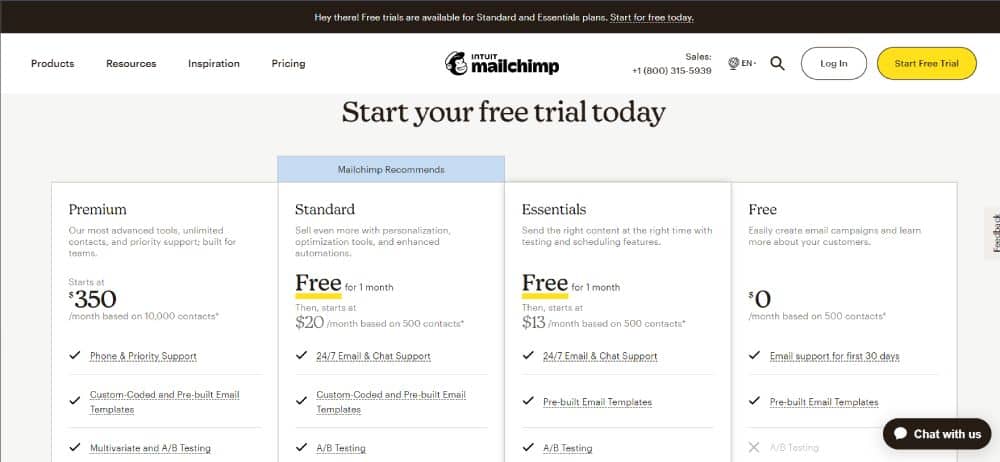 Price:
The pricing for their paid plans begins at $13 per month, allowing for up to 500 subscribers. As the number of subscribers increases, so does the pricing.
To access features like unlimited audiences, advanced audience segmentation, multivariate testing, and comparative reporting, upgrading to their $350 per month plan is necessary.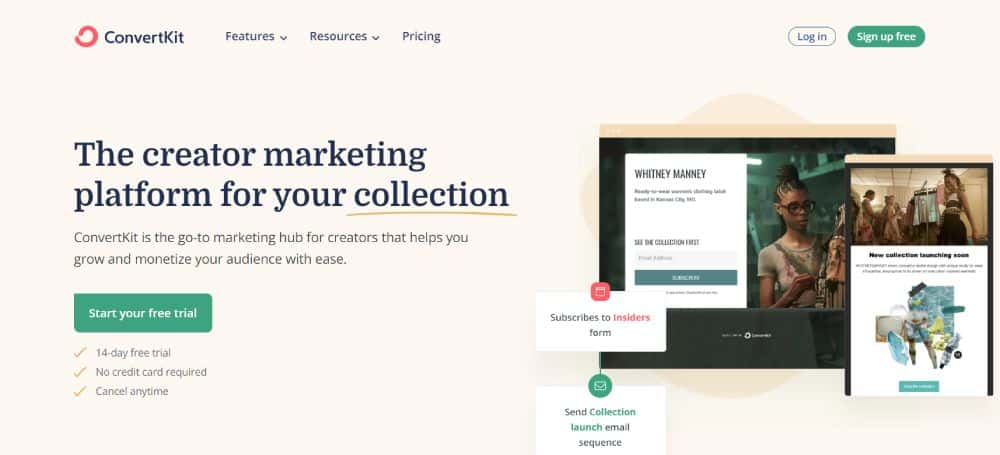 ConvertKit is an email marketing platform designed for professional bloggers, authors, and marketers. It offers a user-friendly interface and impressive capabilities.
One of ConvertKit's distinguishing features is its ability for seamless content upgrades and incentives through email signup forms. Additionally, it offers manageable auto-responders for sending drip emails via their emailing service.
ConvertKit offers the ability for subscribers' segmentation based on their interests and purchase history. This feature helps improve conversions through automated emails that are tailored towards the individual. This is referred in marketing as targeted email marketing.
This email marketing service offers top-notch features including a/b testing, email templates, landing page builder, smart workflows, and other powerful tools.
ConvertKit provides email support and has a comprehensive knowledge base with valuable educational resources.
ConvertKit offers features such as paid newsletters that cater to creators and professional bloggers, making them a top-rated email marketing service for this group.
The platform now includes the option to sell both digital products and subscriptions.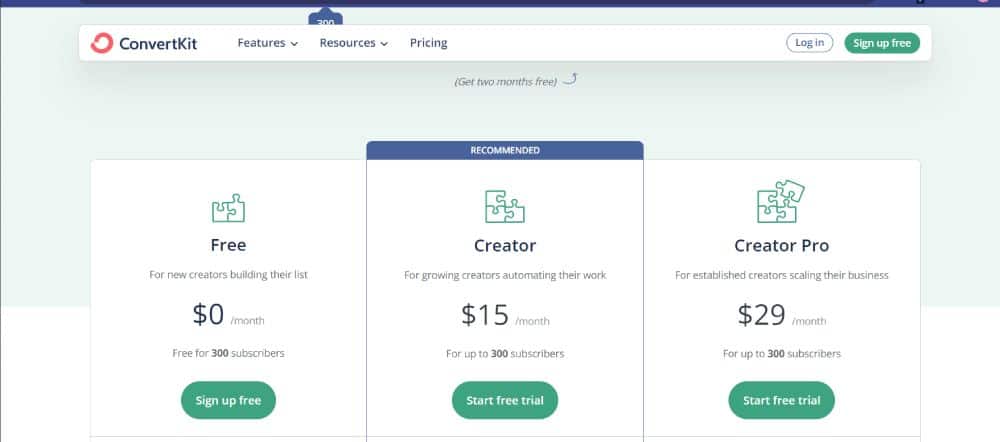 Price:
ConvertKit provides a 14-day trial at no cost, and their pricing begins at $29/month. Additionally, they offer a refund policy that lasts for 30 days.
The Creator Pro plan comes with additional features such as a newsletter referral system, subscriber scoring, advanced reporting, and Facebook custom audiences.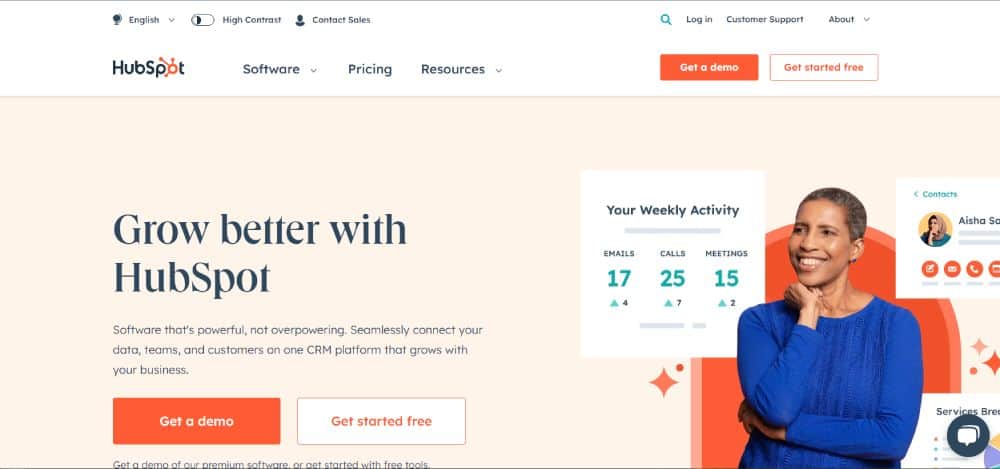 HubSpot is a popular software in the CRM and email marketing industry.
The email marketing service they offer is free to begin, and it includes numerous automation features that are intended to help your business expand.
The email builder offers a drag-and-drop feature and multiple templates to create a personalized newsletter that aligns with your brand's identity and color scheme.
The HubSpot CRM offers native integration, allowing for email personalization based on subscriber details such as device type, location, list membership, and custom information.
HubSpot offers a range of features typical of enterprise email marketing software, including send time optimization, high email deliverability, A/B testing, performance analytics, marketing automation, drip campaigns, and more.
HubSpot is a popular choice among small, medium, and enterprise customers due to their comprehensive marketing platform which includes features such email marketing, CRM, automation workflows, sales tools, website builder, operation hub, and more.
The free plan for Hubspot Email Marketing includes access to the CRM and all of HubSpot's marketing, sales, service, and operations tools.
The free version offers users the ability to send up to 2,000 emails and store an unlimited number of subscribers. It also includes features such as custom signup and popup forms, landing page creation, online ad management and tracking, and other necessary tools for starting out.

Price:
The free plan offers a monthly allowance of 2,000 emails and storage for up to 1,000,000 contacts. For the Starter Marketing plan, the monthly cost starts at $50 and accommodates up to 1,000 contacts.

MailerLite is a free email marketing service that is relatively new compared with its competitors. It offers a high monthly sending limit and a user-friendly platform designed for simplicity.
MailerLite offers a range of features including templates, an email builder, and advanced tools such as ecommerce platform integrations, automations, and premium options for selling subscriptions and digital products through emails. These features are comparable to those of larger email marketing services like Mailchimp.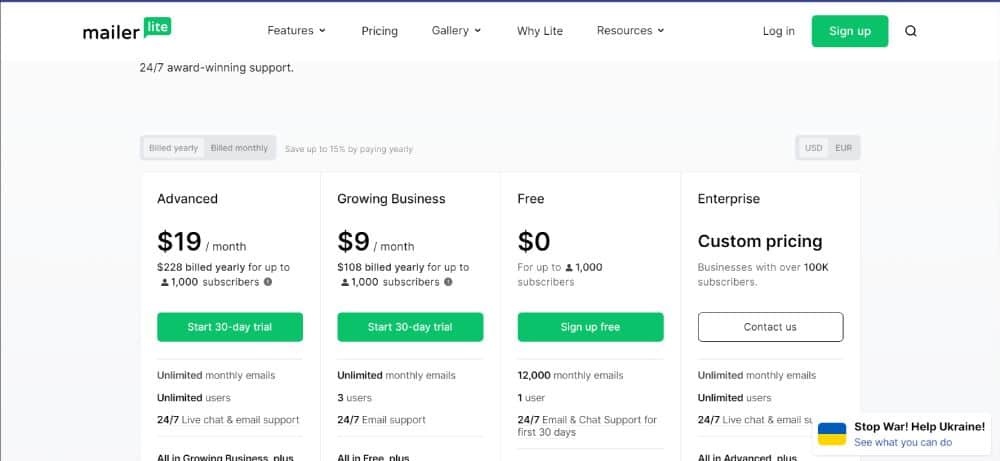 Price:
The free plan provides the opportunity to send up to 12,000 emails monthly to a maximum of 1,000 contacts. For subscriptions of 1,000, paid plans begin at $10 per month.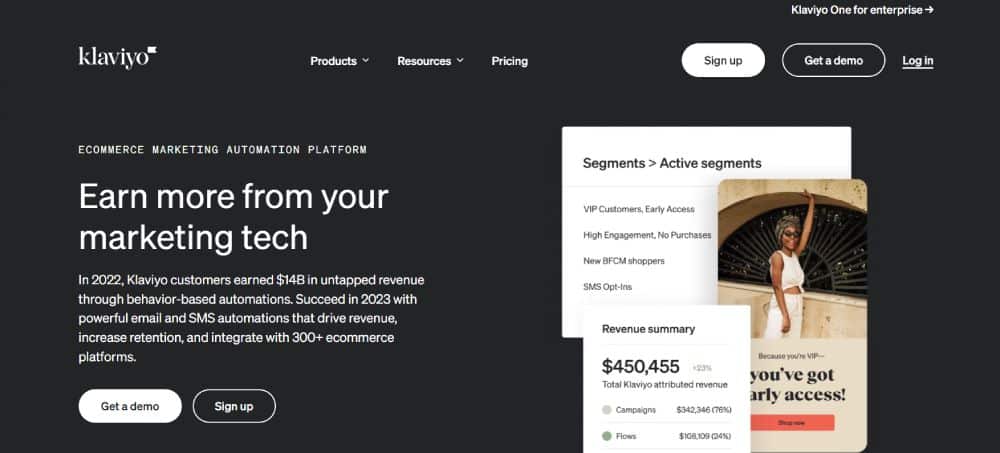 Klaviyo specializes in serving online shops. It offers SMS and advanced email features for marketers seeking to boost revenue. The editor is user-friendly and includes responsive templates. You have the option to customize emails with product suggestions and dynamic blocks.
Klaviyo monitors website activity and events that can be utilized for email campaigns, automated responses, and segmentation. Customer information is stored in individual profiles within a CRM, providing a deeper understanding of the purchasing audience.
Klaviyo provides advanced reporting features, including customized benchmarks for your business, in addition to metrics dashboards.
The free plan offered by Klaviyo consists of a maximum of 250 email contacts and 50 SMS contacts, with a limit of 500 emails and 150 SMS sent.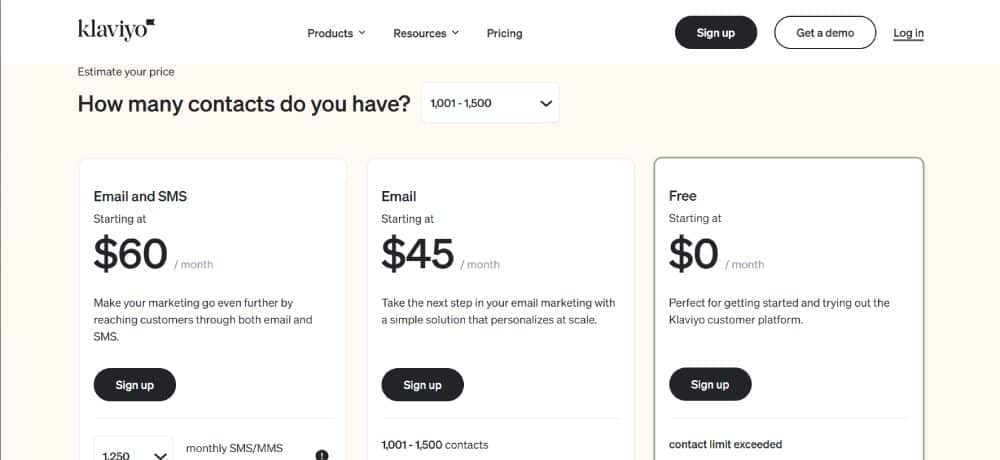 Price:
The free plan offers a monthly allowance of 500 emails for a maximum of 250 contacts. The paid plans have varying prices, with the cheapest starting at $20 per month for up to 500 contacts.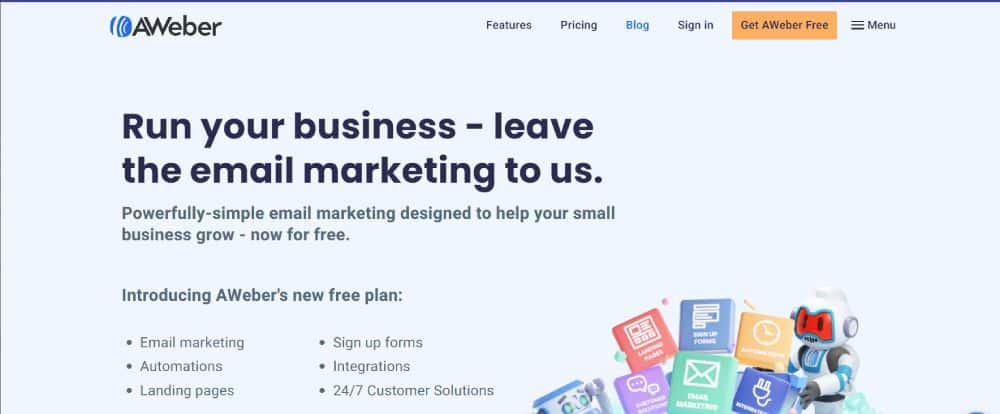 AWeber is an email marketing service that offers various integrations and tools to enhance your marketing strategies.
AWeber's email marketing solution offers a variety of automation options for creating and sending targeted email campaigns. The software can be integrated with popular eCommerce platforms such as WooCommerce and Shopify, as well as CRMs like Salesforce.
The email marketing platform has an email testing feature that can integrate with various devices. This feature is useful for businesses to check how their emails look across all email clients and devices. By doing so, it ensures that nothing will get clipped. AWeber's features ensure the quality of your email and how well it looks.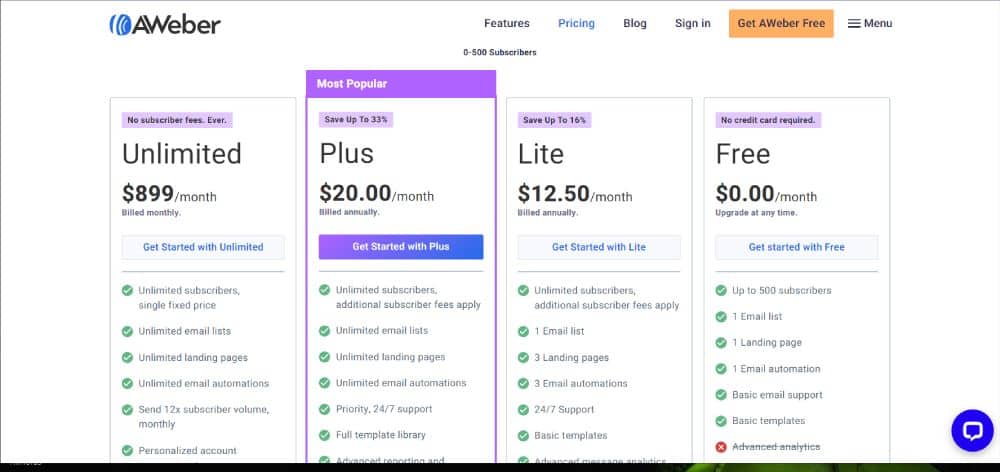 Price:
The emailing service offers a free plan for 500 subscribers and 3,000 email sends per month, while AWeber's pricing begins at $40/month and provides access to the full range of features on the platform.

ActiveCampaign is an email marketing software that is well-known for its marketing automation features. The software offers an easy-to-use email builder that allows for quick newsletter creation. It also provides users with a variety of templates to simplify the email creation process.
Additionally, the platform offers the ability to effectively utilize contacts through ActiveCampaign's CRM features, allowing for the scheduling of appointments, direct messaging of contacts, and the utilization of labels and note-taking.
The event tracking feature allows for monitoring of specific actions taken by contacts, which can be utilized to personalize content and improve the effectiveness of marketing messages when data is sent to the email marketing platform.
ActiveCampaign provides advanced automation capabilities that are ideal for experienced email marketers. However, for those seeking to create basic sequences, the tool may present some challenges compared to other alternatives in the ActiveCampaign market.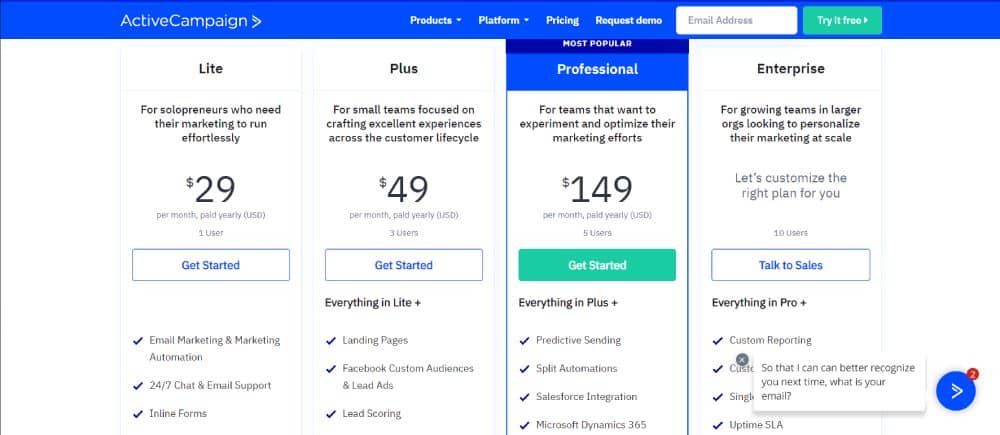 Price:
ActiveCampaign provides a 14-day trial period for users to test the platform, which is considered one of the best tools for email marketing. The platform offers four premium plans starting at $29/month for 1,000 contacts and includes features such as email marketing, online forms, and automation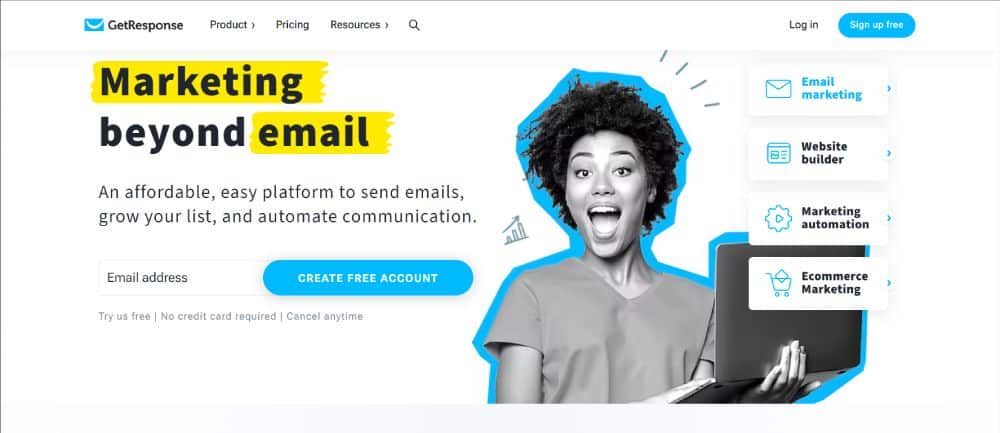 GetResponse offers a range of marketing tools to support small businesses, which includes a comprehensive email marketing service.
The platform offers a library of email templates designed by professionals. The drag-and-drop editor allows for easy customization, creating branded messages.
Gather customer data and utilize segmentation tools to tailor email campaigns, or employ marketing automation to tag and score contacts and prompt specific emails.
Additional automation features include timed drip campaigns, providing the ability to review your email sequence on a calendar for precise scheduling of subscriber messages.
The software has the capability of sending transactional emails in addition with marketing campaigns. Ecommerce plugins provide the opportunity of promoting products through emails and landing pages.
In addition to email marketing, the platform offers the ability to create and manage Facebook ads with built-in tools and free templates. Webinar tools are also available. The conversion tunnel feature includes pre-made automated sales funnels tailored to various industries and purposes.
GetResponse provides a free plan for sending unlimited emails to up to 500 contacts each month. All plans include access to live chat and email support.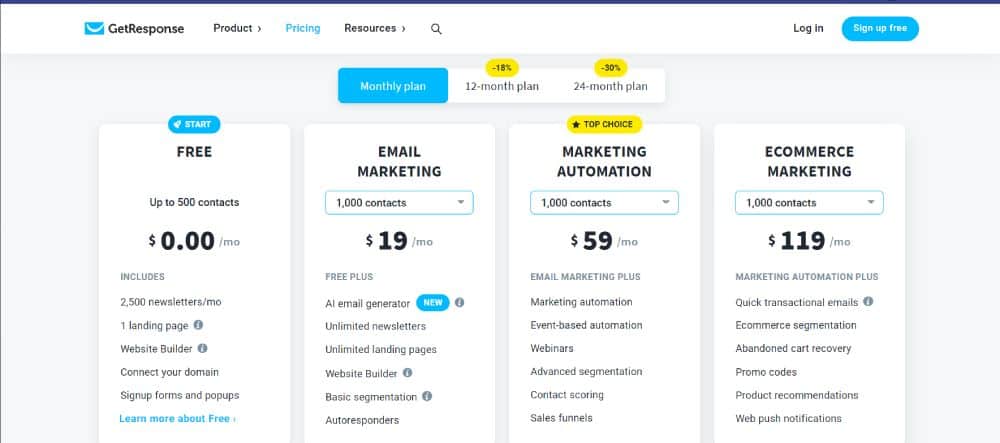 Price:
The free plan offers unlimited email sends to 500 contacts, while the paid plans begin at $19 per month and accommodate up to 1,000 subscribers.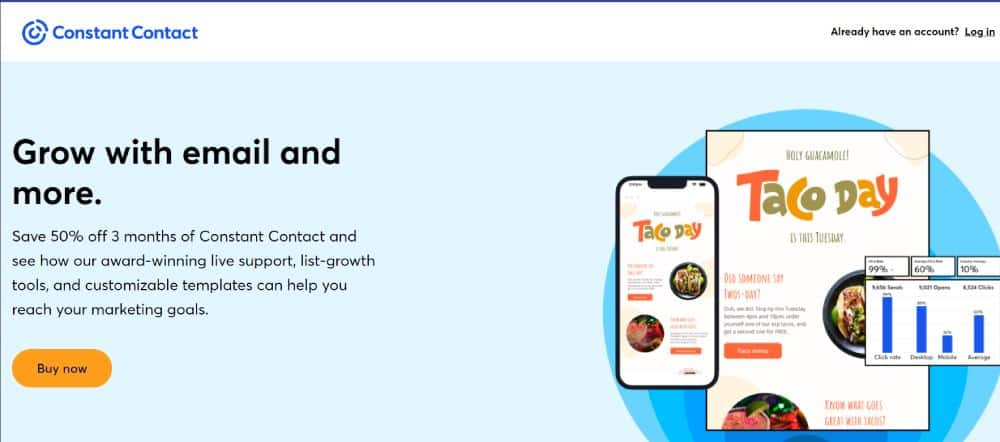 Constant Contact is a highly popular email marketing service provider for small businesses. It is considered one of the fastest-growing services and is known for its user-friendly interface. It is suitable for businesses of all sizes, from solopreneurs with membership websites to local banks promoting financial products.
The WPForms plugin includes an email service provider called Constant Contact. With this integration, it's simple to incorporate a Constant Contact checkbox into any form on your WordPress site.
The email service offers a variety of pre-designed templates to choose from, as well as a drag-and-drop editor. It also allows for collection and management of email lists from various sources, including websites, mobile devices, and social media, with minimal effort.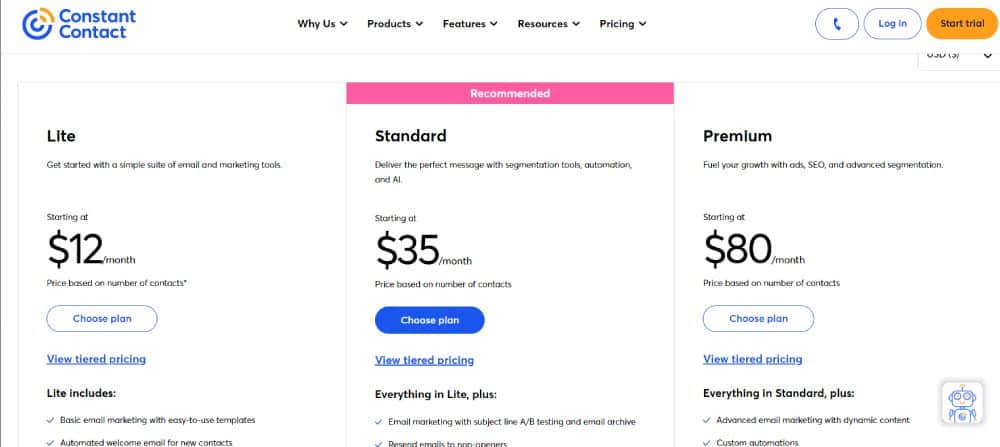 Price:
The monthly cost for a subscription plan begins at $9.99 and covers up to 500 subscribers.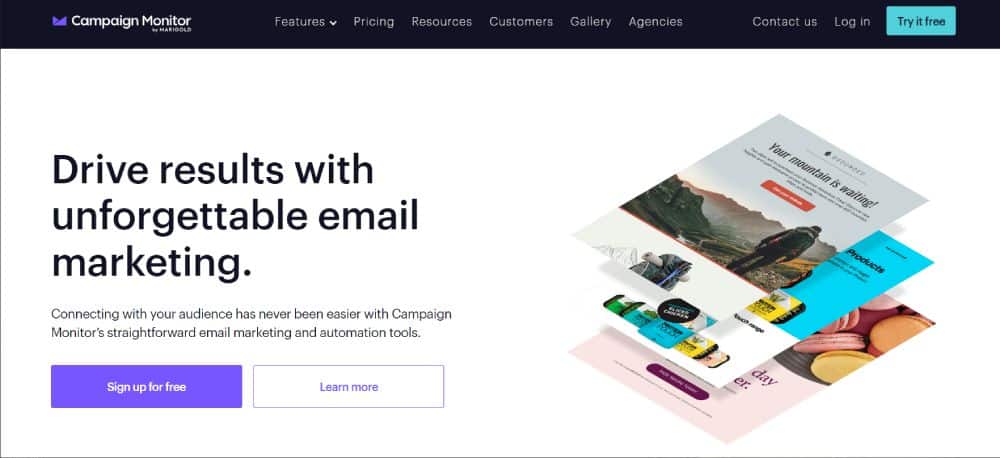 The email marketing service, Campaign Monitor, provides a variety of user-friendly tools that assist novices in creating an involved audience.
The platform offers many responsive email templates that can be customized using a drag-and-drop builder. Personalizations can be added using contact data, and send time optimization ensures emails are delivered at the best time for each contact. The segmentation tool allows for custom segments of subscribers using multiple filters.
The platform enables the creation and distribution of branded transactional emails with personalized content.
The email automation process involves utilizing a visual journey editor to arrange a sequence of emails based on subscriber behavior and past interactions, with the ability to set conditions.
The platform is available for a trial period with no time limit. However, only up five contacts can receive campaigns during this period. The Basic plan allows for a maximum of 2,500 monthly emails, while the Unlimited plan has no sending limit. As your contact lists increase, pricing will also increase.
Both plans provide email support, but Unlimited plan subscribers will receive priority assistance.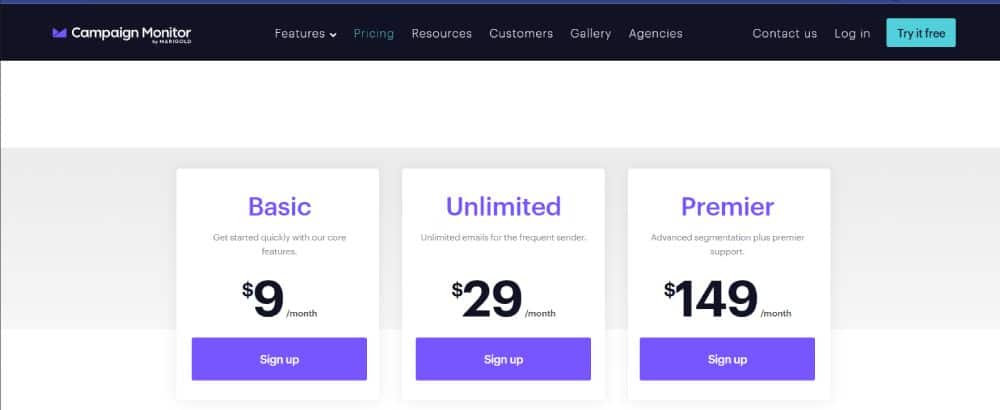 Price:
The starting price for a subscription plan is $9 per month, which accommodates up to 500 subscribers.
Why Your Business Needs an Email Marketing Service
Consider these reasons why finding an email marketing solution may be worth your time and energy.
Email is still one of the most effective marketing channels
Marketers have identified email marketing as the most effective digital channel in recent years, citing specific reasons.
Email marketing is an affordable option that allows for reaching a large audience at a low cost. As a result, the average return on investment is $38 for every $1 spent.
Email campaigns provide a direct means of communication with contacts who have voluntarily opted-in, increasing the likelihood of engagement.
Email has a widespread accessibility, with a user base of approximately 4 billion people globally. Additionally, email is a cost-free medium for end users and nearly all individuals possess an email address.
As the owner, you have control over how to utilize email marketing with minimal restrictions compared to bidding in display ads and relying on other companies for SEO.
Email marketing services are essential for mass campaigns
Email marketing services are better suited for sending newsletters and campaigns than ISPs like Gmail and Outlook.
Utilizing a dedicated email marketing service for mass campaigns can lead to improved deliverability rates by preventing messages from being marked as spam.
Email marketing platforms provide performance analytics, such as open and click-through rates, to evaluate the effectiveness of your campaigns.
Your email marketing service has the capability to update contact records after a user unsubscribes, streamlining the process and preventing further campaigns from being sent to those contacts.
If you need to send a large amount of emails, it's important to note that ISPs have daily sending limits, but email marketing platforms offer customizable plans to suit your needs.
Email marketing services offer design tools to create HTML emails that are professional, responsive, and consistent with your brand.
The platforms listed provide necessary functions for email marketing campaigns. Further information on additional features and pricing can be found below.
What costs should you expect to pay for an email marketing tool?
The cost of email marketing depends on your subscriber list size, monthly email volume, and service provider. Providers typically charge based on list size, starting around $10/month for smaller lists and increasing for larger ones. Sendinblue offers unlimited contact storage for free, with payment required only for email sends and premium features.
What are the main features to look for in an email marketing service?
When selecting a tool, it's important to ensure that it can handle both email marketing and transactional campaigns. This will increase efficiency and reduce costs. Additionally, consider looking for features such as marketing automation, an integrated CRM, and multichannel options like SMS, WhatsApp, live chat, and push notifications.
For what types of businesses are these email services suitable?
The email platforms listed are suitable for entrepreneurs and SaaS businesses. ConvertKit caters to content creators, HubSpot provides enterprise features for larger companies at a higher cost, and most others can be easily integrated with ecommerce platforms.
Sendinblue is a marketing service that is ideal for small businesses due to its affordable pricing and advanced features. It allows businesses to utilize the same tools as larger players without incurring significant costs.
Find the Best Email Marketing Service for Your Business
When evaluating email marketing service providers, it's crucial to consider your specific requirements. This may include advanced automation and segmentation features, a diverse selection of customizable email templates to match your brand, or supplementary resources for multi-channel campaigns.
When considering email marketing services, it is important to research the various plans and pricing structures to determine the cost based on the necessary features and number of contacts. The ideal service should not only facilitate short-term growth, but also remain a suitable solution as business needs evolve.
This guide aims to provide an impartial overview of the advantages and disadvantages of each tool, enabling you to select the most suitable email marketing service for your needs.