Screencasting can be an effective communication tool, however selecting the right software from the many available options can pose a challenge.
Finding the right option among the many available can be difficult. Questions like which one to choose, how it works, or is it suitable for beginners and experts alike must all be answered. This guide will help you make an informed decision.
This list provides an overview of screencasting software options, focusing on factors such as user-friendliness, number of users, costs and other relevant considerations.
With the right tools and video-editing software, you can create compelling content with no prior experience, enabling you to produce high-quality content that will reach your target audience and yield successful results.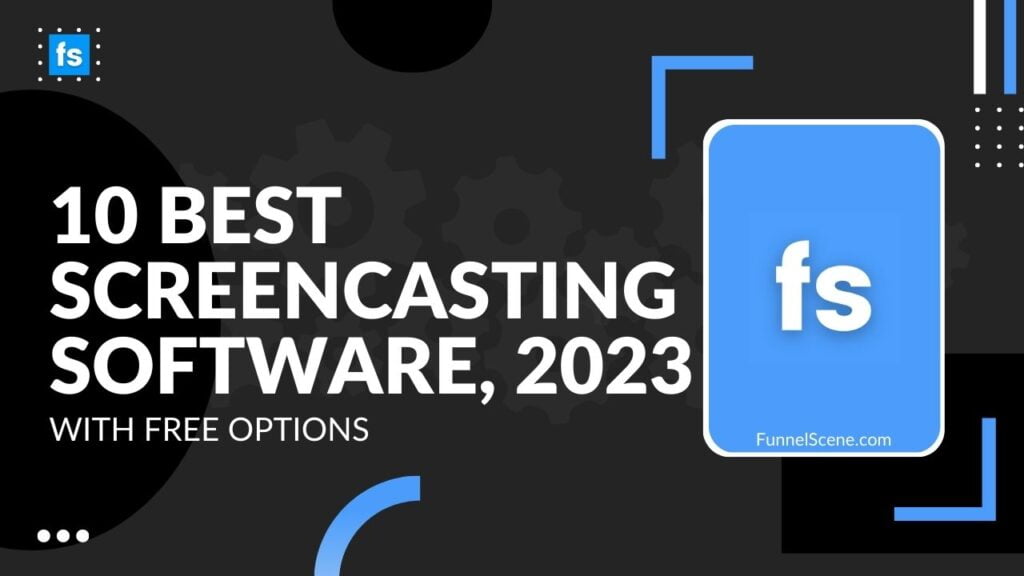 Screencast videos are recordings of what is being shown on a laptop or computer. They usually have narrated audio, but they can be recorded without it. An example of a screencast video might be a gameplay recording with voice narration, though it may still be considered a screencast even without audio.
Screencasts are an efficient way of communication, particularly when emails or multiple meetings need to be avoided. They enable users to easily share visual content with others and are often used for this purpose.
Best Screencasting Software
Camtasia is an all-in-one screen recorder and video editor.
Screencast-O-Matic is a screencast software designed with beginners in mind.
ScreenFlow is an alternative video editing software for Mac users, comparable to Camtasia.
Movavi provides an affordable way to produce professional screencasts.
ApowerSoft is a free screen recording software option.
Loom is an effective screen recording tool for video communication.
OBS Studio is ideal for screencasting when streaming live.

RecordCast offers a free online screen recording tool.
What to Look For in the Best Screencast Software?
When looking for a screen recorder, it's important to define your objectives first.
If you are looking to create an online course, a tool that has a powerful video editor may be of use.
If you need to answer customer queries, a screen recording solution with video hosting and basic editing features may be suitable.
Most screencast software allows basic functions, such as:
Capturing your screen or a portion of it.
Screen recording can be enhanced by incorporating webcam feed, system audio and voiceover.
The final output can be exported and shared in a variety of formats.
A great screen recording tool should have advanced video editing and enhancement capabilities to ensure the best quality video output.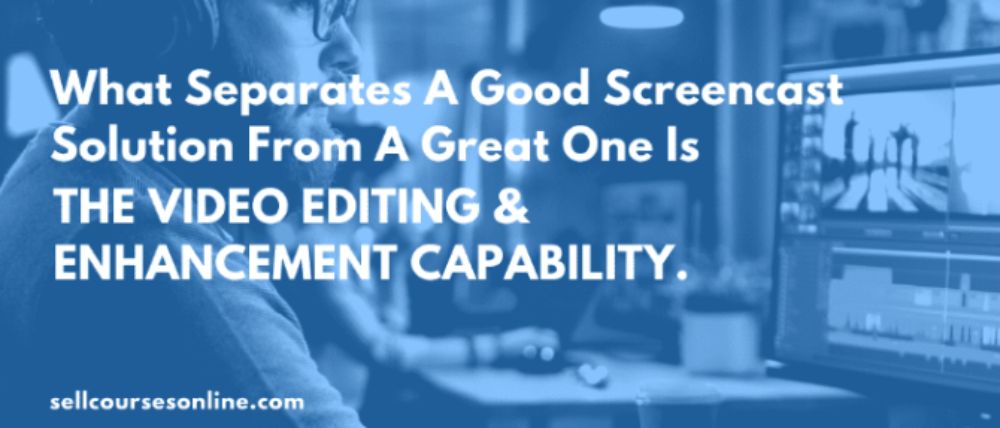 When selecting a recorder, consider the operating system compatibility and whether or not it can capture mobile screens.
Consider your budget and if you are willing to purchase a premium screen recorder or prefer a free option.
Below is a list of 10 screencasting software tools, including some free options.
Camtasia from TechSmith is a widely used video editing software, often seen as the most suitable one for Windows users who lack video production experience.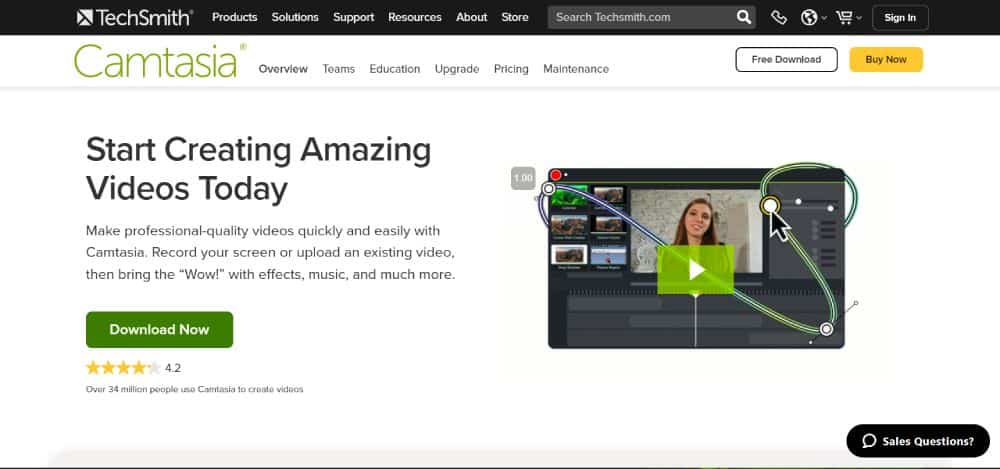 Screen recording software allows you to capture your computer screen with the added features of annotations, animations, and effects for video output.
Screen recording is an effective way to create video content, such as demonstrating a process, solving a problem, or displaying something.
Camtasia makes it easy for users to capture and modify their screens, even with no prior experience.
Camtasia is compatible with both Mac and Windows and facilitates screen recording while creating tutorials, allowing for simple dissemination of the finished videos.
Recording yourself working on various applications such as CorelDraw, Audacity or coding could be a useful tool for those who need to explain how something operates or has been done.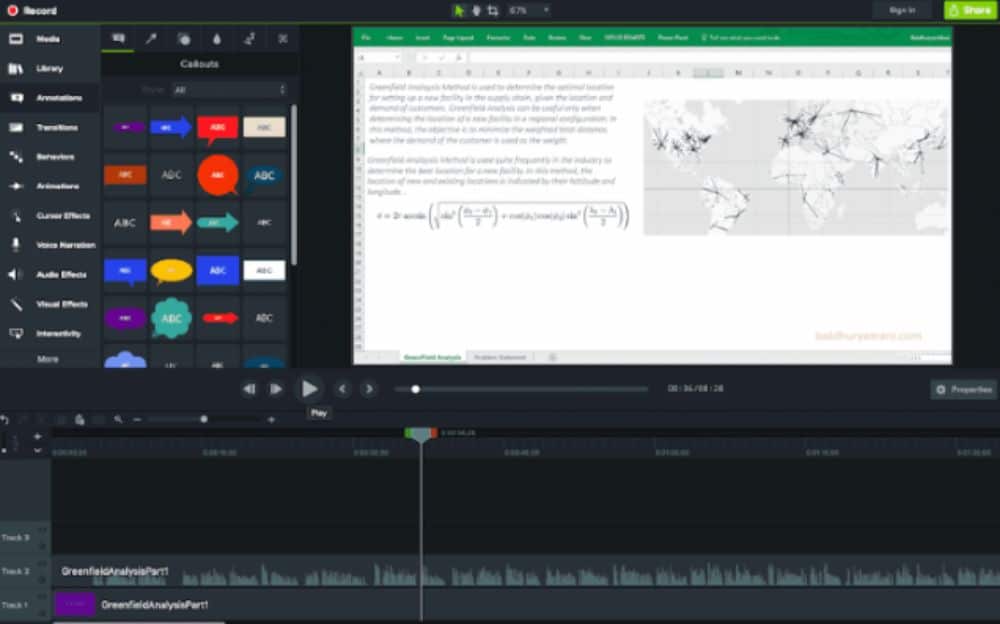 Once you've finished your video in Camtasia, there are various ways to distribute it, including through social media networks and video hosting platforms.
Camtasia is a powerful and feature-rich option for capturing and sharing recordings on screens, however, it comes at a price of $299.99 per user.
For educators and students who need to create movies with limited production expertise, the cost is $299.99.
The price to pay for organizations working with non-profits or the government is $268.99, and those working with teams located in various regions and/or time zones may have additional considerations.
Camtasia offers a free version with limited functions, and for $299.99 you can purchase the full version which enables advanced features such as annotation on top of the video.
If you are not being paid to produce tutorials or do not wish to invest in software, purchasing Camtasia will be necessary in order to access its full features.
Screencast-o-Matic is a screencasting tool equipped with an editor. It has both a free and paid version, with the latter granting access to extra features. If you're searching for a free solution, Screencast-o-Matic will give you control to record parts or all of your screen, input audio narration and stock music, insert captions, resize your WebCam view, and edit the start and end of recordings. The one-click saving option makes it easy to upload content to Screencast-o-Matic or YouTube once complete.
Screencast-o-Matic offers a range of advanced features, such as automatic captions, an extended music library, system audio controls, pan and zoom capabilities, a script editor, picture-in-picture mode and the screenshot tool.
Screencast-o-Matic has powerful features such as animated transitions, Effects, and image manipulation options. It can add blur, shapes and text to green screen, and it offers the feature to scale and crop images. It's available on Mac, Windows, Chromebooks, Android and iOS.
Screencast-O-Matic offers budget-friendly pricing for their plans, with the annual premium subscription costing $48 and providing access to video recording and editing features.
The Premier Plan ($69/year) is the highest subscription tier, which includes additional storage space and backups for videos. Alternatively, there is a free plan with limited recording options and no editing features.
Screencast-O-Matic is a cost-effective option for creating videos for course lessons, Youtube channels, or customer support.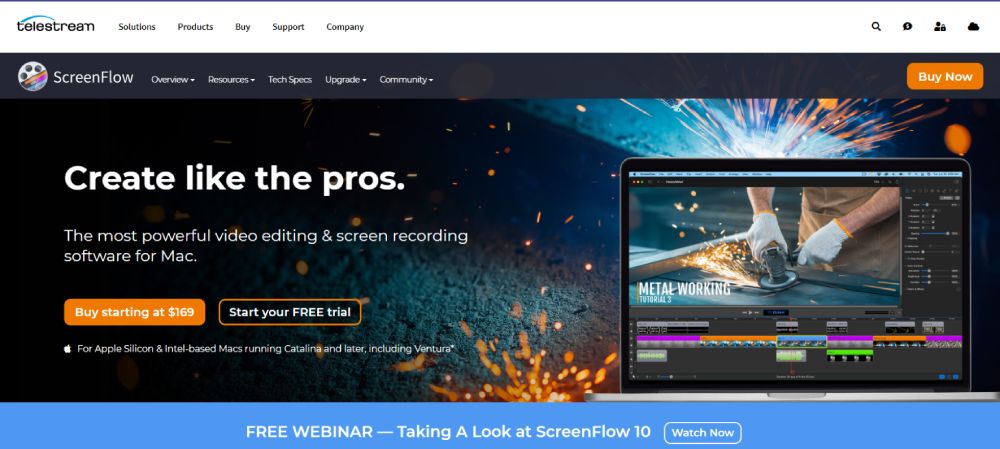 ScreenFlow is a popular screencast software for Mac users, however Windows users will not be able to take advantage of this program due to its lack of compatibility.
ScreenFlow is a suitable option for Mac users who require basic video editing and enhancement features.
It provides standard recording features, like the capability to combine your screen recordings with webcam feed, system audio and microphone audio.
It has the necessary editing features and also allows for multi-track editing, allowing different layers to be placed within the video.
Video enhancement options provide access to features such as zooming, annotations, transitions effects, visuals, and audio effects.
ScreenFlow and Camtasia offer similar video enhancement options, with Camtasia providing more detailed customization opportunities.
ScreenFlow does not offer many effects such as arrows, callouts and video presets. Additionally, you cannot create interactive quizzes or hotspots in your videos.
ScreenFlow has a Stock Media Library with more than 500,000 images, audio, and video clips. These come at an additional price for the starter library.
ScreenFlow enables you to save video as different formats such as MP4, ProRes and Animated GIF, and provides several options to upload and publish through video hosting platforms including YouTube, Vimeo and Wistia.
The initial cost starts at $129 with no additional Stock Media Library; the upgraded version is available at an increased cost of $175.
You can download the software's free trial version to test its features and determine if it meets your needs.
When considering a digital video editing tool, I have chosen Camtasia due to its compatibility across Windows and Mac platforms, along with its competitive pricing.
If you primarily use Macs, ScreenFlow is an effective tool to create high-quality videos and tutorials, cheaper than Camtasia.
4. Movavi Screen Recorder
The Movavi Screen Recorder offers powerful and straightforward screen recording capabilities for corporate users, consumers, and anyone in need of such a tool.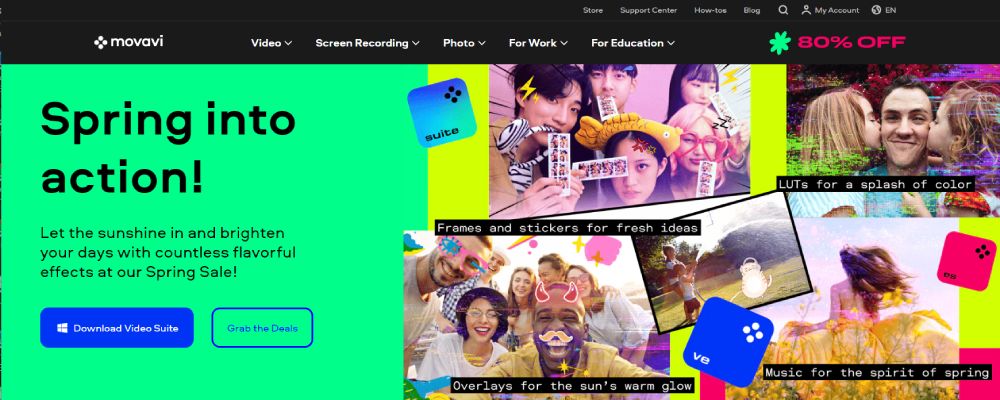 This software is compatible with Windows and offers multiple ways to record your desktop activity.
The Movavi Screen Recorder interface comprises of three elements.
The primary window displays the video recording.
The toolbar has buttons for several functions.
The settings window contains options for output format, frame rate and audio quality.
This screen recorder offers various options to customise it according to your needs. Here are some examples:
You can choose to record the whole screen or a specific window, which is useful if you want to capture an image without any additional elements.
To record audio, activate this option and select the desired microphone from your computer.
This option allows you to track and review the movements of the mouse cursor that were made while out of sight. This includes situations where it was hovering over another window or other applications were active while Screen Recorder was capturing in full-screen mode.
Once the recording is complete, you can choose to store it in a folder or send it to a device via email.
If you need to share your screencast with third parties, you can post it on popular social media sites such as Facebook, WhatsApp, Twitter and LinkedIn.
Sending it by email is also an option.
The free version of Movavi Screen Recorder does not offer all the basic and necessary options required to record correctly, with a watermark and no ability to add a description or tag before sharing videos.
To use Movavi on Windows, a one-year license is required for personal and non-commercial purposes.
Mac users can either opt for an annual or one-time license.
Screen Recorder is priced at $44.95 for a 1-year license, available for both Windows and Mac OS.
This plan allows you to use all the features of the program for a year on one PC, with the option to re-purchase the license fee annually if desired.
The Screen Recorder 1-year license costs $59.95 for Windows and $64.95 for Mac.
A lifetime license with all features of the screen recorder program is available for $59.95 on one PC.
Video Suite is available for Windows and Mac at the price of $89.95 per one year license.
The Video Suite, which includes the Screen Recorder, Video Editor Plus, and Video Converter Premium, can be purchased with a lifetime license.
Movavi offers a 30-day money-back guarantee. Customers may obtain a refund for their purchase within 30 days if unsatisfied.
5. Apowersoft Screen Recorder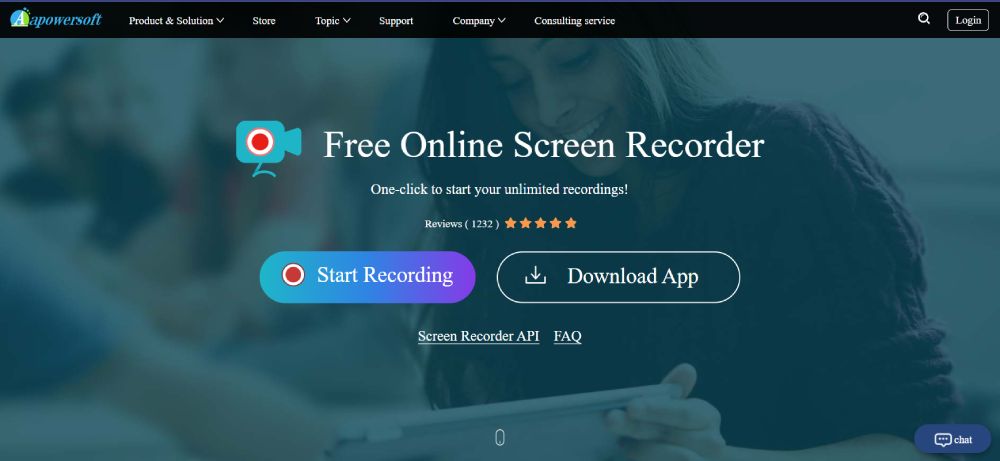 Apowersoft Screen Recorder Pro is an advanced screencast software solution with a range of features, as well as a professional editing suite.
ApowersoftScreencasting provides four recording options. These are capturing the whole screen, a certain region, mouse movements, and a particular window. Videos can come with different sound sources and Webcam recordings can be added for extra effect. This makes Apowersoft an ideal choice for people creating in-depth tutorials.
Apowersoft provides real-time editing with an accessible toolbar to allow for additions such as text, lines, callouts and highlighting. It can be used to trim, merge content and apply visual effects as well as the ability to place a customised logo or text as a permanent part of your recordings. However, the free version is capped at three minutes, has no editing features and all videos and screenshots are branded with a company logo. Apowersoft works on Windows and Mac computers.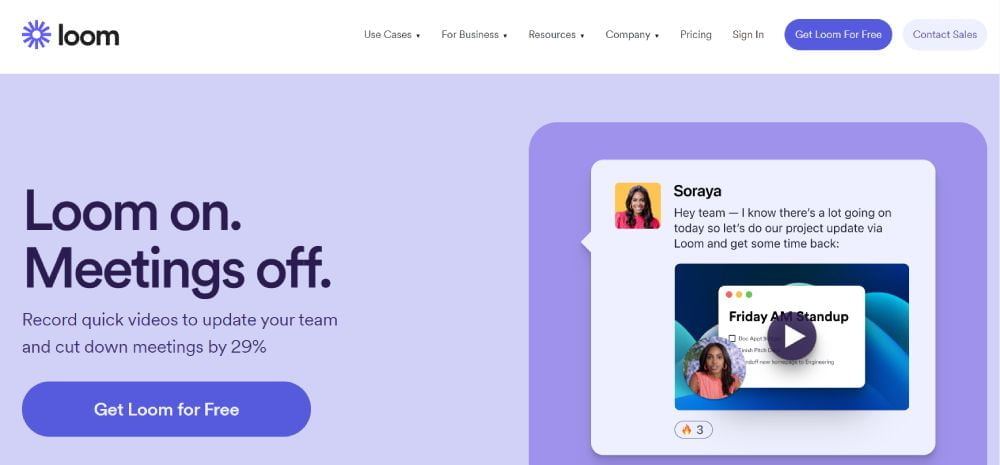 Loom is the best choice for taking a quick video and sharing a link. It allows you to select from three recording possibilities: screen, webcam video, or webcam only. Upon completing your recording, it will be uploaded to Loom where basic editing is available within the browser. If desired, the link can be copied and shared with others. This simple process makes Loom an ideal screen recorder for PC.
The free version of Loom allows you to store up to 25 videos, with a maximum length of five minutes each. This is a useful tool for sharing simple ideas quickly with colleagues or opponents and recordings can be easily downloaded for longer-term storage if the limit is approached.
Although Loom is good, there are some issues. The desktop app works well, however the mobile apps can be confusing in their limitations. For example, the Android version requires a Google password to log in rather than the native Android Google account support. Additionally, the iPhone and iPad apps cannot unite video with screencasting.
Loom is a straightforward tool for most users.
Loom has a freemium pricing model, where the free plan allows up to 100 screen recordings with five minute limit of each recording.
The premium plan has a cost of $10/month and provides creators with unlimited video creations and length.
Loom can be a suitable choice if you need to record videos quickly for internal or customer communication.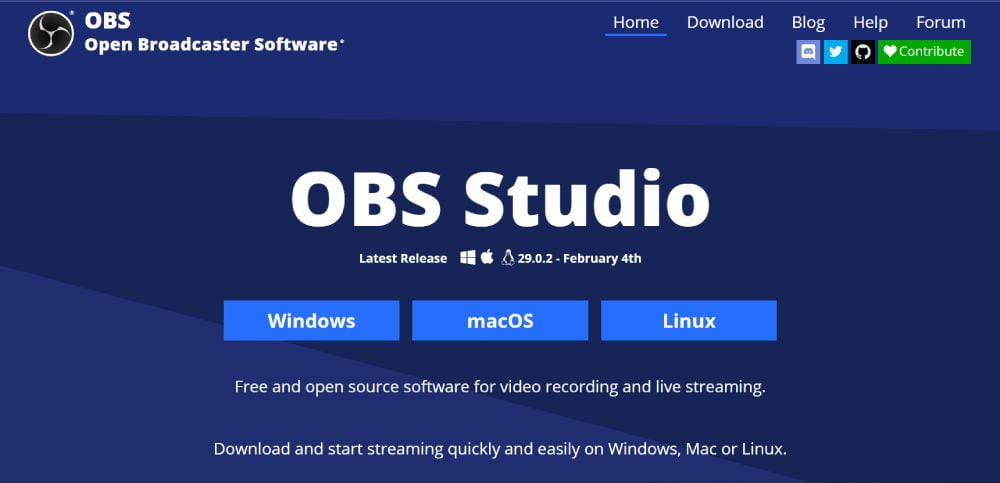 OBS Studio is a popular open-source and free video editing, recording, and streaming software. It has numerous editing functions that make it attractive to gamers who wish to record their plays and share them on various platforms like Twitch.
This software does not offer the capability to customize the cursor appearance when recording a screencast.
This tool is suitable for various applications, including video editing, recording, webinars and Facebook Live streaming. It is particularly beneficial for producing Youtube content.
This software is popular because it is free to use and is mainly funded by donations.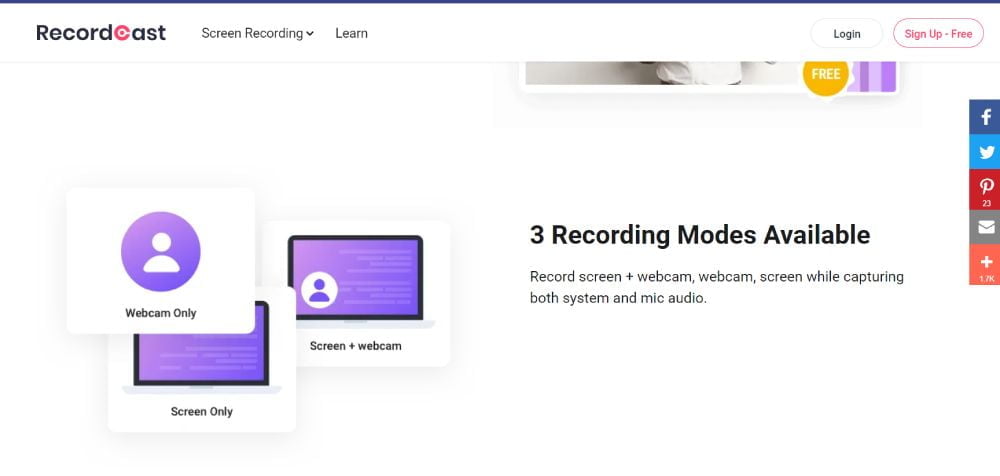 RecordCast is a free-to-access screencast software that operates on both Windows and Mac devices, and is available via the web.
RecordCast features webcam overlay, partial screen recording, and the ability to capture audio from the microphone and system simultaneously.
Additionally, this software provides several video enhancement features which can help make your screen recordings visually impactful. These include adding text, annotations, effects, and a background image.
Additionally, this application has an integrated video editor that enables users to modify their recordings, add audio tracks and import external clips and combine them with their recorded material.
You can obtain the video in MP4 or WEBM format once it is completed.
The software has a maximum recording capability of 30 minutes, which should be suitable for most users. It does not add a watermark to the videos.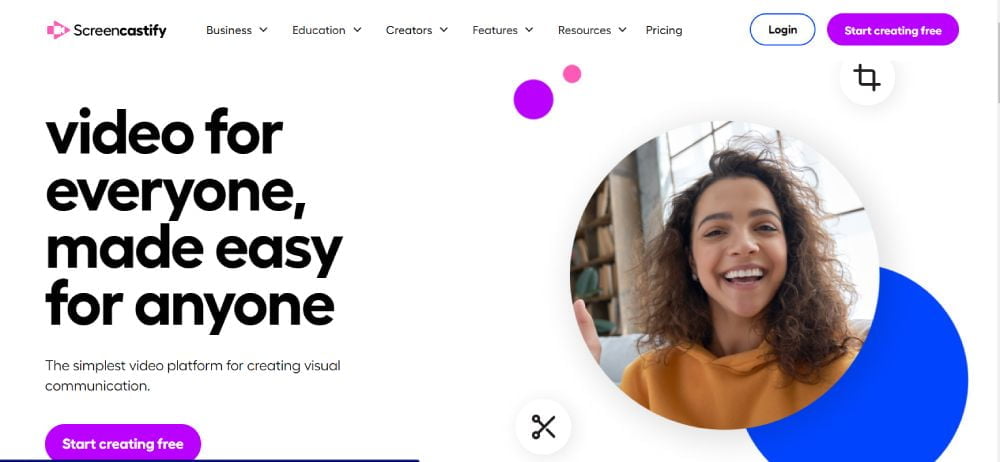 Screencastify is a simple option for creating and editing videos. It is availableas a Chrome extension, allowing you to quickly access the features at the click of a button.
This tool contains free and premium versions, with the premium version having additional editing functions such as cropping and trimming. It also allows for customization of the appearance of your cursor.
Screencastify is a simple tool that allows users to easily record and distribute screencasts. However, it isn't suitable for those who require more advanced features for training videos and tutorials.
This tool stands out for its user-friendly interface. Installing the Chrome extension requires minimal effort and allows you to quickly capture and then distribute your footage to chosen recipients.
10. Icecream Screen Recorder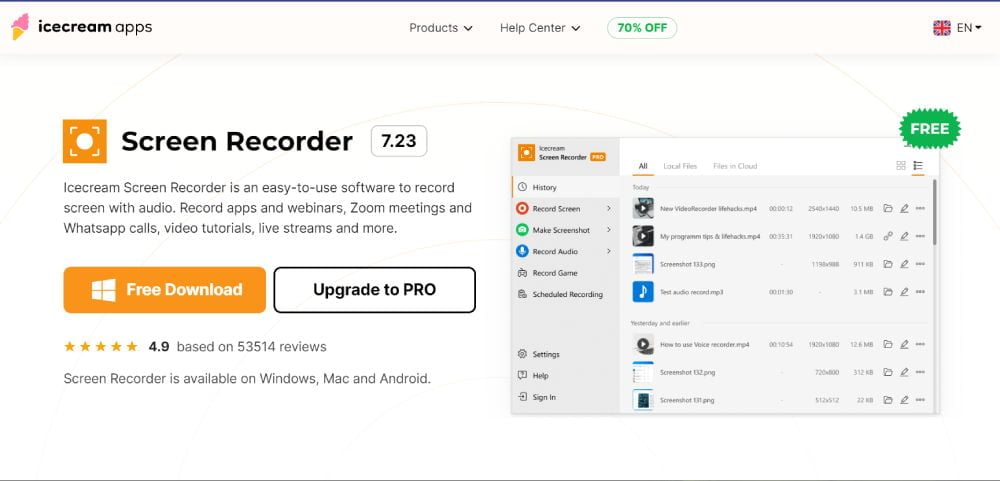 Icecream Screen Recorder is suitable for capturing instructional videos, game recordings and professional screen recordings.
The Ice Cream recorder enables recording of videos in high definition and up to 60 fps, with the option of customization.
It is possible to capture the entire screen, a specific area, an area around the mouse, and past recordings at varying resolutions. This allows you to multitask while having certain parts of your screen still being recorded.
The premium version of this screencaster has no video recording limit and provides the option to capture video games with a webcam.
The video editing features of this software are rather limited, as you can only trim and crop the recordings. There is no option to apply filters or other overlays either. The recordings can however be quickly exported to the operating system, Dropbox and YouTube.
Best Screencasting Software – Final Verdict
Here are your available options when selecting a screening software.
If you're using Mac, then the all-in-one video editing and recording software, '' 1 ` is your best choice.
For Windows users looking for an efficient screencasting software, Camtasia and Screencast-O-matic are two potential options. Camtasia is generally regarded as the better choice.
For Windows users looking for a powerful screencasting software, Movavi is an option to consider.
The Apowersoft screencasting software offers a lightweight, full-featured screen recording and video editing experience.
Snagit is a relatively affordable screencasting software that offers all necessary features across both Mac and Windows platforms.
If you are looking for a good software to record gaming on your PC, Bandicam is a reliable choice.
OBS Studio is a free alternative to more expensive screencast software, such as Camstasia and Screenflow.
Wondershare Demo Creator can be a simple and cost-effective alternative to Camtasia and Screencast-O-Matic for making tutorials from screen recordings.
For completely free screencasting software without any downloads or installations, SharedX is recommended.
These are the available tools for recording videos on your computer.
Creating content through online courses and tutorials is a popular type of video.
If that is the situation, a video-editing tool and an online course platform are also necessary.
If you are interested in an online course platform that is both economical and user-friendly, consider OnlineCourseHost.com.
The software offers the tools and capabilities necessary to set up a course website, including bulk email sending for newsletters. Additionally, it has built-in email marketing capabilities.
In addition to providing a platform, we aim to provide you with the information necessary to grow your online course business effectively.
We designed the Course Creator Academy to offer aspiring online course creators all the resources they require in a single, free package.