Once you have discovered ClickMagick, a conversion and link tracking software, it is important to choose a plan that aligns with your budget and marketing campaign.
Can you provide information on the cost of Clickmagick?
This article includes information on the updated pricing plans for ClickMagick, the limits of each plan, the availability of a free trial, the features of the link tracking tool, and the advanced features provided.
Furthermore, by the end of this post, you will be informed about a potential discount of up to 30%.
If you have any involvement in online marketing, own an online business, or are interested in finding a suitable plan for yourself, or if you are currently searching for affiliate marketing tools, please keep reading.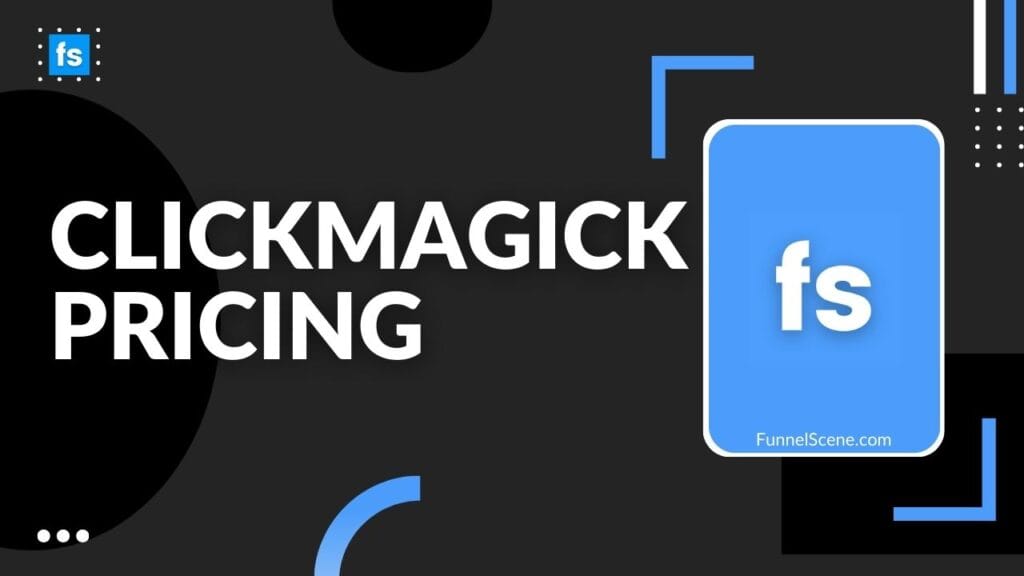 ClickMagick Pricing Plans Overview in 2023
ClickMagick currently has three pricing plans: Starter, Standard, and Pro. There will be a slight change in the pricing plans in 2023, but the features offered in each plan will remain unchanged.
Every plan includes essential tracking tools to enhance your sales and online marketing campaign. Even with the most affordable plan, you will still have access to valuable tracking and conversion tools.
The plans stand out with their unique limitations and exciting extra features.
To have access to additional benefits such as increased click monitoring, tracking multiple sales funnels, and improved customer support, it is recommended to consider the Standard or Pro plan.
Further details will be provided on each subject in the upcoming sections.
This article will solely focus on ClickMagick Pricing Plans. For additional information regarding features, please refer to our upcoming ClickMagick review.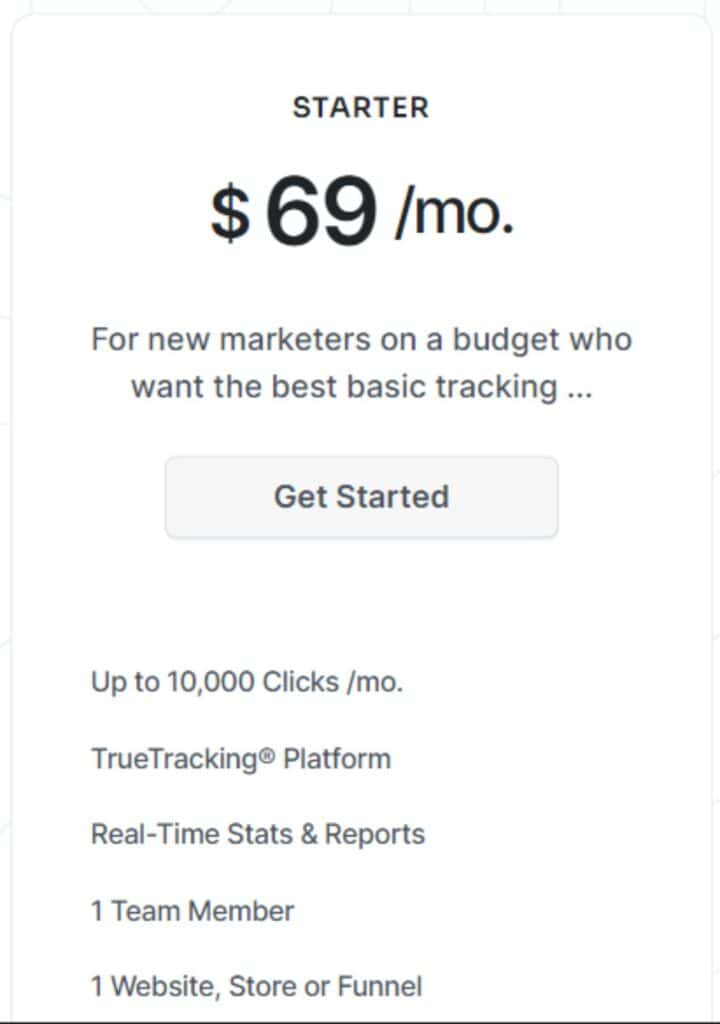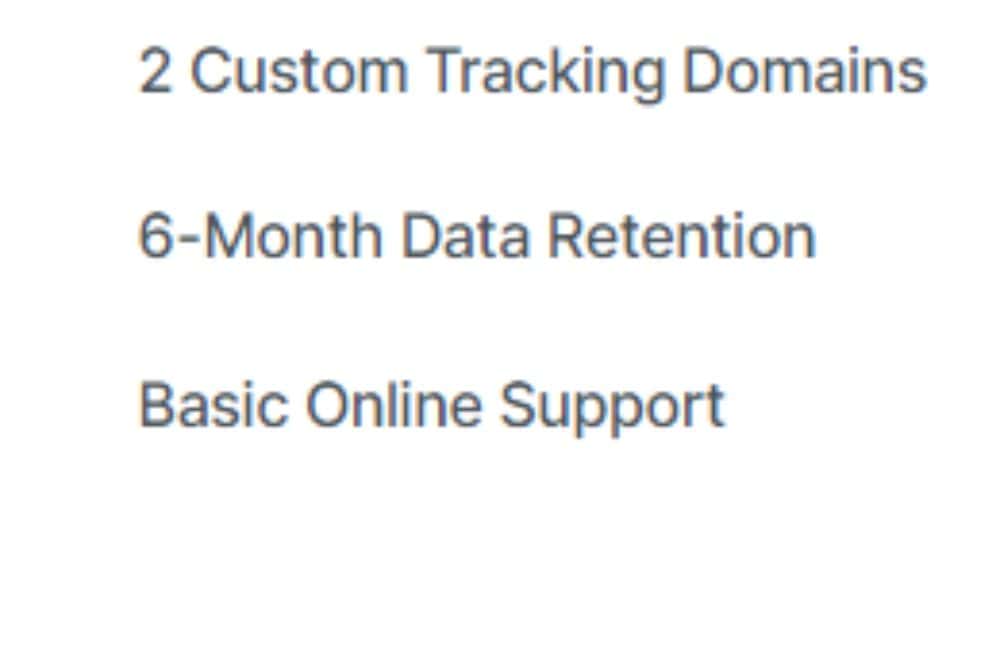 Price: $69/mo.
The Starter plan is the perfect choice for aspiring entrepreneurs and digital marketing rookies looking to kickstart their online presence without breaking the bank.
The plan includes basic features that have benefits, but it does not include advanced features such as audience optimization or PPC Click Shields.
It is acceptable if they are not essential for your current online marketing campaign and primarily require an advanced click tracking software.
Additional features include the option to use custom tracking domains and access to dependable customer support.
ClickMagick offers the option to set up custom domains or sub-domains for your Tracking Links and Rotators, whether they are existing or new. This feature allows you to establish your link's brand and style in order to increase the number of clicks.
Additionally, the Starter plan offers a variety of features.
Unleash the power of tracking and optimizing up to 10,000 clicks per month!
Unlock endless possibilities with unlimited conversion.
Get all ClickMagick's core features.
Tracking sales pipelines.
Protection against click-fraud.
There is no limit to the tracking of opt-ins, goals, and sales.
Unlock the power of mobile optimization and geotargeting!
Their affiliate links tracking is top-notch, especially with their dynamic sub-id feature!
Testing and rotators are important.
Live stats.
Redirect and track quickly, no need for links.
There is one funnel for tracking purposes.
Two custom tracking domains need to be set up.
The data is retained for a period of 6 months.
Online support services are provided.
These are some limitations that you may encounter with this ClickMagick pricing plan.
The user seat is limited to one person only. Additional team members cannot be added.
With the Starter plan, you can only contact support through tickets or queries and they'll respond within 8-10 hours.
Cross-device tracking is not currently available, which may lead to some inaccuracies in the data.
ClickMagick Standard Plan (Most Popular Seller)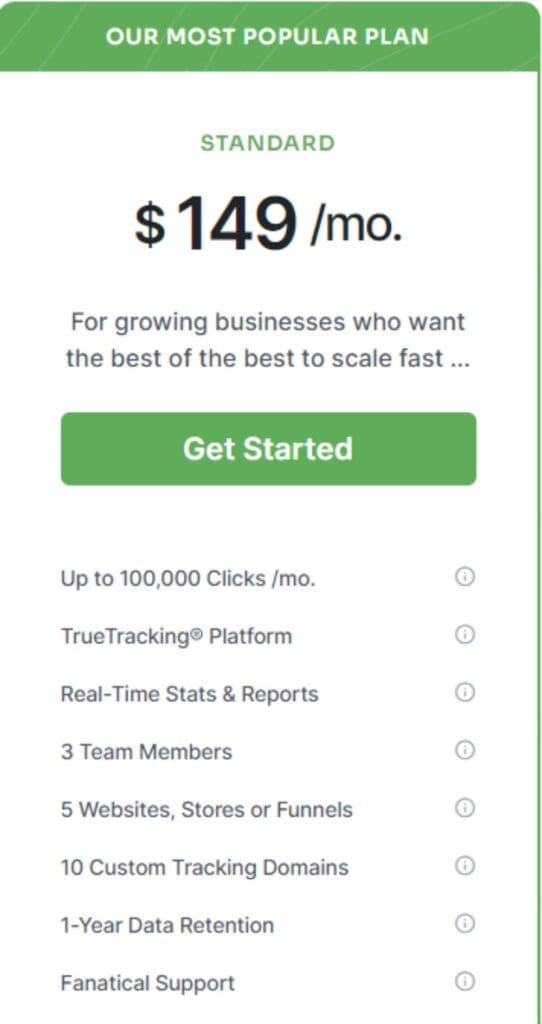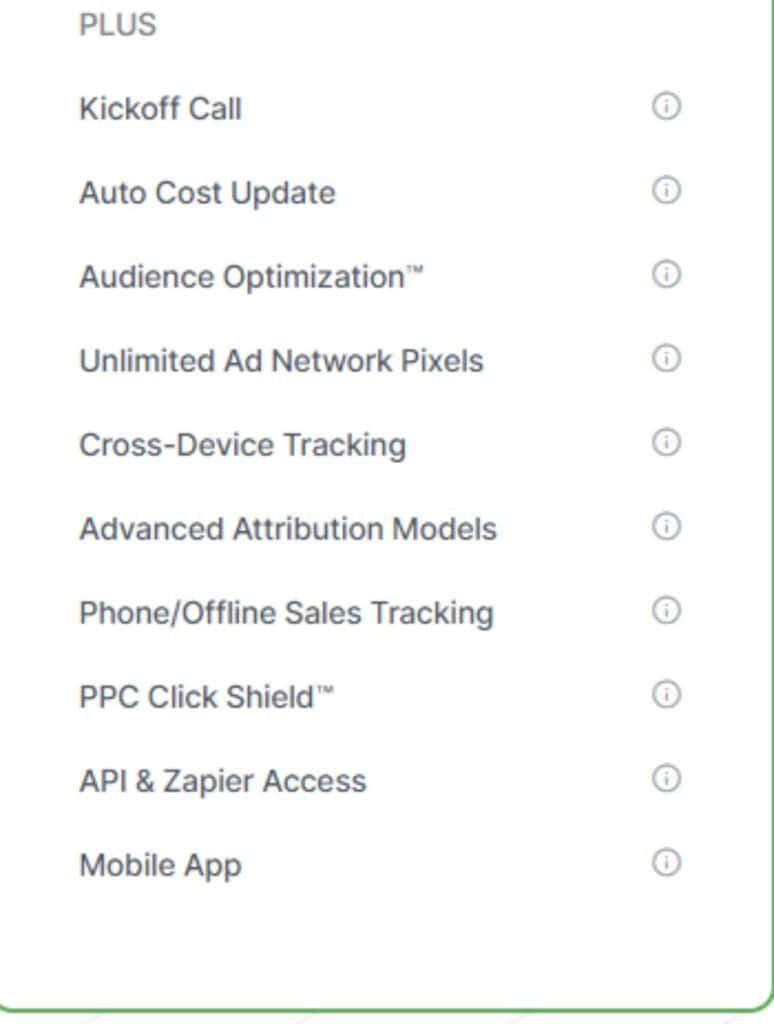 Priced at $149/mo.
The most popular ClickMagick pricing plan includes all the tools from the Starter plan, with increased limitations and added features. It is ideal for businesses and online marketers looking to promote multiple products.
In addition to the main features, it is possible to track additional sales funnels and obtain more custom tracking domains.
Here is a summary of the updated limitations and support available in the Standard Plan:
Get unlimited conversions with 100k clicks/month.
Three seats available for users. Add up to two team members with custom permissions.
These are the essential features.
Track funnels in 5 projects.
10 domains for tracking.
1 year storage.
It also offers improved and more efficient customer support features:
Dedicated live chat support
The helpdesk offers 2-hour support
Personalized guidance for a seamless start!
In addition to the aforementioned upgrades, users can also benefit from these additional features provided by this link tracker:
Cross-Device Tracking
This feature enables tracking of potential customers across multiple devices.
A customer may sign up for your email list using a mobile device and make a purchase using a desktop at a different time and date.
If additional tracking tools are in use, they might categorize this current customer as a new user.
This approach is not recommended as it may result in inaccurate statistics, which are crucial for optimizing and expanding your business.
Offline/Phone Sales Tracking
Click Magick is a tracking tool that can monitor both online and offline sales, including phone orders and wire transfers, distinguishing itself from other tracking tools.
ClickMagick simplifies offline sales tracking, making it easy to set up without any learning curve.
Audience Optimization
This feature allows for seamless transmission of conversion data from ClickMagick Campaign to the platforms used for ad campaigns, such as Google and Facebook.
The conversion tracking tool is accurate and ensures all conversions are accounted for, which allows platforms to optimize audience targeting for more effective and cost-efficient ad campaigns.
Facebook Conversions API
ClickMagick has seamless integration with Facebook Conversions API, allowing you to effectively track traffic quality and instantly send conversion data to Facebook through Audience Optimization and ClickMagick Campaigns.
ClickMagick is unaffected by recent changes on Facebook Ads, making it a reliable tool to enhance the performance of your Facebook Ads.
PPC Click Shield
PPC Click Shield helps prevent unwanted clicks from bots and competitors that can potentially disrupt your ad spend. This includes repeated clicks without any intention of making a purchase, but rather to sabotage your campaign.
The name suggests that it provides protection against negative behaviors and automatically blocks those who engage in them.
The feature ensures minimal advertising expenditure while maintaining conversion rates. PPC Click Shield can provide cost savings beyond its usage fee.
Paid Traffic Courses
ClickMagick offers traffic training courses on their Experts Academy page. These courses are accessible for free with both the Standard and Pro plans.
If you're interested in improving your advertising skills and becoming proficient in using paid traffic, you have the opportunity to receive and learn from their best practices.
The paid traffic training they offer has been proven and tested by entrepreneurs and business owners who have generated significant revenue through advertising and traffic generation.
ClickMagick offers comprehensive training on optimizing your ads on social media platforms, helping you maximize their potential.
Ads on Facebook.
GDN Ads are an advertising platform.
LinkedIn offers advertising opportunities.
Promote your business with Twitter Ads.
Ads on Instagram.
Ads for natives.
Use Google Ads.
They're going the extra mile for their customers, even though they're just a link tracking software.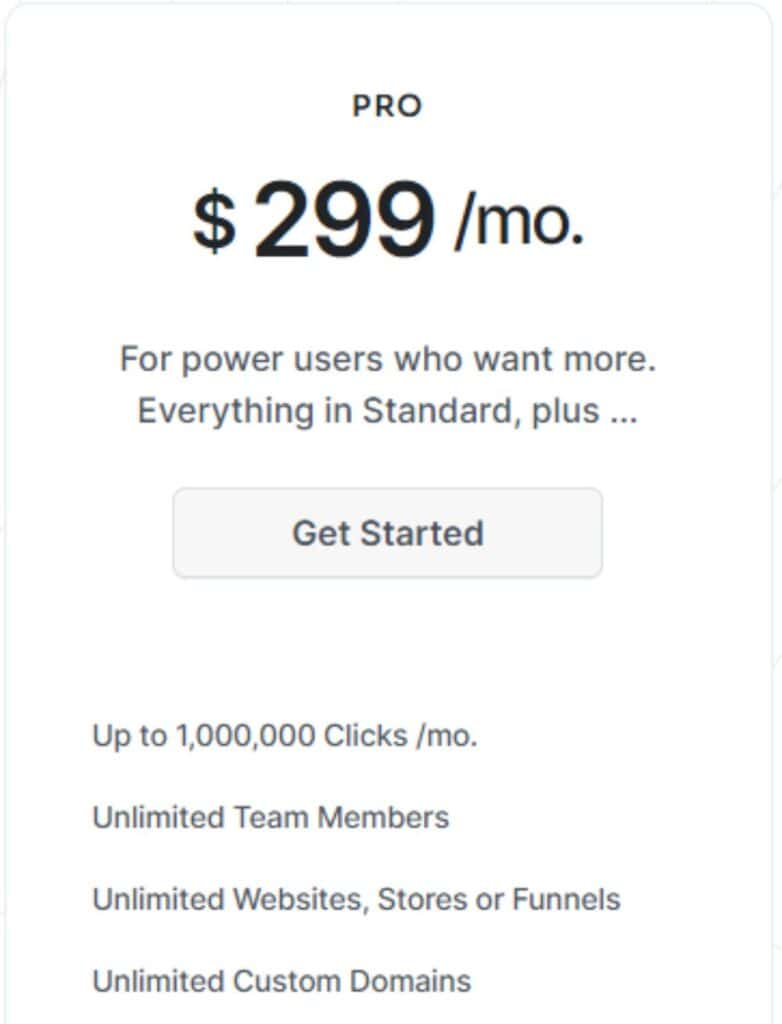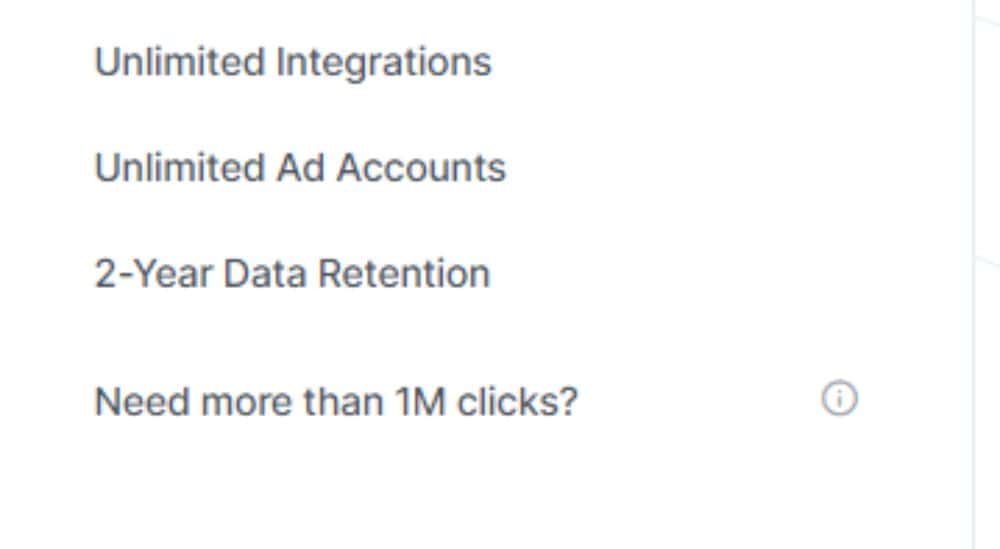 It costs $299 a month.
This Plan is suitable for larger businesses and e-commerce sites that require tracking multiple sales funnels.
Additionally, the Standard Plan offers enhanced features including unlimited custom domains, extended data retention, and more, all for a monthly fee of $199.
These extensive features will ensure that you have access to all conversions and essential data on your sites and platforms, giving you confidence.
The support team provides enhanced customer service in the Pro Plan, ensuring that any issues you encounter with the tool will be promptly resolved.
The Pro Plan includes a lineup of powerful features.
Get ready for a million clicks a month!
There are no limitations on conversions.
There are no limitations on the number of user seats.
Conversions funnel tracking is available without limitations.
You can have an unlimited number of custom tracking domains.
We offer support services that are done for you.
The data will be retained for a period of two years.
If you want to optimize your sales funnel, track accurate data in real-time, and increase your profit through ad and business optimization, consider the Pro Plan.
ClickMagick Discount (Not On Their Pricing Page)
At present, there are no discount or promo codes available on the front-end ClickMagick website. However, it should be noted that this does not definitively indicate the absence of any offers.
To receive a discount on their plans, it is recommended to select the yearly plan as you can save up to 30% with annual billing.
Unfortunately, this option is not available on the pricing page. It will only be shown after you sign up for ClickMagick's 14-day free trial, and they will require your credit card information.
Getting the Discount After Signing Up
Once you have registered, you will be guided to the comprehensive dashboard of ClickMagick. Simply follow these steps to access the pricing plan option:
To access your profile, click on the profile icon.
Choose "Billing."
Click the "Change" button next to your current plan.
Select the "Yearly" option for your preferred subscription.
Depending on the Plan you choose, you can save up to 30%.
Here's a calculation for the annual billing of each plan:
Starter plan costs $347 per year or $28 per month.
The standard plan costs $696 per year or $58 per month.
The Pro plan costs $1797 per year or $149.7 per month.
By choosing to pay annually, you can receive a discount of 25-30%.
Here is a guide on selecting the most suitable ClickMagick plan for your business:
The Starter Plan is recommended for new online marketers, business owners, or affiliate marketers.
Choose the Standard Plan if you are looking to expand your business or require monitoring for multiple sales funnels.
The Pro Plan is recommended for running a successful online business. It offers benefits such as maximizing sales funnels and paid ads, saving time, and providing comprehensive monitoring capabilities. Investing in this plan is worthwhile for those seeking convenience and efficiency.
If you need more information before making a purchase, please consult our ClickMagick review for a detailed analysis of features, pros, cons, and other relevant details.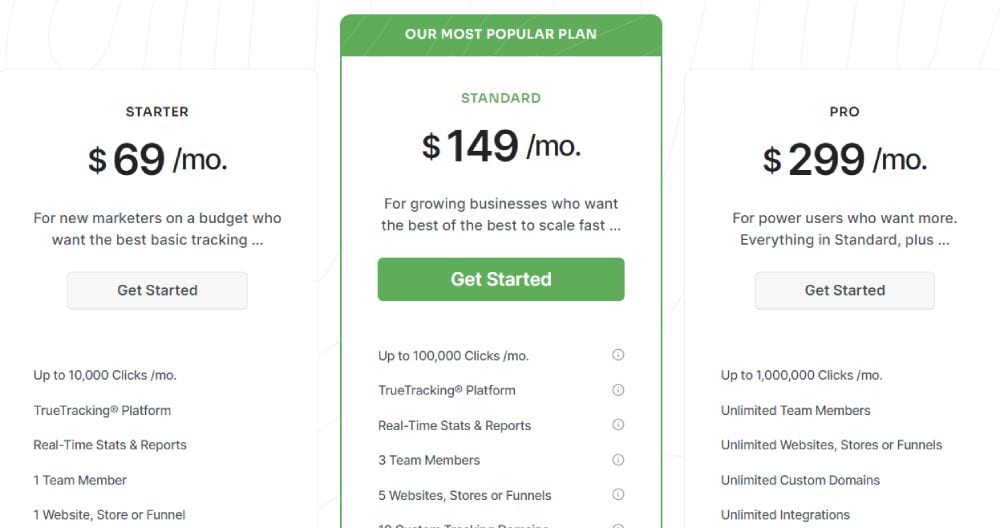 Conclusion on ClickMagick Pricing
ClickMagick is a comprehensive link tracking software that offers a wide range of features for various purposes, such as tracking sales, affiliate marketing, solo advertising, PPC ads, social media ads, and traffic routing.
The pricing for this tool is straightforward and transparent, without any hidden fees or requirements for additional purchases.
In this article, you will find information about the pricing plans and costs of ClickMagick. Please feel free to share your thoughts on the pricing packages below.
1. Does ClickMagick Offers Free Trial?
ClickMagick offers a 14-day fully-fledged trial period, allowing you to try out the ClickMagick tool without any issues.
2. What if I exceed my ClickMagick plan's click limit?
During the free trial of ClickMagick, there are no restrictions. However, if you surpass your plan limit by 10% or more after the trial ends, you will be upgraded to the next highest plan to match your click limit.
3. How do I cancel my ClickMagick account?
To cancel your account with ClickMagick, simply email [email protected] and they will assist you in canceling your account.