Russell Brunson's book, DotCom Secrets, details strategies for creating successful sales funnels.
We reviewed this book as it is a popular reference for digital entrepreneurs.
This review of DotCom Secrets will provide an overview of Russell Brunson and information about his secrets.
In this article, we will go over the major concepts in DotCom Secrets and how to get started implementing them.
Let's begin to explore those secrets.
DotCom Secrets by Russell Brunson is a strategic playbook that offers a range of effective lead generation and sales methods to help grow your business. It can be used both online and offline. Furthermore, the strategies offered are evergreen, which means they remain relevant even when algorithms or other factors change. To understand what this book isn't, it is important to consider Dan Kennedy's view that online marketing tactics often do not follow proven rules and principles. The DotCom Secrets way is to utilize timeless principles for success in online media, marketing and business.
When utilizing online marketing funnels to enhance sales value, it is important to focus on strategies that are considered evergreen.
Russell will demonstrate techniques that have been successfully applied in his previous and current businesses.
Break down the intricacies of funnel construction, sales funnels psychology, and types of traffic into simple visual diagrams.

To get the best out of DotCom Secrets, it is recommended to follow Dan Kennedy's advice.
It is recommended that those interested in earning higher levels of success read this review to gain insight into the differences between a ten-thousand-dollar website and a ten-million-dollar company.

Who Is DotCom Secrets For?
Could "DotCom Secrets" be beneficial for you?
If you are looking to establish or expand a business and utilize the methods which have been tried and proven by Russell himself, reading the DotCom Secrets book may be beneficial.
The book is of much benefit to entrepreneurs, as evidenced by the positive changes in their lives. I myself have read it multiple times and can vouch for its value; therefore, I strongly suggest it.
If you prefer to find solutions independently, DotCom Secrets may not be the right book for you; you might want to try a different one instead.
DotCom Secrets offers insights and strategies for success.
Those who already operate a business may not find this book to be of relevance if they have not started any business endeavors or lack a business idea.
As a product owner, you can explore strategies to increase your sales significantly by leveraging an existing product.
Marketers who are looking for innovative solutions can refer to DotCom Secrets for guidance.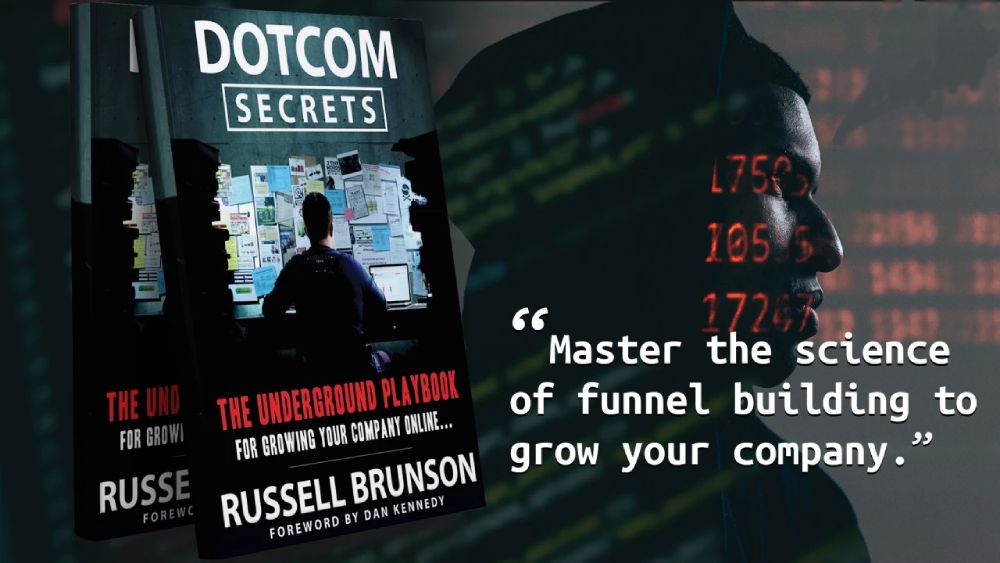 Why DotCom Secrets Is a Must Read Book For Any Entrepreneur or Online Marketer
To ensure the longevity of your business, it is important to possess the skills and resources necessary to generate successful outcomes.
DotCom Secrets provides guidance to individuals of varying levels of expertise, allowing them to start and grow a successful business.
If you have a business, this book outlines strategies to successfully increase its reach, potentially creating a positive impact on the world.
DotCom Secrets is a book that offers detailed guidance on minimizing business risks, attracting customers, and increasing revenue.
If you do not take the time to review DotCom Secrets, you may limit your potential to expand an existing business or become successful in a competitive industry.
How Is DotCom Secrets Different From Expert Secrets & Traffic Secrets?
Expert Secrets and its companion book offer helpful advice to lifestyle entrepreneurs, business owners and online marketers for launching and expanding their businesses.
DotCom Secrets provides a comprehensive roadmap for developing an effective business model. It covers the strategies for communication to convey value and ultimately generate income.
Expert Secrets provides practical guidance, illustrations and stories to assist in finding a voice, establishing a devoted following and monetizing the distribution of messages that will have an impact on someone else's life.
These books are recommended for business owners who want to achieve greater success. They offer insights on how to recognize opportunities amid competition.
In Russell's third book in the trilogy, Traffic Secrets, readers will find a playbook for bringing customers to their websites and funnels.
DotCom Secrets Review: An In-Depth Look Inside
Dotcom Secrets is a book composed of five sections, similar to Expert Secrets, which discuss straightforward marketing strategies and their implementation.
Section One: Ladders and Funnels
This section covers foundational knowledge for businesses, including the Value Ladder–an important part of delivering value to customers in a sequential manner.
The book offers advice to assist in identifying prospective customers and how to engage them online. It will also provide guidance on understanding the appropriate type of content and messages to deliver, thus increasing conversions.
Secret #1: The Secret Formula
To ensure your business is successful, there are four key questions to answer. These involve discovering whom your ideal customers are, how you can connect with them, and what products or services you offer to fulfill their needs.
Secret #2: The Value Ladder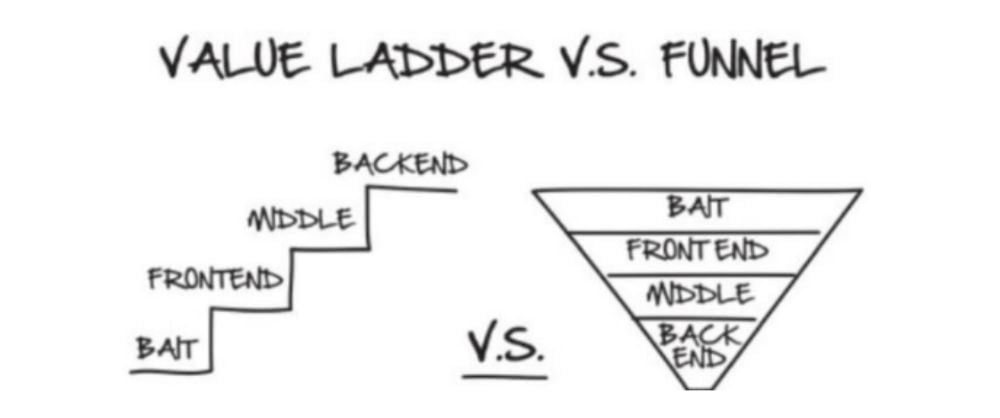 Turning random clients into loyal customers requires them to have a desire to buy your products or services. You are not only selling one product, but much more when you recognize this concept and create a value ladder. Keeping the value ladder in place is essential for success.
Once the customer has gone up the ladder, the goal is to help them enter the sales funnel and move from buying low-cost products to paying for more expensive products for maximum profitability.
Secret #3: From A Ladder To A Funnel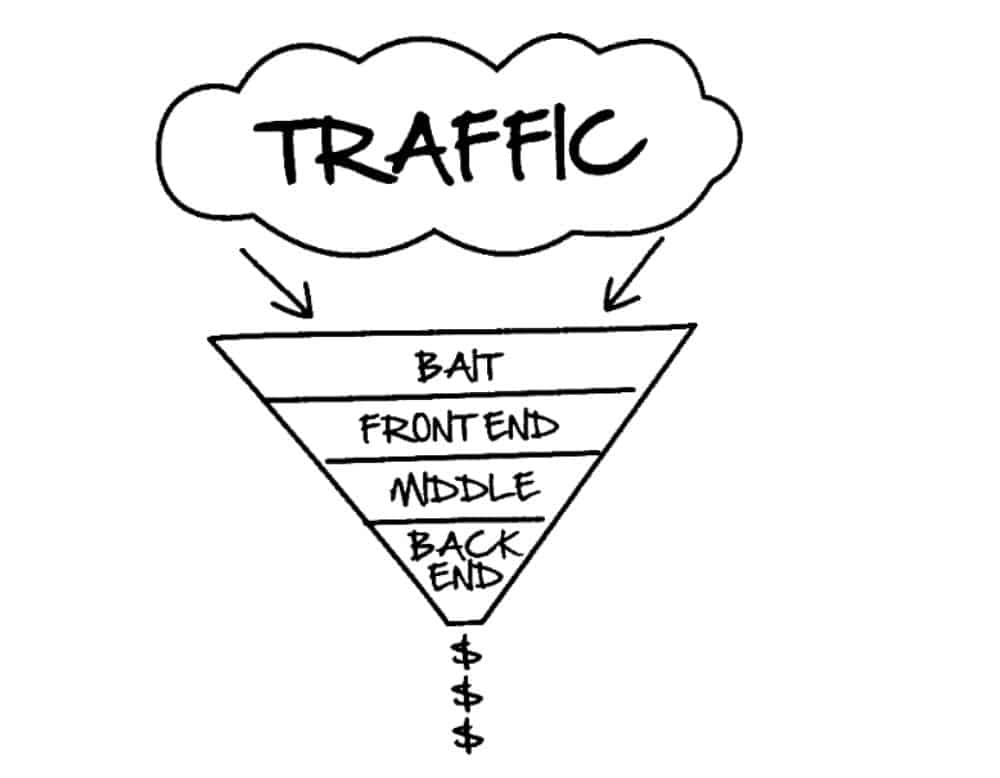 Creating a sales funnel involves transforming your value ladder into webpages and outlining the process your customers need to follow to purchase a product.
Secret #4: How To Find Your Dream Customers
Russell's process for identifying his ideal clients can be summarized through the response to three questions.
What is your target audience?
Where is your audience located?
Encourage customers to explore your page by leaving the congregation.
Secret #5: The Three Types Of Traffic
You are in control of the traffic.
Traffic that is beyond one's control.
You are responsible for the traffic you generate.
When you understand the different types of traffic, their connections, and how to target them appropriately, you can maximize conversions and customer loyalty.
Section Two: Your Communication Funnel
The book contains information on the topics discussed in Expert Secrets.It is likely that there will be some shared information between both books.
In this section, you will uncover three secrets.
The expert secrets provide more detailed information about the attractive character.
This sequence is a soap opera.
The sequence from the Seinfeld series.
I wrote a comprehensive article about the soap opera series. Get insights into the email marketing strategy by clicking the link below.
Secret #6: The Attractive Character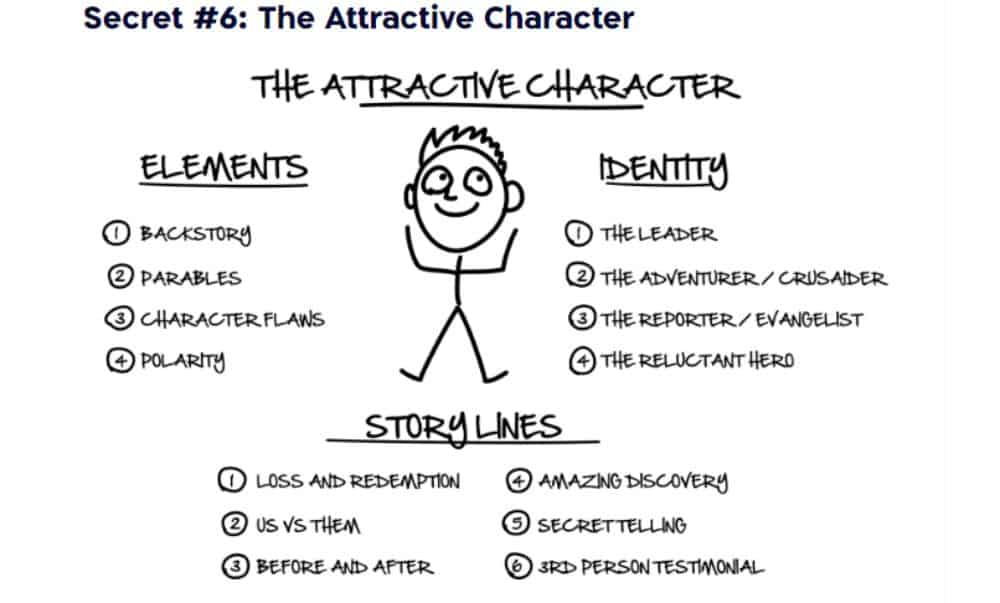 Developing a confident and attractive personality involves certain techniques.
What factors have contributed to the success of figures such as Gary Vaynerchuk, Marie Forleo, Tony Robbins, and Russell Brunson in gaining a large number of followers?
As a business owner, establishing a strong brand identity can help you attract customers, build your email list and successfully market products.
Russell Brunson outlines the three components to consider when constructing an attractive character, categorized into three areas.
The Elements is a collection of chemical elements.
Identification.
Plotlines.
DotCom Secrets provides guidance on how to construct an appealing persona through its components and elements, as well as ways to effectively convey mesmerizing stories that can drive sales.
Secret #7: The Soap Opera Sequence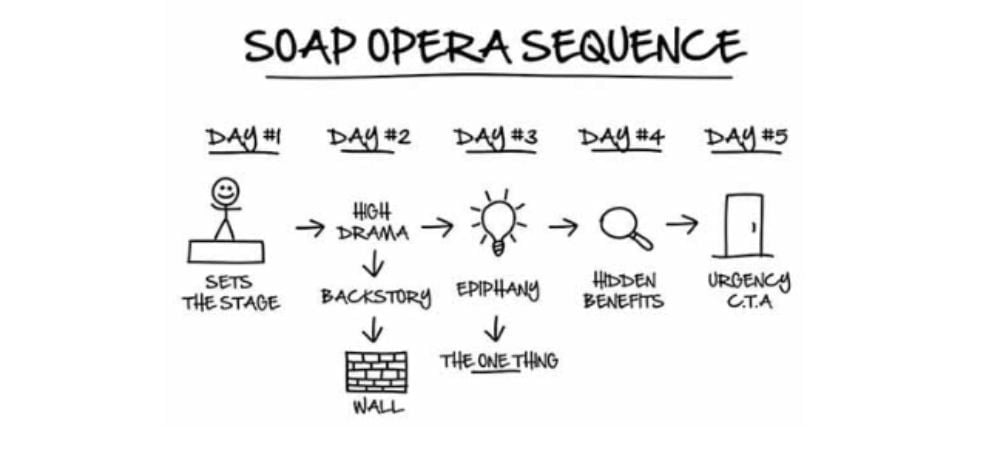 Properly introducing your character can determine whether subscribers open your emails regularly or discard them.
Use the structure and elements of a soap opera story when constructing your opening email sequence. This helps to create an instant connection with the individual who is receiving your email
Secret #8: Daily Seinfeld Sequence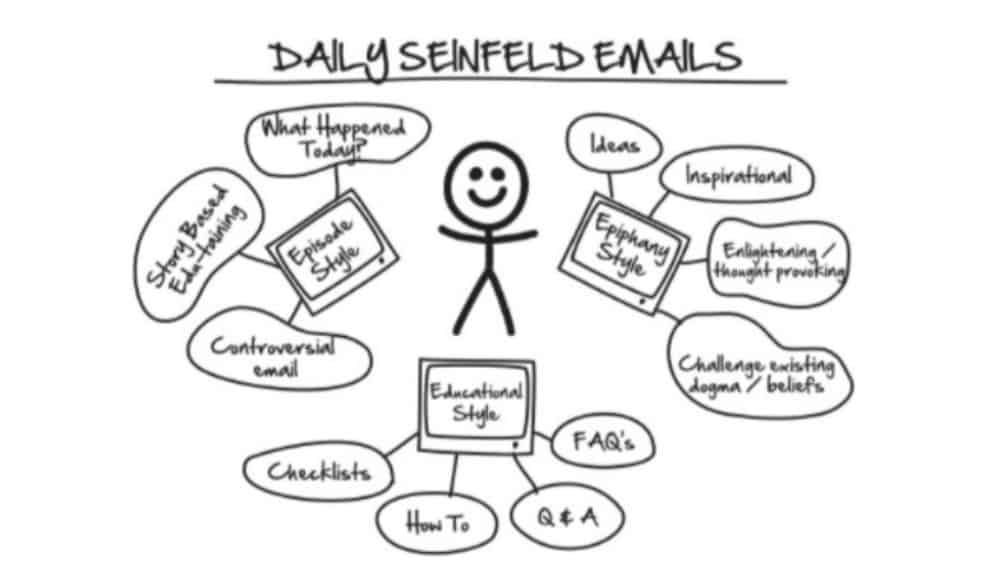 Content does not typically elicit a response from those who have bonded with an Attractive Character throughout a Soap Opera Sequence.
Russell suggests that after completing your initial Soap Opera Sequence, you should send Seinfeld emails on a regular basis in order to make your Attractive Character fun and entertaining.
Section Three: Funnelology
This section provides a comprehensive overview of strategies and tactics for creating effective funnels and how to ensure their successful functioning.
Russell covers the basics of a funnel, phases, sales stages, landing page choices, and their organization.
Secret #9: Reverse-Engineering A Successful Funnel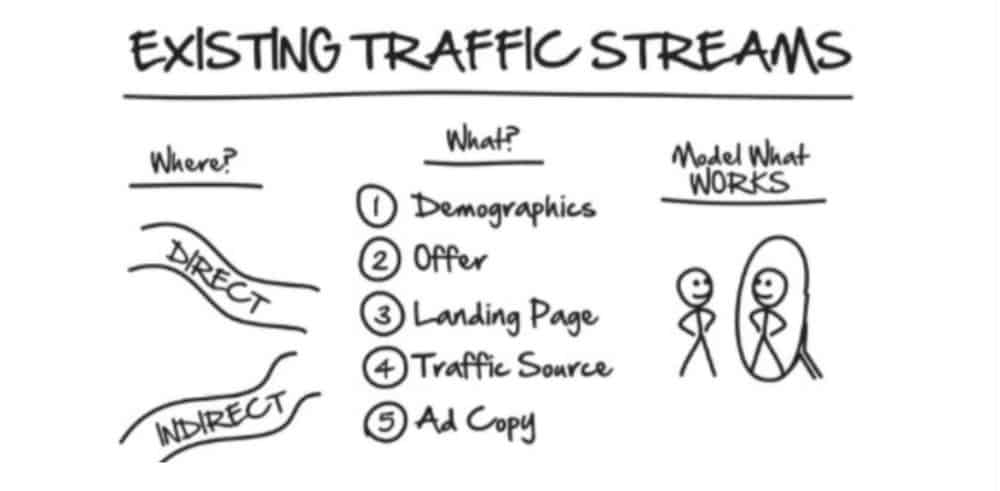 Before constructing any new sales funnel, identifying those with existing successful funnels that are targeting your desired market is essential.
It is more effective to replicate a successful funnel than to experiment with unverified strategies.
Secret #10: Seven Phases Of A Funnel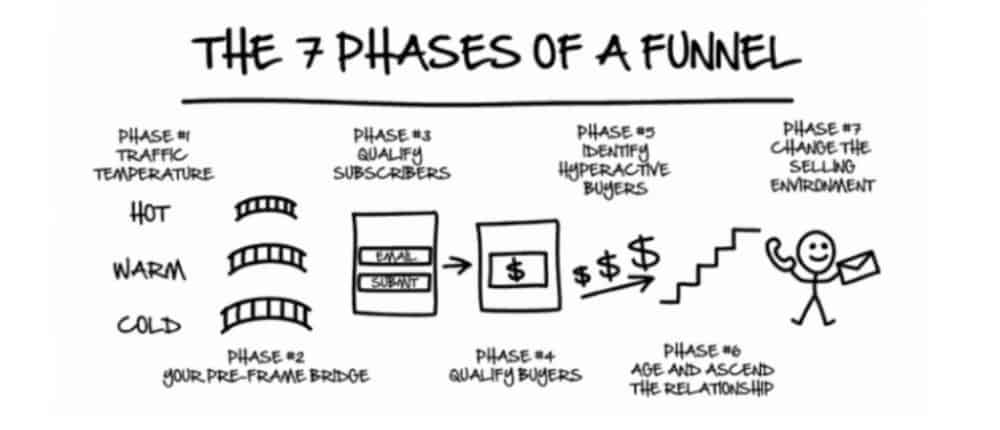 Understanding the phases of a funnel and being able to monetize different points along the line can contribute to success, regardless of the size of a business.
Russell Brunson's business framework includes seven stages of the sales funnel.
Establish the temperature of traffic.
Establishing the pre-frame bridge is necessary.
Assign subscribers a class.
Assessing Buyers Qualifications.
Identify customers with high frequency of purchases.
Consider the Age and Level of the Relationship.
The selling environment needs to be altered.
Secret #11: The Twenty-Three Building Blocks Of A Funnel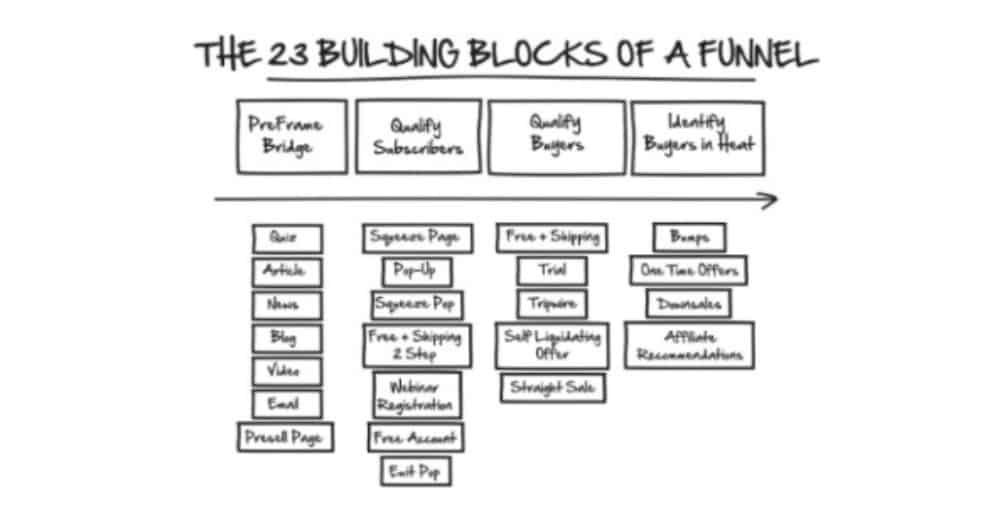 DotCom Secrets provides comprehensive business advice, including comprehensive guidance on creating seven different types of landing pages.You can view the 23 best elements for constructing sales funnels.
Funnel hackers can employ certain building blocks during the four phases of the funnel.
Pre-stressed bridge structures are an option in civil engineering.
Subscribers eligible for qualifications.
Evaluating potential customers.
Identifying buyers who are more likely to make repeat purchases for your products and services.
After you understand the process, you may choose which one to start with and continue using in your market.
Secret #12: Frontend Vs. Backend Funnels
There are psychological elements to consider when constructing a funnel for a product, whether it is an introductory product with lower pricing or higher costing packages.
The characteristics of your products or services will influence the type of funnel that is best suited for your needs.
Secret #13: The Best Bait
Utilizing free offers can be powerful in increasing conversions. Consider providing a free product up front, with a main product offered on the back-end.
Section Four: Funnels And Scripts
When I first read DotCom Secrets, the section in question was difficult to comprehend due to its uniqueness. Consequently, I had to reread the book in order to fully comprehend the point that Russell was conveying.
Russell looks into the details of his core funnels and the scripts that have helped him earn revenue through ClickFunnels and other companies.
The process of creating a sales funnel consists of developing the front end, the middle and the back end. There is powerful software such as ClickFunnels that simplifies this process by automating various steps.
1. Frontend Funnel: Two-Step – Free Plus Shipping
The Two-Step Funnel can be an effective tool when using free-plus-shipping offers and can similarly support conversions in other back-end offers.
2. Frontend Funnel: Self-Liquidating Offer
The Self-Liquidating Offer (SLO) Funnel is a sales technique applicable to products priced between $27 and $97.
The aim of this frontend product is to cover the cost of buying traffic, with the goal of breaking even. This type of approach is known as a "self-liquidating offer" as, if it is structured properly, there should be no need to pay for traffic and any upsells would be pure profit.
3. Frontend Funnel: Continuity
To create a continuity program, you will require a funnel that allows customers to pay for ongoing access to information, software, or other products on a periodic basis.
4. Middle Funnel: Perfect Webinar
Webinars can be an effective sales tool for products or services that require in-depth explanation prior to purchase. Russell provides his ideal webinar script to demonstrate how to sell more products using presentations.
5. Middle Funnel: Invisible Perfect Webinar
The following strategy for selling products is termed the Invisible Funnel and is part of the Value Ladder approach.
The Invisible Funnel is a paid webinar conducted after viewers attest to the quality of the presented material.
6. Middle Funnel: Product Launch
This funnel follows the product launch formula created by Jeff Walker and is most effective for existing customers or those familiar with the brand.
Your sales presentation is divided into four videos, which include a great deal of valuable information as well as education for prospective buyers and product promotion.
7. Backend Funnel: High-Ticket, Three-Step Application
This funnel is designed to efficiently pre-screen and assess potential clients who are interested in costly consulting or coaching services.
In the last section, Russell Brunson outlined how ClickFunnels can be used to construct sales funnels and develop a business on the internet.
This is a summary of Russell Brunson's book, DotCom Secrets.
We hope you had a good time.
DotCom Secrets Pros and Cons
DotCom Secrets is a useful resource for those interested in developing their online business, containing information and examples to draw inspiration from.
Let's take a look at the advantages and disadvantages.
Pros
DotCom Secrets is available for free, allowing you to gain knowledge that can help your business without spending any money.
Utilizing value ladders and sales funnel strategies and scripts can help to improve your business' relevance.
Gain insight into becoming an industry leader.
Effective strategies applicable to any business model.
Interacting with customers to create a positive relationship is beneficial.
Cons
To gain the most from DotCom Secrets, having an existing business can be beneficial. However, if you are just beginning, the material can still be helpful if correctly implemented.
This book is suitable for businesses that utilize online marketing platforms.
DotCom Secrets Book Pricing
The price of the DotCom Secrets book is not of much consequence.
It is understandable why.To make the book accessible to as many entrepreneurs as possible, Russel Brunson offers it free of charge.
Yes, that's correct.
The DotCom Secrets Book is available for free, with a fee of $7.95 for US-based deliveries and $14.95 for international shipments. Delivery will be fulfilled upon payment of the shipping fee to the customer's location.
Russell's website offers the book free of charge, with payment only for shipping.
DotCom Secrets Upsell Options
Accessing DotCom Secrets is straightforward as previously stated.This product includes some additional options you can purchase. Let's review them, so that you are aware of all your options.
This is the DotCom Secrets Funnel Upsells product.
With The Black Box included, this purchase has been upgraded.
If you purchase the 3 Funnel Bundle, you will receive it.
You are eligible for an exclusive offer to access Audio Books with Bonuses.
Get instant access to the Traffic Secrets Course with this limited time offer.
With Funnel Builder Secrets, you can access ClickFunnels Platinum (the highest plan) for 12 months. This includes features such as Actionetics/Follow Up Funnels, Backpack affiliate program, FunnelFlix and more.
If you do not wish to purchase any of the upsells, you can opt to receive the free copy of the DotCom Secrets book. This book will provide valuable information on its own.
Frequently Asked Questions About DotCom Secrets (FAQs)
1. Where can I buy the DotCom Secrets book?
The DotComSecrets book can be purchased here, with the shipping costs being applied.
2. Is there a PDF version of DotCom Secrets?
A Kindle version of the book is available on Amazon for $10.59, although more value may be obtained by purchasing directly from the DotCom Secrets website.
3. How about the DotCom Secrets Audiobook?
The Dotcom Secrets audio version is available to purchase in a number of formats, including downloadable version and mp3 version, while an Audible version can be purchased through Amazon.
4. Is there a catch after I get the free copy of the DotCom Secrets book?
There is no hidden cost; you are not required to sign up for any additional programs.
5. Can you become a ClickFunnels affiliate and promote DotCom Secrets?
You can join the affiliate program of ClickFunnels by following this link. When someone purchases a ClickFunnels product, commissions of up to 40% are available.
The Affiliate Bootcamp is a recommended program for those who would like to achieve super affiliate status with ClickFunnels or earn additional income each month.
6. When will the DotCom Secrets books ship?
Delivery within the United States can take between 5 to 7 days, while delivery outside of the United States can take 10 to 15 days.
7. Can I get a refund on my shipping fee if I don't like the book?
It is possible to request a refund for the shipping cost, while keeping the book. This will be processed by Russell promptly.
My Exclusive DotCom Secrets Bonuses
The information below outlines the bonus experience you will receive if you purchase DotCom Secrets through my affiliate link.
There are upcoming bonuses to be announced for the DotCom Secrets book.
DoCom Secrets Review Summary: Is It Worth Getting The Book?
Every book has a distinctive flavor that it imparts to its readers. DotCom Secrets is distinctive in that Russell included a variety of flavors in the book.
Russell's book combines informative concepts with practicality while maintaining an engrossing format.
As you progress through the various Secret Keys, you may have the feeling that you are unlocking the doors to success. Every secret key possesses its own unique qualities, making it a source of continual inspiration when revisited. This is why DotCom Secrets is not a novel to be read just once, but rather an essential reference guide to keep close at all times.
Once you have read the book, it is easy to understand why it is a best seller. After having gone through the book, you may feel motivated to share it with others in any way that suits you. There is an easy way to do this: share DotCom Secrets with people around you.