There are various tools available for building funnels, such as ClickFunnels and Funnelflows, if you are interested.
Funnel building tools can be effective in boosting your online business and converting leads into customers, but they may have room for improvement.
In the review of DropFunnels, we will discuss the features of the platform and its advantages compared to other traditional funneling software.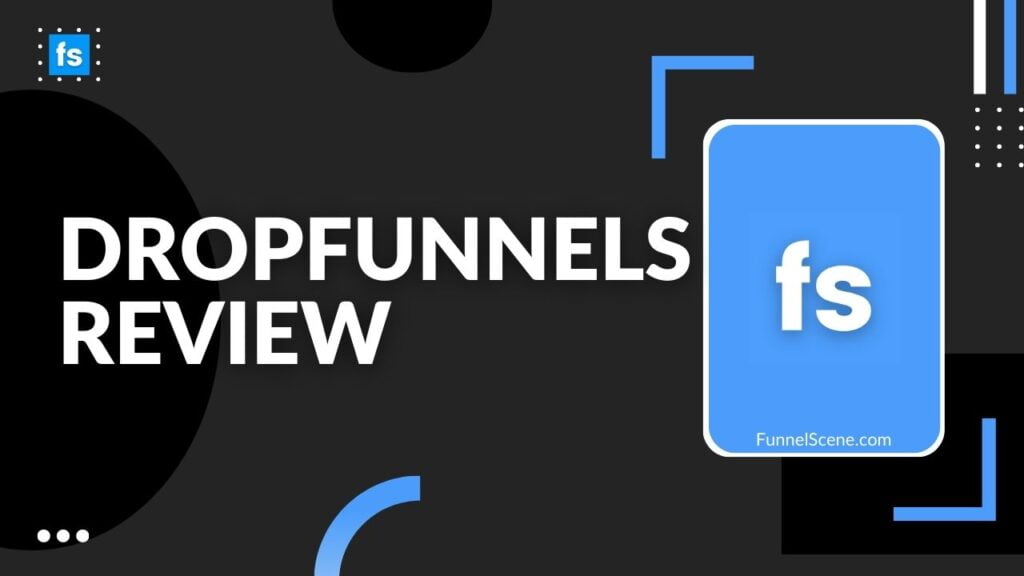 DropFunnels is a relatively new competitor in the field of funnel building. Created by Jordan Medirich, DropFunnels positions itself to be a comprehensive marketing solution.
In addition to providing the features typically found in sales funnel building tools, Dropfunnels also offers website building capabilities.
The software utilizes WordPress and the Beaver Builder plugin, allowing users to build funnels and optimize their SEO.
Additionally, they also provide features such as the ability to create landing pages, complete websites, track links, and establish membership sites.
Why Choose DropFunnels over other similar software?
DropFunnels is a versatile solution that caters to individuals seeking an all-in-one marketing platform. It offers features such as sales funnel generation, landing page creation, and website building, making it an ideal choice for those new to sales funnels and looking to establish an online presence.
Even if you create effective funnels using traditional funnel building tools, their full potential may not be realized if they are not ranked on Google. While funnel optimization and ranking are not exclusive to DropFunnels, no other software provides the same extensive features.
DropFunnels is a platform that offers unique capabilities for building websites, managing them, and creating and optimizing sales funnels. It provides users with a comprehensive solution for managing all aspects of their online business.
DropFunnels can assist you in creating or optimizing your blog to meet Google standards. This will guarantee that your website is consistently optimized for Google ranking, which is an effective method for increasing sales and popularity.

For a WordPress website, you may want to consider purchasing DropFunnel. It offers a user-friendly Drag and Drop builder and has a fast speed without complicated coding.
The platform is highly scalable and offers a wide range of features. It aims to incorporate the best aspects of various websites such as ClickFunnels, LeadPages, Kartra, Builderall, and more.
1. Unlimited Landing Pages And Sales Funerals
With DropFunnels, users have access to unlimited destination pages and sales funnels. This sets it apart from other software options where customers may need to continuously upgrade in order to create more sites.
DropFunnel is a versatile tool for creating and customizing marketing funnels to meet your needs efficiently.
The task can be completed in two straightforward steps.
Pick a design.
Name it.
Templates can be used for various purposes such as creating blogs, sites, checkout pages, lead generators, video sales letters, and webinar registrations. Additionally, lesson templates and course index pages can also be added. There are options available for templates, complete funnels, and CF marketing pages.
DropFunnels was not created by a single programmer or web developer. This indicates that when they claim you don't need any technical expertise, they mean it. Their website is the only evidence of their effectiveness and trustworthiness.
The page builder is a tool used for creating blogs and sales funnels. It is similar to BuilderBeaver, a popular WordPress page builder plugin, and utilizes templates to incorporate different widgets. It offers a wide selection of over 90 drag and drop builder modules.
4. Unlimited Membership Sites and Courses
If you have the ability to record courses and are interested in membership sites for your courses, services, offers, etc., they provide the combination of a sales funnel and membership site features.
Creating a membership site is a straightforward process. It begins with naming your site and selecting a URL for your membership. The choice of the last type of membership site is ultimately up to you. Whether you prefer a basic version, an advanced version, the steps above remain the same
DropFunnel offers standard blogging features and sets up hosting and WordPress websites, making it easy for you to create and maintain your blog. Including a slight hint of a sales funnel may be beneficial.
Regardless of whether you are starting a business or not, a blog can be used to advertise, explain, and promote your products. Using DropFunnels, you have the ability to create an unlimited number of blog posts.
All these features are supported by advanced SEO benefits, which can be particularly helpful for beginners
Drop Funnels offers a built-in link tracker that allows you to monitor the performance of your website. With this tool, you can track sales and leads, and request any necessary reports or records. The tracker also provides information on the number of clicks your link receives.
The setup process is straightforward. You need to input a source URL and destination URL, select the action and redirection type, and you can choose to keep some settings on default for convenience.
Others Dropfunnels Features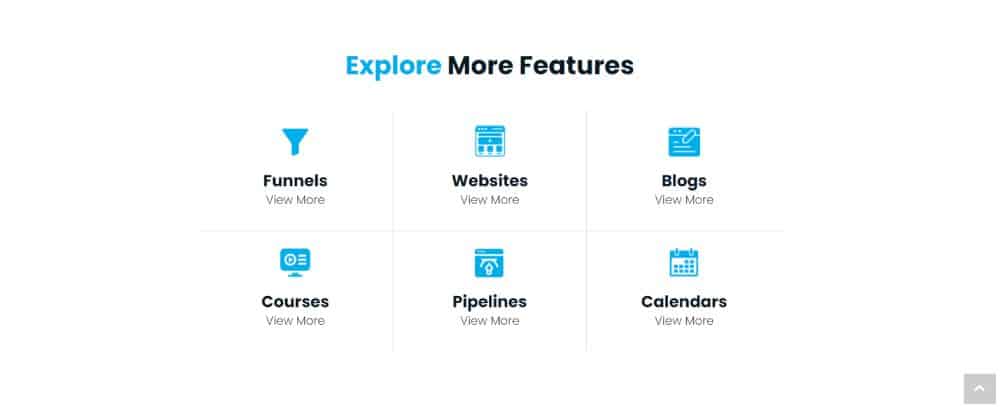 There are several other features listed down below:
There is a selection of professional theme designs available for you to choose from.
The Stripe integration enables convenient payment processing.
The domain mapping for form and reform is being discussed.
The SEO Framework is a tool used for optimizing websites.
There are several options available, including an Efficient Menu.
DropFunnels Affiliate Program

Approved affiliates at DropFunnels earn a 30% recurring commission on the plan they refer to, and they may also participate in contests and receive incentives for their exceptional performance.
Affiliates must earn a minimum of $100 USD in total commissions before they are eligible for a payout. Payouts will be issued on the first day of each month and will be distributed through a payment method approved by the affiliates.
If the affiliate fails to provide their account for the money transfer, it will be considered a violation of the rules, resulting in their expulsion from the DropFunnel affiliates program. Any unpaid commissions will be retained by the company and will not be given to the affiliate due to their misconduct.
Becoming a user of the software as an affiliate is optional, but it is strongly advised in order to provide optimal support to your members when needed.
What makes DropFunnels so great?
In addition to the aforementioned features, DropFunnels offers unique and helpful tools that contribute to its reputation as a top-notch all-in-one marketing solution and sales funnel builder.
1. One of the best Website and Sales Funnel Builder
The most frequently used features are found in the DropFunnels user interface, which bears a striking resemblance to WordPress. It utilizes the well-known WordPress plugin called Beaver Builder.
The DropFunnels builder allows users to utilize their creativity and coding skills, offering a range of over 90 widgets that can be easily integrated into your website.
DropFunnels offers a unique feature that allows users to seamlessly switch between website and funnel editor, providing a convenient and efficient platform.
Upon logging into your DropFunnels account, you will be directed to the Dashboard, which acts as a central hub for navigating and participating in various activities.
The user interface is designed to be clean and minimalistic, making it easy for even new users to navigate. The left side of the dashboard offers various options for quick access.
There are pages.
Upload media.
User panel.
Theme options.
SEO
Create new blogs.
The settings are being discussed.
Build webpages and funnels.
There are additional options available.
The top of the dashboard also provides the user with various options to view the following.
There are funnels.
Sales are taking place.
Integrations are important.
Track your links.
They provide support.
Items.
We offer membership options.
There are leads available.
3. Tracking Links is easy
One notable feature of the tool is the ability to track links, although it may not be as comprehensive as other solutions. It effectively provides the ability to view click counts and relevant statistics.
4. Dedicated Search Engine Optimization Tool (SEO)
DropFunnels is a preferred choice for many due to its dedicated SEO tool, which is seamlessly integrated into the system and assists in enhancing areas for better Google search rankings.
Most SEO tools identify your weaknesses but don't offer optimization suggestions. DropFunnels is different. It helps you optimize your content to meet Google's standards. By meeting these criteria, your website has a better chance of ranking highly in search results.
DropFunnels provides a range of features and settings that cater for all levels of expertise in SEO. These include options for optimizing your webpage for Google Search, such as meta descriptions, social media integration, Google Analytics integration, and sitemap functionality.
When running a blog, you can make use of standard WordPress SEO features like keyword density, alt text, and meta titles to improve your ranking on Google's algorithm.
Now that we are familiar with all the features of DropFunnels, let us take a look at the pros and cons:
1. Unlimited everything
DropFunnels enables users to construct websites, generate landing pages, and establish sales funnels without any restrictions. Users have the ability to create an unlimited number of websites and sales funnels, a feature that is only available in a few selected solutions.
2. Optimize sales funnel using SEO
DropFunnels stands out from other sales funnel creators and website builders because it combines both functions in one platform. Additionally, it offers the advantage of using SEO to improve the ranking of your sales funnel, which can greatly benefit your business.
One challenge of using a sales funnel is improving its ranking on Google Search. However, DropFunnels provides a straightforward solution to this problem.
3. Free In-built Link Tracker
The free built-in link tracker has proven to be a useful feature for many users. It allows users to track specific links and gather information on the amount of traffic and number of clicks they receive.
4. Various Payment Integration Options
When constructing an eCommerce website with DropFunnels, the payment options provided allow for easy transactional flow of both outgoing and incoming payments.
5. Complete WordPress feature suite
The platform is built on WordPress, which provides all the standard features of WordPress. This allows for the easy creation of a blogging website and a sales funnel.
1. Can connect to only one domain
While DropFunnels allows users to create an unlimited number of pages and funnels, it only allows for the connection of one domain per account. This differs from Clickfunnels, where you have the ability to set up work for all of your clients.
2. Hard to learn
There are other options available for easily creating sales funnels. Some coding knowledge is required to fully utilize the platform. However, once you become familiar with the features, DropFunnels offers worthwhile performance.
Dropfunnels offers two pricing plans.
Starter Plan: $99/month.
Ultimate Plan: $299/month.
The price of DropFunnels is reasonable considering the wide range of features and tools it offers.
DropFunnels also offers a 14-day free trial, allowing users to test the platform before making a purchase. This option is beneficial for those who prefer to make informed decisions with their money.
Here is a detailed breakdown of the pricing plans offered by DropFunnels.
Starter plan at $99 per month
The monthly cost of this plan is $99. The starter plan includes all the core features. There are no restrictions on the number of pages, courses, blogs, and other products you can add. Additionally, you will have unlimited site visitors.
If you choose not to participate in the free trial, you will receive additional bonuses.
DropResponder Pro (CRM) is available for free.
The VSL workshop bundle is available.
There is no cost for accessing their funnel template library.
The Starter plan offers the necessary tools for business growth. There is the option to switch to higher-priced plans as your business expands.
Ultimate plan at $299 per month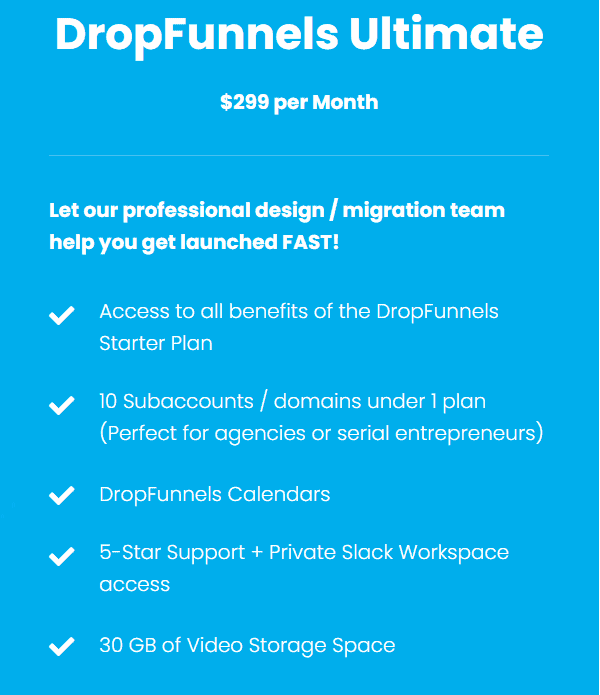 The DropFunnels Ultimate plan is priced at $299 per month and includes full access to all features and services offered by DropFunnels. Additionally, users have the option to seek assistance from DropFunnels' professional design and migration team.
The Ultimate plan includes all the features in the Starter plan and more.
There are a total of 10 subaccounts/domains.
The DropResponder Teams plan is available for free.
A funnel that is designed specifically for authority purposes.
Course design tailored to specific needs.
A blog layout that can be customized.
The support provided is of the highest quality.
There is an opportunity to have a one-on-one clarity session with DropFunnels CEO Jordan Mederich.
This plan is designed for agencies and serial entrepreneurs who are seeking to enhance their businesses and expand their networks.
If you are new to this, the initial cost of the plan may be high. It is recommended to begin with the Starter Plan and upgrade as your business expands. You can begin using DropFunnels with a 14-day free trial at the moment.
Start using DropFunnels.
DropFunnels is a platform that allows users to create sales funnels and blogs in one convenient location, making it a unique and effective tool.
DropFunnels is an online market system that offers lightning-fast speed and a wide range of customizable features. It is an affordable solution for those in need of a funnel builder.
DropFunnels also offers a 14-day trial period at no cost, allowing you to test it before making any financial commitments. This is a favorable offer, if we may say so.If you found this review helpful, we would appreciate it if you could consider sharing it.
DropFunnels offers users the ability to create sales funnels, blogs, and membership sites all in one place. The platform is easy to use and allows you to customize your website in a breeze. You can even add your own custom HTML code for more advanced features.
In addition, DropFunnels integrates with third-party services such as Zapier, PayPal, Stripe, Aweber, and more. This makes it easier for you to set up your website with the features you need.
DropFunnels also provides a comprehensive library of templates that make it easy to create beautiful websites in no time. You can even add your own images and videos to give your website a personal touch.
Overall, DropFunnels is an excellent platform for creating sales funnels, membership sites, and blogs. It is user friendly and offers a wide variety of features for you to choose from. With its integration capabilities, you can easily set up your website and start making money online.
What about canceling the subscription?
Customers have the option to cancel their subscription to DropFunnels at any time as there are no contractual obligations.
DropFunnels is a popular digital marketing and sales funnel platform that helps businesses create, launch, and optimize their websites. It features an easy to use drag-and-drop editor, pre-built funnel templates, integrations with third-party tools, and more. With DropFunnels you can build a comprehensive sales page or website in minutes.
Can I become an Affiliate?
DropFunnels offers an affiliate program that allows users to earn a 30% commission on every paid member.
The DropFunnels affiliate program is easy to join, and it includes several features that make it appealing to potential affiliates. First, the platform provides tracking links that allow affiliates to keep track of their referrals and commissions in real time. This makes it easier for them to manage their business and monitor the progress of their campaigns.
Can DropFunnels handle upsells, downsells, and order bumps?
The checkout process includes the option to add an order bump and can accommodate an unlimited number of upsells and downsells.
If you're in need of a checkout process that offers extensive customization options and can accommodate an unlimited number of upsells and downsells, Dropfunnels is worth considering. This platform simplifies the addition of order bumps and extra product details, and their support team is readily accessible to assist with getting started.
What Payment integrations are available currently?
DropFunnels has integrated four payment gateways, which include NMI, PayPal, Stripe, and Authorize.net.
DropFunnels is an all-in-one marketing funnel building and sales platform designed to help entrepreneurs, digital marketers, and business owners create high converting funnels. It offers many features such as funnel templates, email automation, page builder, click tracking, split testing, and more.
Is integration with another CRM system possible?
DropFunnels allows users to integrate their CRM systems using webhooks through REST APIs.
What if I happen to own a domain?
DropFunnels provides a complimentary subdomain, and the option to add one is available at any given time.
DropFunnels is a powerful and comprehensive digital marketing solution that helps businesses create high-converting sales funnels for their products and services. The platform provides several features to help users create, optimize, track, and manage efficient online marketing campaigns.One of the best features offered by DropFunnels is its complimentary subdomain option. This allows users to quickly build a custom domain name .