Maximize your digital marketing efficiency with GoHighLevel Automation.
Automation is vital in today's fast-paced digital world. It helps businesses save time, streamline processes, and improve efficiency. GoHighLevel is a popular platform in the digital marketing community. It offers robust automation capabilities that enable marketers to automate different aspects of their campaigns.
In this article, we'll discuss the power of GoHighLevel automation and its potential to revolutionize your digital marketing efforts.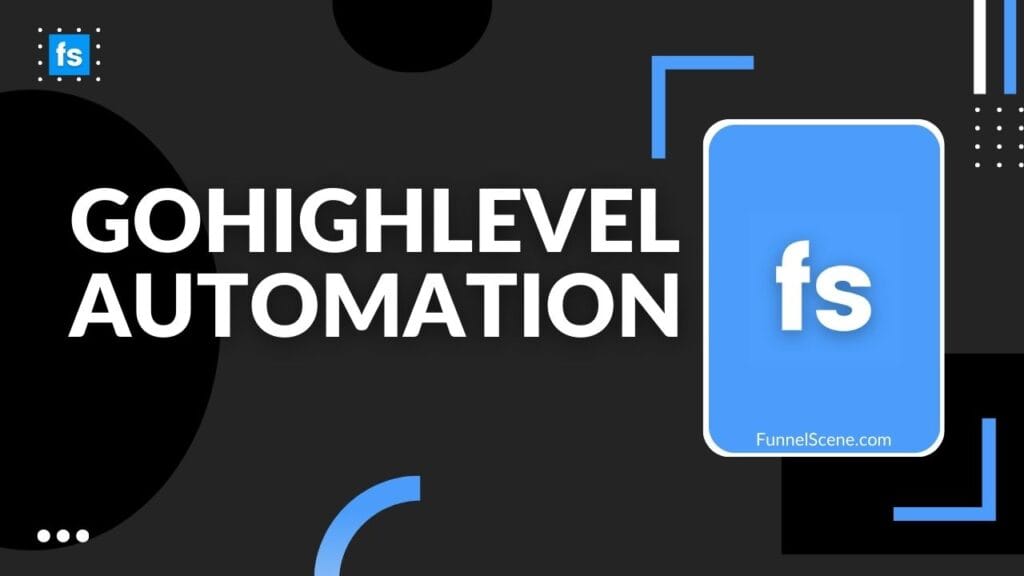 What Is GoHighLevel Automation?
GoHighLevel offers various automation features that can be configured to handle lead nurturing, such as automated text or social media messages, calls, and voicemails.
The platform also offers automation features for managing pipelines and calendars, and it allows you to incorporate automated processes into your multi-channel marketing campaigns.
The purpose of automation is to streamline tasks and increase efficiency, allowing you to focus on business growth.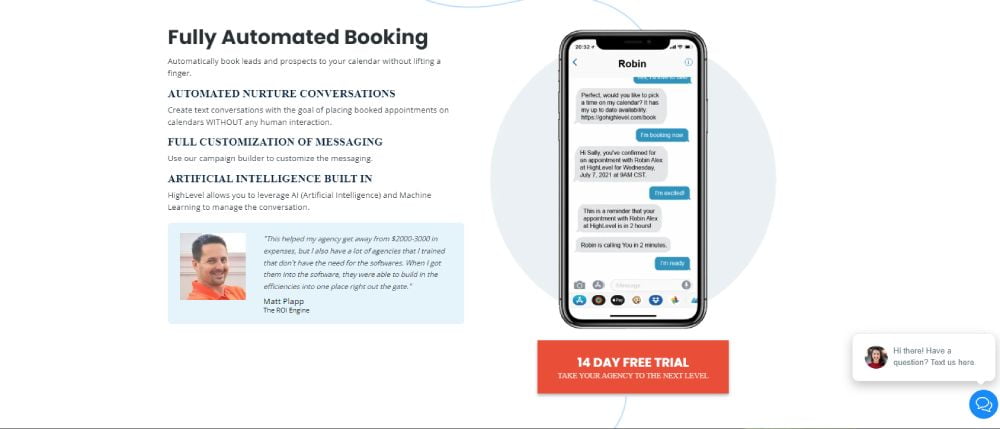 What Can You Automate on GoHighLevel?
GoHighLevel incorporates automation into its marketing campaigns through its core feature called "Workflows". These workflows can be used to create both single-channel and multi-channel campaigns.
This article will discuss workflows, which serve as the foundation for all the various automation tools in GoHighLevel.
Workflows are designed to allow businesses to save time and money by automating their marketing campaigns. This is achieved in a variety of ways, including creating single-channel or multi-channel campaigns, setting up triggers and sequences for automated email nurturing, running A/B tests on landing pages, and much more.
Email Marketing Automation
Establishing a workflow is necessary in order to create automated campaigns.
This is accomplished by implementing actions that prompt specific events. For instance, sending out an email invitation to watch a complimentary online training video, followed by the recipients receiving an offer for a paid training course. Subsequently, the action taken by each recipient will prompt a distinct email response.
The actions are: Rewrite the sentence:
Training video watched but no further action: Sends a follow-up email for an additional discount opportunity.
Training video watched and course purchased: A welcome email is sent containing login details.
Recipient clicked to unsubscribe: Sends a confirmation email to unsubscribe.
Recipient clicked into email but ignored video: Sends an email containing information about the paid course.
The email workflow allows for the inclusion of multiple variables, and once set up, the system will automatically send follow-up responses without the need for manual intervention.
This feature is effective for sending out a series of emails, like newsletters, in a sequenced manner. The workflow allows for each email in the series being sent after a designated time period, ensuring they don't all flood a recipient's inbox at once.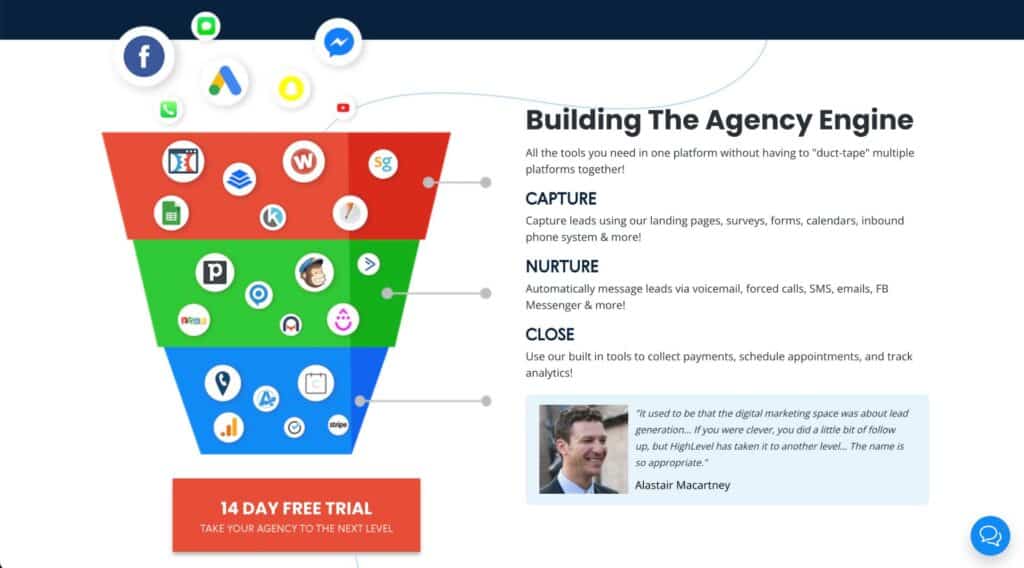 SMS Automation
Single Word Text Automation
The GoHighLevel platform offers a feature that enables users to send a single word via text and receive an automated response.
This process involves assigning actions to specific words or phrases that elicit a response when sent via text to the designated phone number associated with the account.
For instance, when a person texts the word "subscribe," it can prompt the sending of an SMS with a subscription form link. Similarly, if someone sends a message requesting a call, it can initiate the action of sending a voicemail or notifying an agent for a manual call.
Additionally, a workflow has the capability to generate multiple messages depending on the user's response.
The system utilizes AI to analyze responses and phrases in order to determine the subsequent message based on positivity or negativity.
If you are looking for a positive response, the system can interpret similar responses as meaning the same thing, such as "Yeah," "Okay," or "Yes, please."
Automatic Missed Call Texts
This tool is beneficial for your clients as it eliminates the worry of missing important phone calls and potential business opportunities.
When a call to a company goes unanswered, it is common to move on to the next number until someone answers. This means that the person who did not answer the phone missed out on a potential sale.
To prevent this situation from occurring in your business, you can establish an automated SMS that will be sent if the phone is not answered. This will make the potential customer feel acknowledged and offer a chance for turning the situation into a sale.
Social Media Automation
Facebook Messenger
GoHighLevel's direct integration with Facebook allows users to set up automated responses in Facebook Messenger. This feature is particularly useful for capturing lead data or guiding users through a booking process, especially if they are running Facebook ads.
Automated conversations can be set up with predetermined responses. For instance, when someone clicks on an ad, they may receive a message asking if they want to know more about the offer. They can then choose to click "Yes" or "No," which will prompt another response based on their answer.
By implementing this strategy, one can streamline conversations and guide users towards desired actions.
If the user does not respond to the message, a reminder can be automatically scheduled to be sent at a later time.
Additionally, a trigger link can be included in the message to automatically add lead data into a campaign when the link is clicked by the user.
Instagram
Similar to Facebook, Instagram allows for direct integration and the setup of automated direct messages. This feature includes the same tools and functions as Facebook Messenger automation and operates in a similar manner.
TikTok
By running ads on TikTok and integrating with GoHighLevel, you can seamlessly transfer data from leads who click on your ads and complete a form directly into your contact database.
Additionally, there is the option to automatically include the contact in a campaign, which then initiates a workflow to cultivate the lead.
Calling Automation
Forced Calls
GoHighLevel has a feature that automatically calls an agent when a lead completes and submits form data, allowing them to act on leads promptly.
The process involves filling out an online form or responding to a text with contact information. Once this is done, the system automatically initiates a call to the agent.
The individual receives a "whisper message" asking if they would like to be connected with the lead. If they respond affirmatively, the system initiates a call to the lead and connects the two parties for a chat.
Ultimately, it provides an opportunity to improve conversion rates by capturing leads when they are most interested.
Voicemail Drops
Voicemail drops are similar in nature as sending an SMS, except they consist of pre-recorded voice messages rather than text.
This process involves initiating a call to the recipient and promptly disconnecting, resulting in the call not being recorded on the recipient's phone. During the brief period when the phone is not connected to the network, the system promptly dials back, directs the call to voicemail, and leaves a message.
During workflows, it is possible to set up a voicemail drop. For instance, if a video call is scheduled, the workflow can be programmed to send a voicemail providing instructions on joining.
Appointment Booking Automation
This feature allows businesses to regularly take advantage of booking opportunities.
Customers commonly reach out to businesses through different channels like Facebook, SMS, online chat, or other methods. Given the high number of inquiries, it can be difficult for businesses to maintain consistent responses across all channels throughout the day.
In the Workflows section of the GoHighLevel platform, you can create a chatbot for text-based communication channels that guides the lead to booking confirmation. This operates similarly to an automated SMS conversation.
The system uses AI to generate a suitable response and can also determine if the recipient is responding positively or negatively.
The AI can also be programmed to detect certain keywords, such as "book," which will prompt the system to provide a link for making reservations.
The hands-off approach can provide benefits for small businesses with limited resources who are looking to generate revenue, but may encounter difficulties in consistently monitoring their communication channels for leads.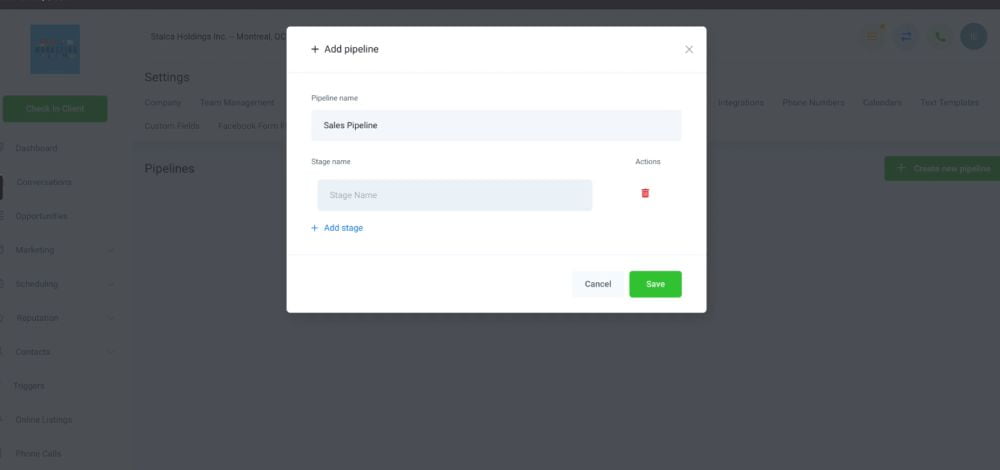 Pipeline Automation
GoHighLevel pipelines efficiently manage leads as they progress through different stages, providing a clear overview of your current activities.
To add a lead to a pipeline, opt-in links can be included in marketing material. These links automatically add a lead to a campaign and, subsequently, the pipeline. For instance, when someone receives a promotional email with a link to stay updated about upcoming sales, clicking on this link will result in their contact details being added to the pipeline.
As the lead progresses through the campaign workflow and interacts, their status within the pipeline will be updated automatically until the process is finished. If they make a purchase, they will be excluded from the campaign. If they decide to unsubscribe from the communication, they will also be excluded.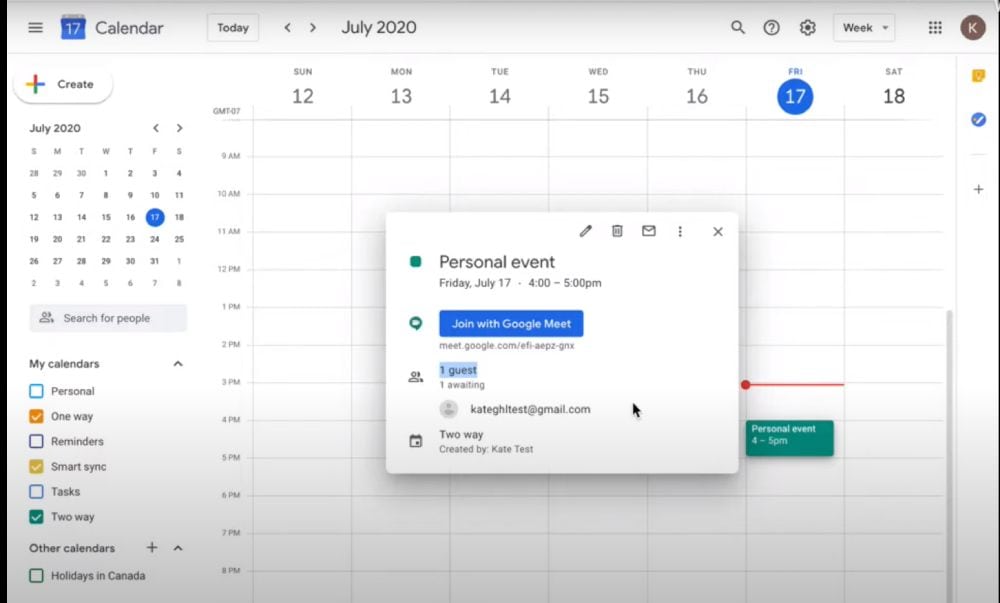 Calendar Automation
Managing calendars can be a challenging and time-consuming task, particularly when dealing with numerous events and bookings.
GoHighLevel handles this task for you by automatically completing the following steps.
The calendar is updated whenever a booking is made.
Performing a clash-check to avoid double-booking.
You can use Stripe to integrate payment processing and accept upfront payments.
The integration with Zoom offers a Zoom link for every booking.
Additionally, the option to schedule automatic appointment reminders through email or SMS can help reduce the rate of missed appointments.
Regularly reviewing your calendar can assist in efficient booking management and time-saving.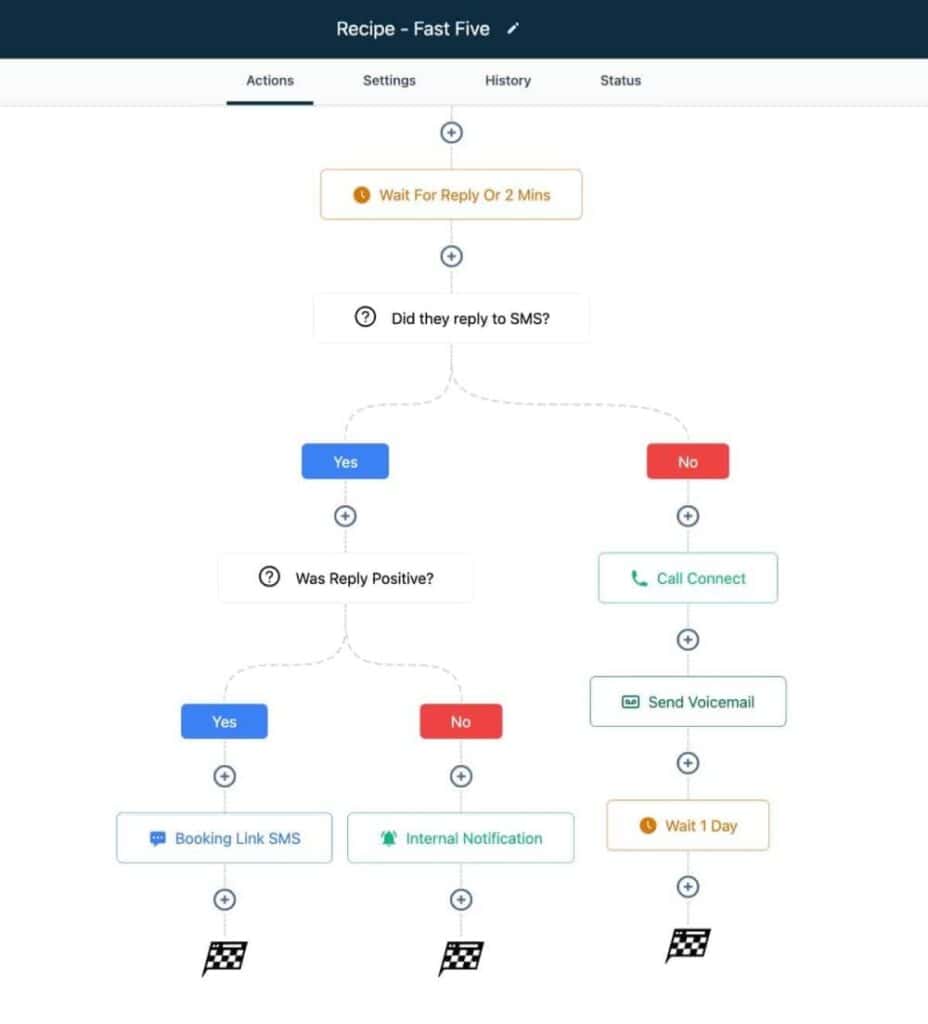 Multichannel Campaign (Workflows) Automation
One advantage is the ability to communicate through various channels, such as calls, SMS, emails, social media messages, and more, all within a unified workflow.
Furthermore, it is feasible to automate the entire process without the need for any manual involvement, except for potential phone calls.
A multichannel workflow includes an individual completing an online form with their contact information. This information is then utilized for a campaign, which involves sending an email inviting them for an appointment. Furthermore, the workflow can be configured for sending SMS reminders as the appointment date draws near.
There are multiple options available in this scenario. One can opt for creating intricate campaigns or alternatively, keep it simple with a minimal number of steps. Once the setup is completed, your task is finished.
Getting Started with GoHighLevel Automation
To get started with GoHighLevel automation, you can sign up for a free trial or subscribe to one of their plans. Once you have access to the platform, take the time to explore its features and familiarize yourself with its interface. GoHighLevel offers comprehensive documentation and support to help you make the most of its automation capabilities.
In conclusion, GoHighLevel automation has the power to transform your digital marketing efforts. By automating various tasks and processes, marketers can streamline their campaigns, save time, and achieve better results. Whether you're a small business owner or a seasoned marketer, incorporating GoHighLevel automation into your strategy can take your digital marketing to new heights.
Frequently Asked Questions
What Is GoHighLevel Automation Used for?
Experience the power of GoHighLevel automation as it effortlessly handles your campaigns, nurtures your leads, books appointments, manages your pipelines, and strengthens your customer relationships.
How Much Does GoHighLevel Automation Cost?
Automation features are included in both the Agency Starter ($97/mo) and Agency Unlimited ($297/mo) plans offered by GoHighLevel. Please note that utilizing third-party apps such as Twilio or Zapier for automation may result in additional charges.