GoHighLevel is a comprehensive marketing solution tool that aids agencies and businesses in optimizing their marketing strategies and enhancing customer relationships.
GoHighLevel is a platform that offers a range of marketing tools, such as a CRM, funnel builder, email automation, SMS automation, booking and appointment systems, and membership sites for course creators, all accessible through its dashboard.
To properly assess the effectiveness of GoHighLevel, it is important to examine its features, pricing structure, and user experience in detail.
This article will provide a comprehensive review of GoHighLevel, comparing it to its competitors and discussing any potential drawbacks. This will help you make an informed decision on whether this solution is suitable for your business needs.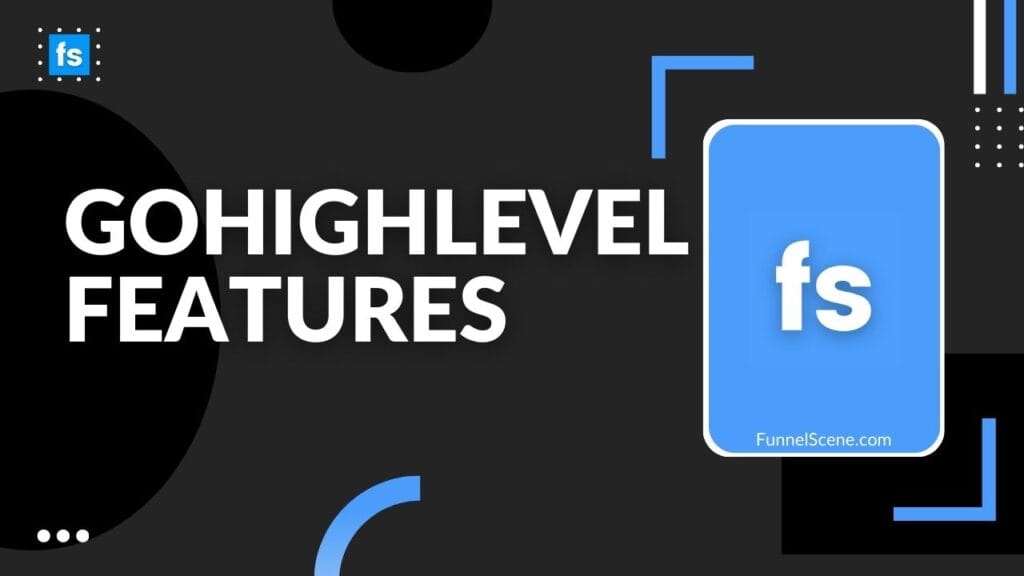 GoHighLevel Overview, What Does it Do?
GoHighLevel is a marketing solution platform that combines different tools necessary for successful marketing campaigns, customer relationship management, and reputation management.
The platform is designed to help businesses with lead generation, sales increase, and customer relations. GoHighLevel has a proven track record of serving a large number of businesses, partnering with agencies, and generating a significant number of leads, earning the trust of marketers, local businesses, and agencies in various industries.
Marketers can take advantage of GoHighLevel's extensive lead tools and marketing automation features.
The software allows you to create campaigns, track their performance, optimize them for better results, and even offers a white-label option for selling the software as your own service at your desired price.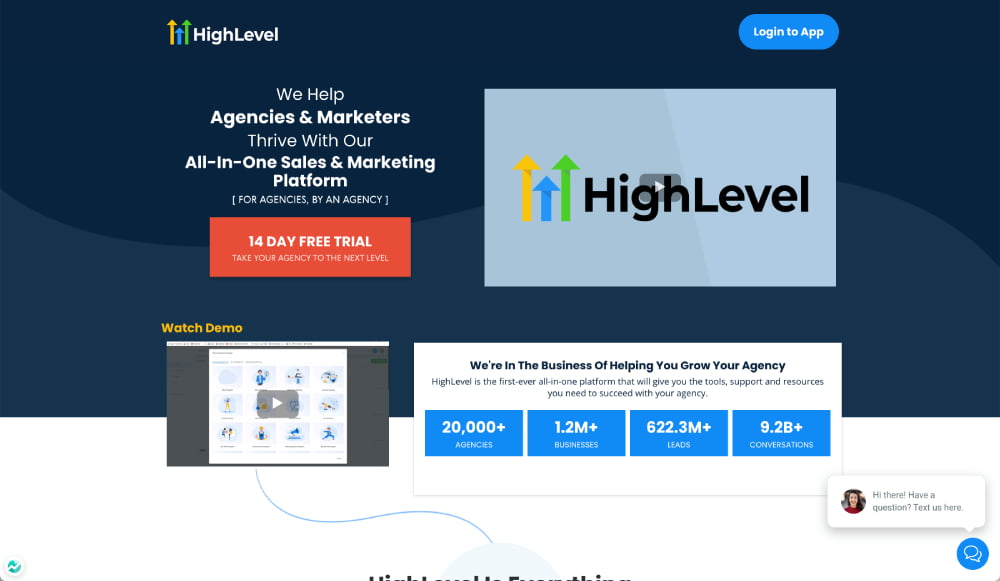 GoHighLevel offers a variety of features that can assist in streamlining your marketing efforts. Noteworthy features include:
CRM, or Customer Relationship Management, is a software application used for efficient customer contact and lead organization.
A funnel builder is a tool used for creating landing pages and complete sales funnels.
Email marketing is used to maintain customer engagement and nurture leads.
SMS automation can be used to facilitate timely communication with contacts.
Booking and appointment systems are effective tools for organizing schedules and facilitating client meetings.
Membership sites are accessible for individuals who create courses and educate others.
GoHighLevel is a platform that provides solutions for marketers, agencies, and businesses by automating marketing processes and improving customer relations.
The platform provides a variety of features, but some users may find it lacking the advanced options available in more specialized tools.
However, GoHighLevel is a great option for those looking for a comprehensive solution to manage different aspects of their marketing.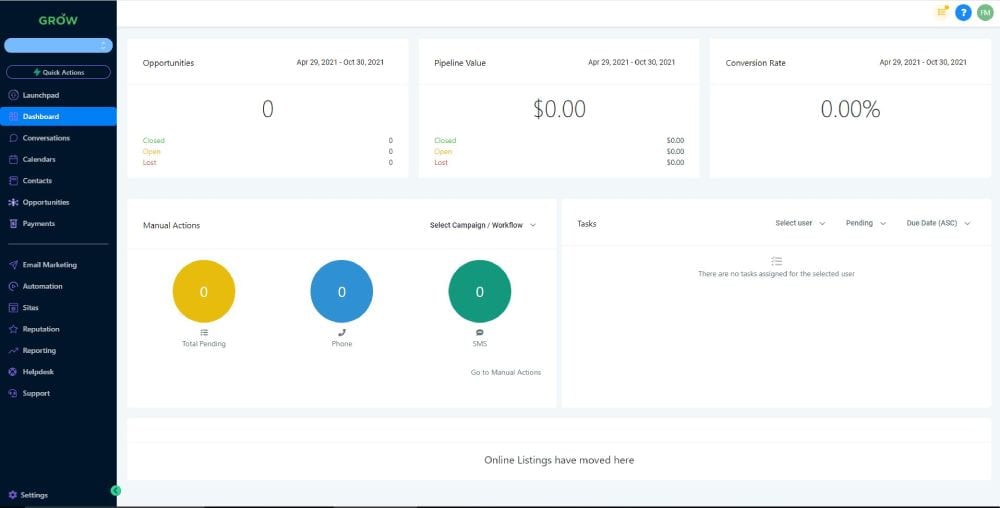 I. Dashboard and Interface:
GoHighLevel provides a user-friendly and intuitive dashboard and interface, which allows users to efficiently access desired features and effectively manage their online business and marketing campaigns. The dashboard offers a comprehensive overview of important key performance indicators (KPIs), tasks, and goals.
II. Navigation and Ease of Use:
The platform's navigation is designed to be user-friendly, enabling seamless switching between various sections and tools.
The UI organizes a variety of tools, including email marketing, sales funnel creation, CRM management, and more, to provide users with easy access to the tools they require.
The drag-and-drop feature for creating landing pages and emails is a valuable addition to the platform, allowing users of all experience levels to easily navigate and utilize its capabilities.
III. Learning How to use GoHighLevel:
While GoHighLevel offers advanced features, the learning curve is manageable, allowing users to quickly understand the software and start implementing their marketing campaigns.
New users are provided with a variety of training resources, such as webinars, documentation, and community support, to assist them in effectively using the platform.
GoHighLevel Review of Key Features and Benefits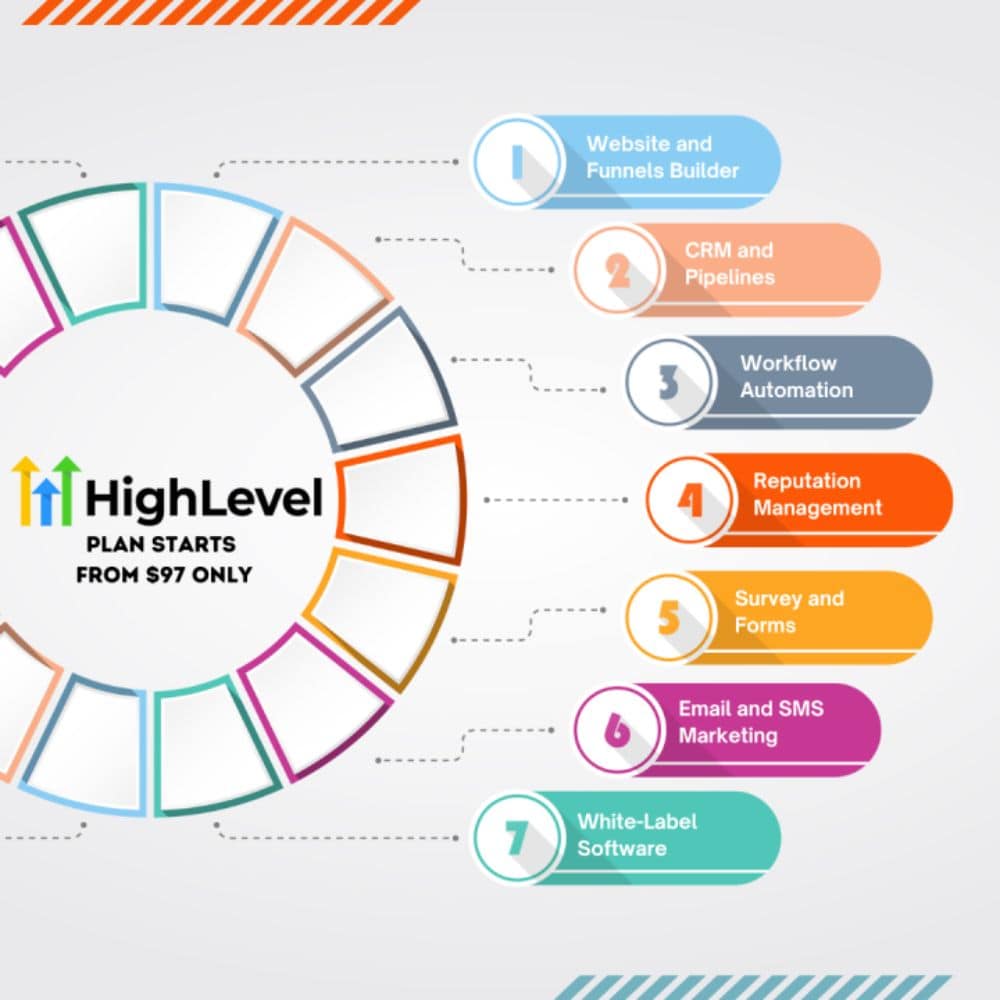 1. CRM and Sales Pipeline: GoHighLevel Review:
GoHighLevel's CRM is a well-known feature that sets it apart from other platforms. This advanced Customer Relation Management system allows users to efficiently handle, interact with, and monitor leads at every stage.
Users can utilize the features of the platform to visualize their sales pipelines, automate follow-up processes, and analyze customer behavior for optimal conversion rates.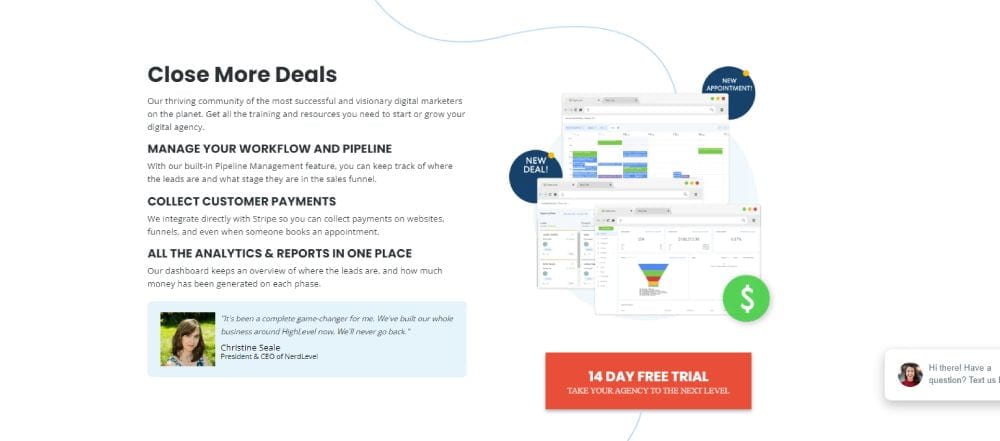 2. Marketing Automation:
GoHighLevel provides a wide range of digital marketing solutions, including advanced automation features for campaigns, customer retention, lead conversions, and acquisition, among other services.
These features assist businesses in streamlining workflows, saving time, and prioritizing other growth activities.
3. Email and SMS Campaigns:
SMS and email marketing play a vital role in achieving success in today's digital marketing landscape. GoHighLevel offers built-in Email/SMS marketing automation tools that make managing these campaigns seamless.
Users have the ability to create, track, and optimize their campaigns in order to improve engagement and response rates.
4. The Ultimate Platform for Creating Full Websites and Funnels:
GoHighLevel is a marketing platform that offers a simple and effective solution for creating funnels and websites. It provides features that can streamline your sales and marketing efforts.
GoHighLevel offers a drag-and-drop funnel builder for website creation, enabling the creation of captivating landing pages without coding expertise.
It is important to mention that the visual page editor is relatively limited, providing a limited selection of templates.
5. Create Engaging Surveys & Forms in Minutes:
Our drag-and-drop surveys and forms allow for easy capture of customer information. They can be seamlessly integrated into your page or embedded on any site for maximum convenience, enhancing the user experience.
6. Let GoHighLevel Take Care of Scheduling Woes:
GoHighLevel has developed an online appointment scheduling system that enables businesses to efficiently book appointments with customers.
Managing your calendar and appointment settings is made easy with GoHighLevel. The user-friendly interface allows for seamless creation and customization of your calendar to suit your unique business requirements.
To create a new calendar, you can choose the option "New Calendar" and fill in the required details, such as the name, description, and available time slots. This will enable clients to easily schedule appointments and assist in the effective management of your availability.
After setting up your calendar, you have the option to integrate it with your existing tools, like your CRM, to automate the process of scheduling appointments. This can be a time-saving solution and enhance your business management capabilities.
Appointment reminders are a feature provided by GoHighLevel's calendar system, which helps clients by sending automated reminders for their upcoming appointments. This feature aims to reduce missed appointments and enhance customer satisfaction.
The reminders can be personalized with your own message and you can select your preferred method of communication, whether it be email, text, or both.
One notable feature of GoHighLevel's calendar and appointment settings is its capability to sync with popular calendar applications like Google Calendar, Apple Calendar, and Outlook.
This seamless integration enables users to easily manage and view their calendar events in any platform or app they prefer. Additionally, it ensures that all appointments and events are synchronized across multiple applications.
Efficient Scheduling: The intuitive calendar allows for easy organization and management of appointments, providing a clear overview of your schedule.
Time Zone Support: The calendar has the capability to handle multiple time zones, allowing you to schedule and handle appointments with clients in various locations.
Automated Notifications: GoHighLevel sends automated notifications to ensure that both parties are aware of appointments, which improves the reliability of appointments.
Integrations: Users can choose to synchronize their calendars with popular applications such as Google Calendar and Outlook, which allows them to stay updated on appointments across various platforms.
7. Agency Management:
The marketing platform is designed to meet the needs of any marketing agency, providing essential tools for efficient agency management.
GoHighLevel offers white-label capabilities, comprehensive reporting options, and a centralized dashboard for managing all clients and campaigns. It also enables team collaboration to enhance operational efficiency.
8. Integration & Analytics Options:
When utilizing GoHighLevel, you will benefit from its seamless integration with a variety of CRM systems, payment gateways, and communication tools. This functionality aids in improving business efficiency and streamlining processes.
Integrations such as ActiveCampaign and HubSpot enhance marketing capabilities by enabling the import and synchronization of contacts.
GoHighLevel provides reporting and analytics tools that offer insights into campaign performance and assist in optimizing strategies. These tools enable the monitoring of important metrics, tracking customer reviews, and analyzing overall progress in real-time.
Considering the behavior of your audience is important for enhancing your marketing efforts.
GoHighLevel's analytics provide valuable insights that can help you make informed decisions and optimize your campaigns for improved outcomes and increased customer satisfaction.
It is recommended to add your website to Google Analytics. This will assist in tracking visitor traffic and identifying its sources for further analysis.
9. GoHighLevel Review of Membership Sites:
The GoHighLevel platform offers a comprehensive marketing solution that includes membership site creation and management. These sites allow you to build an online community, provide exclusive content to members, and generate recurring revenue. This section will cover important aspects of the GoHighLevel membership site feature.
The GoHighLevel platform offers a user-friendly website builder that enables you to design and personalize your membership site according to your branding and style preferences.
Different membership levels can be created, each providing unique features and access controls. For instance, there may be a free membership level with limited access, along with paid plans that offer exclusive access to premium content and features.
To summarize, GoHighLevel's membership sites offer the following features:
A website builder that is easy to use and allows for customization of your site.
The platform offers different features and membership levels, as well as access controls.
The pricing models offered are flexible and include options for one-time fees and recurring subscriptions.
The platform offers a free trial that allows users to thoroughly explore it before making a commitment.
10. Reputation Management:
Reputation management is an important aspect of any business, and GoHighLevel offers a comprehensive system for overseeing and enhancing your online presence. Utilizing GoHighLevel's reputation management tools, you can effectively monitor and enhance your online reputation.
The platform offers automated review request features that allow users the ability send personalized SMS or email messages asking for client feedback.
By regularly engaging with your clients and collecting feedback, you can maintain a positive online reputation.
GoHighLevel's reputation management system enables you to effectively handle negative client experiences by promptly addressing negative reviews, resolving any issues, and demonstrating your dedication to customer satisfaction to potential clients.
Using GoHighLevel's reputation management tools can help improve your online image.
It is important to monitor and enhance your online presence.
Enhance the method of gathering positive GoHighLevel reviews.
Improve customer experience by addressing concerns and ensuring satisfaction.
One method to display your reputation is by incorporating a review widget into your website or sales funnel.
11. GoHighLevel Mobile App:
The GoHighLevel mobile app enables users to access various features of the platform on their smartphones. With this app, you can conveniently view a dashboard report that provides an overview of your opportunities, pipelines, and conversion rates.
In order to use the app effectively, it is important to familiarize yourself with its features. Here are some key functions.
Lead Management: Efficiently manage and monitor lead generation efforts, schedule follow-ups, and stay informed about your pipeline status.
Calendar Integration: Syncing your calendar can help you stay organized and ensure you don't miss any important events related to your marketing efforts.
Task Management: Improve your organization and efficiency by creating, assigning, and tracking tasks related to marketing and customer relations.
When using the GoHighLevel mobile app, consider utilizing its capabilities to simplify your digital marketing strategies and automate customer interactions.
The mobile app is designed to be used with the web-based platform, giving you the ability to work from any location while keeping track of your business's performance.
GoHighLevel Pricing Plans:
GoHighLevel offers two pricing plans, the Agency Starter plan and the Agency Unlimited plan, to accommodate various user needs and budgets.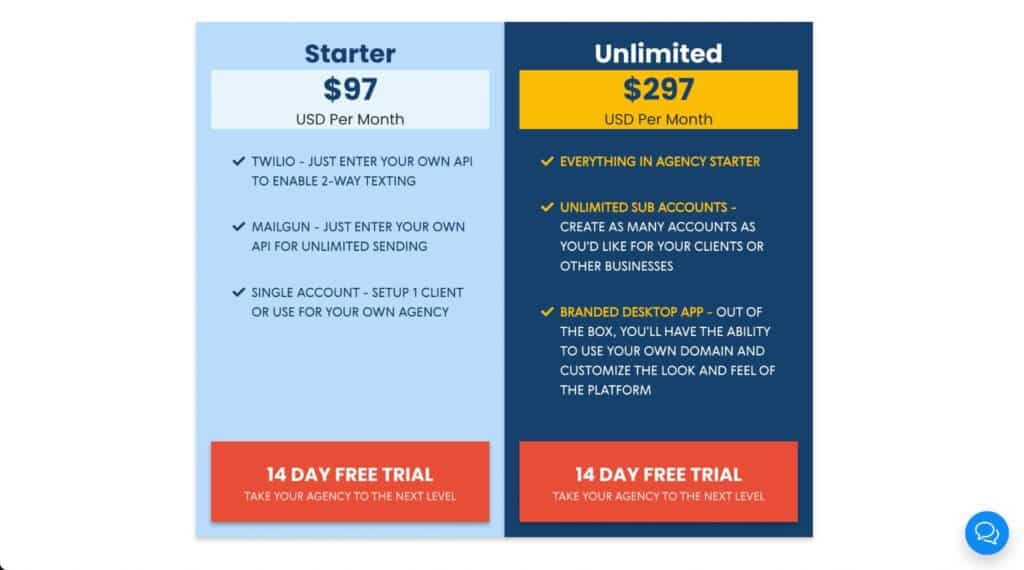 Plan Comparison:
You have a 14-day trial to test if this is suitable for your company. If it's not, simply cancel within 14 days. It is recommended to try it out during the trial period. This allows you to do a test run before making a purchase.
The Agency Starter Plan has a monthly price of $97 and is designed for businesses, marketing agencies, and entrepreneurs seeking a comprehensive solution.
The Agency Unlimited Plan is priced at $297 per month and offers additional GoHighLevel features and resources specifically catered to meet the requirements of larger marketing agencies with more demanding users.
To get started, simply sign up and take advantage of the 14-day free trial.
Comparison with Other Similar Software:
When comparing the pricing of GoHighLevel with other similar software on the market, it is necessary to take into account the features provided and the target audience catered to.
For instance, different options may have a lower price but provide less features or cater to a more specific market.
Value for Money:
Many users consider the pricing of GoHighLevel to be reasonable and justified based on the extensive range of features and capabilities it provides.
The platform's all-in-one nature allows users to save money by combining multiple software and tools into one efficient platform.
It is important to evaluate your needs and financial situation to determine if a GoHighLevel account is the most cost-effective option for your business.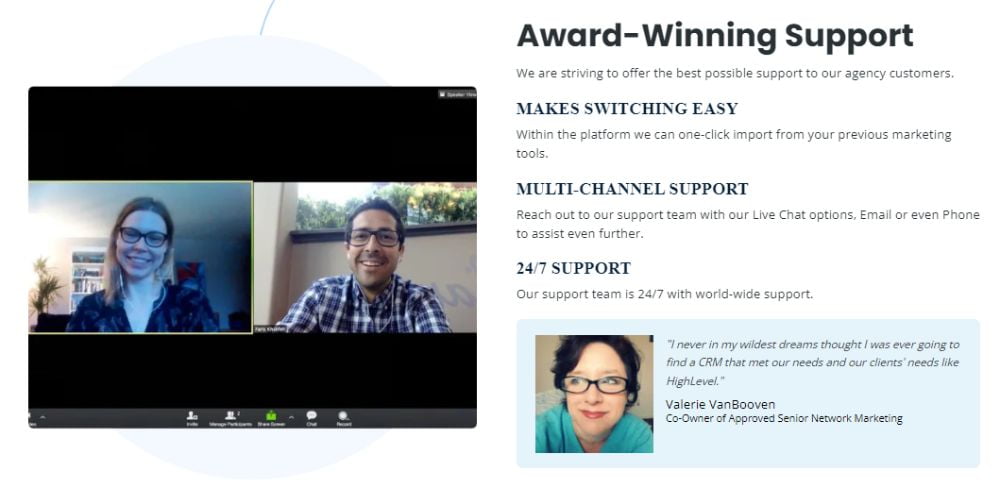 This section will provide information on GoHighLevel's customer support services, including the support channels available, the time it takes to receive a response, and the quality of assistance provided by the support team.
Support Channels:
GoHighLevel provides multiple support channels to meet the requirements of its users. These options include:
Live chat: The live chat feature can be accessed from the platform's dashboard for instant support.
Email support: Users can choose to submit a support ticket through email for non-urgent inquiries and can expect a timely response.
Community forum: GoHighLevel provides a community forum for users to access support and guidance from experienced members.
Knowledge base: The platform offers a knowledge base that includes articles covering a variety of topics related to its features and functionality.
Response Time
GoHighLevel provides varying response times for different support channels to assist its users.
Live chat: The process is quick, ranging from instant to a few minutes.
Email support: Responses are typically provided in a timely manner, although there may be occasional delays during times of high demand.
Community forum: Response times may vary as they are determined by users rather than GoHighLevel staff.
Quality
According to user reviews, GoHighLevel's customer support has received positive feedback for their efforts in resolving concerns. Users have reported the support staff to be knowledgeable, helpful, and professional in addressing their issues.
GoHighLevel is committed to enhancing its support system and user experience by valuing feedback and making necessary improvements.
This section will provide an analysis of the pros and cons of GoHighLevel for assessing its compatibility with your business.
Pros-
There are numerous benefits to utilizing GoHighLevel:
The integration of multiple marketing tools into a single platform has been shown to improve the marketing process and increase efficiency.
Efficient automation capabilities can be used to streamline active marketing campaigns and improve return on investment.
The features available cater to businesses of all sizes and types.
Customer support is available to assist with any issues in a responsive and helpful manner.
Cons-
Some potential disadvantages of GoHighLevel may include:
There may be challenges and a wide range of tools available for beginners or smaller businesses to navigate.
Becoming proficient in using the platform may require dedicating additional time to fully master it.

Some users may perceive the pricing structure as costly, particularly for individuals with limited budgets.
A comprehensive understanding of the pros and cons of GoHighLevel can help you make an informed decision about its suitability as a marketing platform for your business needs.
GoHighLevel is a CRM tool that is specifically designed for marketing agencies and online entrepreneurs. The software enables users to effortlessly create and automate marketing campaigns while offering a variety of useful features like drag-and-drop form builders, website builders, surveys, and funnels. These features can be highly beneficial for marketing purposes.
An important feature of GoHighLevel is its cost-effective approach, allowing for unlimited client accounts on the Unlimited Plan without additional charges. This feature boosts profitability and assists businesses in keeping costs low.
Clients who have used GoHighLevel have reported positive experiences. They have mentioned that the CRM is easy to use, can be personalized, and has resulted in increased lead conversions.
Additionally, the various support channels provided by GoHighLevel help users in addressing their concerns and getting assistance whenever needed.
GoHighLevel's features can be beneficial for professionals in different industries, although it is primarily recommended for marketers and agencies.
GoHighLevel is a software that businesses should consider as it has a robust feature set and a cost-effective structure, which can help streamline marketing efforts and increase profitability.
What's included in the GoHighLevel CRM?
The GoHighLevel CRM offers a comprehensive set of features to effectively manage and expand your business.
Lead generation tools are available to assist in capturing and nurturing new prospects.
Marketing automation offers capabilities for various channels such as email campaigns, SMS, and more.
A sales funnel builder is a tool that can be used to create effective and customized sales funnels.
Our platform offers appointment scheduling and calendar integrations to make bookings more efficient.
Implementing client management and tracking systems to enhance customer relations.
There are many more features to explore on the GoHighLevel CRM platform, so feel free to take the time to discover everything it has to offer.
Does GoHighLevel Have An Affiliate Program?
GoHighLevel offers an affiliate program that provides the opportunity to earn recurring commissions. By referring individuals to sign up for a GoHighLevel plan, a percentage of their subscription fees will be received as long as they remain a customer.
This affiliate program has the potential to generate passive income if you feel comfortable recommending the platform to others.
How is GoHighLevel compared to other CRMs?
GoHighLevel differentiates itself from other CRMs in several key areas:
The all-in-one platform combines marketing automation, sales funnels, appointment scheduling, and more, providing users with a convenient and user-friendly experience.
The pricing structure is competitive, allowing businesses of all sizes to access it.
GoHighLevel offers integration with a wide range of third-party tools and services, allowing users to customize their user experience according to their needs.
It is important to evaluate your specific requirements and compare GoHighLevel with other CRM systems in order to determine if it is the most suitable option for your business.
How does GoHighLevel stack up with other funnel builders?
GoHighLevel is a versatile platform that excels in creating sales funnels. With its customizable features and pre-built templates, it can easily meet your business needs.
The GoHighLevel platform offers a comprehensive solution for funnel building, incorporating marketing automation, lead generation, and more, all in one place.
However, certain specialized funnel builders may provide more advanced features in that particular area, so it is important to consider the benefits and drawbacks based on your specific needs.
Is GoHighLevel any good?
GoHighLevel is highly regarded in the marketing community, with a Trustpilot score of 4.8/5. It caters to marketing agencies and professionals who want to scale their campaigns and automation efforts. It is important to assess whether it meets your specific needs, as with any tool.
Does GoHighLevel integrate with LinkedIn?
At this time, there does not appear to be a direct integration between GoHighLevel and LinkedIn. However, it is possible that there are third-party integrations or alternative methods that can be used to fulfill your requirements. It is advisable to consult their official documentation for the most precise and up-to-date information regarding integrations.
Does GoHighLevel work with Google Ads?
GoHighLevel is not directly involved in the management of Google Ads, but it can be utilized in conjunction with them. The platform allows for lead tracking from your Google Ads campaigns and facilitates the management of the subsequent follow-up procedures.
Does GoHighLevel host websites?
GoHighLevel offers website building and hosting capabilities as part of their platform offerings. This additional feature is designed to provide users with a comprehensive marketing solution, enabling them to host landing pages and sales funnels on the platform.
Please be aware that the information provided above is subject to change. It is recommended to consult the official GoHighLevel website and documentation for the most up-to-date and accurate details regarding features, integrations, and pricing.