GoHighLevel offers a wide range of tools and features that are specifically tailored to meet the needs of coaching businesses. These tools allow for efficient management of CRM and lead nurturing, automated scheduling, as well as the creation of websites, funnels, and various other functionalities.
GoHighLevel provides users with the capability to create and oversee an unlimited quantity of paid coaching courses and paid membership sites.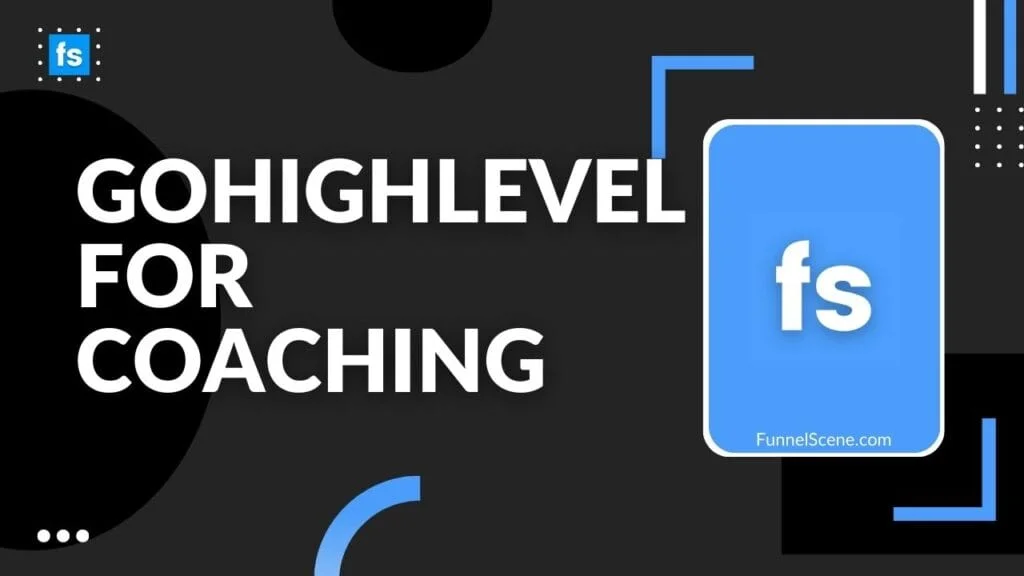 How Can GoHighLevel Help Coaching Businesses?
GoHighLevel offers comprehensive support for coaching businesses, offering essential features and tools for audience development, lead nurturing, and marketing campaign management.
Since GoHighLevel is an all-in-one platform, it eliminates the need to register and pay for multiple software applications, including course hosting, web and funnel builders, email service providers, and more.
Additionally, GoHighLevel has the capability to automate a majority of tasks such as appointment requests, bookings, lead nurturing, SMS conversations, and marketing workflows.
Consider the amount of time spent daily on tasks such as responding to texts and emails, organizing schedules and sales processes, executing marketing campaigns, and managing customer relationship management. If this time could be freed up and dedicated to serving paying clients, it would not only boost profits but also enhance customer satisfaction.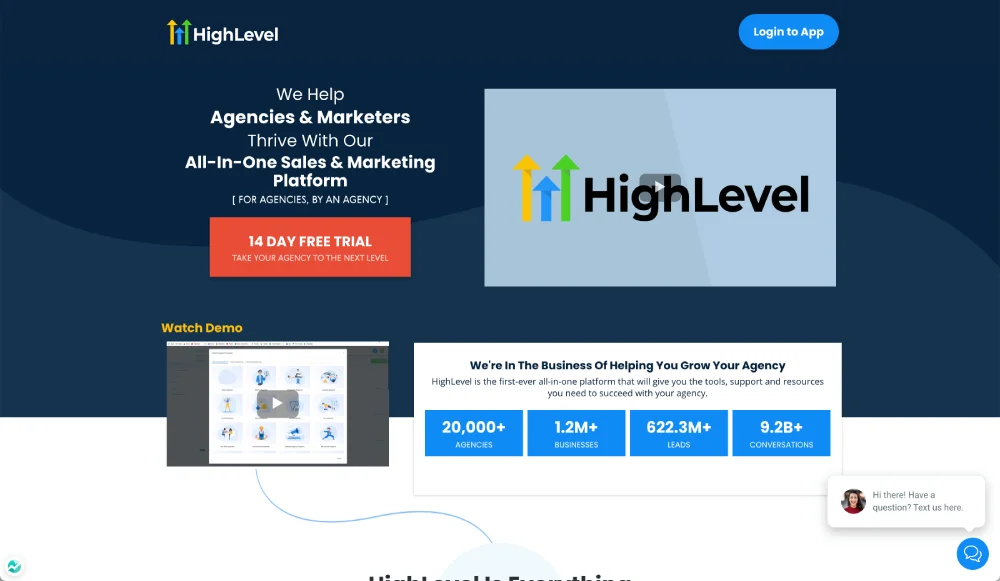 Import the GoHighLevel Coaching Snapshot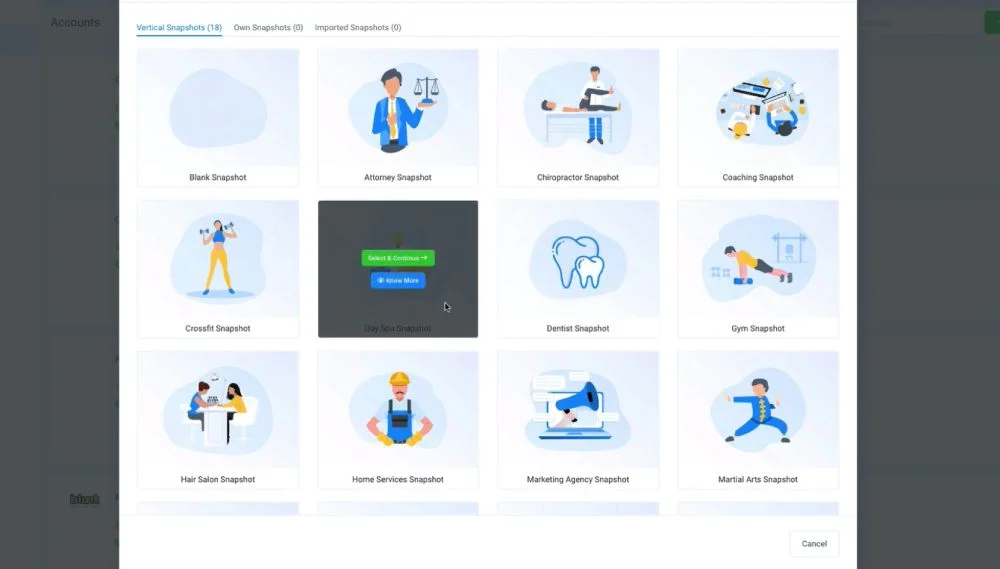 When initially setting up GoHighLevel, users will be directed to Agency View. In this section, they can customize account settings, access training resources, and explore the GoHighLevel marketplace.
To access all the GoHighLevel features and tools for CRM and marketing, you will need to create a sub-account for your business.
GoHighLevel offers Snapshots, which are pre-built sub-accounts that include comprehensive marketing campaigns tailored for specific business niches, to help you get started quickly.
The Coaching snapshot can be selected for your business with a simple click. Upon completion, you will have access to the following campaigns for immediate use:
Discovery Call Claim Nurture: A campaign has been created to encourage potential leads to schedule a free discovery call through automated texts and emails.
Database Activation:This offer is a marketing campaign that uses SMS messaging to promote a free introductory session known as a "breakthrough" session. The purpose of this campaign is to collect contact information from new clients.
Database Claim: This process aims to facilitate and confirm a booking through a series of automated texts, following the database activation campaign.
No-show Campaign: This campaign is designed to follow up on missed sessions and reach out to the attendee in order to reschedule the appointment.
Not Yet Ready: Leads often get added to the above campaign without any action being taken. In these cases, this campaign encourages the contact to either make a booking or reach out for further assistance.
Booking Requested Reply: This is a notification to inform you that further arrangements are needed for your booking request. Please contact the person for more information.
Appointment Reminders: GoHighLevel has the capability to send automated reminders to contacts after they have confirmed a booking, which helps reduce the chances of a no-show happening.
Use GoHighLevel Coaching Templates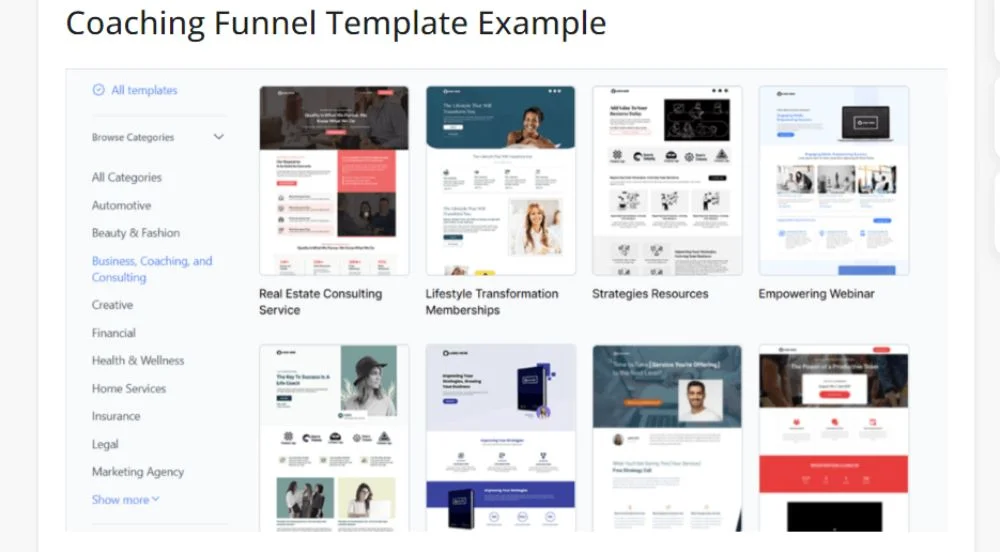 For those lacking experience in web design or email creation, starting from scratch can be incredibly challenging. This is where GoHighLevel's templates demonstrate their value.
There are numerous options available, all of which can be tailored to meet the specific needs of your coaching business and marketing requirements. The user-friendly drag-and-drop editing tool eliminates the need for technical skills, and the pre-designed layout ensures that you do not have to become an expert in graphic design overnight.
Coaching Funnel Template Example
There are more than 50 templates available in the coaching niche that serve a wide range of purposes.
Strategy coaching sessions.
Order ebooks online.
Learn life advisor skills.
Life coaching that leads to success.
Classes.
Coaching events and webinars for professionals.
Additionally.
This example serves as a tool for marketing and selling courses. You have the option to include a link to your course landing page, which is also built and hosted on GoHighlevel. Individuals have the opportunity to visit the page, where they can register and make payments.
If your courses are webinar-based, you have the option to include a GoHighLevel booking calendar, which allows for automatic appointment scheduling. Additionally, by integrating with Stripe or Paypal, you can accept upfront payments and reduce instances of no-shows.
Coaching Website Template Example
There are various website templates specifically designed for coaching purposes, which allow users to effortlessly create a polished and professional website within a limited time frame.
This platform provides a range of sales tools, such as a booking calendar, signup form, links to online courses, and additional features like a pop-up for special offers or reminders to contact.
If you offer various coaching services, you have the option to create individual websites for each one. GoHighLevel does not impose any restrictions, allowing you to have as many websites as you desire.
This website template example provides a straightforward and organized way to present information about yourself and the coaching services you provide. It incorporates sections that discuss the advantages of your sessions, the target audience, and the various types of coaching sessions that can be scheduled.
Furthermore, there is a section available to include client testimonials, which can enhance trust and credibility. Additionally, there are numerous call-to-action buttons provided to facilitate communication.
Coaching Email Template Example
There are nearly 40 email templates available for coaching businesses. These templates vary from newsletters that provide helpful information or tips to more generic layouts that allow you to customize the design and add your own text.
All emails contain a call-to-action button, allowing you to include a link to your course landing page, sales funnel, or website. If you intend to use emails for booking purposes, you have the option to incorporate a booking calendar or form.
This example offers tips for achieving a healthier work/life balance and invites readers to reach out for more information.
GoHighLevel Courses and Membership Sites for Coaching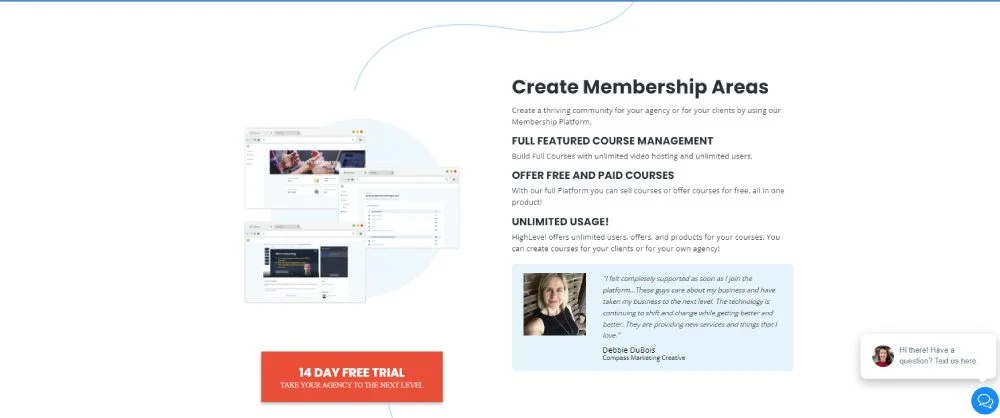 An effective method to generate more income through passive means is by developing a paid course on GoHighLevel. Utilizing the platform's marketing tools, you can raise awareness and motivate individuals to enroll.
As a life coach, one can develop a range of mini-courses that address various subjects such as goal setting, enhancing relationships, and maintaining focus.
GoHighLevel offers the option to sell courses individually or as a bundle, and includes a feature for adding upsells to course purchases.
There are various types of courses that can be created on the platform:
Sprint Courses: Short courses are designed as an introductory component to larger courses or membership sites.
Marathon Course: For comprehensive training and skills development.
Membership Site: A platform where your network can come together, gain knowledge, and engage in discussions, for a fee.
Custom Site: Individuals have the freedom to create their own product that aligns with their specific requirements.
The course editing tool allows users to include text, video, images, and upload different supporting documents, such as PDFs and Word docs.
GoHighLevel allows users to create unlimited courses, giving them the freedom to create as many as they desire.
Create GoHighLevel Marketing Workflows for Coaching Businesses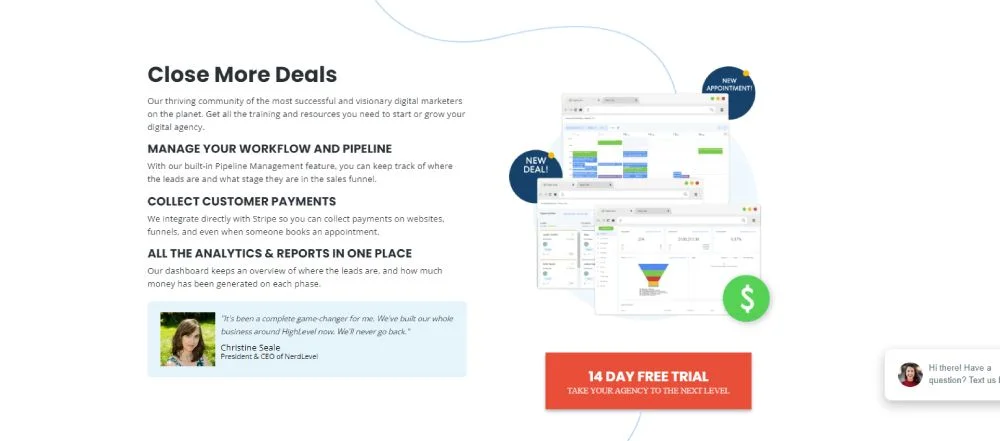 The Workflows feature in GoHighLevel allows users to construct comprehensive marketing and lead nurturing campaigns.
One example of this is incorporating a booking calendar on your website, which provides you with the flexibility to establish a workflow that sends reminders once an appointment has been booked and confirmed.
This process involves creating events that trigger actions, such as making a booking or submitting a form, which then result in actions like sending an email, SMS, or voicemail drop.
Workflows can be utilized for different forms of lead or customer contact. Workflows also provide the ability to build an AI-powered SMS appointment booking bot that can interact in conversations and confirm appointments on your behalf.
One of the key benefits of workflows is their ability to automate tasks through trigger events, thereby eliminating the need for manual intervention.
Once someone gains familiarity with building workflows, they become easier to perform and can contribute to time and effort savings by automating manual tasks.
By choosing Go High Level for your coaching practice, you can provide your clients with a smooth and integrated experience, setting your business up for success.
By having all the necessary marketing tools in one place, you will be able to save time, minimize frustration, and enhance profitability.
Choosing the appropriate software is essential in establishing a successful coaching business.
Invest in a platform that can support your clients and your business, improve efficiency, and potentially have a significant impact.
Frequently Asked Questions
Can I Use GoHighLevel for Coaching Business?
GoHighLevel is a versatile platform that can be utilized for various coaching businesses. It offers the convenience of connecting with clients, managing CRM and lead nurturing, hosting courses, and developing marketing campaigns all in one place.
Can I Host Paid Coaching Courses on GoHighLevel?
GoHighLevel offers a feature that enables users to create and host an unlimited number of coaching courses on its platform. Furthermore, if you intend to charge for the courses, you can seamlessly integrate with Stripe or Paypal for accepting payments.
Which GoHighLevel Features Are Suitable for a Coaching Business?
GoHighLevel offers a variety of CRM features for audience development, lead nurturing, pipeline management, and calendar organization.
The platform allows users to create and host unlimited paid or free courses and membership sites. It also provides all the necessary tools for building, running, and automating marketing campaigns.