The GoHighLevel funnel builder enables users to create an unlimited number of funnels for personal or client use. Users have the option to select from a range of funnel templates or design their own.
GoHighLevel funnels offer customization options through a drag-and-drop editing tool, allowing seamless integration into workflows and marketing campaigns.
To improve your marketing, try using Go High Level Funnel Builder. This tool has a user-friendly interface and innovative features that can enhance your marketing efforts. It simplifies complex processes and helps you achieve success effortlessly. With Go High Level Funnel Builder, you can generate leads, nurture prospects, and convert them into loyal customers seamlessly. Get ready to excel in marketing as we explore the fascinating world of Go High Level Funnel Builder and unlock your marketing potential.
In this article we will analyze the various features of Go High Level Funnel Builder and its impact on enhancing marketing success.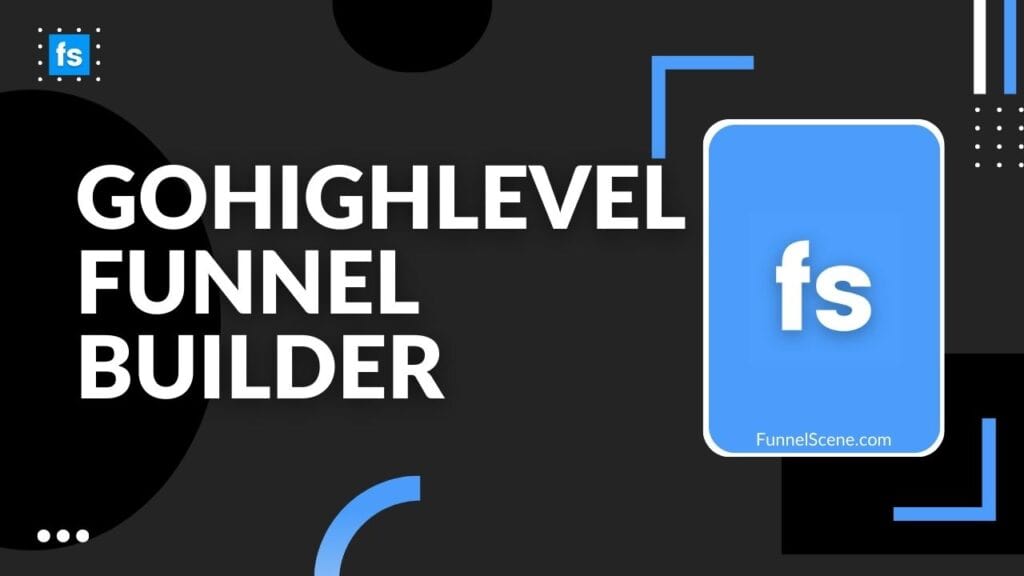 What Is the GoHighLevel Funnel Builder Used for?
The GoHighLevel funnel builder is a tool that is commonly used to create funnels, which help guide users through various stages of the customer journey in order to achieve their desired outcome.
GoHighLevel funnels have various applications, including data capture, product sales, course sign-ups, promotions, and other purposes.
The GoHighLevel funnel builder is utilized by various entities, including businesses, freelancers, and marketing agencies, to construct funnels for their own campaigns or for clients.
How to Use the GoHighLevel Funnel Builder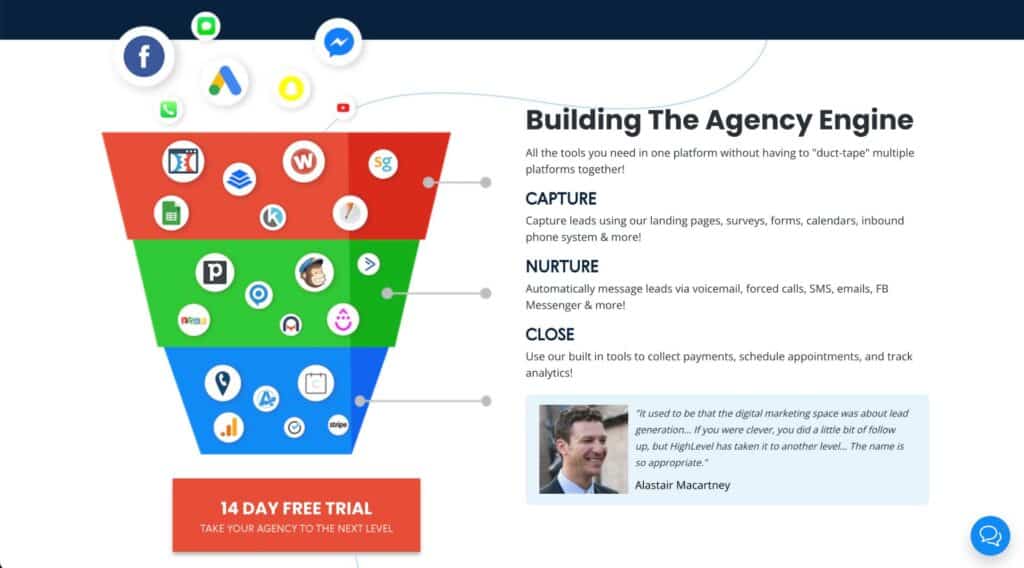 The GoHighLevel funnel builder is known for its user-friendly interface and intuitive drag-and-drop feature, making it easy to modify elements. The GoHighLevel funnel builder contains several useful features.
Choose a GoHighLevel funnel template or make your own.
GoHighLevel provides a diverse selection of funnel templates for different purposes, encompassing 14 industries and business niches.
If you need to generate sales for your business, you can find a template that will meet your needs, whether it's capturing leads, offering discounts, selling courses, booking appointments, or any other related purpose.
The templates are efficient and convenient, as they eliminate the need for extra work. You simply need to customize each element according to your needs. Moreover, these templates are ideal for both beginners and individuals with little experience in funnel building.
If you have expertise in funnels, you have the choice to not use a template when using GoHighLevel. You can start with a blank page and build your own funnel from scratch.
Add, Clone, or Remove Steps
When opening a template or starting from scratch, users are directed to the Steps page, which displays the various stages that comprise the entire funnel.
Envision a captivating funnel template that effortlessly leads your customers down the exhilarating path of uncovering extraordinary offers, placing orders or reservations, and ultimately receiving a gratifying confirmation or a sincere expression of gratitude.
Customize your funnel with as many steps as you desire! Easily add new steps by clicking a button, and if you want to save time, just clone an existing step and make any necessary adjustments. Plus, if there are any steps that don't fit your vision, say goodbye to them with a simple delete. Your funnel, your way!
The success of your funnel depends on the carefully choreographed dance of your steps. Like a symphony, each step must be orchestrated in perfect harmony, guiding the user through an enchanting journey. So, before you dive into editing, make sure your steps are in the right sequence, like stars aligning in the night sky.
Customize Your GoHighLevel Template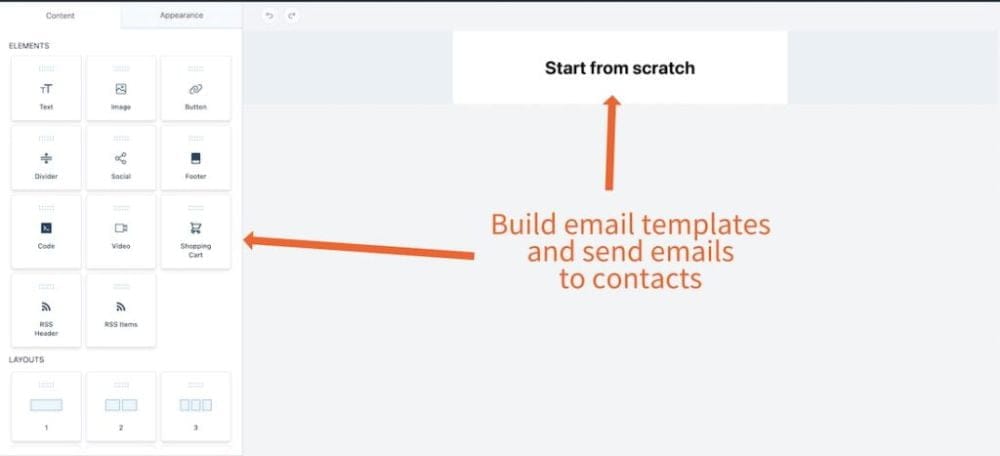 Once you have selected an appropriate template, you may make any required modifications.
The editing tool has a user-friendly interface that allows you to easily interact with each element. By clicking on an element, a menu will appear, giving you the ability to edit text, change images and elements, and rearrange elements on the page to adjust the layout.
All aspects of the funnel are customizable to create a personalized experience.

Add Sections, Rows, and Columns
The funnel builder consists of sections, rows, and columns, which are responsible for maintaining an organized and visually appealing layout. By adding columns, you can position elements next to each other, while rows enable you to stack elements vertically.
Sections are used to organize different areas of information in the funnel. Examples of sections include landing page sections, call-to-action sections, header sections, and footer sections. This method ensures that everything is arranged in a logical and familiar way for the user.
Customize per Section or Globally
If your sales funnel has multiple steps and corresponding pages, you can maintain a consistent design by saving each section globally.
As an example, if a header and footer are present on each step page and one of them is edited, saving the changes globally will result in the changes being saved on all pages, rather than just the one being worked on.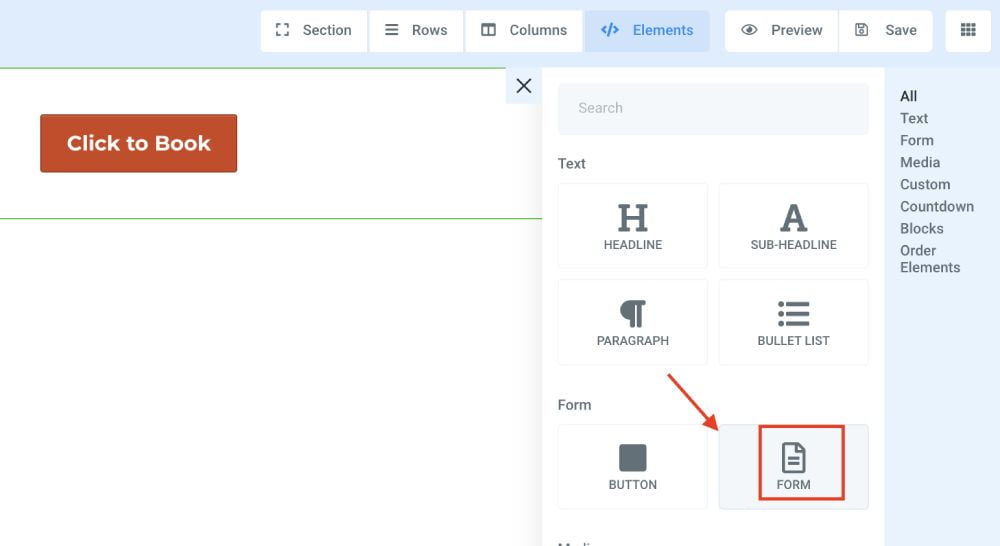 Drag–and Drop Elements onto the Page
Elements are the various components that comprise the structure of the funnel, including headings, body text, and other textual elements.
To access the GoHighLevel elements, open the menu and drag and drop the desired element icon onto the page. To change an element's position, click on it and drag it to a new location.
There is flexibility in the number of elements on a funnel, allowing for easy deletion or exchange of elements.
Embed a Blog, Video, Calendar, Form, and Other Interactive Elements
On your funnel page, there are various interactive elements available for you to embed. These elements can engage the user and help guide them towards taking action.
You can integrate a GoHighLevel calendar onto your page to facilitate direct bookings.
Please include a button for users to take action.
Include a GoHighLevel form or survey to collect data or enable users to sign up for marketing communications.
Include a section on the website dedicated to blog posts, featuring highlighted articles.
Please include a video.
Include a map to provide customers with the visual representation of the business's physical location.
Boost your sales with countdown timers that create a thrilling sense of urgency!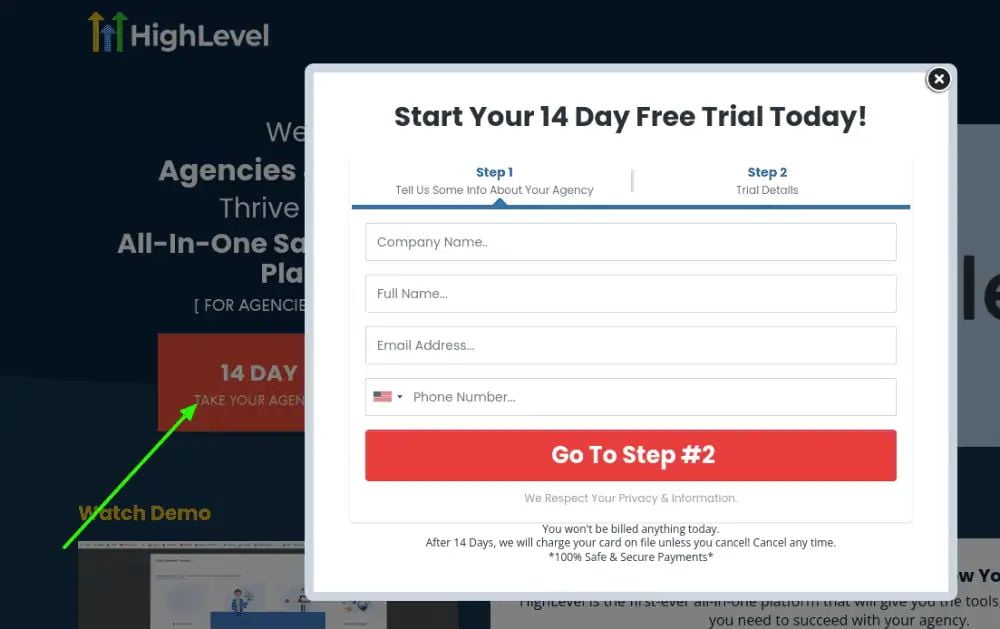 Pop-ups are effective tools for reminding users to sign up or take action. The pop-up editor operates in the same manner as the funnel page editor, allowing you to select elements and easily place them on the page.
One option is to include a booking calendar or data capture form on your website, allowing users to easily sign up.
All aspects of the pop-up can be customized, and you have the option to select the size of the pop-up as small, medium, or large.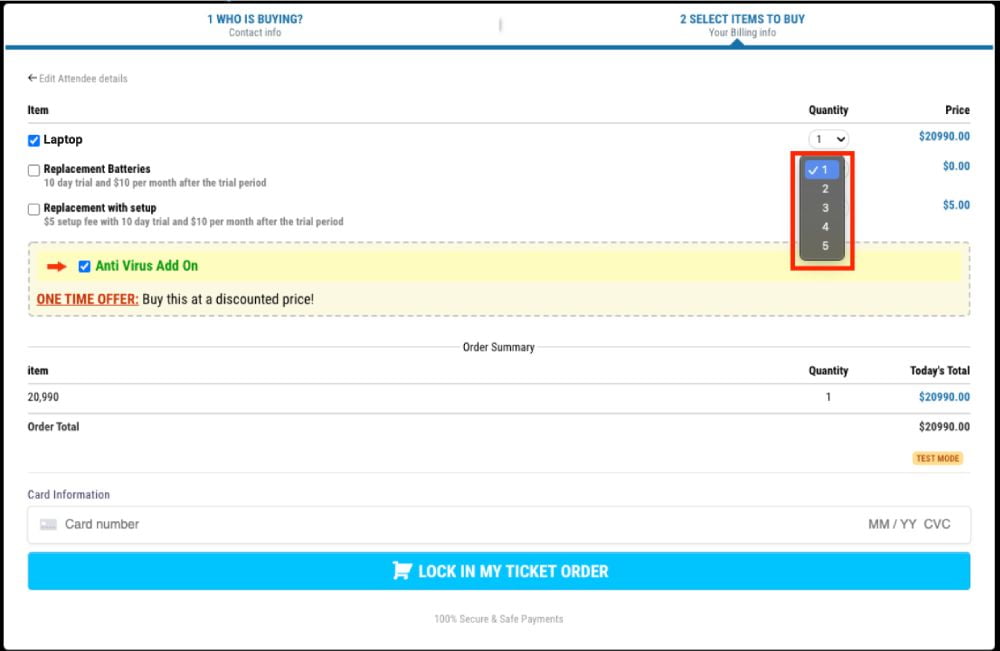 Add a One-Step or Two-Step Order Form
Including an order form in your sales funnel enables customers to conveniently purchase and pay for products directly.
With our one-step order form, customers can effortlessly place and pay for their order in a breeze, right on the original funnel page. However, for those who prefer a little extra confirmation magic, our two-step order form takes you on a delightful journey to a second page where you can finalize and pay for your purchase. The choice is yours!
While it's down to your preference which type of order form you use, it's crucial to note that you must have already set up and integrated GoHighLevel with your existing Stripe or Paypal account to use this feature.
Add Custom HTML or JavaScript
Experienced individuals can enhance their funnel pages by incorporating custom elements using HTML or JavaScript.
To access this option, navigate to the Elements menu and select the Custom JS/HTML element. You can then drag it onto the funnel page and click on it to add the code.
Restore Previous Versions
Another helpful feature is the ability to restore previously saved versions of the funnel. If you have made changes to a funnel, saved them, but later decided you are not satisfied with the changes, you can simply go to Versions. This is where you can locate the original design and restore it.
This feature effectively prevents the need for manual adjustments when making significant design or content decisions, as long as you remember to save your design regularly.
View When Someone Is Working on the Funnel
The platform has a feature where a notification will appear if someone else is already working on an existing funnel when you open it.
This feature is helpful for teams or agencies with multiple individuals who access and edit GoHighLevel sales funnels. The notification prevents simultaneous work on the same funnel and avoids overwriting each other's work.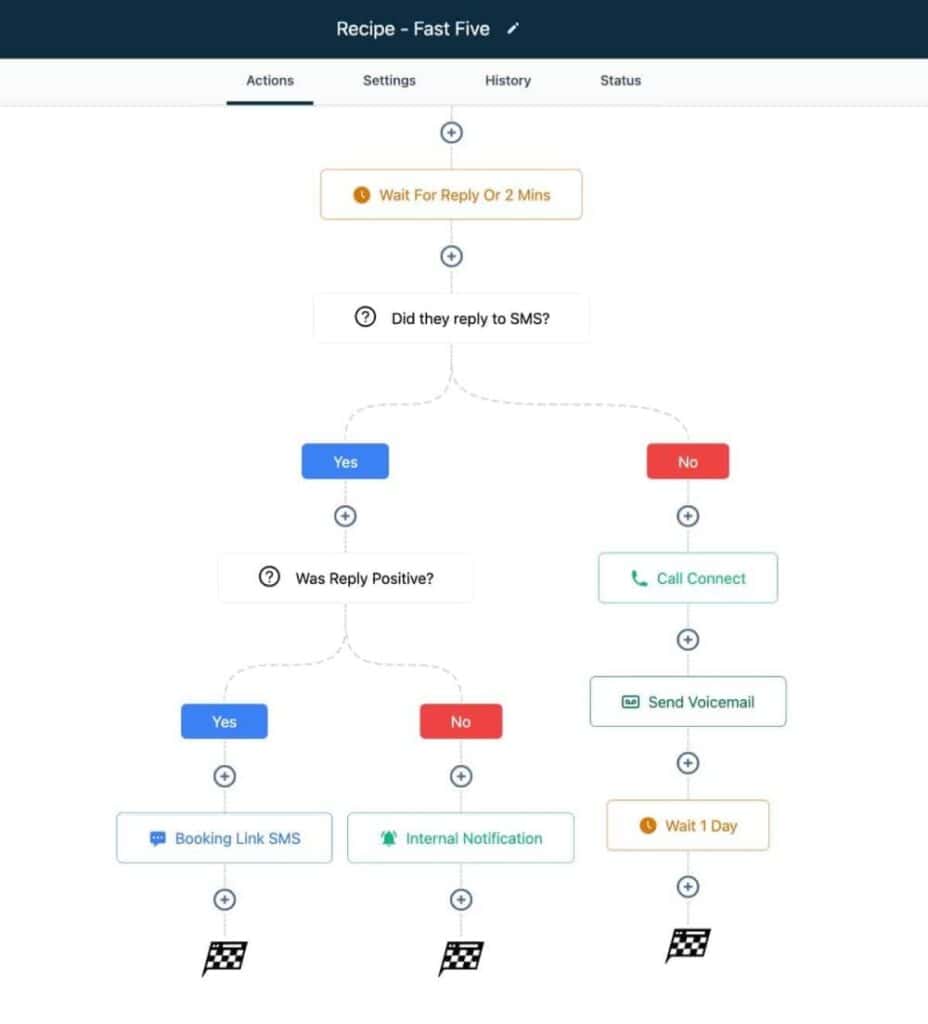 Incorporate Marketing Workflows with GoHighLevel Funnels
GoHighLevel workflows enable the automation of entire marketing campaigns, and workflows can be integrated with your funnels.
For instance, if a funnel includes a data capture form, the workflow can be configured to automatically add the data to a marketing campaign when the form is submitted.
As an illustration, in a sales funnel where the objective is a product purchase, the workflow can be set up in a way that the customer is sent an automated email containing an upsell and discount coupon a few days after their purchase.
There are numerous options available, so once a user has completed the funnel, you can continue to engage them by automatically including them in other campaigns.
GoHighLevel Funnel Builder is a useful tool for businesses to enhance their digital marketing efforts. Its interface is user-friendly, with pre-built templates and strong integrations. This tool enables businesses to create effective sales funnels that deliver results. Whether you're a small business owner or a marketing professional, GoHighLevel Funnel Builder is a valuable tool to improve your digital marketing strategies. Start using it today and elevate your marketing efforts!
GoHighLevel Funnel Builder is a powerful and easy-to-use tool that helps businesses quickly create effective sales funnels. It offers an intuitive interface, pre-built templates, and strong integrations to help you get started in minutes. With the drag-and-drop editor, users can customize the look and feel of their funnels to match their brand identity.GoHighLevel's Funnel Builder is an excellent solution for businesses who need a simple yet powerful tool to create and manage their sales funnels.
Frequently Asked Questions
How Do I Create a Funnel in GoHighLevel?
To create a funnel in the GoHighLevel platform, go to the Sites tab and choose Funnels. In this section, you can select a GoHighLevel funnel template to customize or create your own funnel from the beginning.
How Many Funnels Can I Make in GoHighLevel?
Regardless of the GoHighLevel payment plan you choose, you can create an unlimited number of funnels with GoHighLevel.