If you're looking for a detailed GoHighLevel review, this marketing-focused article will give you an idea if this software is right for you and your business. Then if you decide it's right for you, we've also created bonus training to help speed up results.
Special Offer: Get an extended 30-day trial of GoHighLevel.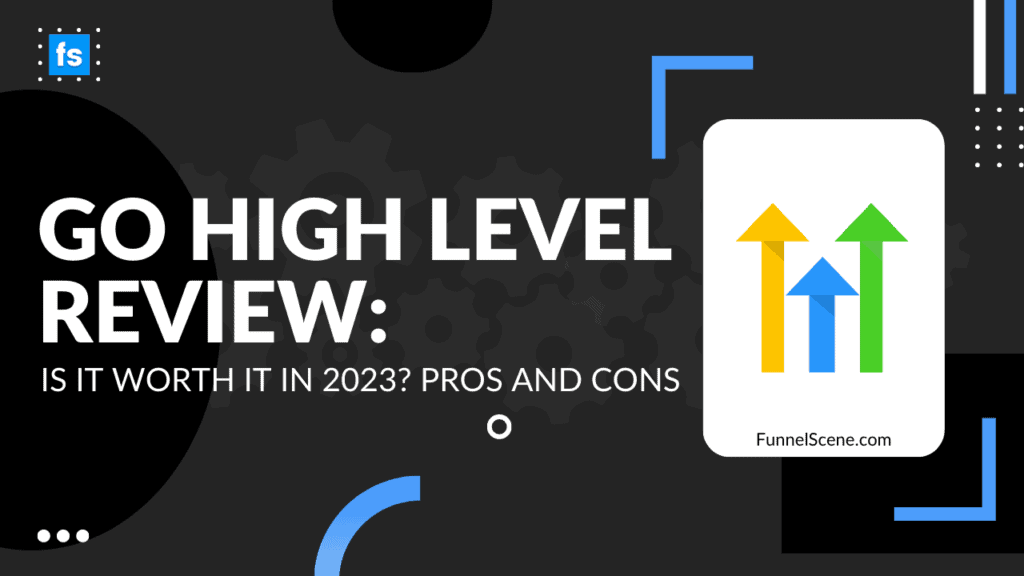 High Level has become more popular and successful since its inception in 2018, particularly in 2020. It's amazing how quickly Go High Level has become one of the premier and cost-effective sales funnel applications and CRM platforms.
Calling High Level simply a sales funnel software would not do it justice, as it provides more than those features. This tool has many functions to suit different marketing needs, including email marketing, SMS marketing, and advanced CRM. 
This overview covers GoHighLevel's features, pricing, advantages, and disadvantages. To be fair, we compared Go High Level to similar solutions to determine how it performs in comparison.
Founded in 2018, HighLevel is based in Dallas, TX, and provides digital marketing and sales tools for agencies and marketers.
An online business requires essential marketing tools, such as sales funnels, email automation, SMS marketing, booking an appointment, call tracking, and excellent customer service.
This amazing SaaS tool offers great cost savings since you don't need to buy separate products from different manufacturers. Plus, you can use a single platform to operate your entire business without having to switch between multiple apps.
Go High Level's CRM makes automation efforts simple. You can set up marketing campaigns, surveys, and funnels with ease using its drag-and-drop form builder.
In addition, the High-Level team can design a branded mobile app and integrate Zapier for you.
Before we go any further, I'll quickly tell you the ways you can use Go High Level…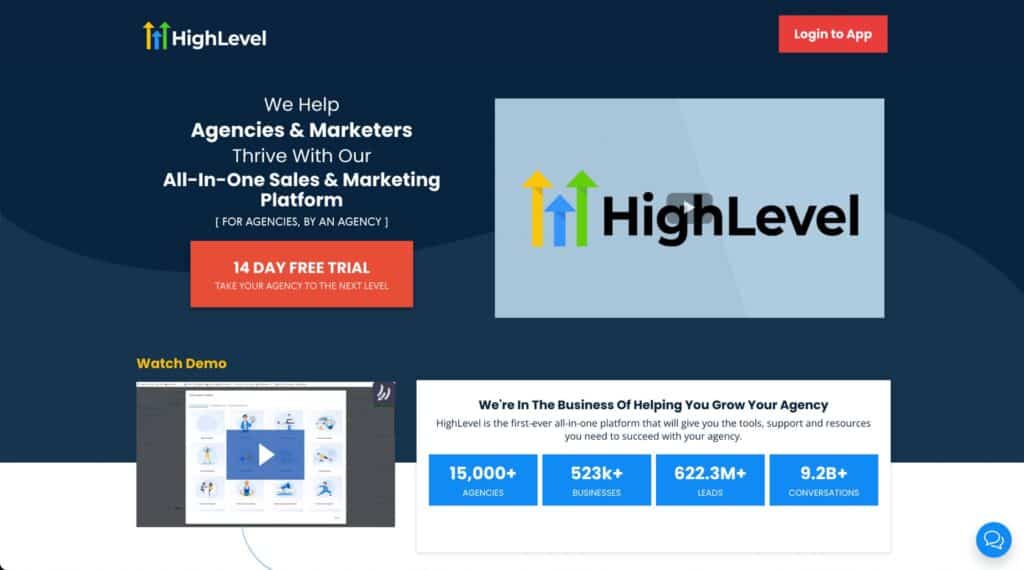 What Is GoHighLevel Used for?
GoHighLevel is a great choice for those looking to advance their business. It assists entrepreneurs, sales teams, marketers, local business owners, salespeople, etc., in discovering the best sales and marketing solutions.
CRM
Funnel Building
Email Marketing
SMS Marketing
Membership Website
Call Tracking
Pipeline Management
Calendar Booking
Survey Builder
Call Recording
SEO Agency
Business Automation
Client Retention Tool
White Label Software
Client Acquisition
Website Builder
Lead Automation
Saas Builder
Revenue Tracking
Reputation Management
Client Fulfilment software
And Much More…
Based on the above, If you need to increase your business quickly while also keeping expenses low, then this software could be the right choice.
How GoHighLevel Became Part of My Business
Go High Level is a comprehensive marketing tool that offers many features. It works in numerous ways. GoHighLevel is widely recognized for its top-notch CRM and Funnel features.
Users of this product often utilize it as a CRM and sales funnel builder, among its many features. Go Highlevel is ideal for agencies and businesses that generate multiple funnels and landing pages, thanks to its two remarkable features.
Consequently, the following are the capabilities of High-level software:
GoHighLevel's funnel builder makes it easy to build sales funnels that generate leads and increase conversions. With the High-level platform, you can quickly create powerful funnels for your clients.
With Gohighlevel, you can build a website and connect a custom domain. In addition to this, it is an effective converter.
Create landing pages to promote your offers.
The CRM facilitates managing and cultivating relationships with customers while still retaining oversight of projects.
When using calendars and appointment booking, you can better manage your time and projects. This also allows agency owners to keep track of calls easily.
With its membership site features, you can produce and distribute online courses or subscription services.
It's automation software enables you to develop successful email marketing campaigns.
An SMS marketing campaign can be an effective way to get your message to prospects quickly and conveniently.
There are more that could be mentioned.
Go Highlevel offers many delicious features in their dashboard for great value.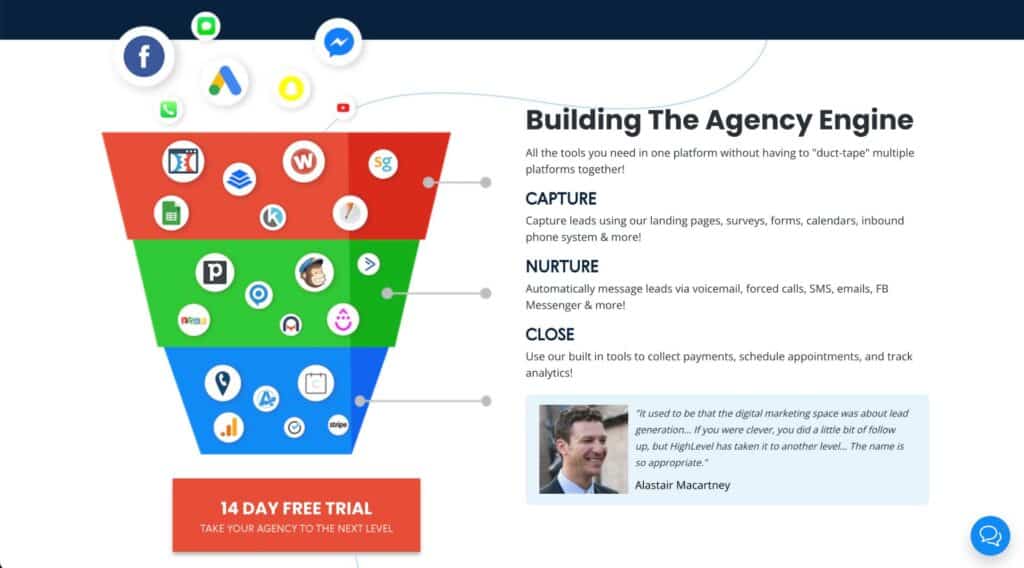 Who Is Go High Level For?
Highlevel may not be right for everyone, but it has many useful features. As a marketer, Gohighlevel can be helpful and productive. However, at this moment it might not fit your requirements. Who Go High Level isn't suitable for should be the starting point.
This is not a good option for eCommerce websites with extensive product listings. Single-product eCommerce stores or those with special offers are the best fit for this, not large-scale ones with multiple products and product pages.Go High lLevel is the ideal solution for dropshipping stores and those with only one product in their eCommerce store.
For example, if you have a store that sells wristwatches, Go Highlevel can help create an effective funnel to promote them. Agencies have not been forgotten. Highlevel agencies are a great combination. Go High Level has been designed to cater to both agencies and small businesses. Agencies can take advantage of special features, including the white label report for their clients.
Marketers from many different business areas should find Go Highlevel interesting. 
Affiliate marketing involves using funnels to promote offers.

Dropshipping allows you to convert sales.
Owners of agencies
Freelancers and consultants provide funnel construction services.
Bloggers can use their websites to advertise affiliate offers, offer services, and sell digital products.
Those who create online courses
Small businesses need to keep track of their clients.
Who Shouldn't Use Go High Level
If you're one among those who are not interested in reading this part of the software reviews, then don't waste time by reading this. If you want to know why this tool isn't suitable for you, keep reading.
There are other blogs out there that offer features for SEO purposes and help drive traffic to them. For example, some examples of these blogs are WordPress. Therefore, your website can be built using WordPress and your funnel can be developed using GHL.
If you're running a small eCommerce site, then using Fulfillment by Amazon (FBA) may be the best option for you. However, if your business has a lot of products and product pages, then you might want to consider using Amazon MarketPlace instead.
If you're an online dropshipper or eCommerce shop, then GoHighLevel is a good fit. You could use it to sell digital products, too.
Indeed, Go High Level is an all-in-one marketing platform that does its job so well in all of its tools and applications. This article won't be enough to tackle all features of Go High Level. Instead, this blog will discuss in detail the most impressive features of Go High Level. Here are some of them.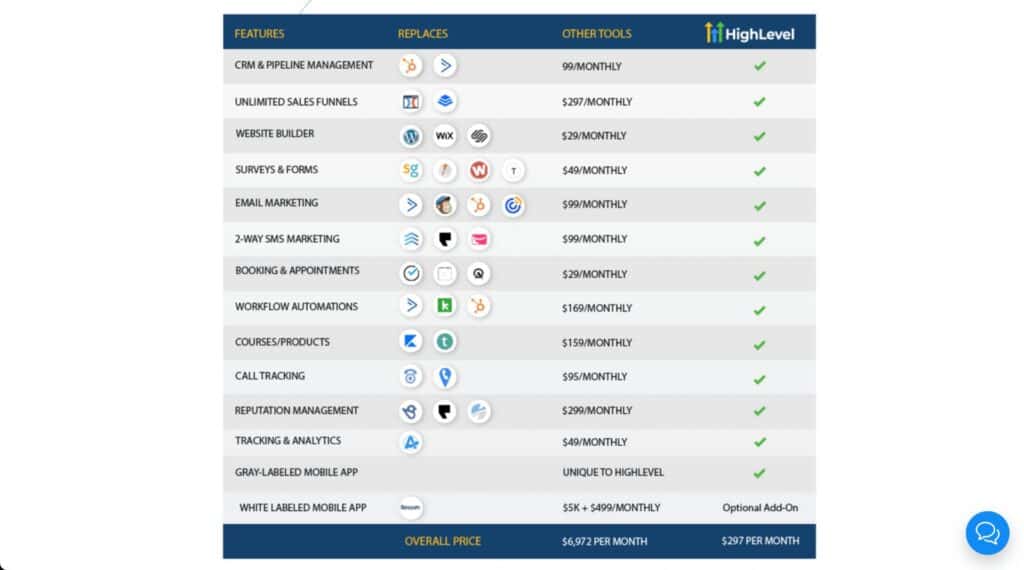 To save time and effort in managing your online business, you can set up automation workflows. These workflows are vital because they make business processes easier and more efficient.
Go High Level's automation workflow feature is incredible for all-in-one marketing software. With this, you can create a new workflow by choosing from the available templates or starting from scratch. You can then save the template for future use or publish them right after editing.
After selecting the template, you need to add a trigger for the automation to start. There are different choices for the triggers and it depends on the business. You can then edit the specific flows like messages, replies, landing pages, calendar links, products, and more. The last step is to publish it or schedule its operation.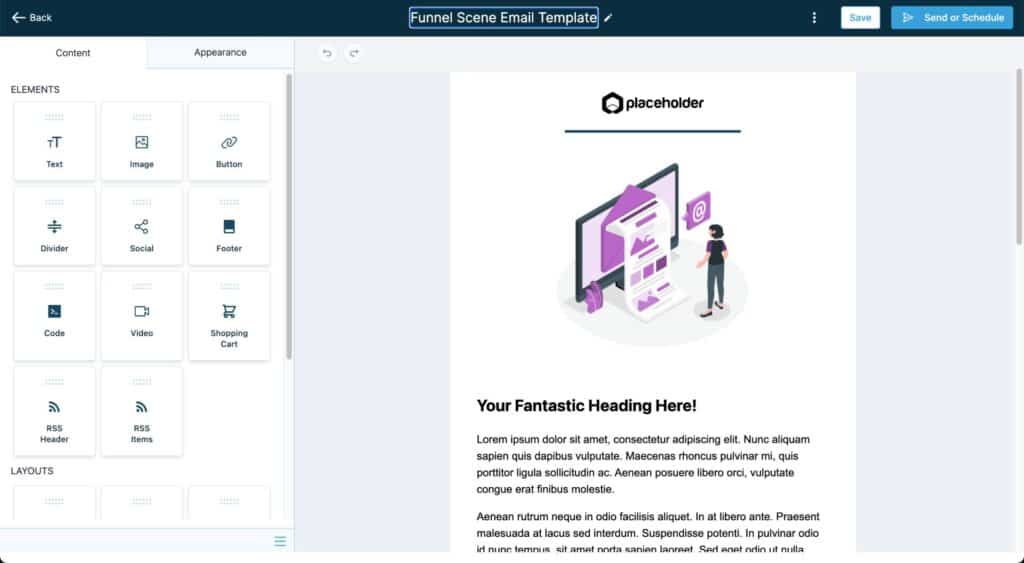 Another important feature of Go High Level is email marketing. To start your email marketing campaigns, you can choose from a variety of templates with varying sizes, themes, and content. You can also create one from scratch if you find that none of the templates matches your brand.
After choosing your templates, you can customize them by dragging and dropping elements of your choice. You can also change the images, color scheme, fonts, and overall appearance of your email template.
Once you're done editing, you can send your email campaign to your contacts' inbox, or schedule it for future use. In addition, you can also customize the recipients based on categories or demographics. This email marketing feature is straightforward and it's very easy to use.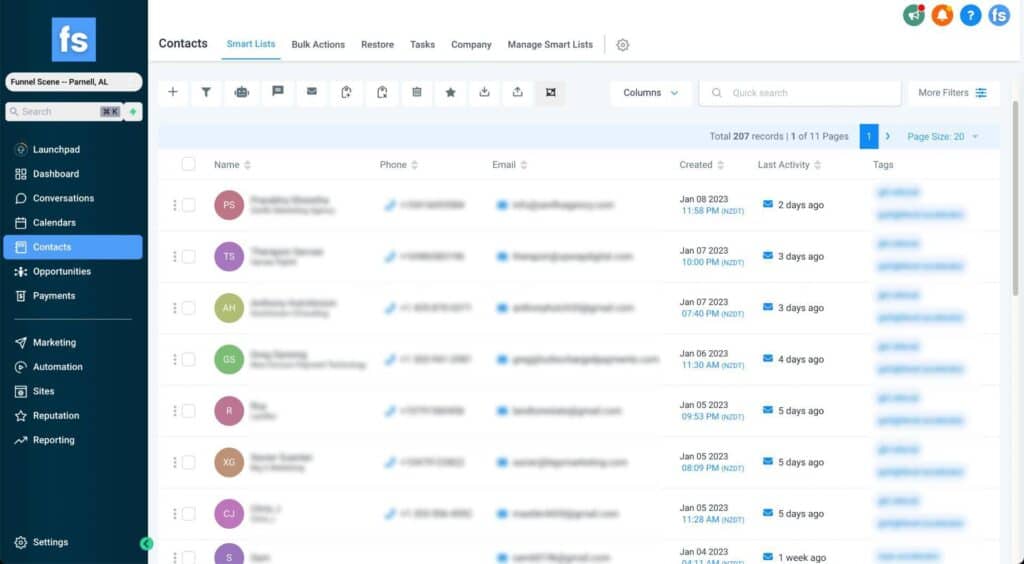 Go High Level's icing on the cake must be their contacts and CRM. You can export your contacts from other sources into Go High Level's dashboard and organize them from there. If you feel like you don't want to export your data, you can integrate the platform you use to Go High Level to centralize your business processes.
The contacts list of Go High Level provides you with a lot of data and insights about your customers. For instance, you can see what your visitor or contact did on your website. You can see what pages they visited, what links they clicked, what messages they sent, and when did they sign up for the forms.
There's also an option where you can fill out some details about your contact, or message them directly within the platform. You can also assign any person from your team to be in charge of a specific contact. Lastly, you also have the option to add custom fields if your client needs one.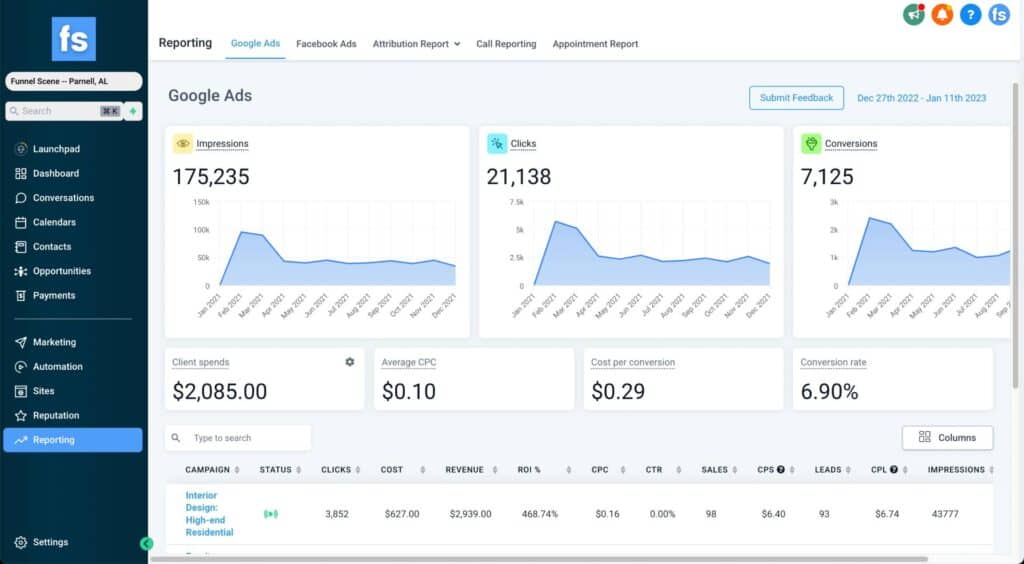 Of course, Go High Level won't be complete without a reporting and analytics tool. In the reporting tab, you have the option to link your Google Ads and Facebook Ads to get an insight into how your ads are performing.
You can also see other important metrics and dimensions such as impressions, click rate, bounce rate, number of visitors, and many other important measurements.
5 Ways To Make Money With Go High Level
To ensure that the GoHighLevel Review provides all the necessary information, here are 5 distinct methods to generate income online using Go High Level.
One of the most profitable ways that users are making money with GoHighLevel, is using the Saas Pro feature to create their own white-labelled version of GoHighLevel. This allows agencies to get their own Saas customers who pay a monthly fee to get access to the software.
In fact, some GHL users are hitting the $100,000 per month mark using the SaaS features, in which the majority is passive income. 
With the SaaS Pro plan, you can build three different levels of membership, and control which features activate on the corresponding plan. On top of features, you also get to decide the price, and even charge additional for SMS and Email delivery. Multiple streams of income at it's finest.
Side note: We've also created a GHL Saas Course showing you how to set up your own white-label agency super quick. It's free to register! 
Build an Agency (non-Saas)
With the Agency Unlimited plan, you are allowed an unlimited amount of sub-accounts. This opens a huge opportunity to create websites, build funnels, create automations, and more for your clients. 
You can simply create a new sub-account, build the assets, then create a recurring invoice for hosting and support! 
With Go High Level, you can build and market complete courses without charge. This platform allows for an infinite number of users and video hosting, making it perfect for creating classes for customers or agencies.
Additionally, the website includes a pipeline management tool to monitor leads and their position in the sales process. Additionally, Stripe can be used to collect payments from customers.
For those in this field, Go High Level facilitates setting up appointments with clients easily and efficiently.
With AI and ML technologies, individuals can create automated conversations on their calendars without needing to interact with others. Additionally, they can use these technologies to get better at managing conversations.
Go High Level helps you convert leads into customers. You can use this multi-channel platform to automate your follow-up conversations and messages.
Thus, you can gather feedback from your leads and design your marketing strategy accordingly. You can stay in contact with clients through Email, Voicemail Drops, SMS/MMS, and Facebook Messenger.
Additionally, the mobile app makes it easy for you to connect with your customers regardless of their devices.
With GoHighLevel, companies and individuals can increase their leads by making use of its website-building capabilities. For instance, they can create an attractive site on the platform.
This site can help you make creative and high-performing landing pages. Users have access to drag-and-drop survey forms that can be used to generate leads, either embedded on their websites or in the HighLevel page builder.
Additionally, you can use GoHighLevel's calendar application to book and request appointments online.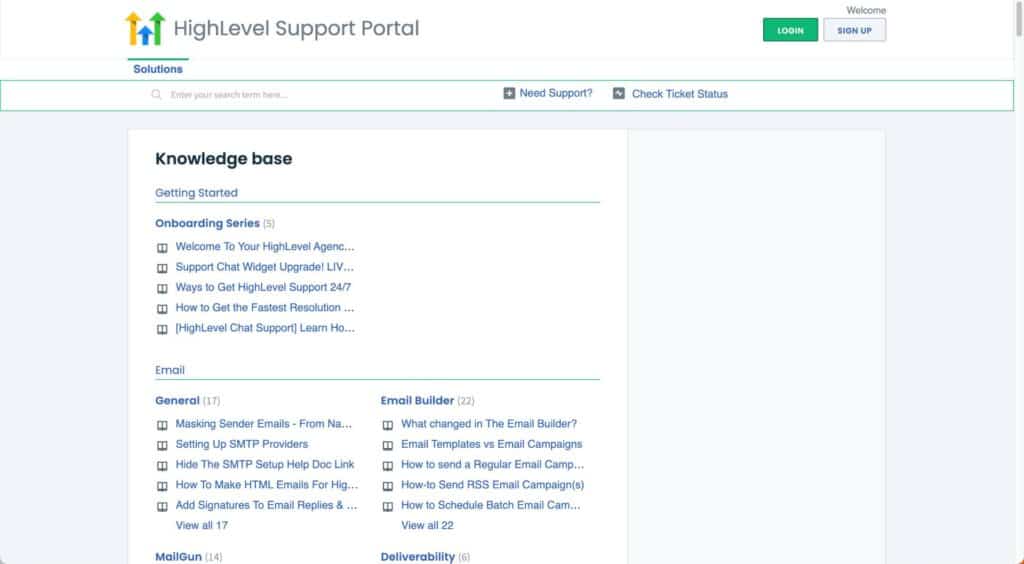 GoHighLevel: Pros and Cons
When evaluating GoHighLevel for your agency, it's important to consider the pros and cons. My GoHighLevel review provides insights into the platform's benefits and downsides.
GoHighlevel's comprehensive package of tools can be daunting, but it's easier to learn than the multiple software products it replaces, including ClickFunnels, GetResponse, Leadpages, CallFire, WordPress, and more.
GoHighLevel may be complicated at first, but it is simple to use and explore. You just need to become familiar with its features.
You have the ability to make as many accounts as you need for your clients.
Due to its strong API options, connecting with other services is straightforward and attractive.
HighLevel CRM helps you manage your leads and customers in one place.
Go HighLevel stands out with its all-in-one software platform that has full capabilities compared to other solutions.
High Level offers both funnel and website building capabilities, all with the same interface, making it easy to master one type of builder and use it for both.
Integration is only possible with SMTPs, not with email tools.
The customer service is unsatisfactory.
Fewer integration options than other similar services
It is more time-consuming to learn than the offerings of some rival companies.
For new users, there are numerous features that can be overwhelming.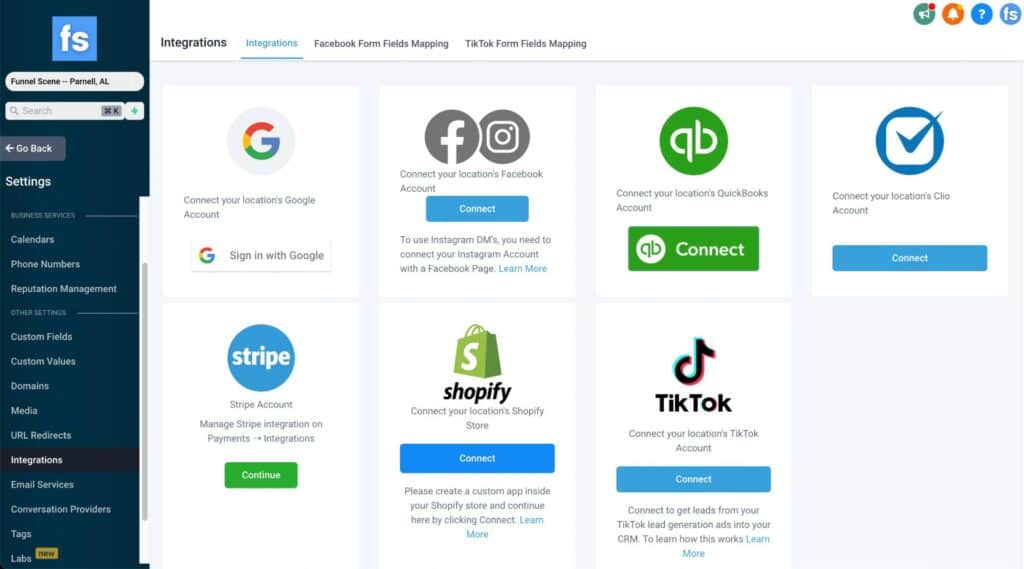 GHL's one-platform solution gives you the ability to use its features in unison, resulting in exceptional outcomes.
For example, integrating GoHighLevel allows you access to its calendar as well as High-Level funnel features. Importantly, this does not come at a cost to any specific aspect.
Go High Level allows you to sync with your other marketing tools so that you can keep your favorite applications up-to-date.
Through Webhooks, Zapier and Pabbly Connect, it is possible to link up and exchange data between different apps. Go HighLevel can be integrated with several different apps.
Google
Facebook
Instagram
TikTok
QuickBooks
Clio
Stripe
Shopify
Zapier (connect to 5000+ apps)
Pabbly Connect (integrate with 1000+ apps)
One of the most beneficial outcomes of having all these different features and integrations, is you have the ability to run your business under one roof.
CRM and Pipeline Management
Go High Level stands out because of its CRM feature, which other sales funnel builders and email marketing tools lack. The dashboard has features to help you manage your customers, such as the ability to track leads and prospects through your pipeline, even though it doesn't include a CRM component.
Go High Level has made it much easier for marketers to create a sales funnel since the options are limited and expensive. This platform offers a funnel builder, enabling marketers to put together effective sales funnels. Additionally, there are multiple pre-made funnel templates for users to utilize when constructing their funnel.
Go High Level allows you to build an email list, deliver messages, and automate lead nurturing. Furthermore, you can make distinctive emails using pre-made templates that are customizable.
The platform offers an SMS dashboard for managing and caring for your customers. Easily compose, transmit and monitor your text messages without buying a mass SMS plan. Keep customers up to date with new products or releases just from your control panel. With a visual text editor, you can review the messages before sending them to make sure everything is accurate.
How to Use GoHighLevel for Your Agency?
Now that we've discussed the basics, let's go over how this can be used to benefit your agency.
Lead generation involves making landing pages, conducting surveys, and building forms.
Managing customer relationships and sales pipelines.
Lead nurturing is the process of caring for and developing leads over time.
Phone call auditing and recording.
Streamline your digital marketing procedures with automation.
Offer digital courses and any active marketing efforts.
Keep track of your upcoming appointments with Google calendar.
Remember to set reminders for appointments to prevent cancellations.
Create promotional videos with customers' feedback.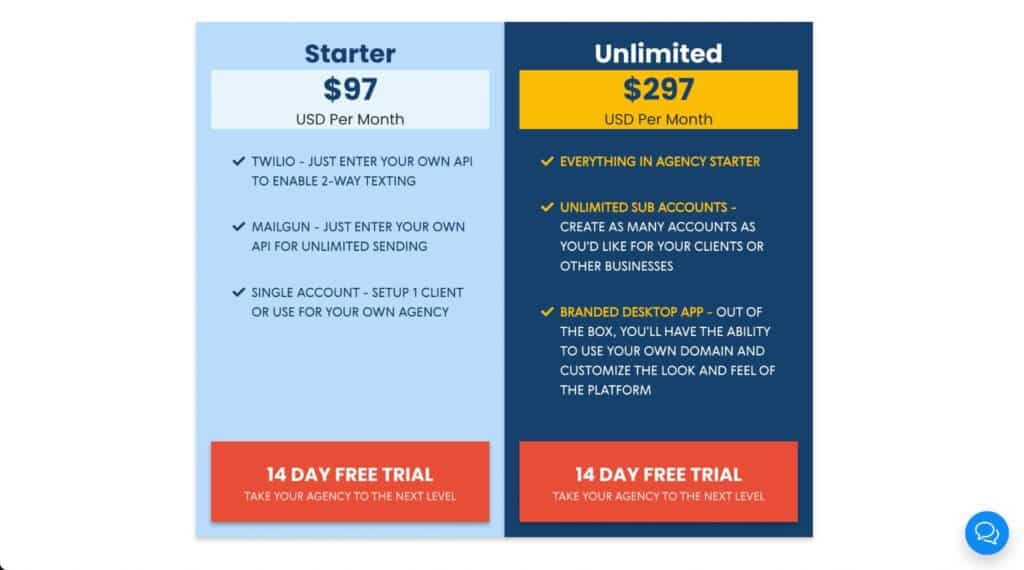 GoHighLevel Pricing: How Much Does it Cost?
GoHighLevel is a SaaS platform that offers dynamic pricing. I believe it's an excellent option compared to traditional purchasable apps and platforms, as GoHighLevel constantly follows marketing trends and updates its services to keep up with new technologies and marketing demands.
By far, one of the things that makes High Level stand out, is the ability to have unlimited assets. This means no matter which plan you're on, you can create an infinite amount of assets.
This means you can have unlimited:
Contacts
Funnels
Websites
Invoices
Contacts
Emails
Automations
Scheduling
Appointments
Domains
Courses
Students
Sub Accounts (Agency Unlimited or Pro)
Saas customers (SaaS Pro)
The Agency Starter plan is the perfect membership for marketers, and small businesses. This allows you to have your agency dashboard which you can fully customise your admin dashboard, add in custom tabs, etc.
You also are allowed 2x sub-accounts which can be used for 2x brands.
Agency Unlimited: $297 p/m
If you are a digital marketing agency and you want to manage and host clients digital assets, this is the plan for you.
The Agency Unlimited account allows you to create an unlimited amount of sub-accounts (one for each brand) which means all of their digital assets is in their own sub account and separate from the others. Of course, they also have the unlimited usage.
The best part is, if you have 10 sub accounts of 10,000, you'll still only have to pay the single $297 p/m price.
Probably the most exciting GoHighLevel pricing plan, is the SaaS pro one. This allows you to white-label and resell High Level under your own brand, for whatever price you feel fit.
It could well be one of the fastest ways to create your own Saas company, and there is plenty of training to go with it! 
Once you've set up your new Saas platform, as soon as a new user registers to your plans, they automatically get sent logins, and have access to your white labelled GHL platform.
Mobile App + Custom Zapier Zap: $497 p/m
There is also one more plan you can subscribe to which is less popular, and that allows you to have your own custom white labelled phone App with custom white labelled Zapier zap. 
I'd imagine this would be only used by a select amount of people with major sized companies. For everyone else, the Lead Connector app is more than sufficient.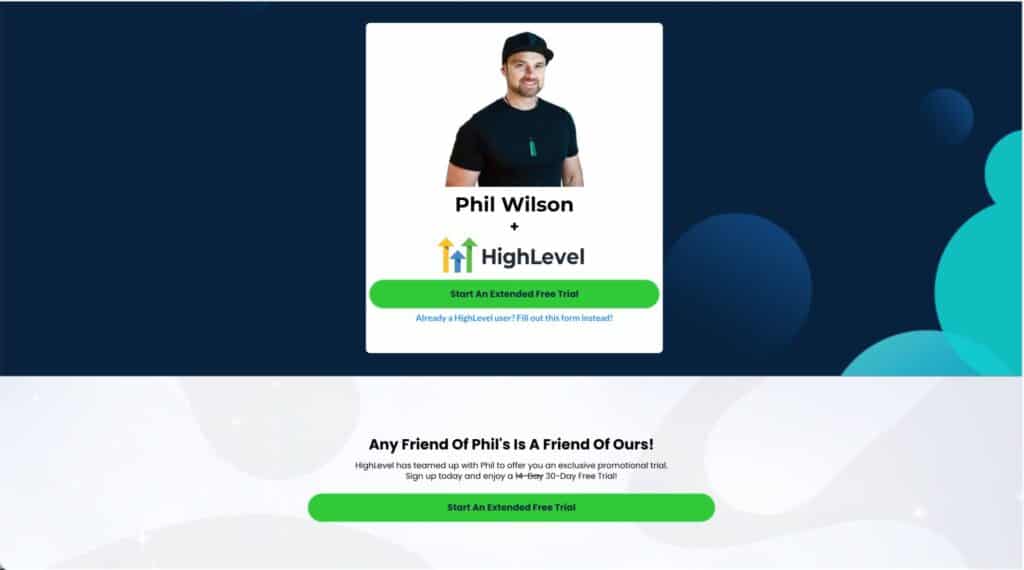 Extended 30-Day Free Trial
A certain number of qualified partners in GoHighLevel are allowed to offer an exclusive GoHighLevel 30-day Free Trial. Luckily, I happen to be one of those people! 
If you'd like to get access to all of the HighLevel platform, use our partner link to upgrade your 14-day offer to a 30-day free trial of the SaaS Pro Plan. This opens all of the different features and functionality of High Level.
Pro Tip: If you decide you don't want all of the activated features, get the 30-day trial and then downgrade to the plan of your choice. This will still give you a full 30-day trial before your final plan starts. 
Significant savings can be obtained on GoHighLevel by signing up for the annual plan. Here are the steps to take in order to access discounts on GoHighLevel's yearly plans.
STEP 1: Start Your Free Trial
Get your free trial here and selecting a plan. After registering, your trial account will be activated.
STEP 2: Login To Your Account
Log into your High Level dashboard and click the "Upgrade" option in the middle to open the pricing page. Here, you'll be able to compare the monthly and annual prices.
How to Downgrade or Cancel
Make sure you are logged in to GoHighLevel and on Agency view before canceling your subscription. To modify or cancel your current plan, go to Settings then Billing. You'll find an option to do so beneath the page detailing your current plan.
When you click to edit or cancel, a window will open that allows you to modify your subscription. To access further options, select "Show more options" at the bottom of the window.
The next step is to select the cancel subscription option. Once you do that, you'll be taken to another page with more choices as well as a video asking for your feedback.
Please select from the provided options the reason for canceling your GoHighLevel subscription or choose "Other" if you prefer to keep it private. After accessing a new page, scroll to the very bottom and you'll find the option to cancel your account.
You need to wait for a GoHighLevel team member's confirmation before your account is officially closed, even after clicking the deactivation button.
Your request to cancel should be sent at least several days ahead of your next payment date in order to avoid charges. Usually, you'll receive the confirmation within 24-36 hours, however, this could take longer.
GoHighLevel Alternatives: How Does It Compare with Competition?
We must also mention how GoHighLevel stacks up against its competitors when evaluating this platform. It incorporates the best elements of ClickFunnels, Unbounce, LeadPages, and more together in an intuitive design.
Go High Level offers a range of features that can help you optimize your online sales funnels. Amongst these are A/B testing, analytics, landing pages, and lead magnets.
Go High Level VS Clickfunnels
GoHighLevel is commonly known by its URL and provides a white-label SaaS platform. Specifically, it helps businesses create attractive sales funnels that transform visitors into leads and customers.
ClickFunnels requires no technical or coding knowledge, making it easy to use with no need to hire a technical staff. GoHighLevel is an application optimized for marketing agencies and allows users to optimize their client's demands, producing better leads and increasing the efficiency of sales processes.
ClickFunnels has three plans ranging from $97 to $2,497 per month. GoHighLevel offers two plans, the basic plan at $97 and the Agency Unlimited option at $297 monthly as well as a white-label unlimited account plan for $497 per month.
Let's compare the basic functionality, price, support, and training offered by both platforms.
All ActiveCampaign plans provide chat and email assistance, whereas phone support is exclusive to the Enterprise plan. High Level subscribers have access to live chat, Zoom consultation, concierge migrations, and a complimentary Facebook support group.
ActiveCampaign offers a range of educational resources and a community forum. The Plus plan or higher provides access to exclusive one-to-one training.
Go High Level is a recently-launched platform with limited resources.
ActiveCampaign limits its users to sending text messages, unlike high level which enables users to send messages via multiple platforms and also allows them to receive replies.
GoHighLevel VS Active Campaign
GoHighLevel is an all-inclusive marketing solution designed primarily for marketing businesses, while ActiveCampaign is an email marketing service with an incorporated CRM that offers some of the same capabilities as High Level.
To be clear, I own an agency and needed to do in-depth research about ActiveCampaign and GoHighLevel before making my own choice.
GoHighLevel: Frequently Asked Questions
As we wrap up this GoHighLevel review, let's discuss a few questions.
What is GoHighLevel Used For?
GoHighLevel is a CRM software designed to make it easier for businesses to organize and manage leads, inbound communications, and customers in one system.
Go Level is a comprehensive CRM and marketing platform specifically tailored to marketing businesses seeking more customers and better retention rates.
The main focus of the software is to attract new customers, retain existing ones and create potential leads for ongoing business growth.
High Level is an intelligent marketing tool that helps you achieve your goals.
Does GoHighLevel Integrate with LinkedIn?
One of its notable features is the integration capability with various third-party apps and programs.
Go High Level does indeed have the capacity to integrate with LinkedIn.With the help of a chrome extension, it is possible to collect data from potential customers.
This extension tracks your LinkedIn activity, gathers the data, and connects it with your CRM.LinkedIn allows you to manually integrate data when creating a tag, and also collects it automatically.
Yes, Go Level is HIPAA Compliant.
To comply with HIPAA regulations, you will need to upgrade your account. After purchasing the HIPAA add-on, you must activate it to safeguard your sub-accounts and meet HIPAA standards.
The cost of upgrading to HIPAA is $297 per month
How Can I Make Money with a GoHighLevel?
With GoHighLevel, you can employ various tactics to generate income, including:
Offering GoHighLevel as a subscription-based software solution.

Start a white-labeling business with this platform.
Providing Go Level Funnels to customers
Taking advantage of its features to promote and sell your digital products.
Making reservations and scheduling appointments
We should examine the capabilities of this platform and see how we can use them to make money.
Shaun Clark, an entrepreneur and online marketer created the platform Go Level. Shawn's LinkedIn reveals he created High Level with the assistance of more than 100 engineers. Shaun and Varun Vairavan, another business owner, created Go High Level.
GoHighLevel Review: Conclusion
Overall, Go High Level is a highly-recommended app for anyone looking to centralize their online business processes. It works well in all aspects and it's very straightforward to use. They also offer a free-trial period for you to see if you need Go High Level. If you have the money to spare, then you should definitely optimize the power of Go High Level.
For all intents and purposes, I've tried to cover everything about Go High Level in my GoHighLevel review. However, even though I've covered every aspect of the product, is Go High Level worth investing in?
If you run a digital agency and need a platform to centralize your marketing activities, then go high level would be an excellent addi¬tion to your marketing toolkit. Go High Level is suitable for any size agency. Whether you run a small or large business, Go High Level will provide a fun experience.
You can use High-Level CRM to run your business as if you had an office full of employees. It's especially useful for B2B companies and those who use a multi-channel or omnichannel approach. Go High Level is an easy way for marketers to manage their multi¬channel and omnichannel campaigns. It's well worth trying out.