In this article , we will be discussing how to effectively utilize GoHighLevel and provide a comprehensive tutorial to optimize your experience with this high-level software.
There is a lack of comprehensive guides or walkthroughs for beginners on GoHighLevel, despite the many positive reviews it has received.
Get ready to soar to new heights and unlock your boundless potential with an extraordinary guide that will whisk you away into a realm of platform mastery!
Now, let's dive into the essentials!
Discover the mind-blowing power of GoHighLevel, the ultimate game-changer for your agency that will revolutionize lead generation and skyrocket your profits to unprecedented levels of success!
The platform is designed to streamline and simplify all aspects of agency management, including client acquisition, follow-up, retention, invoicing, and reporting.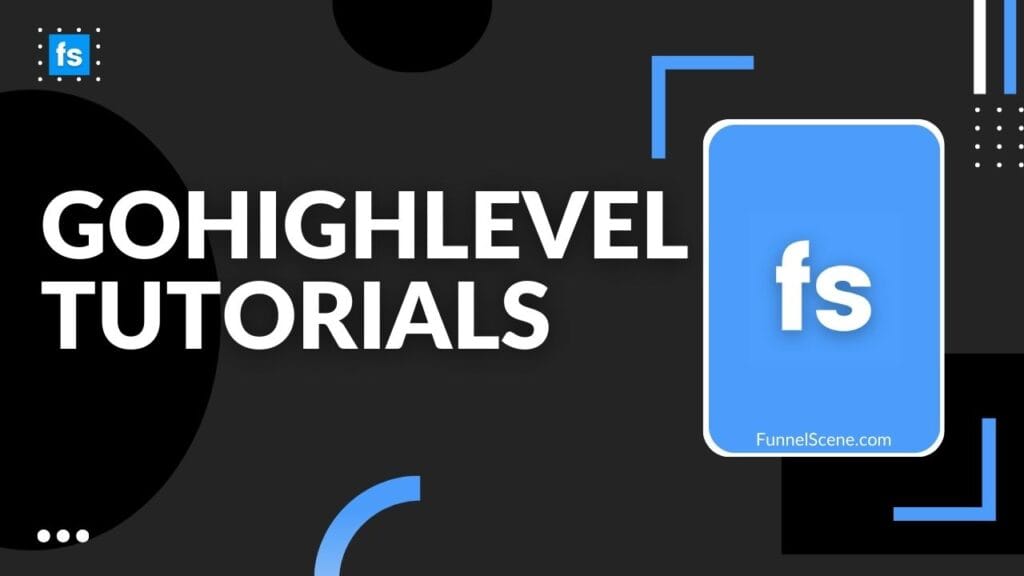 HighLevel or GoHighLevel?
One important observation to make in this section is that the platform is commonly known by two different names: GoHighLevel and HighLevel.
Both options are valid, although the second one is more technically accurate. The company's domain name is GoHighLevel (www.gohighlevel.com), while the company's actual name is HighLevel. For this reason, we will use the term HighLevel.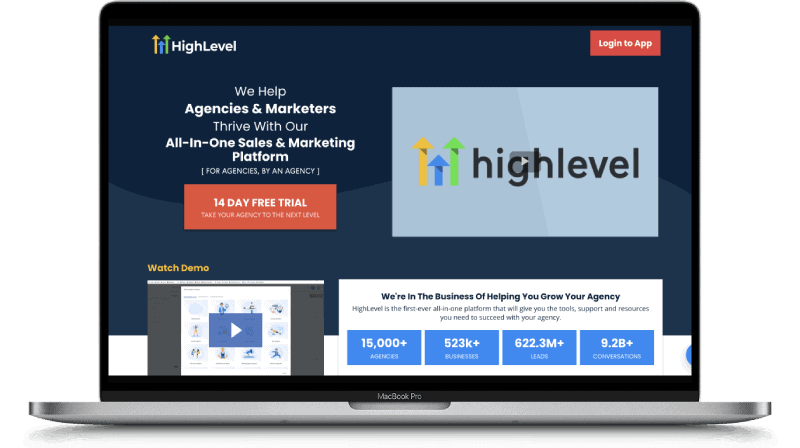 One-Stop Solution:
As a one-stop sales and marketing platform, HighLevel covers multiple aspects of today's businesses. The following is a list of what it offers, along with some of the platforms it replaces:
How Much Does It Cost?
HighLevel offers a pricing model with three tiers, each designed to cater to slightly different types of customers.
The image shows the monthly billing prices as well as the discounted annual billing prices.
Additionally, the HighLevel website offers two plans – the Starter and Freelancer plans – with slightly different names, which is worth mentioning. There is an additional plan upgrade available that can only be purchased with a Freelancer plan subscription.
HighLevel does not offer a free plan like HubSpot or other platforms, but they do provide a 14-day free trial for both the Starter and the Freelancer plan, allowing you to test them out.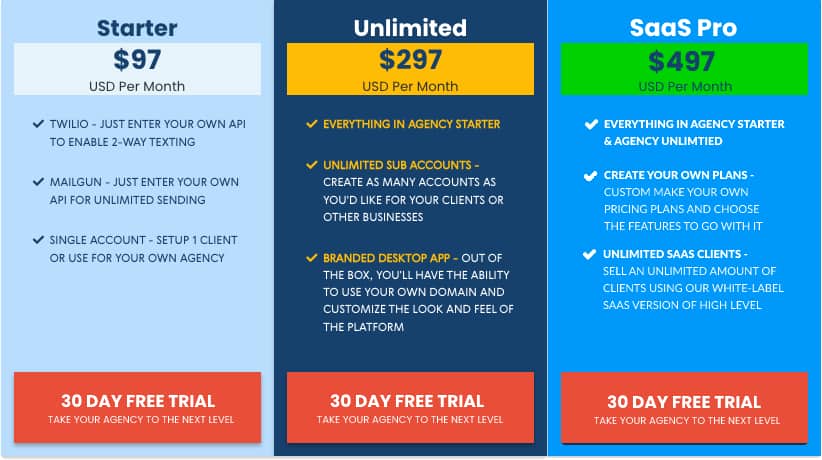 Who Is HighLevel For?
HighLevel is commonly used by agencies and other businesses, indicating a probable continuation of this trend in the future.
The Starter plan offers a range of tools and features that can benefit small businesses with limited budgets. It can help capture leads, track audience engagement, automate marketing and communication, manage reputation, and more, all at a reasonable price.
The Freelancer plan is designed for freelance marketers who have experience, while the Agency Pro plan is intended for digital marketing agencies.
The effectiveness of a business plan depends on the specific needs of the business. Not every plan is suitable for every business, but there are many different plans available to meet different needs.

How to Use HighLevel: Tutorial for Beginners
Now that we have provided an introduction to the platform for those who may not be familiar with it, we can proceed to the next phase.
We can't cover every feature of HighLevel in this guide, but we'll focus on a few key features and guide you on how set them up and use them.
These are our choices.
Twilio
Mailgun
Campaigns
Pipelines
DropInBlog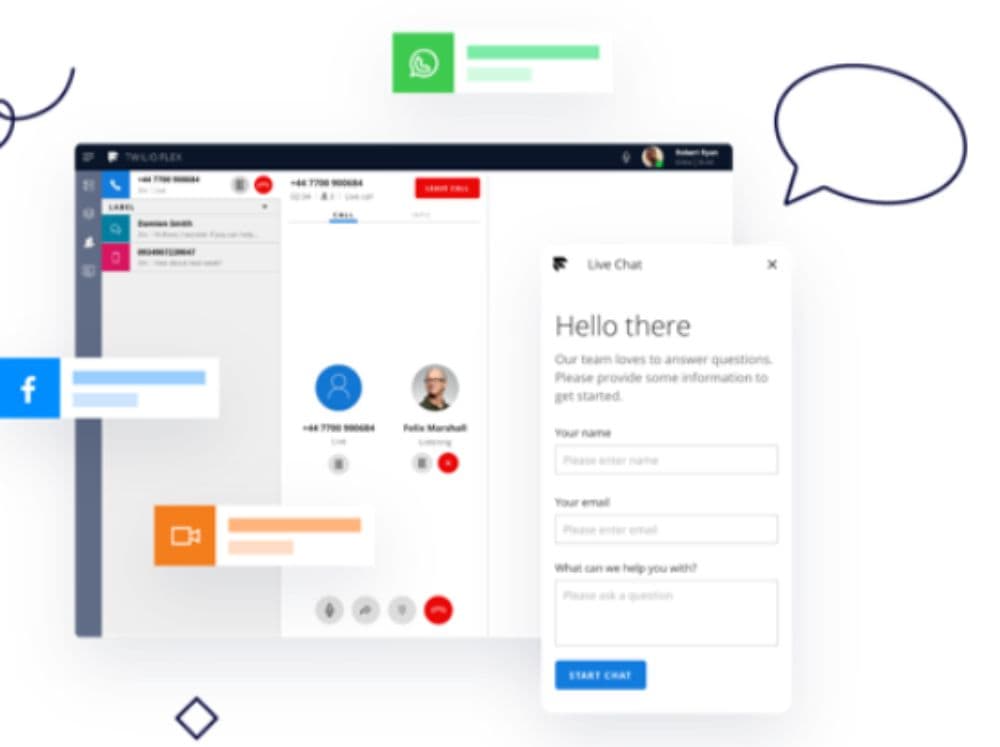 Twilio is a tool that allows users of HighLevel accounts the ability send text messages, voicemail drops, and make phone calls.
It is possible that a business has sent you a message using Twilio, a widely used platform for marketing messaging systems utilized by many companies.
Signing Up:
To enjoy the benefits of this marketing app in HighLevel, as you might expect, you need a Twilio account.
If you don't have one already, Twilio allows you to get started for free without asking for your credit card information. Just head over to its official website, sign up for a free trial, and follow the steps to set up a new account.
Alternatively, you can create a Twilio account from within your HighLevel admin dashboard.
To create a Twilio account through HighLevel, navigate to the Settings tab and locate Twilio. Click on it, and you will be directed to a new page displaying information similar to this.
We will provide you with the Account SID (security identifier) shortly. Currently, our priority is to assist you in creating a new Twilio account.
By clicking the blue "Show Instructions" option, you will be prompted by HighLevel to determine if you have an account. If you do, you can sign in from the admin dashboard. However, in our situation, we will choose the "Sign up for Twilio" option instead.
Clicking the "Sign up for Twilio" button will open a new tab in your browser, directing you to the Twilio website. From there, you will be guided through the necessary steps to create a new account.
After creating your Twilio account, please go back to HighLevel to confirm that you have successfully signed up and received an email with a verification link from Twilio.
To complete the sign-in process for your Twilio account, please check both checkboxes shown in the image.
To establish a successful connection between your Twilio and HighLevel accounts, please copy your Account SID and Auth Token from your Twilio admin dashboard and paste them into your HighLevel Account.
Twilio Sub-Accounts
When Twilio is integrated with HighLevel, users receive 100 free starting Twilio credits, which is a beneficial feature.
Furthermore, if you operate a digital marketing agency or engage in digital marketing for other businesses, it enables you to effortlessly generate a Twilio sub-account for each new client.
The automatic creation of sub-accounts can be beneficial if you charge your clients for their use of Twilio, as it can help generate additional income for your business.
Additionally, you have the option to rebill your clients for Twilio services, which can help offset your expenses and allow you to earn. However, it is important to note that rebilling Twilio and creating sub-accounts for your clients are optional and not mandatory.
One important feature of HighLevel is the ability to sync Twilio sub-accounts created in HighLevel with your Twilio account, ensuring consistent information across both applications.
HighLevel offers the ability to purchase Twilio numbers for your clients, import Twilio numbers into the HighLevel platform, and bill clients who already have a Twilio account for their usage on HighLevel, among other features.
We will discuss the essential aspects of getting HighLevel up and running, although these topics are also of interest.
In the trial mode of Twilio, the usage of Twilio on HighLevel is limited. To unlock complete functionality, users need to input credit card details and top up their sub-accounts with credits.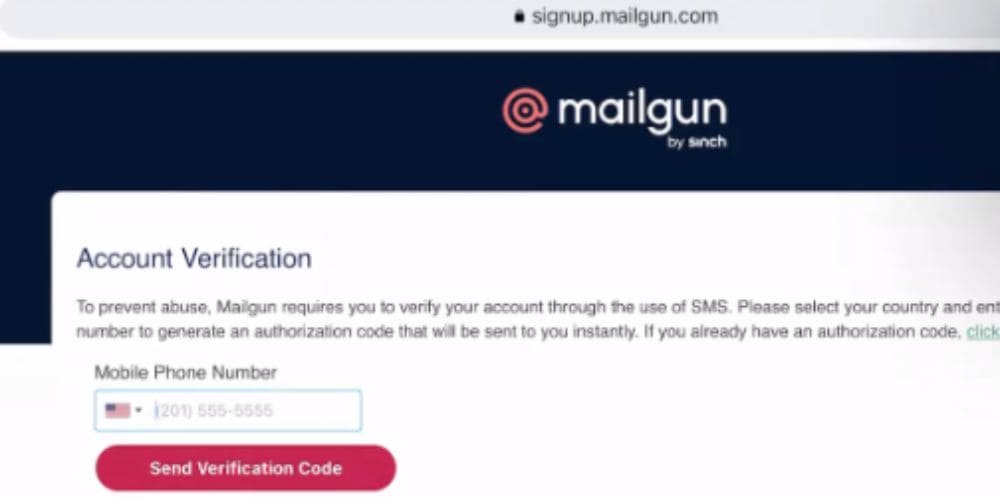 Besides Twilio, Mailgun is also a significant tool showcased on the HighLevel website. Therefore, it is one of the few selected features we have chosen to investigate further.
Mailgun is a third-party email delivery software that is used by various prominent companies, including Microsoft and Dell. Similar to how Twilio handles text messages, voicemail, and calls, Mailgun handles emails.
HighLevel has a built-in feature that allows you to easily connect with Mailgun. You can access and set up Mailgun from your HighLevel settings.
Free Sign Up
Similar to Twilio, in order to utilize Mailgun in HighLevel, it is necessary to first create a Mailgun account.
The email delivery app offers a free starting option. To begin, users are required to provide specific information, such as their credit card number. After completing this step, a verification email will be sent and users can proceed to set up their account.
Mailgun offers a free subscription for the first three months, allowing users to send up to 5,000 emails per month. If you require more emails or exceed this limit, you will need to upgrade to a paid Mailgun account.
Mailgun can be used for free in HighLevel, but there is one condition: starting from 2020, the free account only allows you to send emails, not receive them. To enable this feature, a paid Mailgun account is required.
Subdomain
In order for Mailgun, a subdomain of your main domain, you will need a subdomain. For example, if your domain is mycompany.com, the subdomain could be email.mycompany.com.
It is recommended by HighLevel that agencies utilize a single subdomain for all client sub-accounts. This is due to the convenience of only needing to set up once, which will also work for future clients.
Additionally, it is possible to set up a subdomain for each client sub-account if it is necessary.
DNS Records
To create a subdomain, access your Mailgun admin dashboard where you can automatically generate TXT, MX, and CNAME DNS records. Afterwards, go to your DNS provider account (such as GoDaddy, HostGator, Namecheap, SiteGround, or the one you purchased your custom domain from), log in, and add the Mailgun's newly created DNS records.
By adding the DNS records to your main domain, you can establish a connection between your Mailgun subdomain and your main domain.
The DNS provider admin dashboard is the platform where users usually select the domain they want to link with the Mailgun subdomain. After choosing the domain, users can proceed to update the DNS settings with the DNS records provided by Mailgun.
For more technical details on how to do this, you can find a video by HighLevel if you use GoDaddy as a DNS provider.
Final Steps:
After completing all tasks, it is necessary to verify your DNS settings, which typically require a period of one or two days for processing.
To access your API keys, you can visit the Mailgun website. From there, you can copy the private API key and Mailgun subdomain that you previously created and enter them into your HighLevel account.
To complete the process, navigate to the HighLevel settings and click on the "SMTP Service" option, which can be found next to Mailgun. From there, select "Add Service" and enter your SMTP credentials, including the hostname, port numbers, user name, and any other relevant information provided by Mailgun.
This information is available in your Mailgun account, specifically under the subdomain that you use in HighLevel.
HighLevel offers a valuable tool that can help you grow your business and reach new levels of success.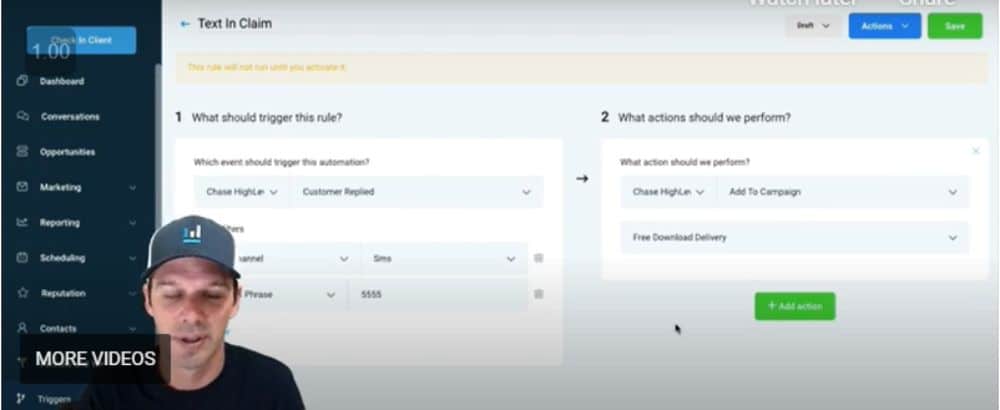 This topic is important and contains many elements for discussion. However, in this context, we will only focus on the basic aspects of creating campaigns.
Campaign are a form of automation that HighLevel offers. This feature enables you automate tasks such as sending messages and emails. With campaigns, you have the ability set up the sequence and timing of specific events that occur over time.
We will observe how this appears in action.
In HighLevel, campaigns are categorized under the Marketing section. To start a new campaign, the initial step is naming it with a suitable description. The subsequent steps involve incorporating events and actions, such as scheduling automated SMS messages or triggering a welcome message in response.
HighLevel provides a variety of event options for you to select from.
Text msg
Call
Leave a voicemail.
Please send an email.
Messenger
Wait.
SMS manual.
Call manually.
A webhook sends data from HighLevel to other apps.
Add a task based on whether the contact converts or not.
In order to properly convey an action, it is important to specify the time in which it occurs.
In the case of a webinar, it is possible to schedule a call immediately after a user registers, send a reminder SMS prior to the start of the webinar, and send a follow-up email once the webinar is over. This automation can be configured once and HighLevel will take care of the rest.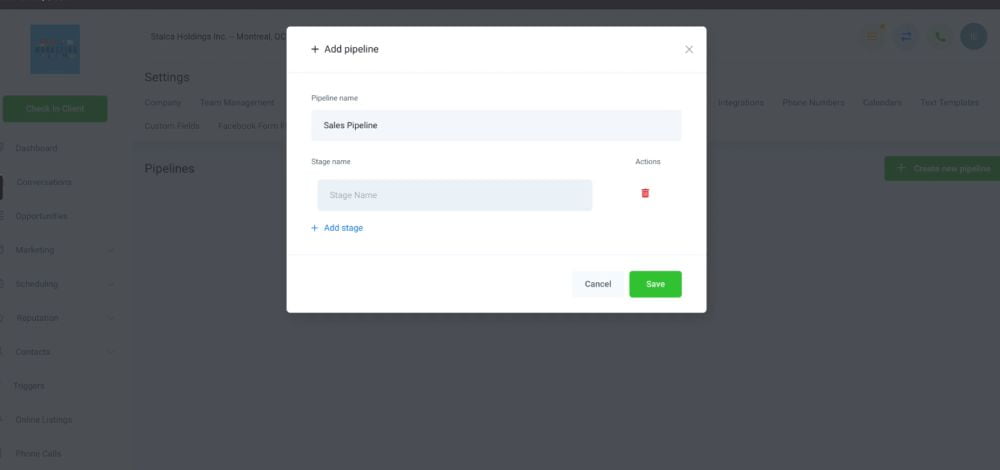 A pipeline and a sales funnel are similar in that they include all stages of the sales process, from prospect to customer.
To create a new pipeline in HighLevel, follow these steps: click on Settings, then select Pipelines, and choose the option to Create a new pipeline. Start by giving your pipeline a descriptive and unique name for easy identification of its purpose even after several months.
The next step is to establish the stages of the pipeline and name each stage.
The name of the stage is important as it determines the purpose of the stage and its role in achieving the overall objective of the pipeline. Stages represent various steps in the lead's journey towards conversion.
Each stage of the sale process holds significance, therefore it is essential to give equal consideration to their setup and naming.
When it comes to stages, the possibilities are endless! You have the power to create as many as you want, as long as it's easy to handle and logical. In other words, there's no mystical number that fits all; it all boils down to the unique industry, business, and other exciting variables.
HighLevel offers the option to create multiple pipelines and make edits as needed based on various situations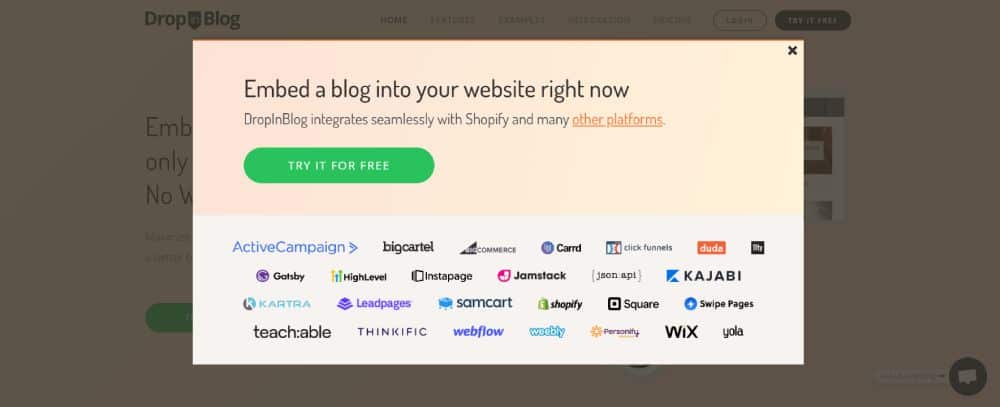 HighLevel offers the advantage of seamlessly integrating with third-party software, allowing users to connect to other powerful services and functionalities. This convenience allows businesses to efficiently utilize a variety of tools from their HighLevel account.
Additionally, HighLevel provides the capability to incorporate additional features that may not be included in its default toolset, such as a blog. Content marketing and a blog are widely recognized as valuable assets for any modern business. It is difficult to find a business that would not benefit from a carefully planned blog.
DropInBlog offers content marketing access when using a HighLevel account. Similar to Twilio and Mailgun, a DropInBlog account is required for blogging and can be set up for free.
To connect DropInBlog with your HighLevel account, utilize the HighLevel functionality specifically designed for creating websites and funnels.
The setup process involves a series of straightforward steps. The essential steps are as follows:
To create a new page on your HighLevel account, select the "Websites" option and choose a suitable name, such as "blog" or something similar.
Please provide the code element.
You can add some lines of code from your DropInBlog account to the custom code section of your blog page.
You can easily save your HighLevel blog page URL into your DropInBlog account to access it from anywhere.
To access a comprehensive guide on creating a blog on HighLevel, refer to the easy-to-follow textual and visual instructions.
In this article on how HighLevel can be used, we explored its features such as making calls, sending messages and emails, creating automations, building pipelines/sales funnels, and conducting content marketing. However, there is still much more depth and breadth of functionality within HighLevel that we have yet touched upon.
There are additional HighLevel features, such workflows, website and email builders, landing pages, and triggers, that have not been discussed in this article. A more comprehensive understanding of these features would require a dedicated book solely focused on HighLevel.
The objective of this demonstration was to highlight the versatility of HighLevel in sales and marketing, similar to a tool with multiple functions like a Swiss army knife.
Additionally, our goal was to give you a foundational understanding of this expanding platform. We hope we have accomplished this objective and that you find the platform enjoyable.
Is HighLevel suitable for small businesses?
HighLevel is suitable for businesses of any size, including small businesses, larger businesses, and agencies, because of its extensive range of features.
The Starter plan offers features that can help small business owners automate their workflow and expand their businesses. HighLevel provides a wide range of tools for businesses looking to grow or maintain their current status.

What is the difference between HighLevel and GoHighLevel?
Both HighLevel and GoHighLevel refer to the same platform, so there is no difference between them.
The reason "GoHighLevel" is used as a domain name is because "HighLevel" was unavailable for registration, according to founder Shaun Clark's decision.
To avoid any confusion, the company's official name is HighLevel.