Are you searching for a website and funnel building tool that combines both sales and marketing?
If that is the situation, you may want to compare ClickFunnels and GoHighLevel (GoHighLevel.com).
These platforms offer tools and techniques to make recruiting tech staff and investing in multiple programs unnecessary. Furthermore, their main aim is generating business leads that turn into clients.
ClickFunnels is a popular choice for businesses, as it helps them build sales funnels and generate leads. GoHighLevel focuses on providing marketing solutions to growing companies.
We'll compare GoHighLevel and ClickFunnels in this article to help you pick the best option for running your business online.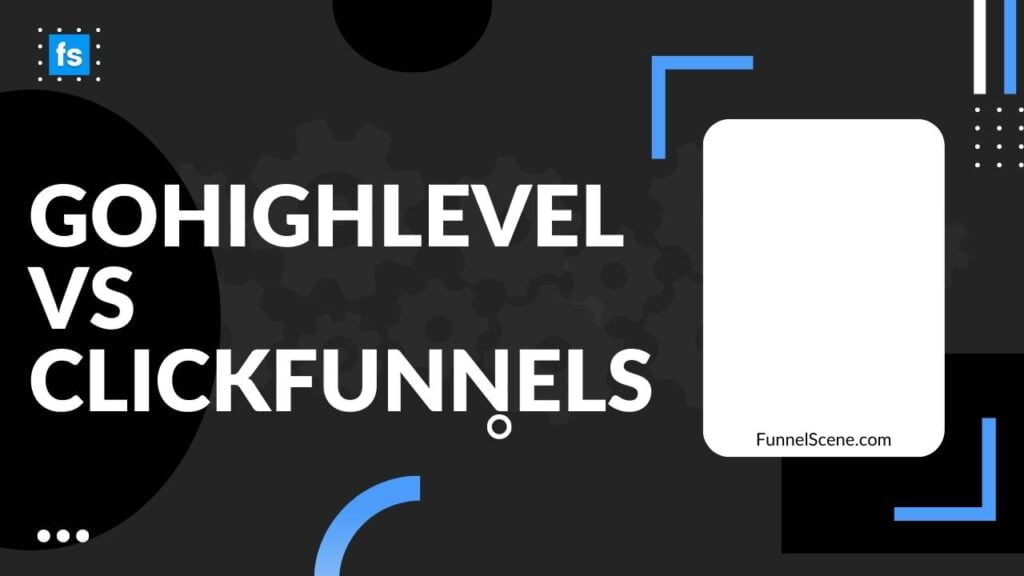 GoHighLevel vs Clickfunnels
Two of the main distinctions between GoHighLevel and ClickFunnels are —
ClickFunnels is a software company that focuses on building effective and visually pleasing sales funnels to turn website visitors into leads and customers. GoHighLevel, which is known by its URL, is a prominent white-label SaaS platform provider.
ClickFunnels offers useful features and tactics without the need for coding expertise. It also eliminates the need to hire or rely on technicians. GoHighLevel is a marketing agency-centric software that helps users fulfill their customers' requirements, thus improving lead quality and sales follow-up processes.
ClickFunnels offers three plans – Basic ($147/month), Pro ($197/month) and Funnel Hacker ($297/month) for the highest achievers. GoHighLevel includes Beginner Plan ($97/month), Agency Unlimited Plan($297/month) and their White-Label Unlimited Account plan at $497/month.
ClickFunnels vs. GoHighLevel at a Glance
ClickFunnels and GoHighLevel are two distinct platforms catering to different target markets, but they do have some similarities; both provide tools and tactics to generate pages and funnels.
The pricing for the lower and mid-level tiers are the same and both come with a 14-day trial period.
ClickFunnels is for individual entrepreneurs, while GoHighLevel is for marketing agencies working with customers.
Both offer tools to create landing pages and funnels, but the distinction lies in:
The primary focus of ClickFunnels is creating and optimizing sales funnels.
As part of its services, GoHighLevel provides white-label funnels.
They both understand how important good leads are.
ClickFunnels offers lead generation funnels to help you quickly identify and convert potential customers.
Once you have generated leads, GoHighLevel offers a variety of methods for additional campaigns and communication channels.
ClickFunnels vs. GoHighLevel: Pricing Comparison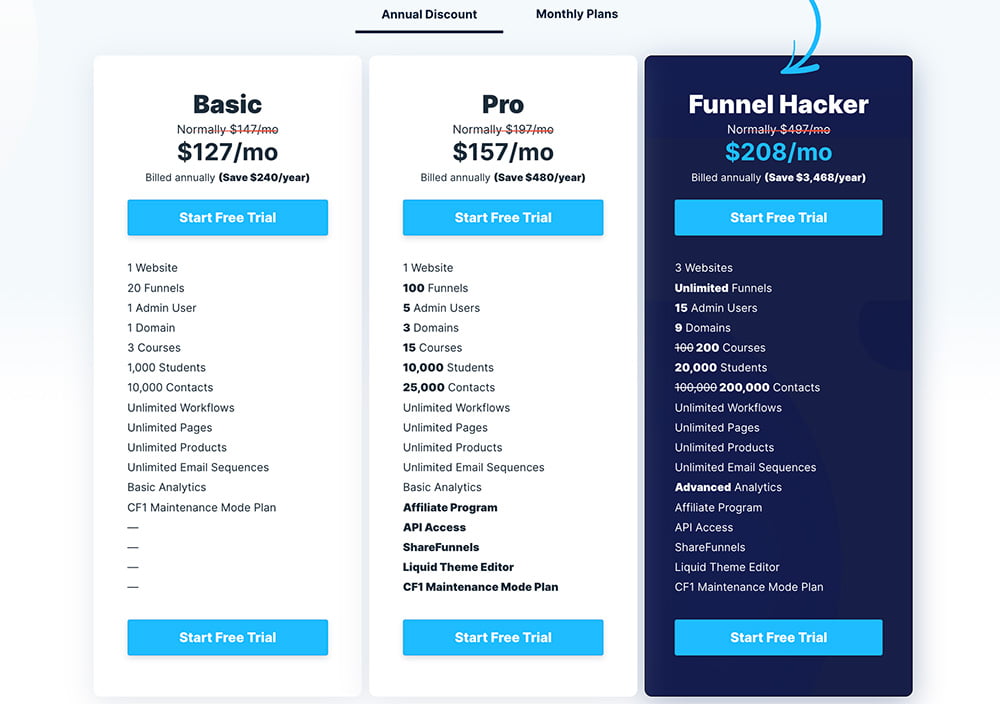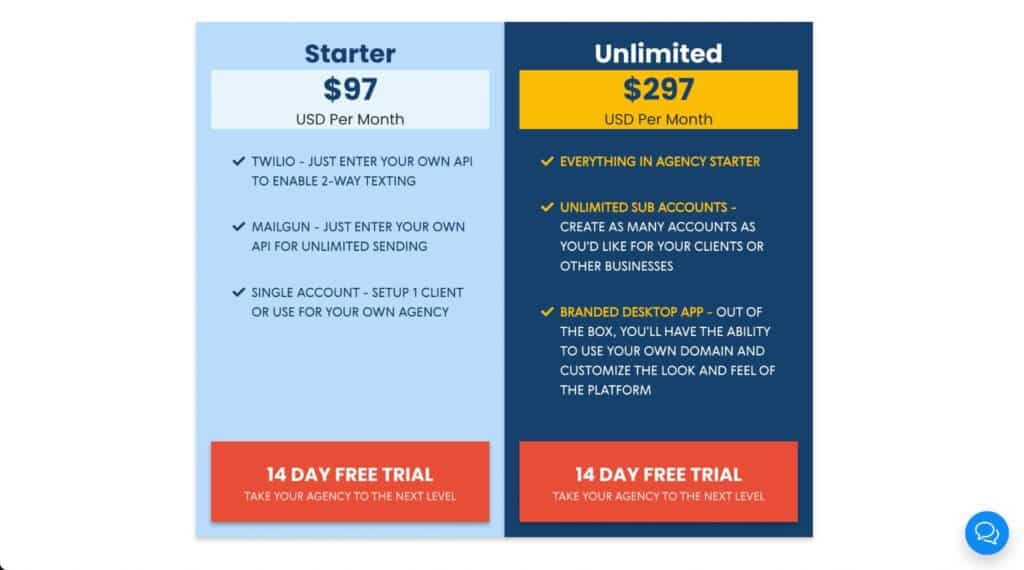 When considering the cost of each system, both options are fairly priced. Although, amongst other resources, these choices are some of the highest in pricing. Out of them, ClickFunnels is slightly more economical. The amount you must pay can be tailored depending on what kind of dominance you require over the tool.
ClickFunnels offers a free 14-day trial, giving you the opportunity to try out the service before committing. This is very useful as it lets you determine if the service is appropriate for your business.
After the 14-day free trial, certain features may no longer be available unless you pay for the service. Yet, this could come at an expense if you're not willing to do so.
GoHighLevel is a more expensive alternative. It's not necessary to pay that much, given that ClickFunnels offers good value for your money. However, if you're willing to spend the extra money and make use of features not found in ClickFunnels, you might benefit from it.
In my opinion, ClickFunnels is worth the investment due to its features. Still, it could have a more attractive price tag if the company reduced it a bit.
There are many other factors to consider when deciding between these platforms, but from what I've observed they both offer great results.
It is suggested to consider the features necessary for your business and desired outcomes when making a decision on which platform fits best. Once you have figured out what that entails, then a well-informed selection can be made.
ClickFunnels vs. GoHighLevel: A Comparison of Features and Tools
ClickFunnels and GoHighLevel make it easy to run your business successfully with their high-quality features and tools, so you don't need to hire technical experts or search for apps.
ClickFunnels is designed for entrepreneurs who prioritize sales, while GoHighLevel helps marketing agencies manage their clients.
Evaluate each option based on features and tools to determine which will best meet your needs.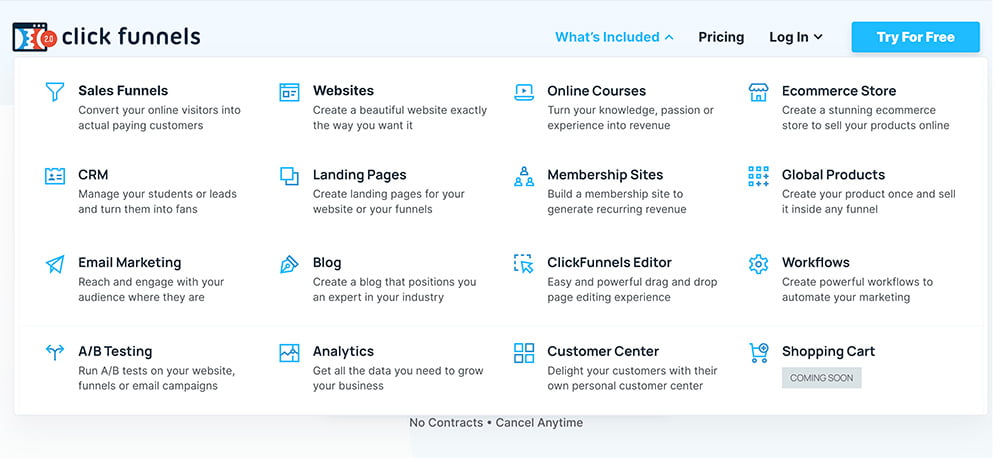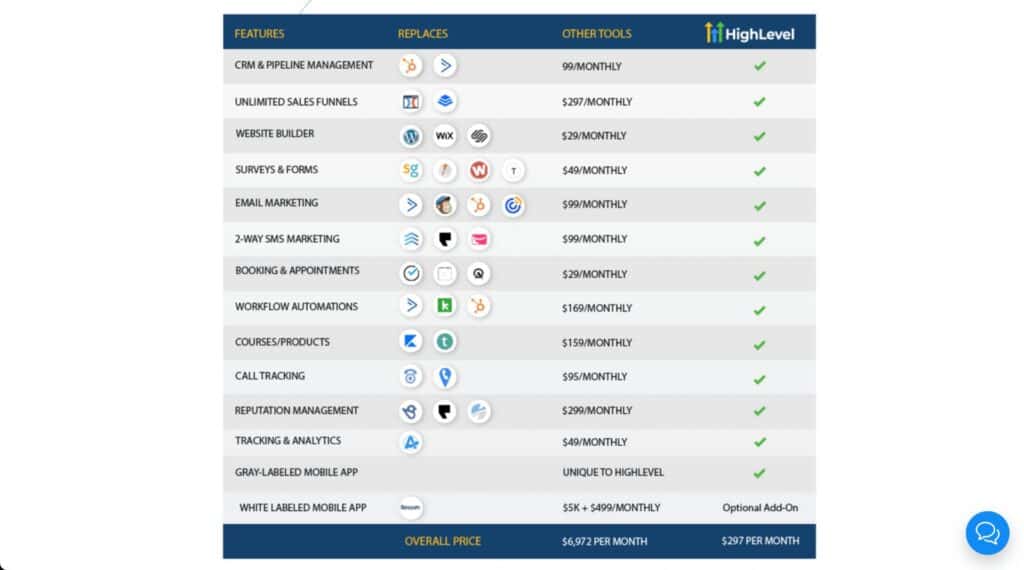 Both platforms provide excellent funnel-creation tools and strategies, as well as a selection of pre-made templates. These resources are all accessible in one place.
GoHighLevel's funnel builder is user-friendly, thus enabling users to swiftly design efficient funnels.
ClickFunnels is well-known for creating effective sales funnels that convert. You can combine these with tools such as lead capture, surveys, and a variety of other funnels.
What is the best platform for creating funnels?
ClickFunnels is known for its high-converting sales funnels that can be easily and quickly set up, contributing to its higher ranking.
Both platforms offer great tools to construct websites and have intuitive drag-and-drop capabilities that make them easy to use.
ClickFunnels makes it simple to create mobile-friendly websites in a few minutes. It also offers a variety of page types to meet the needs of different users.
GoHighLevel provides users with the tools to build effective landing pages. You can also use it to add surveys and forms to your webpages.
Which platform provides the better page building solution?
ClickFunnels offers better performance due to its wide variety of third-party integrations.
Sales & Marketing Features
Despite the superficial difference in services, GoHighLevel and ClickFunnels provide both marketing and sales support tools and strategies.
GoHighLevel offers a unified, white-label platform with all the tools you need to match your branding.
Automated marketing focuses on five channels of outreach: SMS, emails, calls, messengers, and voicemails.
The mid-range plan of ClickFunnels offers excellent e-mail marketing and automation features.
What platform provides better sales and marketing solutions?
GoHighLevel is the superior marketing platform because it combines 4-5 specialist tools, plus its automation capabilities will save you money.
ClickFunnels is an expert in e-commerce, which involves marketing and selling products online.
The platform provides numerous pre-constructed funnel templates to facilitate e-commerce operations.
This service provides a shopping cart plus trained professionals to assist e-commerce businesses in achieving success.
GoHighLevel does not provide online stores with product sales capabilities.
The platform itself offers the chance to sell customized products and services to customers as an e-commerce opportunity.
What e-commerce platform has the best features?
ClickFunnels provides a superior experience due to its successful e-commerce funnel.
ClickFunnels Analytics can help you keep track of your launch or campaign's performance with its real-time data. It gives you the information that you need to make informed decisions on how to optimize your marketing strategies.
ClickFunnels Analytics 2.0 enables you to monitor and evaluate the effectiveness of your advertisements and funnels over a period of time.
ClickFunnels and GoHighLevel are both platforms that enable users to customize their features to their desired effect.
The customizable features of ClickFunnels allow you to tailor its sales funnels for your marketing objectives.
GoHighLevel offers customizable white-label options, though the ultimate package is pricey.
What Platform Has More Customization Options?
GoHighLevel stands out because of its ability to provide white-label services.
ClickFunnels is a powerful funnel builder that has supported many entrepreneurs in their online sales endeavors. GoHighLevel, however, focuses specifically on helping agency owners get more customers and develop their agencies.
If you are undecided between ClickFunnels and GoHighLevel, here is my decision:
GoHighLevel was the highest rated software in a High Level review and outperformed ClickFunnels in multiple categories. It is an all-in-one marketing platform and CRM created to acquire leads and turn them into paying customers. Agencies that serve local businesses benefit from its great tools for getting clients and managing campaigns.
Furthermore, this is user-friendly and cost-efficient, making it a one-stop shop to run your agency and eliminating the need for other solutions.
With ClickFunnels Platinum, you can create effective sales funnels and even offer your own affiliate program. Plus, you'll get unlimited access to resources and training materials.
ClickFunnels is an excellent tool for businesses, organizations and entrepreneurs involved in agencies, e-commerce, teaching online courses and more; it helps streamline the sales processes.