Kartra is an integrated platform for course creation, marketing, and sales funnels. It also includes CRM features. It supports email campaigns, as well as the development of online courses.
Although it has advantages, this tool is limited in its lack of an app, community-building features, and unclear usability.
If you are considering Kartra for your first online business or looking for an alternative, we will present some options to evaluate.
This list combines Kartra alternatives according to different strengths – ranging from those that replicate a lot of Kartra's functions to those offering features unavailable in Kartra.
The following are 6 alternatives to Kartra for building an online business.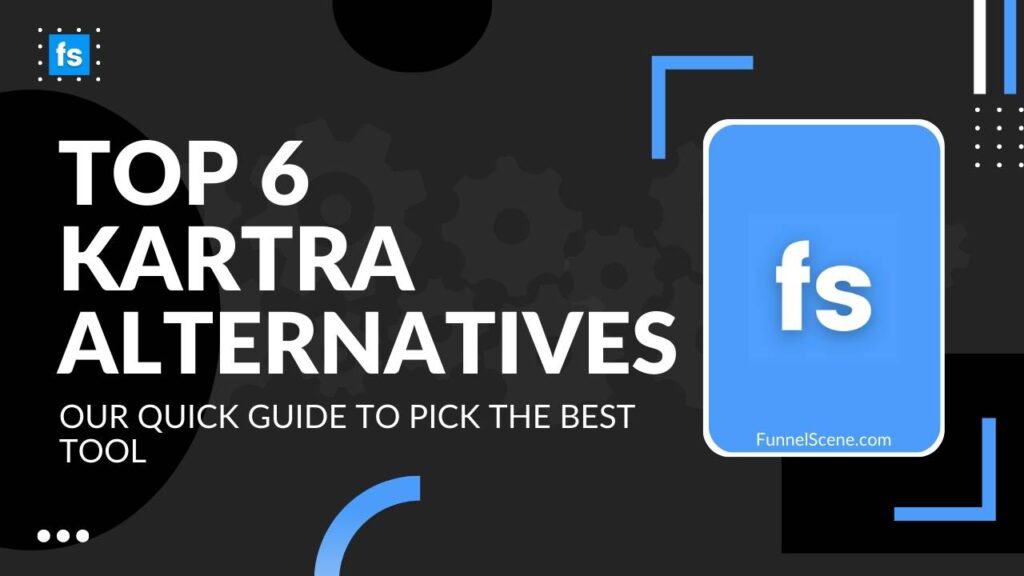 Kartra provides comprehensive support for running an entire business operation over the internet. It automates various functions and offers features such as:
This webpage builder enables users to create marketing pages and landing pages with a stylish design and effective conversions.
Automated email campaigns.
A sales funnel builder that enables success.
Affiliate management has been completed.
This tool builds opt-in and checkout forms.
Live chat help desk available.
Membership sites offering various pricing tiers.
Video hosting with call to actions before and after videos.
An automated lead system with capabilities for lead scoring and tracking.
A scheduling tool enables automated booking, meetings, and appointments with clients or prospects.
Kartra is a comprehensive platform designed to facilitate the running of businesses: it provides a suite of features beyond sales funnel building. It is distinct from similar products due to its full business solution.
This software integration enables businesses to reduce their expenditure on external applications.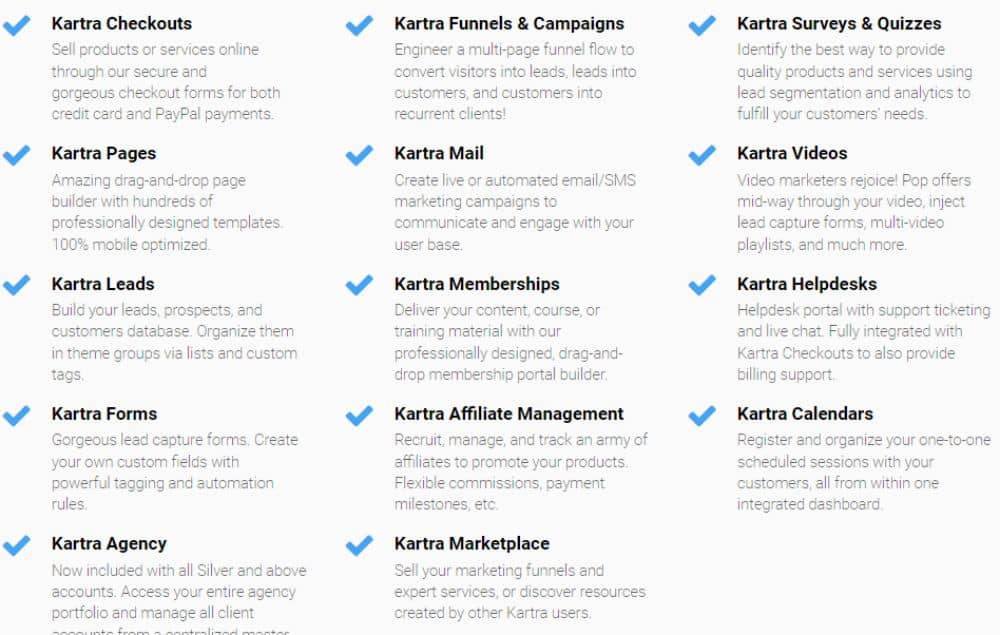 Kartra is cloud-based, meaning no downloads or installations are needed to access its features – it's all done from your browser.
The following is a brief description of the features offered by Kartra.
Kartra offers pre-designed templates to create and launch an online business website.
Kartra provides a sales funnels builder to help you create your own, plus pre-made templates for easy importation.
Kartra offers a drag-and-drop builder to create and manage membership sites, with varying content and pricing for different tiers.
Kartra's form builder can be used to collect lead information from your sales funnels and website.
Kartra provides customizable email templates to facilitate the success of email marketing campaigns, as well as automated analytics.
Kartra allows you to streamline your sales process by providing automated checkout and marketplace options.
You can host videos and content on the platform, as well as create and launch video marketing campaigns with associated call-to-actions (CTAs).
A helpdesk can be set up to provide online or live support for customers.
Kartra's affiliate management portal provides users with a streamlined way to manage affiliates and increase sales.
Kartra is a well-known marketing automation platform due to its comprehensive features for building websites, sales funnels, and landing pages.
The costs associated with these features will be discussed.
Kartra provides four different plans, with varying degrees of associated costs.
The Starter plan offered for $99 when billed on a month-to-basis includes features that are suitable for starting out.

The Silver plan is priced at $199 per month on a pay-as-you-go basis and provides numerous additional features.
The Gold plan, when charged on a monthly basis, is $299 per month and includes all of the advanced features.
The Platinum plan has unlimited features for $499 provided by an elite plan.
Kartra offers packages that include all of its features, with the variation between paid plans being the size of contact list capacity, traffic bandwidth, and creation capabilities.
Kartra has a high cost associated with it.
The Kartra plan pricing range is from $99/month to $499/month and quantities may be limited.
For more than the features included in the Platinum plan, contact Kartra for an Enterprise-level custom plan.
Kartra offers a 14-day trial at a cost of $1, though it may not be enough time to determine its effectiveness for your business.
Kartra offers a 30-day money-back guarantee, providing customers with the option to receive a full refund if they are unsatisfied with their product.
To learn more about Kartra, read this detailed review.
1.3 The pros and cons of using Kartra
Pros:
Kartra Pages offers a drag-and-drop page builder that is simple to utilize.
Kartra Mail offers a straightforward email marketing platform for automated campaigns.
Kartra Leads enables users to quickly create lists of leads, prospects, and customers.
Kartra Funnels enables the building of comprehensive sales funnels and campaigns.
Kartra Videos can be used as an effective marketing tool to expand your online presence.
Cons:
Kartra does not offer a free plan option.
The 14-day trial requires payment to access the core features of the platform.
The platform has a rigid pricing structure, with significant changes in cost between plans.
There is a significant learning process associated with using the platform and its features efficiently.
Kartra's plans have some restrictions in terms of usage.
2. The 6 best Kartra alternatives
This is a brief overview of Kartra's alternatives, comparing their features to help you make an informed choice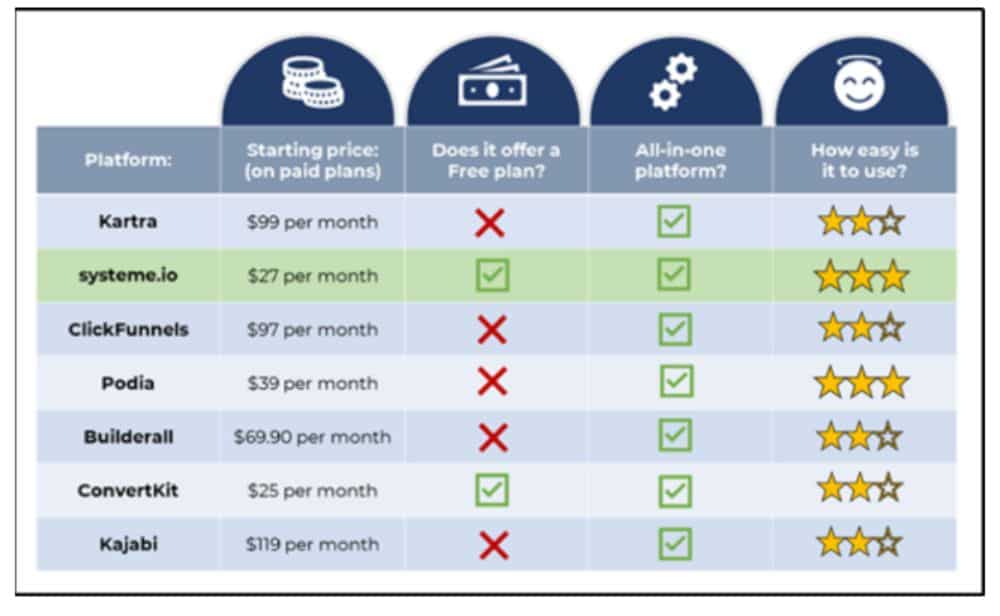 If you're looking for a cost-effective and value-driven Kartra alternative, systeme.io is worth considering.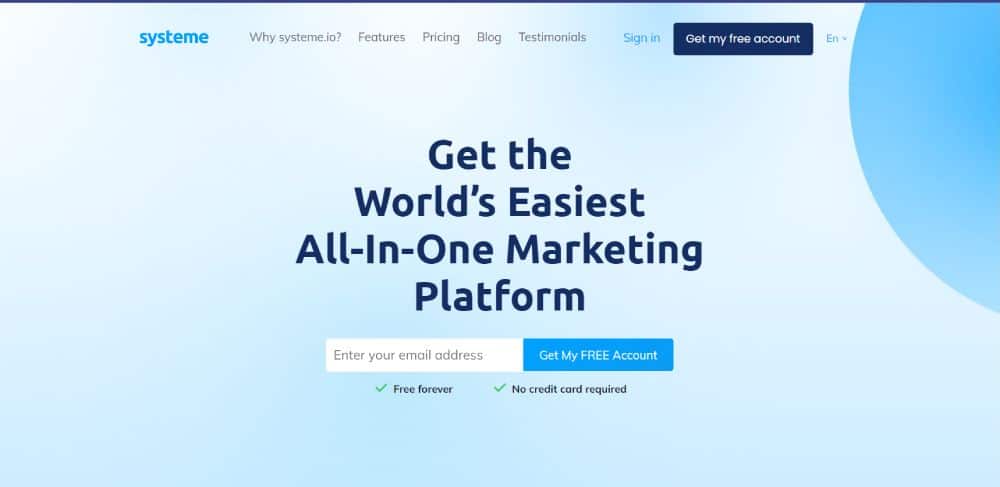 Systeme.io is a comprehensive marketing platform that facilitates the development of sales funnels and automation workflows.
This marketing platform is designed to be easy-to-use, even for people with little to no technical knowledge. It is intended to improve lead generation, sales figures and cash flow.
Creating sales tunnels is easy with drag-and-drop elements on a page. You can also build email lists and send unlimited emails to prospects and customers. Moreover, you can create an SEO blog, a custom affiliate program, and other requirements for running a business. Finally, automation of the entire business allows more time for yourself.
Systeme.io allows users to get familiarized with the platform using its free plan, which includes three sales funnels, a blog and one course, without any time limitations. To unlock the full potential of Systeme.io, users can choose from one of the premium plans that start from $27 per month for the startup plan.
Systeme.io is an all-in-one platform that provides the tools to create and sell online products through a website.
With this platform, you can construct comprehensive sales funnels to generate interest in your products.
The platform offers a free plan which is suitable for small businesses and individuals who are beginning.
The user interface in this Kartra alternative is developed for ease of use, allowing users to create websites, compose emails, initiate automations, and additional tasks.
Systeme.io offers a range of support services such as email, FAQs, blog resources, knowledge base and online training.
How does systeme.io compare to Kartra?
Moving from Kartra's Starter plan to systeme.io will save you up to $864/year, representing a significant cost-saving opportunity.
Systeme.io offers features that Kartra does not, such as deadline funnels, blogs and evergreen webinars, which can help you build better connections with your target audience and promote sales.
Considering the limits on bandwidth and emailing, Kartra's price tag is relatively steep compared to Systeme.io's free offering.Kartra and systeme.io offer a wide variety of features and services.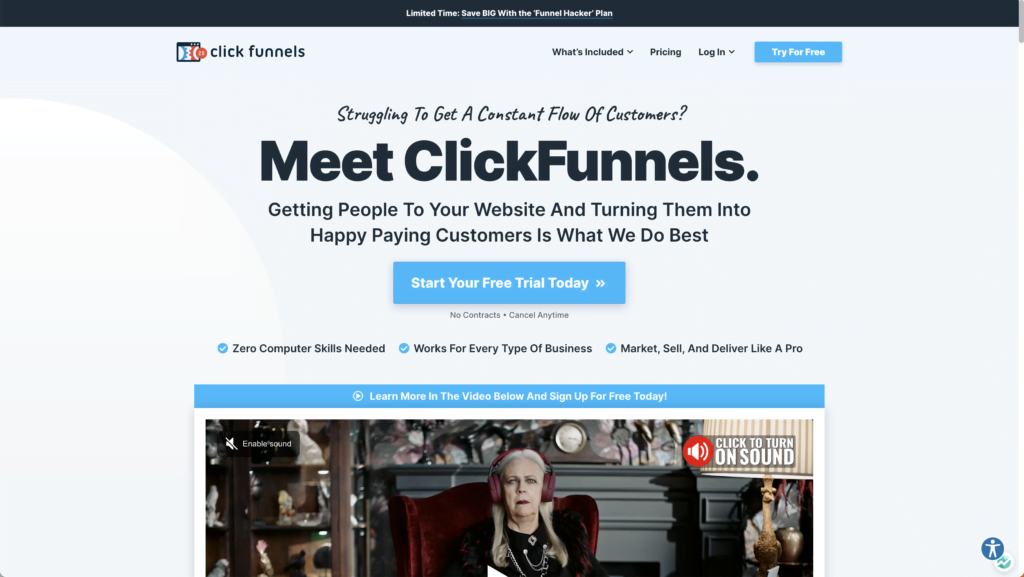 ClickFunnels is a sales funnel builder that enables entrepreneurs to design high-functioning websites without the need for programming skills, allowing them to optimize their lead generation and sales processes.
Your website architecture should efficiently guide users from initial engagement to conversion by providing relevant information tailored to their needs.
One of the key advantages to using ClickFunnels is that it is a popular online landing page builder among businesses.
ClickFunnels offers a variety of pricing plans starting at $147/month; discounts are available for annual payments. Users can start a complimentary 14-day trial upon signing up for one of the premium plans.
ClickFunnels provides a 14-day free trial period with access to all the platform's features, unlike Kartra.
You can use pre-designed templates to easily build a funnel, even without prior experience.
The platform focuses on helping you grow your business, providing both simple and complex lead generation funnels.
The ClickFunnels editor is a user-friendly drag-and-drop platform that facilitates building and customizing pages for various reasons.
The platinum plan grants you access to an unlimited number of funnels, pages, monthly visits, and contacts.
How does ClickFunnels compare to Kartra?
ClickFunnels is slightly less expensive than Kartra in terms of starting price.
Kartra has a simpler learning process compared to ClickFunnels, though both can be challenging for inexperienced marketers.
ClickFunnels is recognized for its unique features such as FunnelFlix and its ability to host successful sales funnels.Both tools offer affiliate programs that enable users to receive referral payments and generate a passive income.
If your goal is to increase conversion rates with sales funnels, ClickFunnels is an appropriate Kartra alternative. However, if you require a more comprehensive marketing tool, then Systeme.io may be a better option.
Using systeme.io instead of ClickFunnels can result in savings of up to $3,240 per year.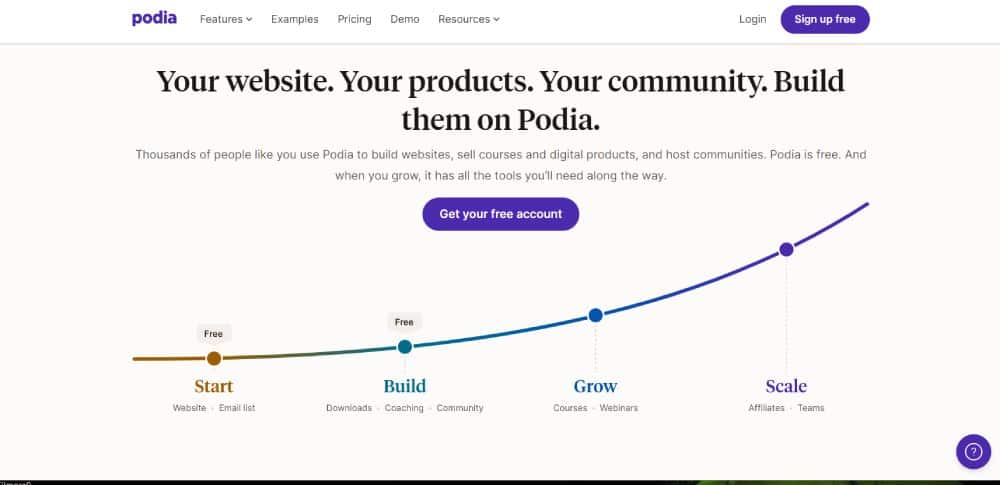 Podia is a course creation platform that can be used without technical expertise or integrations with external sources.
This creator-centric platform offers all the essential tools needed for building websites, email lists, courses, and communities. It is designed with user convenience in mind and allows you to conveniently start selling digital products and services.
Utilizing affiliates and teams on the platform, you can scale up and increase your income from digital downloads, online sales, coaching services, webinars, or mastermind groups.
Kartra provides a comprehensive service that allows users to schedule and host webinar sessions, with unlimited video, audio, or text file hosting capabilities. This makes it a great option for content creators seeking to provide the best learning experiences possible.
Podia offers a free plan with a full website and premium plans beginning at $33/month.
Podia's primary objective is to provide creators with the tools they need to create captivating websites, courses, and communities, and to facilitate digital product and service sales.
The platform provides 24/7 live support and on demand assistance through a live chat service.
Podia offers a free sign up and your website remains free, regardless of any paid upgrades.
How does Podia compare to Kartra?
Compared to other platforms, Podia is more cost-effective and has better marketing features for creating and selling online courses.
Podia allows hosting of webinars and livestreams and automatically records the sessions for customers to access replays.
Earning a recurrent income is an effective option.Podia provides helpful marketing automation features, particularly for businesses that rely heavily on online course sales.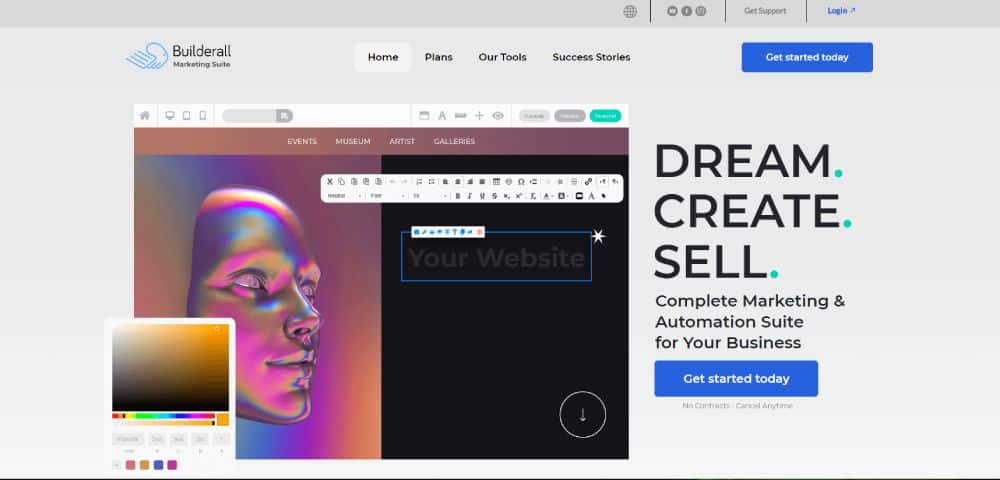 Builderall offers extensive features which are not provided by Kartra. The platform provides a variety of web page building tools and marketing funnels, as well as automation options to aid in customer acquisition and product or service sales.
This digital marketing platform is easy to use, regardless of your skill level. You can choose from a variety of templates and customize your page with elements such as videos, quizzes, messenger chatbot, maps, and more.
You will have access to digital marketing tools that allow you to create pages that are optimized for mobile devices and are intended to attract and convert customers.
The Starter plan starts at $17.9/month and it includes one domain, three subdomains, and 2,000 subscribers.
Builderall offers a comprehensive digital marketing platform, featuring more than 50 tools and 1,000 features to support businesses of all sizes.
Builderall offers price plans from $16/month, which is a more economical option than Kartra's $99/month starter plan.
The eLearning app allows you to create mobile-friendly courses with a professional look.
How does Builderall compare to Kartra?
Kartra and Builderall both provide value in the competitive business sector, with overlapping features such as sales funnels.
Builderall provides a wealth of features and is a viable alternative to Kartra.
Builderall's wide range of features can make its interface feel cumbersome, whereas Kartra offers a simpler approach.
Kartra's platform has many features, and navigating it is simpler than with Builderall, albeit at a higher cost.
Kartra has comprehensive essential features which add to the versatility of their funnel builder.
Kartra has an automation capability that integrates with customer journey processes, as well as the ability to design variations of lead generation forms that can be used in other campaigns.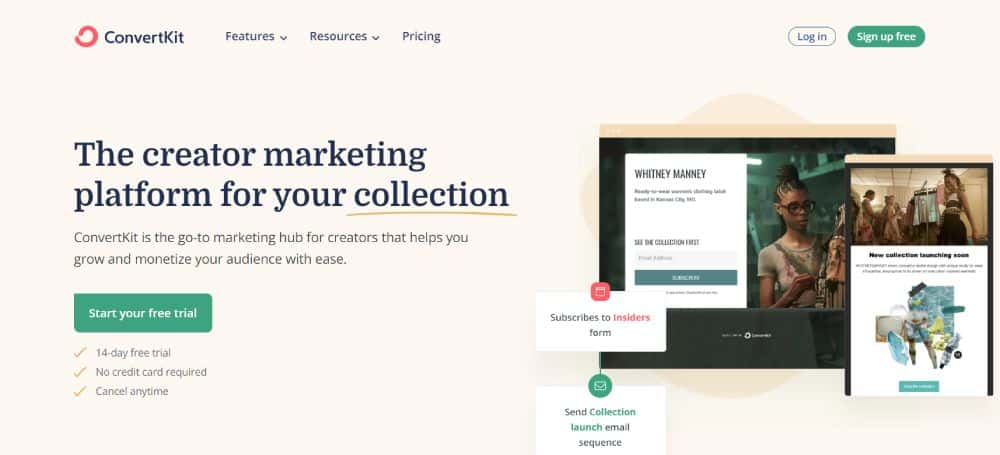 ConvertKit is another option to consider when looking for an alternative to Kartra; It specializes in email marketing automation, and offers features like automations and landing pages.
This platform is geared towards digital creators who are looking to expand their reach, cultivate a connection with their audience and generate an income from the internet, including musicians and authors.
This article will explore the key features offered by ConvertKit.
Our Free plan allows for up to 1,000 subscribers.
There are many useful integrations available.
This platform is user-friendly and straightforward to navigate.
The tools required for entrepreneurs to establish their businesses and begin operations are available.
How does ConvertKit compare to Kartra?
On initial inspection, Kartra and ConvertKit may appear to be similar.Both automation tools offer powerful capabilities for sending emails and generating leads, but are otherwise distinct.
ConvertKit provides powerful email automation capabilities, yet there are other factors that can contribute to the success of a business.
ConvertKit does not include features such as help desk support, membership sites, ecommerce integration, affiliate management, scheduling tools, or video hosting.
Their highest-priced plan does not include some necessary features for business operations, making additional purchases and integrations necessary.
Kartra stands out in this comparison due to its comprehensive approach to digital marketing.
Let's review the final Kartra alternative.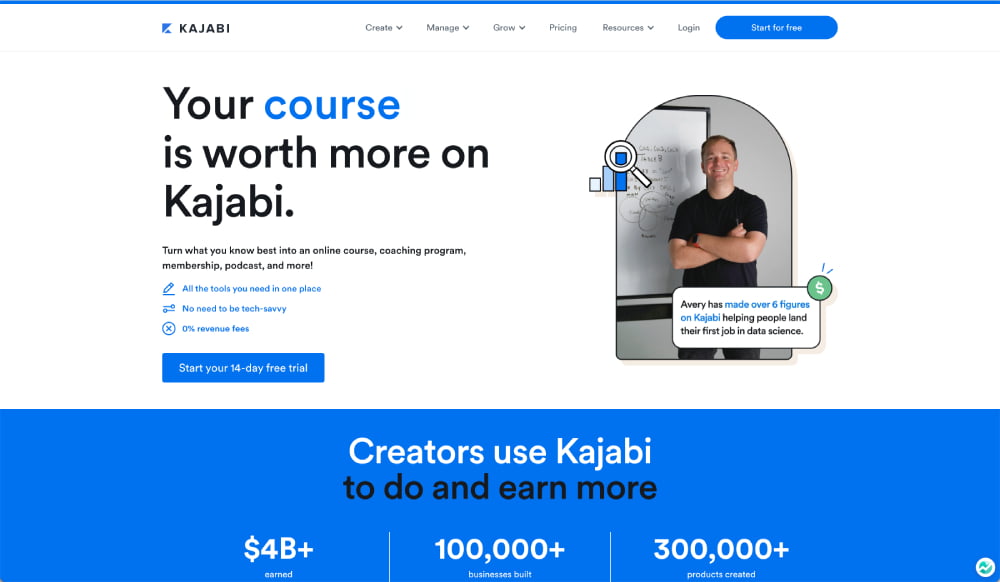 Kajabi is a platform designed for knowledge-based businesses that provide various services.
It enables you to generate income through the development, promotion, and selling of online courses, memberships sites, and coaching programs.
We will investigate the features and cost of this tool compared to those offered by Kartra.
You have various payment gateways at your disposal to receive payments from your students.
Tools for creating courses with automated marketing features are available.
Customers are eligible for a 30-day money-back guarantee for refunds.
There is a variety of training materials available.
How does Kajabi compare to Kartra?
Kajabi is a viable alternative to Kartra as an online course creation platform, both offering a similar range of features in addition to some exclusive options.
Compared to Kartra, Kajabi is generally higher-priced with fewer features.
When comparing Kajabi and Kartra, the latter offers a more comprehensive all-in-one platform for digital marketing needs.
Quick comparison of Kartra alternatives
The market offers several Kartra alternatives, such as systeme.io, Podia and ConvertKit.
The pricing of these three tools is economical and they are easy to operate, requiring minimal training.
We should identify the most suitable alternative to Kartra.
1. Affordability and pricing:
Products such as Kartra, ClickFunnels, and Kajabi generally have a starting price of approximately $100/month.
ConvertKit has a pricing system based on a slide scale, so increasing the number of contacts will result in greater costs.
Systeme.io offers a flat rate subscription, including a Free plan with no fees.
Systeme.io offers competitive pricing when compared to Kartra.
2. Our free plan is easy to use:
Of the six options, ConvertKit and systeme.io provide free plans rather than free trials.
We recommend tools which offer Free plans to give users the opportunity to thoroughly experience the tool before investing in a monthly subscription.
Systeme.io is preferable due to its ease of use and lack of technical requirements when compared to ConvertKit.
3. The bottom line:
Systeme.io has been found to be superior to Kartra and the other five alternatives evaluated.
Begin for free and acquire the necessary features to construct your business, maximizing value.
To compare systeme.io with other alternatives, please follow this link.
Let's consider additional reasons why systeme.io is the comprehensive marketing automation platform for your business.
Systeme.io: The perfect all-in-one tool for your online business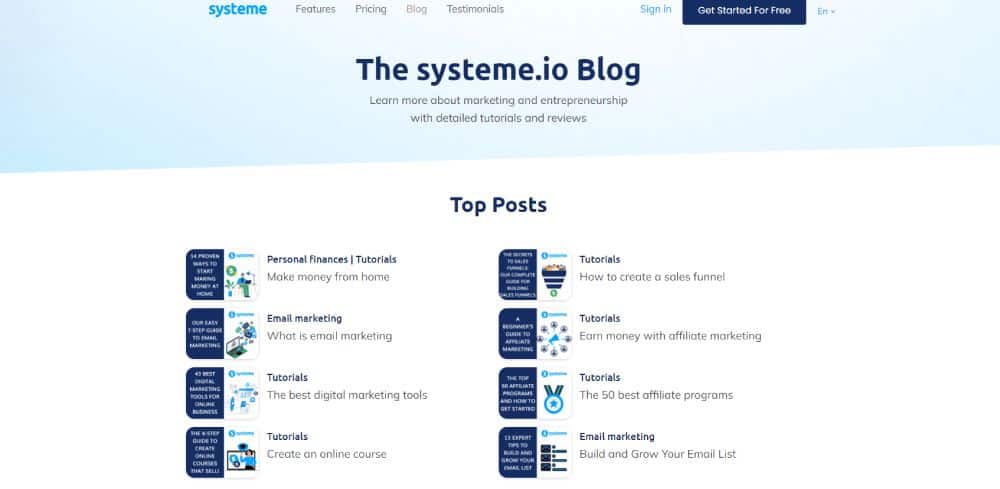 Let's examine all the advantages and disadvantages of selecting systeme.io over the other popular Kartra alternatives.
1. Great prices and a Free plan:
Our pricing is competitive and includes a Free plan that provides access to certain tools without any cost.
No additional fees or transaction costs apply.
2. Suitable for any business and excellent customer support:
Systeme.io is suitable for businesses of any size and level of experience in marketing.
24/7 online support with fast response and helpful advice is available whenever and wherever you need it.
3. Get all the tools you need in one place:
With our platform, you will have access to all the necessary tools for starting an online business, regardless of your coding experience.
Utilizing a drag-and-drop sales funnel builder which does not require any coding experience or technical knowledge allows an individual to create profitable funnels with ease.
Automating marketing and emailing can help reduce repetitive tasks and provide more control over your business.
Emailing to contacts is unlimited with all plans.
You will have an unlimited amount of file storage space.
With the right tools, you can gain access to partner pages, personalized domains, and affiliate marketing programs to help you generate additional income through referrals.
Systeme.io is an all-in-one platform.
Setting up a business in Systeme.io is simpler than with Kartra, and it is possible to establish sales funnels in a short amount of time.
Our Facebook group is an ideal space for entrepreneurs who are looking to seek advice, have questions answered, and be a part of a supportive community.
Systeme.io is an effective, cost-effective marketing platform that offers advantages over Kartra.
Systeme.io is a viable alternative to Kartra; it offers unlimited growth potential, competitive pricing and the necessary tools required to succeed.
What else could you ask for?
Switching to systeme.io can save you both time and money.
We have considered the six highest-ranked alternatives to Kartra. Based on our experience, Kartra is the best option as it provides a wide range of advanced features. If cost is a consideration, Systeme.io could be suitable substitutes. Alternatively, ClickFunnels specializes in sales funnels and may be a better fit for some users.
Builderall is a cost-effective solution with many features. ClickFunnels, Kartra and other options also have distinct features that may better suit particular needs. It is up to the user to decide which suits them best.