If you are interested in Kartra and want to know more about the pricing options and plans, this is the place for you.
In this post, the Kartra pricing plans are outlined, detailing each option's features and benefits to enable informed decision-making.
Kartra is a well-known sales funnel platform that offers various services such as website and landing page creation, web hosting, email marketing, shopping cart operations, and customer service support. By subscribing to Kartra, you will have access to all necessary tools for managing your online business.
Kartra offers various pricing plans tailored to the user's business size, complexity, needs and objectives. If you're short on time, you can take advantage of the Kartra trial with a one-dollar, fourteen-day commitment. This is designed to eliminate those who are not truly interested and reward those who are.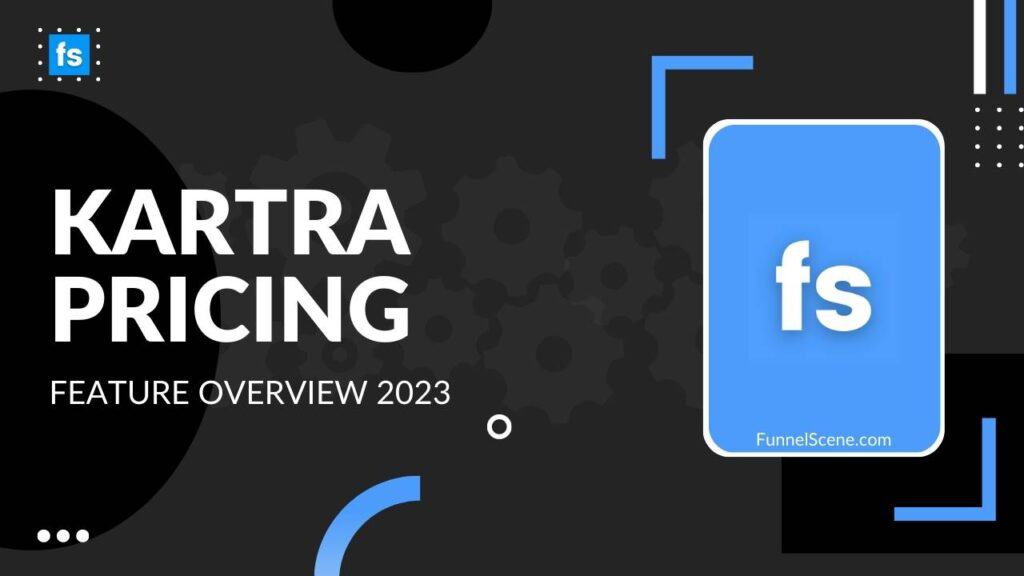 Kartra Starter Plan at $99 a month ($79 per month if billed annually)
The Kartra Starter Plan is suitable for small businesses or those starting out in the online space.
The purpose of this is to assist the business in constructing their email marketing lists and subsequently enhance the amount of repeat customers.
This plan restricts you to one domain, which may be beneficial if you are starting off and wish to focus on a single website with 100 landing pages.
If your business grows, you may consider upgrading to a plan that provides unlimited membership sites, domains, and landings pages for an optimal online presence.
The contact and email limits of 2,500 and 15,000 respectively are suitable for smaller businesses starting out, yet may be restrictive as the business develops.
The Kartra Starter Plan is the least expensive plan they offer and might be suitable for smaller businesses beginning their journey, although additional features may require an upgrade to the Silver Plan.

To access a 30-day free-treatment of Kartra, simply start a free-trail on their homepage and hover your mouse over the back-up arrow. An exit pop-up will then be shown (a screenshot is provided).
This 30-day trial offer is only available to users signing up from their desktop/laptop and is subject to change. Users signing up from a mobile or tablets device will not be eligible for this offer, so please ensure you are using a desktop/laptop.
Payment is accepted via major credit cards, including Mastercard, VISA, and American Express. Please see the attached image for reference.

Kartra's Commerce platform allows for the sale of a maximum of 20 products. In my experience, online businesses with small email lists rarely promote more than a few products at once, excluding physical product-based companies who should upgrade to the next tier.
The capacity of a website is analogous to that of a football stadium, in that more images and videos hosted, uploads and downloads equal more capacity taken up.
The Kartra Starter Plan offers 50GB of bandwidth, while the hosting of a 20 minute HD Youtube video requires approximately 400-500MB.
If you are creating straightforward and brief videos, 50GB should be sufficient. However, the required storage amount may vary if you are using long interactive webinars in your Kartra funnels.
It is recommended to utilize video compression tools like Handbrake and periodically check stored files for undesired information.
Checkout forms that are secure and aesthetically pleasing.
Our payment methods include accepting major credit cards and PayPal.
This landing page builder is user-friendly and has drag and dropping features.
You'll find hundreds of professionally-made templates that are optimized for mobile use.
Tools for creating lead capture forms are available.
A dashboard providing an integrated view to help with organization.
The platform can support up to 100 landing pages.
The capacity for hosting is up to 50 videos.
You can offer up to 20 products for sale.

Kartra Silver Plan at $199 a month
The Kartra Silver Plan allows up to 12,500 contacts and unlimited email sending.
The Silver Plan offers users the ability to host up to three websites, as well as an unlimited number of sales and landing pages. This can be a great benefit for mid-sized businesses that need increased flexibility with their website operations in order to optimize sales.
This plan offers a lot of value, featuring unlimited features.
There is access to an in-depth, unified email marketing system.
Access to unlimited emails.
Tools for constructing a multi-page process flow are available.
Video marketing is a useful tool for promoting products and services.
Live chat help desk is available.
The company is capable of recruiting and managing affiliates to advertise products through an affiliate management system.
You will have access to an unlimited number of pages across three domains.
There is no limit to the number of team members.

Gold Plan at $299 a month and other plans
The Kartra Gold plan is an extended version of the Silver plan, offering several enhanced features in comparison with its predecessor.
The Gold Plan of Kartra membership provides an increase in the number of leads from 12,500 up to 25,000.
The Kartra Gold plan offers users access to 5 custom domains and unlimited pages. It also provides access to the Kartra agency and Kartra marketplace.
Using survey and quiz creator tools can help to determine the best way to offer products that potential customers may be interested in.
Checkouts that are secure and visually appealing.
This page builder is user-friendly.
There are multiple templates available.
Tools for adding lead capture forms to video are available.
An email marketing system that is seamlessly integrated.
Excellent customer support is available.
Unlimited email messaging.
The company has the capability to employ and oversee affiliates to boost products through their affiliate management system.
Can You Cancel or Change Kartra Plan At Anytime?
Kartra's billing portal allows for flexible plan management, including canceling, upgrading, and downgrading with no restrictions.
To learn more about the features of Kartra, please visit our Kartra Review page.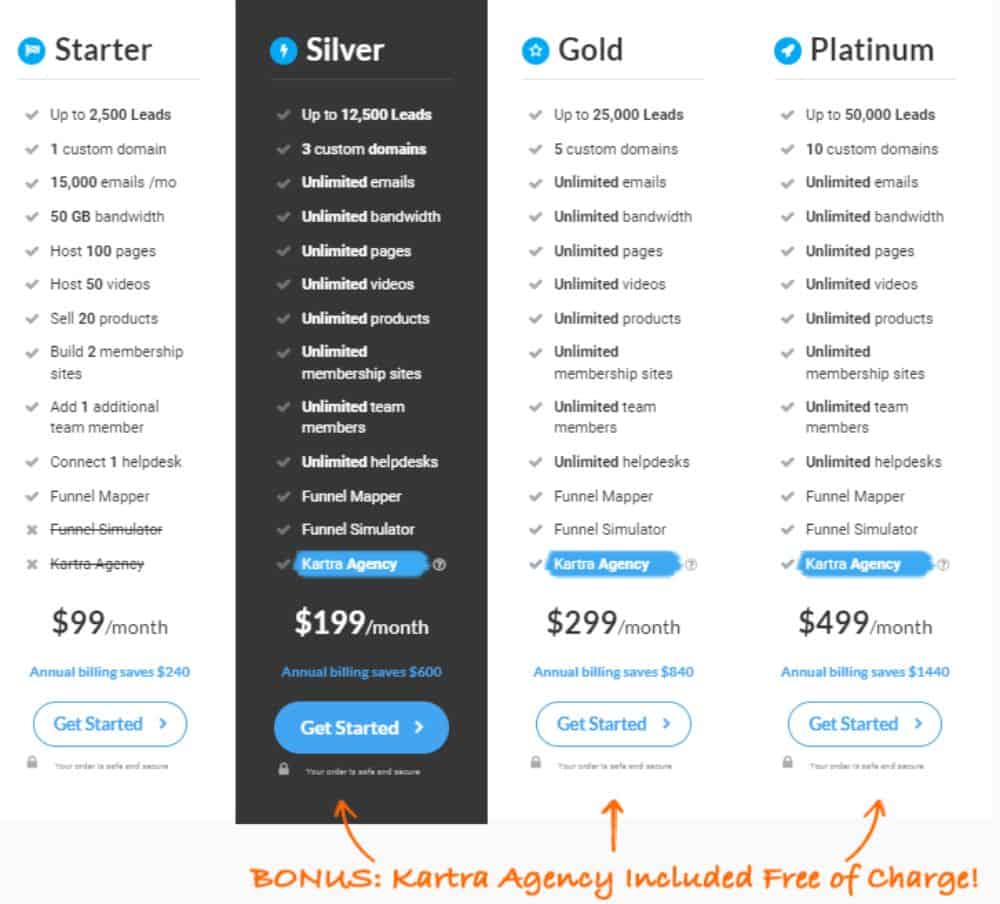 Below are the Kartra plan options and their respective monthly costs:
Kartra Starter plan is $99 per month.
Kartra Silver plan is $199 per month.
Kartra Gold plan is $299 per month.
Kartra Platinum plan is $499 per month.
Kartra Enterprise plan: please contact support.