Kartra and ClickFunnels are highly-discussed sales funnel and CRMs. They offer a suite of tools to help develop sites, market, sell products, and communicate with customers. Both platforms offer an all-in-one system to track leads, design landing pages, implement email campaigns, and more. The website provides all the necessary tools for running an online business.
There are many differences between Kartra and ClickFunnels, the biggest of which is that Kartra is a versatile tool that can do almost everything, while ClickFunnels is a specialized tool best used for creating sales funnels.
In This Article, We will compare the two options in detail to determine which is better.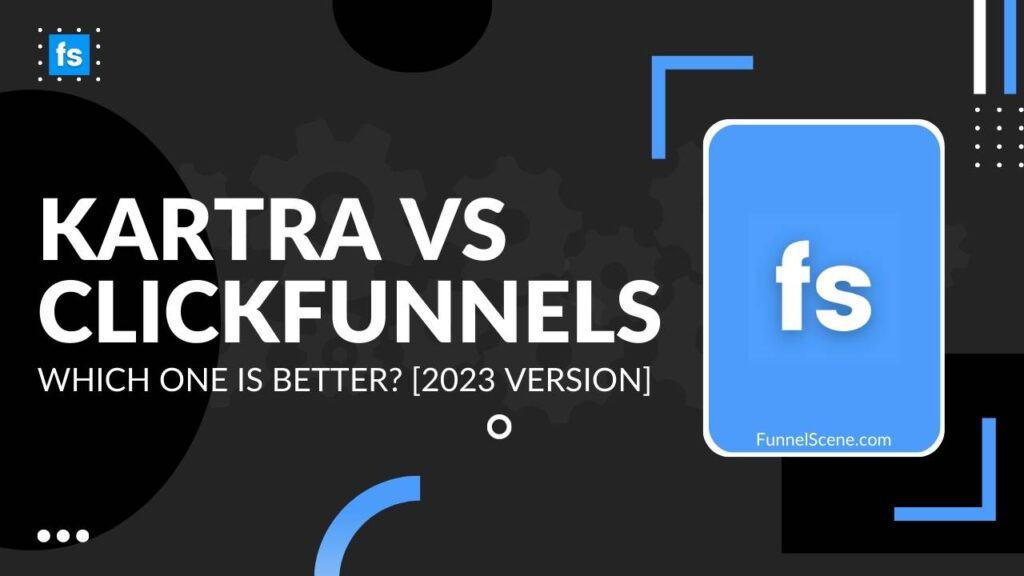 Kartra vs. ClickFunnels: Quick Overview
There are many marketing platforms available, such as Kartra. It can be helpful for businesses that want to market their products and services electronically.
Kartra provides the necessary tools for building and expanding an online business or personal brand efficiently and cost-effectively.
Kartra is a software development platform developed by Andy Jenkins and Mike Filsaime.
Kartra provides online businesses with a good marketing strategy to improve their sales and conversion rates.
Save Time and Money: You can have all the features you need in one place, requiring no additional tools, subscriptions, or support teams.
Beginner-friendly: There are lots of web page, email templates, and sales funnel templates available.
Affordable: Whatever business needs you may find here at our shop, starting from just $99.
ClickFunnels is a sales funnel provider that assists entrepreneurs in creating optimised sales funnels for business growth.
Russell Brunson designed a marketing solution to assist entrepreneurs and business owners with digital marketing and online advertising.
ClickFunnels enables users to create a streamlined system that guides customers through landing pages. It is possible to build a sales funnel using drag and drop tools.
ClickFunnels allows you to construct a sales funnel. Audience engagement is increased through the establishment of sales funnels.
The platform provides instructions on how to hold Evergreen webinars, which can help convert visitors into potential customers.
#1 Funnel Builder: Experts in the world of marketing offer templates, features, and training for optimizing sales funnels.
Better for Sales: Implementing a suite of automated sales tools such as funnels, customizations, add-ons, webinars and upsells can increase your sales by 100%.
Generous Affiliate Program: You can earn up to 40% recurring commissions for referrals.
What's the Difference Between Kartra and ClickFunnels?
Kartra is a comprehensive marketing software designed to provide online businesses with all the necessary tools in one platform. This includes:
Shopping cart
Pages for landing, checkout, and sales.
Forms
Customer relationship management
Email marketing
A tool for creating email sequences visually.
Marketing funnels
Helpdesk
Videos
Split testing
The objective of the platform was to aggregate online business services, payments, 3rd-party integrations and tools into one interconnected system. This would alleviate the headaches associated with running online businesses.
Starting a digital product or service business is easy, practical, and straightforward.
ClickFunnels provides a comprehensive suite of sales funnel creation tools, including automated funnels, marketing education, and access to a network of entrepreneurs.
This may require additional tools.
Payments
Affiliates
Membership sites
Automations
Page editor
That's an accurate description – one platform offers comprehensive business management tools, while the other focuses on providing comprehensive sales funnel software.

Kartra is suitable for any digital product or service business that seeks an accessible, cost-effective, and comprehensive solution with a variety of features at a single price. This offers great value to those who:
Course sellers
Consultants
Coaches
Membership establishments such as gyms.
Customers on a budget
Info product businesses
Businesses with up to 2,500 leads.
ClickFunnels offers similar functionality for $297 per month, compared to $99 per month for a comparable package.

ClickFunnels is suitable for eCommerce companies, advanced marketers, as well as other businesses that are looking to build high-converting sales funnels and don't require any further changes in their existing systems.
If you own a business and want to take advantage of sales funnels, ClickFunnels can help you create advanced or simple options to achieve your desired outcomes.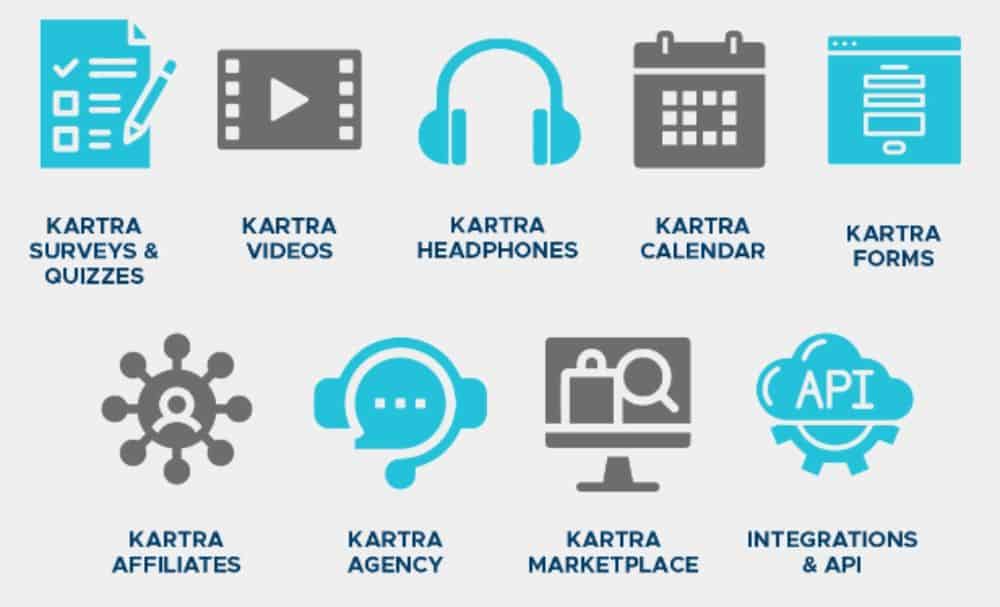 What Does Karta Do Better Than ClickFunnels?
Kartra offers more capabilities than ClickFunnels, including functions not available through the latter.
Kartra is a business platform that includes a sales funnel builder, while ClickFunnels is primarily focused on the latter but attempted to expand into the former with limited success.
Comparing Kartra and ClickFunnels requires considering each platform's respective strengths in order to generate a final decision.
1.Kartra Runs Your Business on the Cheap
Kartra has been designed to streamline your business and reduce stress. All the tools you would require to make a sale are included in the package options.
ClickFunnels includes additional features, including affiliates, as part of their Funnel Hacker plan ($297 per month).
It costs an extra $200 to access the same features. The financial struggles of being a solo entrepreneur include not having the funds to upgrade, but at the same time needing to upgrade in order to increase sales.
2. Kartra Lets You Science the S*** Out of Your Website
Kartra provides analytics and split testing capabilities to easily analyze data, identify changes that can be implemented, and optimize profitability.
Kartra's native analytics tracks clicks, registrations, sales, employees, videos, emails, and interaction without needing to integrate with other applications. These analytics are then displayed in easily understandable metrics which allow you to identify and address areas of improvement or degradation.
By tracking conversions and audience engagements, you can find out which emails, videos, ads, sales pages and pop ups are most successful. This enabling you to focus more on what is working and save money on what is not.
3. Most of Kartra's Features Are Just Better
Where does the nickname GlitchFunnels come from?
ClickFunnels is a sales funnel building tool created by experts.
The team's focus is on creating effective sales funnels and incentivizing affiliates to help grow the brand. They allocate less resources to other areas.
All the features that are not related to sales funnels, like email, page builder, and membership sites, will function optimally.
Kartra offers sophisticated page templates with a reliable builder that loads quickly. This makes landing page creation simple and efficient.
It is not possible to monitor user progression with your membership website, which renders it pointless.
An individual leveraged a 3rd-party membership plugin that was later connected to Zapier as an effort to cease utilization.
Not good.
4. Kartra Improves Customer Service and Efficiency
Kartra's HelpDesks offers similar functions to FreshDesk, Support Ninja, or ZenDesk but does not require an additional subscription or integration.
With the analytics tool, it is possible to view performance or peak usage of reps. If there are 50 negative reviews for "Illya" in Kiev, then they will be terminated.
Having a team on watch 24/7 can decrease returns and increase repeat customers. All of this is possible with one roof and all the necessary resources.
If you use ClickFunnels, you will need to purchase and incorporate ZenDesk (at a monthly cost of between $49 and $99) and use workarounds.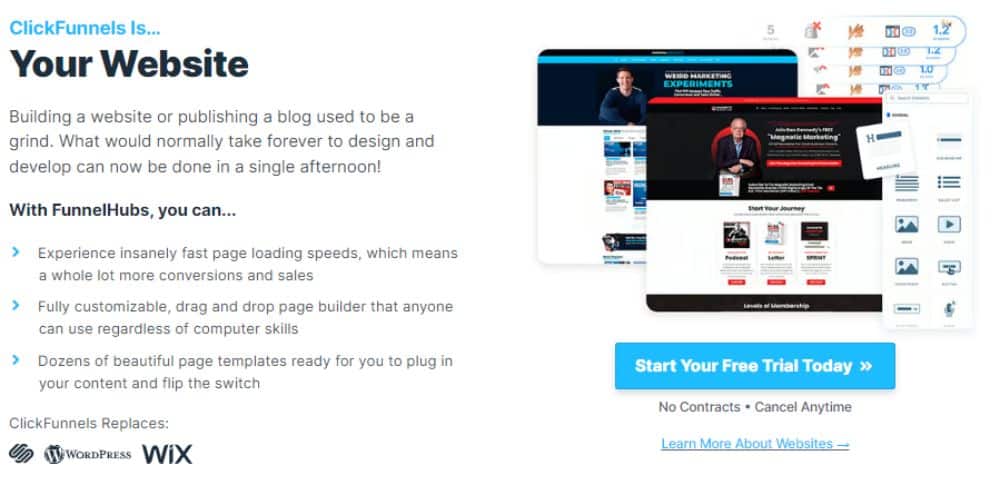 What Does ClickFunnels Do Better Than Kartra?
ClickFunnels is known for its effective performance.
This product is for sale.
ClickFunnels is a popular funnel builder with a wide range of sales funnel capabilities.Kartra consolidates all aspects of your business operations in a single platform.
ClickFunnels enables you to have a dedicated sales team available around the clock without requiring your attention.
1. It Opens You up to More Customers
The Shopping Cart feature of ClickFunnels offers more payment options than Kartra, which generally only supports Stripe, PayPal, and Authorize.net.
ClickFunnels is compatible with Stripe and PayPal, in addition.
Apple/Android Pay
EasyPayDirect
Keap
NMI
Recurly
Third-party platforms such as ClickBank and WarriorPlus facilitate product sales, enabling the potential for increased revenue.
2. High-Converting Funnels in 10 Minutes or Less
ClickFunnels is a comprehensive platform for building sales funnels, designed with the proficiency of its creator in mind. It has features that make it stand apart from other funnel builders available on the market.
With more templates, automations, and options than anyone else, it is easy to create a successful funnel in 10 minutes or less. Simply decide your goal and then select the appropriate type
For each step of the funnel, choose a template from Brunson Brainchild.
When considering the range of features included such as upsell, downsell, cross sells, automations, webinars and more payment options in the shopping cart, ClickFunnels provides a distinct advantage.
3. Webinars
Webinars have been a successful tactic in boosting conversions for my consulting business, particularly through talking about SEO mistakes and offering free advice in exchange for contact information.
ClickFunnels offers an integrated webinar service, with templates and pre-recorded webinar scheduling for ease of use. In comparison, Kartra does offer video hosting capabilities, which could be adapted to create a webinar solution.
4. You Can Get Rich off Selling ClickFunnels to Others (the Affiliate Program)
Tyler Durden noted that good communications strategy while affiliated with ClickFunnels was to discuss the platform.
The ClickFunnels affiliate program offers a chance for users to receive up to 40% MONTHLY recurring commission, as well as $100 for when someone signs up for a core offer. The company encourages recruitment of others, which has resulted in an active, enthusiastic customer base.
You can potentially generate income by becoming a ClickFunnels affiliate, without having to use the product yourself.
ClickFunnels is a suitable choice for marketers who aim to create new, lucrative income sources. People have reported up to 30% of their revenue coming from gaining new recruits.
Here is some information.
Affiliates can earn up to 40% commission per month on front-end sales, which include:
DotCom Secrets
Expert Secrets
Traffic Secrets
You can make $100 per sale of:
The One Funnel Away Challenge provides an opportunity for participants to build a profitable funnel over a 30 day period.
"30 Days" is a book about entrepreneurs working towards their goals.
You can earn up to 40% commission on ClickFunnels Subscriptions each month, with the highest rate of $118 available for the Platinum Plan.
ClickFunnels vs. Kartra: Pricing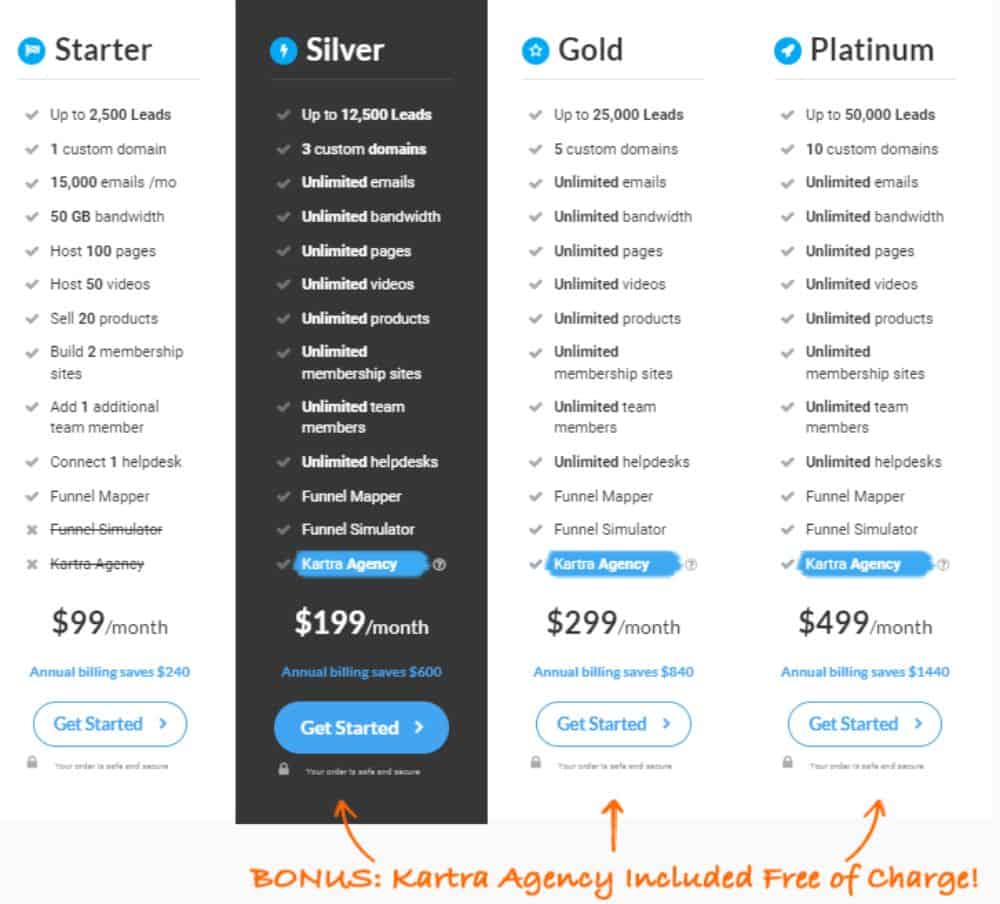 Kartra is suitable for those on a budget. It offers many features and its basic package begins at $99 per month. There is also an option to try it out for 14 days with only $1.
The Kartra Silver Package is available for $199 per month.
You will have access to unlimited emails, products, sales, pages, videos, membership sites, helpdesks, bandwidth and team members.
Three custom domains are available.
The maximum number of leads is 12,500.
You can also access Kartra Agency.
The Kartra Gold Package costs $299 per month.
You can access an extensive range of features, including unlimited emails, products, sales pages, videos, membership sites, helpdesks, bandwidth and team members.
There are five custom domains.
The maximum number of leads is 25,000.
Kartra Agency is included.

The Kartra Platinum Package has a monthly price of $499.
Kartra Agency is included.

Various capabilities are available, including unlimited emails, products, sales, pages, videos, membership sites, helpdesks, bandwidth and team members.

10 custom domains are available.
There are approximately 50,000 leads.
You can try out any package with the 14-day trial priced at $1. This is an excellent value given all the services it offers. With no need to hire web developers or team members to do daily tasks, you can make use of the marketing tools to build membership sites.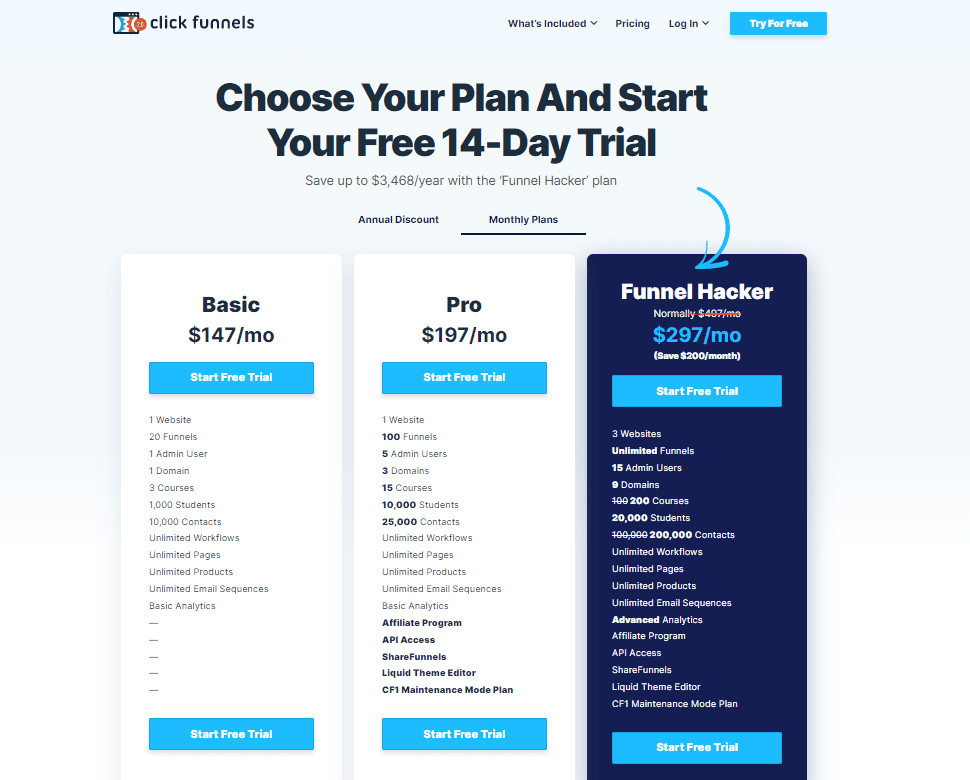 ClickFunnels offers three pricing plans; Basic, Pro and Funnel Hacker.
The basic plan is priced at $147 per month and includes the following features.
You have the opportunity to create 20 funnels.
It is possible to unlimited number og pages.
It is possible to share funnels.
The Pro plan is $197 per month and provides features such as:
Create 100 funnels.
You can create an unlimited number of pages.
Share your funnel creations.
The Funnel Hacker plan is $297 per month and its features are:
15 Admin users
9 Domains
Unlimited Funnels and Pages
ClickFunnels offers few options when it comes to plans and pricing. The basic plan is affordably-prices, providing good value. Marketers who choose the Funnel Hacker package gain access to unlimited funnels and webpages, offering greater potential for generating additional value.
Kartra vs. ClickFunnels: Features Breakdown
Kartra Marketing Tool Features: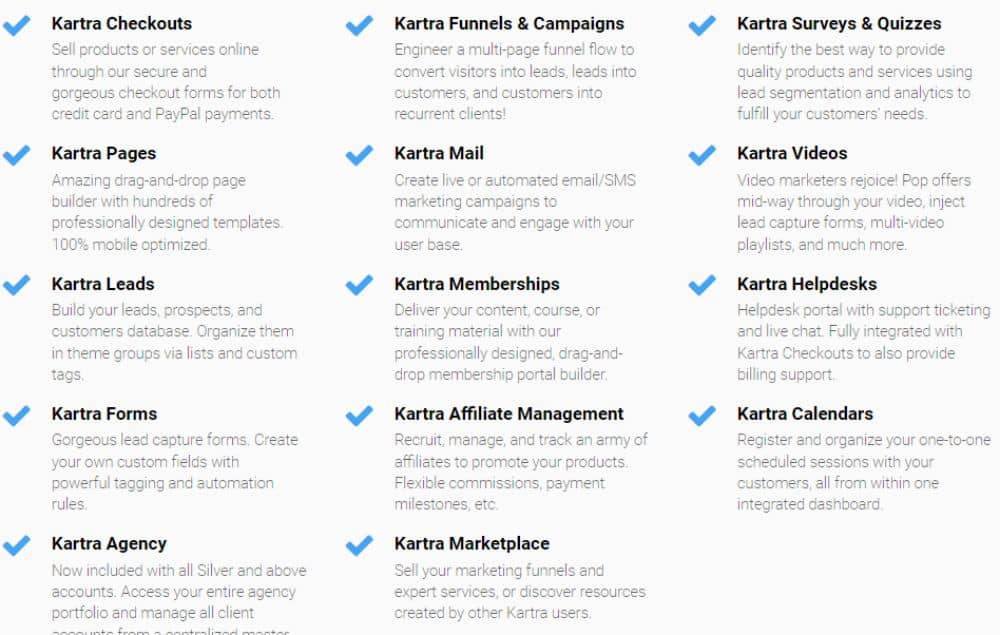 Kartra has a wide range of features, and these are some of the highlights.
Utilizing marketing automation can facilitate scaling a business, as barriers are removed and everyone involved can create sequences of actions tailored to the desired outcome.
A marketing automation system has multiple opt-in vehicles, multiple products for sale and uses tagging to label prospects and customers. This automation provides efficiencies saving time.
Kartra's automation system allows for the monitoring of effective campaign metrics and offers different levels of automating marketing strategies.
Utilizing the various components of marketing automation software can enhance your business.
The Kartra affiliate program allows you to generate an income by promoting and selling other people's products. You will receive a commission on any sales you make.
To become an affiliate for Kartra, you will have to follow a few simple steps to qualify for their financial incentive program.
To become a Kartra affiliate, you must first register. You will earn a 40% commission on both monthly and annual entry plans, as well as an additional 10% commission for each referral.
Kartra engages in marketing follow-up procedures by sending emails to customers, creating a sense of value and improving customer loyalty.
The automated email system utilizes split test intelligence to modify subject lines and monitor conversions. After evaluating the conversion rate of different content versions, it prioritizes the most successful content.
Kartra allows for the utilization of customized tags for emails, enabling personalized emails for recipients with the ability to include testimonials and video thumbnails through a simple drag-and-drop process.
Kartra is capable of integrating with four different e-mail systems.
Sendgrid
Postmark
Mailgun
Elastic Email
Kartra's landing pages can help increase a business's growth. It provides multiple landing page types and templates.
Sign up for the Kartra landing page.
The purpose of an opt-in landing page is to acquire new subscribers through a lead magnet or opt-in freebie.
Nurture Wire is a website.
Creating nurture wires through landing pages.
Workbooks, video courses, audio courses, webinar recordings, e-courses and trial memberships are ideas for nurturing a business.
A pre-launch page has been created.
A webinar is an online seminar.
This is the thank you page.
Kartra provides a lead generation funnel. Leads are essential for any business, comprising prospects, customers, affiliates, etc. Without them, the business wouldn't be operational.
Kartra allows you to create a lead-generating funnel to help turn website visitors into customers.
Lead magnets are offered as a freebie in exchange for leads, and Kartra provides cost-effective business lead generation.
Kartra features a comprehensive management system that enables users to monitor website activity, sales, and conversion rates. It also provides additional capabilities.
Kartra offers marketing automation tools for split testing, opt-in email campaigns, and beyond.
Kartra offers a comprehensive range of marketing assistant services to support your business.
Kartra provides a comprehensive marketing funnel, where every element is linked to form an integrated system. All of Kartra's features work together seamlessly in this system.
Kartra contains premade campaigns developed by experienced marketers, including premade copywriting, webpages, and automation.
The Kartra team is continually releasing new campaigns for users to utilize.
A giveaway drives this funnel.
Initiate a Fast Launch Program
This is a campaign created by Frank Kern.
A 4-day cash machine is available.
This funnel is designed to improve your business's financial performance within four days.
A Book Funnel Campaign is underway.
Here, you can find everything required to quickly initiate a comprehensive promotional campaign.
We are launching an eShop campaign.
The KartraeShop Campaign enables you to host multiple products on a single page.
The KartraMasterClass Campaign is available.
This funnel facilitates the routing of traffic through a registration process to a webinar.
E-commerce Functionalities
Kartra offers innovative solutions for online shopping, including customizable templates and a reinvented shopping cart.
Option pages
Video sales letters
Upsells
Product launch pages
Surveys
The content can be modified with a live editor.
You will be able to manage customer relationships.
Email marketing
Autoresponders
Sending emails to a broad recipient list.
And email test splitting
It additionally enhances CRM capabilities.
SMS texts
Video streams.
Posting on social media.
Features of ClickFunnels :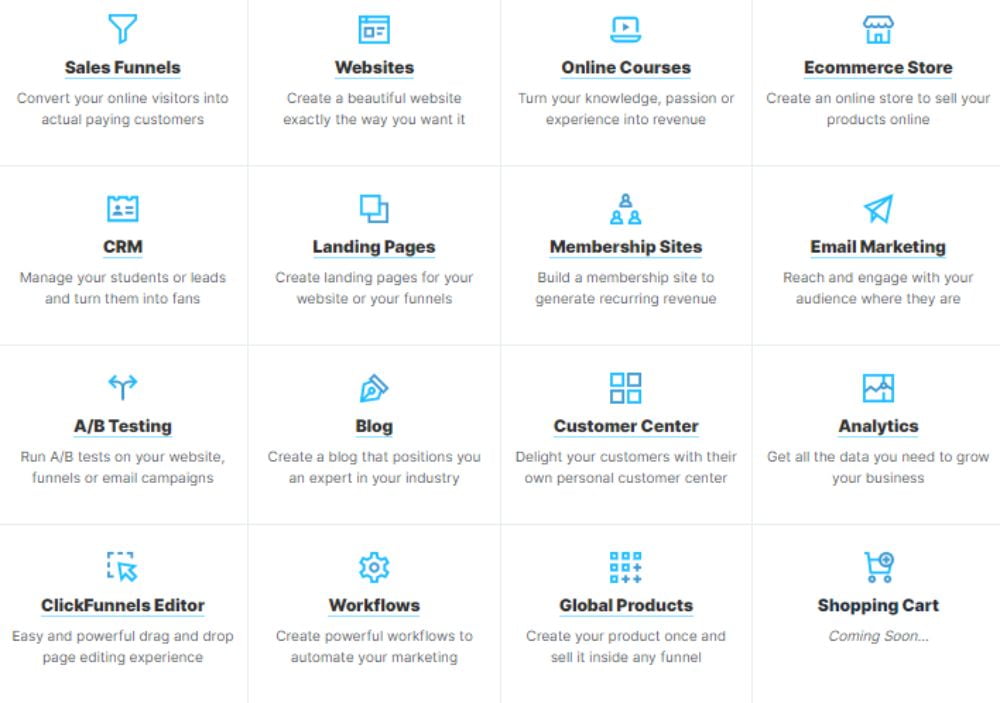 ClickFunnel allows users to add follow-up emails to their funnels, create messages and broadcast emails. The platform provides instructions on email creation and modification.
The platform provides SMTP integration, as well as an email, to facilitate the process.
ClickFunnels facilitates the creation of emails with a few simple steps.
You can use the following emails to reach out and/or send messages to a large group.
Create a new email account.
You can click on an email that already exists or create a new one.
Please ensure all general settings are completed.
Select the 'Edit Email' option.
Save as template.
The procedure is completed when a success message is displayed.
ClickFunnel offers a wide variety of pre-made templates to suit different aesthetics.
Using ClickFunnels, users can create a complete template with the desired layout in just 10 minutes. They offer templates for various types of pages, such as layouts, sales pages, upsells, and more.
To create and save a new template, please adhere to the following steps.
Select a page to be saved.
Click the Edit Page button.
Select the General option from the Settings menu.
Save the page as a template for future use.
Provide a name for the page, then click on Create Template.
Conversion Optimization Tools
Tools for converting website traffic can be utilized through various marketing strategies, such as social media and email marketing.
ClickFunnels have chosen different optimization tools to facilitate the conversion process. The range of these processes is varied.
A search engine optimization crawler.
Ubersuggest
SEMrush is a software platform.
Whitespark
Ahrefs
SpyFu
HootSuite
All the tools are being used to a high standard.
Backpack Affiliate Tracking & Management
ClickFunnels has an affiliate management tool, referred to as "backup". This allows for external assistance in expanding your funnels. ClickFunnels offer a 40% commission to their affiliates.
ClickFunnels has integrated with Tipalti, a third-party affiliate management software. There is an associated fee of approximately $297 per month for users to take advantage of this feature.
If you refer a client to ClickFunnels, you will receive a 20% incentive provided that the referred client is an active customer.
In addition to the incentive plan of a car, it is possible to increase the incentive to 40%. However, tier two commissions are not currently offered by ClickFunnels.
ClickFunnels has an inbuilt email autoresponder, known as the Follow-Up Funnel.
ClickFunnels includes an autoresponder with features similar to popular autoresponders, including broadcasting, contact storage, campaign management and more.
ClickFunnels facilitates simplified communication among the team, enabling the creation of a concerted workspace for both remote and on-site teams.
Integrating a third-party platform to facilitate communication between teams can be beneficial. This platform provides embedded chat tools that can help create effective communication.
The platform provides multiple tools to enable effective communication.
Google Hangouts
OfficeSuite
GoToMeeting
Unified Meeting 5
Fuze Meeting
Zoho Meeting
WebEx
Campfire
These two tools are effective for managing communication and reducing confusion to create a beneficial environment.
When using ClickFunnels, a typical approach to adding contacts or to a specific email list is to capture their details through a funnel.
It is possible to import contacts previously housed outside of ClickFunnels into your account. In this article, we will explore how to complete this process.
Using conversion tracking in conjunction with a Clickfunnels sales funnel can be an effective tool. Entrepreneurs, however, may face difficulties when integrating Custom Conversions with Clickfunnels.
The lack of any action on the conversions has made the business owner think there is no traffic.
Kartra vs. ClickFunnels: Pros and Cons
Pros:
All users, regardless of plan type, have full coverage of tools associated with the platform.
This product offers an online marketing solution.
Members have the ability to host videos using the integrated video hosting platform.
The membership portal has a range of features.
Subscriber management, file sharing, video embedding and additional features are available.
There is a 14-day trial period.
It has the capability to offer internal video marketing and hosting.
Kartra provides several integration options.
The sales funnel is secure.
Kartra provides powerful reporting capabilities which enable you to gain insights into campaigns, videos, and more.
Cons:
The pages sometimes took a while to load.
The web builder has certain restrictions on its features.
Pros:
This tool provides comprehensive features for designing funnels, ranging from basic to advanced.
The interface is intuitive and the design templates are of good quality.
No programming knowledge needed.
It is possible to develop landing pages and sales pages.
Optimizing for mobile devices is important.
Integration across different platforms.
Actionetics offers an autoresponder email service.
Sign up for a Membership quickly.
Data tracking made easy. Video tutorials for an intuitive learning experience.
Various payment methods are available.
The services are regularly updated.
Russell Brunson's courses provide knowledge about sales funnels.
Cons:
The platform does not support direct hosting of videos.
This platform only allows video sharing from other sources, not direct uploads.
This membership has few options available.
Conclusion: Which One Should I Get? Kartra or Clickfunnels?
When making a decision on whether to choose ClickFunnels or Kartra, you should consider your own preferences. However, if you would like a recommendation, here is my opinion.
ClickFunnels is noted for its customer support, while Kartra offers several packages at lower pricing points.
Kartra offers a robust solution for sales funnels without the need to hire a development team.
Kartra is an all-in-one tool with more features than ClickFunnels and can be adapted for businesses of all sizes. Additionally, ClickFunnels' features are fewer, and it is more expensive than Kartra.
When starting a business, consider multiple options and find the one that meets your requirements. Additionally, Russel Brunson's books and course guides can provide valuable information on sales funnel marketing.
You can gain access to the Kartra Academy including its modules and video lessons.
Although Kartra's success stories might not be as prominent as those of Clickfunnels, users have used it to build 7 and 8-figure companies. Overall, the review is likely to leave you with a positive impression of Kartra.
Is Kartra better than ClickFunnels?
It is not fair to directly evaluate Kartra against ClickFunnels, as they are both created for distinct purposes. When considering Kartra vs. ClickFunnels, determine if the goal is to build an entire business or create sales funnels. Whilst Kartra may be easier, cheaper and better for running a business, it is not superior when constructing sales funnels- ClickFunnels is best suited for this task.
Does ClickFunnels integrate with Karta?
It is possible to integrate ClickFunnels with Kartra using Zapier. The integration of both platforms does not require knowledge of programming.
What is better than ClickFunnels?
What is better than ClickFunnels? It all comes down to individual needs. Kartra and ClickFunnels both have similar features, but Kartra offers landing pages, marketing tools, video hosting, email marketing tools, and more. Also, it has multiple price points ranging from $97-2,000+, while ClickFunnels' plans jump from $147 to over $2,000 quickly.
Is ClickFunnels a platform?
ClickFunnels is an online platform that provides tools for marketing campaigns, email automation, page and website creation, sales process management and more. It includes form builders, custom subscription forms, page builder, checkout pages, membership sites and affiliate management. Additionally ClickFunnels integrates with Google Analytics and supports the execution of a A/B tests.