Landingi is a marketing platform that allows users to regularly execute marketing campaigns through the use of landing pages.
The platform offers various options for consumers to receive assistance with marketing campaigns using landing pages. These options cover the entire process, from design to integration, optimization, and conversion.
The team at Landingi launched their product (MVP) in 2012, and due to its appeal to their target audience, they established their firm in 2013. Since then, they have been dedicated to the development of Landingi.
Landingi started as a simple landing page builder, but over the years, they have greatly improved the app's capabilities and now promote it as a comprehensive marketing solution.
Landingi is a suitable option for creating landing pages that can attract customers, regardless of whether you are a marketer or business owner, without the need for coding or technical skills.
If you are considering using Landingi for your marketing campaigns and are curious about its features, price, and other relevant information, This article will cover the features and pricing of Landingi, providing information to help determine if this marketing platform is suitable for your needs.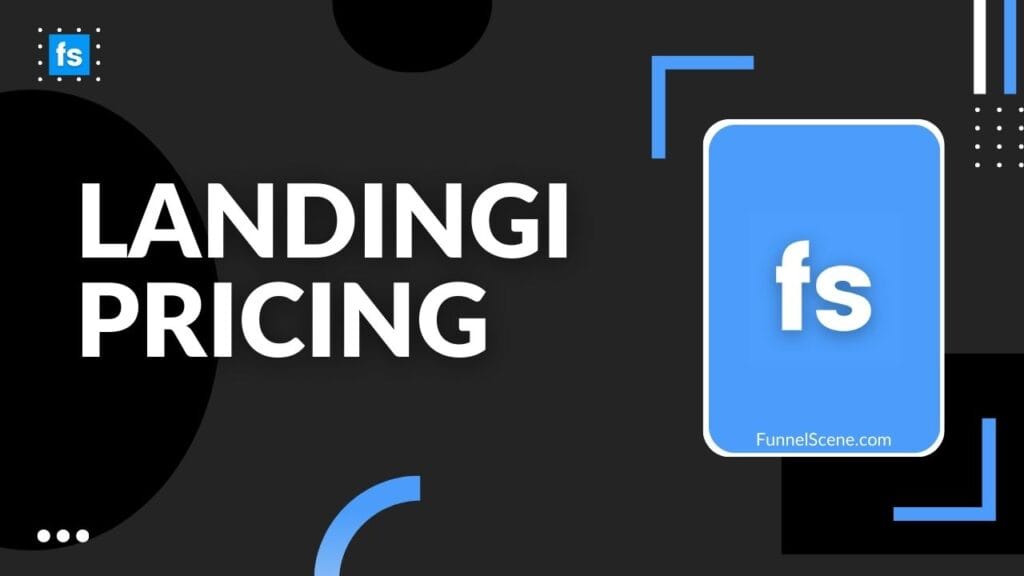 PRICING PLANS FOR LANDINGI – An In-Depth Review
Landingi's solution offers subscription options that are affordable and adaptable, allowing them to be customized to meet various requirements.
All plans include SSL certificates, AWS cloud hosting, lead export and tracking pixels, a free trial with unlimited landing pages and conversions, and unlimited user invitations.
The Landing plans comprise:
1. THE LITE PACKAGE
This program may be a good choice for your company, especially if you own a small-sized company or operate a small or medium-sized online store.Build your first landing pages and reach your potential customers.
The high-converting landing page package is available for $29 per month and allows you to design effective landing pages to generate a large number of leads.
This plan offers various options.
Fully Featured!
with all integrations
Build 10 digital assets:
landing pages, pop-ups, etc.
Unlimited conversions,
leads and contacts
5.000 visits/mo.
Fast cloud hosting
1 custom domain
with forced SSL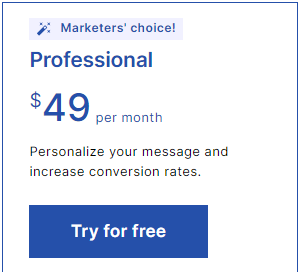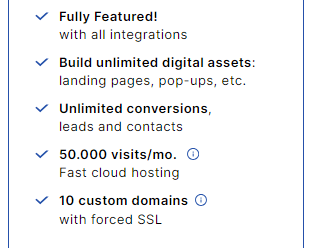 2. LANDINGI Professional PACKAGE
This package is suitable for experienced marketers who want to enhance their company's conversion rate at every stage. Personalize your message to increase conversion rates.
The price is $49 per month if you choose to pay monthly, and it includes the following benefits.
Fully Featured!
with all integrations

Build unlimited digital assets:


landing pages, pop-ups, etc.
Unlimited conversions,
leads and contacts
50.000 visits/mo.
Fast cloud hosting
10 custom domains
with forced SSL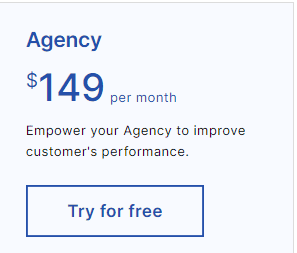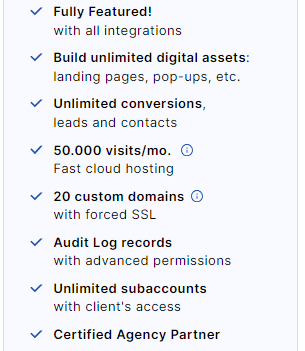 3. LANDINGI AGENCY PACKAGE
The Landing Agency package is designed to offer advanced marketing tools and capabilities, specifically for Agency Managers, Resellers, and Integrators who work with large-scale customers.
The monthly cost is $149. Payment is made on a monthly basis. Enhance your agency's ability to improve customer performance.
It offers various features:
Fully Featured!
with all integrations
Build unlimited digital assets:
landing pages, pop-ups, etc.
Unlimited conversions,
leads and contacts
50.000 visits/mo.
Fast cloud hosting
20 custom domains
with forced SSL
Audit Log records
with advanced permissions
Unlimited subaccounts
with client's access
Certified Agency Partner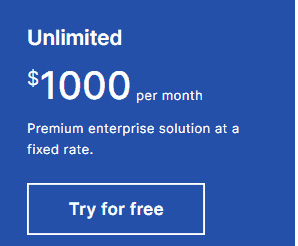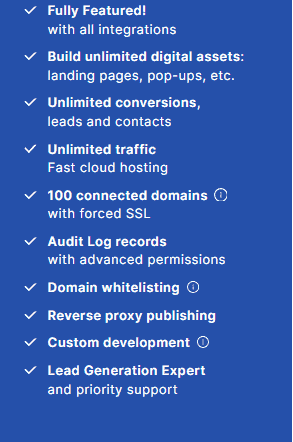 4. LANDINGI UNLIMITED PACKAGE
Our enterprise solution is available for purchase at a fixed price. The price is $1000/month and includes these benefits.
Fully Featured!
with all integrations
Build unlimited digital assets:
landing pages, pop-ups, etc.
Unlimited conversions,
leads and contacts
Unlimited traffic
Fast cloud hosting
100 connected domains
with forced SSL
Audit Log records
with advanced permissions
Domain whitelisting
Reverse proxy publishing
Custom development
Lead Generation Expert
and priority support
Which Landingi Pricing Should You Choose?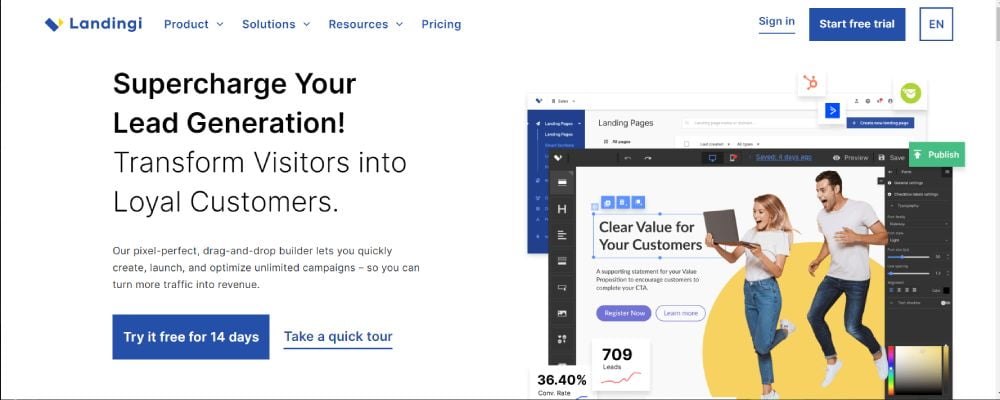 Landingi offers plans that are suitable for marketing campaigns and can help increase sales conversion rates, among other benefits.
If you have recently started a business or corporation and require a quality landing page to advertise it, the Landingi Lite Plan would be a recommended option.
The Landingi Professional Plan is a highly recommended option for small businesses and companies looking to create effective sales and landing pages for their marketing campaigns.
The Landingi Agency plan is designed to assist agencies, integrators, and resellers with launching offers and scaling customer service. If you have an agency or are a reseller, this plan is suitable for your needs.
The Landingi Unlimited Plan is designed to support marketing professionals in automating company procedures and improving conversions at every stage of the customer journey.
Landingi White Label Pricing Plans And Programs
The Landingi white label package is designed for agencies that handle multiple client accounts and prioritize organization.
The white label package includes unlimited landing pages, leads, 50,000 visitors, and twenty sub-accounts branded with your company's name.
Landingi does not offer a separate white-label program. However, if you purchase the Agency plan, it includes a white-label feature that allows you to take ownership of the entire platform.

How To Try Landingi For FREE (Step by Step)
Landingi is a popular tool used by many individuals and businesses to create landing pages, launch campaigns, and establish sales funnels.
Landingi provides a 14-day free trial to all new users who sign up for their software. The free trial is available for each of their paid plans.
To access the trial, you will need to provide your credit card information, and a dollar will be temporarily deducted and promptly returned. You are not obligated to use the software after the trial period. It is your decision whether to cancel your account or continue with the paid plans after the 14-day free trial.
Here is the process for using the Landingi 14 Day Free Trial.
Once you click on https://www.landingi.com, the page will load and all you need to do is select "TRY IT FREE FOR 14 DAYS."
Please fill in your information, including your name, email address, company name, address, city, postcode, and payment method. Once completed, you may proceed to utilize the free trial.
To create your landing page, you will need to choose a template from the collection of pre-designed landing pages. You have the option to customize the template to meet your preferences.
After choosing the template you want, you can name it and make changes using the editor. Adding elements to your landing page is easy with the drag and drop feature on Landingi. Don't forget to edit your Thank you page before launching your design.
Landingi provides a link once your design is published to facilitate its launch. However, it is recommended to change the domain link to a simpler one for easier user recollection.

Landingi is a landing page builder that enables users to create landing pages, pop-ups, and marketing and sales funnels, providing them with essential tools to enhance lead generation, conversions, and the sale of digital products and services.
Landingi makes it easy to create highly conversion-optimized landing pages and other assets for your business, without requiring technical or creative expertise.
Landingi is a cost-effective and powerful landing page construction tool that can enhance the effectiveness of your marketing initiatives, whether you are a business owner, marketing expert, or head of an agency.
Landingi is a valuable tool as it provides an impressive landing page builder, as well as additional features for creating effective sales funnels. However, its initial design was focused solely on creating landing pages.
If you're searching for a comprehensive white-label sales funnel software, we suggest considering HighLevel.
Landingi Pricing Frequently Asked Questions
What Is Landingi?
Landingi is a marketing platform that offers a wide range of tools for creating customizable landing pages, forms, pop-ups, and other similar elements. The landing page builder provides ample options for customization.
Who Is Landingi For?
Landingi is a platform that caters to a wide range of users including solopreneurs, small business owners, marketing experts, agencies, and anyone looking to create landing pages for marketing purposes.
Is There A Landingi Lifetime Deal?
At the moment, Landingi does not offer a lifetime deal for their software. They do, however, offer a range of pricing plans to suit different businesses' needs and budget. The Basic plan is suitable for small businesses and entrepreneurs who need basic landing page building features plus access to a wide range of templates and integrations with third-party services.
Does Landingi Offer A Money Back Guarantee?
Landingi provides a 30-day money-back guarantee, and their refund policy is based on their terms of use. If your account does not have web traffic, you will receive a refund of the last monthly payment collected.