When it comes to creating effective landing pages, Leadpages and Landingi are two popular options that often come up in discussions. Both platforms offer a range of features and tools to help businesses generate leads and drive conversions. However, there are some key differences between the two that may influence your decision on which one to choose.
In this article, we'll compare Leadpages and Landingi to help you make an informed choice for your digital marketing needs.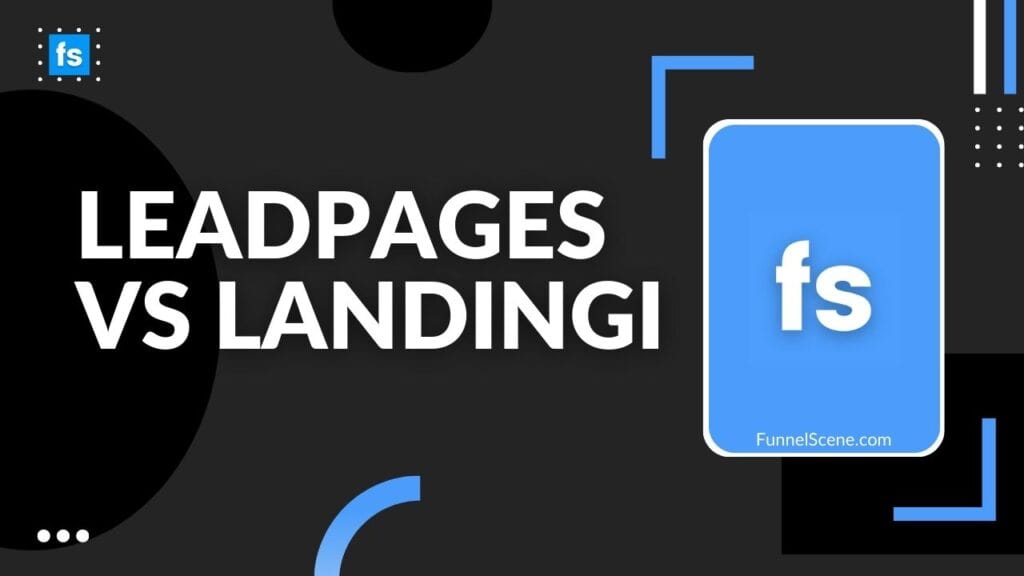 Leadpages vs Landingi Quick Introduction:
First and foremost, let's start with an in-depth look at what each of these tools offers before diving into a more detailed comparison.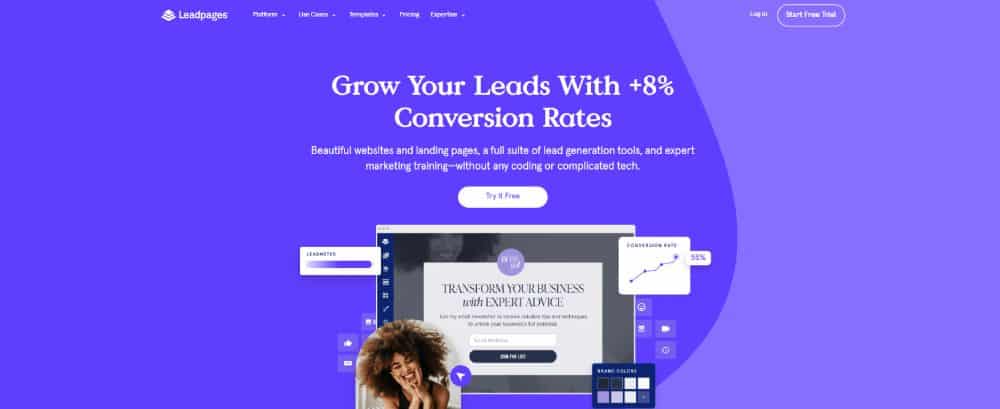 Leadpages is a landing page builder that offers unlimited options for creating and managing pages and traffic.
Leadpages, like Instapage and Unbounce, provides drag-and-drop tools for building landing pages, offers mobile-friendly templates, and integrates with other features.
This drag-and-drop technology allows users to easily rearrange, delete, and add elements on the page, giving them complete control.
Another feature that sets Leadpages apart as a top tool for your business is its ability to create popup window modals that effectively capture users' attention.
It also includes distinctive modern features such as;
Drag and drop unique editor: Leadpages provides a drag and drop editor that allows users to create impressive landing pages, regardless of their coding abilities.
Hosted landing pages: Leadpages provides the option for users to host their landing pages independently from domain hosting providers.
Tons of Templates & a huge marketplace of paid templates: Leadpages offers customized templates that allow for quick editing and publishing.
A/B testing: Leadpages provides the ability to create landing pages efficiently and determine the most effective version for your business.
Detailed analytics: Leadpages integrates with various analytics platforms such as Facebook Pixel and Google Analytics, providing detailed insights. Additionally, it offers its own dashboard with essential data for informed decision making.
Tons of marketing integrations: Leadpages has the ability to integrate with various email marketing services, webinar tools, CRM systems, payment gateways, and more, enhancing the overall experience of your business.
Leadboxes: This tool enables users to generate personalized pop-up forms that can be automatically displayed or triggered by audience actions.
Leaddigits: Leadpages offers the feature of mobile device sign-up and automated text messaging for leads to join your email list.
Lead links: This feature allows for the easy enrollment of existing subscribers in an offer with just one click.
Leadpages is a recommended tool for digital marketers interested in investing in paid marketing and landing page software.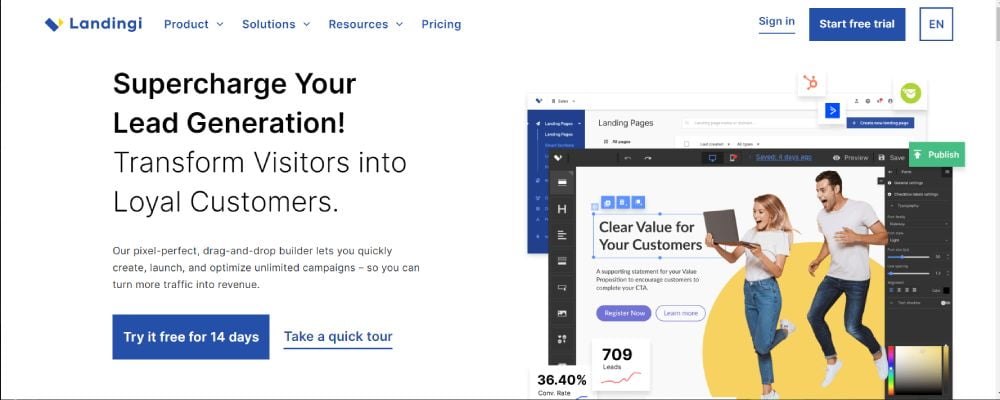 Landingi is a platform that allows users to create landing pages and run marketing campaigns, offering intuitive builder tools for visually appealing pages.
This platform offers a range of features including lead management, A/B testing, pop-up functionality, funnel building, and integration with other tools.
The features of Landingi include:
Drag and drop landing page editor: This feature allows you to easily customize your landing pages by dragging and dropping elements, without requiring any technical skills.
Templates: Landingi provides a wide range of pre-designed and responsive templates for optimal conversions.
Image library: Landingi provides users with a wide selection of icons and images that can be used on their landing pages.
Fonts: Landingi offers 800 Google fonts for free and also gives you the option to import your own fonts.
AWS cloud hosting: Landingi is equipped with Amazon Web Services, enabling secure hosting of your pages.
Compatibility with existing domains: Landingi provides the option to effortlessly incorporate your existing domains in order to publish landing pages using your own domains.
Form creator: Landingi allows users to efficiently collect all required information from visitors to landing pages, including their name, email, phone number, and other details.
Lead export: Landingi also offers the convenient feature of exporting all the leads generated by your landing pages into Google Sheets or a CSV with just one click.
Custom templates: Landingi offers the possibility to customize templates to align with your branding.
White label: This tool enables users to generate white labels for their landing pages that have a professional appearance.
A/B split testing: A/B testing allows you to monitor and analyze variables on your landing pages to identify the variables that lead to higher conversion rates.
Google Analytics: The Landingi platform has integration with Google Analytics, which enables tracking and analysis of audience behavior. This data can be utilized for making
Let's compare Landingi and LeadPages quickly:
LANDINGI:
Many landing pages.
There are 100,000 visitors per month.
10 popups are active.
5 domains
$29/month
LEADPAGES:
Unlimited landing pages are available for creation.
Unlimited monthly visitors.
Endless pop-ups.
1 domain (paid annually)
$37 per month.
Landingi Vs LeadPages: Comparing Landing Pages
The usage of it is not significant.
Landing pages can be created for online marketing campaigns.
This feature holds significant importance.
I will now explain the process of creating a landing page.
I have done this for several reasons.
To fully understand each software, it is necessary to observe their functionality.
I can provide help and recommendations to assist in making informed decisions.
When will you make a decision?
At this point, you should have a solid understanding of the functioning of each software.
We will start with Landingi.

From the beginning, there is positive news regarding Landingi.
That is a common feature I look for when using any type of software.
We can begin the process of creating a landing page.
To begin, you will need to select a template that suits your preferences, just like any other tool.
There are numerous templates to choose from, which you may find to be extensive.
Please refer to the picture below for some examples of their landing page templates.
For my initial use, I selected the template titled Simple Newsletter.
You have the option to choose your template.
You must provide a name for it.
Finally, users are directed to the landing page editor.
This sentence showcases the functionality of the landing page editor.
Choosing a template for your landing page is straightforward.
Utilizing their landing page builder is a straightforward process.
Please direct your attention to the left side of the picture above.
There are various elements available to enhance your landing page:
Icons and forms are commonly used in design.
There are boxes and buttons.
Counters and sections are commonly used in various situations.
The available content includes text, videos, and images.
There is also the option to use HTML, although it is not commonly used by me.
One advantage of Landingi is that it features a genuine drag-and-drop editor.
This indicates that sections can be easily moved, dragged, and dropped anywhere on the landing page.
This holds significance due to the following reasons:
You will have increased freedom and flexibility.
Improving the overall landing page experience.
Here is a unique feature that is not commonly found in other landing page builders:
What is the significance of this?
With Landingi, you have the ability to edit your thank you page in the same editor without having to leave.

Creating landing pages, such as Landingi, is a straightforward process.
On the other hand,
LeadPages has some limitations when it comes to creating landing pages. Now, let's take a look at the process of getting started with LeadPages.
The available options for you to choose from are listed in alphabetical order.
The alert bars can be seen.
Landing pages are utilized in online marketing strategies.
There are temporary establishments.
There are websites that can be accessed.
Landing pages will be used here.
The software will ask you for your landing page's purpose.
Engaging in the process of selling.
There is another thing to consider.
Generating leads is a necessary step in order to build your email list.
It is relatively straightforward to go through the process of editing your landing page.
I have previously mentioned that their landing page editor could use some improvement.
How does Landingi compare?
There is less freedom and flexibility available.
This is because you cannot easily rearrange elements by dragging and dropping them.
There are a limited number of restrictions.
Despite some minor criticisms, LeadPages provides a dependable landing page building experience.
In the editor, the main actions, similar to Landingi, can be found on the left side.
The layout consists of various elements, including the content, header, footer, and others.
Widgets are made up of various components, including text, images, videos, buttons, forms, and space.
Customizations for styles provide a variety of options, such as font choices, backgrounds, page width, favicons, and the capability to include custom CSS.
The settings need to be set up for social media, SEO, Google Analytics, and other important components.
However.
Here is a summary of my thoughts regarding their landing page editor.
The editor is user-friendly and easy to navigate.
The editor would be more efficient if it allowed for easy dragging, dropping, and moving of elements.
That was my initial point of view.
Similar to other landing page builders, it has improved over time.
However, it can be considered as one of the most effective tools that can be purchased with money.
It is beneficial that they offer a free trial.
You have the option to click here and try out the LeadPages for free to see if they meet your preferences.
If you are interested in learning more about my thoughts on LeadPages, please let me know.
For further information, a related post will be provided below.
Landingi Vs LeadPages: How Much Are They?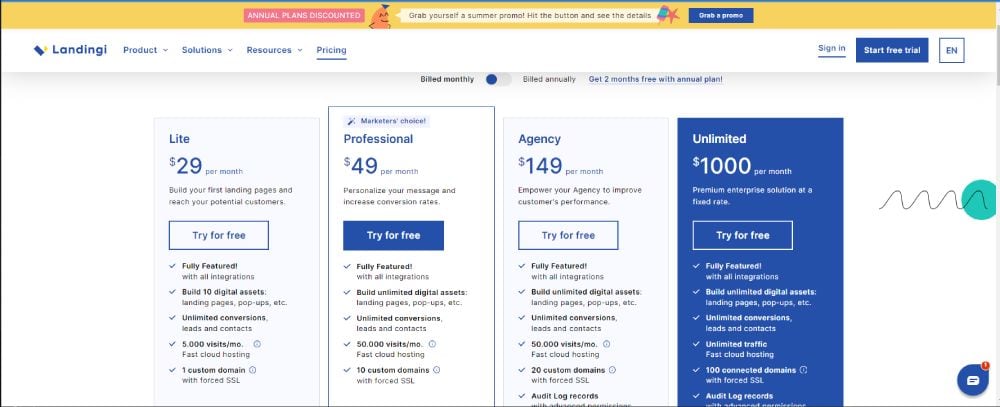 We have some information to share with you.
The landing page builders have prices that are comparable to their competitors.Now, let's examine Landingi.
Landingi offers four pricing options.
The Landingi Lite plan has a monthly cost of $29.
The Landingi Professional plan costs $49/month.
The Landingi Agency plan costs $149 monthly.
Landingi Unlimited plan costs $1000/month.
As indicated earlier in this post, their Core plan also includes:
There are a total of ten popups.
The website receives 100,000 monthly visits.
There are no limitations on landing pages.
Landingi also offers the functionality of using sales funnels and an autoresponder.
The Automate plan is only applicable in this particular scenario.The provided information gives a complete overview of what Landingi includes.I will provide a related post below for you to further investigate their pricing details.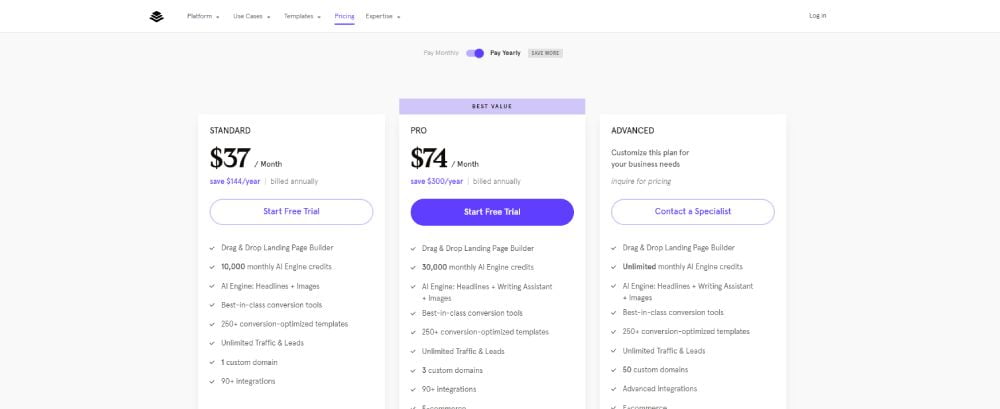 There are three pricing options available for LeadPages.
The cost of the LeadPages Standard plan is $37 per month.
The LeadPages Pro plan costs $74 per month.
The monthly cost of the LeadPages Advanced plan is $321.
As mentioned earlier in this post.
The Standard plan also includes unlimited features.
There are alert bars and popups.
The number of visitors on a monthly basis.
Landing pages are used in digital marketing.
As previously mentioned?
LeadPages has the capability to facilitate sales transactions and process payments.
However, the Pro and Advanced Plans are the only options available for that.LeadPages provides the opportunity to save money by choosing the annual payment option.
For more information regarding the costs and savings associated with LeadPages, please refer to the information provided below.If you are interested in learning more about their prices, I can provide a related post for you to explore.
What is Unique About Each Tool?

Leadpages:
Leadpages offers a wide range of website templates that allow you to create your own website.
Leadpages provides users with an integrated checkout system powered by Stripe, allowing them to effortlessly sell and distribute digital products directly from their landing pages, eliminating the need for external integration.Leadpages stands out because it offers affordable packages compared to other platforms on this list.
Leadpages has additional features such as Opt-in Text Campaigns, Pro Sub Accounts, and Opt-In Text Campaigns.Leadpages is a potential option for online marketers with limited budgets who are searching for a tool to create websites and sell products.
Landingi:
Landingi provides similar features as other platforms, but sets itself apart with its flexible package options and extensive selection of templates, images, fonts, and icons.
Landingi provides a range of pricing options, including business, agency, and enterprise, catering to all types of businesses.
Why Choosing The Right Landing Page Tool is Important?
By utilizing the appropriate landing page platform, you can effectively allocate your efforts towards enhancing conversion rates and reducing cost-per-acquisition.
Landing pages have a specific purpose of targeting quality traffic that has clicked on to reach your page.
If you choose a basic landing page builder tool for your paid campaign without advanced conversion features, you may end up wasting time and money on testing.
When choosing a platform, it is important to define your objective for the landing page tool and find an appropriate solution.
When it comes to choosing a platform for creating landing pages, there are many options available. Two popular choices are Leadpages and Landingi. Each of these tools offer different features and benefits, so it is important to define your specific goals before making a decision.
Leadpages is focused on creating high converting landing pages quickly and easily.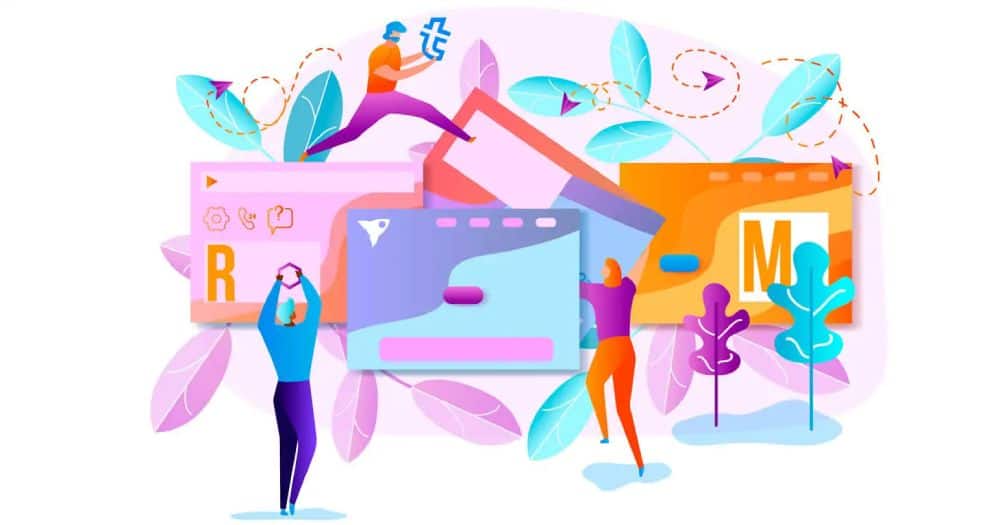 Things You Should Consider While Selecting Your Best Landing Page Builder
Here are some important factors to consider when choosing a landing page builder platform.
Size of your business: When considering a landing page for your business, it is important to select one that is appropriate for your business size.
Design freedom: Consider using a tool that provides extensive customization options, allowing you the freedom to design your page according to your preferences.
Design quality: Please evaluate the quality of the designs and templates provided by the platform. It is important to choose a tool that enables the creation of high-quality pages that lead to increased conversion rates.
All-in-one solution: If you're looking for a comprehensive solution that includes features like building landing pages and checkout flows, email marketing, and more, consider choosing an all-in-one solution such as Kartra.
Value for money: When evaluating a tool, it is essential to assess its ROI and functionality. It is advisable to select a tool that accurately reflects its features and capabilities in its pricing.
The learning curve: Choosing a platform with a low learning curve and all the necessary features and functionality, such as Unbounce, is essential to avoid the hassle of using your tool.
Ease of use: Consider using a tool that enables you to efficiently and effortlessly create and launch your landing page.
Your business requirement: It is important to consider a tool that aligns with your specific business requirements in order to avoid wasting budget and time on non-essential items.
Budget: When considering a tool, it is important to evaluate its affordability and value in relation to what it offers. It is recommended to choose a platform that offers a flexible pricing structure to meet the specific requirements of your business.
Templates: There is a landing page platform available that offers a variety of mobile responsive templates with visually appealing designs.
Analytics tracking: It is important to choose a tool that allows you to track metrics such as visits, clicks, and more.
Landingi Vs LeadPages: The Closing Summary
When comparing Landingi and LeadPages, it is found that both platforms offer the capability to create landing pages and popups. However, Landingi is considered to be slightly simpler in its interface. On the other hand, LeadPages stands out in its ability to create alert bars and websites, as well as its facilitation of sales and collection of payments.
Which landing page tool would be most suitable for your needs? This is the expected moment.
We are prepared to begin.
Use Landingi If
You may want to consider the option that offers the lowest price, taking into account the discount.
You are looking for a landing page builder that is easier to use.
Landingi provides a reliable option with their Core plan due to the features they offer.
If you are seeking additional services beyond their Core plan, please inquire.
If you're interested, you may want to consider using LeadPages for additional features and benefits.
Use LeadPages If
You might consider the option of creating one or two websites.
If you want to make sales and accept payments, you can start with the Pro plan.
You have the option to access unlimited landing pages, visitors, alert-bars, and pop-ups.
Landingi is generally regarded as being somewhat easier to use.LeadPages provides extra benefits and features in addition to their Standard plan.