New Zenler is an all-in-one platform that provides the necessary features for creating and selling online courses.
The platform appears to have potential, but its place in the competitive market of online course hosting is unclear. Its features and performance are yet to be evaluated.
I conducted a comprehensive evaluation of New Zenler's software components to assess their functionalities, advantages, and limitations in order to answer these inquiries.
This review will provide an overview of New Zenler's features for creating and selling online courses. It will also include personal observations on the software's strengths and weaknesses.
Let's get started.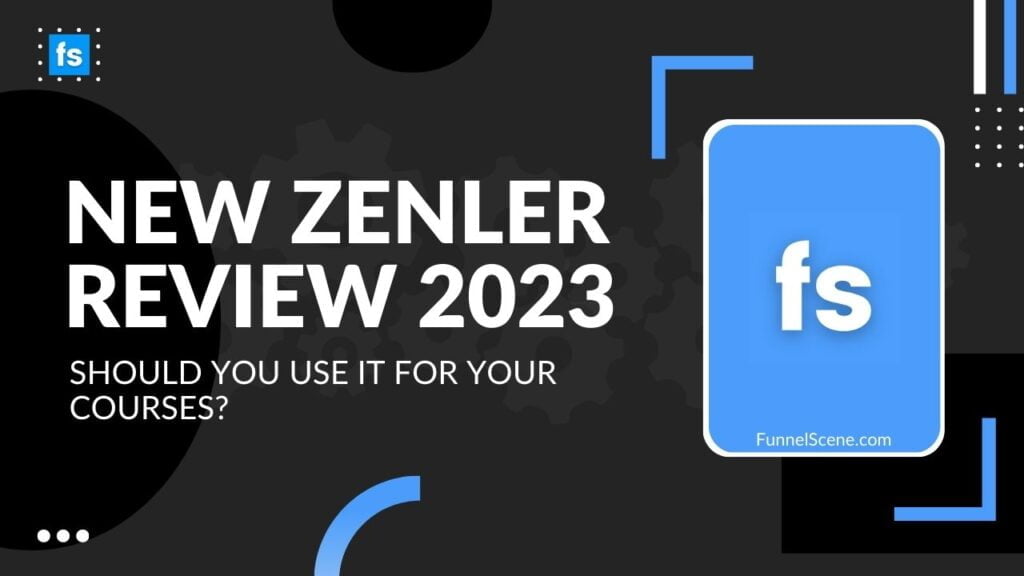 New Zenler Review Summary
New Zenler is an online course software that provides a range of tools for creating and managing an online education business, including course creation, site creation, blogging, course selling, marketing funnels, and email marketing.
Pros of New Zenler
The platform utilizes a drag-and-drop page builder to streamline the process of editing and designing.
New Zenler offers a range of tools, including quizzes, surveys, and assignments, that can assist in engaging your audience.
New Zenler's feature of setting up a community on your site can enhance student engagement.
The platform offers features such as marketing automation, affiliate programs, and membership sites.
The platform has been optimized for mobile devices and offers easy viewing.
Cons of New Zenler
At this time, the site can only be accessed through a web browser as there is no mobile app available.
For new users, there is a slight learning curve when using New Zenler.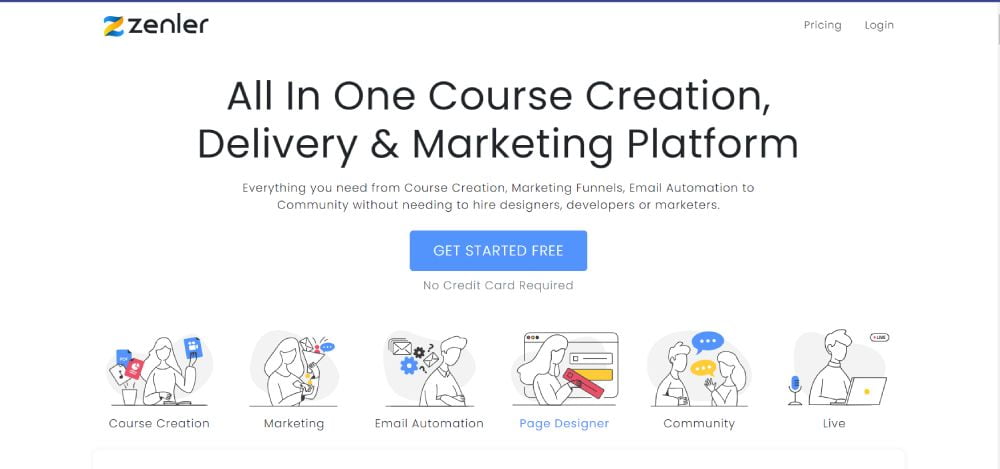 New Zenler is an online course platform and learning management system that offers a variety of tools for online course creators. It has gained attention from the online community due to its all-in-one solution for running an online business.
New Zenler, which was initially introduced in 2019, has continued to expand by incorporating new functionalities and resolving problems over time.
New Zenler is a platform that offers course creation, marketing, business building, and membership sales opportunities in addition to course sales.
New Zenler aims to simplify the process of running an online business without requiring any extra assistance. The platform provides tools to enable you to operate your business independently.
New Zenler offers a range of tools and features to support its aim of being a comprehensive online course platform. These will be discussed in more detail in the following section of this article.
While many platforms attempt to offer all-in-one solutions, they often encounter issues due to the range of tools and features they offer. New Zenler, however, appears to excel in managing website issues.
This online course-making platform is rapidly growing despite being a new addition to the market.
Now, we will examine the defining characteristics of New Zenler.
It is important to choose an online platform that is user-friendly to avoid feeling overwhelmed and ceasing usage.
Managing a website does not require technical skills such as coding.
The platform and its tools are user-friendly, allowing for easy navigation and quick start-up in the building process.
The user interface features a main menu located at the top. Upon selecting an option, the submenus appear on the left sidebar, while the relevant tools are displayed on the right side.
The tool is easy to navigate.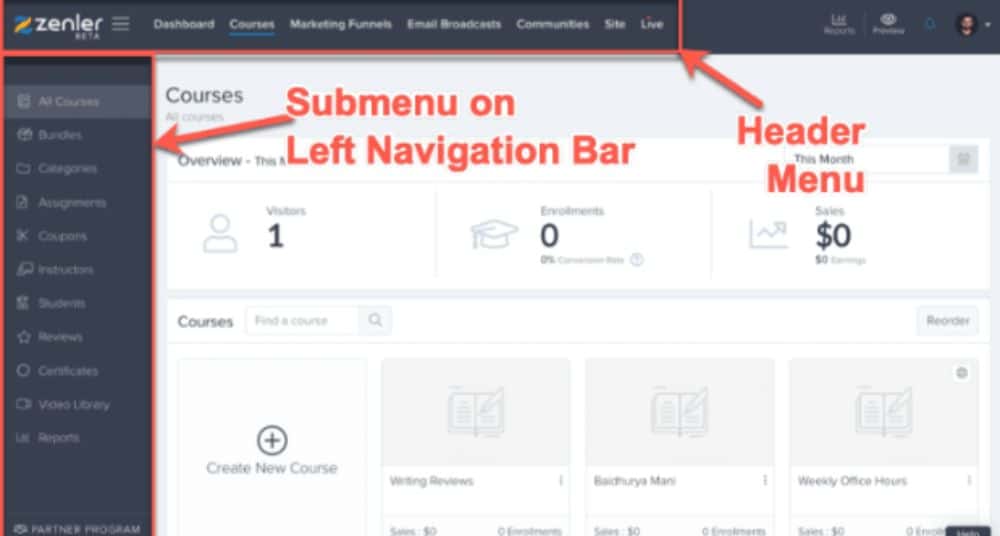 However, there are a few matters that require attention.
The selection of aesthetic elements, such as font size and color, is not optimal, making it difficult to navigate through the various areas of your account, including the dashboard and course builder.
The help option appears to be quite small and difficult to see.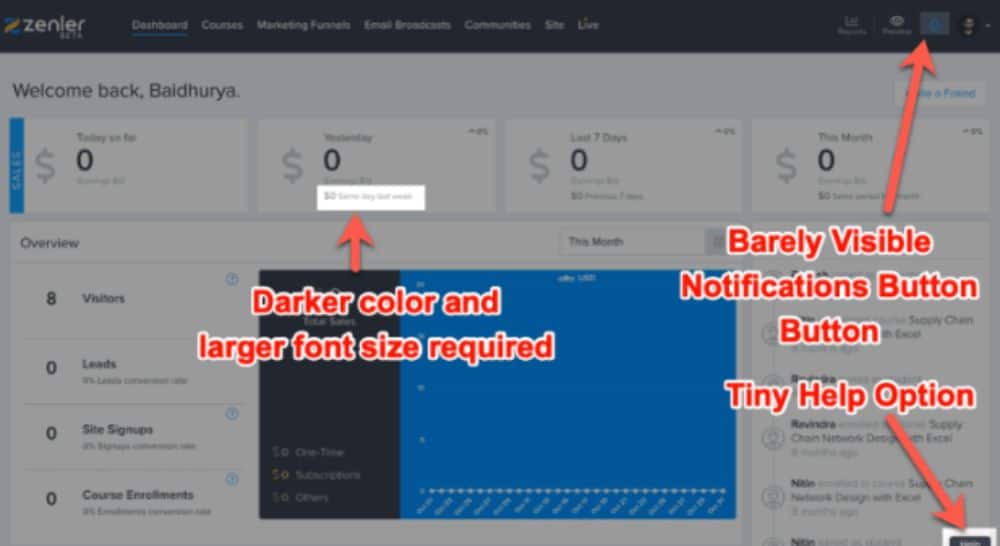 The placement of features could be improved, as different types of funnels are found in separate sections. It would be more efficient to have all funnels in one location for easier management.
The majority of tools, including course builder, website builder, and sales funnel builder, are user-friendly and straightforward.
Learning New Zenler can be relatively easy, but there may be some obstacles related to aesthetics and tool placement.
Course Creation and Engagement
The course creation feature is where you can develop your lessons and incorporate supporting content for your courses.
The discussed forms of content include videos, PowerPoint presentations, PDFs, live videos, and downloadable materials.
Additional features, such as surveys and quizzes, are available to supplement your content and monitor student progress when building your course.
The creation of a bundle.
There are websites that require membership to access their content.
The inclusion of visual aids can enhance the effectiveness of educational materials.
Adjust pricing to fit specific needs.

New Zenler offers a curriculum builder with drag-and-drop functionality that facilitates the uploading of content and structuring of online courses. The interface of the curriculum builder is clean and easy to use.
One can begin by incorporating various content formats, such as video, audio, PowerPoint, PDF, text, quiz, custom code, etc., into their course.
It is possible to upload SCORM/HTML files from popular eLearning authoring tools such as Articulate Rise, Articulate Storyline, Adobe Captivate, and iSpring Studio, and have them play within your course lessons.
New Zenler's Bulk Upload feature allows for easy content uploading. Multiple files can be selected and added to a course simultaneously.
One advantage is the ability to import files from cloud drives, such as Dropbox or Google Drive, in addition to uploading from your system. Cloud import tends to be quicker and is my preferred method.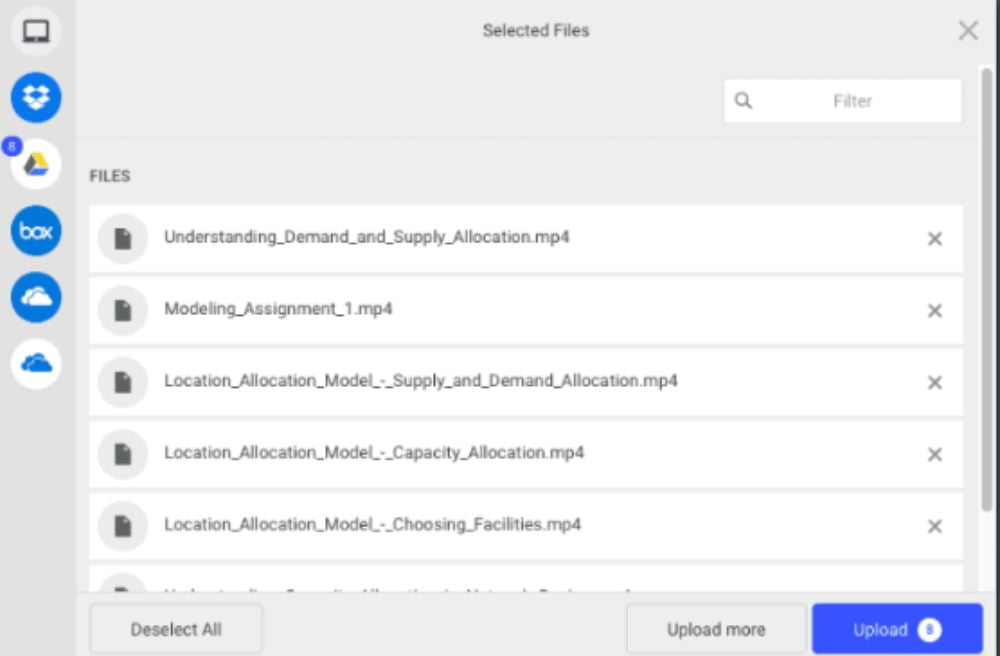 After uploading files onto the New Zenler platform, the system automatically converts each file into a course lesson, allowing for easy reordering and movement between sections.
In addition, the lessons can be renamed and edited to your liking. Upon clicking on a lesson, the lesson editor opens and displays various settings that can be toggled, allowing for modification of existing content or addition of new material.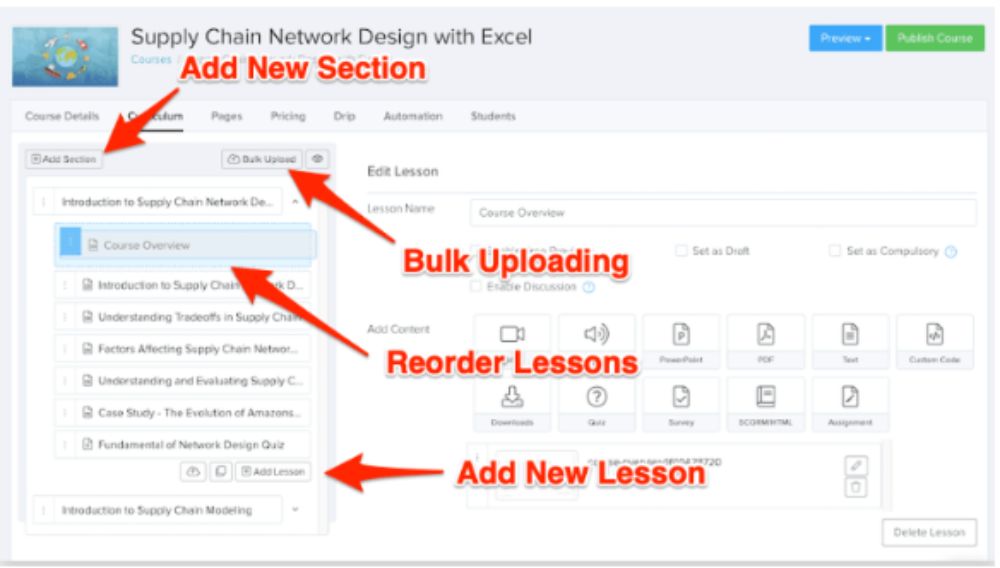 The course builder provides ample flexibility to incorporate various content types within each lesson.
A lesson can include various elements such as text, videos, quizzes, PDF downloads, etc., and can be arranged in any preferred order.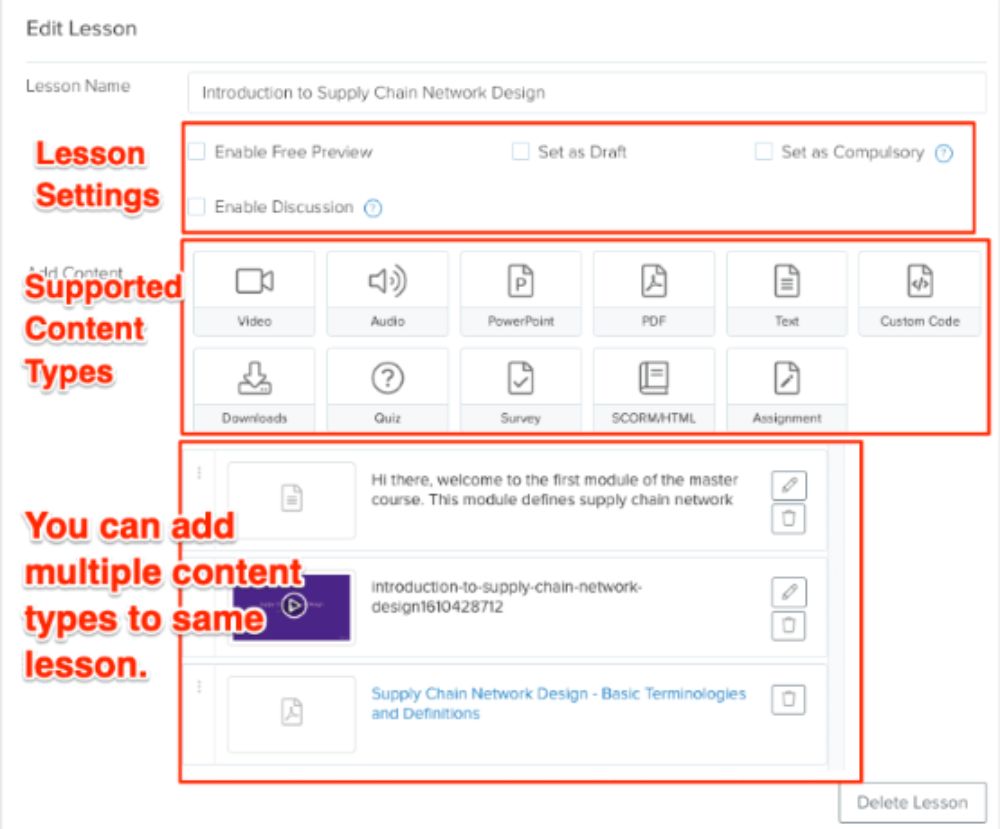 One of the benefits of New Zenler's course builder is the video library, which allows for easy access to previously uploaded videos. This feature eliminates the need for reuploading videos when using them in other lessons or courses.
One potential drawback of the New Zenler course builder is the absence of bulk actions for managing lessons.
To set multiple lessons as drafts or enable free preview for them, it is necessary to do it one by one, as doing it all at once is not possible.
New Zenler is effective for content uploading and curriculum building. The course builder strikes a good balance between ease of use and flexibility, and the course creation process is enjoyable.
Effective content delivery is an essential component of any online course, as it can lead to satisfied customers who can serve as valuable marketing tools.
The course player is designed in a professional and straightforward manner, but lacks customization options. It features a player on the left side that can be expanded to full screen at the student's discretion, while the course content and discussions are located on the right side.
The platform is user-friendly for students, allowing them to easily navigate and choose which lessons to view. They also have the option to skip certain lessons.
The mobile version of the classes is responsive, but it lacks some features of the desktop version and there is no accompanying app.
From a creator's standpoint, there are various tools available to enhance content delivery.
Content Dripping is a software that enables a scheduled release of course lessons over time. Students are alerted of each new upload.
In addition, there are mandatory courses that students must complete in order to proceed with the rest of the curriculum.
New Zenler acknowledges the significance of learning and engagement tools in establishing a prosperous online education enterprise, hence providing commendable features in this regard.
We will now begin the process of individually examining each tool, beginning with the quizzing and certificate tools.
This section includes quizzes and certificates.
New Zenler provides the feature to create quizzes with.
There is a test format that includes questions with several possible answers.
No changes needed.
The statement above is asking true or false questions.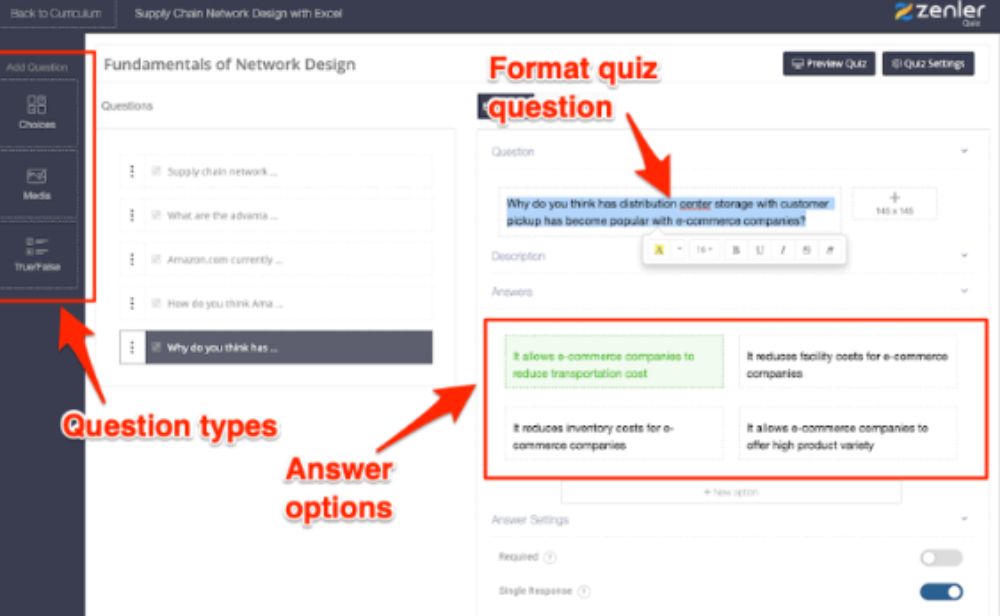 In addition, it has the capability to accommodate both single and multiple answer inquiries.
Additionally, there is the option to include visual aids such as images and videos in both questions and answers, and apply formatting to them.
It is possible to enable automatic assessment of students' answers in quizzes, as well as requiring them to pass the quiz to advance in the course.
In addition, the platform offers useful functions like the ability to randomize questions and set a time limit for quizzes.
In addition, there are several quiz options available to enhance the user's experience.
The capacity to display outcomes following each inquiry.
A progress bar is being shown.
Please activate the navigation buttons.
To activate touch and slide functionality on your mobile device, follow these steps.
Please remember to review your answers at the end.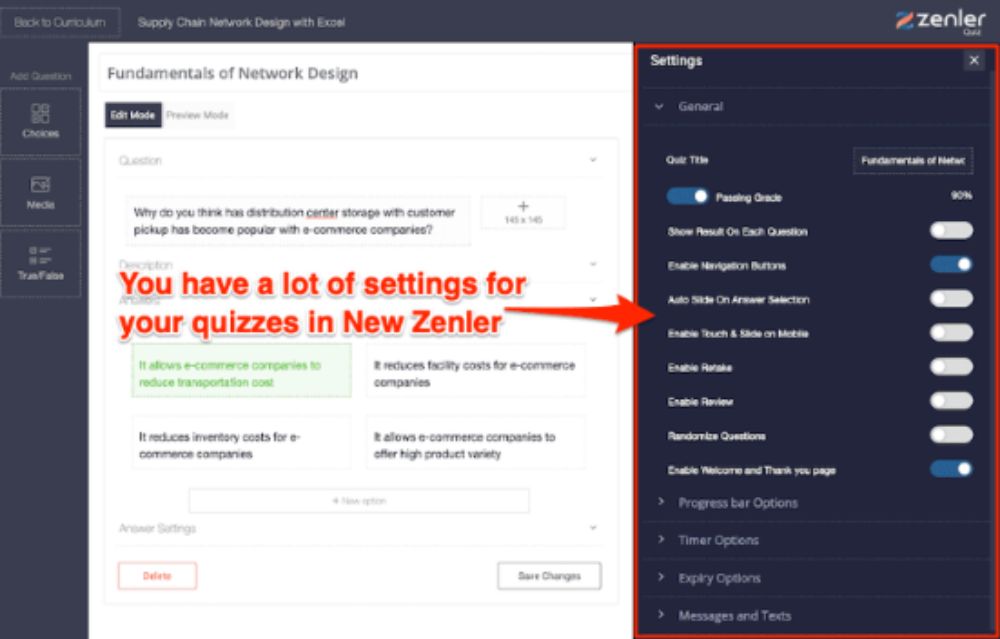 The platform offers a feature called Assignments which allows for compulsory homework submission by students through either text-based input or file uploads.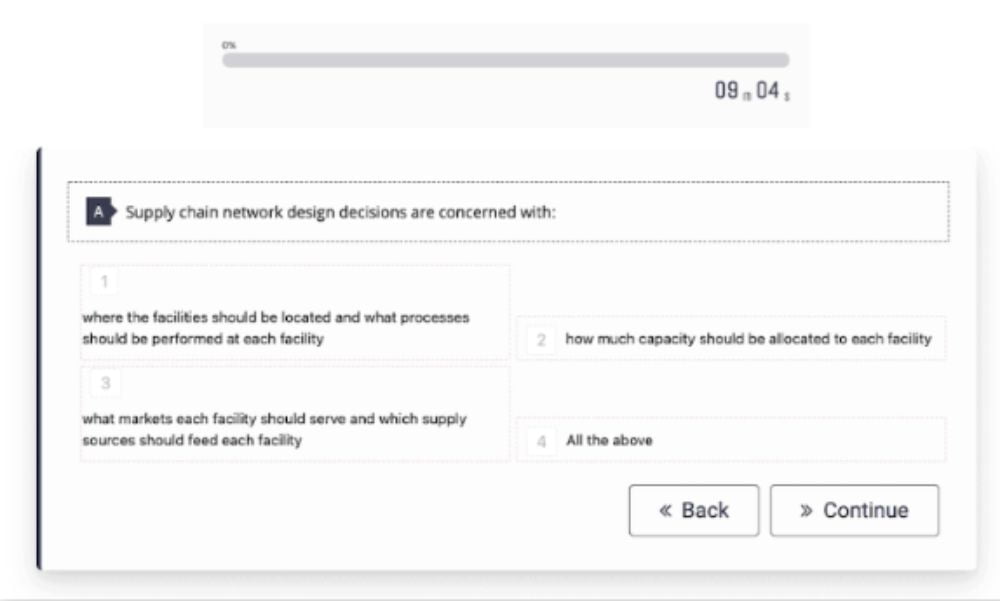 Assignments can be added to any course lesson, visible to the user in the course player. Notifications are sent to evaluate submitted responses.
In addition, communication between the instructor and student can take place privately through the comments section located at the bottom of the assignment lesson.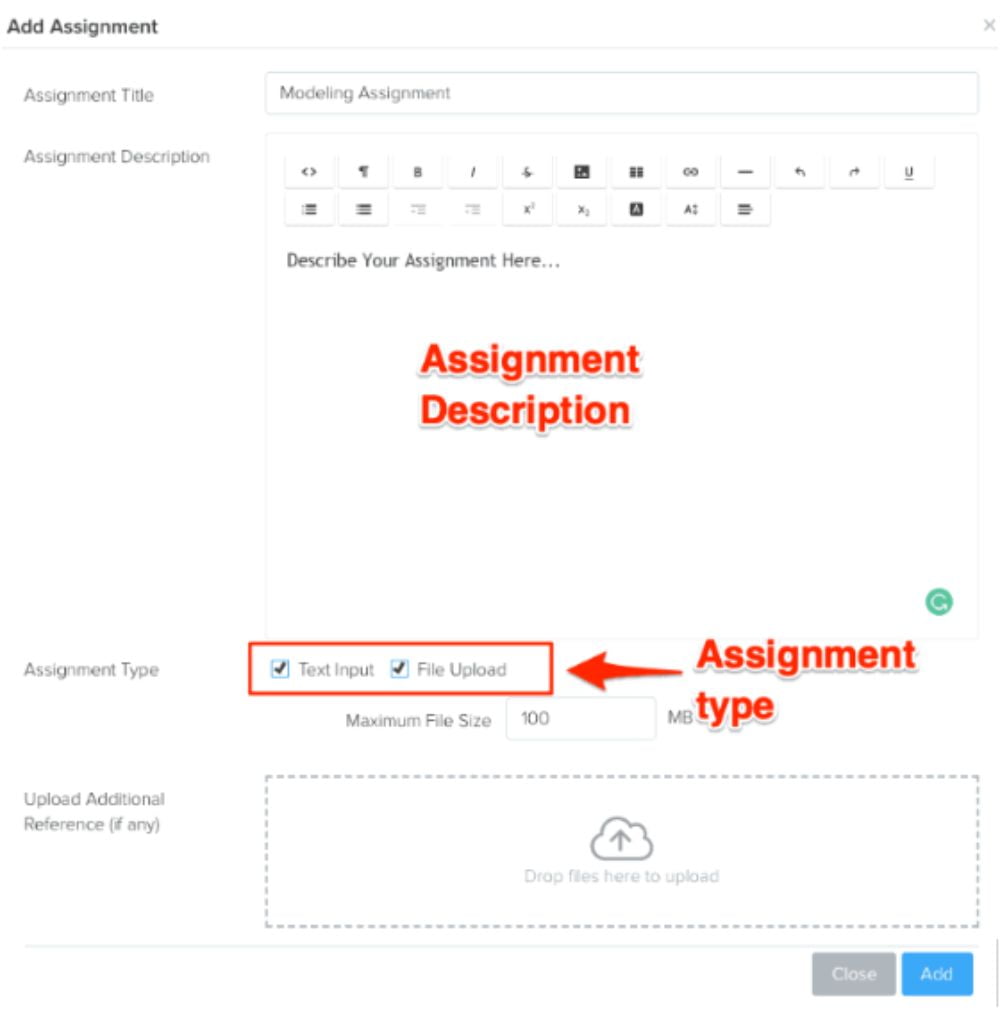 The New Zenler platform offers a native feature for creating and sending certificates, which is not always included in other modern course platforms.
There are six pre-designed templates available to create a certificate. These templates include fields for the student's name, course name, date of completion, and other information. Another option is to import a certificate template and customize it as needed.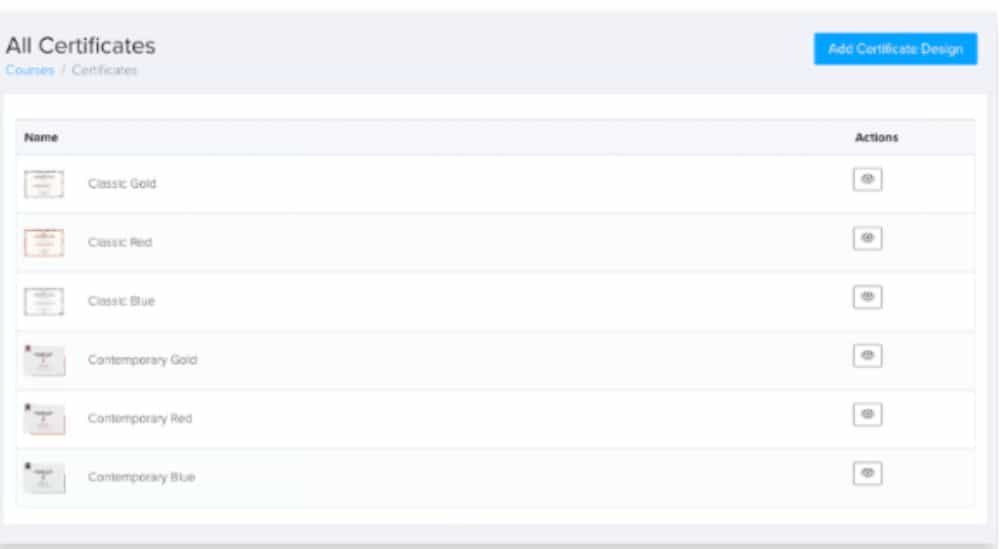 Enabling the certificate for a course on New Zenler is a simple process. After setting up your template, the platform will handle the rest.
An additional tool available on New Zenler is Surveys, which simplifies the process of gathering feedback from students.
Content Dripping and Locking
New Zenler provides a Content Dripping feature that enables you to create a schedule for releasing course sections instead of making all of it available at once when a user enrolls.
Content can be released either immediately after enrollment or on a specified date.
In addition, automatic notification emails can be sent to students when new course content is available, which can actively engage and encourage their participation.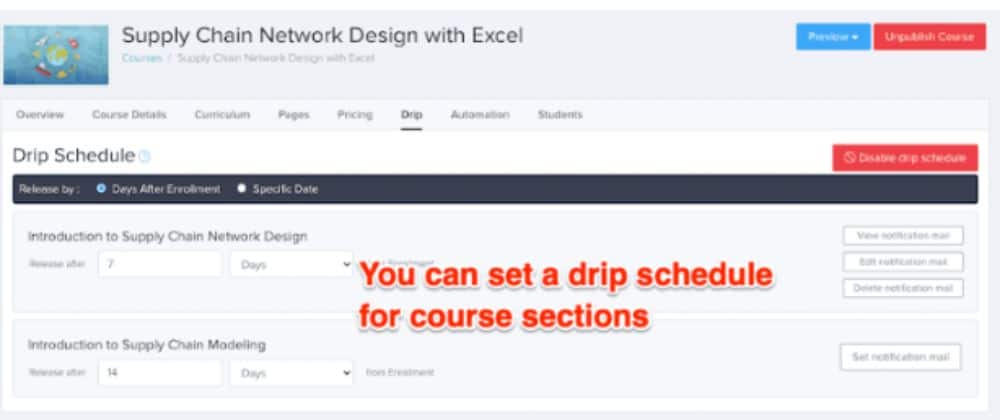 One of the course delivery features available is Compulsory Lessons, which allows for marking specific lessons or quizzes as mandatory. Participants must complete these before being allowed to progress through the course.
This feature can be beneficial for ensuring that students complete course content without skipping lessons.
The Compulsory Lessons feature can be useful for those offering corporate training or selling courses with credits to ensure compliance.
Establishing a community is important for any online business, particularly an educational one. This allows students to communicate with course creators, engage in discussions, and enhance their learning through interactive methods.
New Zenler offers the feature of building an online community with course members through the Community feature.
Creating a community on New Zenler is a straightforward process. It allows for the creation of multiple levels and groups based on student memberships and courses.
The course player and communities are integrated with course discussions, allowing students to comment on a specific lesson without leaving the page, and the comment will appear in the discussion tab in the community section.
The tool has basic contact and notification features, but additional advanced features are necessary to facilitate a truly interactive community.
The platform now includes the feature of live classes and webinars.
The process involves filling out a form with necessary details such as session title, description, start time, maximum duration, maximum attendance, and host's name.
To ensure proper audio and video setup, it is recommended to arrive 15 minutes before the session begins and check everything before entering.
It is important to verify that all participant permissions are properly set up, including the ability for audience members to chat, share their screen, rename themselves, and unmute themselves.
The annual cost of the premium plan is $1167 and it offers the ability to sponsor up to 500 people simultaneously.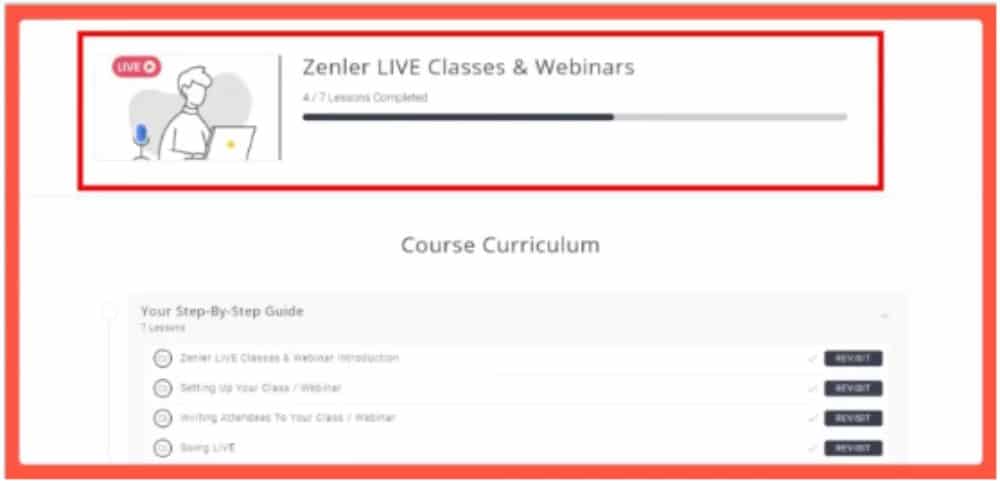 The classes and webinars are generally similar, with the difference being in…
When setting up a class, the options for registration include on-site registration or pre-registered individuals.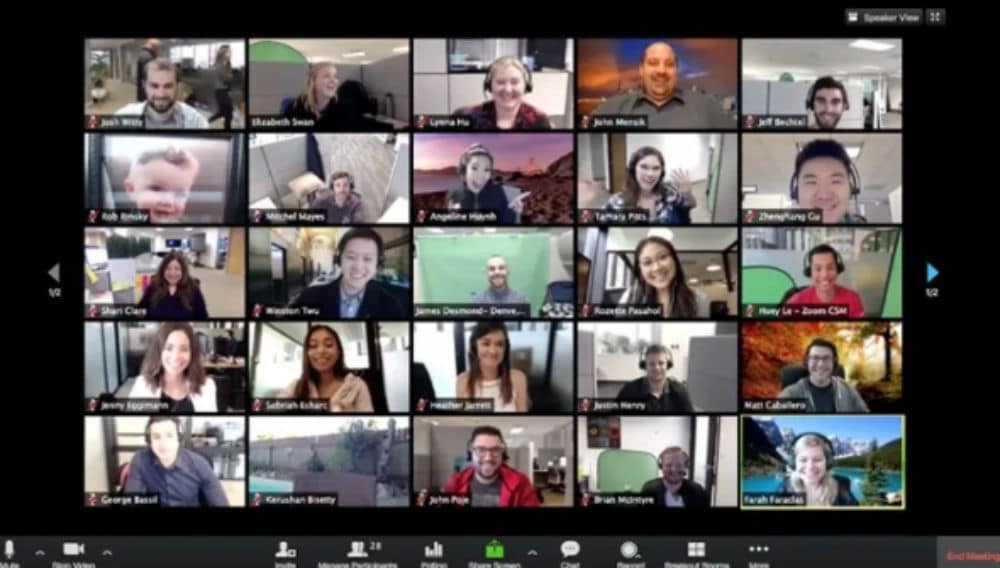 Live lessons can be beneficial for current students and may assist in promoting a new course. You have the option to grant access to students in a specific course or bundle.
A webinar is accessible to the general public through a shared link that can be distributed on various platforms, such as social media, with information about the time frame of availability.
Another option is to send an email to prospective clients who have previously shown interest, and provide them with the opportunity to participate in a demonstration lesson.
Site Design and Customization
The following section will detail the features of New Zenler relevant for building a course website and sales pages.
New Zenler offers a free subdomain (mysit.newzenler.com) for every site created, as well as the option to use a custom domain.
Included in the subscription is complimentary hosting and an SSL certificate at no additional cost.
Additionally, the team is responsible for platform maintenance and updates, simplifying the process for users.
It should be noted that New Zenler offers the option of a fully white-labeled website.
The website allows for easy language switching and customization of default text on various pages including the course player, checkout page, and system emails.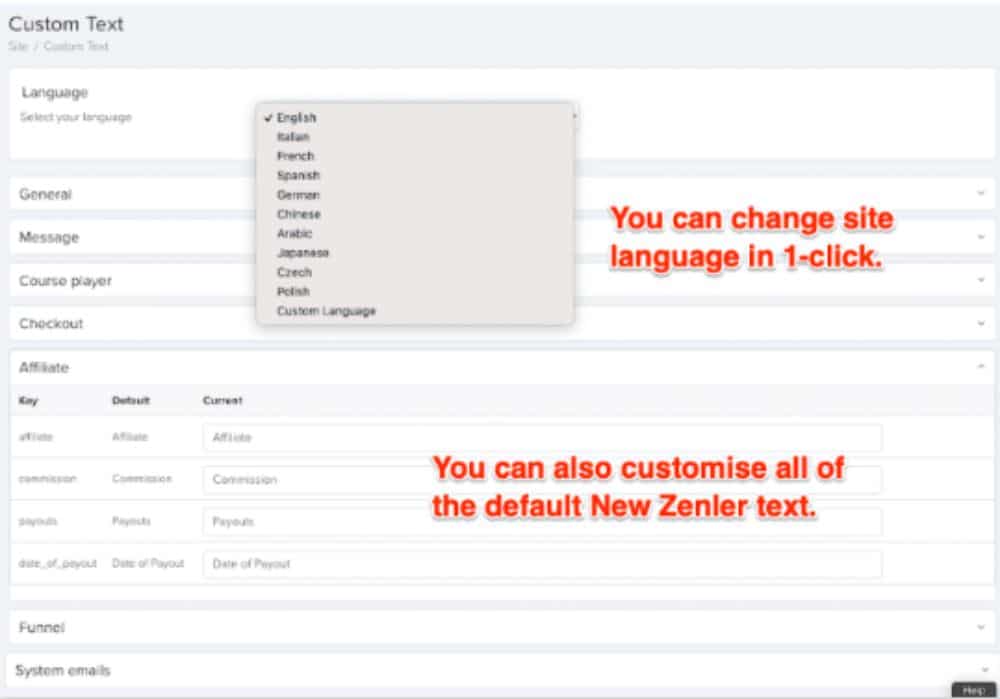 New Zenler lacks diverse themes and only offers one default template for the creation of your site, requiring significant effort on your part.
The website provides a branding section that enables users to upload their logo, choose a font, and customize the colors of different elements such as buttons and text.
Color preferences for the course player and community area can be set here.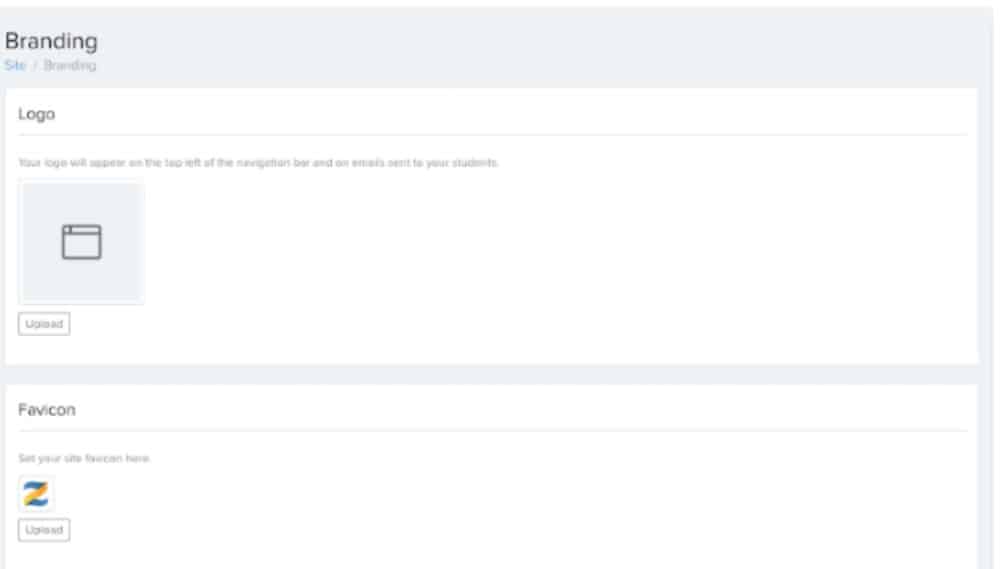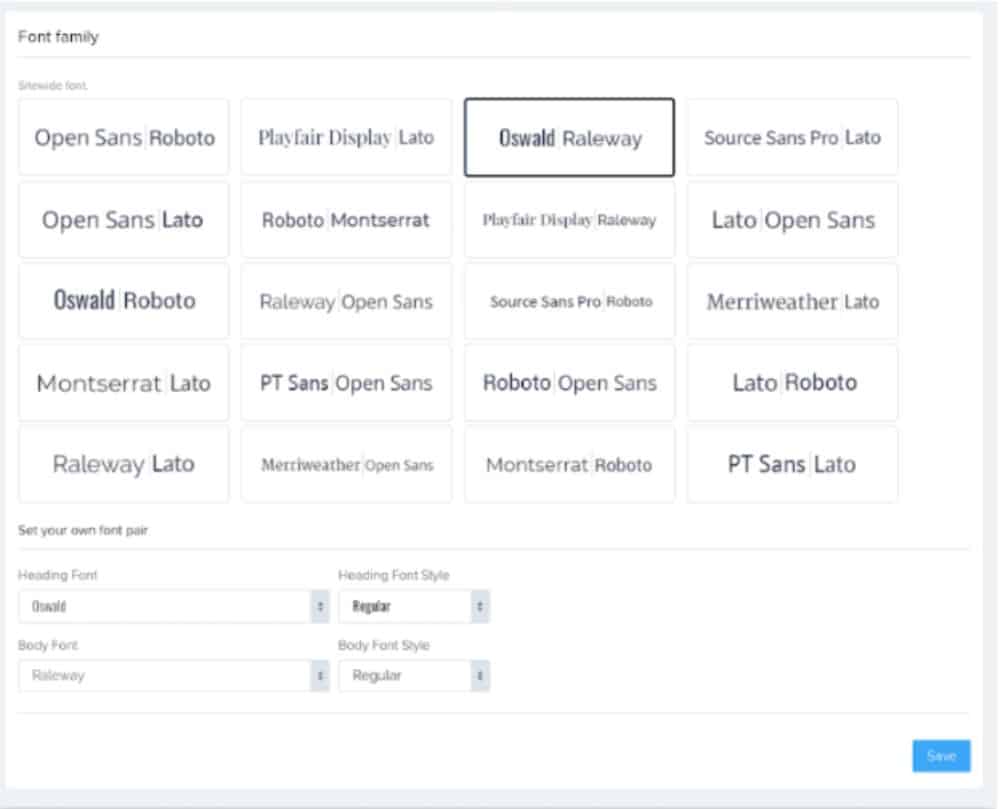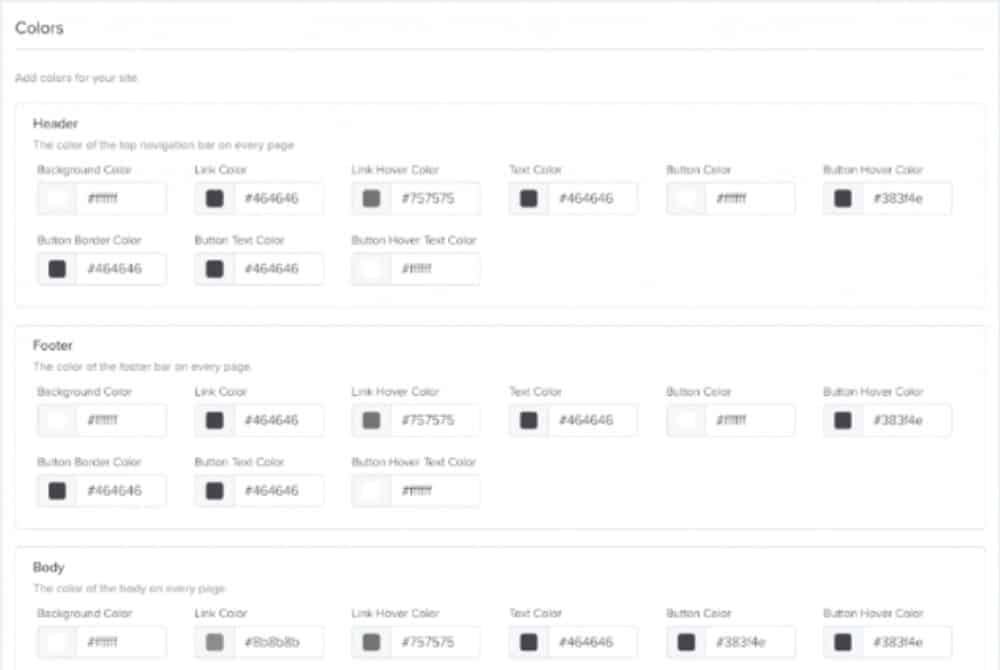 Making decisions about page layout, page width, and style of various elements is not possible at the site level, which may present difficulties for websites with numerous pages.
The visual page builder of New Zenler is effective in compensating for the site themes. It features an intuitive user interface and is easy to navigate.
The platform automatically generates pages such as the homepage and course pages (sales page, checkout page, thank you page), which can be customized. Additionally, users have the option to create a new page from the beginning.
To begin creating a new webpage, Blocks can be added as sections. New Zenler offers a variety of prebuilt Blocks such as page headers, course listings, galleries, FAQs, testimonials, and more.
In addition, a multitude of pre-designed templates are available for these Blocks, streamlining the page building process and reducing the need for starting from scratch.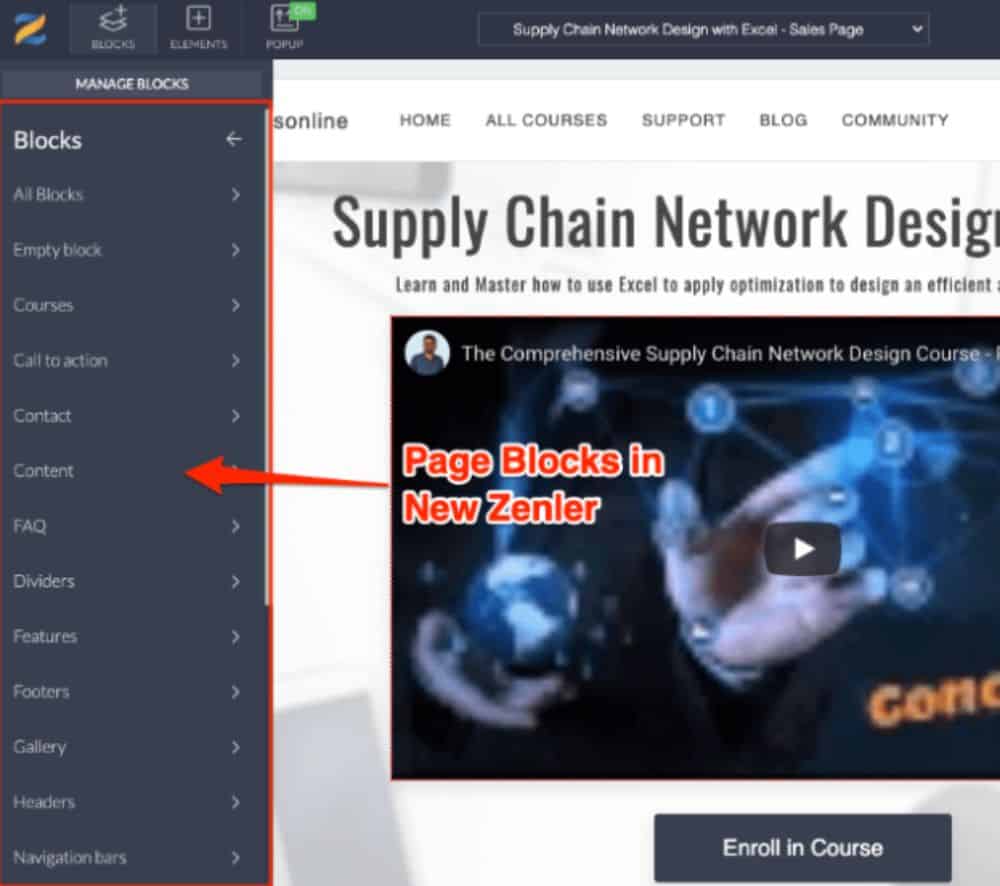 New Zenler provides users with the capability to add pop-ups to their pages. It also offers prebuilt popup templates that can be customized as extensively as other Blocks.
It is possible to easily create a lead-capture popup that appears when someone attempts to leave your website.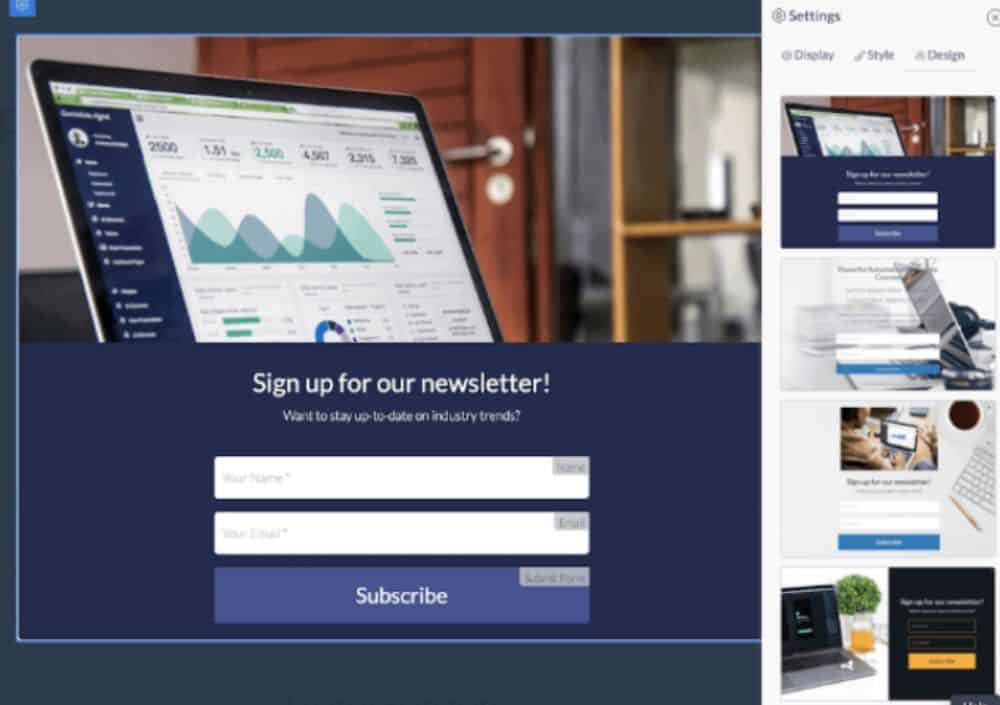 In web design, Blocks consist of various Elements, with Rows being a crucial component for creating adaptable layouts within page sections.
There are various formatting options available, such as adding rows to page sections, choosing between single or multi-column layouts, and adjusting column widths.
Various elements such as text, headings, forms, buttons, images, videos, countdown timers, etc., can be added to these rows as desired.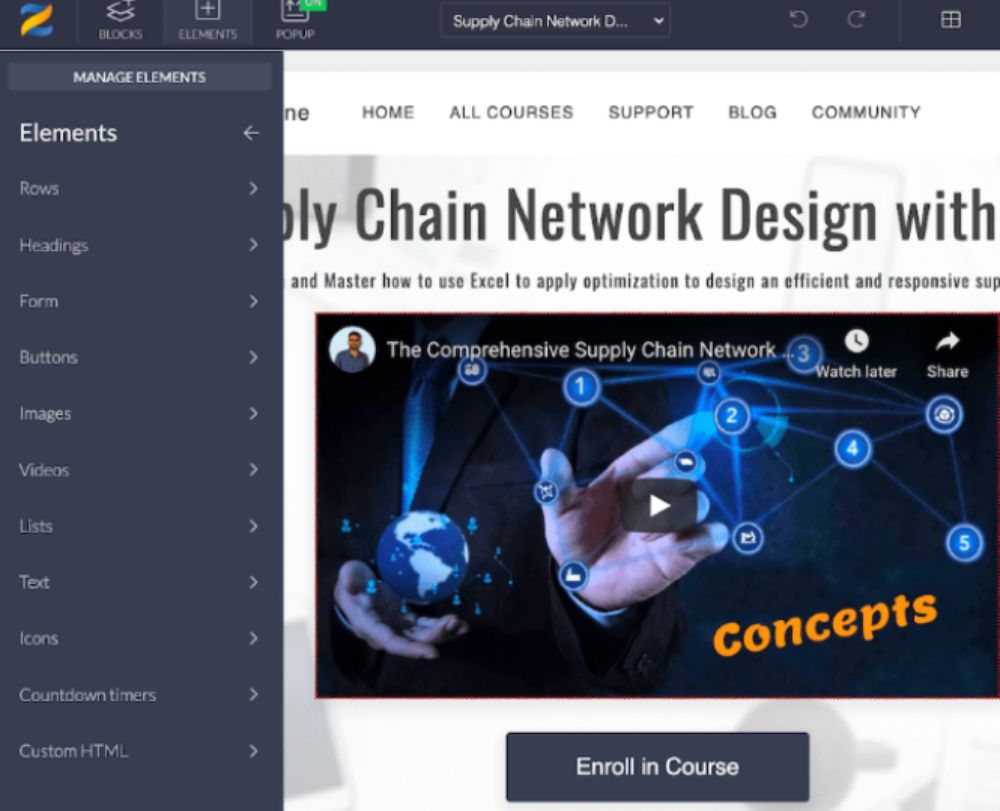 Modifying and updating Blocks and Elements on your page can be easily accomplished.
To edit an element, simply click on it and its editing options such as spacing, alignment, color, and width will be highlighted. Additionally, animations, delays, and intervals can be added to page elements.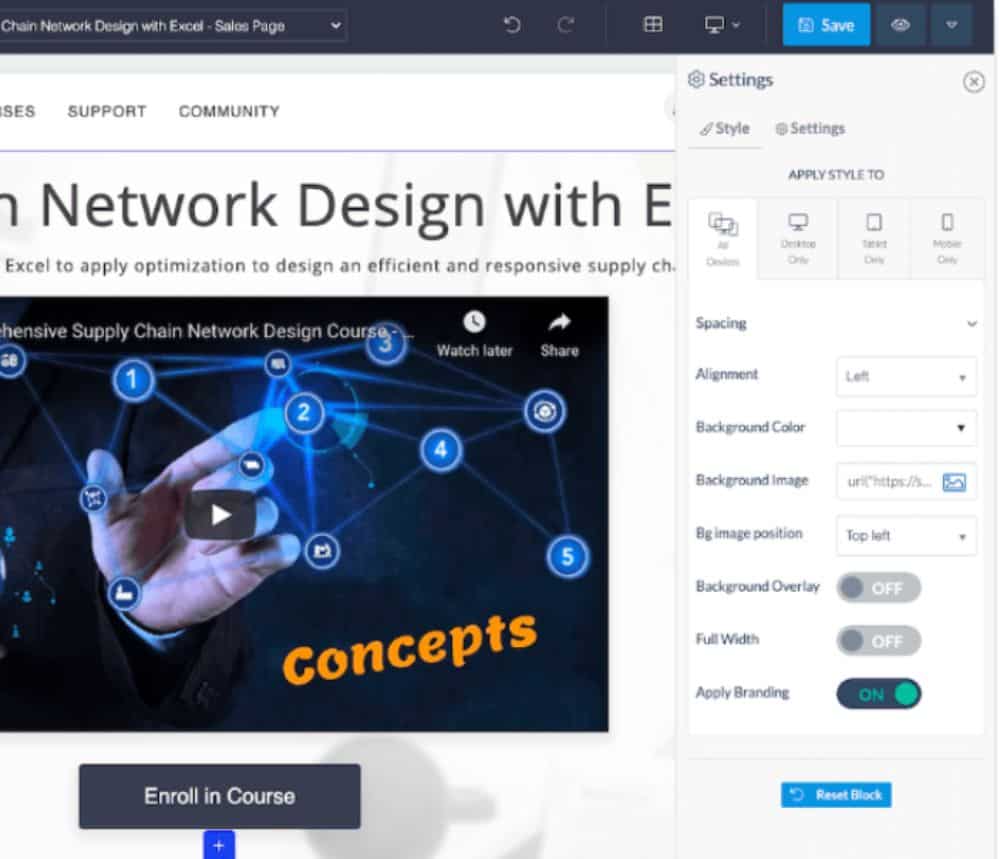 One option is to save a page block as a template and utilize it on other pages.
The New Zenler pages have been updated to be fully mobile responsive, and users can customize settings for different devices as needed.
One of the features of this tool is the ability to selectively hide page elements from specific devices. For instance, a section that's meant for desktop displays can be hidden from mobile and tablet views.
New Zenler offers a version history for your pages, allowing for easy reversion to previous versions if desired.
The page builder is versatile and can be used on various types of pages such as course library, login, and checkout pages.
New Zenler's page builder provides extensive capabilities for designing and building website pages without sacrificing ease of use.
In addition to website building capabilities, users can also utilize a blog feature. This feature allows for the creation of a blog page, posting of blog entries, categorization, and basic SEO settings.
The process of adding content to blog posts is user-friendly and includes a text editor for text and media, as well as basic formatting options. Visibility options are available for each post, including everyone, logged-in users only, and users enrolled in specific courses.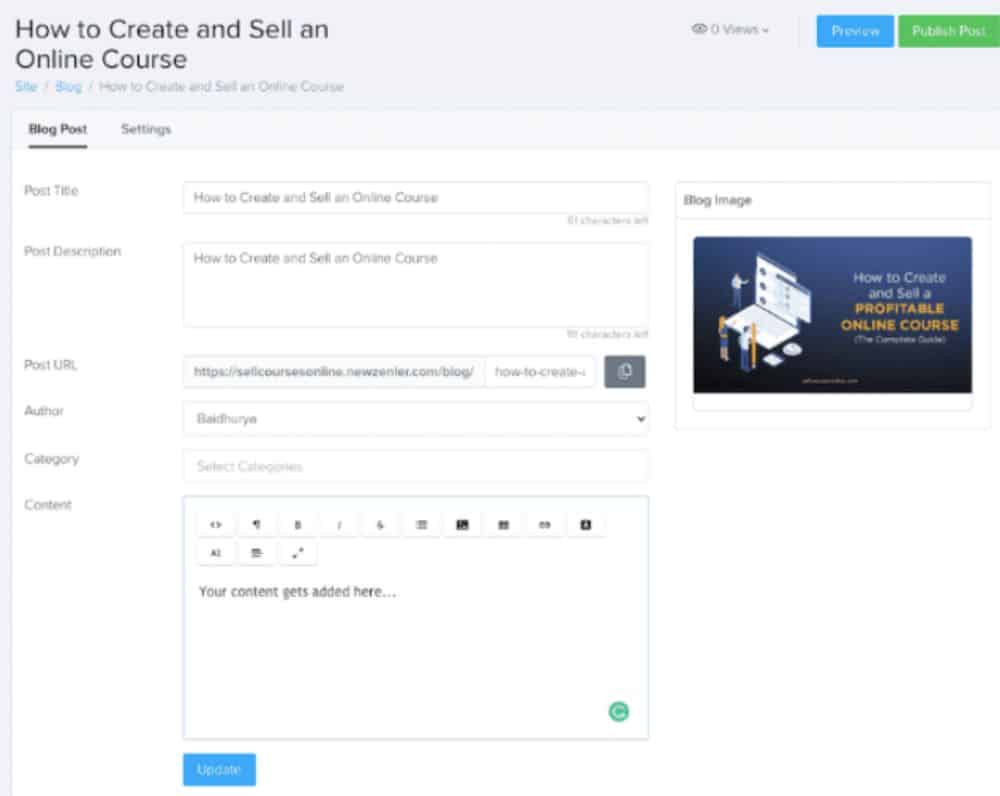 Although New Zenler's blogging tool may not offer the same level of functionality or design options as WordPress, it does provide all the necessary features to create a fully functional blog within the platform.
New Zenler is an online course platform that offers a comprehensive sales and marketing suite, which we will examine in this section.
New Zenler stands out from other online course platforms because it offers a wider range of tools beyond just processing payments and selling courses.
A crucial factor for selling your course is having an online platform that allows you to set flexible pricing for your products.
New Zenler offers the ability to sell individual courses and bundle multiple courses. It also allows for various pricing options, including free products, one-time fees, recurring subscriptions, and payment plans.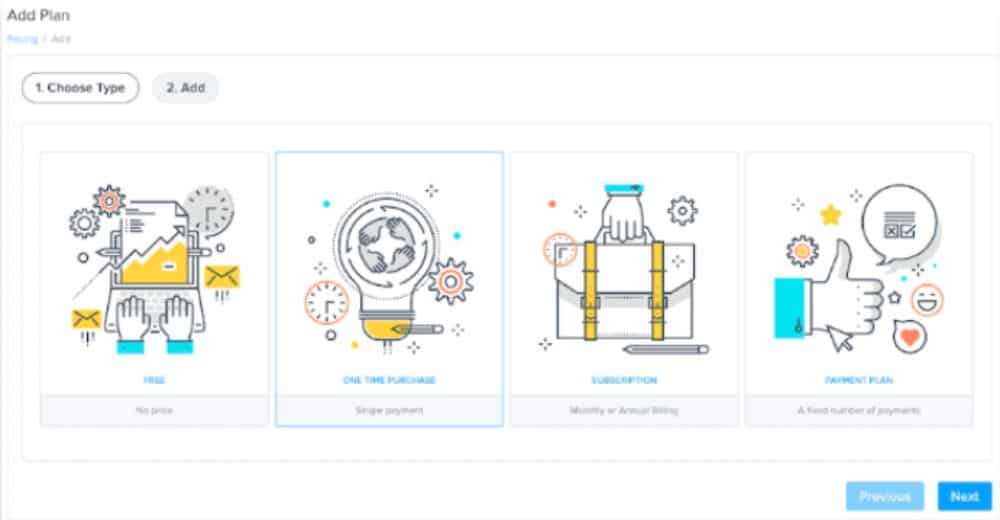 Multiple pricing plans are available for products, including courses and bundles. Customers can choose what is included in each plan, making it useful for creating various course or membership tiers.
When selling a course or bundle, it is possible to choose which sections/lessons or courses will be accessible to the student according to the plan selected.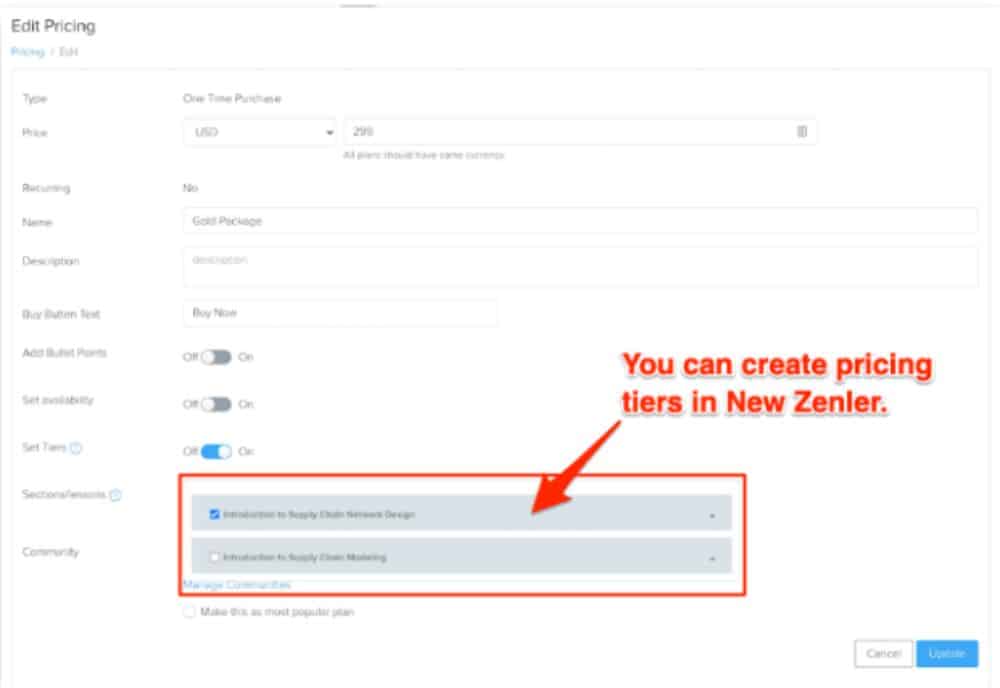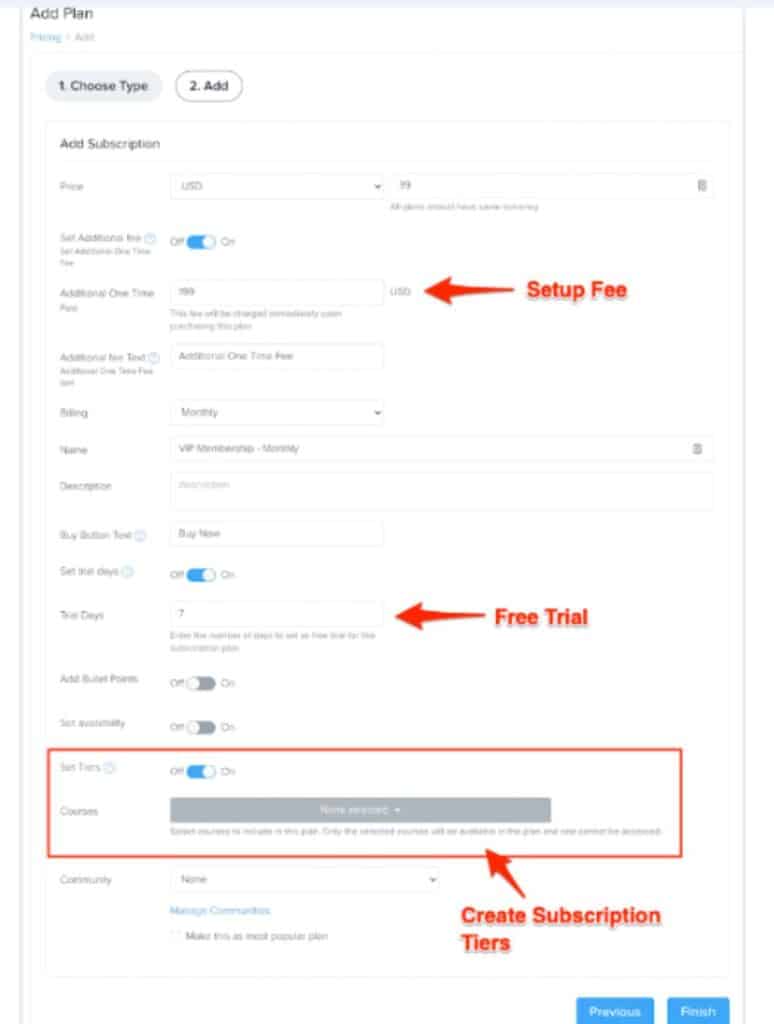 Additionally, New Zenler offers various useful features to enhance flexibility.
Enrollment start and close dates can be set for products to restrict student enrollment to specific periods.
One feature is the option to establish course validity for a pricing plan, as well as the ability to restrict the number of course enrollments.
New Zenler's coupon feature allows for the offering of discounts, including both percentage and fixed discounts. Additionally, coupons can be applied to all products or specific ones.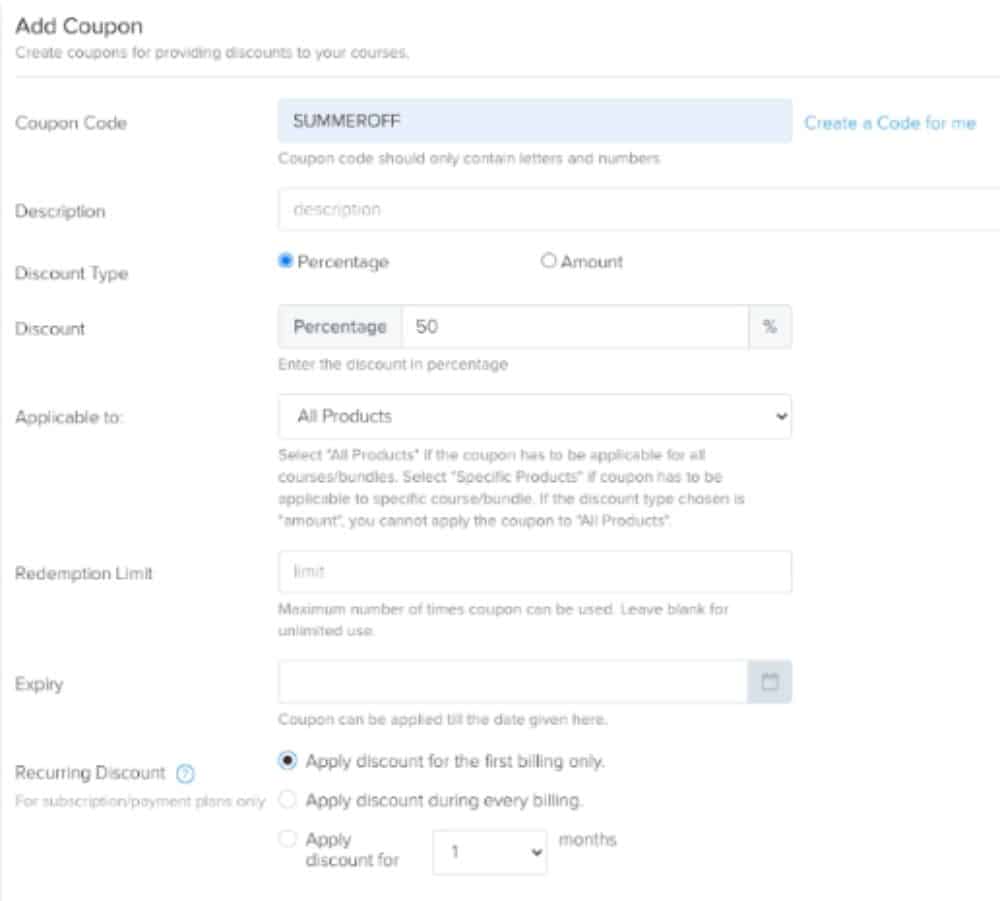 The platform offers the option to set limits on coupon redemption and expiration dates, providing easier management of coupons.
Having multiple payment methods benefits end-users by providing them with the flexibility to choose their preferred payment option.
New Zenler offers support for three major payment processors: Stripe, PayPal, and Razorpay. These processors are available for both one-time and recurring payments.
The platform generates a checkout page automatically for all products created.
The checkout process follows a well-optimized and efficient approach to conversion. It involves a step-by-step procedure where users are only required to create an account after completing their payment.
The checkout page template is structured with essential elements including product details, pricing, contact info, payment forms, and more.
The checkout page can be further customized using the page builder, allowing for the addition of various elements such as videos and countdown timers.
Additionally, the checkout page contains conversion elements such as testimonials, a money-back guarantee badge, secure payment icons, and more.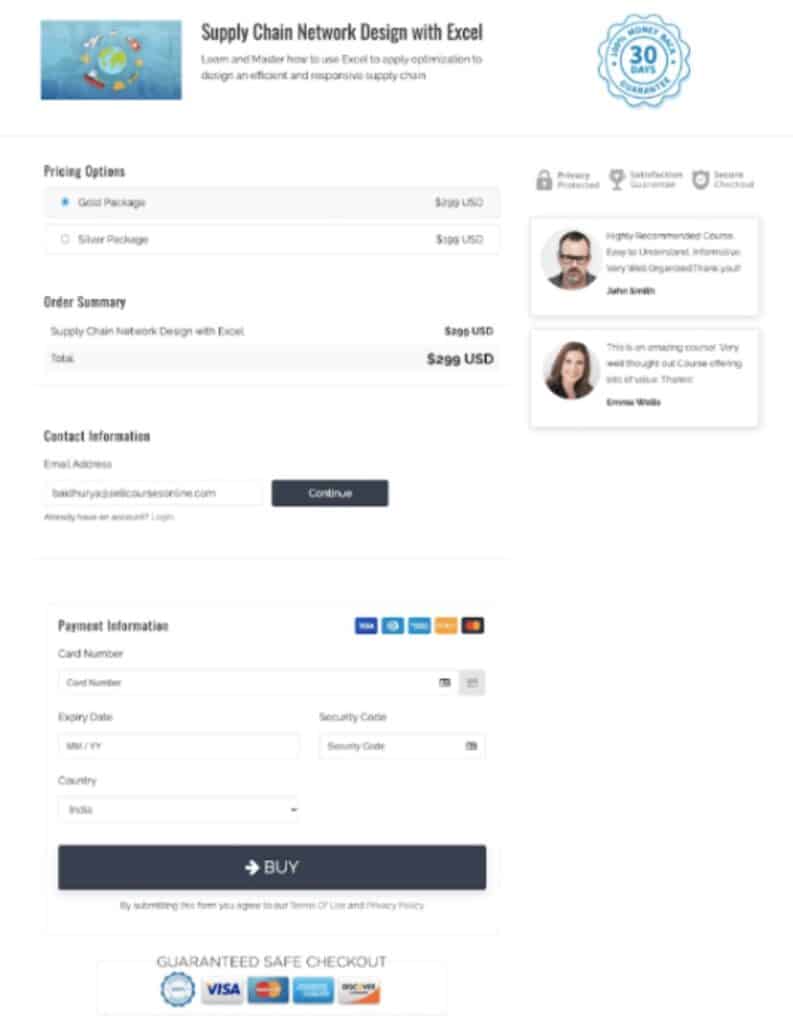 Incorporating order bumps and 1-click upsells into your checkout process can potentially increase the lifetime value of your customers.
New Zenler offers a feature that allows for the handling of EU VAT. This includes collecting, reporting, and paying the tax on behalf of the user.
New Zenler provides a crucial feature of creating marketing funnels, which allows creators with limited marketing experience and technical knowledge to easily establish marketing workflows.
When compared to other course platforms, it is noted that many do not offer a similar feature. Therefore, users must utilize a dedicated funnel builder for this purpose.
New Zenler offers the option to create a funnel, which requires selecting a type of funnel, with only two options available – Lead Magnet and Video Series.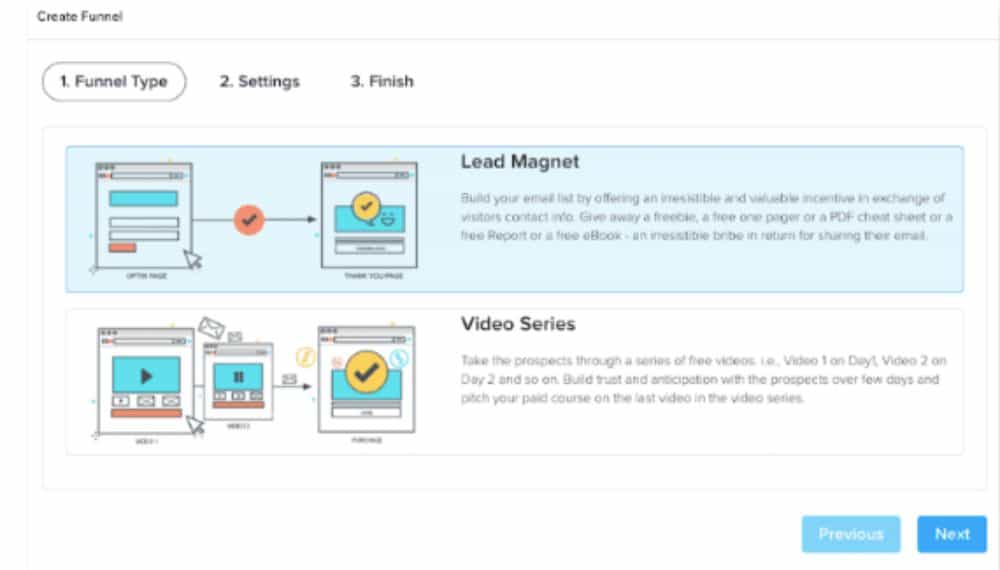 After choosing a funnel type, you will be prompted to provide basic information such as the desired lead magnet or desired videos for your video series.
After selecting the funnel type, a variety of themes are provided for you to choose from, which will impact the design of your funnel pages.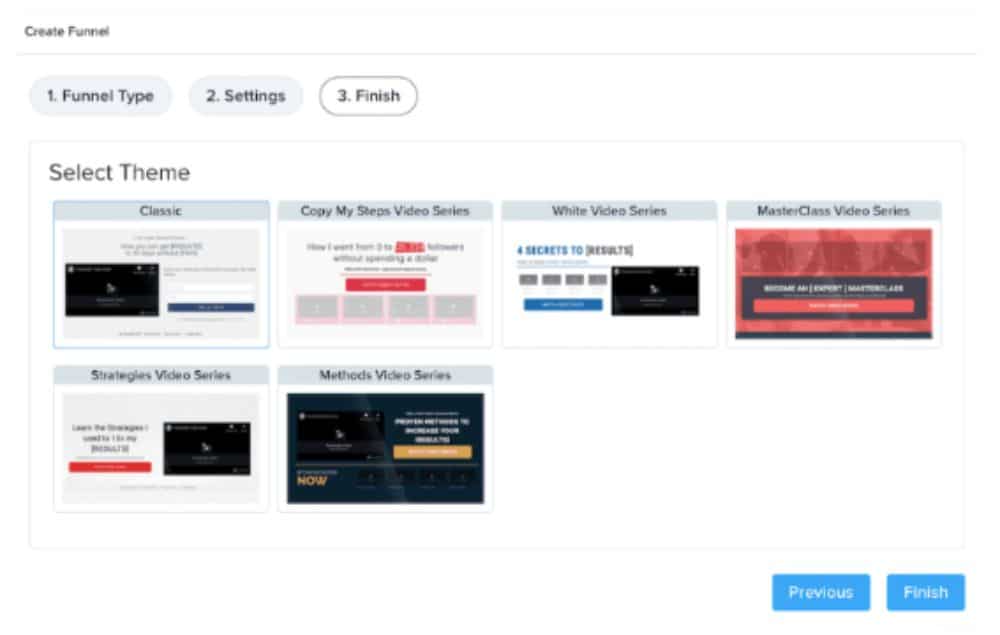 Upon completion of these steps, New Zenler will generate all pages within your funnel automatically.
If the Video Series Funnel option is chosen, the funnel builder will generate both the opt-in page and the individual video pages.
To make edits to any of the pages in the funnel, the same page builder discussed earlier in this New Zenler review can be used.
One can customize their funnel by adding new pages or rearranging their order. This process involves selecting pre-built templates for any new steps added to the funnel.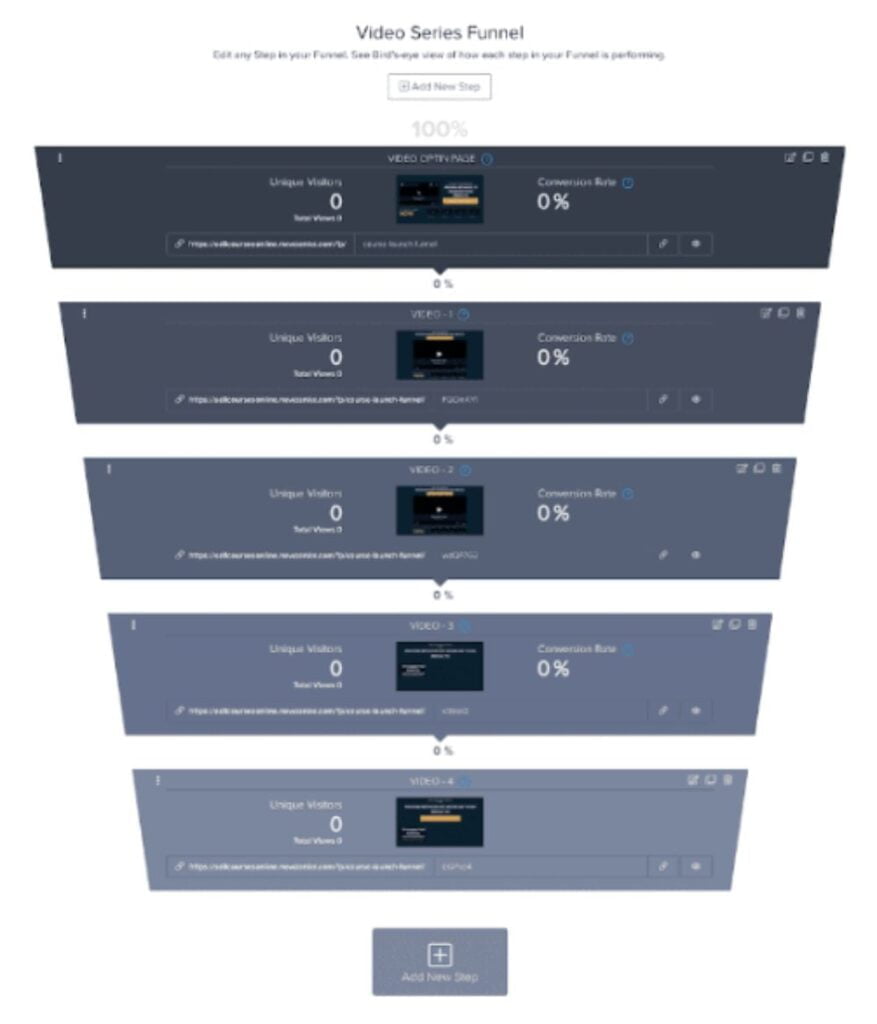 The funnel builder has a simple interface and a strong concept, but there are some current limitations that may affect its usefulness.
The platform only supports two types of funnels, which means creating a tripwire funnel is not possible.
New Zenler's marketing funnel system may be challenging to navigate, as it includes separate areas for managing webinar funnels, course funnels, and the marketing funnel builder.
When a course or webinar is created, the platform generates a funnel. Despite being located separately, it would be convenient to have them integrated into a single location for accessibility.
It would be beneficial for the platform to enable users to add various components such as email campaigns, sales pages, checkout pages, webinars, etc., directly within the funnel builder for end-to-end sales funnel creation.
To promote a course following a video series, the initial stage of the funnel should be categorized under Marketing Funnels, while the latter stage should be categorized under Courses.
New Zenler's marketing funnel builder is a practical tool for creating marketing campaigns within the platform.

Effective communication is essential for a successful marketing strategy.
New Zenler offers built-in email marketing capabilities for your convenience.
Pro plan users receive 100,000 emails each month. This resets at the beginning of each month and doesn't carry over. If you need to send more than 100,000 emails, you can use your SMTP provider. For most users, 100,000 emails is enough. If you run out of this quota every month, it's best to bring in your SMTP. However, bringing in your SMTP can be a bit technical. To learn how to do it, you can watch YouTube videos.
To locate the most optimal outcome, please enter this phrase into the search bar on YouTube.
The Email Broadcast tab directs users to the email broadcasts page, where they can schedule broadcasts to their mailing list. New Zenler offers filtering options using a range of AND/OR operators, allowing users to create custom filters.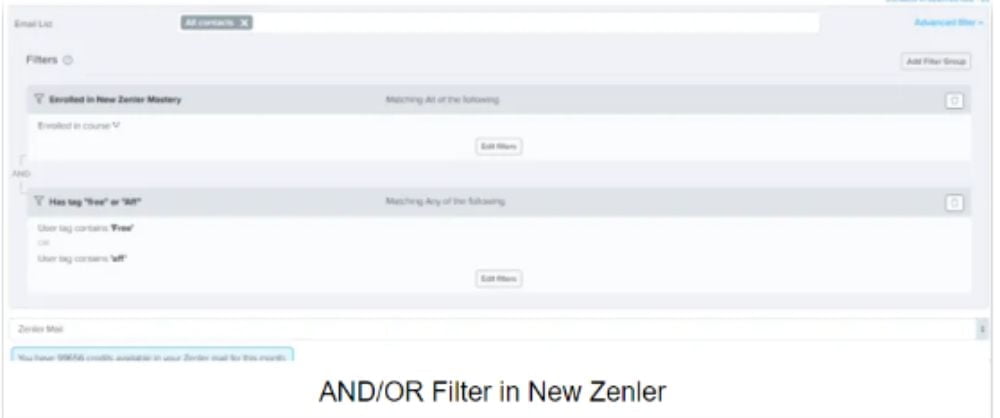 After choosing your desired recipients, the subsequent step is to generate the email's content.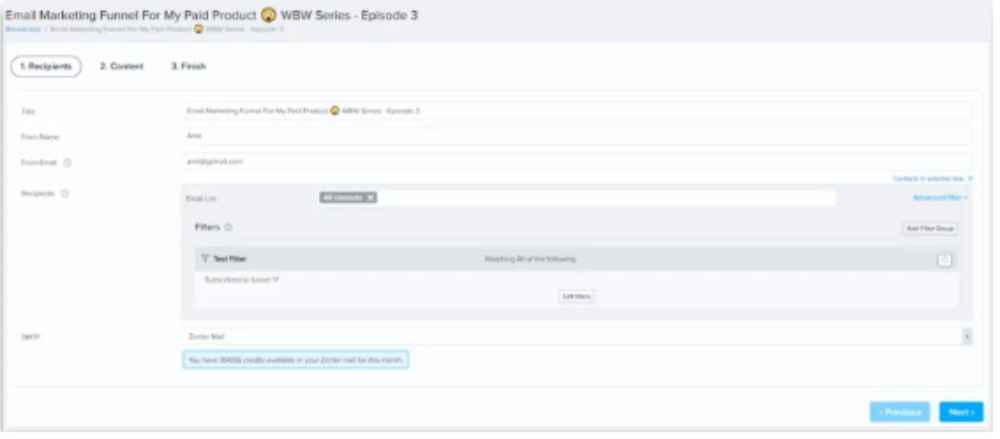 If you have experience with email marketing platforms, you may recognize this screen.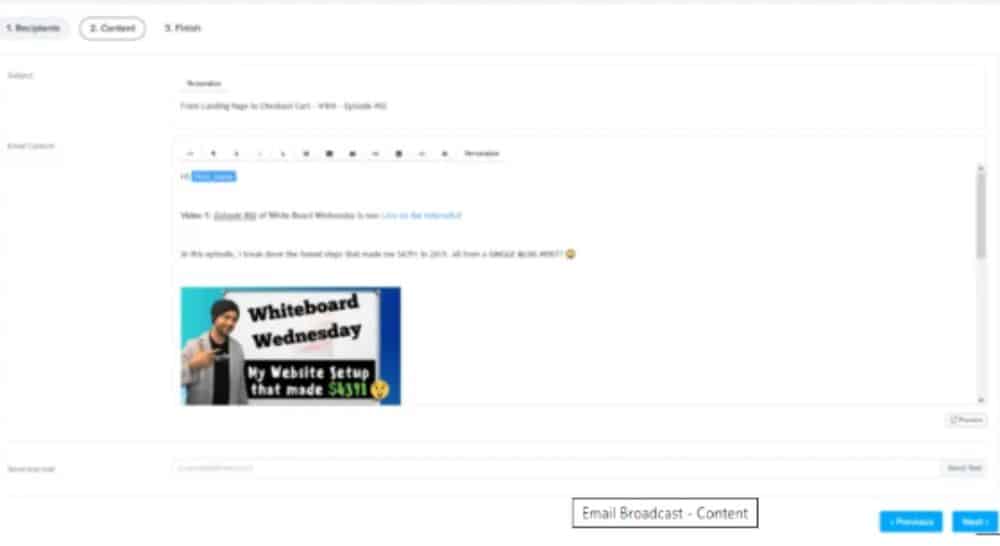 The last step involves either scheduling or sending the email only those recipients who were chosen in step 1.

You have successfully scheduled and sent your emails directly from New Zenler.
New Zenler offers a comprehensive set of tools and features for course creators to establish and run affiliate campaigns, making it an effective way to market your business and generate passive income.
The platform does not offer a public sign-up option for affiliates, requiring manual addition.
The affiliate program offers assistance in setting up affiliates, including their commissions, cookie duration, and promoted courses. Affiliates can track their progress, sales, commissions, and payout details through a private dashboard.
One limitation of New Zenler is the inability to set up distinct commissions for various products. Additionally, affiliate links are exclusive to New Zenler and cannot be utilized as a third-party tool to enhance external websites.
Reporting and Administration
Monitoring performance, managing courses and students, and overseeing campaigns are crucial for the growth of your online course business.
The following topics will be discussed in this section.
As previously stated, tracking user engagement with interactions in high-interactivity SCORM courses created with powerful authoring tools is not possible. However, it is worth noting the importance of their extensive integrations for both user and sales analytics purposes.
New Zenler offers integration with Google Analytics for tracking user interaction on your site, including bounce rates and surf time. Additionally, Zenler Mail and other email providers like Mandrill, MailChimp, ConvertKit, and ActiveCampaign provide email tracking options to gain insight into your site's performance, strengths, and weaknesses.
Integrations can be beneficial when utilizing New Zenler's Affiliate Marketing feature. This feature provides flexibility when paying out commissions and allows for the tracking of sales from affiliates to improve performance.
New Zenler includes a reporting and analytics feature that is categorized into Sales, Affiliates, Course Progress, and Quiz & Survey.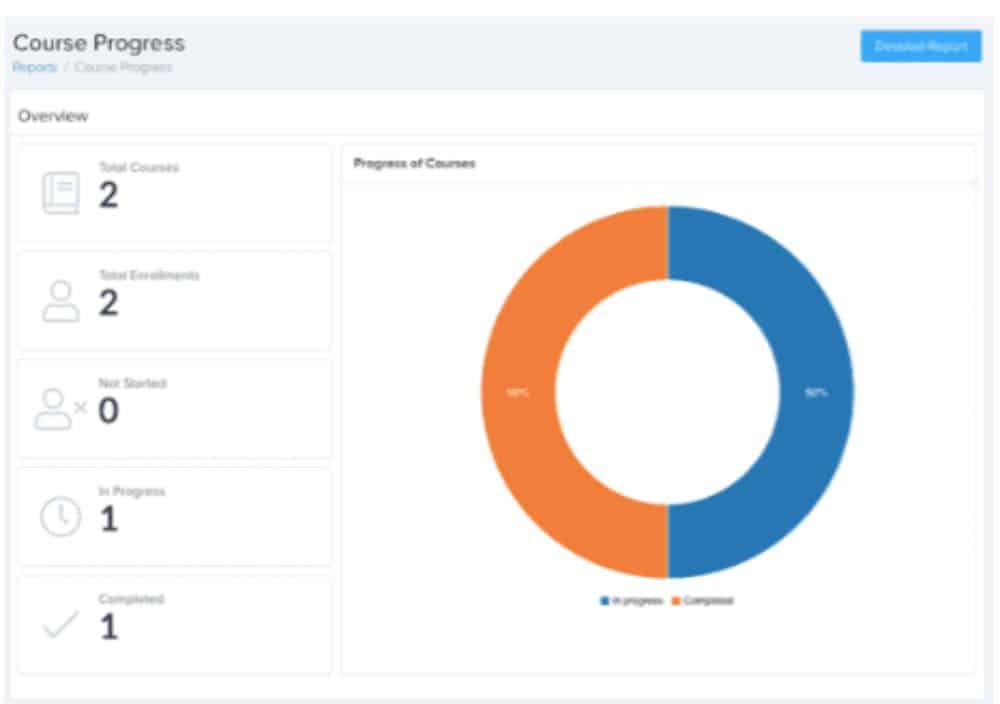 New Zenler provides efficient tools for managing student enrollment and site management in regards to people management.
Users can be added individually or in large groups to your site, and their appropriate roles can then be assigned.
To effectively handle your current audience, you have the option to segment them using a range of filters. These may include filtering students based on their course enrollment, course completion, user tags, custom field values, coupons used, and more.
Additionally, it is possible to monitor the complete lifecycle of an individual user within your educational institution.
This page displays a variety of information about the user, including their enrolled courses, course progress, purchase history, community memberships, lesson discussions, and subscribed funnels.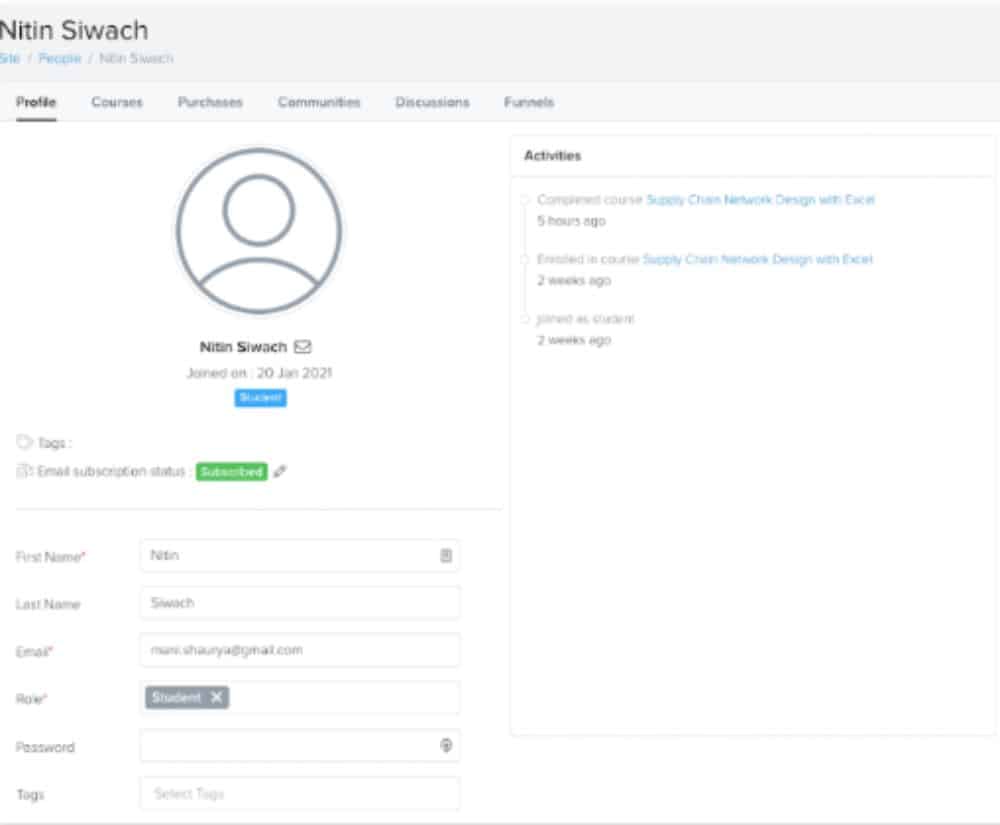 In addition, various actions can be taken with regards to their course access such as adding them to a course, managing their subscription, issuing refunds, and unsubscribing them from a funnel.
New Zenler provides a feature for site administration which enables addition of team members to the site. The supported roles are listed below:
Owners have full access and cannot be removed.
Administrators have access to all sections except for billing, integrations, and API key.
Instructors have the ability to view their assigned courses, the students enrolled in them, and course reports.
Assistants and Site Admins have similar roles, but Assistants do not have access to financial reports.
The support team has the ability to access and manage users in the People section.
New Zenler supports three other roles, which are leads, students, and affiliates, in addition to these admin roles.
The platform allows for a high level of flexibility in team management, and the instructor role can be advantageous for creating online schools with multiple instructors.
New Zenler offers integration with other tools to enhance its functionality.
It is possible to include third-party scripts on a website.
New Zenler provides seamless integration with popular analytics tools such as Google Analytics and FB Pixel, as well as lead generation and tracking tools like ConvertBox, Sumo, and Deadline Funnel.
To send and track emails, one can utilize Zenler Mail as their SMTP provider or opt for a custom SMTP solution such as Sendgrid and Mandrill.
New Zenler offers integrations with several third-party email service providers, including MailChimp, ConvertKit, MailerLite, ActiveCampaign, and Moosend.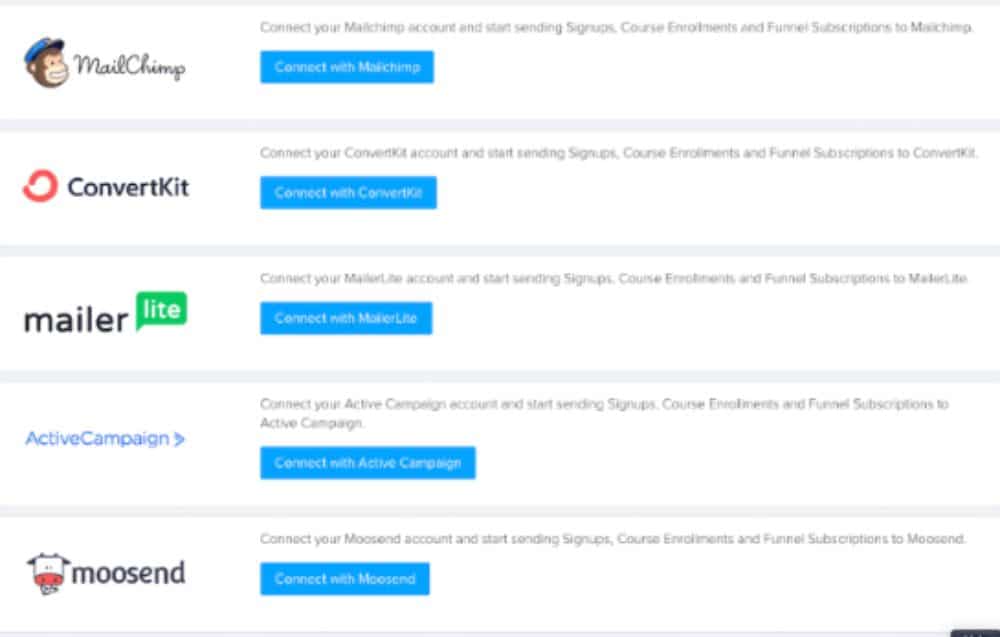 New Zenler can be integrated with Zapier, providing the ability to integrate with numerous other tools including ClickFunnels, ThriveCart, Aweber, Hubspot, Slack, and others that may not have a direct integration with the platform.
New Zenler offers a public API that enables integration with external websites, apps, SSO, or services on your site.
Integrating your course platform with a specialized community software like Circle is possible through Zenler API.
New Zenler offers a dedicated customer service team to assist with any issues or challenges encountered.
To contact customer support, send a message through the chat widget. Please note that this is not a live chat service and you may not receive an immediate reply.
The team is known for their prompt email responses, typically within one business day on weekdays.
Furthermore, New Zenler offers a self-help section that includes instructional articles and videos on creating courses, building websites, and managing marketing.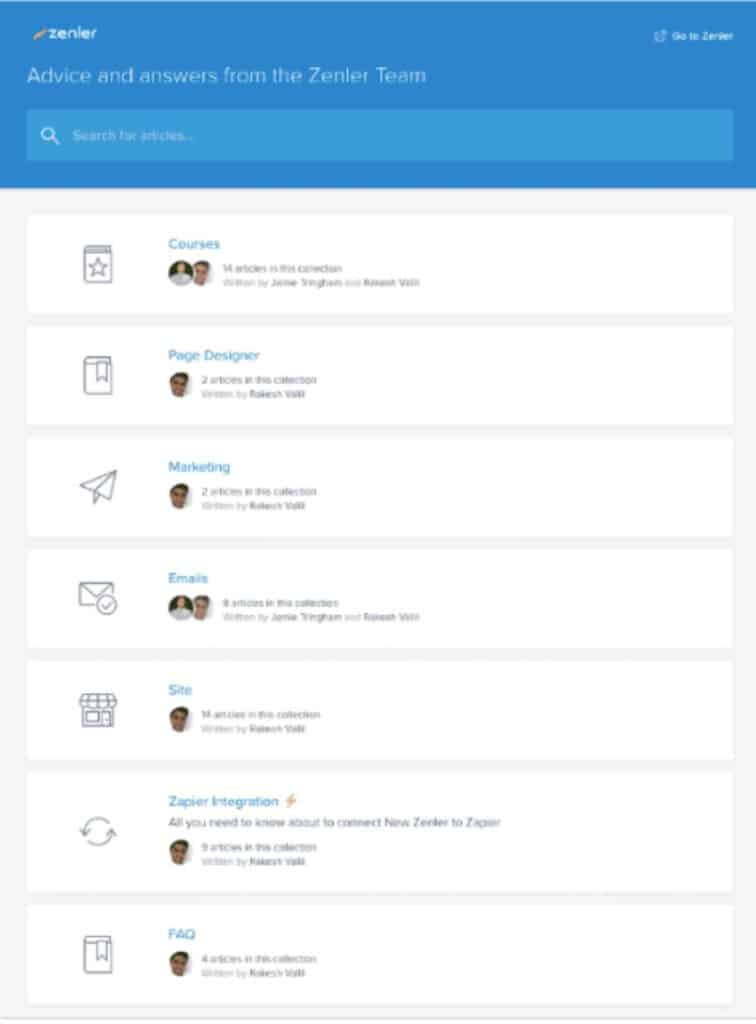 Although the articles provide assistance, the knowledge base for the New Zenler platform is not entirely extensive and does not cover certain aspects.
New Zenler offers a Private Facebook group for creators to receive notifications about updates, engage in discussions, and seek answers to their questions.
New Zenler provides two plans, Pro and Premium, along with the choice of monthly payments or a discounted annual commitment.
Free plan
The cost of Pro plan varies depending on the payment schedule, with a monthly fee of $67 and an annual fee of $647 during the beta pre-launch period.
The premium plan is available for a monthly fee of $197 or an annual fee of $1447 during the beta pre-launch period.
The most economical option varies based on the size of your company. Pro provides many Premium features at a lower cost, such as lead access, monthly emails, and marketing funnels.
The Pro plan provides a limit of 25,000 leads, 100,000 monthly emails, and 100 marketing funnels.
The Premium plan includes unlimited leads, 500,000 monthly emails, and unlimited marketing funnels.
One key difference between the Premium and Pro plans is the presence of a single sign-on/API, which is only available in the Premium plan.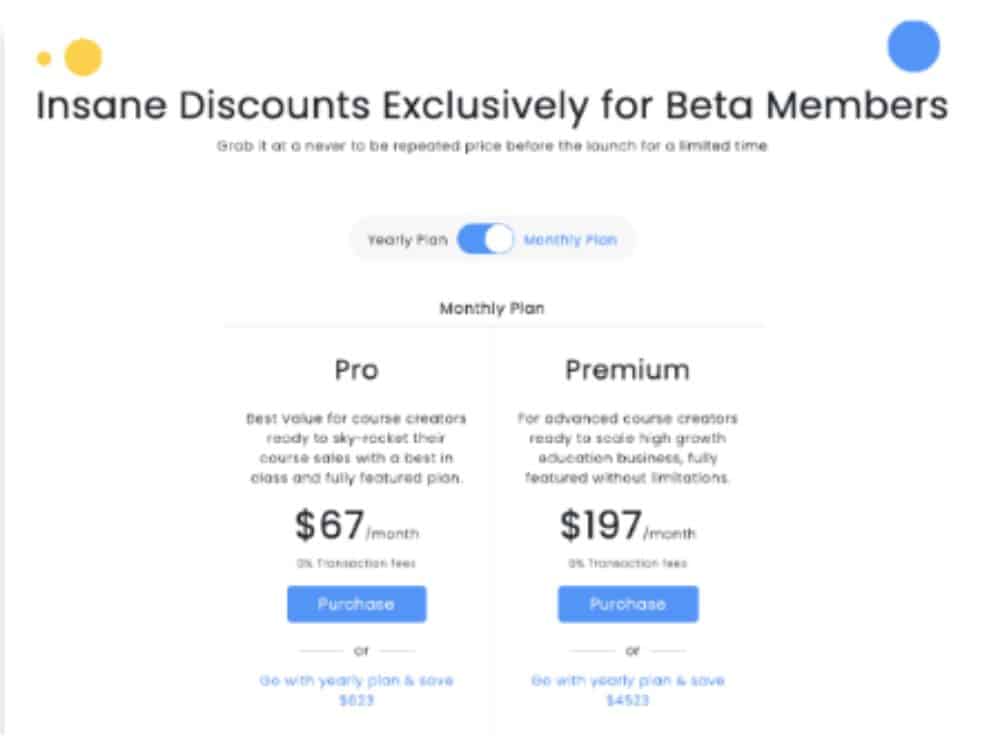 New Zenlers the Competition
Before concluding, it is worth comparing New Zenlers with its competitors to evaluate its position.
Kajabi, an all-in-one online course platform, is frequently compared to New Zenler.
Kajabi outperforms in various aspects, such as course player themes, mobile app availability, coaching program, and Automations features.
In addition, there are various enhancements such as website themes, improved blogging features, podcast tools, a more advanced funnel builder, and efficient email automation tools.
It should be noted that Kajabi's pricing is on the higher end, with a starting cost of $149 per month for the basic plan.
Consider reading about the differences between Kajabi and New Zenler, and decide which all-in-one platform is better for you.
Among the competitors of New Zenler are independent course platforms such as Teachable and Thinkific.
If your website and funnels are established on another platform, it is suggested to utilize these platforms for course creation and engagement tools instead of New Zenler.
These tools have been designed to be user-friendly, durable, and enhance the process of creating and engaging in courses.
New Zenler Review – Final Verdict
The question that needs to be answered is whether New Zenler is worth the investment of time and money.
Would you say that the cost is justified?
For those interested in digital coaching or consulting, it is recommended to consider using New Zenler due to its extensive range of features and facilities available at a single price point.
New Zenler is currently offering discounts on their product through special affiliate deals. This offer adds value to New Zenler as a productivity suite for online course needs. In conclusion, this is my final verdict in the New Zenler review.
New Zenler is a comprehensive platform for those interested in creating and launching their own digital courses.
Frequently Asked Questions
What is New Zenler used for?
New Zenler is an online course platform that offers multiple functions, including course and membership creation, as well as marketing and sales capabilities.
Who created New Zenler?
RakeshVallil is the creator of New Zenler, as well as several other course authoring tools and learning management systems in his portfolio.
What features does New Zenler offer, and how do they perform?
New Zenler provides tools for course creation, website building, and sales and marketing. While the course creation and website building features are satisfactory, the sales and marketing aspects could benefit from some enhancements.
Does New Zenler have an app?
New Zenler does not have a mobile app for iOS or Android. However, their course player is mobile responsive, allowing students to view content on mobile devices without difficulty.
Does New Zenler have landing pages?
New Zenler's page builder allows for the creation of landing pages within marketing funnels, but there is no separate landing page feature available.
Is New Zenler free?
New Zenler offers a free beta plan that is invite-only and provides limited features. To access all features, upgrading to a paid plan is required.
How much does New Zenler cost?
New Zenler offers two pricing tiers: $67/month for the lower-tier and $197/month for the higher-tier. There are no additional charges or fees.
How do I set up a New Zenler account?
To create a New Zenler account, requesting an invite is necessary by providing an email address and awaiting approval. Alternatively, immediate access can be acquired through this link.