Systeme.io Affiliate Program Overview
If you own a blog or website about digital marketing, promoting email marketing products to your readers might be a viable monetization strategy.
Today's article will provide an in-depth look at the Systeme.io affiliate program from joining to commission rates to how you can get paid, including any potential drawbacks.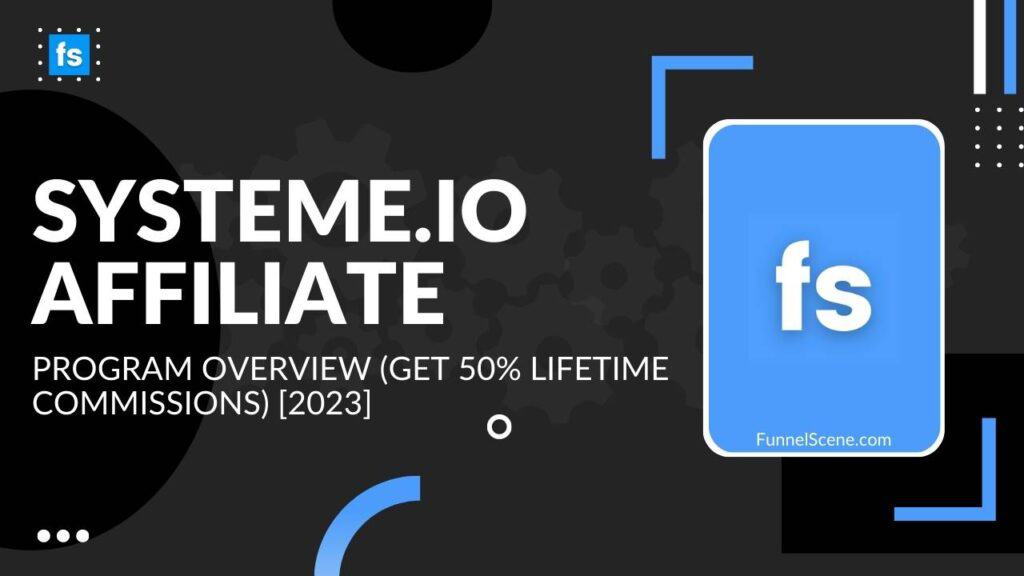 For an online enterprise, Systeme.io is a simple and cost-effective all-in-one sales platform that is essential to success.
In this digital platform, users have access to features like a funnel builder, email automation, blogging, courses and more.
Systeme.io offers an inclusive suite of tools and features, unlike other similar platforms – and the best part is that it's free to get started without needing to enter your credit card details!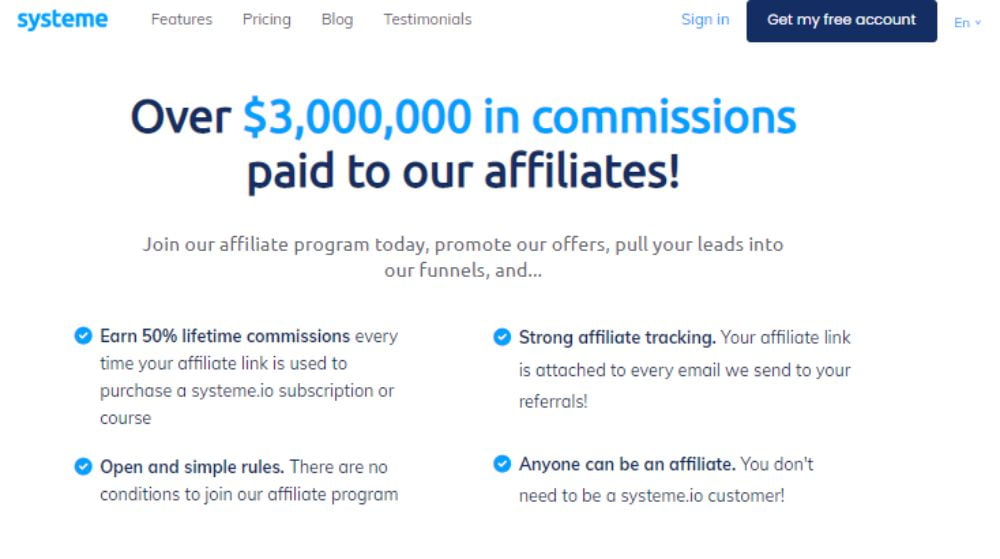 How Does the Systeme.io Affiliate Program Work?
Each time someone signs up for Systeme.io via your affiliate link, their email address is permanently associated with your affiliate ID.
All emails from Systeme.io to your referral will include your affiliate ID.
Systeme.io's affiliate tracking is more reliable than regular cookie-based tracking.
Unlike cookies, your affiliate link stays active forever, even if they sign up and get their email on another device.
Tier 1: 40% Lifetime Commission
Systeme.io's affiliate program offers a lifetime commission of 40% for memberships and course sales made through the program.
Your referrals can also provide you with lifetime commissions.
This rule applies to any subsequent purchases made by your affiliates.
Second Tier Commissions: 5% for life.
You can earn 5% commissions from any sales made through the affiliate links of your referrals in the 2nd tier.
Without having to purchase a subscription, you can become an affiliate.
By signing up for free, you'll get an affiliate ID.
I prefer the new structure as it allows me to get more affiliate commissions up front.
As a Systeme.io affiliate, you can promote their software, subscription packs, e-learning courses and virtual summits from the affiliate marketplace.
To promote an offer, simply click on it and copy your personal affiliate link.
For impressive accomplishments in affiliate commissions, you can receive a Systeme.io award plaque if you make over $10k!
When someone clicks on the affiliate link from Systeme.io, a small file called a cookie is stored on their device.
The Systeme.io cookie expires after a year.\
If someone buys a Systeme.io-related product within one year of your cookie being on their device, you will receive commission for the sale.
Once a visitor has joined Systeme.io after following your affiliate link, their email address will be permanently linked to your affiliate ID.
This means that as long as someone signs up through your affiliate link, you'll get credited for their purchase, even if it's done via a different device using an email link.
Using the Systeme.io affiliate platform for tracking is more exact than using cookies alone, thereby ensuring that affiliates get proper credit for their referred sales.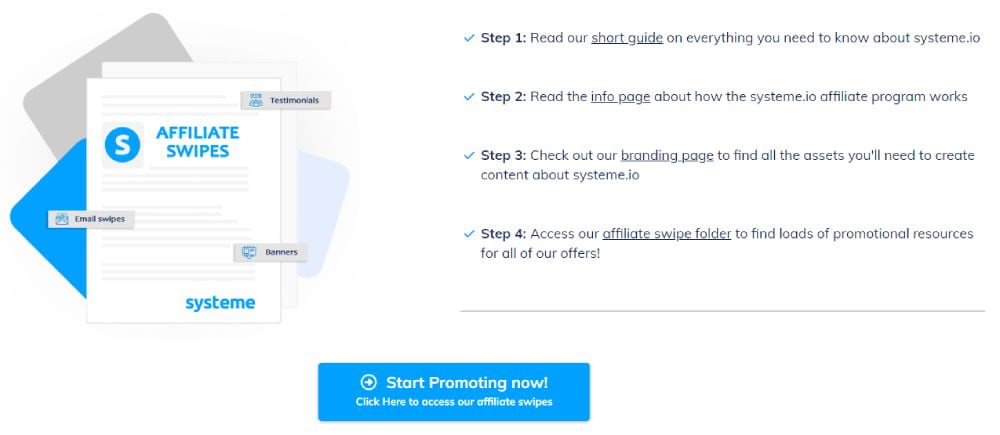 How to Become a Systeme.io Affiliate
It is not necessary to have a paid subscription to join the Systeme.io affiliate program.
When you register for the free plan, an affiliate ID will be given to you.
To begin, use these easy steps:
To access the Systeme.io affiliate program page, please click this link.
Register as an affiliate by selecting the "Sign up as an Affiliate" option.
Please complete the form with your personal information.
Once you have finished registering, log into your affiliate dashboard promptly.
In order to become an affiliate, one must comply with all legal and ethical standards of conduct.
How Much Money Can you Make Promoting Systeme.io?
| | First Tier | Second Tier |
| --- | --- | --- |
| StartupPlan $27.00/month | 40% – $10.80/month | 5% – $1.35/month |
| Webinar Plan: $47.00/month | 40% – $18.80/month | 5% – $2.35/month |
| Unlimited Plan: $97.00/month | 40% – $38.80/month | 5% – $4.85/month |
You don't need to have a paid Systeme.io subscription to become an affiliate. With even the free plan, you'll have access to an affiliate ID
When you create an account with Systeme.io, you'll need to select the payment method for your affiliate commissions.
At this time, you can receive payments via PayPal or Wire Transfer.
In order to be eligible for a payout, you must have at least $30 USD waiting to be paid.
Payouts are automatically carried out on the 10th of every month, following a 30-day waiting period to allow for any returned payments or chargebacks to be properly processed.
Systeme.io Affiliate Program Rules and Conditions
Participation in the Systeme.io affiliate program is contingent upon complying with the prohibited tactics listed below. Failure to follow these rules will result in disqualification from receiving commissions.
The rules and conditions are as follows:
Avoid sending out spam messages, using unsecured mailing lists, and offering cash refunds to customers who purchase your affiliate's products.
Unacceptable terms such as "scam" should not be used in your promotion.
Systeme.io does not allow the use of affiliate codes for personal purchases, such as artificially inflating cookie numbers with multiple accounts or using fraudulent credit card information.
If you want to benefit from other affiliates' referrals, creating a new email account is not possible.
Any content that isn't promotional material must not be copied or reused.
If you try to deceive Systeme.io, your account will be blocked, and all commission payments will be forfeited.
The Systeme.io affiliate program is an excellent choice for affiliate marketers looking to generate consistent revenue, with the added bonus of multiple high converting offers.