Having difficulty choosing between Systeme.io vs Kajabi? You're not alone; this article will help you make a decision.
Systeme.io and Kajabi are two widely used marketing platforms for digital businesses. While both offer sophisticated aspects to manage your marketing strategy, the components of each platform differ.
This comparison provides a detailed breakdown of the two tools.
We can compare the options, and you can decide which one is better for your business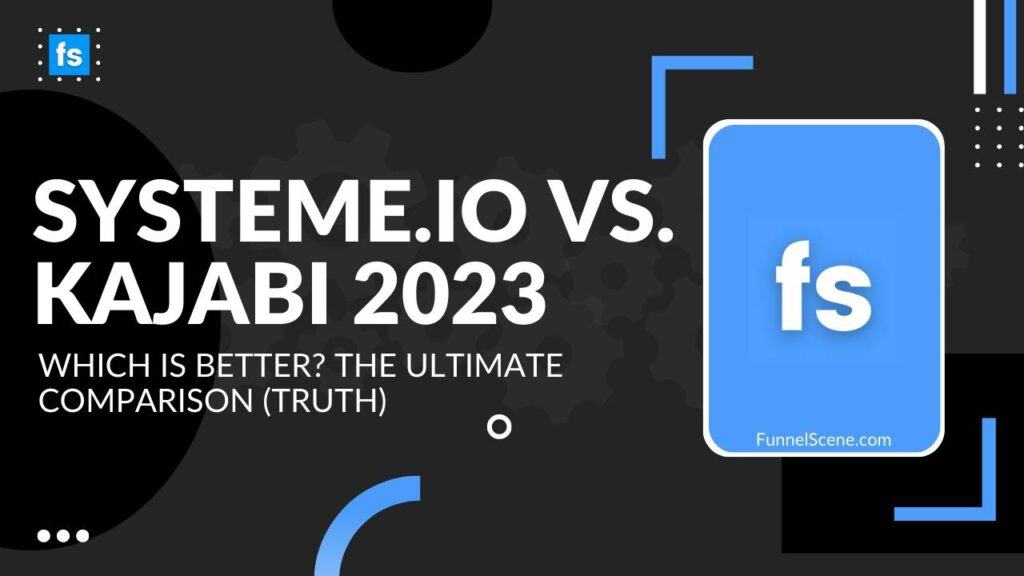 Kajabi

Systeme.io

Pricing

119 per month

27 per month

Best For

Kajabi is a marketing and content delivery platform best to content based products

Systeme.io is a reliable online platform allows you to create a complete funnel for selling your products and services easily.

Features

No knowledge of coding required
100+ templates available
Gives full control over all page elements
Management of Contacts
Webinars
Educational Opportunities

Pros/Advantages

Integrated email marketing solutions
Integrated sales funnel
Integrated community platform
Marketing automation
Analytics and affiliate program integrated
Simple and uncomplicated design
Excellent client service
A receptive community willing to assist

Cons

There is no free option

Not quite as smooth and "premium" as Kajabi

Ease of Use

Kajabi integrates with many platforms as well and it is really easy to use.

Simple and uncomplicated design. easy to use

Value for Money

There is no free option, and the costs are somewhat more than those of comparable sites.

Systeme.io is affordable in terms of pricing and the features and tools are good. it is a really great platform and worth investing.

Customer Support

Most of their customer Support reviews are positive.

Excellent client service and assistance
Systeme.io Vs Kajabi: In-Depth Comparison
Systeme.io is an online business platform designed to empower entrepreneurs and companies with tools to construct their own websites and sales funnels. It offers features like website construction, automated emails, payment processing, and a streamlined drag-and-drop page builder for creating and customizing pages.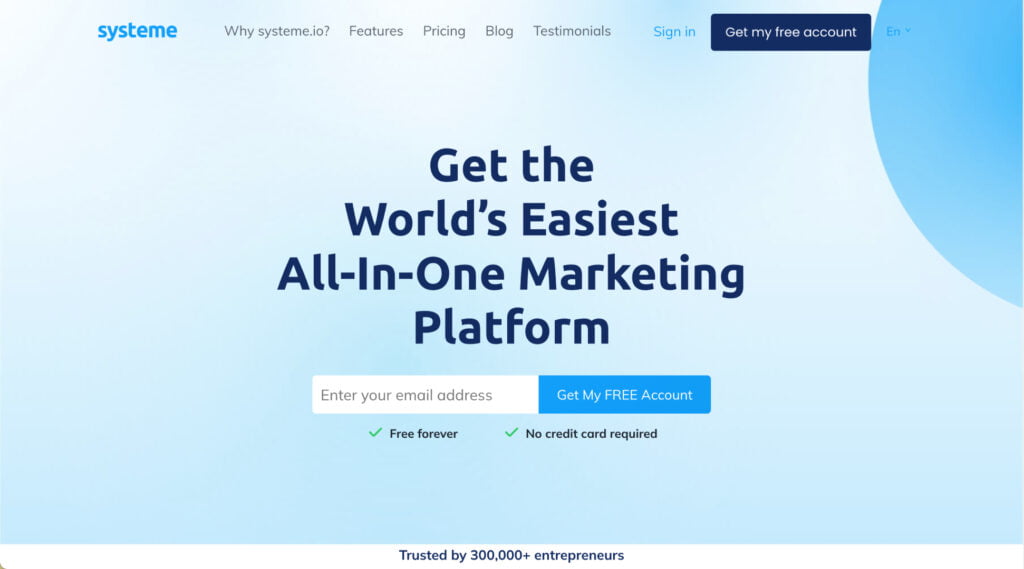 Kajabi facilitates the growth of your business with its suite of tools and services, allowing you to make and sell digital products, online courses, and membership sites. It provides users with web building capabilities, content uploads, customer management, payment processing, as well as marketing campaign development and performance tracking.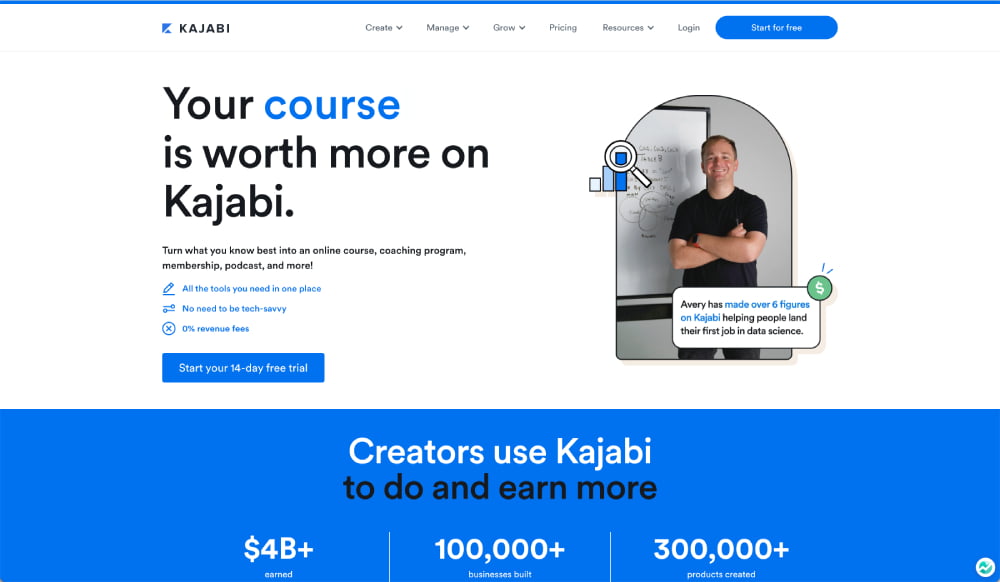 Major Features and Benefits of Systeme.io
Systeme.io offers the following features:
1.Membership and Educational Opportunities:
An important consideration for membership site creators is managing who can view certain content.
Integrating these two platforms can be time consuming and costly, as they are often different from one another.
Systeme.io simplifies payment and membership, so you won't have to worry about any hassles.
Providing someone access is as simple as selecting a membership site from a drop-down menu.
A user account is created for them on Systeme.io, their login credentials are emailed to them, and access to the relevant resources is then granted.
With a subscription to Systeme.io, you can save time and focus on running your business instead of worrying about handling customers' access rights when they stop paying.
The course builder allows you to create, sell, and host courses in one convenient location.
If you're uncomfortable putting your video files directly on Systeme.io, there is an alternative option.
If applicable, consider using YouTube, embedding a video from Wistia or Vimeo, or providing a direct link to an online movie.
Furthermore, each course can be personalized using the funnel page builder.
You can tailor the design and style of your course lesson pages to give your customers the experience they deserve.
Your marketing activities will no doubt be centered around the sale and payment processes that fuel your internet company.
It is surprising how few marketing software packages provide the capability to do this or are highly user-unfriendly.
Creating a product on Systeme.io only requires you to give it a name and hit "Save". It's that simple.
Start selling a product right away.
Adding it to your funnel will enable you to specify what happens after a transaction has been completed.
Do you want to give them access to a membership? Please select from the available choices.
Would it be better to provide an automatic email with a download link for the PDF?
Content marketing is vital to the success of any online business. To easily update your content, take advantage of the platform's user-friendly content management tools. Make things even easier with professionally designed templates for content creation and publishing.
The productive flow of web traffic created by top-quality blog posts can be transformed into leads and sales. You are able to establish a modern blog within the Systeme.io network with the help of its drag-and-drop website building tool. Also, you have the capability to create written pieces that will be unique in order to enhance the business's standing and draw even more people towards your content. Whilst Systeme.io delivers free domains in case you are a premium user, you can also add your own customized domains.

Webinars have been a powerful tool for digital entrepreneurs to generate leads and build strong relationships with target audiences. Furthermore, by utilizing webinars through Systeme.io, entrepreneurs can easily create automated ones that have helped maximize profits.
Systeme.io offers powerful tools to help you succeed in your industry, including specialized webinar software that handles everything from registration to delivery, along with the ability to create unlimited webinars.
Modern technology makes it easy to host webinars that stay relevant and generate leads and sales. You can promote your offerings, as well as build up a large email list, with minimal effort.
5. Marketing Through Email:
Email marketing is crucial for the success of any online business.
Systeme offers integrated email marketing tools to help you communicate with subscribers and nurture prospects.
You have the ability to create personalized emails for various audience groups and set up campaigns from your dashboard, as well as being able to automate the process with follow-up messages and automatic responders.
The user experience is very simple. Creating a newsletter requires you to select a topic, recipient address, sender name, and template.
Using the visual editor, you can open your email and customize its contents. You'll be able to alter the layout, insert images, add text, buttons, and other elements.
Once you begin emailing, Systeme can monitor your progress and provide essential metrics like open rate, click rate, bounce rate, and spam report rate.
Systems can assist you in growing your email list through opt-in forms, squeeze pages, and lead magnets.
6. Management of Contacts:
Understanding customers is one of the largest challenges for company owners.
What was their initial reason for signing up? Which emails did they successfully open? What is the record of their purchases?
Having to manage different software tools all at the same time is a nightmare.
Systeme.io offers the convenience of centralization, as all the activities take place in one single location.
You can view a complete record of your contact, including the location they joined from.
By gathering insights about your customers, you can make essential modifications or decide what products to focus on next.
You don't need to have a data science degree or hire anybody with one to achieve this.
Systeme's impressive built-in marketing automation capabilities are one of its best features.
The Automation tab in the main dashboard allows you to easily create "if this, then that" rules to automate various processes.
In the automation rules section of the builder, you can easily set up automated customer workflows by adding triggers and actions.
For instance, you can set up an automated welcome message for people who subscribe to your list through your landing page.
To create a new rule, simply select "Funnel step form subscribed" as the trigger, and then choose "Send email" as the action. You can pick your welcome email from the library and Systeme will do the rest!
This is just a basic example, however you can do much more with automations. For instance, automations can be used to:
When contacts visit a certain page or take a specific action, tags can be applied to them automatically.
When a tag is added or removed, contacts can be subscribed to a campaign.
When contacts make a purchase, they should be enrolled in your course.
Plus, much more.
The funnel builder is a fundamental feature of Systeme.io, forming the backbone of your business.
The funnel builder is a powerful tool that can be used to create amazing, high-conversion sales pages for lead generation, product sales, and other purposes.
Using the built-in templates reduces the effort of designing websites that are attractive and optimized for conversions.
To create a funnel, simply choose your preferred type, select a template, and add in your content.
Using their drag-and-drop page editor, changes are easy to make.
Creating alternate content, pictures, and page designs is a breeze with A/B testing, which can be done with just a few clicks.
When its full potential is realized, automation is unparalleled in its capabilities.
Major Features And Benefits of Kajabi
Systeme.io offers the following features:
1. Facilitates The Creation and Promotion of Live Events:
Kajabi is particularly exceptional in the area of product development, making it worthy of its own special mention.
In Kajabi you can create a Zoom Webinar which is even better when it is accompanied by a series of related actions including registration page, emails, post-event offer page and checkout page.
Kajabi provides a pre-formatted template for you to customize with your own content, including the link from your Zoom account.
The same technique can be used for virtual summits/conferences, or even location-based events. (In Kajabi, Legacy pipeline templates represent these types of activities, and we anticipate upgraded versions of them sometime in the future, but they are still running smoothly.)
2. Product Creation Is Jumpstarted:
Most readers who come to this page are likely interested in Kajabi courses.
Kajabi offers superb templates for micro-courses, comprehensive online courses, and drip courses that give access to new portions of the course as time passes.
In addition to Kajabi courses, there are many other Kajabi products.
Furthermore, it is possible to develop memberships, communities and coaching programs.
Kajabi provides easy-to-use templates with content already tailored to each particular type of offering.
You can quickly edit the content and structure, remove anything that is not needed, and you will be set up in a short amount of time.
3. Strong Capabilities For Video Streaming:
Kajabi provides full integration with Wistia — one of the best video hosting services available — for uploading and streaming videos.
Hence, you can rest assured that your videos will work excellently on any screen or connection speed your students have – and they will be safe as can be.
The most useful part is that this feature doesn't require a different Wistia license – it's built-in.
When considering the costs, it is worth noting that Wistia Pro starts at $99 per month – a great offer compared to Kajabi's starting rate of $149 per month ($119 annually).
4. Capabilities For Effective Blogging:
Kajabi's blogging features exceed many other course systems, though it is not as elaborate as WordPress. It is worthwhile to note that a successful blog is one of the most effective methods of driving visitors and customers to your website and products.
Kajabi's new website builder, released in October 2020, offers improved blogging capabilities.
Although not as advanced as WordPress, its improvements have made it a more serious contender in the blogging platform arena.
5. Looks Fantastic Right Out of The Box:
Kajabi has a wide range of modern and professional-looking, appealing, and highly functional templates for making landing pages and sales funnel sites.
If Kajabi fails to meet your needs, you can always look into purchasing custom themes with higher quality.
Kajabi's great tools make it easy to create successful landing pages and sales funnels, and help turn visitors into customers.
In Kajabi, you can manage all aspects of email marketing – like setting up automated follow-up sequences. Plus, it integrates with Aweber, Mailchimp, and Active Campaign making outside platforms unnecessary.
Kajabi Email, a powerhouse of features included in every Kajabi subscription, further attests to this fact.
Kajabi's Email Editor allows you to easily design captivating, results-oriented email campaigns in no time at all.
Features Verdict: Systeme.io Vs Kajabi
Systeme.io offers superior features compared to Kajabi.
Therefore, Systeme.io is superior to Kajabi.
Systeme.io Vs Kajabi: Pros and Cons
Considering the pros and cons of Systeme.io and Kajabi will help you determine which platform is best for you. This article will provide an in-depth look at what both platforms offer.
Integrating analytics and establishing an affiliate program can be beneficial for boosting sales.
A simplified layout makes using a website more user-friendly.
Effective technical processes are critical for a successful business.
By making regular improvements to our platform, we can remain competitive.
Providing excellent customer service is essential for any business.
Cost-effective marketing platforms can be highly successful.
An all-in-one solution can help address a variety of issues.
Relatively few options for designing and automating emails (when compared to Kajabi).
Without a mobile application, membership sites tend to have lower levels of user engagement.
This product does not come with a money-back guarantee.
An online store featuring organic courses and training programs.
Integrated community platform solutions can facilitate the growth of digital communities.
You can find various email marketing and layout design tools online.
In order to expand your business, you will require an integrated sales funnel.
Optimizing your domain is essential for achieving SEO success.
No free plan, and it's quite pricey.
Third parties must be connected to use custom domains.
Pricing Comparison: Systeme.io Vs Kajabi
They offer three plans: Basic, Standard, and Premium.
The Basic plan includes three products and three pipelines, with monthly payments of $149 or annual payments of $119.
Growth, priced at $ 199 per month when paid on a monthly basis or $ 159 per month when paid annually, provides access to 15 products and 15 pipelines.
For $319 a month (or $399 annually), Pro offers 100 products and pipelines.
The four available prices are basic, premium, business and enterprise.
The Startup Plan costs $27/month and $228/year.
The Webinar Plan is available for a monthly fee of $47 or an annual subscription of $396.
The Enterprise Plan will cost $97 monthly and $828 annually.
Pricing Verdict: Systeme.io Vs Kajabi
Systeme.io's pricing plans are much more affordable than those of Kajabi.
Therefore, it is evident that Systeme.io surpasses Kajabi.
This is what customers are saying about Systeme.io & Kajabi.

Systeme.io Customer Reviews

FAQs About Systeme.io & Kajabi
What Am I Able To Accomplish With Systeme.io?
Build sales pipelines, webinars, marketing emails, membership sites, digital and physical offerings, online courses and landing pages; manage affiliates and opt-ins.
Is a Systeme.io Package Available for Free?
Yes, Systeme.io is genuinely free. The free plan contains all the features necessary for forming a successful online enterprise, such as funnel builder, one membership site, an online course builder, ability to conduct affiliate programs, outstanding customer service and unlimited file storage space. Additionally, it also comprises email marketing tools, limitless students count and straightforward drag-and-drop editor for designing landing pages. Nonetheless, charges will be applicable after 2,000 contacts registration
Is Systeme.io a part of a partner program?
Yes, the Systeme.io affiliate program gives you an opportunity to earn money by introducing customers and using your affiliate link to sign up as a paying member of the Systeme.io software program. For each payment that the referred customers make, you will get commission from it. That way, you can profit from the fantastic potential that Systeme.io has to offer.
Is Kajabi a legitimate platform?
Kajabi, a legitimate business founded by Kenny Rueter and Travis Rosser in 2010, has over 60 employees working to serve more than 25,000 course developers.
Kajabi is a comprehensive platform that facilitates the sale of virtual courses. It is an all-in-one solution for people who want to establish an online course business.
Final Verdict: Which One Is The Best?
Systeme.io and Kajabi are great options for creating sales pages and managing affiliate programs with ease. These platforms provide all the tools required to improve your business's success.
We hope this comparison between Kajabi vs Systeme.io can help you make the best choice. Don't hesitate to get in touch if you have any questions.
In addition to the two platforms, we are eager to join you on your journey.
We appreciate you taking the time to read this