This Article will provide an in-depth look at the Thinkific pricing plans that were updated in 2023, and offer advice to assist course creators in selecting the right plan.
Thinkific can provide a cost-effective and flexible solution for course creators that can help them achieve success.
Thinkific has several pricing plans for course creators to select from. Each plan provides different products and services suited to creators of varying skill levels. When making a decision, consider the services each plan provides to ensure the right package is selected.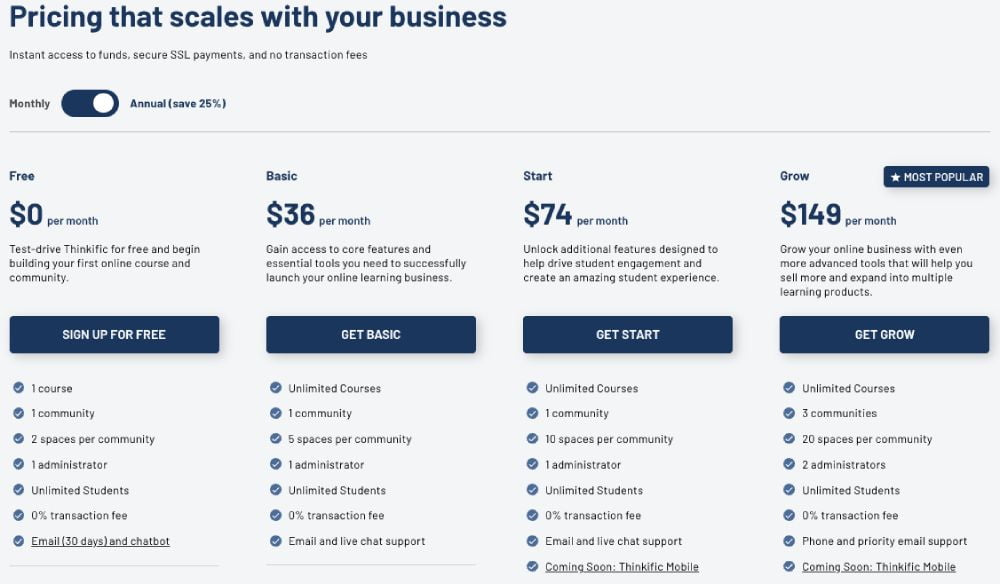 One thing to notice in the above image, Thinkific only show four of the six pricing plans available. I'm not sure why, but the Expand plan is left off the basic pricing outlay. There is also the plus plan which is a slightly more customised plan which you are required to contact support for more options.
Thinkific offers the following pricing plans.
The Free plan, which is perfect to test drive the platform.

The Basic Plan is priced at $49 per month, or $468 per year which equates to $36 per month.

The Start plan is available for $99 per month, or for a discounted annual rate of $948 ($74 per month).
The Grow plan can be purchased monthly at $149 per month or annually at $1,428 ($119 per month).
The Expand plan is available for $499 per month, or for an annual fee of $4,788 ($399/month).
The Plus plan has an adjustable cost based on the selected integrations, and requires contact with customer service.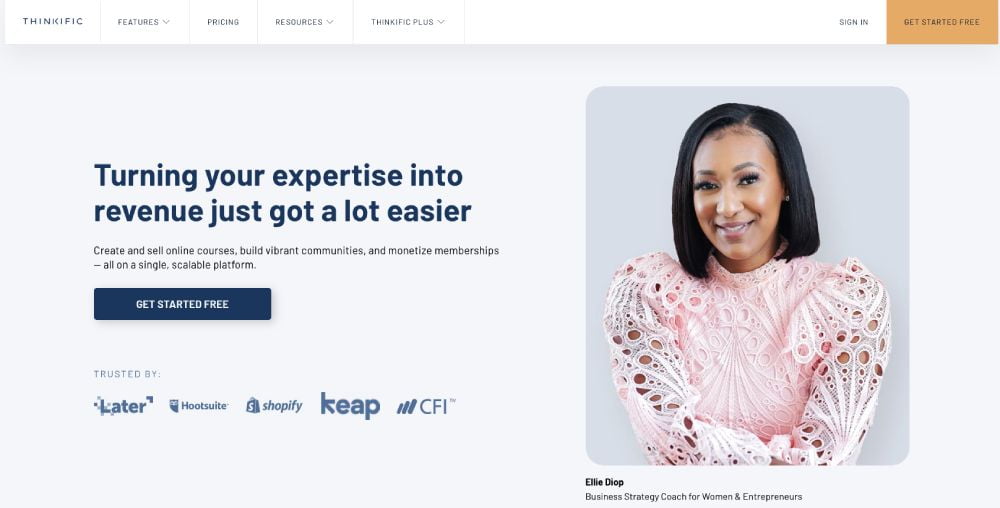 Founded in 2012, Thinkific is a popular online course platform made by entrepreneurs. It has one aim – to provide instructors and students with an accessible educational environment.
Thinkific is an effective solution to create, manage, market, and sell online courses without any technical knowledge or experience. This makes it easy to use, allowing anyone – including those without prior expertise – to create courses quickly.
Thinkific is a cloud-hosted software that eliminates the need to manage content on your device. This allows you to focus solely on creating quality content while all video and audio lessons are securely stored on their servers.
Thinkific offers a website- and course-creation service to get you started quickly and without charge. All you have to do is register for an account.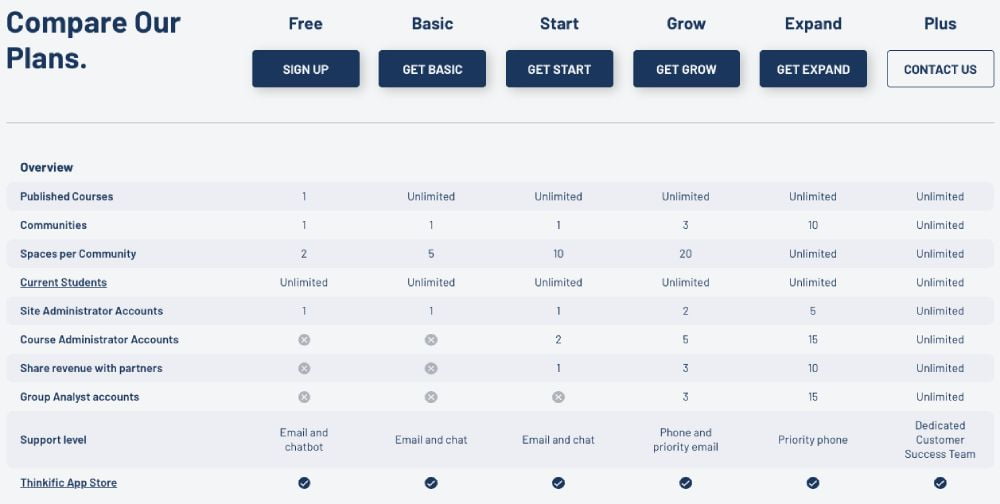 Thinkific Pricing Comparison
Thinkific has a selection of pricing plans, comprising a free trial and three paid subscription plans (Free, Basic, Pro and Grow), each with monthly and annual options. This makes it easy to get started by either creating online courses or setting up a membership site. Choosing one of the yearly plans will give you 20% off the monthly price.
Thinkific offers three paid plans, in addition to a Growth package which is an add-on to the Pro plan and provides enhanced features for course creators.
The Thinkific pricing plans are displayed in table format.
All Thinkific plans are free of transaction fees; however, payment processing fees may apply when accepting online payments.
Thinkific pricing tiers vary based on the included features. You can choose a plan that allows you to utilize a custom domain, issue completion certificates, receive priority support, and more.
Thinkific provides a comprehensive set of core features for all plans, including the free plan. These core features consist of instant access to revenue and access to the full eCommerce capabilities.
Thinkific offers drag-and-drop course building, as well as various features and security. These features include multiple instructor profiles, student notifications, upsell offers, forums and email and phone support. Additional benefits of Thinkific are secure hosting with easy SSL certificates already included on all plans.

The Thinkific free plan offers unlimited students and hosting for content, including videos, to create one full course.
Access to quizzes and surveys is provided, as well as prompt payment of generated revenue.
Who Should Use the Thinkific Free Plan?
The free plan offered by Thinkific allows you to experiment with their system and start creating your course, even if some advanced features are not available.
On the Free plan, you can have an unlimited number of students in your courses. This is an excellent way to begin using Thinkific and building your online course business.

Thinkific Basic Plan: $49 p/m
The Thinkific Basic plan provides access to an unlimited number of courses and students.
The Basic plan allows you to use a custom domain to host your own eLearning platform on a brand-specific subdomain and gain further benefits, such as coupons and an affiliate program.
With this solution, you will be able to send individual emails to students and deliver course content gradually.
The basic plan offers integrations with ConvertKit, Aweber, Constant Contact, and Mailchimp, as well as the ability to connect with other tools via Zapier.
Who Should Use Thinkific's Basic Plan?
The Basic Plan is suited for those who have the intention of using Thinkific as their online course platform, and wish to begin creating a digital training business.
The Lite plan provides access to essential Thinkific features and offers some additional options such as coupons and a custom domain. Integration with select external tools is also available.

Thinkific Start Plan: $99 p/m
The Pro Plan from Thinkific is the most popular of the paid plans, providing access to core features and the ability to host unlimited courses and students.
The Pro Plan allows you to obtain two site admin accounts and five course admins/authors, set private and secret courses for specific clients, and provide certificates. It includes advanced-level pricing alternatives such as subscriptions, payment plans, memberships, and bundle offers.
The Thinkific Pro Plan allows you to tailor the customer experience for your learners, create assignments, and create communities. Additionally, faster help is available through their priority support option.
Who Should Use the Thinkific Pro Plan?
If you begin to make sufficient income from your courses, it is recommended that you consider upgrading to the Pro Plan. This plan provides improved user experience for learners with additional features for a small extra cost of $50 per month. Furthermore, the Growth Package can be added on this plan, granting access to more integrations and capabilities.

Thinkific Grow Plan: $199 p/m
On the Grow Plan, you have the option to upgrade to the Thinkific Growth Package which offers more features. Alternatively, you can pay the regular Pro Plan fee of $99 monthly.
For access to more advanced features, you can choose the Growth Package without needing to opt for the higher-priced Premier Plan ($499/month).
This add-on provides the option to market courses to organizations, assign analysts for reports, utilize advanced segmenting features to monitor student progress and reporting, and remove Thinkific branding from both course content and website.
This package enables users to access features such as student importing and exporting, bulk emails and multiple communities (only one is available on the Pro Plan without this add-on).
The Growth Package allows integration with several popular tools. One of these is Infusionsoft, a comprehensive marketing tool which includes email services. I have used it effectively for 12 years.
The supplementary package enables integration with ActiveCampaign, a popular email marketing platform, and connects to Zapier for additional functionality.
With Brillium integration, customers can access additional exam tools such as timed exams and limits on the number of attempts.
Thinkific is including all features from their Growth Plan into the Pro Plan, for an additional cost of $50 per month. This brings the total price of both plans to $149 per month. If your business stands to benefit from these features, then it is an investment worth making.
Who Should Use Thinkific's Grow Package?
This package is an add-on, so you should carefully weigh whether or not you actually require the additional features of the plan; if you are making use of at least 2 to 3 of them, then it may be a cost-effective choice.
Thinkific branding removal, advanced segmentation and Zapier integrations are features that may justify the additional cost of $50/month. They could especially be beneficial for those looking for increased sign-ups for free courses.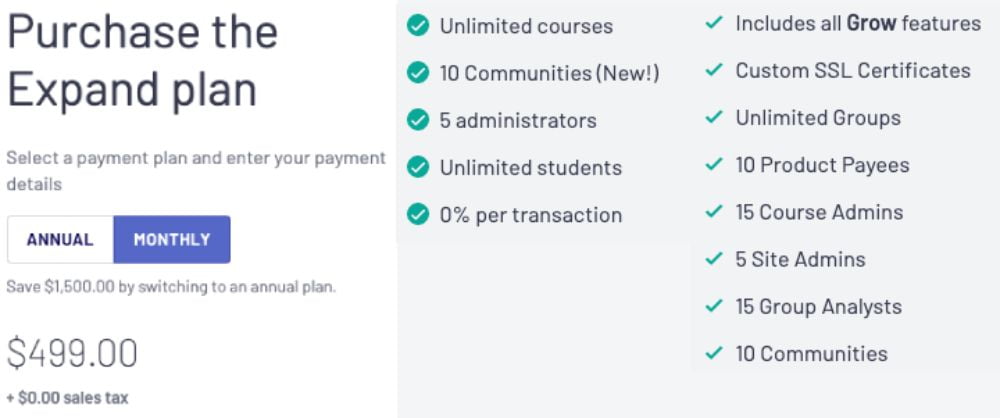 Thinkific Expand Plan: $499 p/m
The Expand Plan (formerly Premiere Plan) provides unlimited access to the Growth Package with a flat $499 per month fee, eliminating the need to pay on a per active user basis. This is in contrast to the limitations of the other plan.
With this package, you will receive five site admin accounts, fifteen group analysts, and fifty-course admins and authors. This allows you to build a team of both full-time and part-time individuals as well as partnering organisations which can assist your digital training company with its development.
With the Premier Plan, you will get access to Single Sign-On so that you can sync the course platform with your existing tools. Onboarding call, training and checklist review are available too to ensure your successful launch.
Who Should Use the Thinkific Expand Plan?
Given the cost of the Premier Plan, it is important to ensure that a valid growth strategy is in place or sufficient revenues are generated for coverage.
It may be worth considering the necessity of the Premier Plan for your business needs. According to a Growth add-on calculator, it would be beneficial to switch to Premier once you reach 4,000 students, as that is when you hit the maximum price. If you decide to switch, you will enjoy additional features. It may be best to wait until reaching 4,000 students or needing 50-course admins and authors before upgrading.

Thinkific Plus is an additional option available, and has been utilized by companies such as Hootsuite, Later, and Procurify.
This plan is beneficial for high-volume businesses and those who would like to restructure their educational environment for corporate customers.
It is possible to create a branded space for corporate clients to host their training content, allowing them to personalize and customize material created by a third-party source.
Additionally, you will have access to specialized assistance and tools such as B2B group management, single sign-on, unlimited administrators and other benefits.
The Thinkific Plus plan is suitable for corporate training and businesses with an expanding clientele. To get pricing information, you'll need to provide your contact details.
Conclusion - Is Thinkific Worth It?
The various pricing plans offered by Thinkific and the services they include were carefully examined. Finding the ideal plan that provides optimum value for money is encouraged.
If you are considering beginning an online course business and are working to a tight budget, the Basic plan might be appropriate.
The Start plan for most creators is the recommended option as it provides access to an unlimited number of courses, along with all the necessary course creation and sale tools.
For businesses that require advanced features such as API access and multiple admin accounts, upgrading to the Grow plan would be recommended.
We provide this guide to help you make an informed decision on the appropriate Thinkific pricing plan. If you have any inquiries or feedback, feel free to leave your comments.