The comparison between Unbounce and Clickfunnels is a complex topic in the digital marketing industry. Clickfunnels has received more attention because of its creator's expertise in marketing, Russell Brunson. Nevertheless, Unbounce provides excellent software and is a viable choice for many people.
Clickfunnels is a platform known for its user-friendly approach to creating business funnels, while Unbounce is recognized for its effectiveness in improving landing page conversion rates.
The article provides a detailed analysis of the features of Unbounce and Clickfunnels, allowing readers to make an informed decision based on their personal preferences.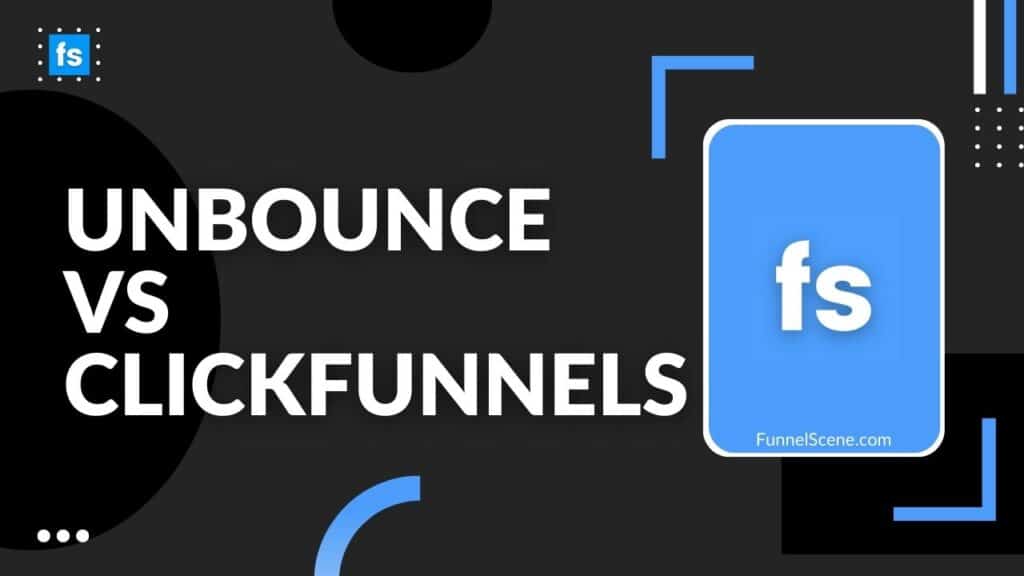 The Most Important Difference Between Unbounce and ClickFunnels
ClickFunnels, on the other hand, creates entire sales funnels — which are pages that guide potential customers through a series of steps in order to convert them from prospect to customer.
Unbounce is known for its ability to reduce bounce rate and optimize individual landing pages. This makes it ideal for those who want to increase their conversion rates by making their landing page more attractive and focused on what customers need.
ClickFunnels, on the other hand, offers an all-in-one platform that simplifies the entire process of creating a successful sales funnel — from designing pages to tracking analytics. It's easy to use and can help entrepreneurs quickly create effective funnels without any coding knowledge or design experience.
Ultimately, both Unbounce and ClickFunnels offer great services that can help businesses achieve success. The important thing is determining which platform better suits your needs so you can get maximum value from your investment.
Unbounce vs ClickFunnels Overview
In this article, we compare Unbounce and ClickFunnels to help you determine which is the best platform for your business. We discuss the features offered by each, pricing plans, customization options, and which one is better for specific purposes.
We also answer common questions about landing pages and sales funnels to provide more context on these topics.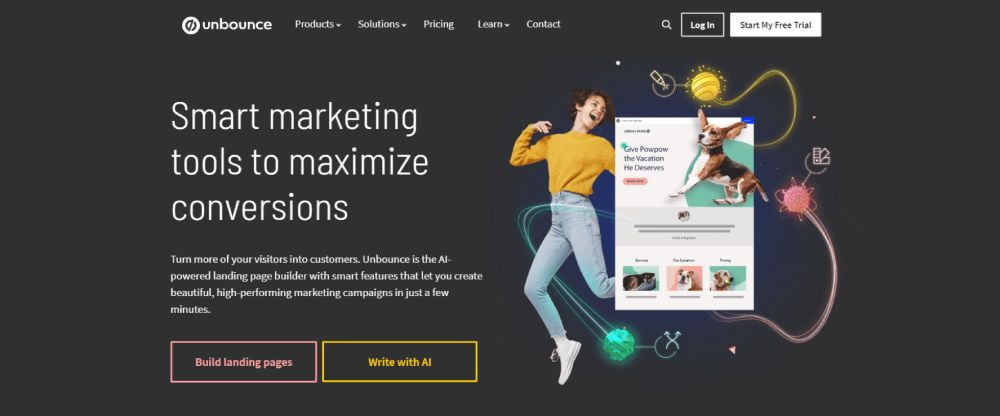 Unbounce is a landing page platform that offers integration with various marketing tools to enhance your marketing campaigns, while also providing the ability to create high-converting landing pages and marketing funnels.
Pros:
The design templates are user-friendly.
This website is optimized for mobile devices.
Adding features is a simple process.
The tracking metrics are satisfactory.
Cons:
There is no pricing level available for micro-businesses.
A uniform appearance.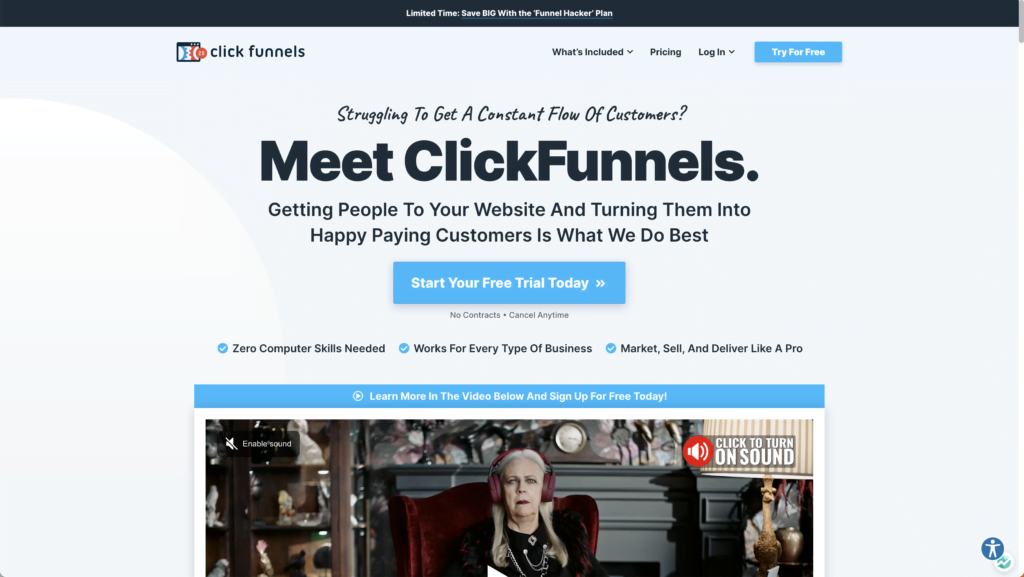 ClickFunnels is a software that enables the creation of complete sales funnels, including landing pages, web forms, and checkout pages.
The platform is user-friendly and integrates well with popular e-commerce platforms and email marketing services. It also offers the ability to create visually appealing landing pages that are compatible with all devices, including mobile.
To begin creating your project, simply select a template from the available library and proceed to fill in the placeholders with your own content.
Pros:
The level of usability.
The key to success is maintaining consistency.
The trait of being dependable and trustworthy.
The training was satisfactory.
Cons:
The process of connecting domains can be complex.
Is Unbounce or Clickfunnels Easier to Use?
When deciding between Unbounce and Clickfunnels, the platform that is easiest to use depends on your specific needs. For a simple landing page, Unbounce may be the better option, while Clickfunnels may be easier to use when building a funnel.
Clickfunnels offers a more efficient solution compared to Unbounce when it comes to creating funnels, allowing users to save time and effort.
When discussing the creation of a landing page, the complexities of Clickfunnels may not be necessary.
Which Platform Helps You Get the Highest Conversions?
Maximizing conversion rates is a top priority for marketers. Selecting between Clickfunnels and Unbounce can be challenging, ascertaining which one will deliver the best outcomes.
Clickfunnels and Unbounce are both helpful for different reasons. Clickfunnels is easy to use because it has a complete setup. Unbounce has AI technology.
 Clickfunnels is better for conversion because you can check your funnel's conversion rate with just a few clicks. To get the same information from Unbounce, you will need to do more work.
CLICKFUNNELS VS UNBOUNCE: FEATURES
When considering software options, it's important to evaluate their distinct features and user-friendliness, rather than getting caught up in marketing hype.
Unbounce and ClickFunnels offer similar features to meet customer expectations and continuously improve efficiency.
CLICKFUNNELS VS UNBOUNCE: DRAG AND DROP EDITOR & BUILDER
Users who are not software developers may benefit from using a drag and drop editor and builder, as it is designed for easy use and quick creation of pages. If this is not the case, alternative options may be sought.
Finding the right balance between providing enough customization options for customer control and keeping the learning curve manageable for the average user can be challenging.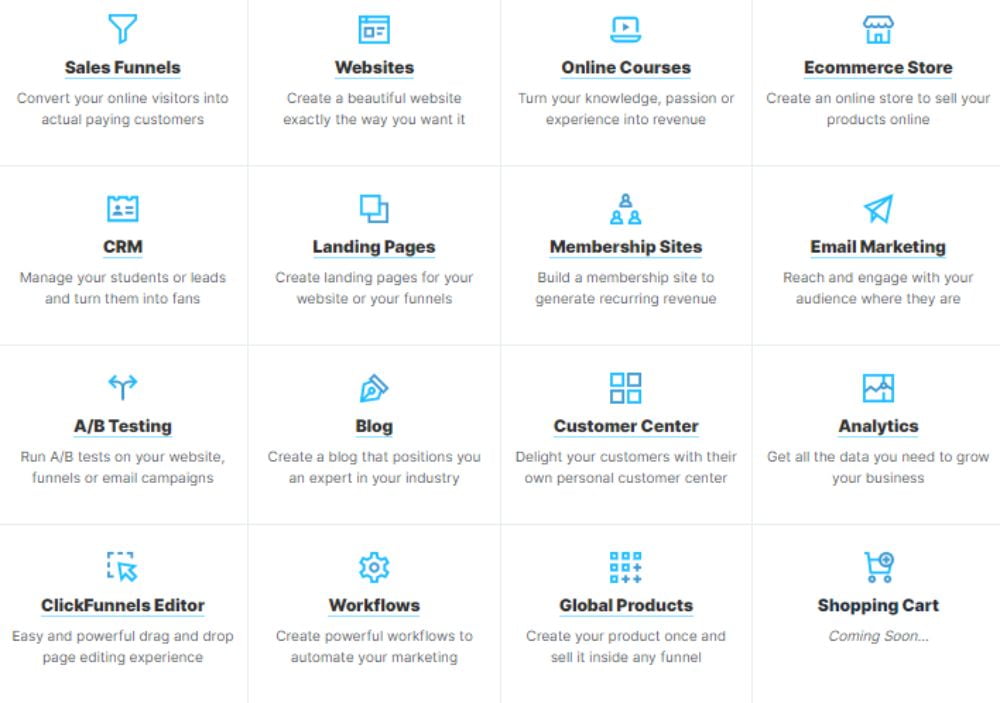 The visual drag and drop editor of ClickFunnels is designed to be user-friendly, but still offers a comprehensive set of features. Users can move objects within the interface while being limited by certain boundaries to ensure adherence to best practices.
Creating landing pages or sales funnels can be done quickly using this tool, while it may require more time with Unbounce.
ClickFunnels' visual drag and drop editor allows you to quickly create highly optimized sales funnels with a few clicks. It is easy to customize the look and feel of your pages as well as adding any integrations you need. You can also easily add tracking codes, split-testing, A/B testing, analytics, and more without having to write any code.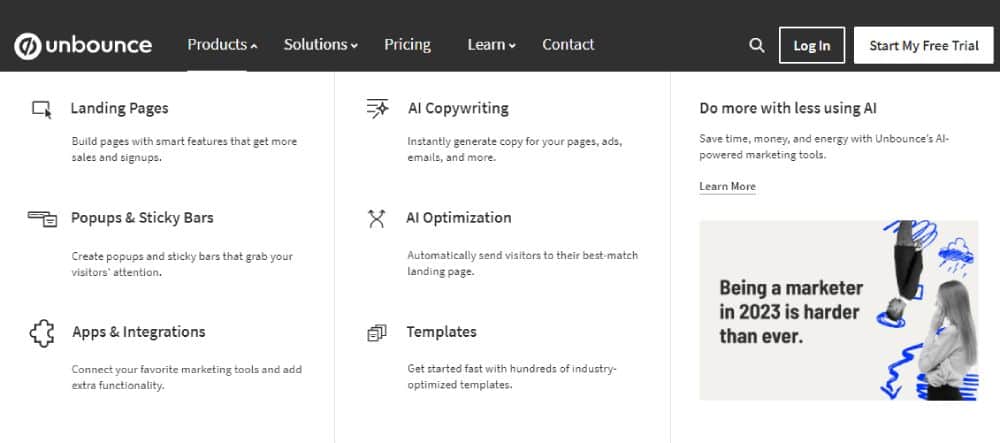 Unbounce is designed to cater to a more experienced audience, particularly those who possess knowledge about marketing campaigns or are already operating in the field. Its platform enables users to create one or two-step forms that include various features such as radio buttons, checkboxes, drop downs, and hidden fields.
Another option is to have a pop-up appear upon the visitor's arrival to the webpage.
One common criticism of Unbounce is that many of the templates have a generic appearance. While it's possible to add customization through CSS and HTML, beginners may find it challenging. For more information, refer to our Unbounce review.
CLICKFUNNELS VS UNBOUNCE: TEMPLATES
ClickFunnels offers a library of professionally designed templates and funnels for customers to use. The templates have been created to help marketers get started without the need for any design or coding knowledge. Each template is customizable, so users can tweak it to their needs and preferences.
Unbounce offers its customers a wide selection of pre-built landing page templates, but they are limited in their ability to customize them. Furthermore, most of the templates have a generic look which may not be suitable for all businesses.
There may be an increased selection of templates available on ClickFunnels.
ClickFunnels offers a variety of templates that can be customized to fit your needs.
These templates can be filtered by industry or intent, including lead capture, sales page, events, and product launches. Whatever your goal may be, there is a high likelihood that ClickFunnels has a suitable template available.
As ClickFunnels is widely used, it is possible to find qualified freelancers who specialize in creating landing page templates for this platform.
Unbounce offers a selection of layouts and palettes to choose from, along with add-ons to enhance the functionality of the templates. This is in contrast to ClickFunnels, which also has a large library of templates available.
Unbounce is a powerful drag-and-drop website builder which allows users to create stunning, mobile-responsive landing pages with ease. With Unbounce, users can create custom landing pages that perfectly suit their business needs. The platform's customization options make it easy for users to get creative and design their own unique webpages.
UNBOUNCE VS CLICKFUNNELS: SUPPORT
Even the most knowledgeable users of landing page software may encounter difficulties, in which case, the level of support provided by the internal team becomes crucial.
According to TrustPilot.com, ClickFunnels has a significantly higher rating than Unbounce, with almost 1800 ratings averaging 4.8 stars. In comparison, Unbounce has 151 reviews with an average ranking of 2.0. It seems that ClickFunnels excels in addressing customer support issues.
ClickFunnels provides extensive customer support through a dedicated team and detailed documentation of their products.
In addition, a service called FunnelFlix offers video training on various topics and daily hackathons where coaches construct funnels in real-time.
ClickFunnels has a large third-party community offering membership sites, as well as dedicated Facebook groups and online forums to aid members in achieving success. Additionally, there is a marketplace available for the purchase and editing of extra templates.
Unbounce's support is not as impressive as others. They do offer chat support, but it's only available from 9 AM to 9 PM PST on weekends and from 1 AM to 8 PM PST on weekdays. They also warn of support delays on weekends.
Unbounce provides ample training resources and a forum for customer interaction. Typically, inquiries can be resolved faster through the forum than by submitting a support ticket.
CLICKFUNNELS VS UNBOUNCE: A/B TESTING
ClickFunnels offers A/B testing and split testing tools which can easily be set up, allowing you to quickly tweak your pages and see which variation is performing better. With ClickFunnels, you can experiment with different elements of a page and track the results.
Unbounce also offers A/B testing capabilities, but with more extensive control. The platform allows you to define any number of variables and then create a single page test using the data from each variable. Unbounce also provides detailed analytics for each test in order to track improvements or declines in performance. This makes it easier to identify what's working and what's not.
UNBOUNCE VS CLICKFUNNELS: INTEGRATIONS
ClickFunnels offers a wide range of integrations with other popular services such as MailChimp, AWeber, GetResponse, ActiveCampaign, Stripe and PayPal. It also works with Zapier, allowing for further integration with many different services.
Unbounce provides integrations with all the major email marketing services such as MailChimp and Aweber. It also integrates with Salesforce, HubSpot and Marketo for advanced features including tracking leads and nurturing campaigns. Unbounce also integrates with several payment gateways including Stripe and Authorize.net.
Unbounce vs. ClickFunnels: Pricing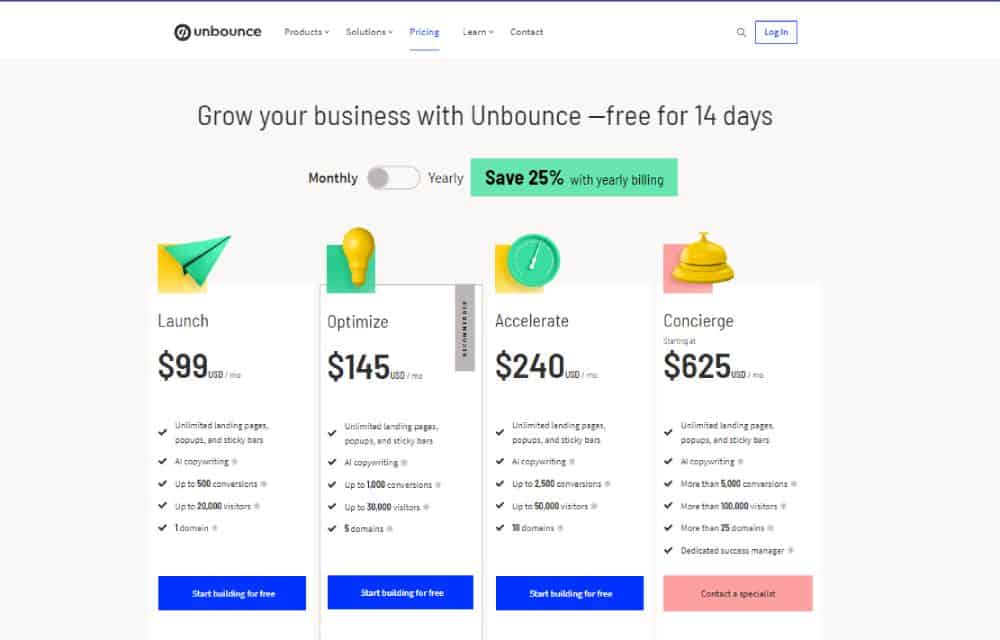 Unbounce offers a 14-day free trial to new customers, after which they can select from various pricing options for continued use of the service.
Launch: $99 monthly. It supports 500 conversions, 20,000 visitors, and a single domain.
Optimize: The plan costs $145 monthly. It supports 1,000 conversions, 30,000 visitors, and 5 domains.
Accelerate: The plan costs $240 monthly. It supports 2,500 conversions, 50,000 visitors, and 10 domains.
Concierge: This plan costs $625 monthly. It supports 5,000 conversions, 100,000 visitors, and 25 domains.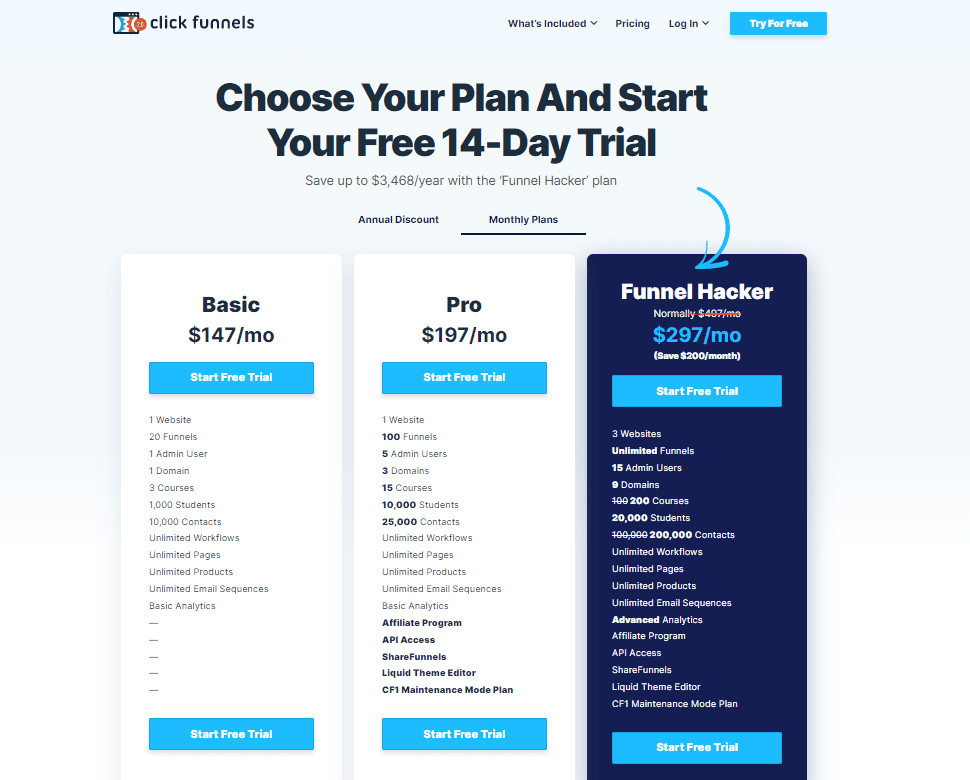 ClickFunnels is a powerful and popular sales funnel creation tool that enables businesses to create custom sales funnels quickly. It offers an array of features, such as drag-and-drop page builders, automated email marketing campaigns, and integrations with third-party services like PayPal. With ClickFunnels, you can create highly effective sales funnels to maximize your online presence and increase conversions.
ClickFunnels: The plan costs $147 monthly. You can build up to 20 funnels and unlimited pages. You also get support for 1 sub-user, 1 domains.
ClickFunnels Platinum: The plan costs $197 monthly. You get 100 funnels and unlimited pages, as well as 5 sub-users. You also get 3 domains.
Two-Comma Club: This plan costs $297 monthly. Pages and funnels are unlimited, and you can add up to 15 sub-users. You also get 9 domains.
Conclusion: Which Platform is Better?
Choosing between Unbounce and ClickFunnels is difficult, but Unbounce wins. Unbounce is cheaper and has premium features on its lower-priced tiers, similar to ClickFunnels. ClickFunnels may have advanced features, but they are not necessary for a landing page. Unbounce offers the necessary features and more, and executes them effectively.
Comparing Unbounce vs ClickFunnels can be a difficult decision. Both provide powerful features for building landing pages, but there are some key differences to consider.
First and foremost, Unbounce is cheaper than ClickFunnels. Unbounce offers a basic plan with all the necessary features to create effective landing pages, plus additional premium features like A/B testing and heat maps. On the other hand, ClickFunnels is more expensive but includes additional features such as funnel building, email automation, and Stripe or PayPal integration.
Another major difference between Unbounce and ClickFunnels is customization. With Unbounce, users have full control over each element on their landing page with drag-and-drop capabilities that make it easy to customize the look .
ClickFunnels offers a comprehensive marketing platform with a user-friendly interface, advanced segmentation options, and numerous sales integrations for those seeking such features.
If you are looking for a platform to create straightforward landing pages without too many complications, Unbounce could be a more suitable option.
The choice of landing page software depends on the features that are most essential to you.
1. Do you need a website to use Clickfunnels?
Clickfunnels can be used as an alternative to a traditional website.
2. How much customization do you need for a sales funnel?
It is not always necessary to customize sales funnels since many have been proven successful with similar elements.
3. How do landing pages work?
Landing pages serve a singular purpose of either making a sale or obtaining a lead by concentrating on one objective and excluding navigation to other sections of a website.
4. Do I need to use landing page software?
The use of landing pages can improve sales and lead capture, although it is not mandatory.