This post will provide a comparison of VidIQ and TubeBuddy, including an analysis of their features and specifications, followed by a recommendation on which one to choose.
VidIQ and TubeBuddy are popular tools for increasing YouTube audience growth. However, there are additional ways to utilize these tools for faster channel expansion and they offer more than just YouTube analytics.
VidIQ and TubeBuddy are two of the most popular tools for YouTube creators, as they can be used to help increase audience growth. Both of these tools provide powerful analytics and insights into your channel's performance. With VidIQ, you can get detailed information on how your videos are performing, such as views, likes, comments, and shares. You can also see which search terms peopleare using to find your videos. TubeBuddy provides similar insights, but it also offers helpful features such as video optimization tools, audience engagement tools, and the ability to create custom thumbnails. With TubeBuddy, you can see how your content is performing over time with real-time analytics.
As a Youtube creator, I researched tools to improve the SEO of my channels and compared VidIQ and TubeBuddy before making a decision. I would like to share my findings with you.
The article will compare and contrast the features of VidIQ and TubeBuddy.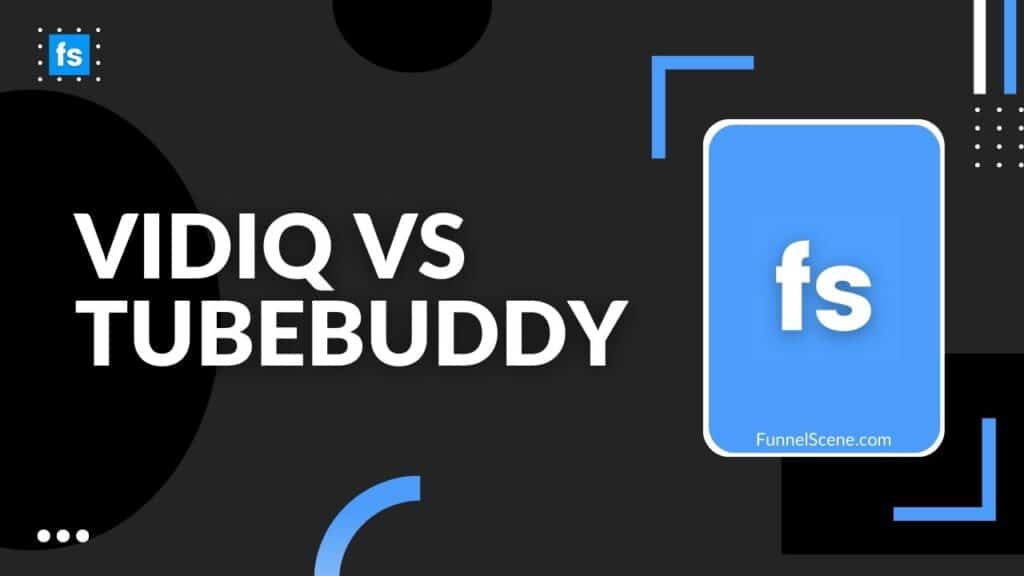 VidIQ vs TubeBuddy: A brief overview
VidIQ is an excellent YouTube extension to help enhance a channel's reach and audience. The Chrome extension can provide valuable insight to develop the channel, as well as show top competitors' views per hour and popular videos. Furthermore, it offers analysis of YouTube data with automated comment handling, thumbnail generation, backup support and more.
TubeBuddy improves your video marketing strategy by offering bulk processing features. You can easily update all your video descriptions in just one click. The TubeBuddy extension provides better analytics for YouTube SEO decision making. It's an all-in-one solution for YouTubers looking to grow their channel.
VidIQ vs TubeBuddy: Pros and Cons
In order to provide an impartial evaluation of VidIQ and TubeBuddy, it is imperative to comprehensively assess the pros and cons of each YouTube tool.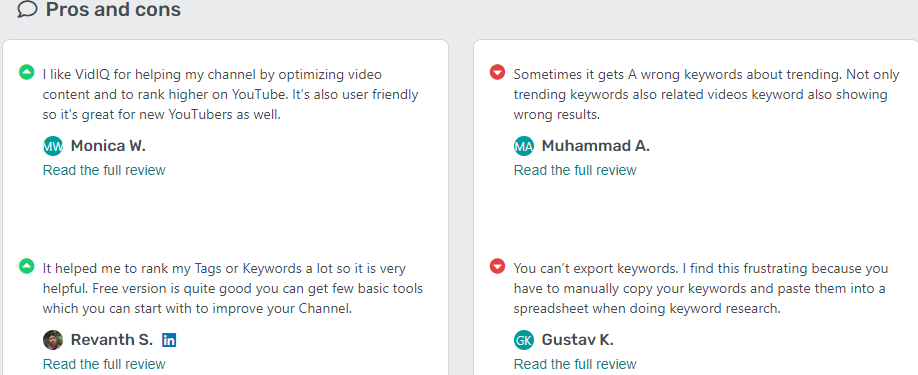 VidIQ pros and cons
Pros:
The interface is designed for ease of use and navigation.
This account has been verified by YouTube.
Understanding competitor analysis can be beneficial.
There are various methods to optimize YouTube content.
The package includes a plan suitable for beginners at no cost.
Cons:
The free versions have a limited range of features.
The plans are costly.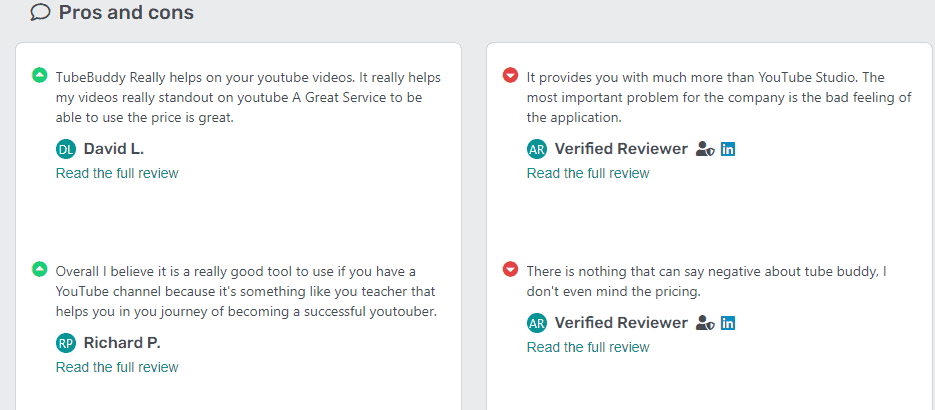 TubeBuddy Pros and Cons
Pros:
The software solution is designed with ease of use in mind.
This is a YouTube certification with a robust affiliate program.
Our plans offer benefits such as high-quality graphics and sound at an affordable price.
These tools can aid in video SEO, saving time, and promoting content.
The customer support provided is of high quality.
Cons:
This may pose a challenge for those who are new to the subject.
Affiliate payout is only available through PayPal.
VidIQ vs TubeBuddy: Features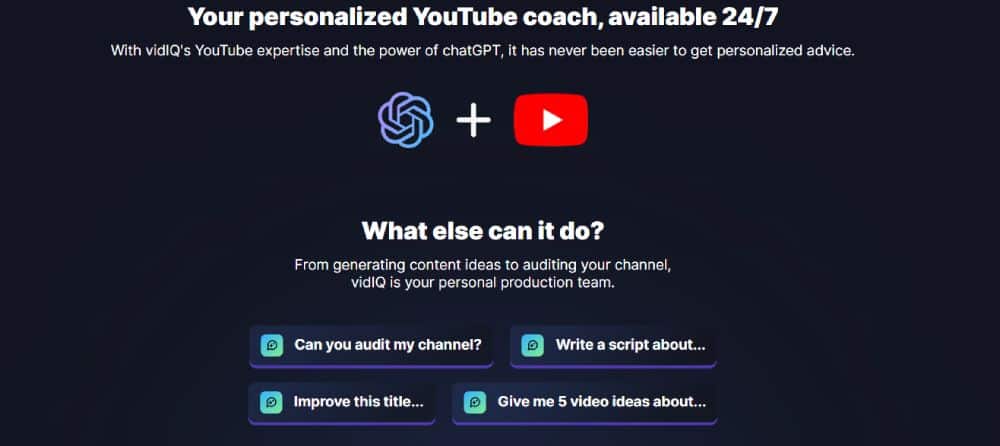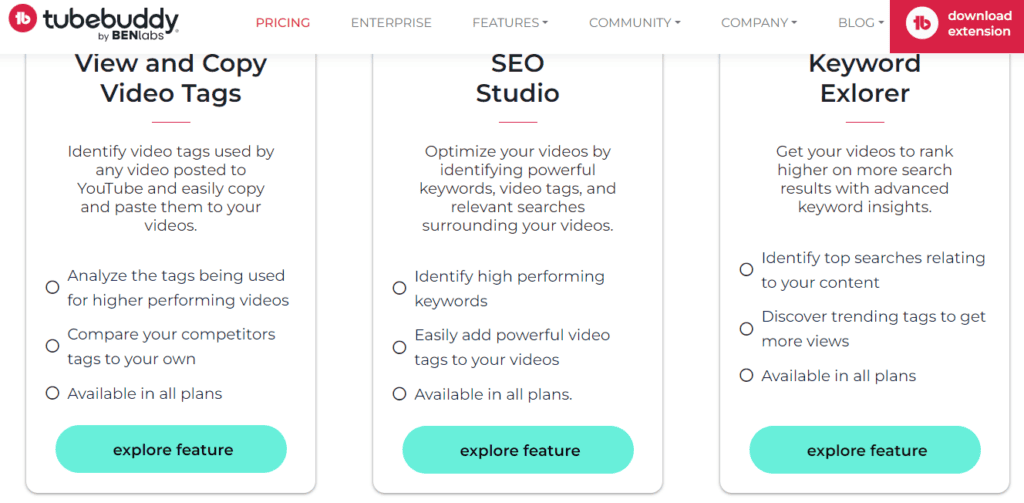 It is appropriate to compare the traits of VidIQ and TubeBuddy after evaluating their individual strengths and weaknesses.
We can begin now.
Free extension
VidIQ and TubeBuddy provide free extensions to assist with channel expansion, but it's essential to compare their differences.
VidIQ and TubeBuddy are two of the most popular free extensions for YouTube channel growth. Both offer a range of helpful tools, but they differ in terms of their features and capabilities.
VidIQ free extension
The VidIQ extension provides helpful analytics on a video's view count per hour, as well as recommended tags based on search volume to increase its visibility and ranking.
TubeBuddy free extension
TubeBuddy is another popular video optimization extension that helps optimize videos for search results and discover content opportunities. It provides a number of helpful tools such as keyword research, bulk editing, audience analysis, and automated optimization reminders. TubeBuddy also offers detailed analytics reports on the performance of your videos, including competitor comparisons and recommendations on how to improve them.
The best free extension winner is…
Based on a comparison between VidIQ and TubeBuddy, it was determined that TubeBuddy's free extension provides more features for video optimization, making it the preferred option.
Keyword research tool
Keyword research is a crucial aspect of running a successful Youtube channel. The effectiveness of VidIQ and TubeBuddy in this area will be examined.
VidIQ keyword research tool
VidIQ's keyword research tool helps you find the right keywords to optimize your videos for better visibility and rank higher in search. It provides insights into competitor performance, identifies related keywords, and suggests popular tags. This feature helps understand what people are searching for on YouTube and how to use those terms to maximize channel reach.
TubeBuddy keyword research tool
TubeBuddy also has a powerful keyword research tool which can help you identify the best keywords to target based on relevance and competition. It also offers detailed analysis on each keyword including search volume, average view duration, estimated video views, and more. This data can be used to maximize the visibility of your videos by optimizing them with the right keywords.
The best keyword research tool winner is…
Based on a comparison between VidIQ and TubeBuddy, it was determined that TubeBuddy's keyword research tool is more comprehensive than VidIQ's, making it the preferred option when optimizing videos for better visibility on YouTube.
Video optimization
Optimizing videos is an important factor for their success, and comparing VidIQ and TubeBuddy can determine which is more effective.
VidIQ video optimization
VidIQ improves YouTube channel performance and helps videos get seen through optimization.VidIQ helps you analyze and optimize your videos for more views by providing keyword suggestions in the video tags tab.
Their most expensive plan (starting at $39 per month) only allows optimization of 40 videos.Boost analyzes your video and suggests relevant keywords with their SEO score, making it easy for you to optimize your description and titles.
TubeBuddy video optimization
TubeBuddy provides superior video optimization by suggesting relevant keywords with corresponding SEO scores that can be easily filtered by relevance, score, or search traffic.
To optimize your video's search rankings, it is recommended to utilize the TubeBuddy SEO studio to incorporate targeted keywords into the title and description.
The best video optimization winner is…
In comparing VidIQ and TubeBuddy, it was found that both platforms perform a similar task. However, TubeBuddy offers the video optimization feature in their first paid plan starting at $7.20 per month, while VidIQ requires a minimum payment of $39 per month. Therefore, TubeBuddy is considered the winner in this aspect.
VidIQ vs Tubebuddy: Pricing Plans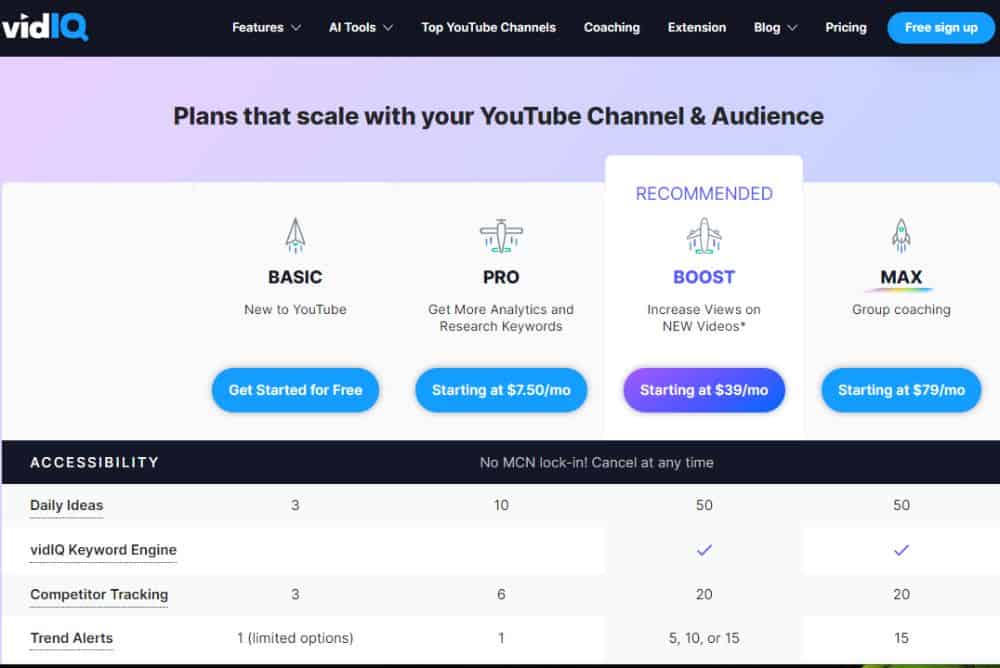 VidIQ Pricing Plans
VidIQ offers Four pricing plans: Basic, Pro ($7.50/month), Boost ($39/month) and Max ($79/month).
The bsic plan provides basic features such as keyword research, competitor analysis, and metadata optimization.
The Pro plan includes more advanced features such as automated optimization reminders, video performance analysis, and SEO-friendly titles. This plan also allows for the optimization of up to 40 videos per month.
The Boost plan is designed for larger businesses or agencies with multiple YouTube channels. It comes with all the features of the Pro plan plus unlimited channel support and collaboration tools.
Lastly, The Mx Plan ($79/month) provides unlimited access to all TubeBuddy features including A/B testing of title & tags & thumbnail previews in search results page and even more detailed reporting on competitor performance across different countries or language settings.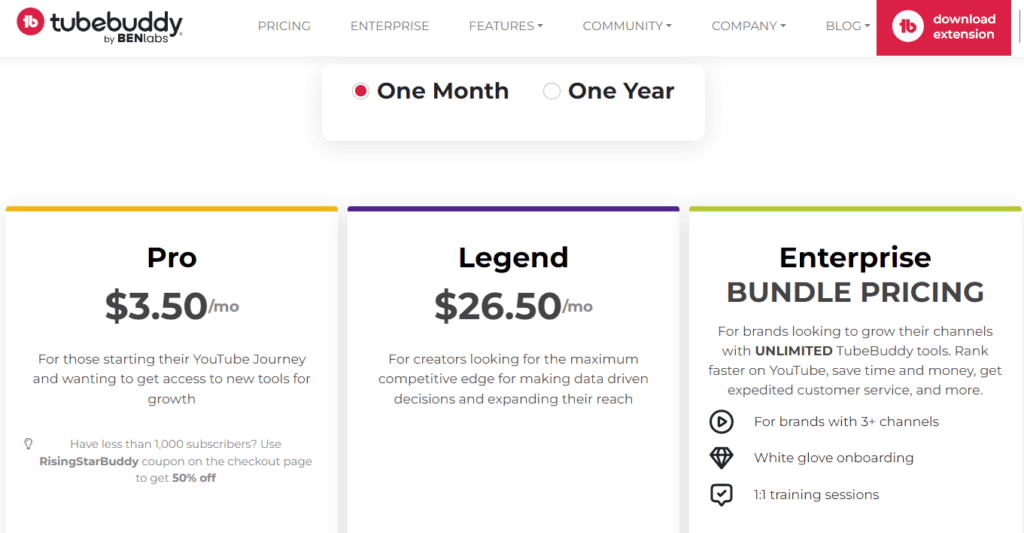 TubeBuddy Pricing Plans
TubeBuddy offers three pricing plans starting from a Pro version all the way up to their highest tier called "Enterprise" priced at $69/month.
The Pro Plan ($3.50/month) provides basic features such as keyword research, bulk editing, analytics reports, and audience insights.
The Legend Plan ($26.50/month) adds additional functionality such as A/B testing of titles and thumbnails, metadata optimization suggestions, and automated optimization reminders.
The Enterprise increases the quota of videos that can be optimized in a month from 40 to 100 while adding additional features such as SEO score ratings for keywords and detailed reporting on competitors' performance across channels.
The best value winner is…
A comparison of the paid plans of VidIQ and Tube Buddy revealed that Tube Buddy offers a better value with lower costs and a wider range of features in each tier, while VidIQ has a limited number of optimized videos per month.
Alternatives to Tubebuddy and VidLQ
TUBEAST
TuBeast also provides advanced analytics and insights into YouTube performance, allowing users to make better decisions about their YouTube channel.
VUDINI
Vudini's subscription plan provides a range of tools, including automatic title tags optimization, thumbnail previews, and keyword research with optimization tips. The starting price for this plan is $19/month.
TubeBuddy is a software that offers a variety of tools to help content creators and video professionals improve their YouTube channel. These tools include bulk video processing, audience insights, A/B testing, SEO optimization, and analytics.
TubeBuddy provides various pricing plans, starting at $9/month, that offer features like tagging suggestions, competitor analysis data, title and description optimization, and automated playlists.
SOCIAL BLADE
It also provides detailed analytics on YouTube channels, including how many subscribers you have, what your channel's viewership is like, and information about how much money you could make from ads. Social Blade also has tools to compare different channels and track their performance over time.
CONCLUSION: VidIQ vs TubeBuddy - Which one is Better?
TubeBuddy. While both tools offer similar features, TubeBuddy's pricing plans are more affordable, making it a better option for smaller YouTubers. However, it's important to note that both tools have their strengths and weaknesses, and the best option for you will depend on your individual needs and preferences.
TubeBuddy is a popular YouTube channel management tool that helps YouTubers improve their video performance and grow their audience. It offers features such as keyword research, optimization, analytics tracking, and more. TubeBuddy also makes it easier to create thumbnails, upload videos, and collaborate with other channels.
Frequently Asked Questions
1. Can you use TubeBuddy and VidIQ together?
While it is possible to use any dashboard, beginners may find it overwhelming due to its cluttered nature. It is recommended to select a dashboard that aligns with your goals and needs.
If you cannot decide between the two best video marketing tools, consider paying for one and testing out the free version of the other to avoid missing out.
2. Who should not use TubeBuddy and VidIQ?
It is important to manage expectations when it comes to the impact of these tools on your channel, as overnight success is unlikely.
While SEO tools can assist in promoting your video, ultimately the viewers will evaluate the worth of your channel based on its content and the value it provides.
To increase search traffic, begin by producing high-quality content and utilizing these tools to enhance its performance.