WordPress is an open source platform, and it's one of the most popular website building solutions in the world. It's powerful, but it takes time to learn how to use it. To get the most out of WordPress, you'll need a basic understanding of HTML and CSS, or you'll have to hire someone who does. It's also quite difficult to customize your site if you don't have coding skills; instead, you may have to install multiple plugins.
On the other hand, Webflow offers a visual website building platform that doesn't require any coding. It's an easy to use platform which makes it easy for anyone to create a beautiful website. The drag and drop system is intuitive and allows users to customize their sites without any coding knowledge. The platform also has many templates that can be used as a starting point for creating your site.
This article will provide a comparison of Webflow and WordPress, including their advantages and disadvantages, in order to determine which platform is superior.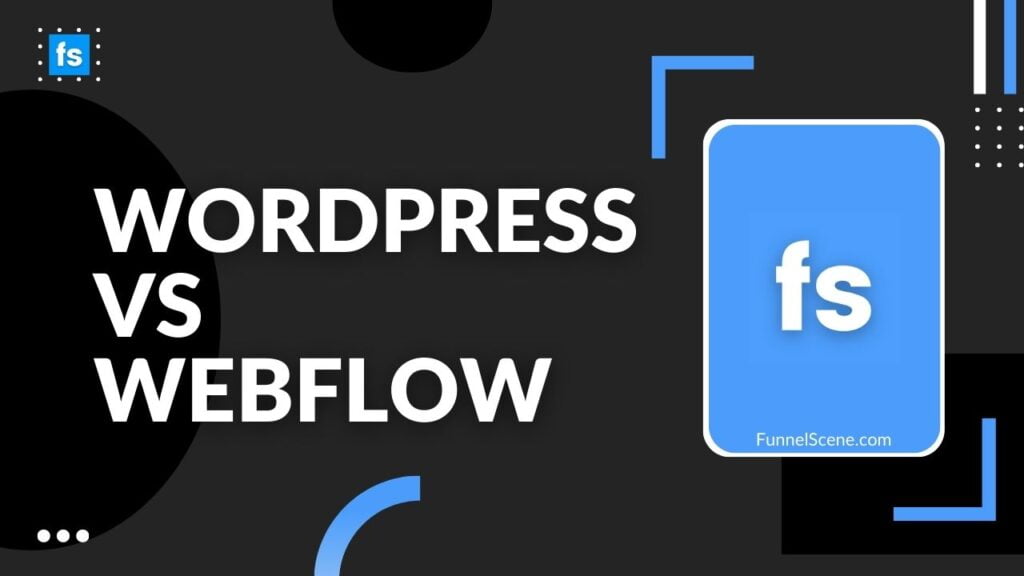 Webflow vs WordPress: General Overview
WordPress is a widely used website builder and content management system, with over 43% of all websites on the internet being powered by it.
WordPress is software that is both free and open-source, allowing for a wide range of uses such as blogging, business websites, online stores, and more.
To create a WordPress website, it is necessary to have a domain name and a web hosting account. Several WordPress hosting providers offer easy setup and 1-click WordPress installation, including Hostinger and Bluehost.
Webflow is a website builder that provides a visual web design tool for creating your website with ease.
The software is hosted, allowing for usage as a service. Revenue is generated through paid features, upgrades, and hosting services.
Creating a Webflow account allows for connection to a domain name and downloading of the website for hosting on alternative platforms.
Webflow vs WordPress – Features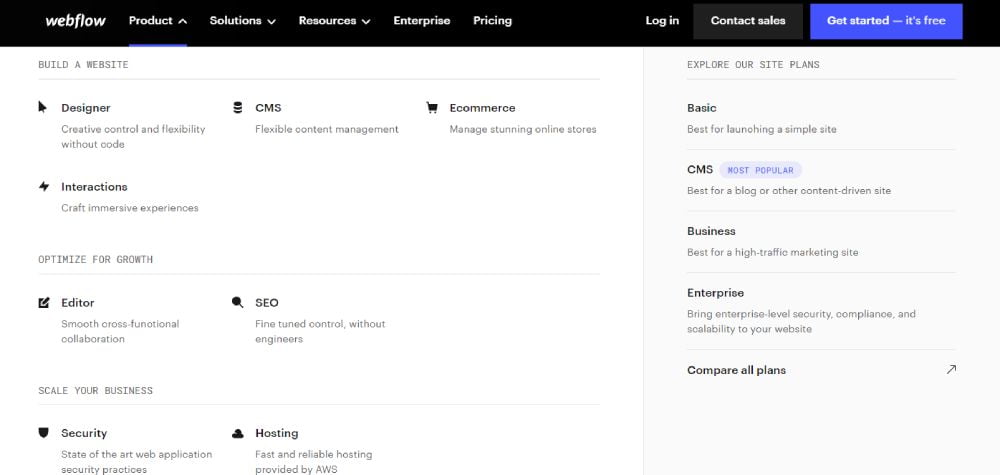 Webflow's editor provides a user-friendly way to design responsive websites without requiring coding expertise.
The content management system facilitates website management and provides a range of templates and themes for selection. Additionally, it allows for exporting sites to HTML/CSS or WordPress themes.
Webflow has several significant features.
The editor has a strong visual interface.
The available themes exceed 1,000.
The name of the educational institution is Webflow University.
The eCommerce engine is integrated.
Integration of Zippier, QuickBooks, MailChimp, and ShipStation.
The task involves editing templates.
Paid plans include access to direct customer support.
While this overview of Webflow is limited, it raises the question of whether Webflow surpasses WordPress.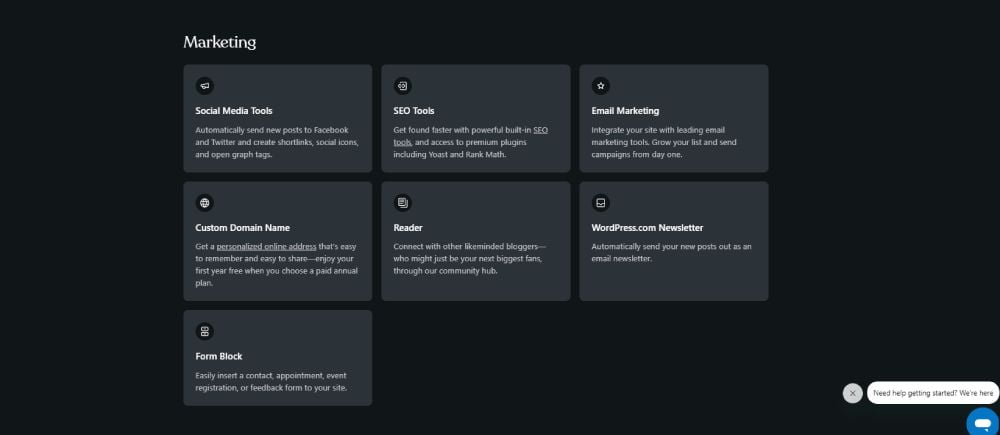 WordPress began as a blogging platform but has since evolved into a highly customizable site-building platform, offering numerous free themes and plugins.
WordPress has several important features.
The platform offers a wide range of theme and plugin options for users.
WooCommerce offers eCommerce integration at no cost.
There are numerous official documents and learning resources available.
The visual theme customizer is a tool for customizing the appearance of a website.
The Gutenberg editor is a software program used for editing text.
The available choices include categories, tags, and custom post types.
WordPress is a comprehensive CMS solution that includes all necessary features to create a blog and can also be utilized for an eCommerce website.
Webflow vs WordPress – Ease of Use
Both Webflow and WordPress have user-friendly interfaces with drag and drop capabilities for creating a website. Additionally, both platforms offer a wide variety of templates and themes to choose from.
Webflow also offers integration with popular eCommerce platforms, such as Shopify and Magento. This makes it easy to create a site that sells products.
WordPress also has an extensive range of learning resources, including tutorials and official documents. If you're new to website design or development, WordPress will provide all the help you need to get started.
In general, both platforms offer an easy solution for anyone who wants to create a website. However, if you're experienced in website design or development, WordPress may be the better choice.
Webflow also offers a wide variety of integrations, such as Zapier and QuickBooks. This means that you can easily connect your site with other services, such as email marketing and shipping.
Overall, Webflow is easy to use, with plenty of features and options to customize your website. If you're new to website design or development, Webflow will be a simple and easy platform to learn on. However, if you're experienced in website design or development, WordPress may be a better choice.
WordPress has a relatively user-friendly interface, which makes it accessible even for beginners. Additionally, many hosting providers, including Hostinger, offer a one-click installation process.
The platform features an intuitive visual editor allowing for easy creation of pages and posts by anyone.
Pages can be constructed using blocks that function similarly to widgets for different components, including headings, buttons, and paragraphs. If you prefer not to use the default editor, there are many third-party page builder plugins available, such as Elementor or Beaver Builder.
Webflow vs WordPress – Themes and Extensions
One notable difference between WordPress and Webflow is the availability of themes and extensions.
WordPress and Webflow both offer a variety of plugins and themes for website building, with WordPress being known for its flexibility and Webflow having a solid selection as well.
Webflow Themes and Extensions
Webflow has some limitations in terms of themes and extensions, particularly when compared to WordPress. Nevertheless, it does provide over 1,000 custom templates, including those for businesses, portfolios, blogs, and agency sites.
In contrast to WordPress, a majority of these templates require payment, with only a limited number available at no cost.
Webflow offers a range of extensions and third-party integrations, such as Adobe After Effects and Lottie Animations, as well as support for Mailchimp and Zapier integrations.
WordPress Themes and Extensions
WordPress provides a vast collection of themes and plugins that can enhance the capabilities of your website, which is one of its most notable advantages.
The WordPress Theme Directory contains a selection of over 9,000 free templates.
Users can access a variety of themes on the WordPress admin interface, and can choose to install and activate them. The platform also offers filters for selecting themes based on specific features or industries.
In addition to the officially available themes listed in the directory, there is a vast selection of premium themes offered by developers and marketplaces online.
Explore the vast universe of WordPress plugins with over 59,000 options in the directory! From site security to SEO, these tools have got your back. Keep in mind, this is just the official WordPress selection – there's a whole galaxy of premium extensions waiting for you on third-party sites.
Webflow vs WordPress – SEO
To ensure a high search engine ranking for your website, it's necessary to assess the SEO features provided by each platform.
Webflow has several features that can enhance a website's SEO. These include the ability to edit title tags, meta descriptions, and other elements directly in the editor. Additionally, users can adjust open graph settings and share content on social media platforms.
By choosing to purchase a paid plan, users are able to access supplementary SEO tools such as automated sitemap generation, schema markup editing, indexing regulations, and redirect application.
The AWS hosting plan offers access to CDNs that can increase website speed and potentially enhance rankings. In addition, every Webflow site includes a pre-installed SSL certificate.
WordPress is a content management system that prioritizes search engine optimization. It includes pre-installed features for enhancing website optimization and offers numerous extensions to boost search engine visibility.
WordPress offers various features like the ability to modify URLs and permalink settings, organizing pages and posts through categories and tags, and optimizing images for SEO purposes.
Plugins such as Yoast SEO and AIOSEO are available for installation to enhance the optimization of website contents. They suggest targeted keywords and improve the readability of posts and pages.
The performance of a WordPress site can be impacted by the hosting provider. Various WordPress hosting plans provide CDNs, SSLs, and other instruments that can enhance SEO.
WordPress vs Webflow – Pricing
Determining the cost of building a website can be complex due to various factors, such as the platform used. To understand the basic cost breakdown, let's compare WordPress and Webflow.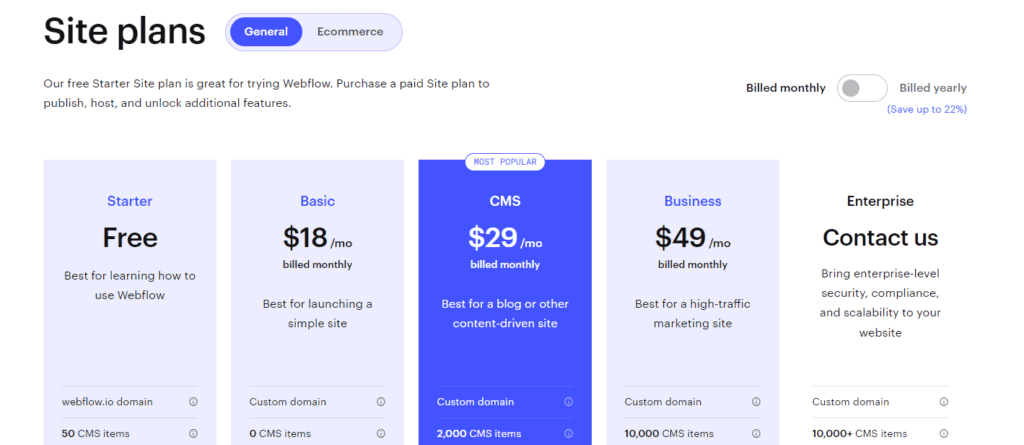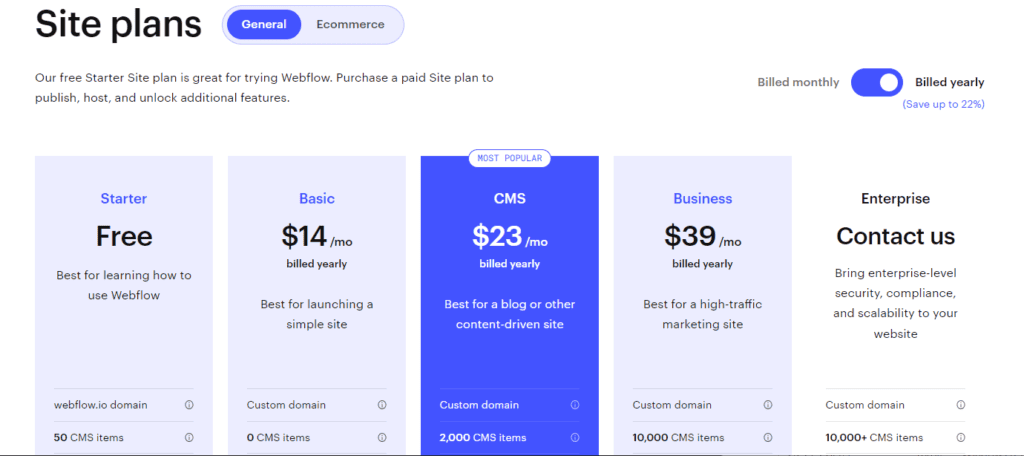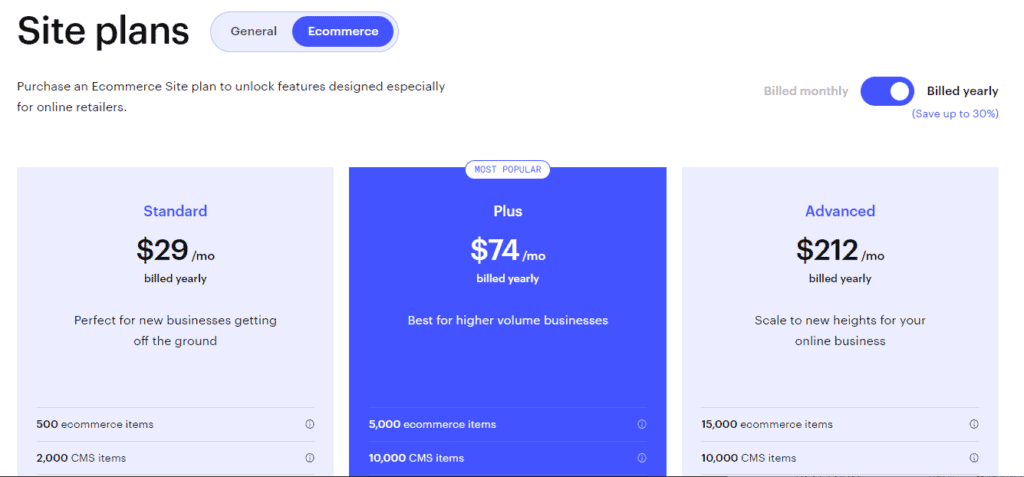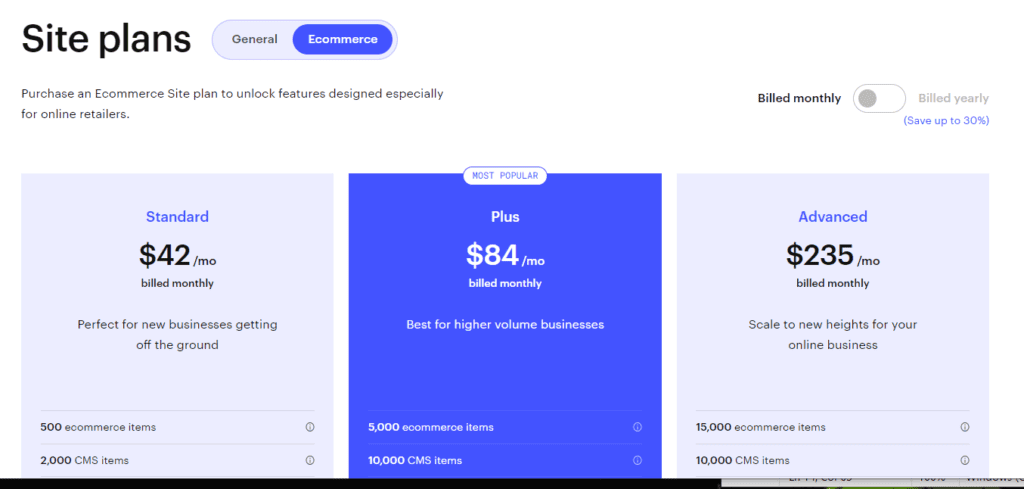 Webflow provides two types of plans for setting up an account: Site plans and account plans. The Site plans include different pricing choices for websites and e-commerce companies, which can make it difficult to decide. To start, we'll give an overview of the website packages.
The basic plan costs $18/month and is suitable for those who require a straightforward website without a CMS. It covers hosting, use of the visual editor, and a free SSL certificate, with a maximum of 25,000 monthly visits and 500 form submissions.
The CMS plan is designed for blogs or content-driven websites, with a monthly cost of $29. It includes 100,000 monthly visitors, 1000 form submissions, 2000 CMS items, a limited CMS API, 3 content editors, and a site search function.
The Business plan is priced at $49 per month and is suitable for high traffic sites or blogs. It allows up to 1,000,000 monthly visitors, unlimited form submissions, full CMS API, 10 content editors, site search, and form file uploads.
Webflow offers a free website building option, allowing users to take their time to experiment with features and create their website before launching. When ready, users can choose to add a Site plan to make their website live.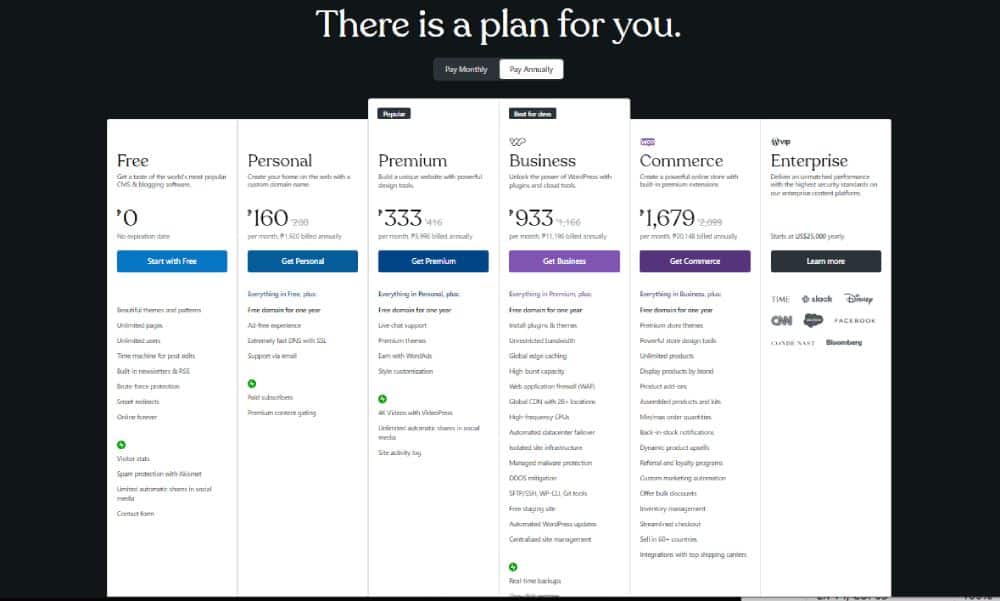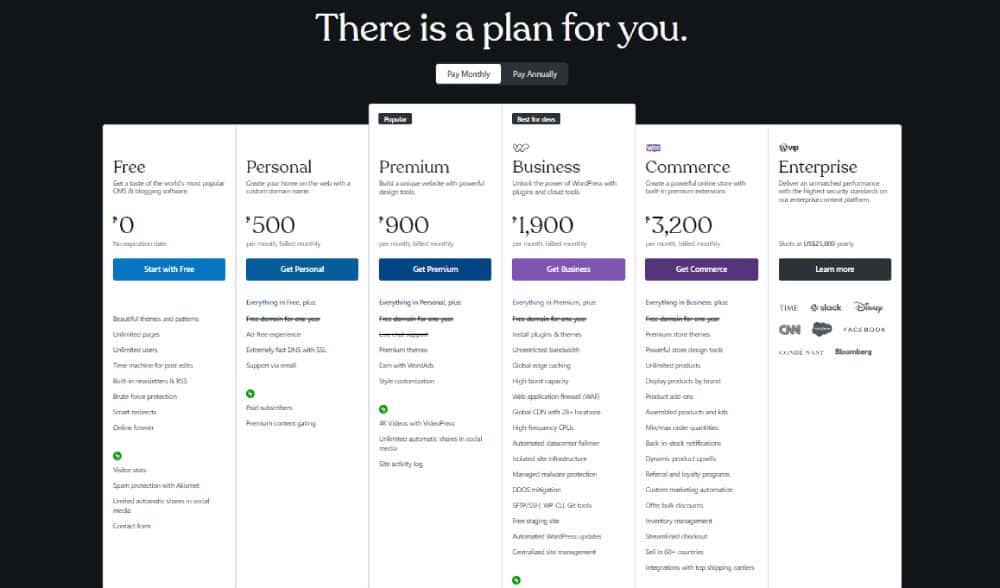 WordPress is a software that can be downloaded, installed, hosted, and self-managed for free. However, there are recurring expenses involved such as web hosts (e.g. SiteGround or Cloudways), domain name registration, theme and plugin licenses, and memberships, which can accumulate rapidly.
The expenses mentioned earlier may vary depending on the website. Licenses for themes and plugins may be either recurring fees or one-time lifetime memberships, as seen at Elegant Themes.
The cost of hosting can range from $5 to $9 per month, a domain typically costs $10 per year, and a theme may be purchased for a one-time fee of $29.99. However, prices may vary.
Running a website costs money. A basic WordPress website can cost $50-$75 per year. Spending more, up to $100-$350 per year, may be necessary for premium themes, plugins, and web hosting upgrades.
Webflow vs WordPress – Support
WordPress offers an extensive support forum and a team of expert users who can help with any issue you might encounter. Webflow also offers a forum, but it is limited in terms of the number of posts available.
In addition, both WordPress and Webflow offer support through email, phone, and chat. However, the amount of support each builder provides may vary. For example, WordPress offers more comprehensive support for updates and security issues, while Webflow offers more limited assistance for custom designs and site building.
Webflow vs WordPress – Summary
WordPress and Webflow are two powerful platforms that offer robust solutions for creating various websites, and at this point, you should have a better understanding of their main differences.
Webflow is a website builder that is designed for use by designers and is available as a SaaS product. It offers a feature-rich and intuitive interface that allows you to create a website from scratch or choose from a selection of templates.
The free plan offers limited features, but with a paid plan, users gain access to the CMS and eCommerce builder. Additionally, paid users receive direct support and Webflow manages their hosting.
WordPress is a flexible and versatile CMS with a vast library of themes and plugins, providing endless design and customization options. Getting a site up and running is quick and easy with the purchase of a domain and hosting plan.
WordPress is a cost-effective solution that provides full control over the design and functionality of your website.
Webflow and WordPress offer unique features and benefits, and the choice ultimately comes down to your specific needs and preferences. If you're a designer looking for a visually stunning website with built-in e-commerce capabilities, Webflow may be the better choice. However, if you're looking for a more flexible platform with a strong focus on content management and SEO, WordPress may be the way to go.
Both Webflow and WordPress offer unique features and benefits, but ultimately the choice comes down to your specific needs and preferences. If you're a designer looking for a visually stunning website with builtin e-commerce capabilities, Webflow may be the better choice. However, if you're looking for a more flexible platform with a strong focus on content management and SEO, WordPress may be the way to go.
Webflow is a visually stunning platform that allows you to create stunning websites with ease. With its built-in e-commerce capabilities, you can easily create and manage your own online store. Additionally, Webflow is extremely versatile and can be used for a wide range of purposes, such as personal blogs, corporate websites, or even online courses.
Frequently Asked Questions
Is Webflow good for e-commerce sites?
Webflow is a good choice for designing e-commerce sites that require more than typical templates offer. Its higher-tier e-commerce plans have a 0% transaction fee, which is beneficial. However, Webflow may not be the best option based on your specific e-commerce needs. Research the best e-commerce platforms to learn more.
When it comes to designing an ecommerce website, you have two main options: WordPress and Webflow. While WordPress is a popular option for many types of websites, Webflow is a great choice for those looking for more than basic templates offer. It has all the features and customization options that make creating unique and professional-looking ecommerce sites easy.
Is web hosting necessary?
Yes, web hosting is necessary in order to make a website live and accessible online. A web host provides the space where your website's files are stored, as well as the bandwidth that allows users to access it. Additionally, some hosts offer additional features such as domain name registration and email services.
How do you make a WordPress website?
To create a WordPress website, it is necessary to acquire web hosting, preferably from a provider that offers a free domain name and one-click WordPress installation. Afterward, connect your domain and hosting to WordPress, choose and install a theme, add plugins, import demo content, adjust settings, generate pages, and personalize your site. Detailed instructions on building a WordPress website are available.
Which is better: WordPress or Squarespace?
Choosing between Squarespace and WordPress depends on factors such as website needs, web design fluency, budget and time. Squarespace is easier for beginners to build a site, though more expensive, while WordPress is highly customizable and better suited for unique website needs. See a comparison of Squarespace vs. WordPress for more information.