Are you trying to figure out which is best out of ActiveCampaign vs GoHighLevel? That was me just a few months ago, so I've decided to share my research on both companies and create this comparison article. 
From a birds eye view, GoHighLevel is a more comprehensive marketing tool primarily used by agencies with almost every tool you'd need to run your business. It does share some features with ActiveCampaign, but ActiveCampaign is mainly focused as an email service with a side of integrated customer relationship management.
For this reason, I decided to use GoHighLevel primarily for my marketing agency, as well as some marketing for this brand Funnel Scene. However, that's just me, so let me share with you what I found and you can decide what's best for you.
In this ActiveCampaign vs GoHighLevel comparison, we'll discuss the key factors to consider when choosing one of these two software. By the end of this article, you will know which is best for you!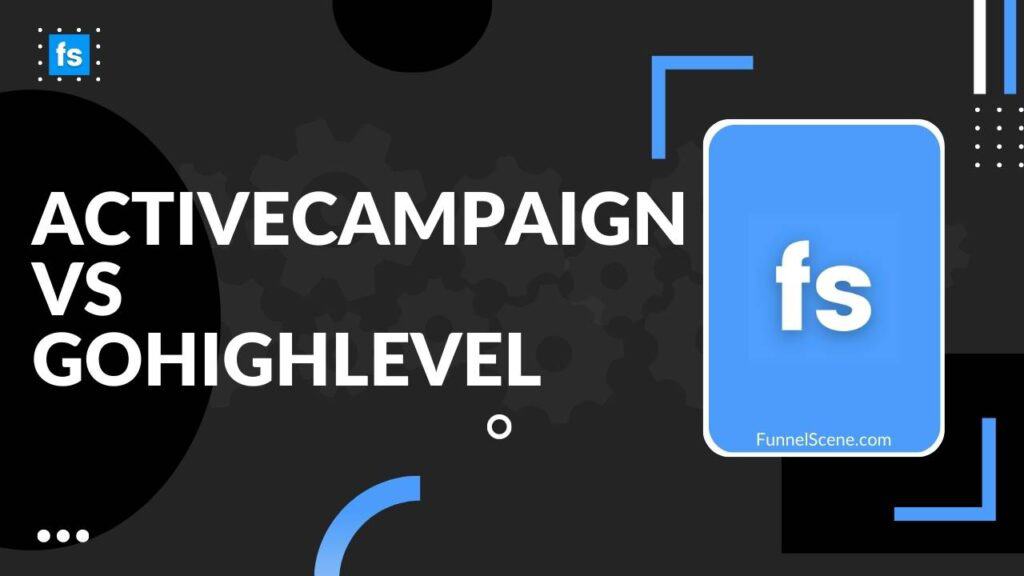 ActiveCampaign vs GoHighLevel
If we look at these two platforms together, they both suit a certain type of person or business. 
Active Campaign calls itself a "Customer Experience Automation Platform" that helps businesses build meaningful connections with their customers. This is possible through their CRM features, email marketing automation, transactional emails, and conversations feature.
Interestingly, ActiveCampaign reached the Unicorn status in 2021 and now in 2023 has over 180,000 users and powers over 
Before we get into the comparison, let's start by clarifying the GoHighLevel actual company name. The company, "High Level," was unable to acquire the domain name at the time of registering, so they ended up using "GoHighLevel.com." 
As a result, their program is often referred to as Go High Level. Understandably, most users use this name, especially when dealing with clients as HighLevel.com is a dead domain and can confuse the client.
Now that that's out of the way, let's continue.
ActiveCampaign vs GoHighLevel: Google Search Interest
Let's start with Google Search Interest. While this isn't a rock solid metric to determine which company is better, you do get to see how the search trend is going in terms of the brand name and related keywords.
This is important as it gives you an idea about market share, feature developments, community and company growth. If the trend line is increasing, this usually means they are staying ahead of the game and focusing on growth. If the trend line is decreasing, this means they aren't putting much focus on growth or development, instead just maintaining their current ground.
For reference, ActiveCampaign was first founded in 2003 and GoHighLevel was founded in 2018. For this reason, I chose to search the data history for the past 5 years.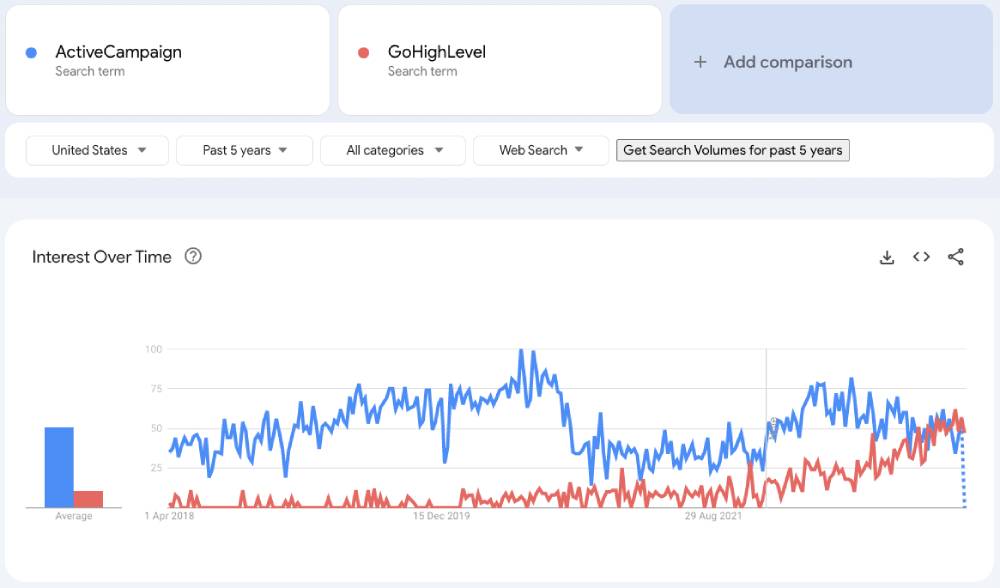 The really interesting you'll notice on the chart above is you can see that ActiveCampaign had strong steady growth up until 2020. Then they had a bit of a lull, came back up a bit, but from 2022 it has slowly started to follow a decreasing trend.
High Level on the other hand, started out with zero searches, just the occasional spike here and there. Now if you look at the August 2021 mark, you'll notice they start a growth trend. The exciting thing about this, is this growth trend has continued throughout 2021, 2022, and has now surpassed ActiveCampaign in monthly searches.
Once again, while this data is just related to searches, what it tells me is that a lot of people are now hearing about Go High Level, joining the platform, and their brand name is spreading throughout the marketing space. It will be interesting to see how they are tracking at the end of 2023.
ActiveCampaign is a cloud-based platform that provides a comprehensive email marketing service to help you personalize messages, create landing pages, manage your email list, and run automated campaigns for optimal time savings. 
It also offers powerful automation tools and CRM tools to help market your business, and recently they just launched their new chat messaging feature called Conversations.
Who is ActiveCampaign for?
There are many use cases for ActiveCampaign as is a perfect email marketing solution for businesses of all sizes. It offers powerful automation tools to run automated email processes efficiently, provide optimised email experiences, nurture leads, and ultimately save time and make more money. 
This mean it's perfect for users who are just starting their marketing journey online who require a decent level of features, right up to enterprise companies.
ActiveCampaign Pros and Cons
After signing up and testing the platform, we found the following pro's and con's while using ActiveCampaign which you might find useful.
ActiveCampaign Pricing - How much does it cost?
ActiveCampaign pricing options start at $19/month - $386/month
Marketing Category
Plus Plan is $49
Professional Plan (Most Popular) is $149
Enterprise: For growing teams in larger orgs looking to personalize their marketing at scale
Sales Category
Plus Plan is $19
Professional Plan (Most Popular) is $49
Enterprise: For scaling sales teams that need a flexible and customizable CRM
Bundles Category
Plus Plan is $93
Professional Plan (Most Popular) is $386
Enterprise: For scaling businesses that need a platform adaptable to their evolving needs
GoHighLevel is a specialized marketing automation software designed with agencies in mind. It was developed to acquire leads, cultivate them efficiently and turn them into loyal customers through one centralized interface. Additionally, the platform offers plenty of invaluable tools to manage your agency's needs from a single dashboard.
GoHighLevel is a software-as-a-service product designed for agencies. The platform provides many advantageous tools and capacity to manage designed for agencies. The platform provides many advantageous tools and capacity to manage your promotional agency. By utilizing GoHighLevel, say farewell to piecing together multiple separate instruments to operate your agency. They claim that you will be able to substitute numerous utilities such as ClickFunnels, Mailchimp,Teachable, WordPress, Pipeline, Calendly Hubspot, SalesForce, Woodpecker and several more.
GoHighLevel Pros and Cons
GoHighLevel Pricing - How much does it cost?
GoHighLevel pricing starts at $97/month - $297/month

Agency Starter Plan – $97/mo – setup only a single account for your client or agency and get all tools.
Agency Unlimited Plan – $297/mo – ability to create unlimited sub accounts for your clients and other businesses.
White Label Mobile App + Custom Zap Upgrade – additional $497/mo – white-label your custom mobile app, custom zap and add your agency's branding.
GoHighLevel Pricing Information
ActiveCampaign Pricing Information

Free 14 Day Trial Available
Free 14 Day Trial Available
Email Marketing Integrations
Email Marketing Integrations
GoHighLevel Affiliate Program
ActiveCampaign Affiliate Program
Affiliates who join the ActiveCampaign program can earn 30% in recurring monthly commissions! Click to sign up and become an affiliate partner.
Owner / Founder: Jason VandeBoom
Location: Chicago, USA
Customer Support: [email protected]
Founded: 2003
What we love about GoHighLevel
What we love about ActiveCampaign
When operating an agency, engaging clients, and maintaining them, GoHighLevel is a game-changer. You gain integrated marketing instruments for developing lead capture pages, sales processes, and websites so you can attract leads quickly. Furthermore, you get a CRM and applications to bolster your potential customers. You can construct tailored, programmed follow-up efforts to interact with your prospects through several mediums such as vocal calls, email, text messages, Facebook Messenger, and more. What truly sets High Level apart? The White Label pricing scheme is an immense difference compared to its rivals.
ActiveCampaign is one of the best, affordable email marketing automation tools available and it's our own choice for this purpose. It has a simple drag-and-drop editor to make creating emails easy, as well as a CRM to manage leads. We also appreciate its advanced marketing automation capabilities that help you develop sophisticated automated workflows very quickly in order to better reach and nurture your contacts in an environment that encourages their satisfaction.
What Stands Out For Us When Reviewing GoHighLevel Vs ActiveCampaign?
We found the following insights when we compared GoHighLevel with ActiveCampaign.
GoHighLevel is designed to assist digital agencies in gaining customers and providing them with solutions. It's a full-featured marketing platform that offers the necessary tools, assistance, and resources for agency owners or marketers to achieve success.
As an alternative, ActiveCampaign offers the necessary tools for email marketing and automation management to help your business growth online.
GoHighLevel provides an easy-to-use platform with a range of tools to help manage your agency and clients.
A page builder is an helpful tool that facilitates the creation of full-fledged websites, landing pages, surveys, sales funnels, and lead capture forms for you and your customers.
GoHighLevel offers a tool to automate your email marketing campaigns, as well as connecting with leads via SMS, MMS, phone calls, voicemail, and Facebook Messenger.
GoHighLevel offers features like an automated booking calendar and the ability to create an online course or community for your business.
ActiveCampaign provides excellent tools for email marketing, automation, and lead generation, including a user-friendly drag-and-drop builder for forms and landing pages.
Utilizing their email builder and mobile-friendly templates, you can craft remarkable emails and follow up on leads.
Their cutting-edge automation system, their key benefit, outperforms any competitors. You can use it to send automated emails, grade prospects, and manage lists automatically.
Additionally, ActiveCampaign includes a CRM for managing your contacts and a 'conversations' tool to send personalized messages to your website visitors.
Let's review each tool's individual features and use-case before making a final decision.
Which Is Best For Landing Pages & Sales Funnels?
Marketers often mix up landing pages and sales funnels due to their many similarities. Nevertheless, the two are fundamentally distinct.
Landing pages typically contain a single page designed to achieve one marketing objective, whereas sales funnels consist of several web pages that take users through the purchasing journey.
Although design is an important difference between landing pages and sales funnels, there is much more variability between the two. Their purposes and uses are much different from one another.
Which Is Best For Email Marketing & Automation?
Email marketing tools are useful for managing contact lists, designing emails, testing different email versions, and tracking performance metrics such as open rate and click-through rate. This may suffice if you have a small business that's simply sending out newsletters. However, businesses seeking growth in profits or donations will need the more advanced features of a marketing automation platform.
Marketing automation allows for a wide array of abilities that an email marketing platform just can't offer. Multinational organizations necessitate a more progressed way to generate leads, acquire patrons, and manage mailing lists. Things like these are inaccessible to fundamental email platforms. Small- and medium-sized businesses with buoyant development strategies may take advantage of embracing a complete automation service such as HubSpot Inbound Marketing, which focuses on bringing leads in through marketing automation.
Which Is The Best Price For The Money?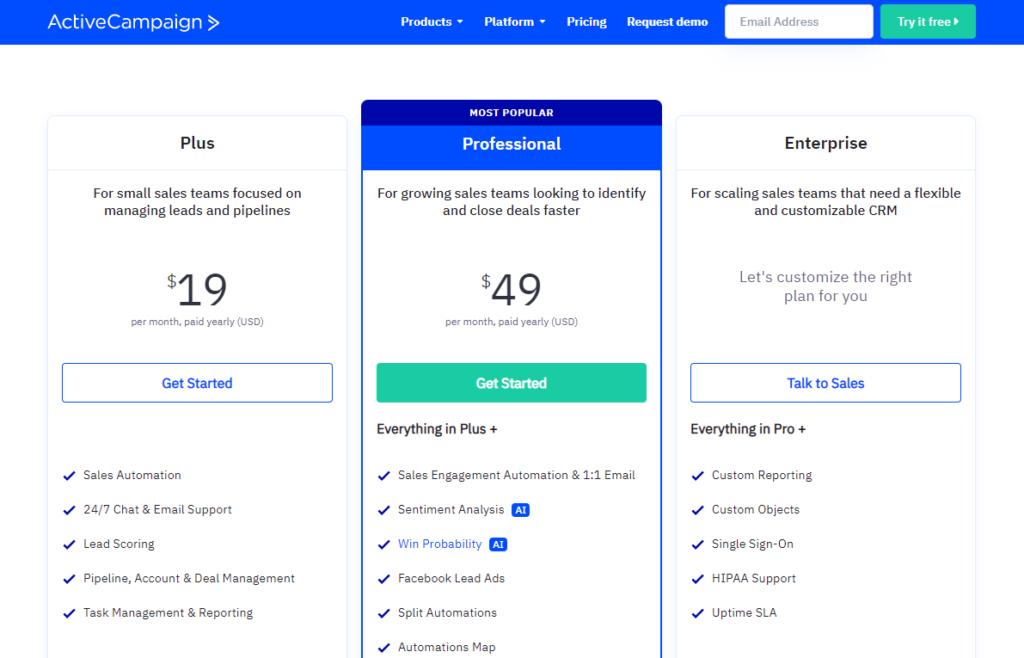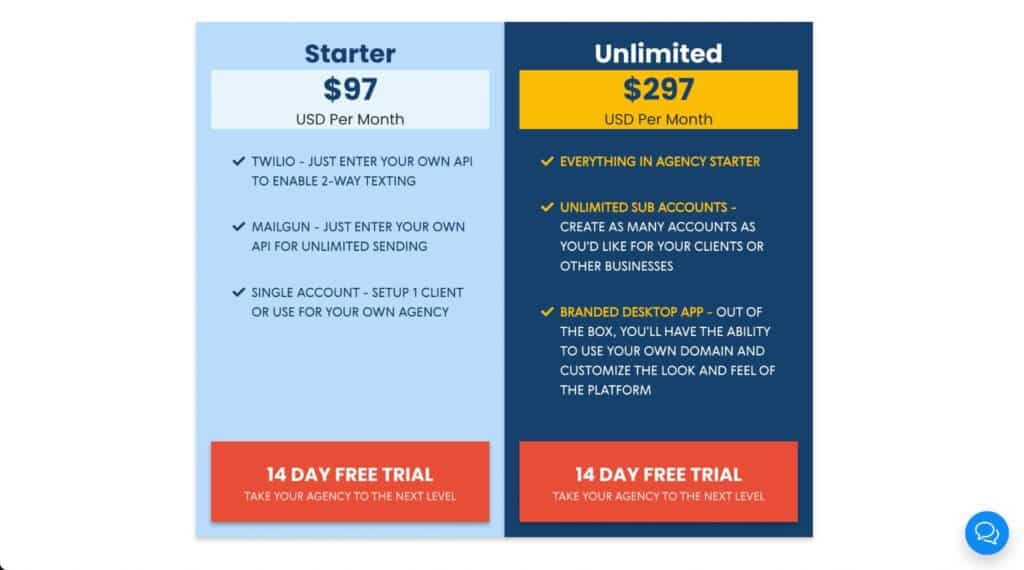 ActiveCampaign offers several subscription tiers. The Plus plan, which costs $19 per month, provides you with access to landing page tools, lead scoring, machine learning, and an in-built CRM.
GoHighLevel provides two pricing options – Agency Starter ($97/month) and Agency Unlimited Account ($297/month) – to help your agency succeed.
Before committing to purchase, they offer a 14-day free trial to experience its features.
GoHighLevel is the ideal choice for agencies, while ActiveCampaign is more budget-friendly if looking to solely run email campaigns. A winner has been declared!
Final Thoughts - Which Is Better, GoHighLevel or ActiveCampaign?
GoHighLevel and ActiveCampaign are two great platforms to set up a profitable online business.
GoHighLevel is specifically designed to help agency owners grow and make more money by providing the tools they need.
ActiveCampaign has been created to streamline email marketing and automation, saving time, improving outcomes and supporting business growth.
After considering GoHighLevel and ActiveCampaign, this is my final opinion:
GoHighLevel is the perfect platform for digital firms who provide services to local businesses, as well as those looking to increase their B2B sales.
ActiveCampaign is the perfect solution for those who want email marketing and automation, but not a full-fledged marketing suite.