This resource is suitable for those with blogs or websites on digital marketing who are interested in discovering new methods of generating income.
This article provides a review of the Builderall affiliate program, which allows individuals to earn income through the creation and use of mailing lists.
Based on available information, Builderall's affiliate marketing program may be a viable option to explore due to its commission rates and cookie length. Further details will be provided in the following sections, including payment information.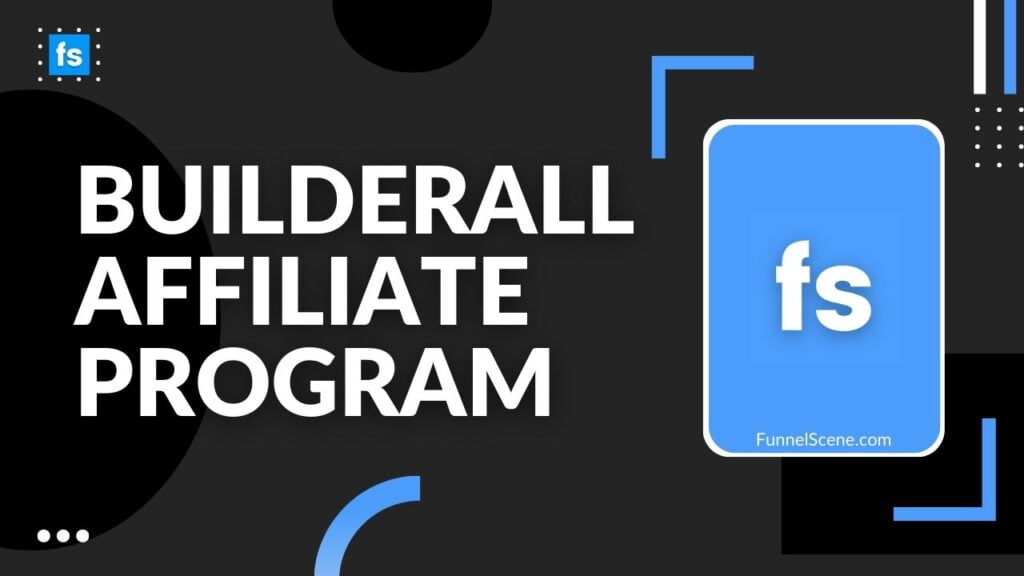 Builderall Affiliate Program Review
Providing a detailed description of a brand's products and services can help in comprehending their potential revenue from promotions.
Builderall provides web design services, including the creation of personal portfolio websites, as part of their digital marketing platform.
The platform's tools can be categorized into various groups, including engagement and design, reports, and email marketing, among others.
The platform provides a range of tools and apps, such as a website builder with drag and drop functionality, email marketing automation, DNS management, app development, eCommerce tools, video funnel creation, mockup studio, video tagging, presentation creation, and a WordPress integration feature that can be easily accessed.
Builderall provides a variety of tools for social media influencers, such as a social autopost app, an Instagram autoresponder tool, and an e-learning tool designed for course promotion.
The email automation app offers users more than 30 tools and features for promotion to their online audience, without any limitations.
The platform has over 200,000 users, indicating that it is a highly popular software in its category, as of the time of writing.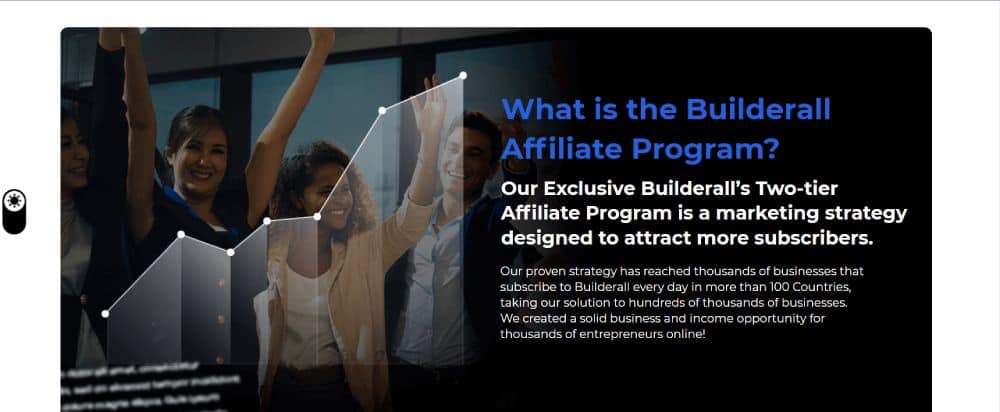 Does Builderall have an affiliate program
The Builderall affiliate program is available and includes unique features, which will be outlined in this post. While being a Builderall customer is not required, existing users are given priority.
Builderall is seeking reviews from genuine customers to maintain high quality and accurate information regarding their affiliates. This will be further explained by outlining methods to earn Builderall affiliate commissions.
To join the Builderall affiliate program, you must register as an affiliate. This can be done through the official website or by contacting Builderall customer service. Once registered, affiliates will gain access to a range of promotional materials such as banners, text links, and discount codes which can be used to promote the Builderall products.
How does the Builderall affiliate program work?
The Builderall affiliate program operates on a pay-per-sale structure where affiliates receive payment for generating customers. Rather than a one-time commission, affiliates receive a 30% share of ongoing customer spending for as long as the customer remains active.
The commission for the most expensive package amounts to around $30 each month. If a person remains a Builderall client for a year, the commission increases to $360.
For the commission structure to be successful, it is important to promote a desirable product that customers continue to use. Becoming a Builderall affiliate is not beneficial if the customers cancel their subscriptions after the initial month. Therefore, the company relies on existing customers to provide accurate information about the product and generate long-term customers.
The Builderall affiliate program possesses a unique characteristic.Builderall offers a commission of 30% for Tier 2 sales.
The commission rate typically ranges from 5-10%. However, my offer is different. For every tier 2 sale made by your customers, I receive 30%. If you become a Builderall affiliate through my link, you will receive this deal.
That is not deducted from your commission.Additionally, if you refer one of your acquaintances to become an affiliate, you receive a permanent 30% commission on their earnings.

How to promote the Builderall affiliate program
There are various methods to advertise the Builderall affiliate program, including promoting it through personal websites or blogs, social media, and creating promotional content such as videos. Seven strategies for succeeding as a Builderall affiliate, even without a social media following, mailing list, or experience, will be presented.
1. Promote Builderall through your blog
One can advertise Builderall on personal websites or blogs through the addition of banners, links, or reviews of the platform. Additionally, it is possible to create instructional content such as articles or videos showcasing the various uses of Builderall, including website and sales funnel creation.
This blog post explains the workings of the program and aims to generate traffic from search results. If the website provides the most thorough answer to a search query, it will appear at the top of the results.
Based on the quantity of available blog posts regarding the creation of a Builderall Business, it appears that additional resources may be in demand.
2. Promote Builderall through social media
One way to advertise Builderall is through social media. This can be done by sharing your affiliate link with your audience, or by creating instructional posts or videos demonstrating how Builderall can be used for website creation, video production, or sales funnel building.
There exist two distinct categories of content that can be produced repeatedly.
Builderall is amazing
How to use Builderall
Research suggests that novice marketers may find it easier and more effective to learn how to use tools as a secondary content type.
Publishing tutorials on social media platforms such as Pinterest is an effective way to grow. Learning to use one tool at a time and creating content is key, with 40+ tools available for mastery. No prior experience is necessary.
Creating promotional videos for Builderall can result in commissions. Many successful YouTube marketers use a tutorial strategy, demonstrating how to accomplish tasks on Clickfunnels and then replicating the process on Builderall.
Incorporating that small element can enhance the visual impact of your videos.
Two frequently searched inquiries about Builderall are how to perform tasks and the availability of specific features. By creating videos addressing these questions, a significant amount of sales can be generated over an extended period.
4. Build Courses within Builderall
A strategy to stand out from rivals is to provide a complimentary course via Builderall for individuals who register using your affiliate link.
This method is most effective for teaching online marketing and building a business using builderall to create a mailing list, resulting in a successful outcome.
5. Create Builderall Templates
When evaluating a page builder, the templates are my primary focus. I often find that the default options are insufficient and am surprised by the lack of awareness on this issue. As a result, I frequently search for "page builder + templates."
There appears to be a shortage of content in the market.The creation of templates for Builderall customers is a profitable opportunity, as new members can receive these templates for free by signing up through your link and also learn about Builderall.
Although it may appear as if you're providing your content without charge, it's important to recognize the long-term benefits of earning recurring commissions rather than selling your templates just once.
Once someone has decided to purchase Builderall, the first thing they do is search for "Builderall bonus" or "Builderall coupon." Create a bonus that gives value to any new customer. This can be templates, courses, training on how to use Builderall or anything else that a new customer would find valuable.
You can look at what people promoting other page builders offer in their bonuses to find inspiration.
7. Create Courses that Rely on Builderall
During a training session I attended over the weekend in Kajabi, a competitor of Builderall, I discovered that the training included templates from Clickfunnels, another competitor of Builderall. Develop a course that utilizes Builderall and offers user-friendly tools and resources.
Incorporating Builderall into your recommended strategy can result in a significant increase in customer sign-ups and generate recurring income from product sales.
What Is the Builderall Affiliate Sign up Process?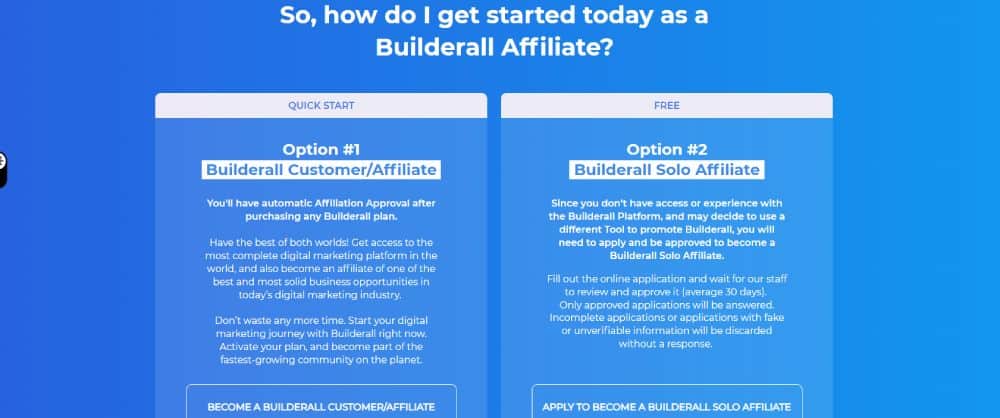 As part of the affiliate registration process, a set of questions will be presented.
Could you please provide the number of leads in your email list?
What is your reason for promoting Builderall?
Can you describe your approach for promoting Builderall?
Could you please provide information on your experience in digital marketing?
Which platform do you plan to utilize for creating your funnels and promoting Builderall?
Along with the following inquiries, we will also request information regarding your social media activity, encompassing your Facebook account, Instagram profile, and YouTube channel.
It is important to ensure that your application is both complete and accurate, as incomplete or inaccurate applications may be rejected.
Your application will be reviewed by the Builderall team within 30 days and you will be notified of the status via email.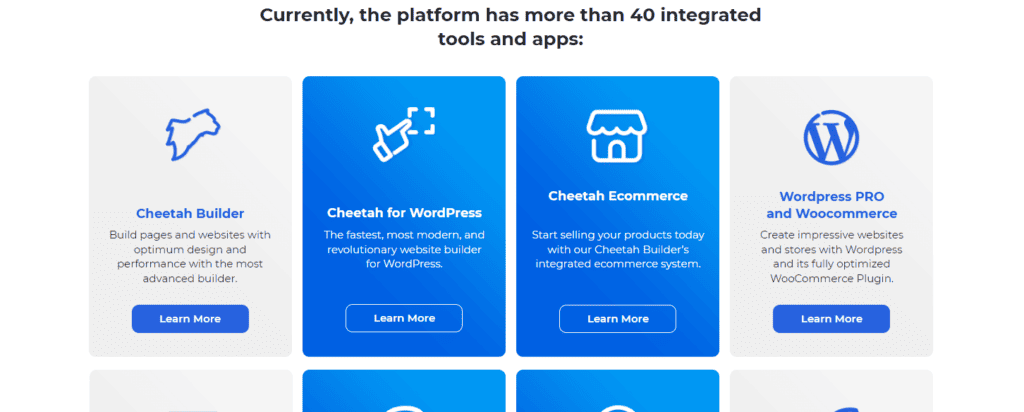 Benefits of Becoming a Builderall Affiliate
Beginner Friendly: Builderall can be operated by anyone, regardless of their technical abilities. The platform offers user-friendly features and customized templates to eliminate the need to start from scratch.
You get a good package of commissions: After achieving a 100% initial sales commission, a lifetime commission of 30% will be awarded as long as the customer remains active. Additionally, commissions from affiliate's customers contribute to the program's sustainability for cashflow.
Builderall comes with more bonuses as Builderall car program: Builderall provides a bonus of $500 for every 100 active subscriptions acquired through direct sales or affiliate marketing efforts.
Builderall is high in demand: An all-in-one marketing platform can simplify marketing efforts and is often sought after for its affordability and effectiveness.
Builderall is an amazing product: Builderall offers pre-designed marketing and sales funnel tools, which serve as a strong foundation.
Builderall has flexible pricing plans: Builderall subscriptions are available for $69.90 a month, making them affordable for anyone. This may make it easier to attract more customers.
Everlasting Solution: Builderall is a company that offers online business solutions, which has resulted in a high demand for individuals interested in working with these tools.
Who Can Join the Builderall Affiliate Program?
One benefit of the Builderall affiliate program is that individuals can participate even if they are not a funnel club member. This means that anyone with internet access has the potential to succeed as a Builderall affiliate. It is recommended that those interested in joining the program consider this factor.
Builderall users have the opportunity to generate additional passive income through participation in affiliate marketing.
The objective of an online marketer is to identify strategies for enhancing revenue.
A person who is new to the industry and seeking to earn income through promotion.
Best Ways to Promote Builderall For Free - Best Traffic Sources & Methods
To succeed as a Builderall affiliate, it's important to acquire knowledge and skills in promoting the product effectively. Consider these tips to increase your success in the program.
1. Identify Your Target Market
Identifying a target market allows for focused attention on a specific audience segment and identifying their specific needs that can be addressed by Builderall.
2. Use Facebook Page & Groups
Utilizing your personal Facebook account can be an effective method for promoting Builderall without incurring any advertising costs, as it allows you to attract potential customers.
How to do it:
To optimize a Facebook profile funnel, it is recommended to include a profile photo, cover photo, and bio.
To find your target audience, consider joining Facebook groups. Generally, Builderall users include small business owners, affiliate marketers, marketing agencies, and others.
Engage with members by sharing appropriate content, assisting with inquiries, and posing inquiries, among other things. This will establish credibility and positive connections with individuals, attracting them to your personal Facebook funnel.
3. Create Educational Blogs & SEO
Blogging about Builderall can be an effective way to promote the product, particularly for those who prefer not to engage in social interactions. By creating optimized content and blog posts related to Builderall, you can generate traffic and potentially increase sales.
4. Create YouTube Videos
Youtube can be utilized as a beneficial tool for promoting Builderall through a variety of informational content on topics including the usage of Builderall, online business expansion, website construction, and ways to monetize.
Pros & Cons Of The Builderall Affiliate Program
Builderall Program Pros:
Builderall has gained significant online business visibility with over 100,000 customers, which can be considered a significant trust factor.
The vast array of tools available (currently over 40, including a landing page builder and funnel builder) allows for a broader audience reach compared to more specialized digital marketing tools.
The application process is straightforward, particularly for those who are already Builderall clients.
The potential for earnings is significant, thanks to the combination of bounty payments, recurring commissions, and second-tier earnings.
Builderall allows for flexibility in driving traffic, accepting various methods such as Google Ads, email marketing, Facebook Groups, YouTube videos, and more.
Builderall Program Cons:
Builderall operates in a highly competitive market, contending against established players such as ClickFunnels, LeadPages, and Instapage. This may pose a challenge in terms of marketing and sales.
Ranking for high-volume terms in the digital marketing space can be challenging, requiring extensive keyword research to identify less competitive options.
Closing a deal for a subscription-based product can be more challenging compared to a straightforward ecommerce affiliate program.
The website of Builderall lacks sufficient information on cookie duration and commission rates, which can be concerning.
Builderall offers different pricing plans, with the lowest starting at $17 per month and the more advanced tools requiring a payment of $77+ per month.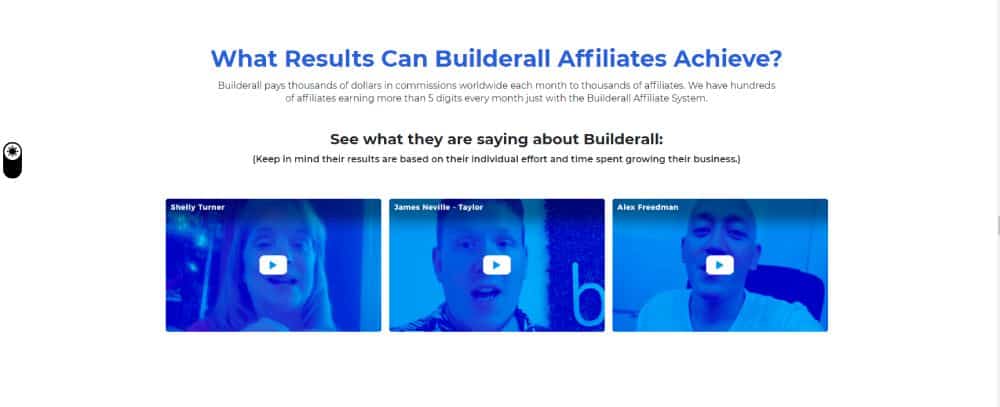 The Builderall Affiliate program can provide an additional source of income for those interested in affiliate marketing.
The program can be a valuable resource, especially for those with a large number of leads.The level of effort you put into an affiliate program determines the amount you earn.
The commission system offered by Builderall has two tiers and has the potential to generate significant income with effort and dedication.
The Builderall affiliate program offers additional benefits, including no payment threshold. This can make it simpler to recoup your investment, generate substantial earnings, and use them to develop your affiliate marketing enterprise.
If you're interested, consider signing up to become a Builderall affiliate.
Builderall Affiliate Program FAQs
How much commission rate does Builderall affiliate program pay out?
The Builderall partner program is a great way to make money online. This program offers affiliates the chance to earn 15% of the sale for each lead that they generate. The more leads that an affiliate generates, the more money they can potentially earn.
This program is perfect for those who have a website or blog and want to monetize it by referring customers to Builderall products.
How long is cookie lifespan in the Builderall affiliate program terms?
Partners receive payments for subscription renewals and upgrades based on the recurring type, with a cookie lifetime of 30 days.
How can I make a referral link?
To share your exclusive referral links on your website or social media, add them to the links provided on the Builderall affiliate admin panel.
If you're looking to take advantage of the Builderall Affiliate program, you'll want to make sure that you're spreading the word about Builderall and its awesome features. Through the Builderall affiliate admin panel, you can easily obtain your exclusive referral links and share them with your website visitors or followers on social media.