ClickFunnels is a powerful tool for creating marketing funnels and converting prospects into customers. It is utilized by many businesses globally, making it necessary to understand the pricing structure in order to select an appropriate plan.
The ClickFunnels 2.0 platform offers three pricing plans.
The Basic plan per month is $147.00.
Pro plan is $197 per month.
The Funnel Hacker plan is priced at $297.00 per month.
This article will provide an explanation of the ClickFunnels pricing structure, helping you to choose the most suitable plan for you and your budget.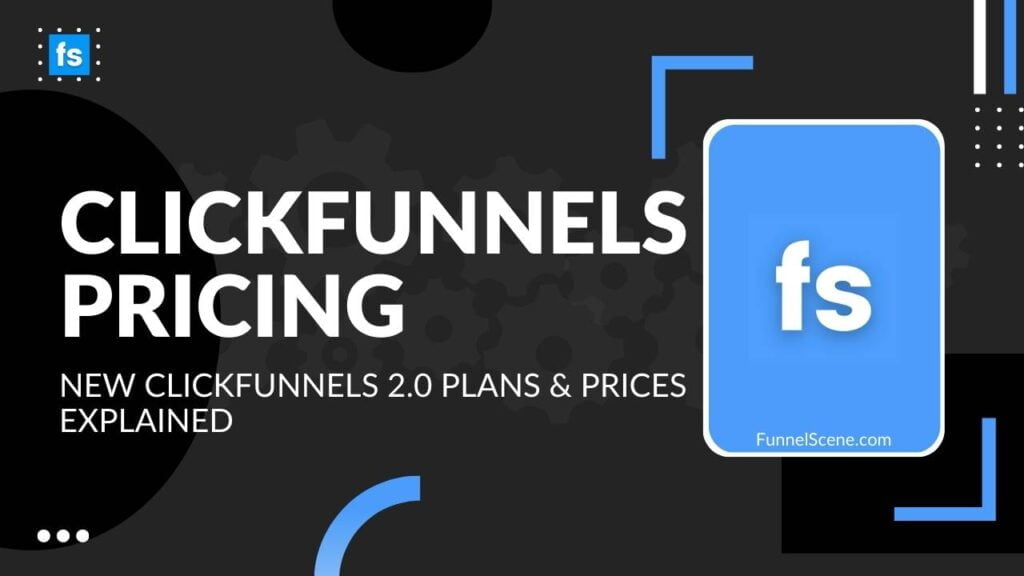 ClickFunnels Pricing plans
(and what it includes)
My review of ClickFunnels highlights that the platform provides three different pricing plans, which allow you to adjust your funnels as your business expands.
The initial cost for ClickFunnels subscriptions is $147 per month. Included are various benefits that enhance the subscription further.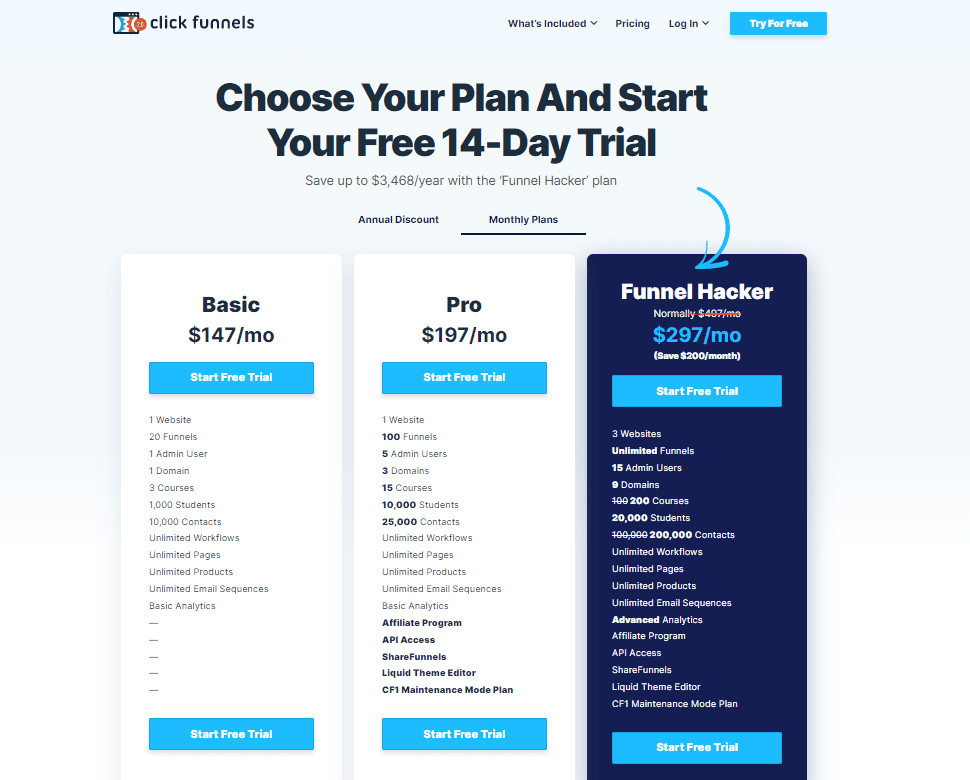 ClickFunnels 2.0 was launched in October 2022 with new features and improvements.
ClickFunnels 2.0 is an all-in-one platform that offers a wide range of new features and tools not available in the original ClickFunnels.
What do you get with your ClickFunnels subscription?
A powerful drag-and-drop builder for creating landing pages, websites, and e-commerce sites
ClickFunnels provides an uncomplicated, drag-and-drop landing page builder that can be picked up in just a few minutes. This feature enables users to construct and post landing pages quickly; no experience with web design, conversion rates, or marketing is necessary.
You can choose from pre-designed templates and customize them using a drag-and-droop interface.To modify the page, click on items to change their contents or use drag-and-drop to rearrange elements.
ClickFunnels provides a plethora of pre-built templates designed to maximize conversions that do not require design or marketing experience. This eliminates guesswork and enables the construction of high-conversion landing pages.
Sell directly from your funnels
ClickFunnels enables the creation of landing pages that have high conversion rates; additionally, it enables users to make sales through the funnel without requiring a web developer to link the site with a payment gateway.
ClickFunnels offers integration with a variety of payment gateways, which allows you to accept payments within your funnel without disrupting the customer experience.
The Starter plan allows you to integrate up to three payment gateways, providing customers with more options to make payment. Integrating these payment gateways is easy and requires no coding knowledge.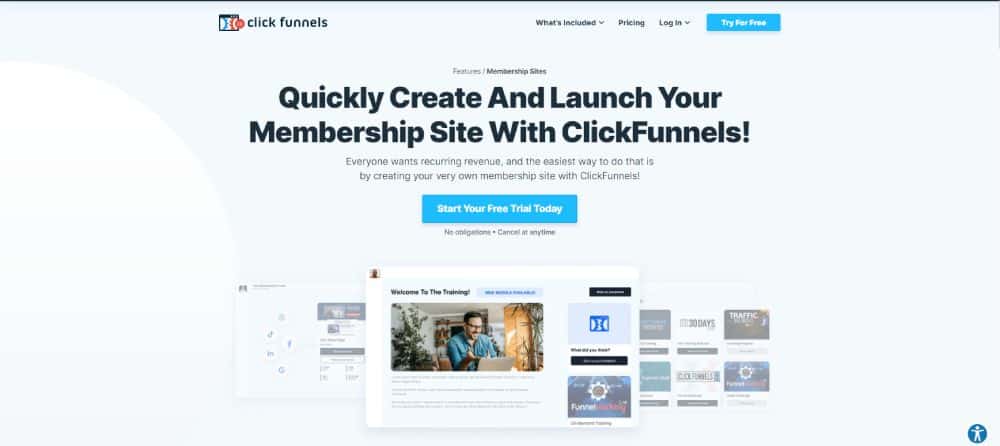 Create memberships without third-party tools
Setting up a membership site can be expensive if done from scratch or via pre-built software. ClickFunnels provides an interface to set up and maintain your membership area, allowing you to offer either monthly subscriptions or one-time access.
ClickFunnels provides a convenient interface to control the content that website members can access. It additionally allows for the creation of multiple plans offering various levels of content.
This solution provides comprehensive functionality for managing course curricula and website members.
Utilizing the feature of 'upsales' in ClickFunnels can allow your business to increase its revenue by thousands monthly. This option is available on the cart page and checkout page.
It is possible to incorporate 1-Click Upsells into a funnel, which allows customers to switch to a different, potentially pricier product if they so choose.
Offering customers a higher-end version of your product gives them an opportunity to consider options and makes it likely they'll choose it.
ClickFunnels enables you to incorporate diverse upsells on your landing pages, ranging from physical products to online courses. For instance, those offering an online course can propose a more costly version of the same that involves, for example, a one-on-one session with the seller.
ClickFunnels enables you to create 1-Click upsells without needing any third-party tools or coding. Furthermore, you can also include upsells after checkout beyond the limits of the standard Cart and Confirm pages.
This method allows users to upgrade to a more premium product without needing to initiate the checkout process again.
Follow-Up Funnels is a ClickFunnels tool that enables users to create and deliver automatic messages to customers using triggers such as clicked links, purchased products, or geographic locations.
Email automation allows you to promote your product by sending promotional emails to those who have signed up, as well as other potential buyers, in order to boost revenue.
Through email automation, you can generate revenue each month with no cost associated. Unlike Facebook Ads, Email Marketing does not incur costs per click.
Email Marketing tools like MailChimp and Constant Contact can be costly, whereas ClickFunnels offer an automated solution at no expense.
Create an affiliate program without third-party tools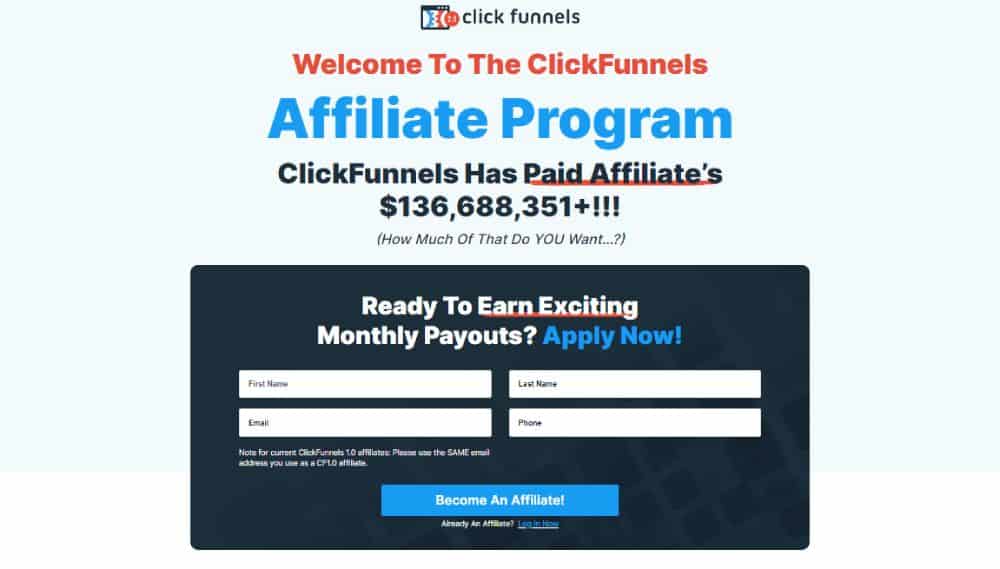 ClickFunnels affiliates can drive new customers to your business without your involvement, in exchange for a commission. This payment could be a single sum or a portion of the customer's sale amount. Many companies pay thousands monthly on tools that allow them to craft affiliate programs, monitor sales and oversee affiliates.
ClickFunnels provides a free, built-in tool, BackPack, which simplifies creating and managing an affiliate program. It allows you to customize commission rates for your affiliates.
ClickFunnels tracks and manages sales, including automatically computing commissions and payments to affiliates. It also supports manual or automated payment of balances due to the affiliate.
ClickFunnels provides a straightforward dashboard for managing content and in-depth analytics to inform business decisions.
Price Plans with Annual Discounts (Billed Annually)

Which ClickFunnels plan is right for you?
ClickFunnels provides three different pricing plans that adapt to the evolution of your business. If you are unsure which plan is suitable for you, we will assist in making an informed decision.
Get the Starter Basic plan If:
For those new to funnel building, the Pro plan will give you more features than needed. It is best to begin with a basic plan and upgrade as your business progresses.
For most small businesses, 20 sales funnels are generally enough.
If you're not looking to offer courses or send emails, the basic plan offers three online courses and up to 10,000 email contacts.
Get the ClickFunnels Pro plan if:
Having multiple funnels can be beneficial for converting leads into customers. You should create separate funnels for different types of traffic and different Facebook Ads. If your business is expanding, the best approach is to opt for a plan that allows you to create an unlimited number of funnels.
Get the Funnel Hacker plan if:
The ClickFunnels account plan that is recommended for those with multiple businesses offers 3 websites and 9 domains to manage, along with unlimited Funnels, Pages, Products, Workflows and Follow-Up Funnels.
The Priority Phone Support plan provides access to a special phone line and priority chat support.
This package includes advanced features such as Advanced Analytics, Affiliate Program, API Access, ShareFunnels, Liquid Theme Editor, and CF1 Maintenance Mode Plan.
Frequently Asked Questions
How much is ClickFunnels 2.0?
There are three ClickFunnels plans: Basic, Pro, and FunnelHacker. The Basic plan is $147 per month or $1,524 annually, saving $240 a year by paying yearly.
How much is ClickFunnels per month?
ClickFunnels has three pricing options that enable you to scale your success. Prices begin at $127/month for their Basic plan, which comes with 1 website, 1 user and 20 funnels.
The Pro plan includes one website, five users, and 100 funnels for a rate of $157 per month. The Funnel Hacker plan includes three websites, fifteen users and unlimited funnels for a rate of $208 per month.
Does ClickFunnels offer a free plan?
ClickFunnels does not provide a free plan, however users can take advantage of the 14-day free trial available.
To avoid being billed, be sure to cancel your ClickFunnels subscription before the end of your trial.
What is the best free alternative to ClickFunnels?
ClickFunnels is widely regarded as the top website and sales funnel builder available, however it does come with a high price tag.
Groove Funnels is an affordable and feature-rich platform for building sales funnels, managing customers and selling products online. You can access it for free, so you may want to check it out.
Is ClickFunnels good for beginners?
ClickFunnels is designed for marketers and beginners who are looking to grow their business with sales funnels, but don't have a technical background.
ClickFunnels subscriptions include access to Funnel Flix, a collection of courses that cover the basics of funnel- and marketing-related topics. With this material, users with no prior knowledge can quickly become proficient in those subjects.
Is ClickFunnels worth the money?
ClickFunnels offers comprehensive courses for those who are starting out in their industry. Through these courses, users can learn the fundamentals of generating traffic and turning it into leads.
If your business is already thriving, ClickFunnels can facilitate the conversion of leads and visitors into paying customers.
Is ClickFunnels legit, or a scam?
ClickFunnels was established in 2013 and is run by Russell Brunson (co-founder and CEO) and Todd Dickerson (co-founder and CTO). It is headquartered in Eagle, Idaho.
Over 141,000 entrepreneurs and customers employ ClickFunnels to increase conversion rates and boost sales.
This tool provides efficient building of high-performing sales funnels.
Page builder with intuitive drag and drop feature.
A/B Split Testing is available by default.
Collaborators engaging in funnel sharing.
Pre-made templates designed to maximize conversions and increase sales.
Offering upsells and downsells with one-click.
FunnelFlix provides video courses and online training programs.
The payment gateways supported include Stripe, ApplePay, AndroidPay, PayPal, Authorize.net, NMI, and Keap.
Marketing automation is possible by utilizing Facebook and email platforms such as Mailchimp.
Try our product for free for 14 days, with no risk.
ClickFunnels pros and cons
Generating leads and sales is supported.
This platform offers an easy to use drag-and-drop page and funnel builder.
This platform comes with pre-constructed templates for landing pages and funnels.
The ability to share funnels is available.
Few customization options available.
ClickFunnels pricing plans are costly, so it may be worthwhile to consider alternatives.
This may require some level of knowledge, as using it involves a learning curve.
The Basic plan of ClickFunnels costs $127 per month, and it offers the ability to create 20 funnels.
The ClickFunnels Pro plan is priced at $157 per month and supports up to 100 funnels.
The Funnel Hacker plan from ClickFunnels costs $208 per month and provides access to unlimited funnel creation.