Looking for ClickMagick alternatives? Look no further! Discover a tracking tool that goes beyond real-time link tracking to supercharge your marketing efforts.
In my recent review of ClickMagick, I analyzed its strengths and weaknesses. One aspect that could benefit from improvement is the user experience, specifically the dashboard's intuitiveness and user-friendliness.
New users need to familiarize themselves with the documentation in order to effectively utilize this link-tracking tool.
Additionally, your guess was correct.
Traffic source details are captured using a redirect engine before sending traffic to its destination, resulting in certain features falling on the gray and black ends of the spectrum.
The link-clocking feature and link rotators are tools that hide affiliate links and redirect traffic to different sites. However, if not used correctly, some ad and affiliate networks may not approve.
ClickMagick pricing is expensive.
Fortunately, there are several alternatives to ClickMagick that offer comparable features.
Examine the article in detail.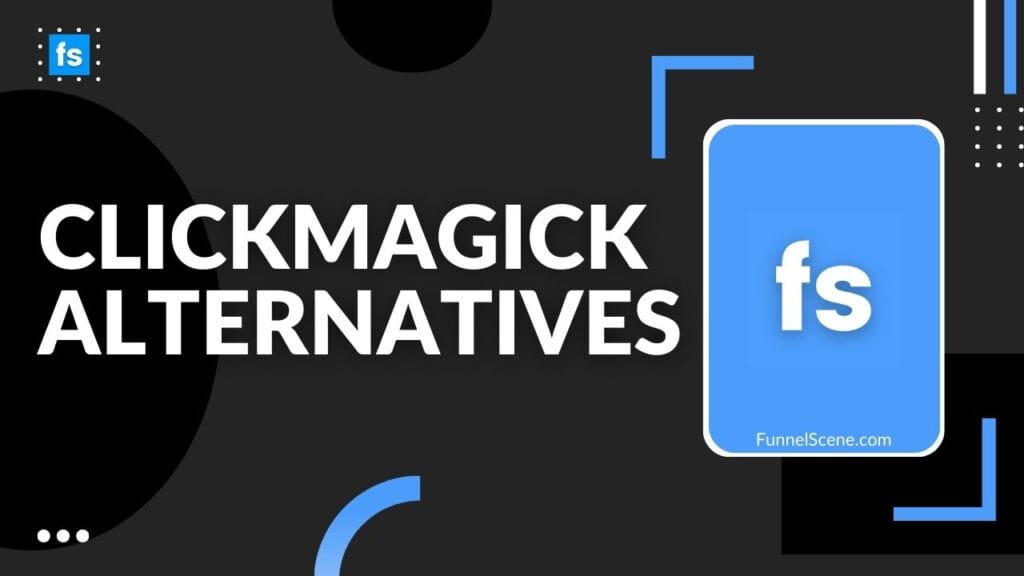 JotURL – All-in-one Marketing Solution for your Links

JotURL is a tool that allows you to manage, optimize, compare, and monitor all your marketing links in one place. It's like a Swiss army knife for your links. It helps users measure cross-channel touchpoints, improve ad campaigns, and enhance performance and conversions. JotURL is an affordable alternative to ClickMagick, starting at $10 per month.
Key Features
It provides InstaURLs to assist in creating visually appealing URLs.
The software features A/B testing capabilities and also supports rotator URLs.
The remarketing pixels used are GDPR-compliant and are intended to increase market reach and enhance touchpoints.
The system includes Sub IDs and postback URLs for tracking conversions.
The platform includes a pixel builder to monitor the actions of your visitors.
Branded visual QR codes can improve marketing strategies by connecting offline and online platforms.
Pros
The platform includes 10 digital marketing tools in one place, including branded links, CTAs, remarketing pixels, and conversion tracking.
It enables conversion tracking across multiple devices.
The software has a wide range of native integrations with third-party platforms.
Cons
The presence of all these tools in one dashboard can initially feel overwhelming.
Voluum – Best App for Tracking the Performance of your Campaigns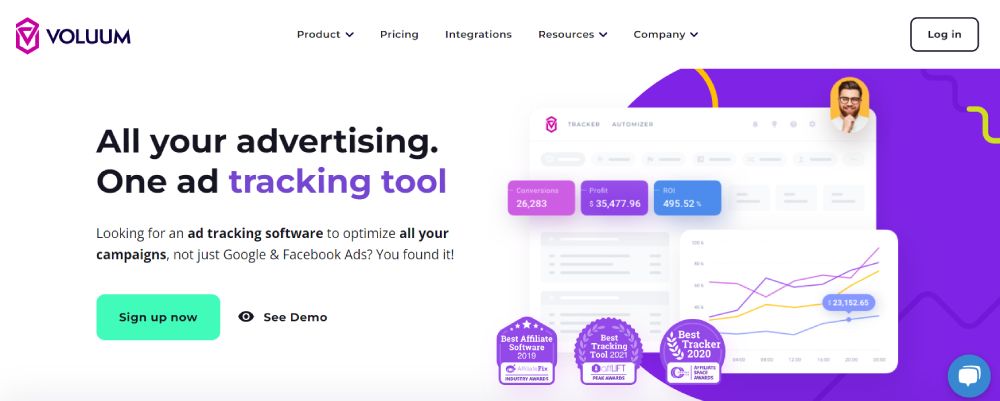 Voluum is a cloud-based solution that offers similar features to ClickMagick and Improvely. It is a reliable tool for tracking, managing, and optimizing your marketing campaigns.
The users of this tracking solution earn up to $1.5 billion annually. It provides a competitive advantage by offering a mobile app that allows you to easily monitor and improve your campaign performance.
If you are interested, there are also alternative options to Voluum that you can consider.
Key Features
The platform includes click fraud monitoring, which is a useful feature that helps protect against fraud by identifying potentially suspicious clicks and visits.
The software offers excellent A/B testing features that enable you to analyze campaign performance and enhance your conversion rate.
The tool provides instant reports and statistics regardless of the amount of traffic.
The traffic distribution AI analyzes the performance of your pages in real-time and directs visitors to the pages with the highest conversion rates, which helps optimize campaigns and save time.
SSL is provided to enhance the security of your custom domains.
Pros
Direct pixel tracking is available, which allows for easy tracking of both paid and organic traffic without the need for redirection, consequently improving the quality of traffic.
Their customer service is known for its prompt and efficient response.
Cons
There is a lack of multi-device attribution.
ClickMagick offers more advanced features such as extensive link cloaking, rotators, and split tests.
ClickMeter: Best App for Targeted Traffic

ClickMeter is a useful tool for directing traffic specifically towards your desired landing pages. It allows for precise targeting based on factors such as location, devices, language, and other filters that cater well towards your audience.
They offer an intuitive dashboard that allows easy access to features such as broken links, blacklists, click fraud, high latency, and reports, all in one place.
Key Features
The platform offers campaign monitoring features that provide publishers and affiliate marketers with insights into the effectiveness of their campaigns. It enables them to identify better conversions and prioritize campaigns with a good return on investment. Additionally, their A/B testing capabilities are highly accurate.
The tracking system includes a click fraud feature that ensures fraudulent clicks are not counted.
The platform provides link cloaking with URL encryption.
The link rotator feature shares similarities with ClickMagick, as it provides redirects based on sequential lists, weights, rotations, or randomness.
The tracking ID provided allows you to track the entire sales funnel.
Pros
Unlike ClickMagick, it enables third-party collaboration through its integrated system. By utilizing the API, you can connect to different apps if the network is not natively supported.
It provides users with a positive user experience.
Cons
The multi-device attribution feature is not available.
There are no free trials available.
FunnelFlux: Best Visual-Based Link Tracking Tool

FunnelFlux offers users a visual representation of their customer's journey, enabling a thorough comprehension and enhancement of marketing strategies.
You can see your current traffic sources, leads, and generated revenue to optimize your campaigns. It helps you identify your most profitable traffic segments. I recently wrote a detailed review of FunnelFlux. You can read it to understand what I'm talking about.
Key Features
The reporting feature is highly capable and offers a wide range of options and flexibility.
The software includes statistics funnel heat maps that provide insights into the performance of your advertising campaigns and sales funnels.
The platform offers pre-built traffic source templates that can be utilized, or users have the option to customize a template from the beginning.
The feature of email opt-in conversion tracking has been enabled.
Pros
The platform provides efficient traffic analysis, quickly transforming data into valuable insights. It offers fast and comprehensive statistics that can accurately determine the long-term value of your potential customers.
The platform offers a visual funnel builder that simplifies the process of creating funnels.
The tracking tool has over 60 KPIs.
The tracking system does not use cookies and instead utilizes next-generation Javascript Tracking to maintain browser privacy standards.
Cons
Beginners may require some time to understand the technical knowledge required to effectively use the platform.
FunnelFlux, as a self-hosted tracker, requires users to find servers and other infrastructure before use, which may not be suitable for everyone.
Improvely: Best for Click Fraud Monitoring

Improvely is a conversion tracking and click fraud monitoring tool that offers a robust click fraud monitoring feature. This feature helps protect your site and affiliate campaigns from bad traffic by allowing you to differentiate between bad clicks and campaigns, saving you from paying for false clicks.
Their customer profile-building tool is notable for its ability to provide individual customer information such as location, visit frequency, lifetime value, and organic value. This feature is highly impressive, wouldn't you agree?
Key Features
Both ClickMagick and this software track conversions using tracking pixels or sub-id parameters, which are supported by most affiliate networks. It allows you to track both paid and organic traffic.
Moreover, it provides a feature for "labeling visitors" to aid in cross-device conversion tracking, similar to ClickMagick.
The in-built split testing features enable you determine the most effective landing pages for driving conversions.
The software allows for real-time reporting and includes a feature to easily export reports for sharing with your team.
Pros
This feature can help save money by detecting and blocking suspicious clicks on your ads, which is especially useful for PPC campaigns.
The pricing plans are generally affordable, but the agency plan may be more expensive.
Cons
There are no heatmap reports available for your click analysis.
There is no link rotation feature available, similar to ClickMagick or ClickMeter.
LinkTrackr – Best Link Cloaking Tool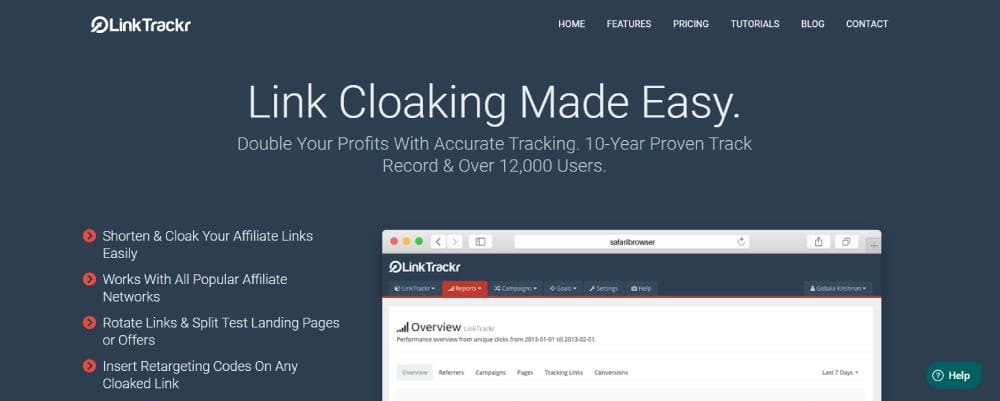 LinkTrackr is an alternative to ClickMagick that offers simplified marketing and tracking capabilities.
LinkTrackr is a software that has been in the industry for over a decade and has a large user base of over 12000 people who use it to track and cloak their affiliate links.
LinkTrackr provides a comprehensive set of features, including affiliate link cloaking, link shortening, integration with major affiliate marketing networks, user redirection based on location, compatibility with Google Analytics, insertion of retargeting codes in cloaked affiliate links, split testing, and the ability to achieve a high ROI (Return On Investment).
Users have the option to utilize their own domain name and effectively enhance their campaigns. In addition, the platform provides a wealth of resources including videos, guides, and blog posts to further educate users about the tool.
The tool has four pricing plans, with the starting price at seventeen dollars per month.
Pros On Link Trackr
The user interface (UI) is designed to be straightforward and efficient.
The price of this tool is significantly lower compared to others.
There are many positive reviews.
A reliable software to use.
This product offers all the necessary features for affiliate marketers.
The dashboard is designed to be user-friendly and easy to navigate.
We offer a money-back guarantee for 30 days.
There are many tutorials available for new users.
Cons Of Link Trackr
The only available support is through email, and it tends to be slow.
Although it may seem confusing at first, you will soon become familiar with it.

Back in the day, my team and I discovered this amazing ClickMagick alternative. It wasn't that ClickMagick wasn't good enough, but rather, I switched because I started promoting ClickMagick and it became the 'ClickFunnels' of the tracking industry for me.
Introducing AdsBridge – the game-changing affiliate tracking software that will revolutionize your marketing campaigns. Whether you're a savvy marketer, a fearless advertiser, or a passionate publisher, this ultimate tool is your ticket to success in the exhilarating worlds of advertising, publishing, and marketing.
Experience the unrivaled power of AdsBridge and watch your campaigns soar to new heights! Effortlessly track, analyze, manage, optimize, and monetize like never before, and prepare to witness your profits skyrocket!
The company has a track record of over four years in the industry and operates in over 160 countries. Additionally, they have over 100 integrated affiliate networks.
AdsBridge offers a comprehensive range of tools and features for split testing, conversion tracking, building landing pages, PPC tracking, pixel tracking, fraud guarding, ad tracking, and link rotating.
The company provides four pricing plans with costs ranging from $29 to $379 per month.
Pros Of AdsBridge
The software is user-friendly and accessible for all individuals.
There is a 14-day free trial available.
Offers live chat assistance.
Cons Of AdsBridge
The mobile version could be improved.
The team needs to address the speed issues.
If you are unable to identify the links that are driving the increase in revenue for your campaigns, it will be difficult to determine which marketing strategies are effective.
This will also make it challenging to expand the efforts that lead to growth, as there are no previous reports to utilize. Additionally, with these options available, there is no reason to not have a reliable link-tracking tool.
It is important to use them effectively to avoid any penalties from search engines or removal from advertising networks.
These tools are highly valuable and should be utilized.
Voluum is a recommended option for those seeking comprehensive link tracking features, especially if they have a substantial budget.
If you are interested in a tracking tool that focuses on fraud protection to prevent payment for invalid clicks, consider Improvely.
JotURL is a comprehensive tool for managing links that is ideal for those on a limited budget.
Please let us know which link tracking tool you are currently using or planning to use.
FAQS On ClickMagick Alternatives
Is Clickmagic free?
The trial period lasts for 14 days without charge.
Why use ClickMagick?
Accurate tracking is essential for firms seeking rapid expansion, regardless of their use of paid advertising. ClickMagick provides real-time analytics, comprehensive tracking, and precise attribution of traffic sources, enabling businesses to identify ineffective strategies and prioritize effective ones.
Where do I find my invoices for ClickMeter?
On your dashboard, you can find your bills under Billing History, located at the upper right corner.