An email list can be an effective asset for business owners, but it requires a method for easily gathering email subscribers and sending automated emails.
Selecting an email marketing tool requires careful consideration beyond simply choosing the cheapest option. Making the wrong choice can result in unnecessary complications.
When choosing an email marketing tool, consider your specific needs. You may require a basic tool for gathering subscribers and sending automated emails, or a more complex tool that provides segmentation, a/b testing, CRM integration, and other advanced features.
This article will compare two commonly used email marketing tools, GetResponse and ConvertKit.
The review provides an overview of ConvertKit and GetResponse, including their features, pros and cons, and pricing, aimed at assisting you in making an informed choice between the two tools.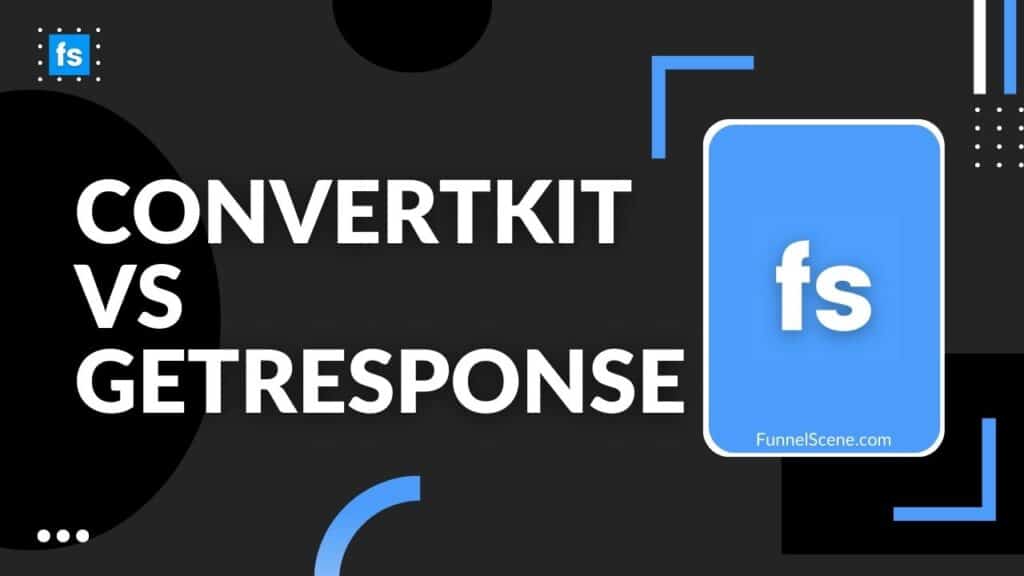 Overview: GetResponse vs ConvertKit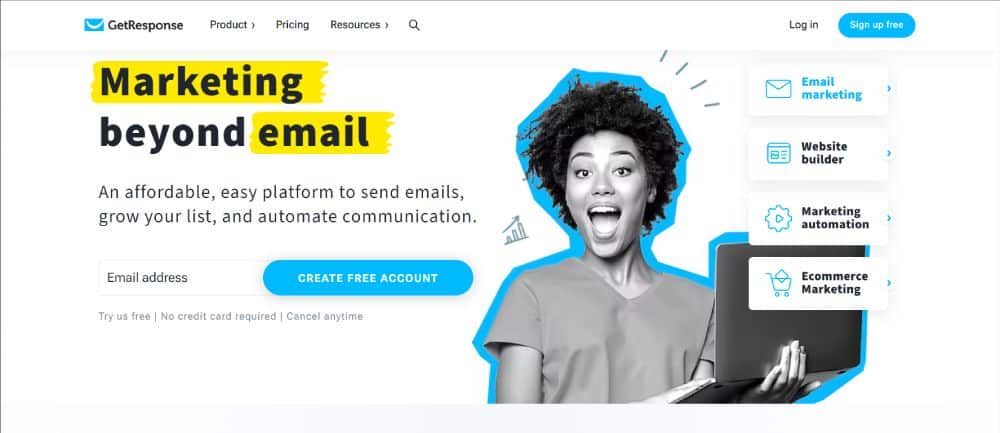 GetResponse is an email marketing platform that offers a more deluxe experience compared to MailChimp, which is more simplistic.The service offers automation features, a landing page function, and a webinar option for video marketing, but does not offer a free option after the trial.
This tool is comprehensive and reasonably priced. It can handle various engagement marketing tasks, including email newsletters and complicated automations, making it a great option for growing businesses.
The analytics and automation journey builder are designed with ease of use in mind.GetResponse also offers an extensive library of content to help users create effective campaigns. There are hundreds of templates, and a drag-and-drop builder for easy campaign setup.
The tool integrates with a wide range of third-party services, including social media platforms, eCommerce solutions, and CRM systems.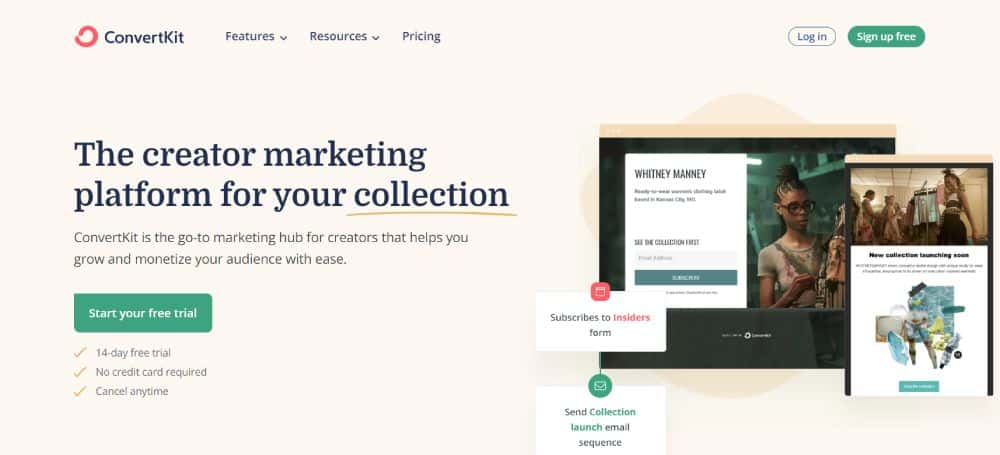 ConvertKit is a popular tool for email marketing that has gained attention from many marketers. It is especially useful for bloggers and small businesses seeking straightforward automation features.
There are three available layouts for creating emails, which are easy to modify. The resulting emails are professional in appearance, but lack advanced features.
The price point of this product indicates a need for more customization options. However, it should be noted that ConvertKit boasts one of the highest deliverability rates in the industry, making it a viable option for small businesses.
ConvertKit's tag-based system allows for segmentation of subscribers based on their email behavior. By tagging subscribers who click on specific links, it becomes a valuable tool for those seeking targeted messaging.
The ConvertKit WordPress plug-in allows for behavior-based tagging based on subscriber actions on your website. This includes tagging visitors to a specific page on your blog site, enabling you to send targeted emails directing them to related posts.
Main Differences Between GetResponse vs ConvertKit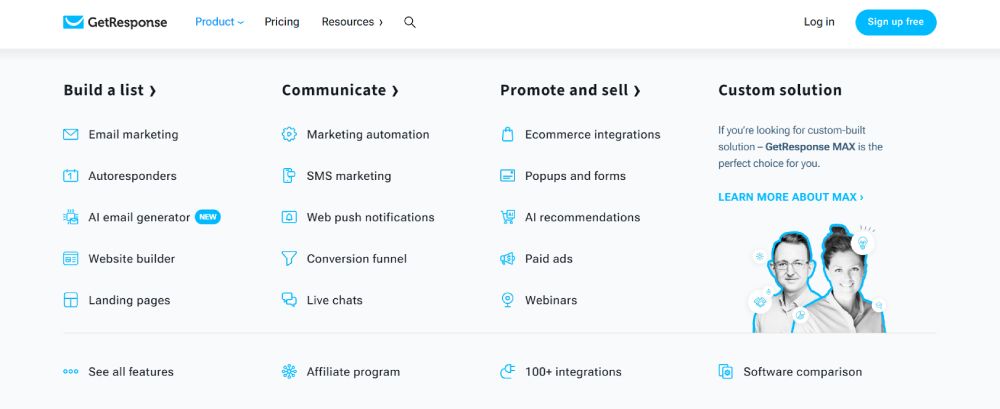 The main differences between GetResponse and ConvertKit are:
GetResponse and ConvertKit differ in their features, as GetResponse includes a Webinar automation autoresponder workflows builder.
GetResponse and ConvertKit are two different email marketing platforms that are suited for different purposes. GetResponse is commonly used by salespeople, while ConvertKit is often preferred for managing subscription sign-ups.
There is a difference in policies between GetResponse and ConvertKit regarding charges for duplicate sign-ups. GetResponse charges for them, while ConvertKit does not.
By analyzing the internal mechanisms, one can determine if these items are effective and appropriate for the company.
GetResponse includes tools such as A/B Testing, Landing Page Editor, Email Creator, Automation Builder, Webinar Tool and Autoresponder Workflows. ConvertKit offers a more focused platform with features such as subscriber tagging, visual automation builder, automated forms and landing pages. Additionally, ConvertKit allows for integrations with third-party services such as Zapier and Segment.
When analyzing the internal mechanisms of GetResponse and ConvertKit, it's important to consider different factors such as cost, ease of use, features and customer support. GetResponse is more expensive than ConvertKit and offers tools that are appropriate for businesses with a larger budget. GetResponse also offers a wide variety of features ranging from A/B Testing to automated forms and landing pages.
GETRESPONSE VS CONVERTKIT: A COMPREHENSIVE COMPARISON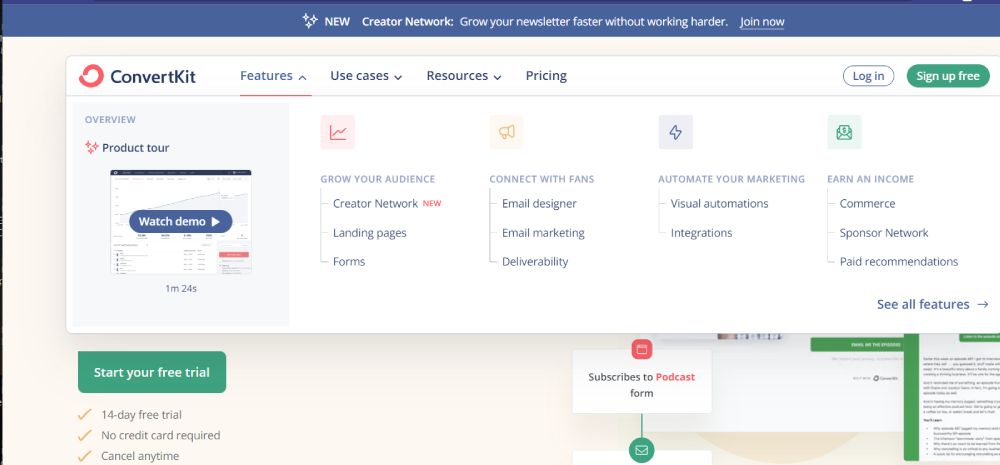 There are various email marketing options available, such as GetResponse and ConvertKit, each offering distinct features. It is important to evaluate which one suits your needs.
AUTOMATION
GetResponse provides a comprehensive set of automation features, including autoresponders and lead magnets. Its drag-and-drop editor enables the creation of intricate workflows, simplifying the automation of email campaigns. Whether you're a beginner or have a sizable following, GetResponse's automation capabilities can enhance your email marketing endeavors and optimize your time.
ConvertKit and GetResponse differ in their approach towards email marketing. ConvertKit emphasizes personalization and targeting, with fewer automation options. It excels in audience segmentation and targeted emails, leading towards higher engagement and conversions. For those seeking a more personalized approach, ConvertKit may be the better choice.
EASE OF USE
GetResponse's interface is designed to be user-friendly, accommodating those with limited technical skills. The platform features a drag-and-drop editor, automation capabilities, and a range of support resources, making it a good choice for those interested in email marketing.
ConvertKit provides a user-friendly interface for individuals with email marketing expertise. Although its focus on customization and segmentation may require some time to learn, the advantages can be significant.
CUSTOMER SUPPORT
Both GetResponse and ConvertKit offer customer support through various channels, including live chat, phone, and email. GetResponse also provides additional resources such as video tutorials and user guides, and offers 24/7 assistance.
The support team at ConvertKit provides personalized one-on-one assistance through email. They possess a high level of knowledge and can offer detailed help with any inquiries or problems you may encounter, although they may not be accessible all day and night.
EMAIL TEMPLATES
GetResponse provides numerous email templates to select from, enabling the creation of polished emails without the need for design expertise. Both mobile-optimized templates and customizable options are available to match your brand's aesthetic.
In comparison to other email marketing platforms, ConvertKit provides a limited range of templates that prioritize simplicity and cleanliness. The emphasis is placed on the email's content rather than the design, which makes it a suitable choice for those who prefer a direct approach.
LANDING PAGES
The landing page builder offered by GetResponse is a valuable tool for businesses seeking to increase traffic and conversions from their email campaigns and promotions.
Although ConvertKit does not have a landing page builder, it does have integration capabilities with popular landing page builders such as Leadpages and Unbounce, allowing for the creation of customized landing pages if necessary.
INTEGRATIONS
GetResponse offers integration with various third-party tools, such as e-commerce platforms, webinar platforms, and marketing automation tools, which simplifies the process of linking your email campaigns with other marketing initiatives.
ConvertKit's integration capabilities extend to various third-party tools, with a particular emphasis on integrating with email marketing tools including email opt-in forms and landing pages.
ANALYTICS
GetResponse provides comprehensive analytics, including detailed metrics on open rates, click-through rates, and conversions. Its analytics dashboard offers a concise and straightforward summary of your email marketing performance, allowing you to monitor your progress and make well-informed decisions.
While ConvertKit's analytics may not be as extensive as others, it does provide important metrics such as open rates, click-through rates, and subscriber growth. Its main objective is to assist with the evaluation of the efficacy of email campaigns, rather than delivering in-depth statistics.
PROS & CONS OF CONVERTKIT
ConvertKit offers a convenient option for bloggers and content marketers looking to incorporate email marketing into their strategy. The platform's simplicity streamlines the process of building a list and creating automation workflows, providing an advantage.
PROS:
ConvertKit is considered by some to be the most user-friendly email marketing automation tool available, particularly for those who are new to the field. The interface is uncomplicated and direct, and creating new email sequences and automation rules is a natural and uncomplicated process.
The landing page and opt-in form builders in ConvertKit are user-friendly and seamlessly integrate with WordPress content, though they offer limited customization options.
The availability of a WordPress plugin from ConvertKit has made the process of adding opt-in forms and landing pages to a WordPress website significantly easier, requiring only the copying and pasting of a text shortcode.
ConvertKit offers a user-friendly drag-and-drop interface for creating and modifying email sequences. This platform also allows for easy customization of send times, personalized fields, and other elements that may impact the effectiveness of your campaign.
The email templates offered by ConvertKit are visually appealing and highly legible on a range of devices, including desktop computers, laptops, tablets, and mobile devices.
While ConvertKit's analytics features may not be on par with those of enterprise-level email marketing software, they provide simple tracking of metrics such as open rate, clickthrough rate, and new list subscribers.
ConvertKit's automation rules utilize an if-this-then-that logic, which makes it easy for individuals without programming experience to create new rules quickly and efficiently.
CONS:
ConvertKit is optimized for use by bloggers and is highly compatible with WordPress. However, individuals who require more extensive functionality may find its emphasis on bloggers and content marketers constraining.
ConvertKit is a simple email marketing automation tool that may not meet the needs of marketing teams with larger budgets and more ambitious goals. In those cases, a higher level tool may be preferred.
ConvertKit's selection of landing page templates is limited to three options with limited customization features, which could be considered a disadvantage in comparison to other email marketing software.
OVERALL
ConvertKit is a simple email marketing platform that may appeal to bloggers or content marketers. However, those who require a more robust platform to generate leads from various advertising channels may find ConvertKit's options to be limited.
PROS & CONS OF GETRESPONSE
GetResponse provides various tools in a unified interface, making it appropriate for individual marketers and small teams who need more control and adaptability than ConvertKit, which concentrates on blogging.
PROS:
GetResponse provides responsive landing page templates that may be beneficial for individuals seeking to conduct A/B testing and increase traffic through paid advertising.
The GetResponse landing page editor provides convenient customization options for aligning landing pages and opt-in forms with your brand or website's identity.
GetResponse provides a wide array of email marketing tools, consisting of more than 500 email templates and a drag-and-drop email autoresponder organizer. These tools consist of audience segmentation, Perfect Timing delivery optimization, and other features.
KPI tracking allows for real-time monitoring of a campaign's open rate, clicks, social shares, and unsubscribes.
GetResponse offers a comprehensive set of marketing automation tools, such as a drag-and-drop workflow builder and behavioral automation rules, that can assist in retargeting customers who have abandoned a cart or completed a purchase.
The GetResponse webinar tools simplify the process of scheduling, promoting, and running webinars for those who host them.
CONS:
GetResponse has a slightly longer learning curve and may require more time to become proficient compared to ConvertKit.
Pricing: GetResponse vs ConvertKit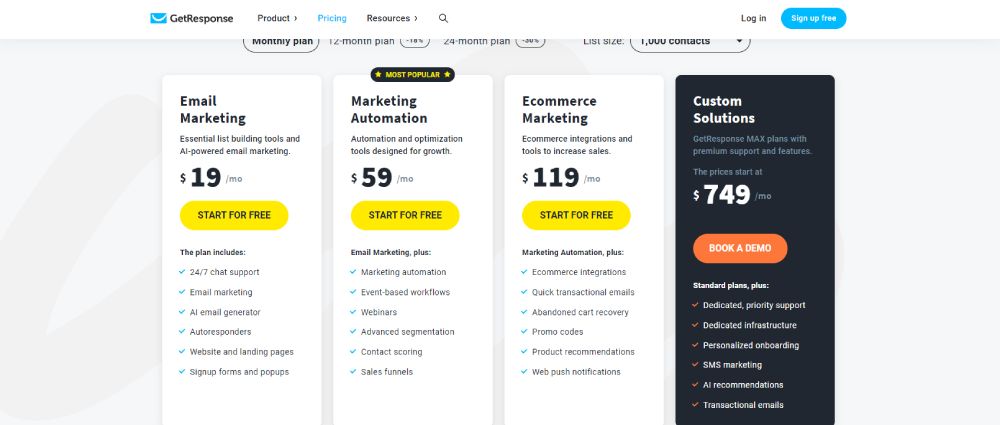 GetResponse provides industry-standard pricing with four plan options to suit your needs, with variations in the number of users per month and features offered distinguishing each plan.
Email Marketing Plan. $19/month for basic features.
Marketing Automation Plan. $59/month for webinars functionality.
Ecommerce Marketing. $119/month for even more webinar features.
Custom Solutions. $749/month
The Basic plan provides support for up to 1,000 individuals and is recommended for those new to email marketing. An upgrade will be required beyond this limit.
There are some limitations on the marketing automation tools available, such as webinars, advanced tagging, and CRM integration. Upgrading your plan is necessary to access higher-level functionality.
A free trial is available for 30 days and can be utilized.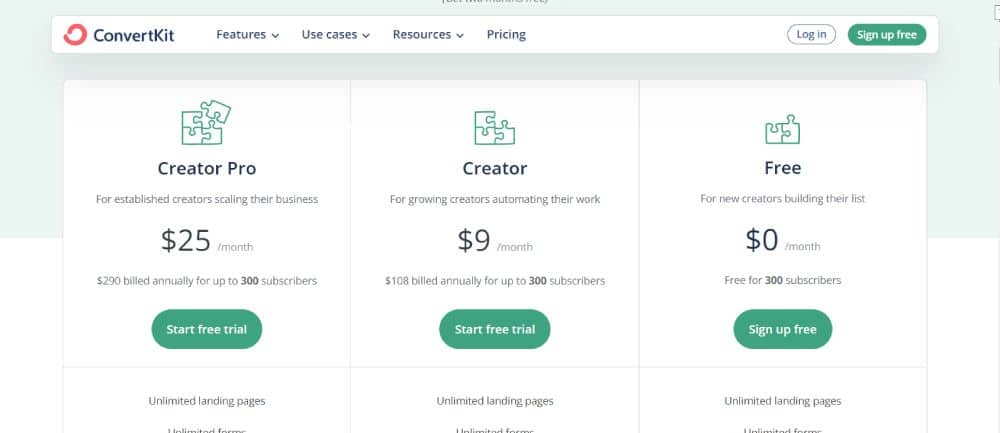 ConvertKit provides a range of pricing plans to cater to businesses of various sizes. The pricing structure is designed to be more affordable for those with smaller subscriber lists, as costs increase significantly for larger lists.
The price is based on the number of users and the specific features needed.
The plans are outlined below for a maximum of 1,000 users.
Free. This plan is free forever up to 300 subscribers.
Creator. This plan is $9 per month and gives you access to automated funnels and import from another provider.
Creator Pro. This plan is $25 per month and gives you access to advanced reporting that goes beyond Google Analytics, Facebook custom audiences, and more.
While the lowest-priced option may appear expensive compared to other providers, it's worth noting that a free plan is available that supports up to 1,000 users and includes essential features.
The level of plan chosen determines the extent of access provided.
So Which Marketing Solution is Best: ConvertKit vs GetResponse
When comparing these two marketing automation platforms, it is important to consider which one would be more beneficial for your business.
GetResponse is a suitable option for salespeople as it functions as a lightweight CRM with advanced segmentation. It offers some features that would interest marketers, but it primarily focuses on being an email tool rather than a comprehensive CRM.
ConvertKit is a user-friendly tool that enables content creators to gather subscriptions for their professional blogs, allowing direct communication with readers.
Both options offer free trial periods. If you're unsure, it may be helpful to sign up for both and determine which better meets your business objectives.
GETRESPONSE VS CONVERTKIT: FAQS
WHAT IS THE DIFFERENCE BETWEEN GETRESPONSE AND CONVERTKIT?
GetResponse and ConvertKit are both email marketing platforms that offer unique features. GetResponse caters to businesses seeking to connect with their target audience and increase sales, while ConvertKit is designed for bloggers and online creators who want to build their audience and promote their products.
WHAT TYPE OF BUSINESSES IS CONVERTKIT BEST FOR?
ConvertKit provides a variety of features designed to assist bloggers, content creators, and online businesses in expanding their audience and advertising their products effectively.