There's no doubt High Level is an advanced marketing software, however, it's not perfect for everyone. In this article, we'll explore the best GoHighLevel alternatives to help find the perfect software for your needs.
Realistically, HighLevel was designed for agencies, but other businesses have found it beneficial too. By having a suite of tools and features that most business require online, it's becoming more and more popular.
This being said, it's most likely too overpowered for simple business needs, and having that many features can overwhelm most users. That's why we've also found alternatives for specific types of businesses.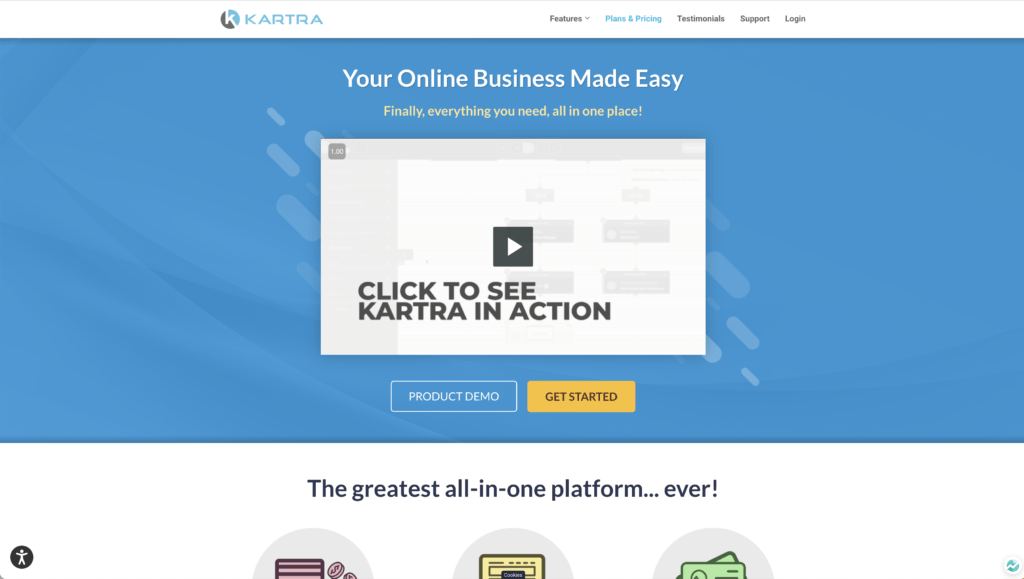 Kartra, developed by Genesis Digital LLC, is an all-in-one business solution.Its many components blend together without having to access external services.
Kartra is designed to cater to both novice and experienced users. Drag-and-drop page building simplifies the process of creating a website and eliminates the need for coding expertise. If you don't want to start from scratch, the platform offers a wide range of templates.
Using Kartra pages eliminates the need for a website and page building program. No programming is needed. No multiple plugins necessary. You can even personalise your pages to show pertinent content to your customers.
Kartra checkout has the same functions as Shopify and WooCommerce shopping cart platforms. On the platform, you can complete checkout forms and your payment gateway will process the payment.
Kartra provides a complete suite of tools to construct your sales funnels from the ground up. Sales funnels have the same capabilities as those constructed elsewhere, which is a good thing. Automating a series of triggers and actions is possible with this technology. It's possible to monitor where potential customers are in the sales journey and create profiles based on their progress. 
Kartra has all the tools you need to create an automated sales and marketing system.
This is accomplished through its various components, eliminating the need to purchase extra software.
What are we referring to when we discuss the need for integration?
Kartra's Checkout service.
Kartra Pages offers page creation tools.
Kartra's lead acquisition software.
Kartra is software that lets you build funnels and campaigns.
Kartra Email is a program for automating email communication.
Kartra's membership software offers features for managing memberships.
Kartra's cost is lower than GoHighLevel and other platforms.
Even with all the features it provides, this remains the case.
Four pricing plans are available: starter, silver, gold, and platinum.
The costs are $99, $199, $299, and $499 respectively.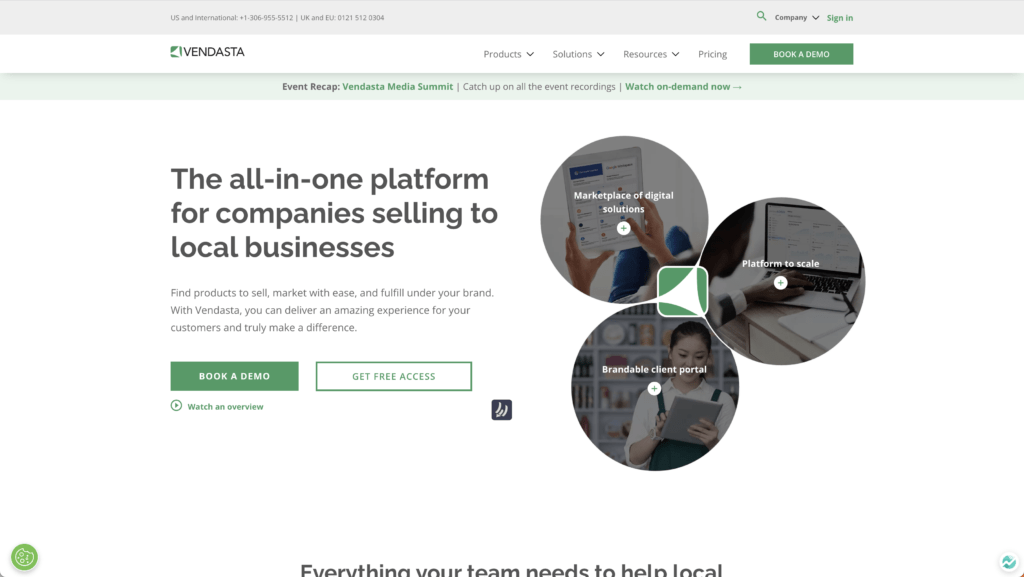 Vendasta provides an all-in-one platform for marketing and sales automation, similar to GoHighLevel. This platform is designed for businesses that offer software solutions to their customers. From the marketplace, users can buy software solutions at wholesale prices and resell them for a profit.
After joining the platform, you'll be taken to two dashboards right away. Two of them are the Business app and Partner center. You can assist customers with their digital strategy and help them increase their business success through the previous.
The Partner Center is the place where you handle all aspects of your business. This enables you to quickly transition your focus from your business and onto that of your customers, and back again.
Vendasta offers a comprehensive range of features as an alternative to GoHighLevel.
#1 Project Management Solutions
Vendasta offers several project management solutions, such as:
Gathering information on advertising campaigns.

Tools for SEO

Feedback from Customers

Google Workspace is a suite of software and services.

Additionally, there are numerous other examples.
Vendasta stands out from its competitors by offering white label service.
You can offer software solutions that don't belong to you using this system.
You can customize the apps with your own logo and branding, then market and sell them as if they were yours.
Vendasta provides marketing automation tools to ease the workload for sales teams.
The sales team will handle their duties while the messaging is conducted through marketing tools.
Vendasta's sales and customer relationship management tools assist you in understanding the software requirements of each customer.
A few clicks can create custom content for each customer.
When it comes to invoices, automated features can take care of them.
All products with paid subscriptions generate an invoice automatically at each renewal.
Leaderboards provide insights into the effectiveness of your sales strategies.
With your sales stats, you can access essential information such as total revenue, projected sales, number of outbound and inbound calls, etc.
Vendasta provides three different monthly payment plans.
You can get started for $97 per year.
The annual growth rate is $575.
The annual fee for this service is $1150.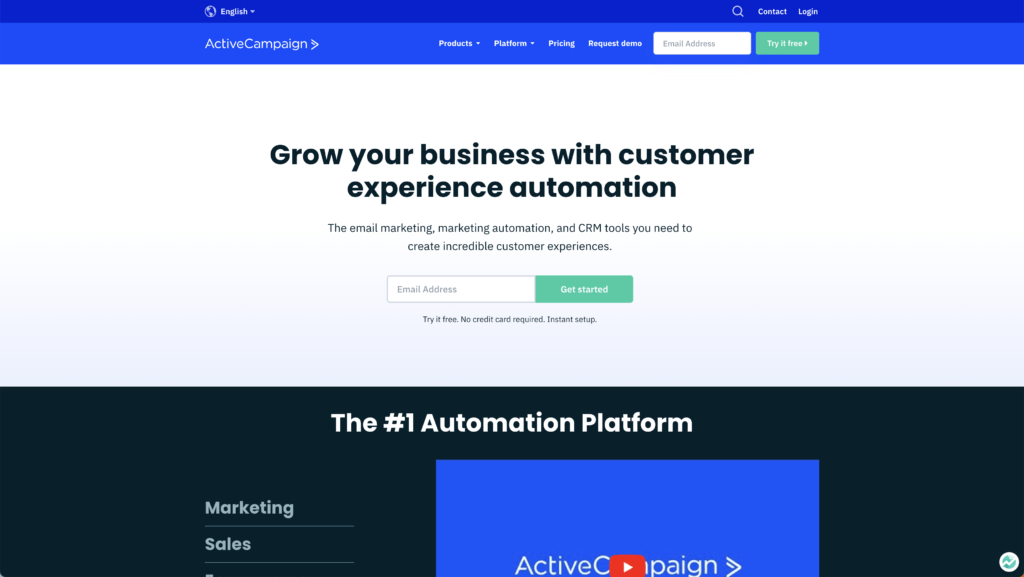 GoHighLevel has competition in the form of ActiveCampaign on our review list.
Jason Vandeboom founded ActiveCampaign in 2003, offering consulting services for businesses seeking to optimize their practices and solutions.Initially, the company offered on-premise software solutions, but then shifted to providing its services as a SaaS provider.
With ActiveCampaign, marketers gain access to powerful marketing automation, analytics, and CRM features in a single platform. This software is loaded with resources to help you attract and retain customers.
These tools can aid you in enhancing your relationship with your audience. Subscribers can set up automated sales pipelines, with each stage activated by their own activity. Email automation allows you to send targeted messages to a large number of contacts after receiving their email addresses through your forms.
When composing emails, one can choose from numerous templates. You could save time by using external templates instead of creating custom ones in-house. The A/B split testing function allows you to compare email results at the same time and make your decision based on stronger performance.
Marketers and salespeople need a platform to organize their interactions with prospects, rather than having conversations spread across multiple channels. Conversations enable you to check all your webchat, Facebook messenger, email and other exchanges in one centralized inbox.
ActiveCampaign has a multitude of superb features, making it an ideal tool for combining multiple applications. Take a look at ActiveCampaign's main features described below to learn more about the platform. 
The range of features available is an important consideration when calculating value for money.
Though ActiveCampaign's features are beneficial, some may not be required for you.
These are the main features.
Automating email marketing campaigns.
The ability to deliver something successfully.
Analyzing Reports
Utilizing technology to automate marketing tasks.
CRM is the practice of managing customer relationships.
Webpages designed to capture leads or convert visitors.
Connecting different applications together.
Cost-effectively manage email marketing and customer relationships with ActiveCampaign.
Its variety of features make it a worthwhile investment for many.
The cost is determined by the amount of subscribers.
You can get started for $15 a month, which gives you coverage for 500 subscribers.
With the next plan, you can get 1,000 subscribers for $29.
The 2,500 subscriber plan costs a total of $55.
The top subscription plan costs $99 and gives you access to 5,000 subscribers.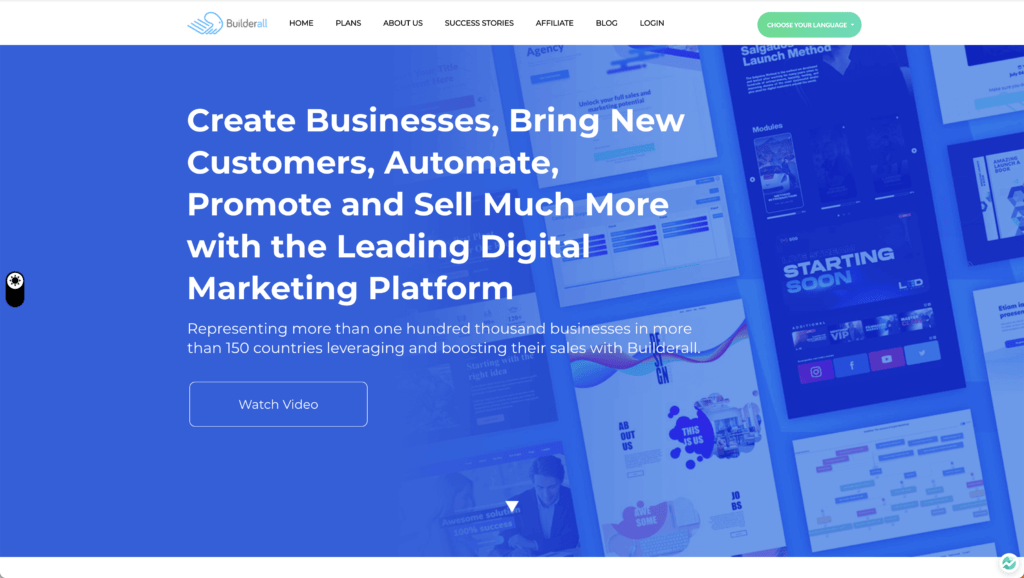 Builderall, similar to GoHighLevel, offers an all-encompassing digital marketing package. High Level is outdone by its array of features. Even the largest companies would be hard-pressed to match Builderall's impressive 1000+ features.
There are a wide array of marketing tools ranging from website builders to video providers, with up to 50 available.It's convenient to be able to access these tools from the dashboard instead of being spread out on the platform – great design!
You also need a CRM and Funnel Club. A huge selection of websites, sales funnels and chatbox templates is available.
Builderall has a vast amount of features that would be difficult for a small child to count.
GoHighLevel features a more advanced range of solutions compared to other options. Consequently, these deserve our consideration and thus let's take a look.
The Cheetah Funnel Builder from Builderall is a great tool.
Funnels that are optimally constructed can attain great speeds of conversion, which is aptly symbolized by the cheetah.
If you don't want to start from the ground up, you can access a library of pre-made templates for your funnels.
With the chatbot function, companies can create live chat support through Facebook messenger and SMS.
#3 Membership Site Builder
For businesses that offer courses and online training, membership sites are essential.
The site builder has extensive features, allowing you to create online courses with organized sections, modules, and more.
Builderall can be used to organize and plan tasks and appointments.
It is possible to organize emails, virtual classes, and many other activities.
The 3.0 update brought webinars and Podcasts to Builderall.
It's beneficial if your business involves broadcasting a webinar or podcast to have support for tools such as webinars and podcasts.
Your webinars can be pre-recorded or interactive, and you can even stream them on different platforms.
Builderall specializes in combining website creation with internet marketing.
Three types of website builders are available—responsive, pixel-perfect, and mobile-first.
Drag and drop is the method used by all website builders.
Website builders are categorized based on the devices they're compatible with.
The pixel-perfect builder helps create a website that looks amazing on desktop, mobile, and tablet.
With the responsive builder, you don't need to worry about creating a different version for each device. You can build one website and it will be automatically optimized for any device.
Builderall ensures your website is optimized for any device it is viewed on.
At last, a mobile-specific website builder has been unveiled—it's designed exclusively for mobile viewing.
Builderall is a powerful yet affordable alternative to GoHighLevel.
Take advantage of the 30-day free trial to explore the platform before investing in it.
For only $1, you can enjoy all features with this free trial.
Once your trial period is up, you can cancel the subscription or select one of four offered plans to continue if you're satisfied with your experience.
The price of Cheetah is $14.90 and it is the number one item.
$69.90 for the second-level marketer.
The Premium package of our service costs $79.90.
Funnel Club membership is available in two tiers: $99.90 and $199.90 as a one-time payment.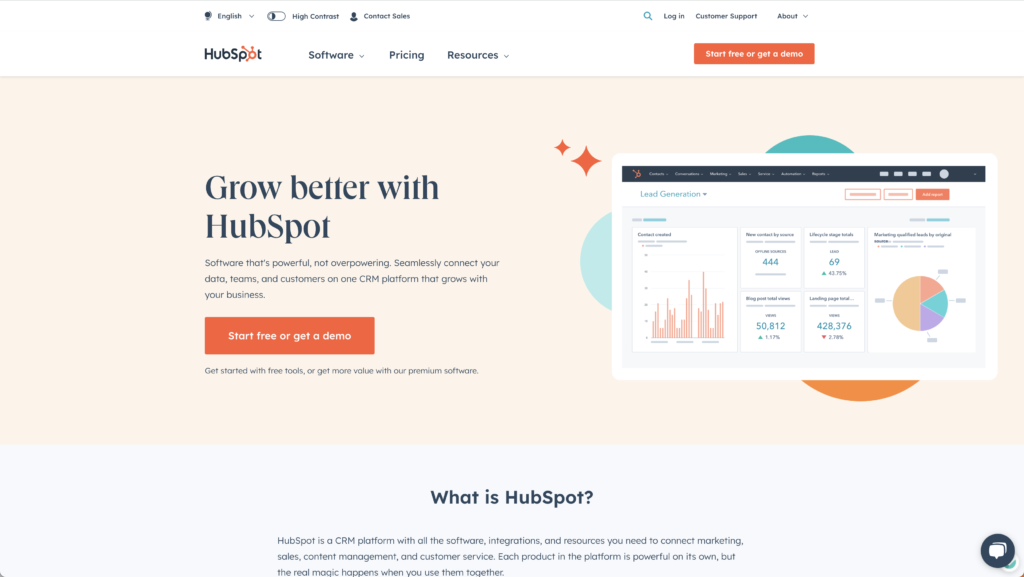 HubSpot is an expansive customer relationship management and marketing automation platform.Brian and Dharmesh created a business in 2004 to offer more useful content and services for customers.
A satisfied customer base is likely to result in more referrals for your business. Repeating this cycle can begin to build momentum for the business.
In this marketing technique, the growth is driven by the customers.HubSpot has the tools needed to accomplish that goal, focusing on CRM and marketing automation.
Let's discuss them further below:
HubSpot allows you to monitor leads and track customer engagement on different channels with its wide range of features.
The following are listed randomly:
Marketing Hub is the top choice for marketing automation.
Sales Hub is an application for managing sales.
Service Hub
CMS Hub
Operations Hub
HubSpot's pricing can be complicated.
Software in specialized areas often provide an advanced experience beyond the basics.
There is potential for further improvement in this balance.
HubSpot CRM is free to use and offers all its basic features regardless of business size.
Additionally, you may need to utilize more specialized services such as marketing, sales, customer service, content management and operations hubs.
The starter plan for each package, apart from the CMS hub, is $45, while the professional and enterprise services are $450 and $1200 respectively.
The most powerful CRM tool, the CMS hub, is available for $300 per month.
Moving forward, let's take a look at Kartra.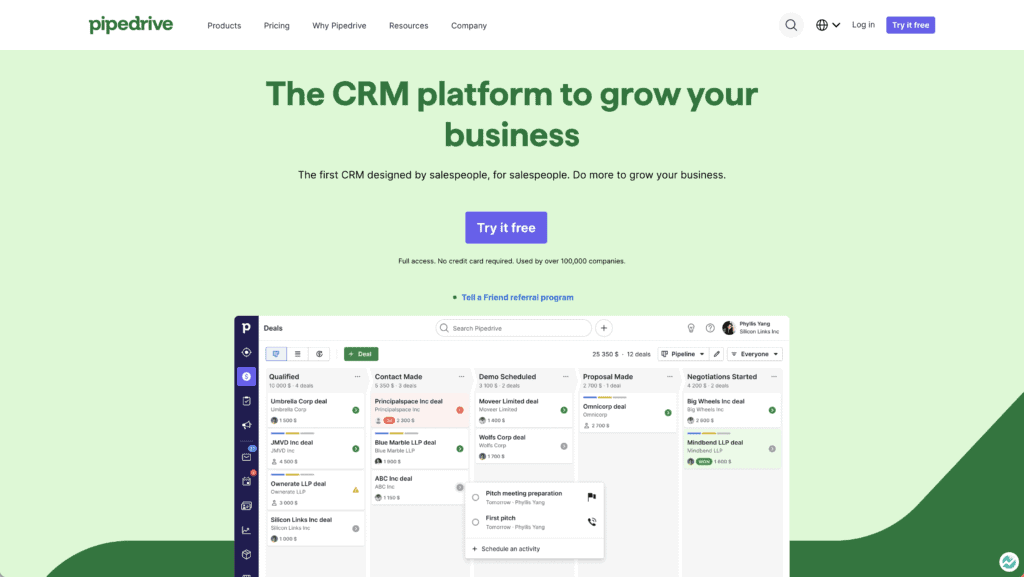 PipeDrive is an easy-to-use CRM designed for small businesses with an affordable range of features.With lots of customization possibilities and automated workflows, redesigning is simple.With PipeDrive, building sales pipelines is simple. It only takes a few clicks of the mouse to get it done.
PipeDrive's sales assistant provides helpful performance insights, suggests beneficial features, and allows for the integration of other apps.PipeDrive is perfect for small businesses that haven't reached the stage of expansion yet.
As evidenced by its limited email marketing capabilities and absence of project management tools, it's clear.
There's no need to reiterate that PipeDrive has a restricted list of features.
Examining the issue further reveals that the platform mostly focuses on controlling different elements of the sales process.
#1 End-to-End Campaign Management
PipeDrive simplifies lead generation and management.
When running a campaign, it is important to track and store relevant information.
PipeDrive Lead Inbox makes it easy to track your progress. It provides the relevant data you need.
With the help of PipeDrive, you can capture more leads by using web forms, live chat widgets, and chat boxes.
#2 Contact Data Management
Gaining insight into your contacts is key in customer relationship management.
You can't make them do it, and asking for it individually doesn't get the job done efficiently.
PipeDrive's smart contact data feature simplifies the task of tracking all the data your contacts post online, making it almost ABC.
All it takes is their email address, and the results are magical.
Are you thinking of a calendar?
PipeDrive has an internal calendar that can be used to assign dates and schedule appointments.
It's helpful to know that PipeDrive calendar can be synchronized automatically with Google Calendar and Microsoft Outlook.
A businessman has a long list of tasks they should complete each day.
Automations from PipeDrive are the solution.
You can use up to 30 templates to create "if-this-then-that" automated sequences.
Automations can be used to streamline the process of moving deals through your pipeline.
The sales dashboard provides an overview of everything related to your sales.
The dashboard dynamically refreshes your sales data and shows you where extra effort needs to be put in.
PipeDrive puts a lot of effort into customizing the sales dashboard.
This sales dashboard can be shared, which is an added bonus.
PipeDrive provides valuable insights into sales processes, from tracking deals to predicting revenue.
PipeDrive gives you the option to customize your reports.
On your request, the reports can provide a comprehensive overview of your deals.
The reports can also be tailored to include metrics relevant to your company.
PipeDrive offers four subscription plans – essential, advanced, professional, and enterprise.
The cost of the plans, in order, is $12.50, $24.90, $49.90 and $99.90.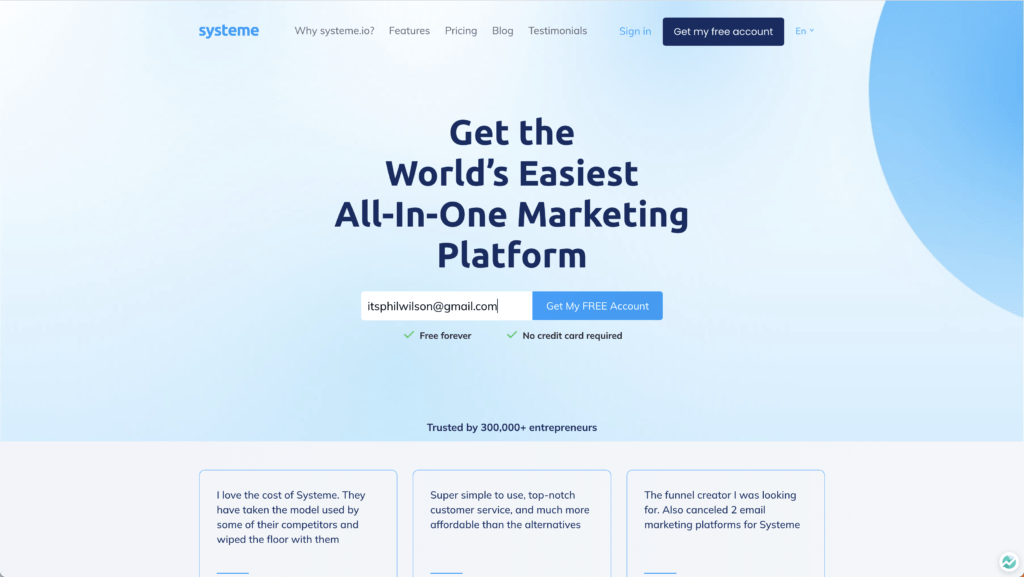 Aurelian Amacker launched Systeme.io (pronounced system) in 2018, an online venture. We will be evaluating Systems.io as the final viable GoHighLevel option in this article.
As a viable alternative, it's an all-encompassing sales and marketing automation platform for online entrepreneurs. It also has its own customer relationship management system.
Systems.io contains features that are advantageous to individuals selling products or presenting online training. It makes no difference if it is a tangible item or a digital item.
Let's take a closer look at each of these features.
Systeme.io offers numerous features that allow users to monitor and manage their sales and marketing workflow.
The CRM is comparable to other platforms such as GoHighLevel and HubSpot.
Making a sales funnel doesn't have to be difficult.Systems.io's sales funnel builder lets you quickly build an effective sales funnel for higher conversions.
Taking advantage of a sales funnel builder can provide you with these benefits:
Intuitive editor with a user-friendly interface
Patterns or models used as a starting point.
Website functionalities such as email list, membership site, and payment system integration can be set up.
Automating processes in a specific order.
With System.io, rapidly growing email lists is just the start.
A vast network of contacts is ineffective without organization.
This platform enables users to organize their email lists and send tailored emails to different groups.
Instead of manually emailing contacts, you can use automated email sequences.
Non-coders can now create online courses.
Systeme.io provides users with a course editor for building courses.
Integration with third-party payment systems can be done directly on the platform, without needing a developer.
Systeme.io provides the popular drag-and-drop feature for website design and construction.
As an added benefit, this comes with integration support for your email lists, payment systems and online courses.
Systems.io offers the typical marketing automation one would expect from a platform that promotes it.
To be clear, it includes the following:
Incorporating funnels and emails to attract potential customers.
Automation of repetitive tasks
Automation rules can be applied to any aspect of your website and sales funnel.
Emails and digital tools for course access.
#6 Affiliate Program Management
Systeme.io makes it easy to manage affiliate programs.
The platform helps streamline affiliate commission and payout management, among other things.
Advertising your services on Systems.io attracts thousands of potential customers.
There are four different plans available for Systems.io to suit your budget.
We offer a free plan, as well as startup, webinar, and enterprise plans.
To purchase the platform, please refer to the price information below:
The startup plan is $27 per year, while the webinar and enterprise plans are priced at $47 and $97 respectively.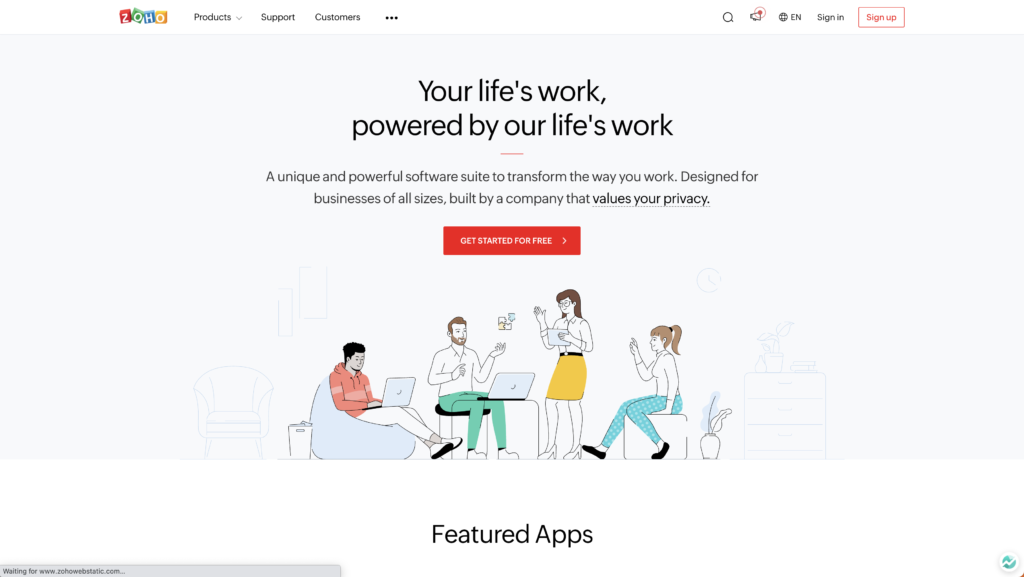 GoHighLevel is not the only software for sales and marketing automation; Zoho CRM is also an excellent option.
Its user-friendly interface makes it ideal for small businesses and startups.One of the benefits is that users can customize nearly all aspects of the user interface to their preference.If you are not satisfied with the default dashboard design, you can rearrange its elements.
Zoho offers an effortless approach to managing tasks and workflows.Lead management by this software is satisfactory, yet lacks the capability to handle individual leads.Mass emailing is not allowed.Until you're willing to invest more, its features won't let you down.
Zoho CRM has numerous lead and sales management tools.
Many tools exist to gather data regarding leads and contacts, and securely store them in one repository.
#1 Predictive Sales and Intelligence
Zoho CRM includes a feature powered by artificial intelligence, known as Zia assistant, which helps manage customer relationship management data.
With Zia, you don't have to manually initiate operations.
Zia can quickly find data that would take hours to obtain and can even predict the outcomes of a sale.
Additionally, the assistant can alert you to any irregularities in your sales process.
Lead management covers all activities related to capturing leads and tracking their journey through the sales pipeline.
Knowing the next steps to take, like sending a follow-up email, will help you.
Frequently tedious tasks associated with deals are simplified with the help of a deal management service.
Analyzing previous deals and recognizing promising opportunities are important tasks in the work environment.
Zia assistant provides the ability to make macro suggestions.
Artificial Intelligence can recommend automating daily sales activities based on observed patterns.
The assistant can help prevent errors, like sending multiple messages to the same person.
Zoho CRM is known for its customization capabilities.
Canvas is a user-friendly drag-and-drop editor provided by the platform.
This tool enables you to craft a personalized appearance for your Zoho CRM using either your own customizations or pre-made templates.
Finding important data on your CRM can be difficult, especially when you're navigating through miles of information.
Filters and views on the CRM make it easier to search for your top prospects and prioritize important deals.
Further refine your results by setting specific search criteria.
Zoho provides a CRM that is specifically designed for small businesses and startups, which is available at no cost.
Even with the free version, you can have up to three users supported.
There are two plans available for the paid version – standard and enterprise.
The first is $12 per user per month, and the second is $35 for each user per year.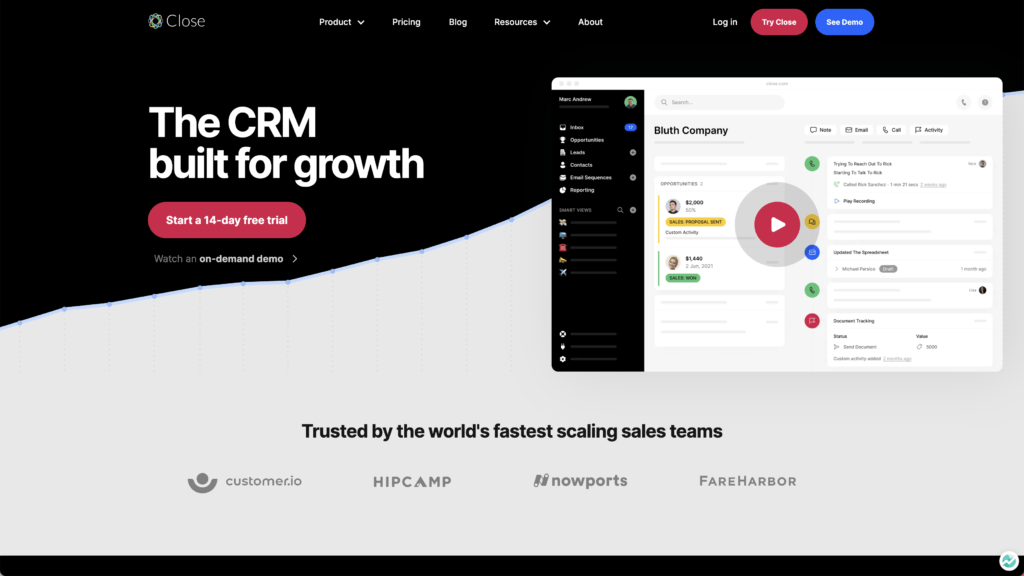 Close.com is a CRM software specialized in marketing management activities, like outreach, lead generation and handling.
Those who require services like lead generation, email sequencing, voice calls, SMS, reporting, email marketing and video conferencing will find it beneficial.
Close.com could be the perfect CRM solution if you or your sales team are looking to increase contacts or sales.The only downside is that importing CSV files in bulk can create duplicate leads, which necessitates manual tidying.
Let's examine the features more closely.
By using Close.com's software for making calls, users are able to complete more calls in less time.
An automated dialing system, commonly referred to as a power dialer, can speed up the process of calling through a list of leads.
When the call is answered, the predictive dialer connects the individual to an available sales representative.
This software allows calls to be made in up to 200 countries.
This email platform is designed to help you create sales sequences, templates and follow-up messages.
When you select Close, you'll enjoy smooth integration with various email services including Google, Yahoo and Microsoft.
Moreover, you can use additional tools to customize your emails to suit the needs of each recipient.
By using Close.com's SMS service, you can manage your text messages directly from your inbox.
Using Close, you can interact with more people quickly and easily answer any messages that come into your inbox.
Furthermore, an API can be used to quickly and easily deliver bulk SMS messages.
Making money with video is trending now, and help is available.
The video software of Close.com works well with Zoom, enabling you to make sales on that platform as well.
When you link your zoom accounts, all your prior cloud recordings will be synchronized with your customer relationship management system.
Hosting meetings on Zoom with prospective clients is a great way to capture the conversation and save it for later.
Close.com's reporting tools prioritize leads and increase revenue.
You can prioritize your leads for email and marketing purposes through the smart view feature.
Visual filters allow you to easily segment your database without writing any code.
Close.com is compatible with a variety of CRM and email solutions from external providers.
Gmail, SavvyCal, Stitch, ActionDesk are just some of the integrations available.
Integrating with Zapier expands the possibilities of the platform almost endlessly.
Close.com offers four pricing tiers: starter, basic, professional, and business.
The billing starts at $29 for the first tier, followed by $69, $99, and ending with $149.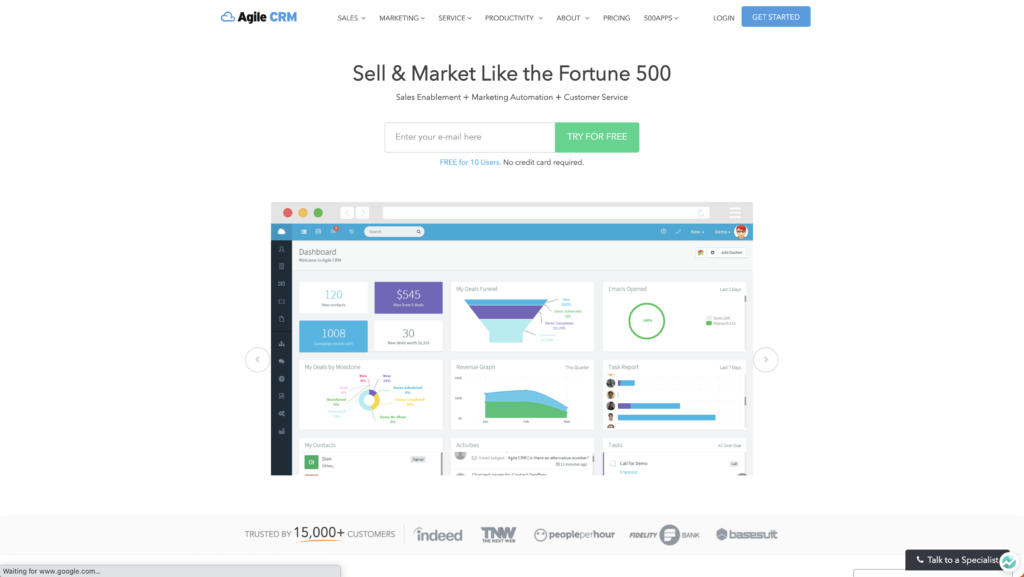 Agile CRM is a tool to streamline your customer management, from outreach to support.
Agile CRM is a relatively new software, but it is keeping up with the competition.Manohar Chapalamadugu and his team created the software when existing CRMs weren't successful.
Agile CRM provides essential features for today's businesses.
Agile CRM has implemented a gamification feature as part of its workflow management system.Gamifying tasks can motivate employees and reward them for their efficient work.
We'll discuss its other features in more detail.
Agile CRM offers features for both sales and marketing purposes.
It is essential for businesses to keep a record of their contacts.
Agile CRM does more than just organizing contacts; it is a major benefit.
Storing customer data enables you to stay in touch with them and establish lasting relationships.
Customers can be tagged with data regarding their interests and interactions with your company.
Agile CRM provides project management tools to enhance collaboration between marketing and sales teams, thereby reducing chances of miscommunication.
With Agile CRM's deals management feature, you can get an accurate forecast of your sales team's future revenues.
They have the capability to establish goals and enable automatic reminders.
Telephone communication is essential for businesses.
With this technology, you can make and receive calls, record conversations, and jot down notes.
With Caller ID, you can determine who is calling with an unknown number.
Agile CRM assists marketing teams by providing a social CRM to contact customers and potential customers.
Social CRM can be linked to Twitter and other social media sites.
#6 Online Appointment Scheduling
Agile offers a user-friendly scheduling system.
First, you need to obtain the calendar link for your customers.
Afterwards, choose the dates and times for your business hours.
The following step is to enter a name and select an open time slot. Additionally, you will be asked to add an allowance of time in order to prevent unpremeditated bookings.
Agile is compatible with Google Calendar, Outlook and Office 365 to give you better control of your schedule.
Agile CRM offers a free plan that supports up to 10 users, although the full features are only available with paid plans.
Three upgrade options are available for the paid plans: starter, regular and enterprise.
The monthly charges for the product are $14.90, $49.99 and $79.99 respectively.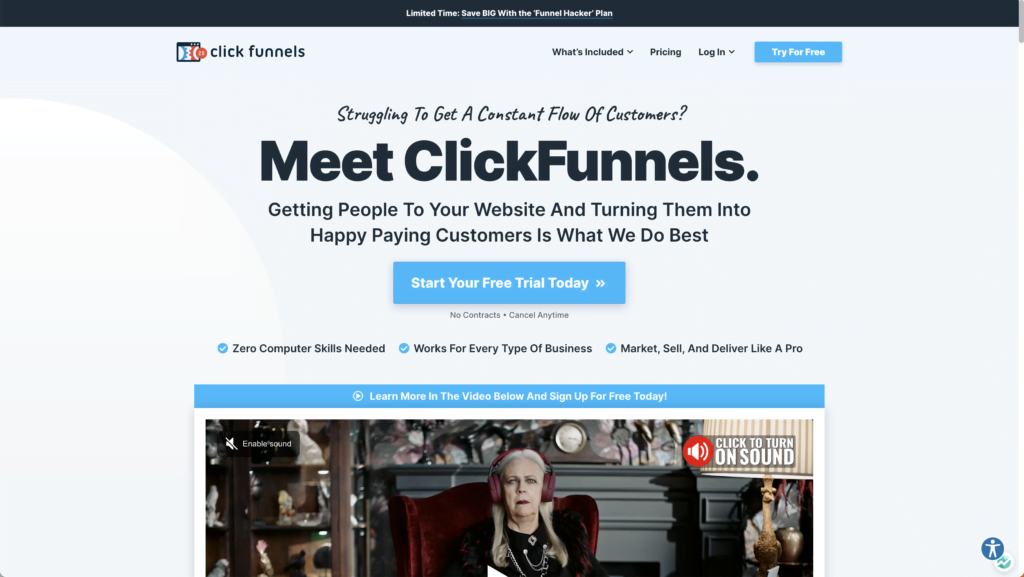 Clickfunnels is an effective tool for constructing sales funnels, specifically designed to help businesses increase their sales.
It makes the complicated job of turning a lead into a customer much easier.This software comes with a selection of customizable templates.
Russell Brunson, the creator of the sales funnel, is responsible for its current popularity.Thanks to Clickfunnels, many businesses have managed to achieve success due to fruitful sales funnels.
GoHighLevel has more features than its counterpart, however.It is easy to comprehend. It is solely for constructing sales pipelines. Nothing additional. No client relationship management system such as you would anticipate in GoHighLevel.
ClickFunnels is designed to build sales funnels and optimize landing pages, ultimately increasing profitability and productivity.
These are its primary features.
Page Builder with a Drag and Drop Feature
A/B Testing is a method of comparing two versions of something to see which one works better.
Opt-in forms are used to collect subscriber information.
Numerous Templates Available
Affiliate management is the overseeing of a business's affiliate program.
Bringing different aspects together into a whole.
Clickfunnels has high prices, so you should think carefully before making it your preferred sales funnel builder.
There are three pricing tiers: basic and platinum.
The first option costs $97 while the second one is priced at $297.
With an annual subscription, you could save up to $594 for both plans.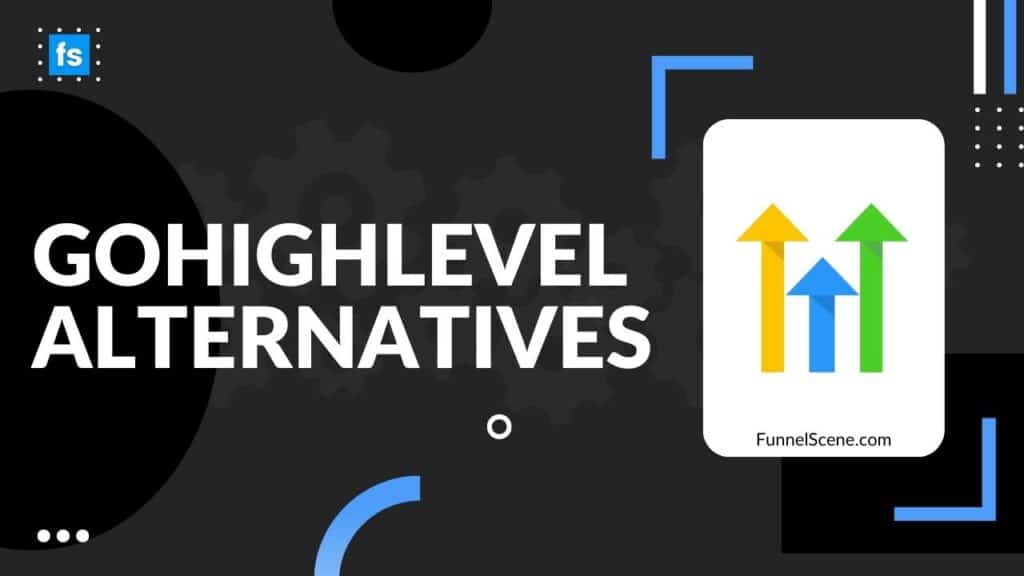 GoHighlevel Alternatives: Which One Is The Best For You?
This completes the seven GoHighLevel options that are tailored for digital marketers, business owners, and agencies. All of these programs are usually quite good, so it comes down to your needs and lifecycle in deciding which software to select. The most similar program with GoHighlevel when it comes to features is Vendasta, one of the swiftest-growing software in the field. When it involves securing the most value for your money, Kartra and Builderall stand out. As for the most feature-packed platform with prolific capabilities, HubSpot is indisputably the best; albeit a premium choice. Optimistically this information has been resourceful. Not sure which program is the best for your business? Look no further- this article will help you select the best GoHighLevel alternative that meets all of your company's needs.r