Thinking of trying out Go High Level but want a trial first, to see if it's right for you? You're in the right place. In fact, you're in the perfect place! 
There are two kinds of trials you can join, first is the 14-day GoHighLevel free trial which is for the Agency Starter plan and Agency Unlimited plans. 
If you want more than 14 days, then you can also get the 30-day Go High Level free trial which only certain partners of High Level can offer.
Bonus Offer: Free GoHighLevel Course
If you join using any of the links on this page, you'll also automatically be enrolled to our GoHighLevel Accelerator course which teaches you how to use the platform, and includes bonus templates, etc.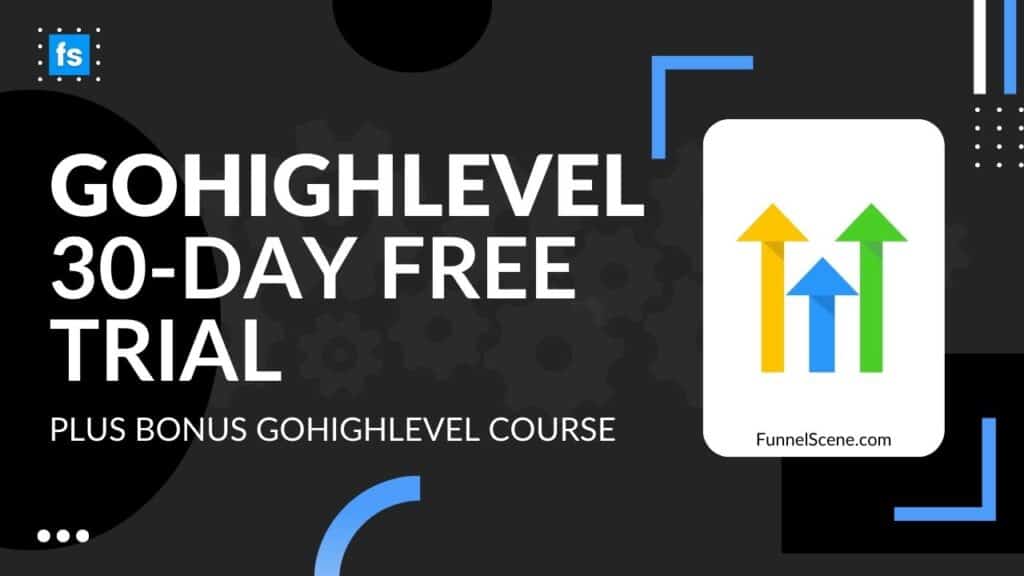 How Do I Get The 30-Day GoHighLevel Free Trial?
If you were to sign up to Go High Level directly, you'll only be given the option of a 14-day trial, which is normally suitable for most users.
However, if you wanted to explore more of the platform before committing, I'd recommend getting the 30-day free trial, which is an exclusive offer by high performing partners.
This allows you to get an additional 16 days to test out the platform and get to know how it works. In most cases, the additional time allows you to explore the many features which include:
Sales Funnels
CRM Sales Platform & Sales Pipeline
Email Marketing Automation
All-in-one Messaging Hub
Website Builder
Survey and Form Builder
Course Builder
Online Appointment Scheduling
Automation Workflows
SaaS Features
White Labeling
Reputation Management
Social Media Scheduling
+ much more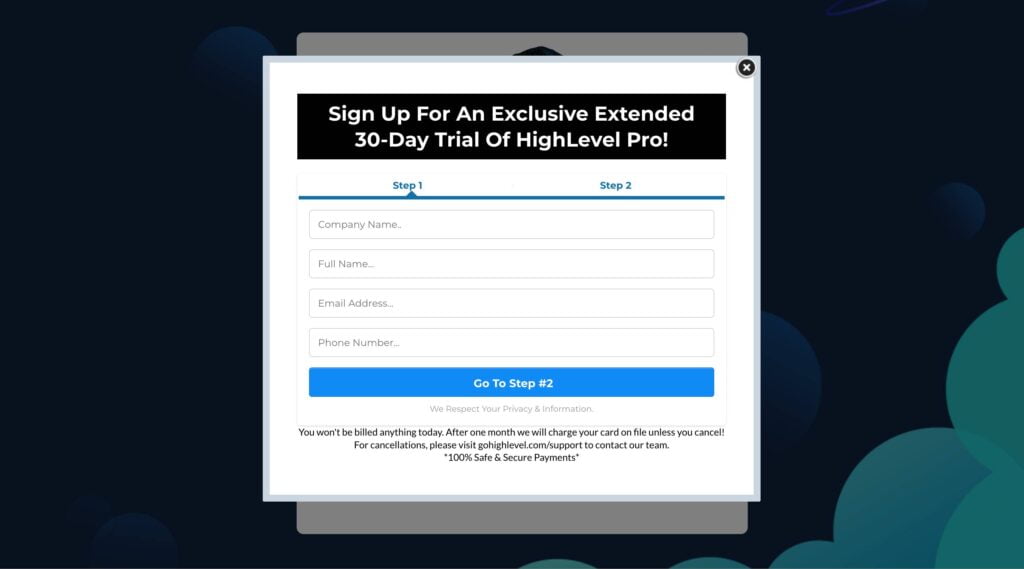 What are the differences between the 14 day and the 30 day?
If you get the regular 14 day trial, you'll be able to choose from the Agency Starter plan, and the Agency Unlimited plan. Once your trial is up, you'll then automatically subscribe to the plan you have chosen.
However, the 30 day Go High Level free trial is designed for the High Level Pro Saas plan, which includes all of the Go High Level features including the SaaS mode. This is perfect for Digital Agencies or Agency owners who can add additional revenue to their business through SaaS. 
To learn more about the pricing plans, see our full GoHighLevel review.
If you do decide to go down the 30-day free trial route, you'll notice upon signup, you'll be subscribed to the SaaS Pro plan which is $497 per month. Luckily, if you only want a lower plan but still want the 30-days, there's a little trick you can do.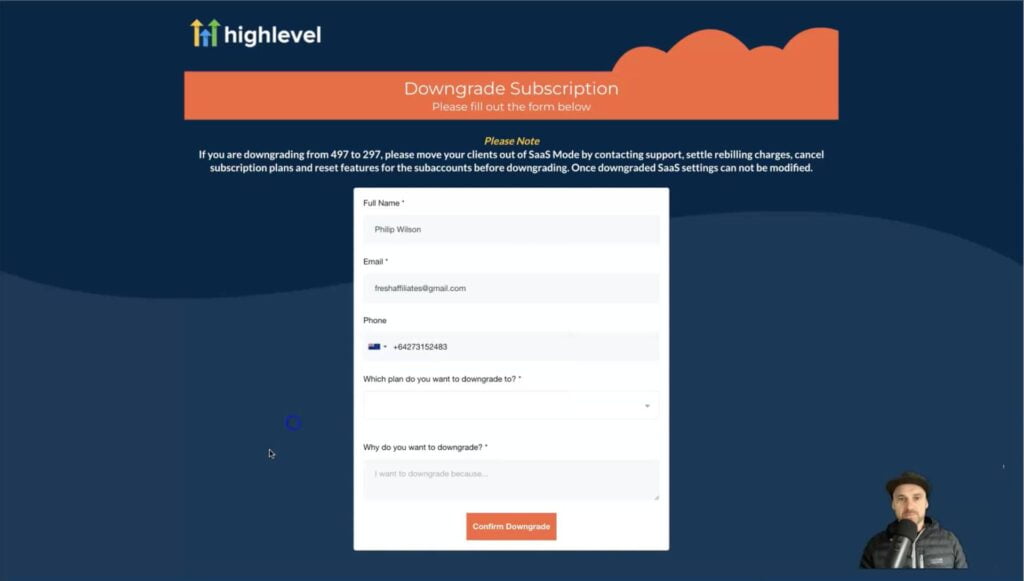 How to Downgrade Your GoHighLevel plan
Once you have joined the 30-day free trial to the SaaS Pro plan, you can log in to your account and downgrade your account to a lower level. This will retain your 30-day trial, but once the trial is over, you'll subscribe to the plan of your choice.
Steps to Downgrade your account:
In your Agency View, go to "Settings"
Next go to the "Billing"
Where is says "To modify or cancel please click here", click on "click here"
Select "Show More Options"
Click on "Downgrade Plan"
Select the plan of your choice to downgrade to
Add in a reason why you want to downgrade ie: SaaS plan is too overpowered for your needs"
Click on "Confirm Downgrade"
You will now have the access for the remaining time in your 30-day trial, and be subscribed to the plan of your choice.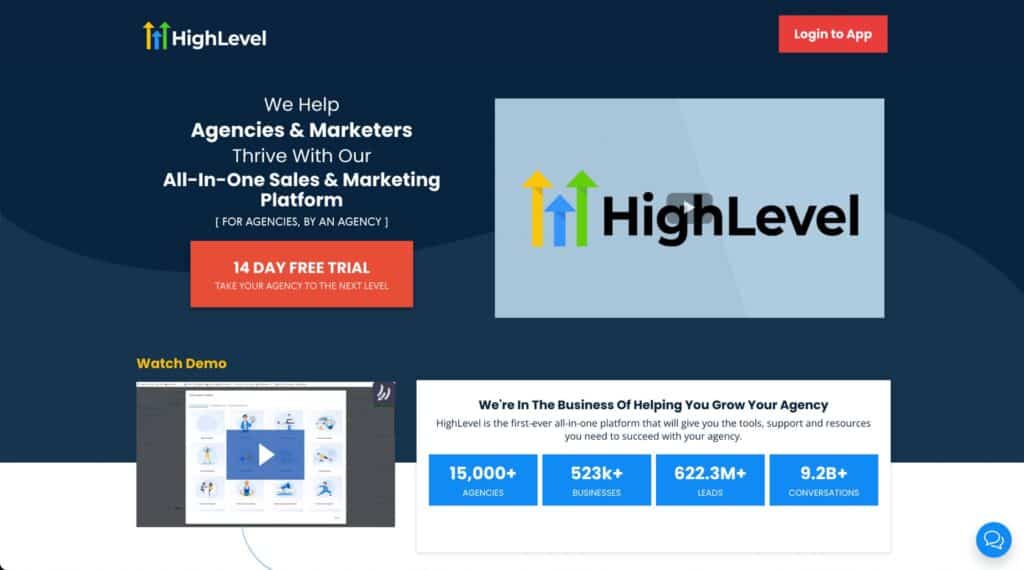 How to Cancel GoHighLevel Free Plan
If you joined the free trial but you'd like to cancel your account before the free trial ends, follow these simple steps:
Login to your Agency View, then go to "

Settings

" tab
Go to the "

Billing

" tab
Where is says "To modify or cancel please click here", click on "

click here

"
Select "

Show More Options

"
Click on "

Cancel

"
You will be asked why you want to cancel, select "Other" to bypass skip a few steps.

A form will appear where you need to enter in your current account information ie: name, email, phone number. Once completed, select "

Confirm Cancellation".
You will then see a page saying it will take up to 72 hours to process your request. (don't worry, your date and time is logged if it's the end of the trial)
You will then receive an email stating that your account subscription has been cancelled. 
Helpful Tip
You will receive an email a few days before your subscription is due, but if you're still unsure, set a reminder in your calendar 2 days before the trial is up!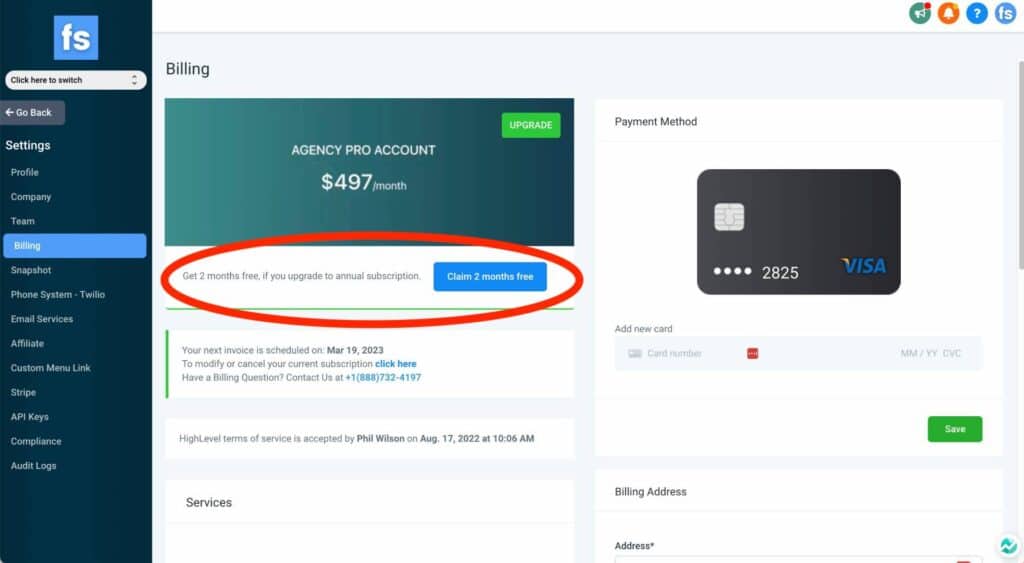 While there aren't any GoHighLevel discount codes or secret links to give you savings on your subscriptions, you can subscribe to a yearly plan which will take off 2x months off your regular yearly cost.
High Level Pricing

Agency Starter

Agency Unlimited

HL SaaS Pro

Monthly Cost

$97

$297

$497

Annual Cost

$970

$2,970

$4,970

Monthly Cost
(Paid Annaully)

$80.83

$247.50

$414.16
What is the GoHighLevel Refund Policy?
There are no refunds for Go High Level. Like most SaaS companies, they offer a free trial instead to allow the potential customer to test out the platform first. After the trial is over, there are no refunds on subscriptions. 
You can check out their full refund policy if you have any concerns.
High Level Frequently Asked Questions
What happens once the Free Trial ends?
Once your free trial has almost ended with GoHighLevel, you will need to decide whether you would like to cancel or continue using the service. If you don't do anything, the credit card that was used to sign up for the trial will be automatically charged. The amount that is due is based on which plan you have chosen—either $97 per month, $297 per month or $497 per month.
Who is Go High Level suitable for?
High Level was originally designed for Digital Agency owners who were looking to add an additional source of control and revenue to their business. However, since they continuously improve their product, it's also attracted the likes of coaches, marketers, solopreneurs, entrepreneurs, course creators, and more. Now High Level has become one of the fastest growing SaaS software products for digital agencies around the world.
How do I become a GoHighLevel affiliate?
Once you register with GoHighLevel as a user, you'll automatically have an affiliate account created using your login details. You can then access your affiliate resources in the "Affiliate Portal" section
Do I need to be a user of GoHighLevel to be an affiliate?
How do I participate in the Go High Level Dream Car Program?
For high performing affiliate partners, you get the ability to get your Dream Electric Car leased to you, paid by High Level. This is through their Supercharged SaaS Program.