In the digital age, marketing has become more complex as businesses face challenges in effectively reaching their target audience amidst the multitude of channels and strategies. Gohighlevel Funnel Templates provide a simplified solution, allowing businesses to easily create high-converting funnels and streamline their marketing efforts.
GoHighLevel offers a range of funnel templates designed for different industries and business niches. These templates are easily customizable, giving you the freedom to tailor them to your preferences. Additionally, you can save them for future use.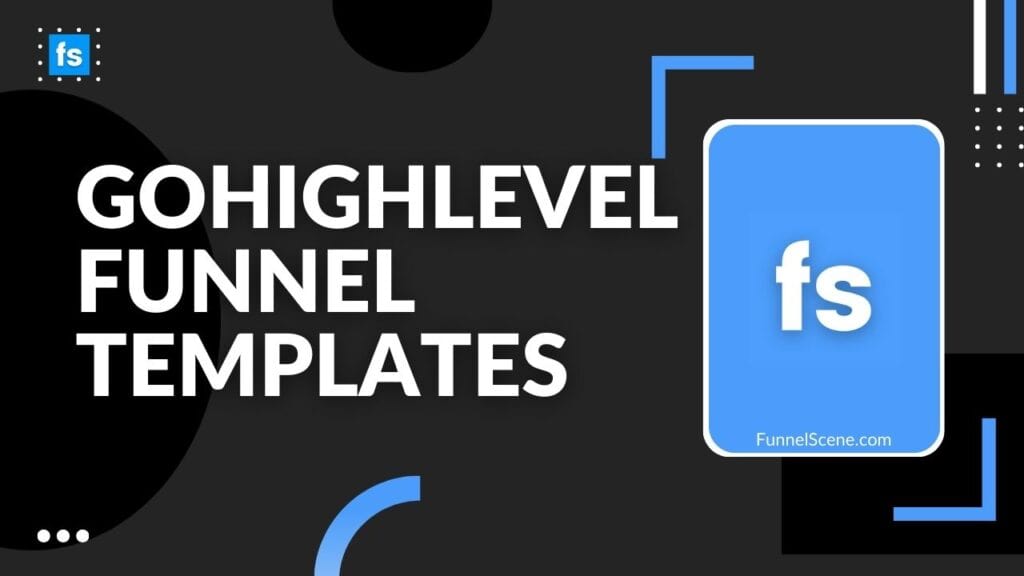 What are GoHighLevel Funnel Templates?
GoHighLevel Automotive Funnel Templates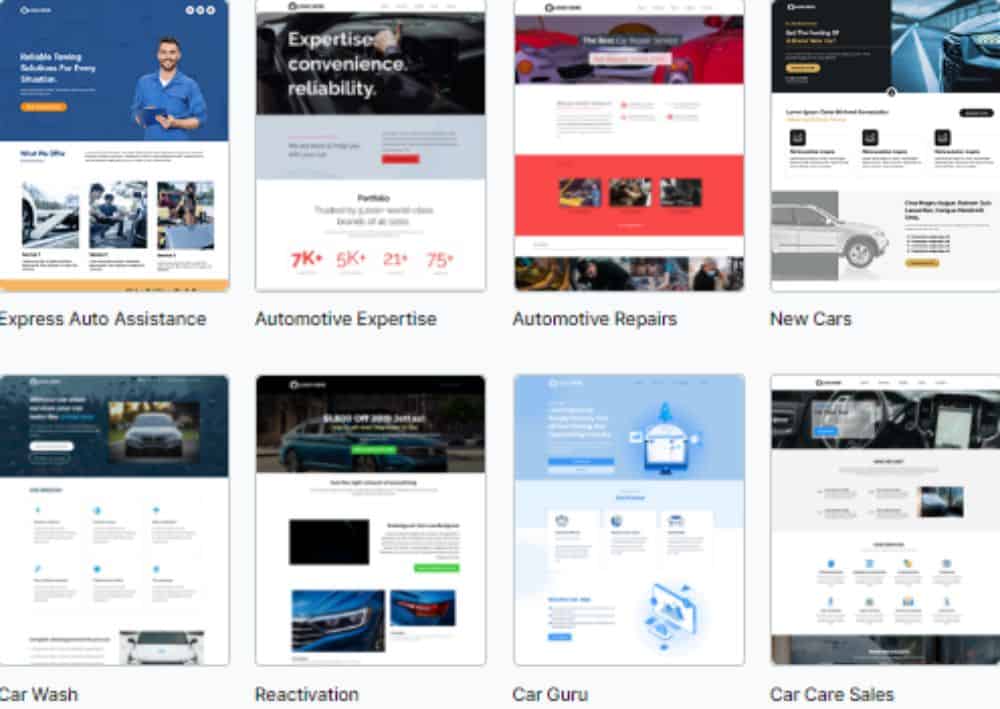 There are currently more than 30 GoHighLevel funnel templates available for automotive.
Optimizely also provides users with funnel templates to quickly create their own funnels. These templates are designed to fit into Optimizely's A/B testing platform, allowing users to easily create a complete funnel in minutes. The templates come with all the necessary components for a successful funnel, such as call-to-action buttons, form fields, and more. Additionally, users can modify services, including car washing, detailing, servicing, selling new or used cars, and offering cars for hire.
GoHighLevel Car Wash Funnel Template
The GoHighLevel car wash template showcases how a car wash business can attract customers by providing different price options. The purpose of this template is to motivate potential customers to book an appointment.
The template includes a list of services, three car wash packages to choose from, and testimonials from clients. The calls to action consist of a button to book an appointment and a phone number to call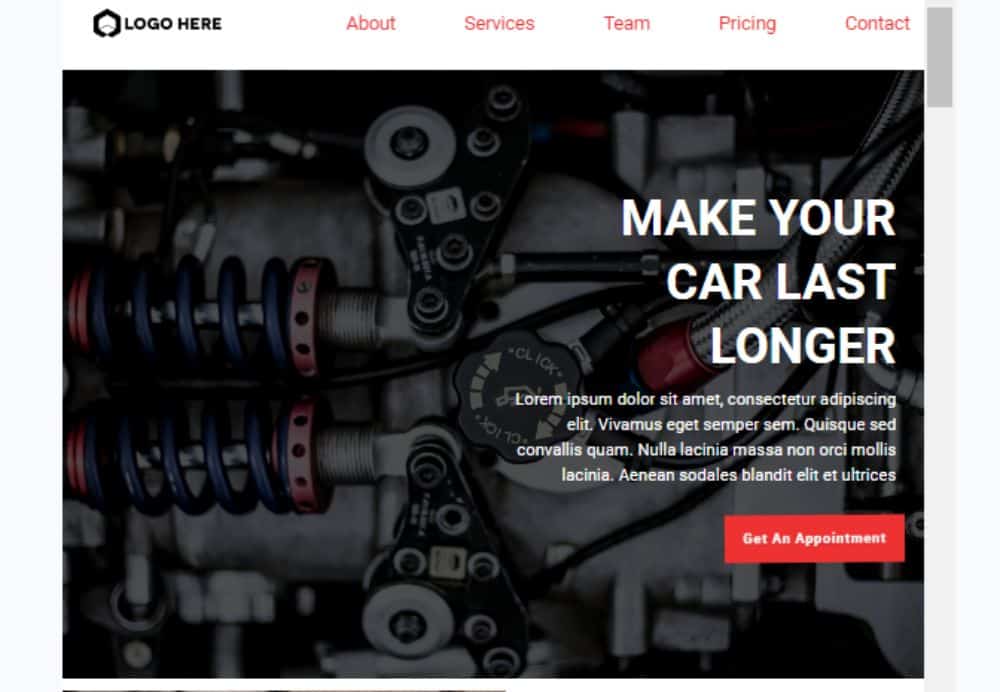 GoHighLevel Automotive Service Funnel Template
The GoHighLevel car detailing template has it all! From a complete price list and a stunning gallery showcasing our previous work, to captivating About Us and Meet the Team pages that will give potential customers a real sense of who we are and what we offer. But wait, there's more! Our key call to action is to book an online appointment, and we even have a map showing our physical location, so you know exactly where to find us. Get ready to experience car detailing like never before!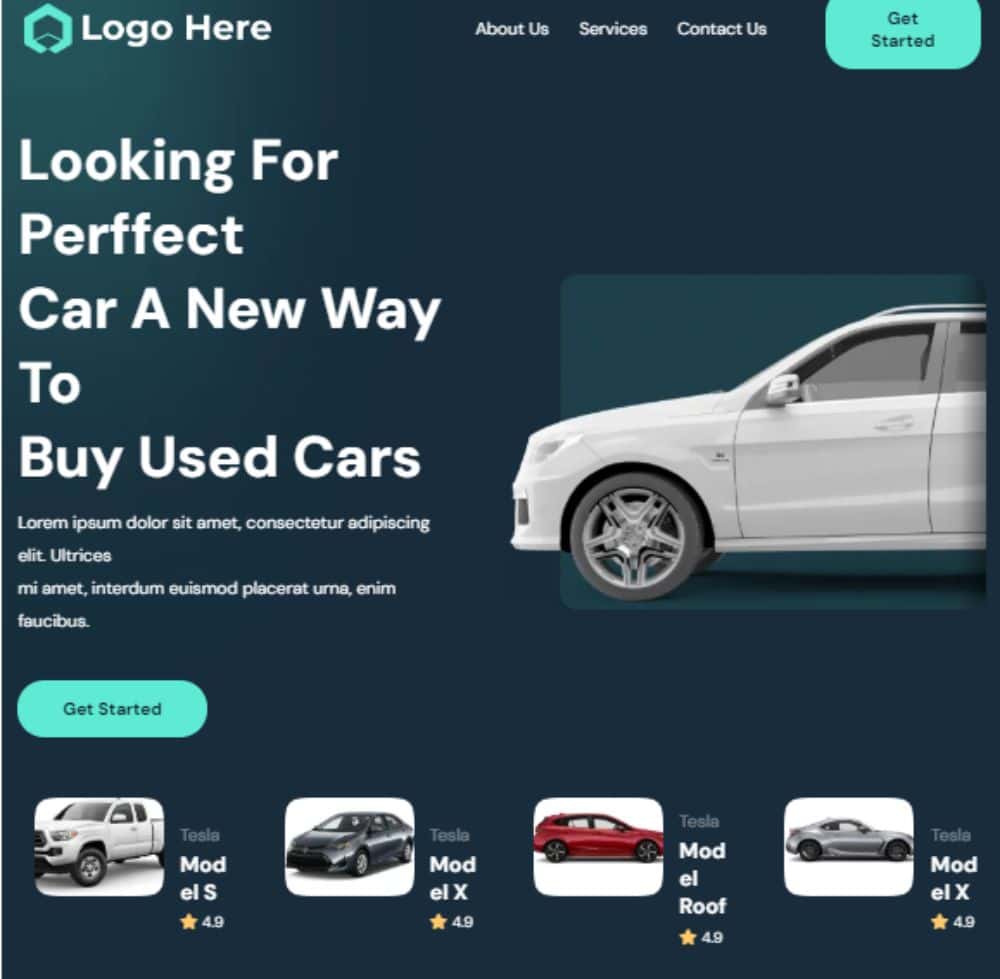 GoHighLevel Used Cars Funnel Template
The used car template offers ample space to showcase available cars for sale and provide information about the business and its associated services. Additionally, the inclusion of FAQ and client testimonials helps establish the business's credibility.
Potential customers looking to buy a used car can click on the "Get Started" button and schedule an appointment on the calendar
GoHighLevel Beauty and Fashion Funnel Templates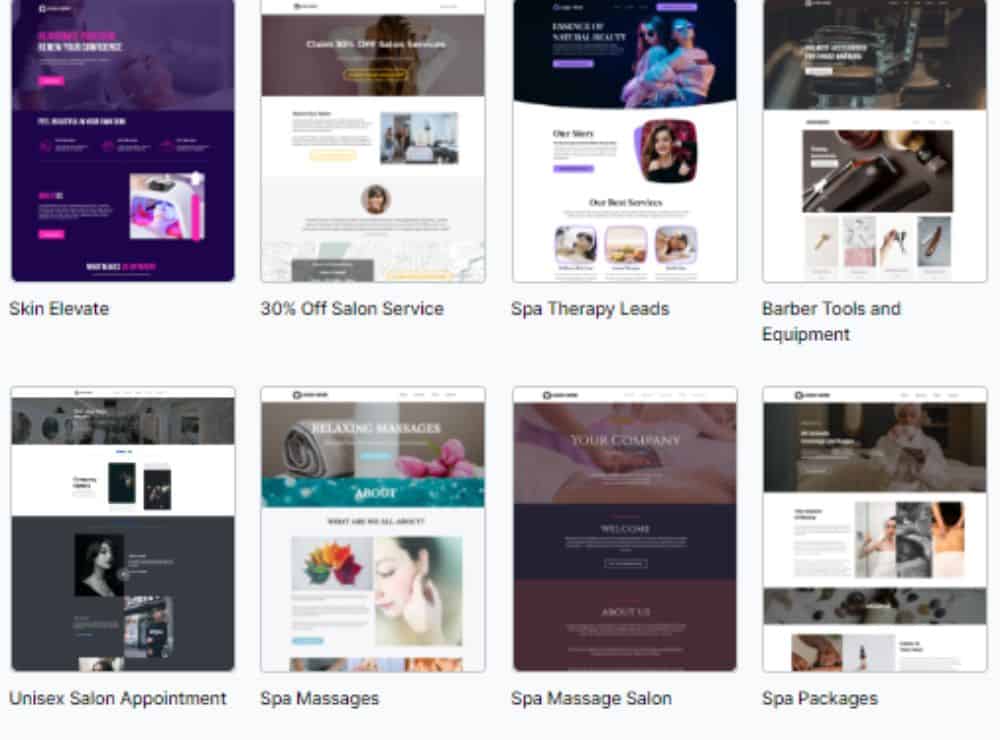 The beauty and fashion template section currently has around 25 templates available, with a larger emphasis on spa and hair stylist services. However, there are only a limited number of templates based on fashion.
GoHighLevel Hair Salon Discount Funnel Template
A discount can be a useful strategy for attracting customers and collecting their information. After reviewing information about the salon, such as its location, individuals can click on the "Claim Your Discount" button and provide the necessary information.
In this case, the lead details can be added to a campaign where they will receive an email or a text message with a discount coupon. The salon owner can also be provided with the information so they can personally reach out to the lead.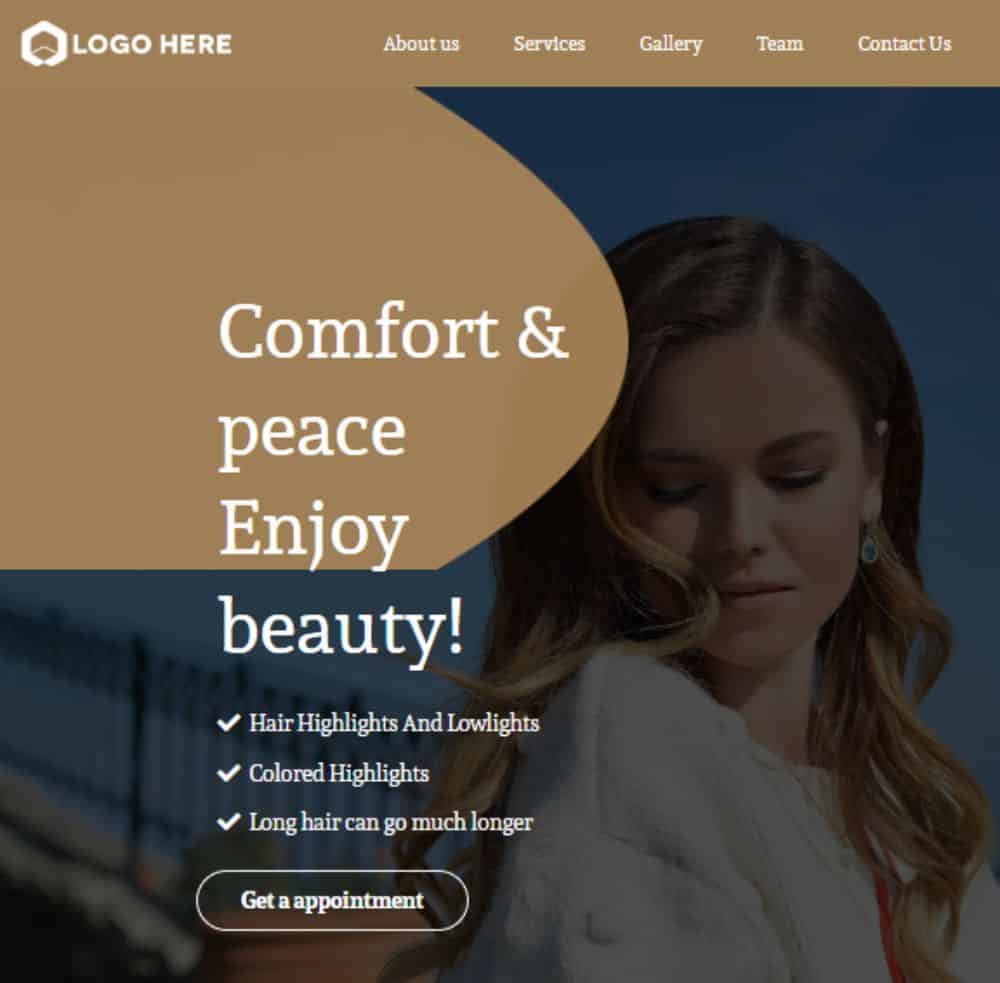 GoHighLevel Beauty Spa Funnel Template
The beauty spa funnel template includes ample space to include information about the spa and its services, as well as details about the team members.
There is an area provided to list promotional spa packages and an invitation to book an appointment. When the button is clicked, users will be redirected to a calendar page where they can select their preferred time slot. Multiple calendars can be added for each spa package.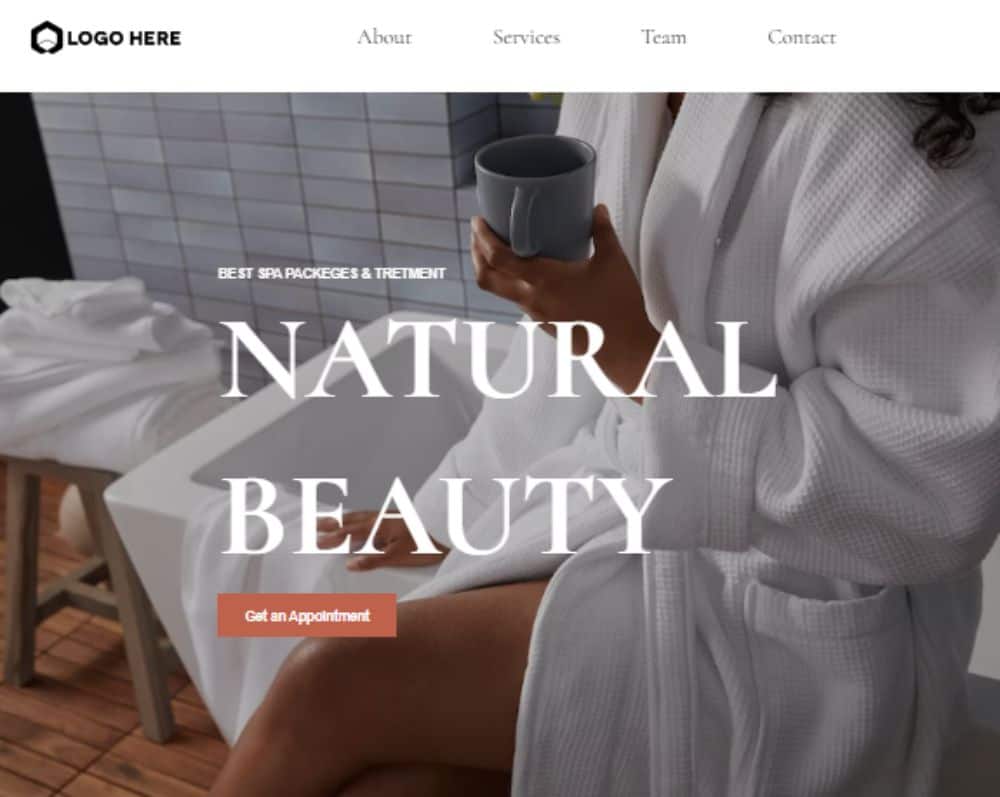 GoHighLevel Chic Smart Funnel Template
The chic, smart funnel template enables the inclusion of leads in campaigns or mailing lists. The template offers advice and information on the product, along with a call to action to receive a free guide.
A data capture form can be added to the call-to-action button, which will automatically input the lead data into the contact database.
In addition to sending the free guide to the lead, you can direct them towards other campaigns with the ultimate objective of the lead making a purchase of a product or service.
GoHighLevel Business, Coaching, and Consulting Funnel Templates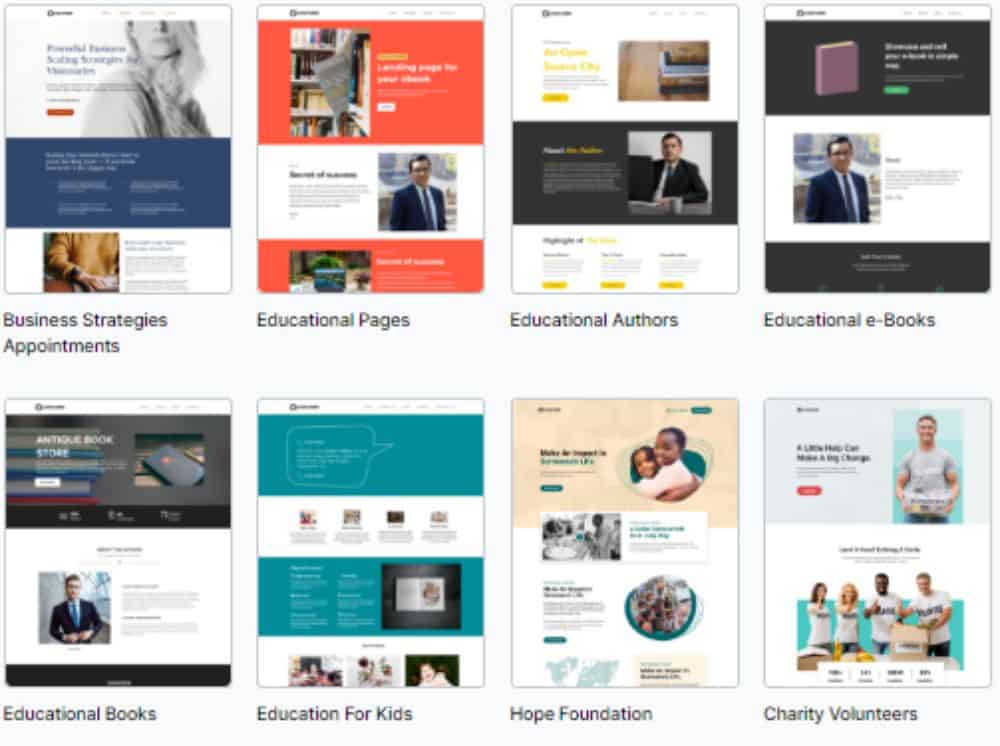 In this category, there are more than 40 different templates available, which include funnels for appointment booking, webinar invites, free plans, ebooks, memberships, and more.
GoHighLevel Project Management Webinar Funnel Template
The webinar funnel is an effective method for collecting lead data. This template provides the opportunity to include a video for an introduction or webinar details. Additionally, there is a section to add information about the speaker.
The countdown timer is a useful feature that creates a sense of urgency and motivates people to make a reservation.
This template can be used for both paid webinars and freebies. You have the option to connect Stripe or Paypal to collect payments in advance, or if it's a free event, you can GoHighLevel Real Estate Funnel Template GoHighLevel's real estate funnel templates offer. Property listings and available services can be showcased, as well as important information about the company and its team members.
The "Schedule A Tour" button links to a calendar page where users can choose a preferred time slot for their visit.
Real estate professionals can benefit from the customizable options that input all the contact details into a campaign.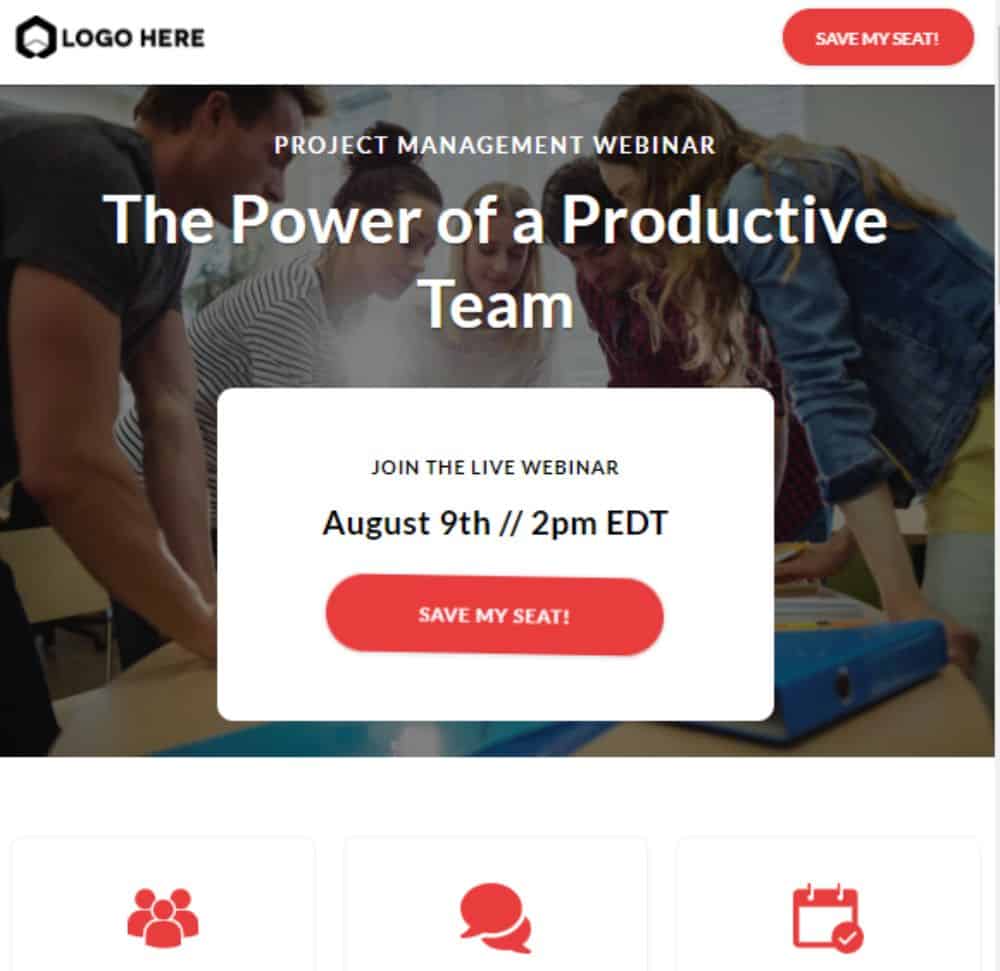 GoHighLevel Business Coaching Appointments Funnel Template
This template is designed for businesses seeking improvement and offers the opportunity to schedule a coaching session. The template provides ample room to include client testimonials and service descriptions.
The call-to-action button guides users to the booking page, where they have the option to schedule an appointment.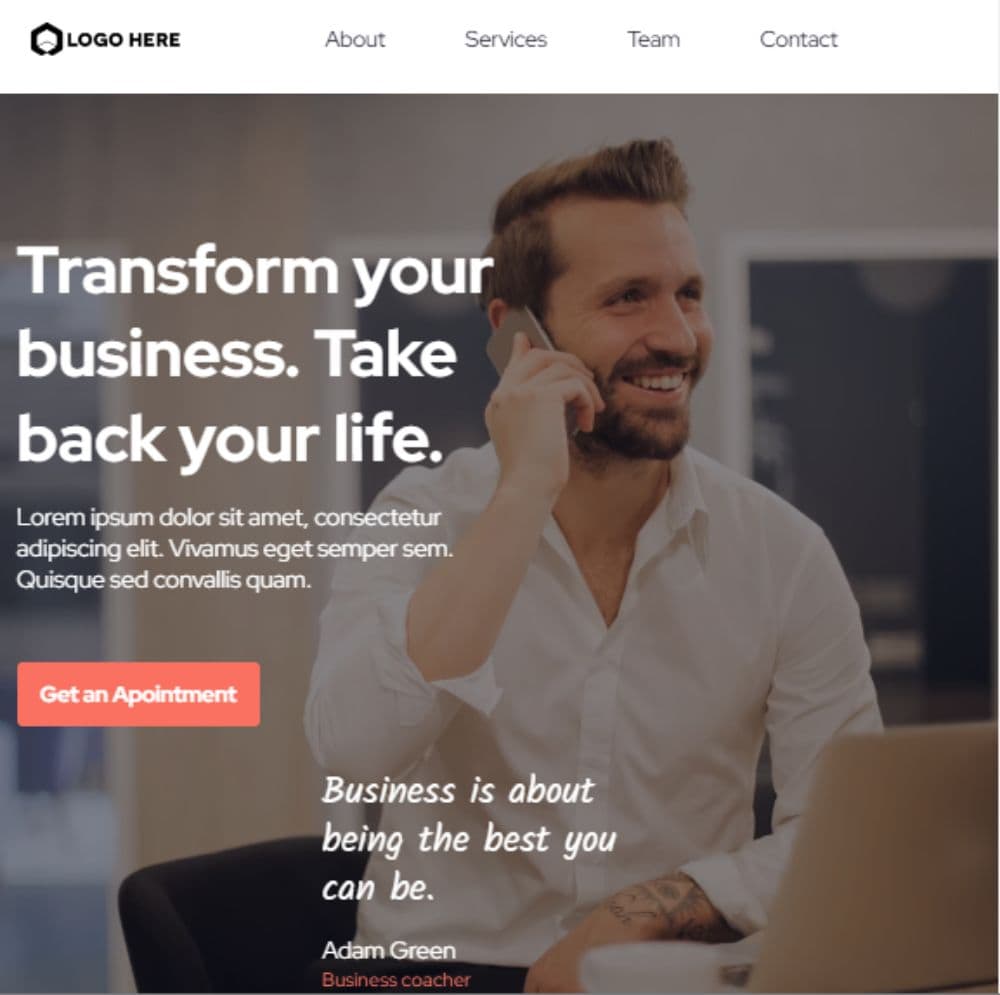 GoHighLevel Professional Coaching Courses Funnel Template
The professional coaching template is comprehensive, offering options to schedule coaching appointments and access a variety of courses.
The tool is highly useful for individuals who have created numerous related courses on the GoHighLevel platform and are seeking a centralized way to promote and sell them.
You have the option to add your course landing/sign-up page to the template, allowing leads to book directly. Additionally, you can attach a booking calender to the Get an Appointment button.
GoHighLevel Creative Funnel Templates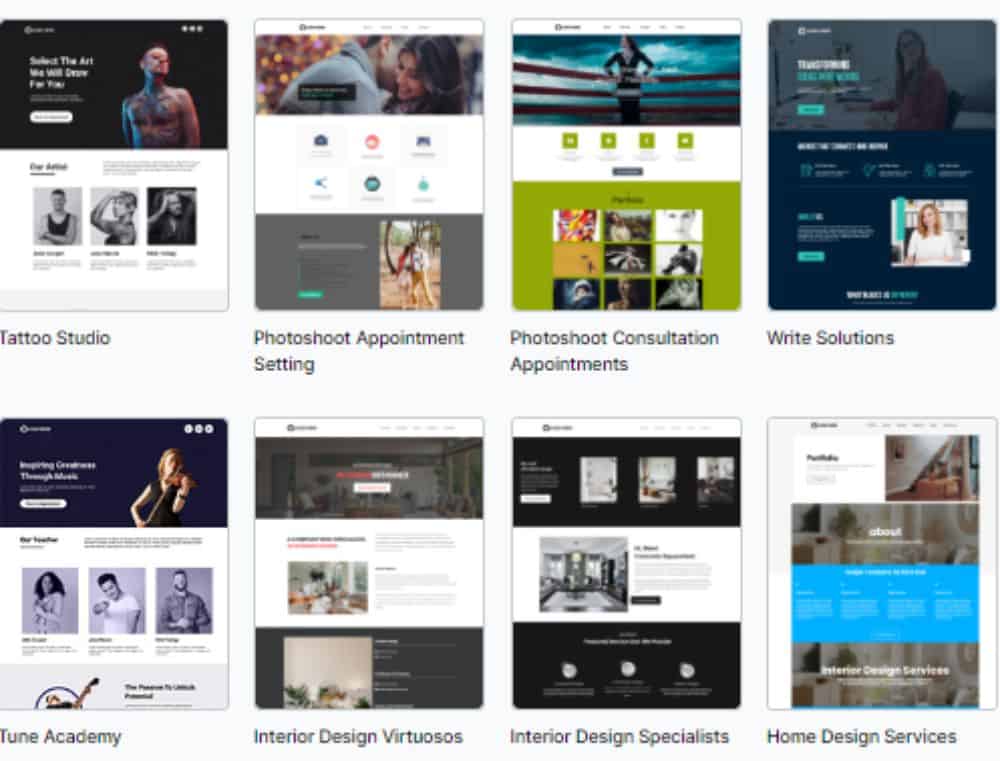 There are over 15 templates available for those running a photography or design business. These templates cover a variety of services such as appointment bookings, consultations, promotional photo shoots, interior design, and home design.
GoHighLevel Photoshoot Appointment Setting Funnel Template
This funnel allows for the display of photography work and the inclusion of various photoshoot packages at different price ranges.
In addition to providing company information, physical location, and service overview, there is also an option to include a blog and customer testimonials. The call-to-action button directs users to a booking calendar.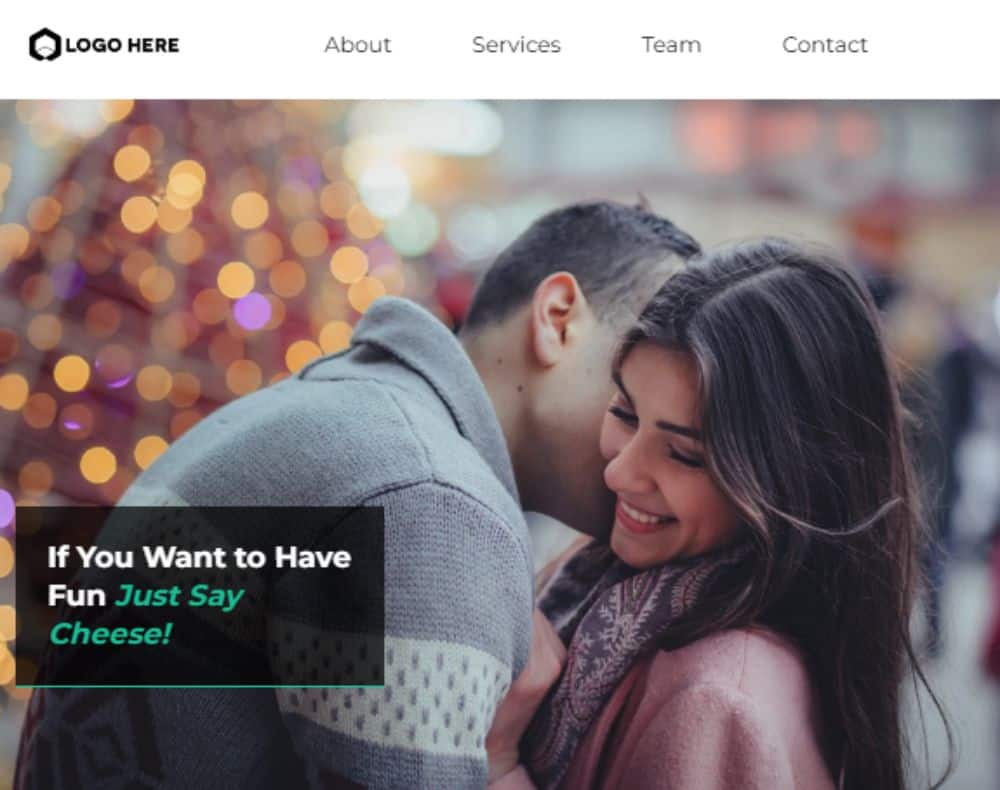 GoHighLevel Interior Decorator Services Funnel Template
This template is suitable for personal home design services as it offers ample space to display photo examples of completed projects. Additionally, it allows for the discussion of previous projects and the introduction of the team that customers will be collaborating with.
Additionally, there are sections dedicated to showcasing design services and providing a call to action for individuals to conveniently schedule appointments online.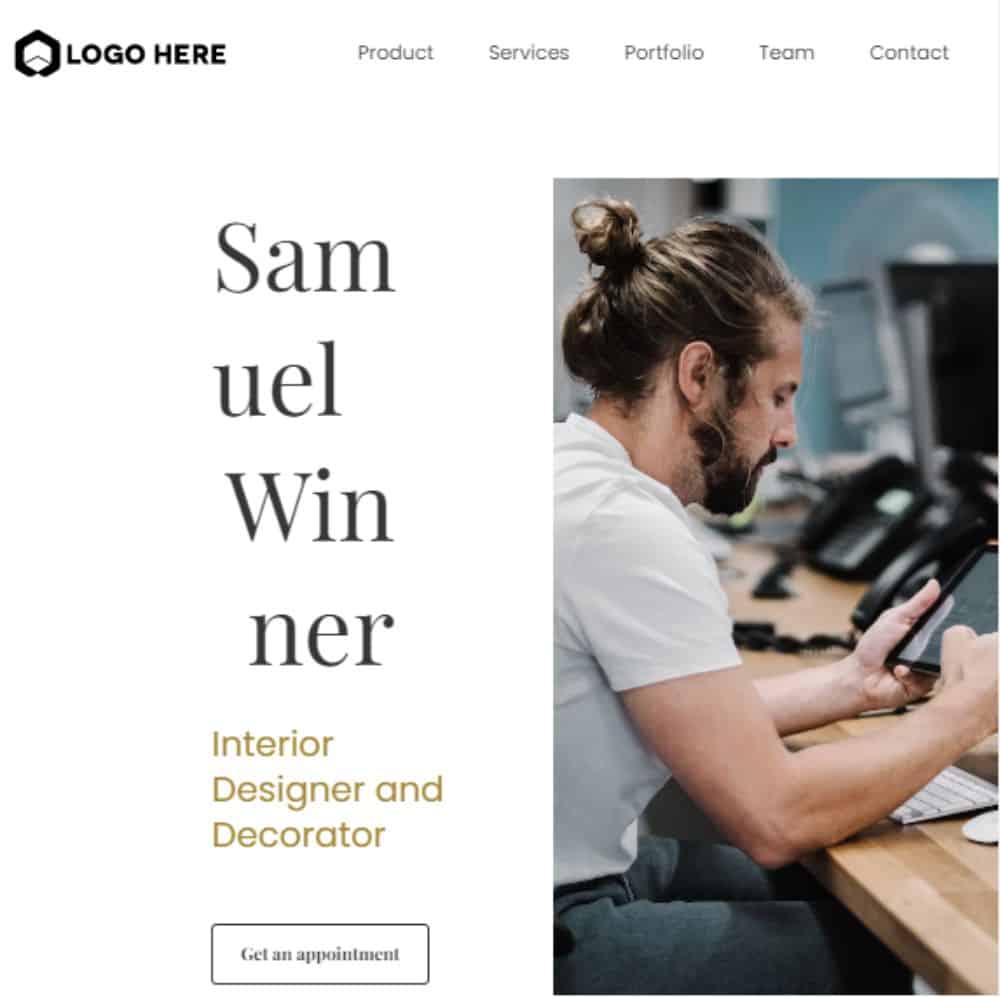 GoHighLevel Limited Time Design Offer Funnel Template
This template can be helpful for individuals running limited-time offers. The inclusion of a countdown timer encourages immediate bookings, while a prominent call-to-action button stating "Hurry – time is running out" further emphasizes the sense of urgency.
The Trusted Clients section is a valuable addition to the template as it helps establish the reliability and reputation of the business, and encourages potential customers to make a booking.
GoHighLevel Financial Funnel Templates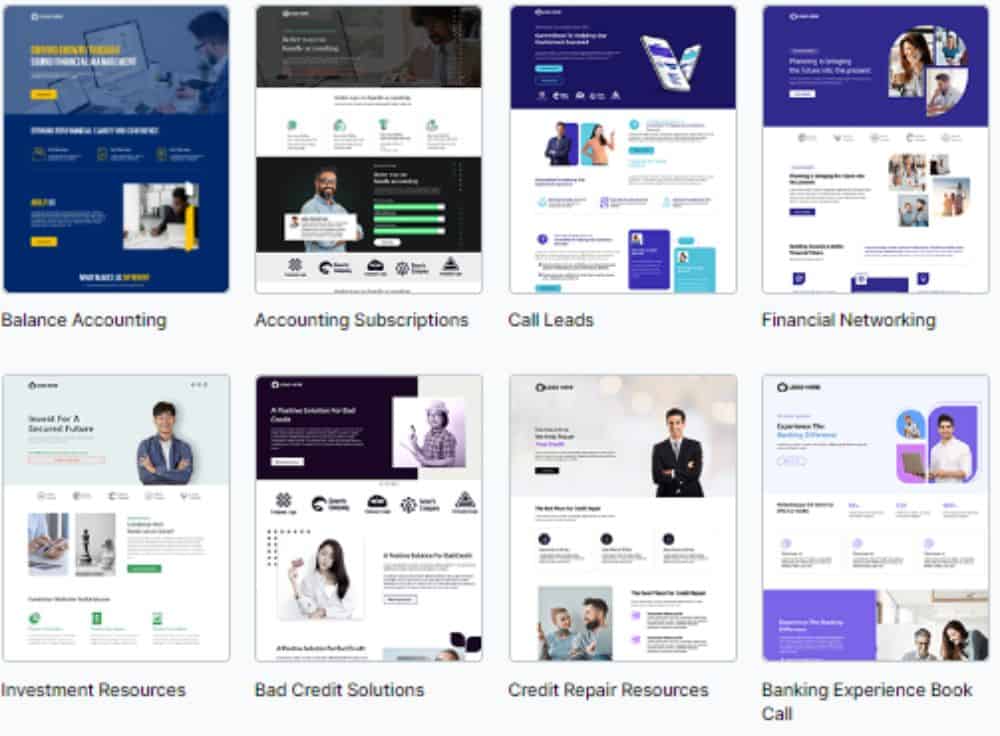 There are more than 20 financial funnel templates available for selection, including credit evaluation and restoration, networking and investment resources, accounting services, financial planning, and others.
GoHighLevel Accounting Subscriptions Funnel Template
The template provides details about monthly accounting services, including subscription information, company details, and client reviews.
The GoHighLevel membership site landing page can be attached to the Subscribe button or redirected to another website. Subscription payments can also be processed directly from the funnel page using Stripe or Paypal.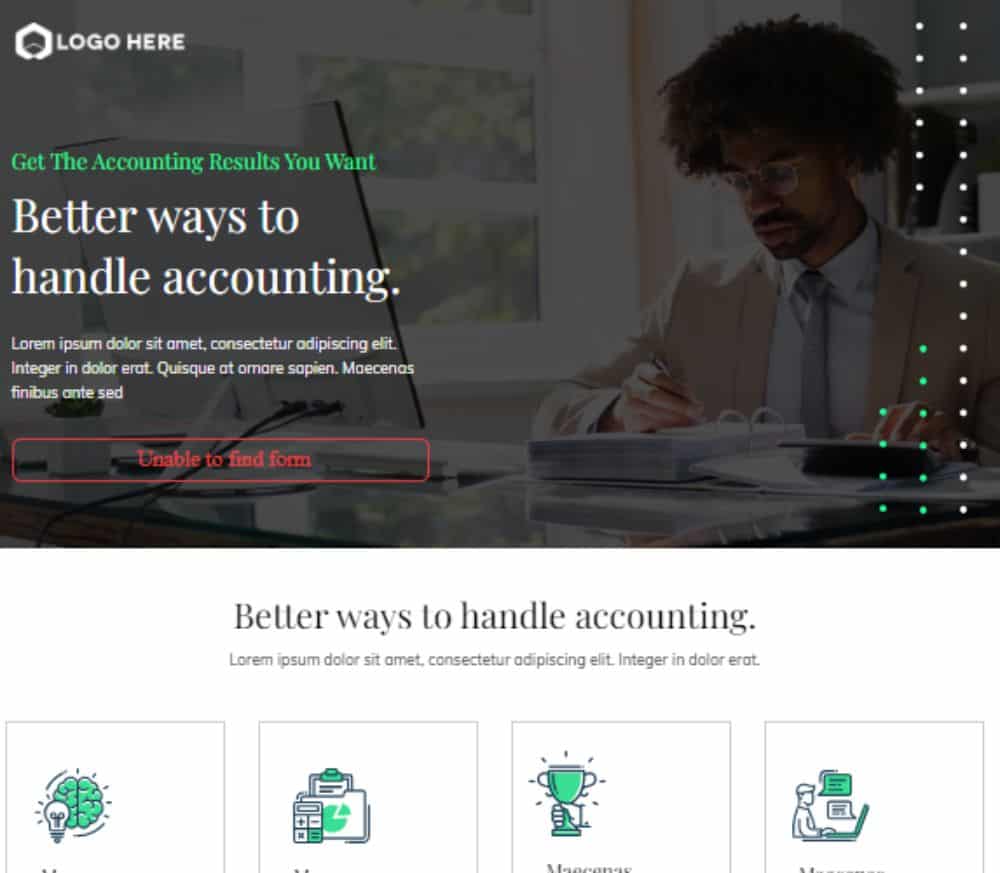 GoHighLevel Offer Credit Repair Services Funnel Template
The credit repair funnel template includes sections to outline the various services available and explain their benefits to the customer. Additionally, you can showcase success by including featured case studies.
The call-to-action button encourages the lead to schedule an appointment, and you have the option to include a GoHighLevel calendar.
GoHighLevel Personal Finance Contacts Funnel Template
If the goal of your funnel is to facilitate customer contact, this template is ideal. It provides ample space to include detailed information about the business, including benefits, services, reviews, and more.
The Contact Us button offers contact information and the ability to collect lead data through a form. This data can be included in any ongoing campaigns as needed.
GoHighLevel Health and Wellness Funnel Templates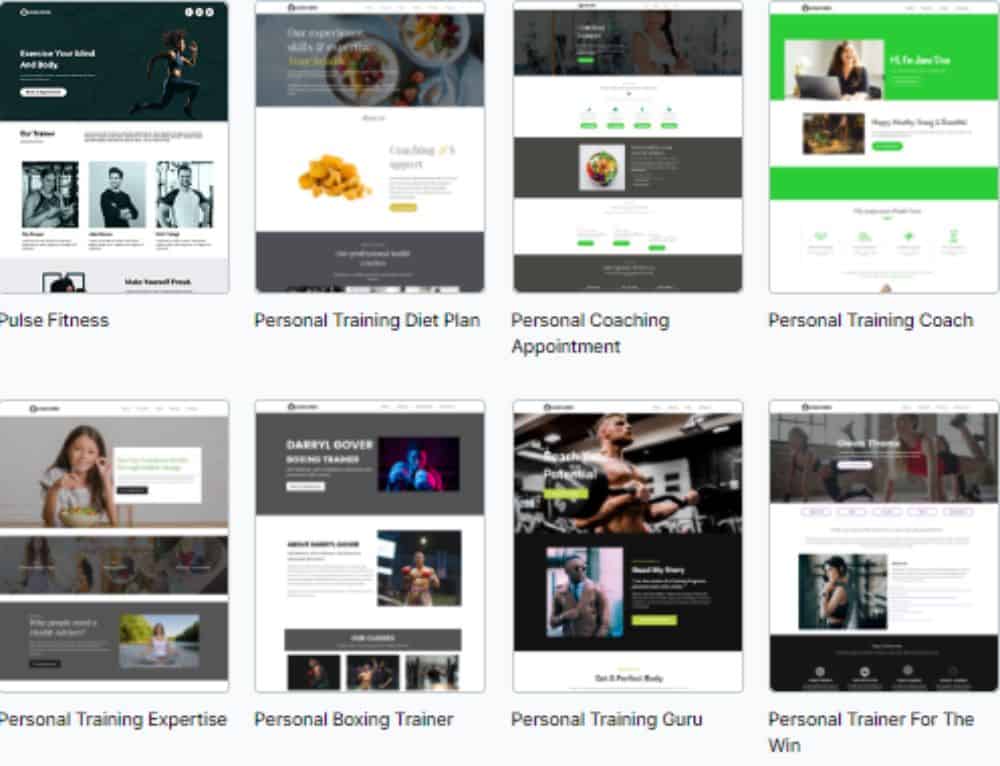 There are more than 35 health and wellness-related templates available. These include topics such as healthy eating, nutrition, dietary services, yoga, CrossFit, and other fitness and workout plans. Additionally, there are general wellness templates and health solutions.
GoHighLevel Crossfit – Free Week Funnel Template
This template includes a pop-up that immediately appears and offers a data capture form, encouraging individuals to sign up for a free week of CrossFit.
The template contains a brief description of the CrossFit sessions, along with a map showcasing the gym's location.
GoHighLevel Diet and Nutrition Plans Funnel Template
There is a diet and fitness appointment booking template available that includes a blog section featuring articles. The template is highly detailed.
Additionally, there is ample opportunity to provide information on services, introduce the team, offer advice, and share tips on maintaining a healthy diet.
The stats bar provides information on the number of customers served by the business and the availability of services.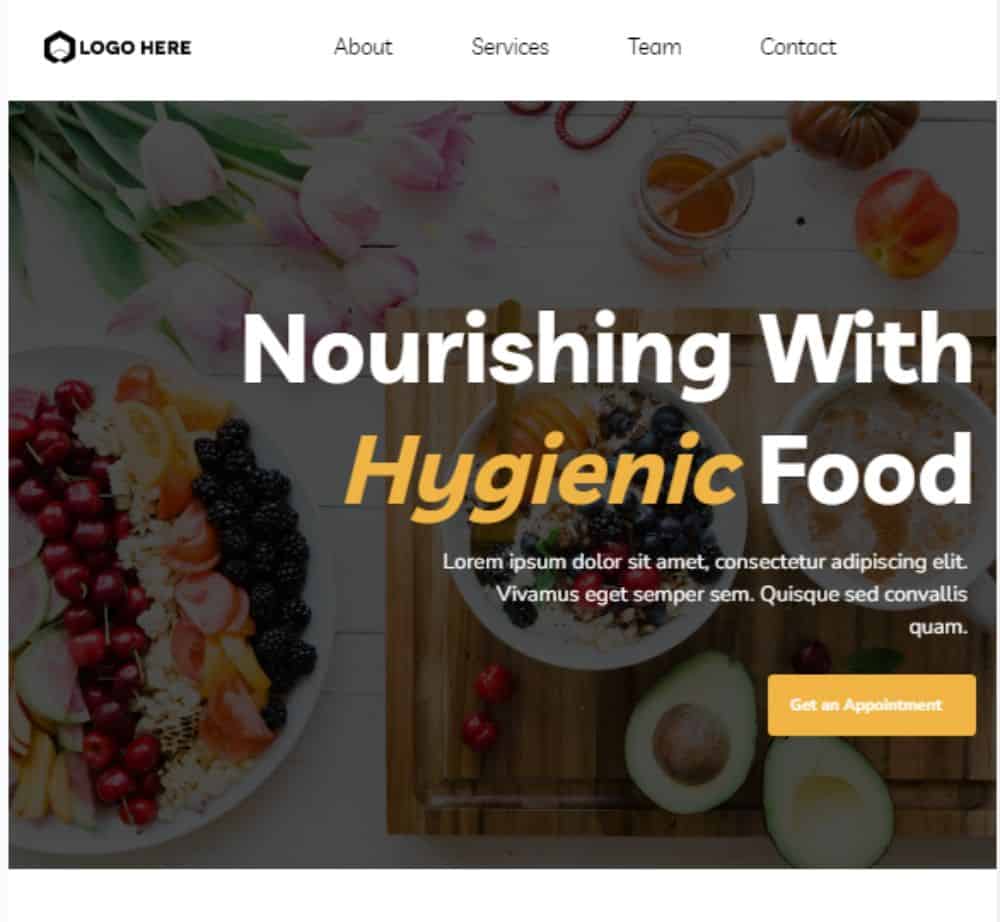 GoHighLevel Yoga Courses Enrollment Funnel Template
The yoga course enrollment funnel allows customers to easily register for different yoga classes. The template includes a section where you can add all the course details, and you can also incorporate a separate GoHighLevel booking calendar for each class.
This template is compatible with any GoHighLevel courses by linking the course landing page to the template through a hyperlink.
Yoga videos can be uploaded and sold as a course on GoHighLevel.
GoHighLevel Home Services Funnel Templates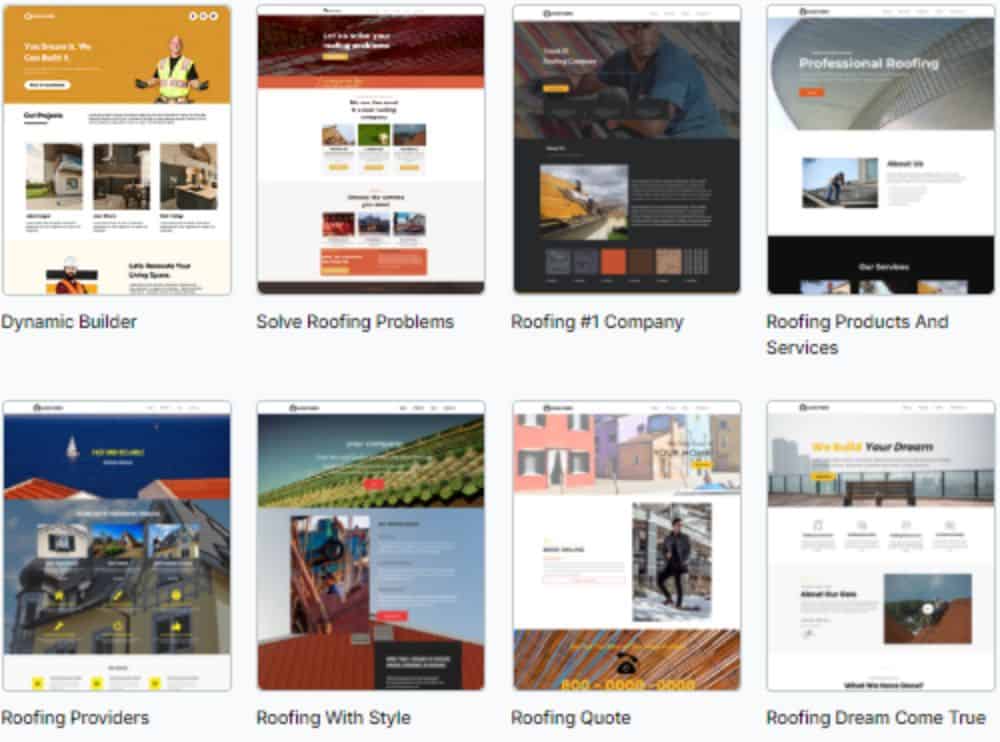 The home services templates focus on construction and trades, including plumbers and electricians, as well as solar energy, gardening, and HVAC systems. This section offers approximately 60 templates for use.
GoHighLevel $150 Off Next Service Funnel Template
Instead of having the form on a separate page, this template allows you to add it directly onto the funnels page. Apart from that, the funnel is concise with a straightforward layout and location section.
One option is to capture lead details directly while offering a coupon. This means that if you have any promotional campaigns, you can simply add the details to it and let GoHighLevel automated workflows take care of nurturing the lead.
GoHighLevel Landscape Scheduler Funnel Template
This template features visually appealing elements, designed to attract potential leads and encourage them to book appointments. It includes multiple sections, including a showcase of previous work samples.
The stats bar displays information about the business's satisfied clients and experience level. The call-to-action button encourages leads to schedule a free consultation and receive a quote.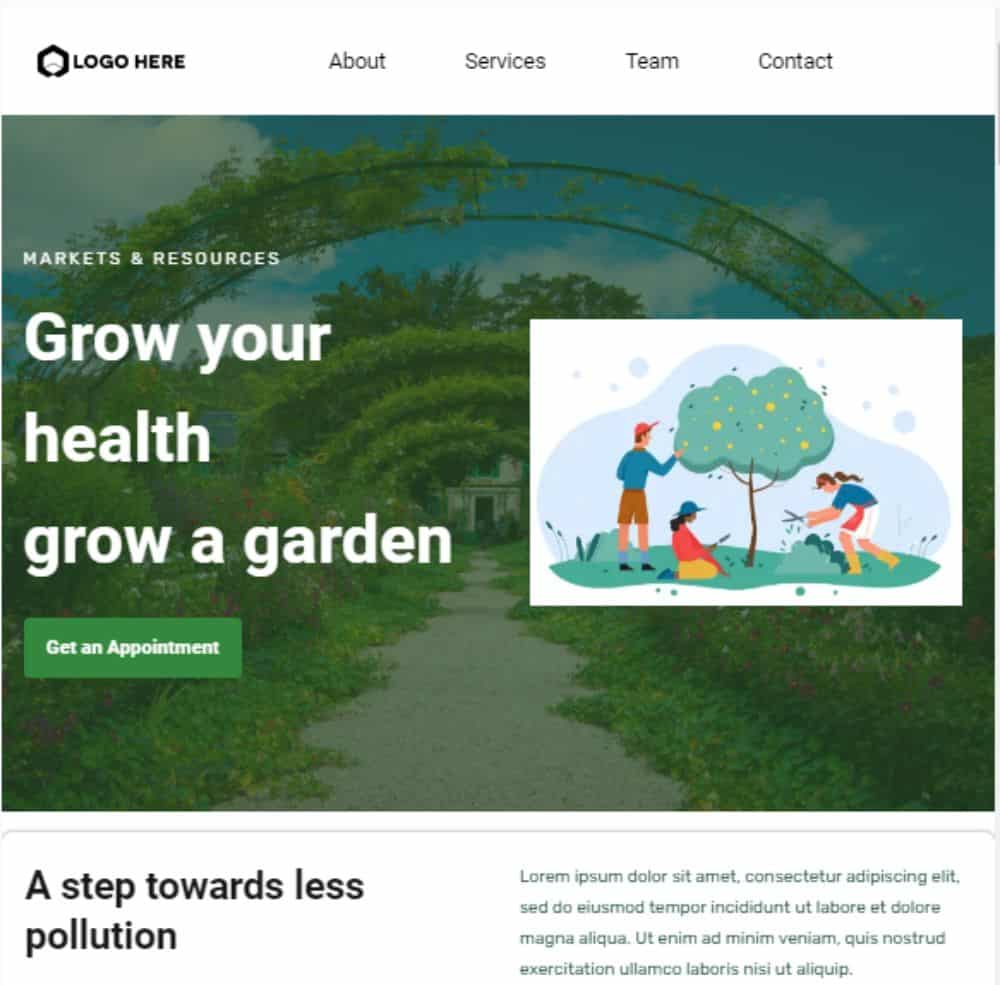 GoHighLevel Free Solar Quote Funnel Template
This funnel utilizes the surveys feature in GoHighLevel and requires leads to complete one. You can go to the surveys section of GoHighLevel, create a suitable one for this funnel, and then embed it onto the page.
Additionally, a pop-up is displayed on this template, reminding individuals to participate in the survey and receive a complimentary quote.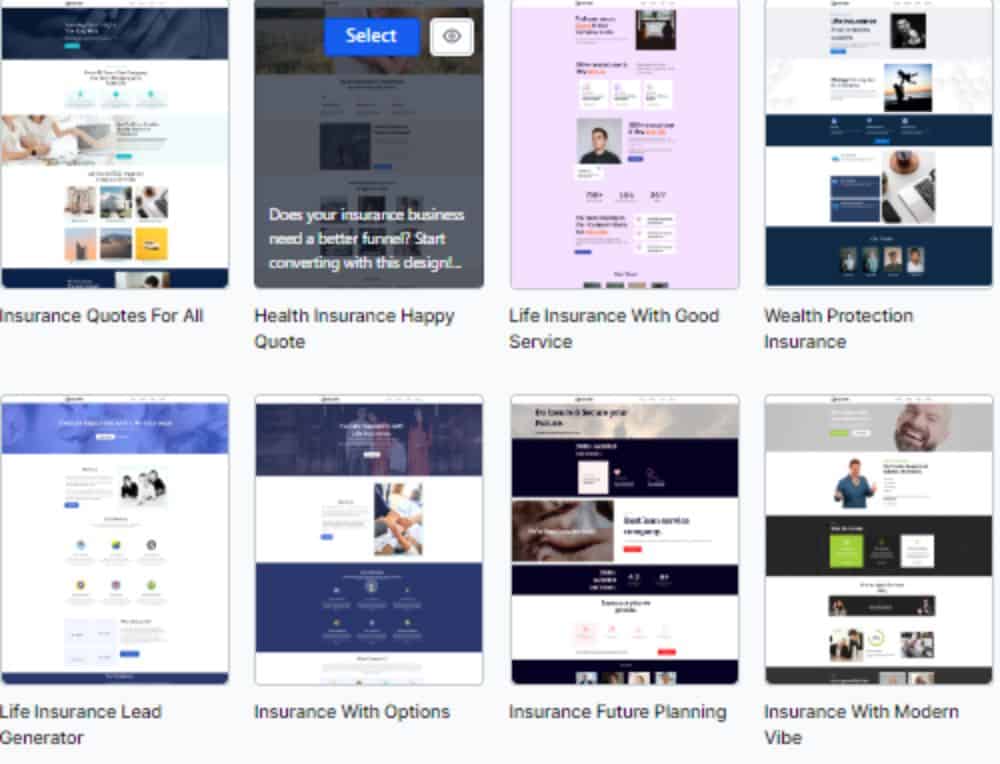 GoHighLevel Insurance Services Appointments Funnel Template
This template is suitable for businesses that offer various insurance products. It includes a contact form on the first page of the funnels to collect lead data. Additionally, the call-to-action button enables leads to schedule appointments conveniently.
The template provides sufficient space to describe the insurance services and offers various opportunities to click for a consultation on the funnel page.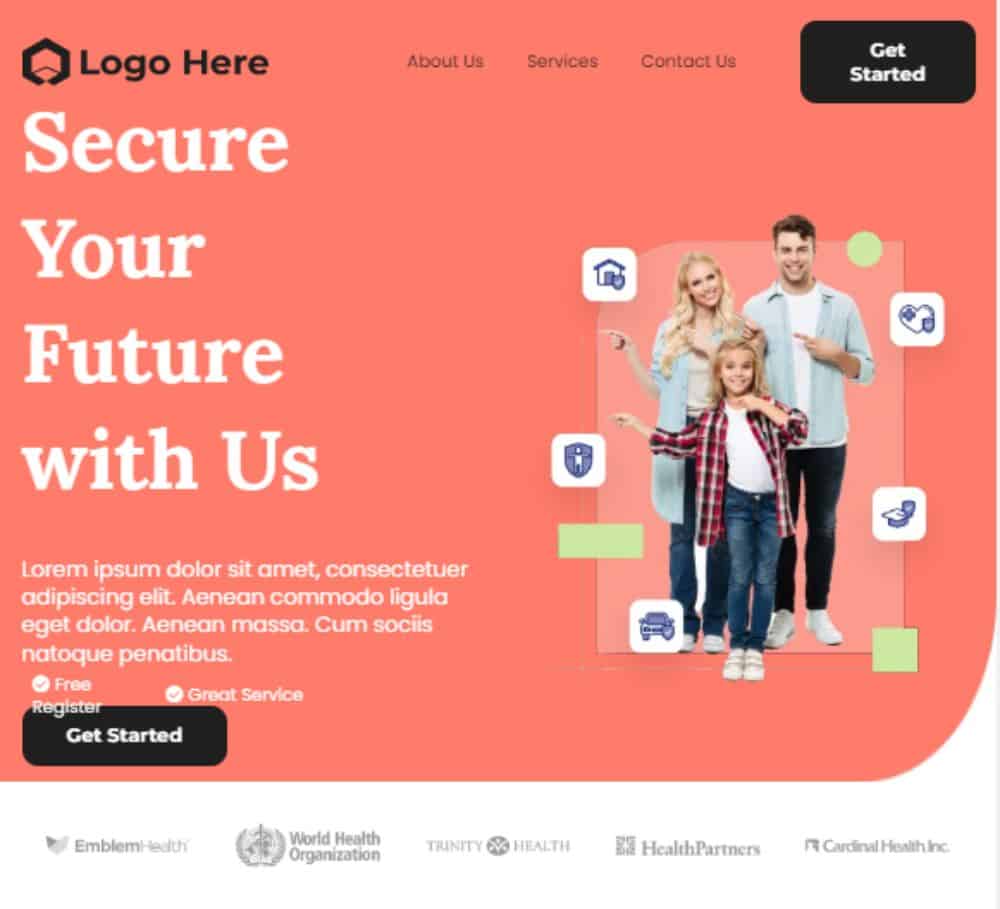 GoHighLevel Insurance Portfolio Funnel Template
This template provides a comprehensive showcase of a business's portfolio and the range of services they offer. Additionally, the funnel can be used to link to blog articles that provide a more detailed overview.
The recommended action is to utilize a booking calendar for appointment scheduling, or alternatively, employ a form to gather the contact information of the lead.
GoHighLevel Legal Funnel Templates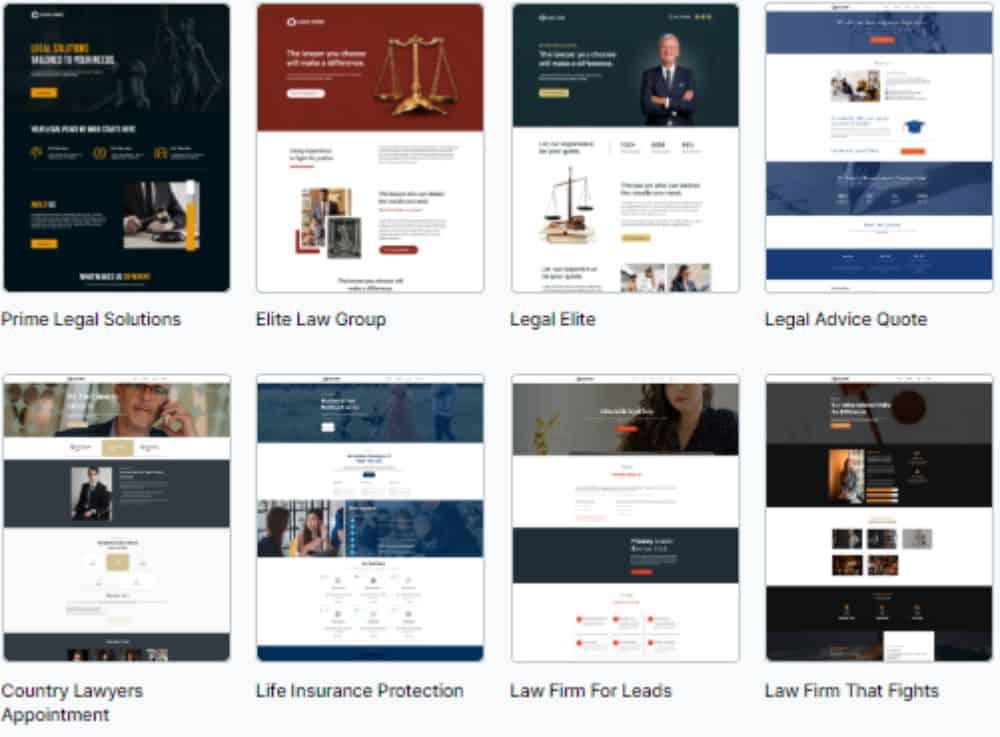 The legal section offers a variety of templates for attorney consultations, legal help appointments, lead gathering, and other related purposes.
GoHighLevel Legal Help Appointments Funnel Template
This template features a clean and minimal layout that includes an overview of services, contact details, and a map of the law firm's physical location.
The call to action option on the booking page allows users to schedule appointments or provide their contact information for a direct call or message from the law firm.
GoHighLevel Lawyer Consultations Funnel Template
The lawyer consultations template offers a comprehensive and detailed format in contrast to the Legal Help template. It focuses on establishing credibility by including an overview of the business and services, as well as a section dedicated to highlighting Google reviews.
The stats section is intended to establish trust by offering additional information to support the statistics on the funnel page. There are various calls to action, prompting leads to schedule an appointment using a booking calendar.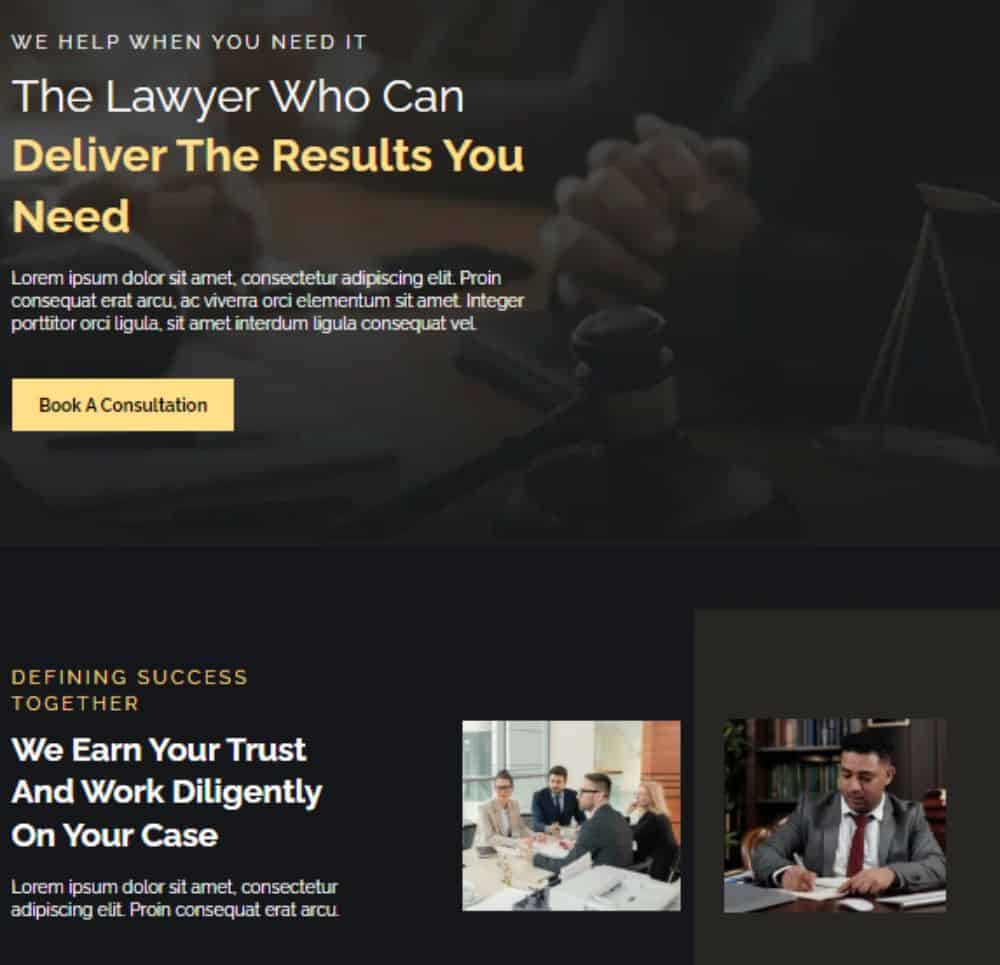 GoHighLevel Attorney – Free Consultation Funnel Template
The offer of something complimentary motivates individuals to take action and schedule a service. This template is specifically designed to generate leads for a free consultation, therefore the information on the funnel page is concise.
A call to action enables the addition of a contact capture form, and the workflow can be set up to automatically send the contact details to the firm, where an employee can then reach out to the lead.
GoHighLevel Marketing Agency Funnel Templates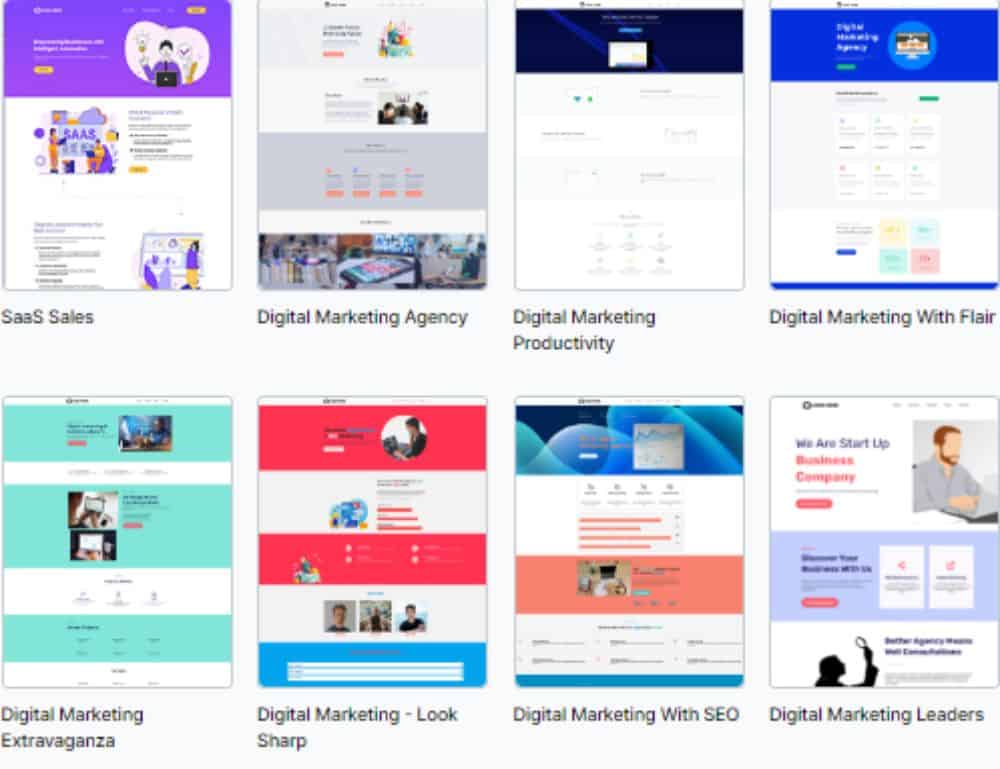 There are over 30 templates available in the marketing agency section, specifically designed for marketing agencies to utilize either for themselves or for their clients.
The templates include plan overviews, review requests, networking schedulers, free audits, and other features.
GoHighLevel Experience Reviews Funnel Template
If your primary objective is to collect customer reviews, this funnel is designed to help you achieve that. The page includes a designated section to include details about satisfied clients and also features Google reviews.
This funnel is connected with the GoHighLevel reputation manager. By sharing the funnel link with clients, you can gather data in the reputation management tool. This allows for more effective customer satisfaction management for your business or any sub-accounts.
GoHighLevel Book with Me Funnel Template
The funnel contains a photo and a request to schedule a call, with the possibility to include a booking calendar below.
Templates can be customized to suit your needs, allowing you to build a funnel that meets your preferences without starting from scratch.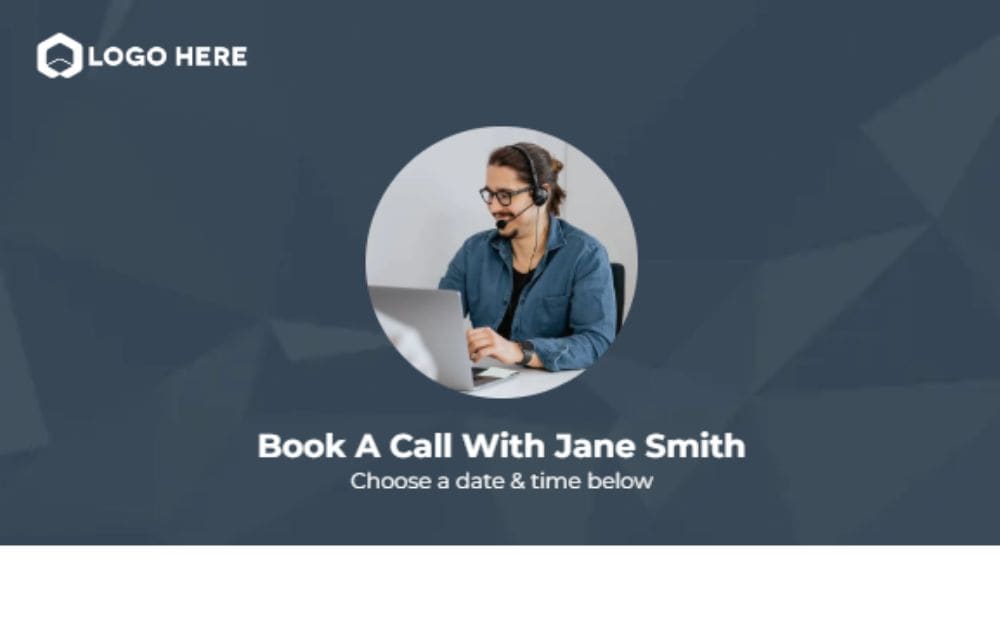 GoHighLevel Elementary Smart Funnel Template
This design is simple and includes a video section. The purpose of this page is to let the video speak for itself and promote the product or service being offered.
After watching the video, there is a call to action encouraging the viewer to sign up. At this point, you have the option to connect with a payment provider to accept upfront payments and direct leads to a checkout page.
GoHighLevel Medical Funnel Templates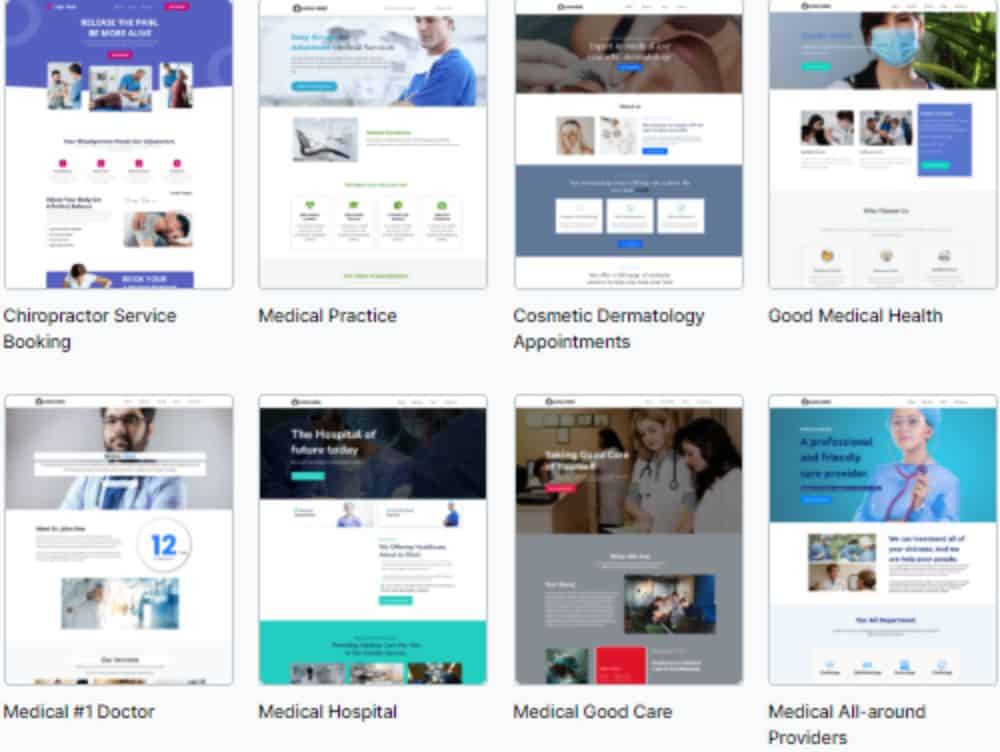 The medical section offers a variety of templates for different healthcare services such as dental care, massage, cosmetic surgery, chiropractic, therapy, and more. With over 35 templates available, each serving different purposes and goals.
GoHighLevel Med Spa Free $250 Gift Card Funnel Template
In order to incentivize leads to purchase medical services, this funnel offers a complimentary promotional gift card. The funnel provides limited information, consisting of an overview of the medical practice and contact details.
By including a form on the call-to-action button, contact details can be collected and a workflow can be established to send an automated email or text with the gift card.
Additionally, contact details can be included in any current or future campaigns conducted on behalf of the business.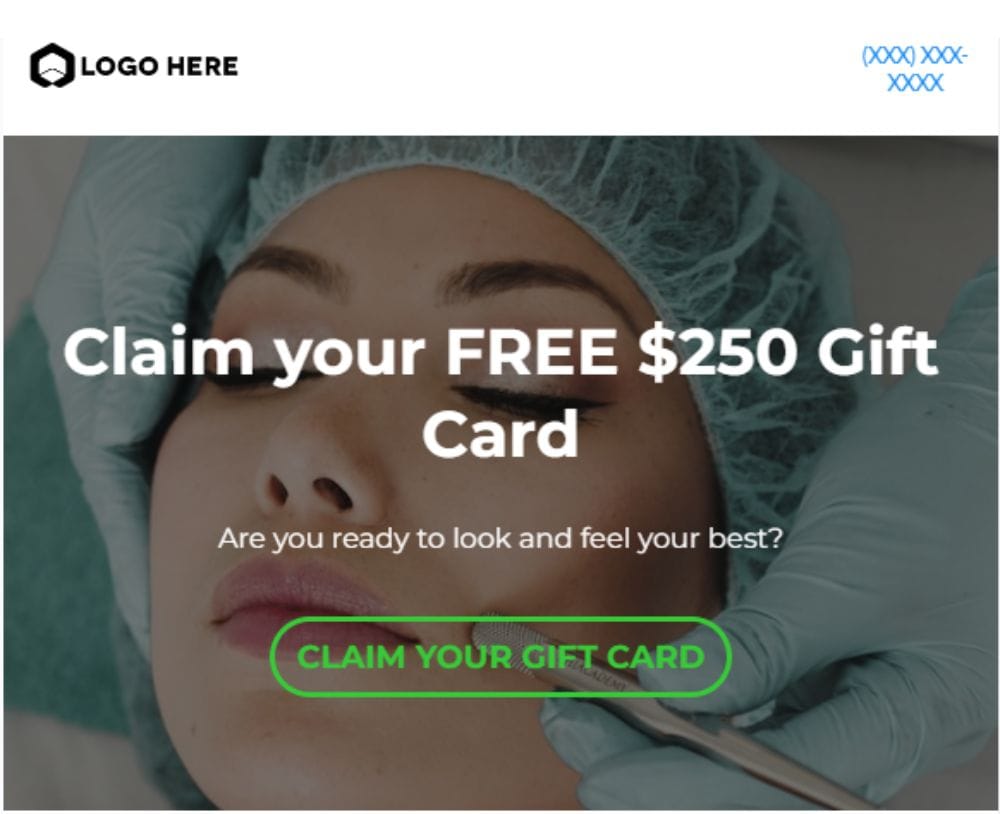 GoHighLevel Dentistry Care Bookings Funnel Template
If a dentist is looking for a way to accept bookings, they can incorporate this funnel into their website and other promotional channels, such as social media. The template provides information about the business and its services, as well as the option to schedule an appointment through the call-to-action button.
You can use the booking calendar to schedule general checkups or promote specific treatments or services and accept bookings for them.
GoHighLevel Pain Relief Offer Funnel Template
This offer template aims to provide customers with a discounted rate for a specific treatment, rather than offering a gift card.
The template provides space for details about the treatment or service offered, as well as an overview of the medical practice.
The funnel offers an advantageous opportunity to secure appointments by requiring upfront payments at a discounted price. It allows for the inclusion of a booking calendar with a payment function, ensuring that customers cannot complete the booking without making a payment.
GoHighLevel Real Estate Funnel Templates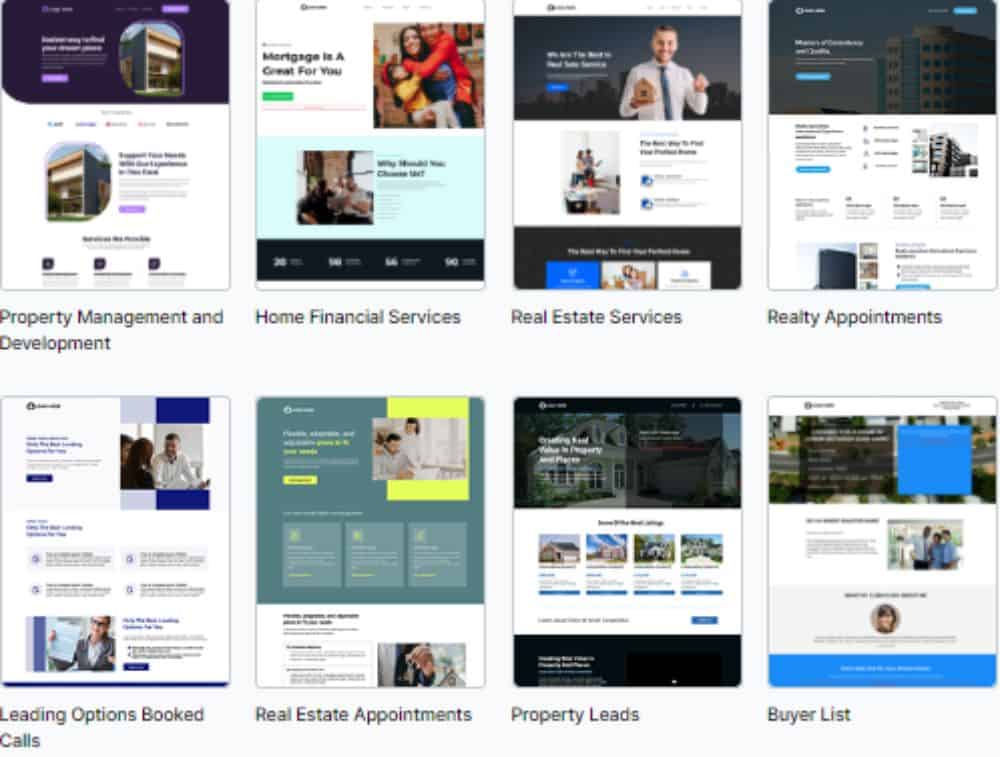 In the real estate section, there are over 35 templates available for selection. The emphasis is on displaying properties for sale or rent, with a few templates also catering to mortgage lenders.
GoHighLevel Property Listings Funnel Template
This funnel enables individuals to connect with a real estate agency by providing the option to include multiple property listings, along with a concise summary of each. Additionally, there is a reviews section incorporated to foster trust in the agency.
The template includes a feature that allows you to add a contact form and a call-to-action button for booking appointments
GoHighLevel Home Loans Book Appointments Funnel Template
This template is a useful tool for mortgage lenders to collect lead data and encourage consultation bookings. It offers ample room to include service and company information, as well as a Frequently Asked Questions section to assist readers.
The logo field allows for the inclusion of brand logos of the mortgage types offered, providing a quick visual representation of the available options.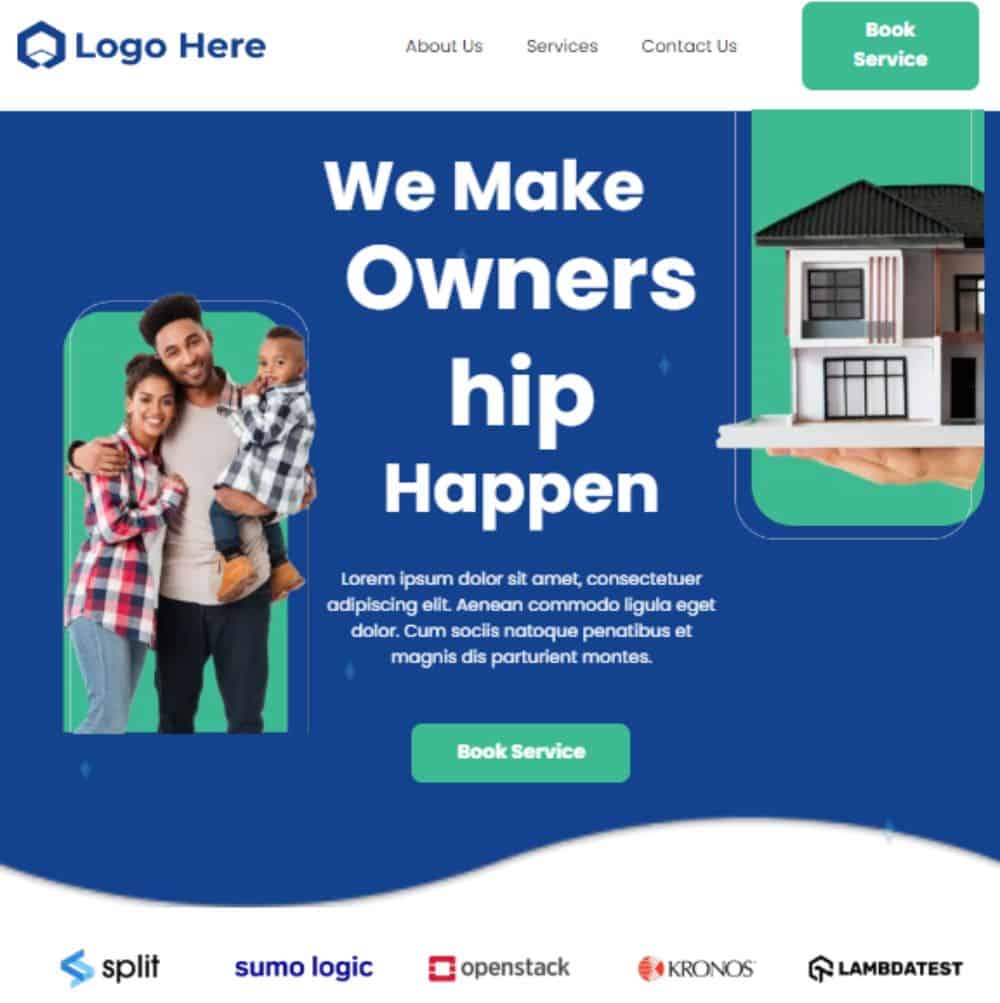 GoHighLevel Commercial Development Funnel Template
The template library also offers options for large-scale construction companies, providing funnels designed for commercial development. These funnels are specifically targeted towards individuals interested in buying completed buildings and property, and they also include a section for downloading property plans.
The funnel includes a call to action for further information, along with ample space to display completed developments.
GoHighLevel Restaurant and Bar Funnel Templates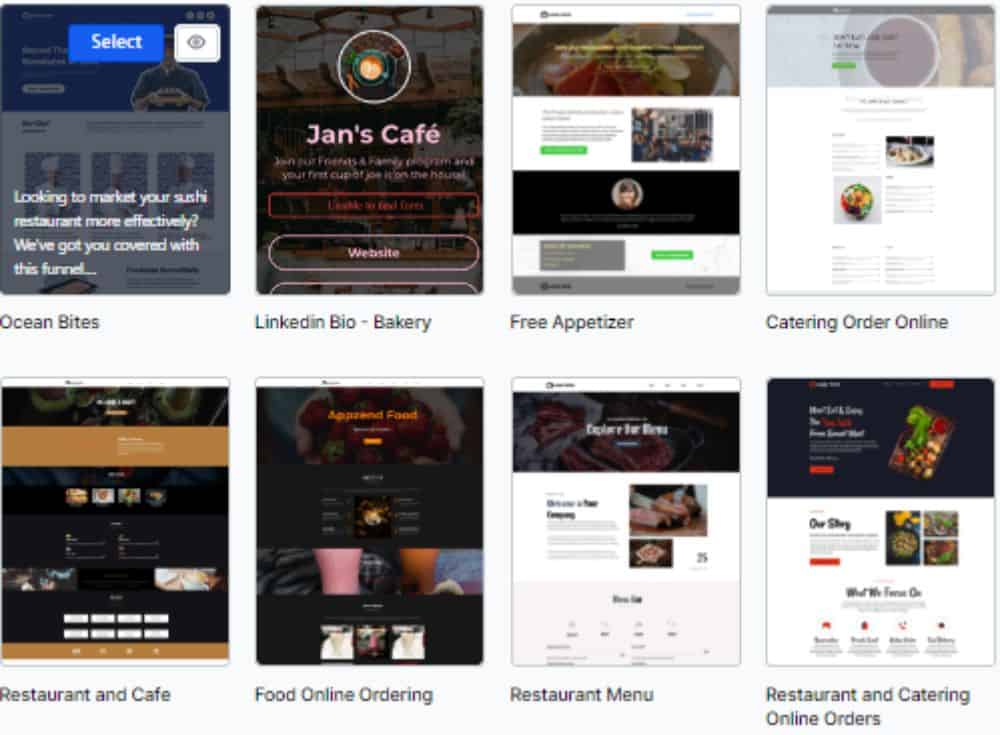 The restaurant and bar section offers approximately ten different templates, including funnels for online ordering, free appetizers, and table booking.
GoHighLevel Free Appetizer Funnel Template
This template includes a complimentary appetizer for customers as a way to attract people to a restaurant. The funnel consists of a simple restaurant overview and a pop-up that invites individuals to enter their information.
This template provides an opportunity to gather leads for the mailing list. Once you receive the form data, you can add them to campaigns and capture their information.
GoHighLevel Healthy Meals Online Orders Funnel Template
Online ordering for restaurant food has become increasingly popular, and this funnel template enables restaurants to provide this service to their customers. The funnel includes essential information such as a restaurant overview, customer reviews, and menu samples.
To encourage individuals to register and make their first purchase, a discount coupon is also offered.
GoHighLevel offers the convenient feature of integrating Stripe or Paypal for upfront payment processing, eliminating the need to redirect customers elsewhere for payment. Simply create the order form and embed it into the funnel.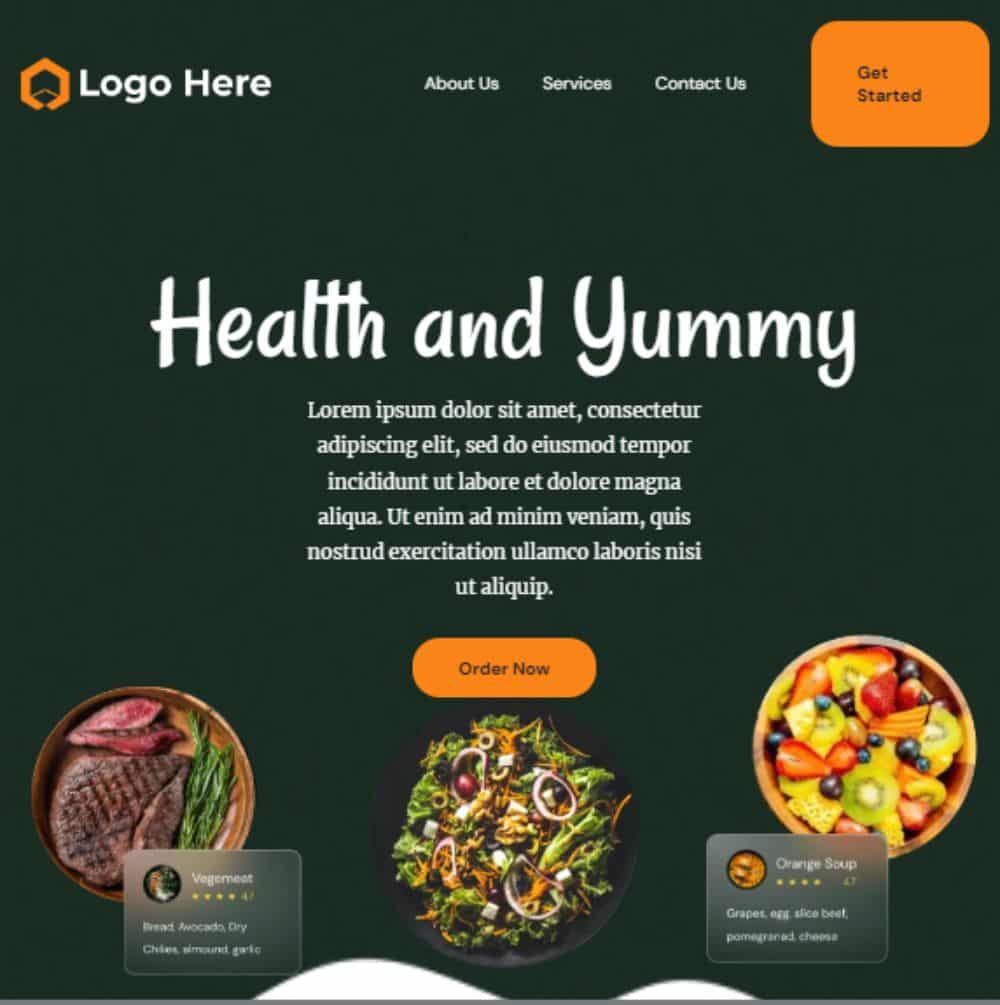 GoHighLevel Restaurant Menu Funnel Template
Displaying a restaurant menu can be an effective strategy to generate interest in a restaurant. This funnel features the complete menu, accompanied by food images, and provides space for a promotional video and customer reviews.
The call to action is to make a table reservation, allowing you to embed a booking calendar and easily accept bookings.
How to Use GoHighLevel Funnel Templates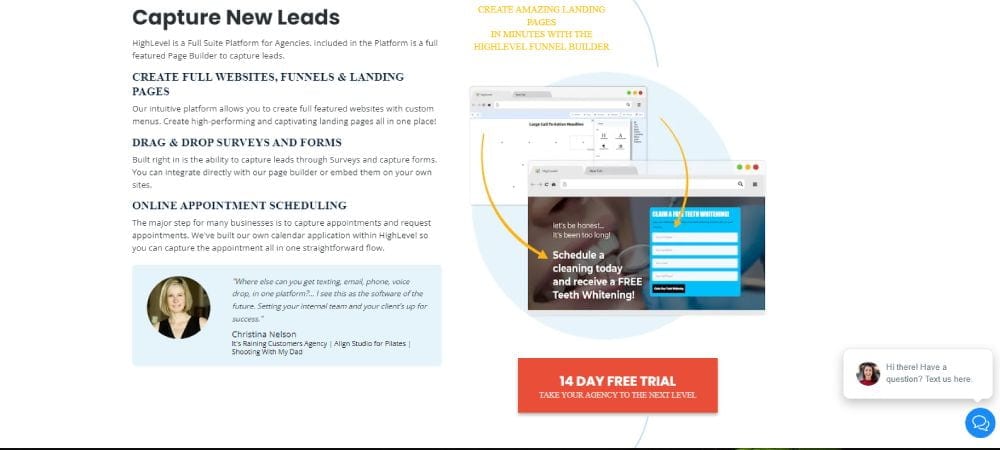 The GoHighLevel templates offer full customization options. Simply choose the template you require and it will open in the design tool.
Use the Drag-and-Drop Tool to Customize
Customizing the template is easy. You can simply drag and drop each element to your desired location. To make edits, just click on the element. If you're not a fan of a particular element, you can delete it or replace it with something else.
Add or Remove Steps
Funnel templates typically include steps that guide the lead towards completion, such as a landing page, booking page, and thank you or confirmation page. The specific steps may vary slightly depending on the template.
You have the ability to adjust the number of steps however you need, whether that means adding or deleting them.
Add a Pop-Up
Pop-ups can be used as prompts to encourage leads to take action. They can be set to appear at any point on the funnel page and include a call-to-action button.
As an example, if a user has reached the near-end of the funnel page without engaging, a pop-up could be triggered when they reach the bottom of the page to provide a reminder to book or call.
Can You Use Other Funnel Templates with GoHighLevel?
There are alternative options available for you to choose from instead of using GoHighLevel funnel templates.
Create Your Own Templates
When a funnel is created on GoHighLevel, it can be saved and utilized as a template for future campaigns.
This feature is useful for running multiple campaigns with similar layouts, as it eliminates the need for extensive changes to the funnel for each one.
Import Templates from ClickFunnels
If you have previously used ClickFunnels and have now switched to GoHighLevel, you can import all your existing ClickFunnels funnel templates to the GoHighLevel platform and utilize them there.
Can You Create a GoHighLevel Funnel Without a Template?
With GoHighLevel, users have the ability to begin with a blank page and construct a funnel from the ground up. Step by step, individuals can add elements onto each page to build the funnel.
This is typically recommended for individuals who have prior experience in building funnels in GoHighLevel. For beginners, it is advisable to begin with a template to gain an understanding of how the various funnel features function and integrate.
GoHighLevel funnel templates are beneficial for digital marketers. They save time, are customizable, and have high conversion rates. These templates simplify the funnel-building process for marketers, allowing them more time and focus on achieving results. If you want an enhanced digital marketing experience, try using GoHighLevel funnel templates and see the impact for yourself.
Frequently Asked Questions
What Are GoHighLevel Funnel Templates?
GoHighLevel funnel templates are pre-designed funnels for various industries and purposes. These templates can be fully customized and edited to create a unique funnel for your clients.
Do GoHighLevel Funnel Templates Cost Extra?
There is no additional cost for GoHighLevel templates. All templates are included in every GoHighLevel price plan.
How Many GoHighLevel Templates Are There?
The GoHighLevel platform offers approximately 400 funnel templates.