HighLevel is a new SaaS product that targets the same consumer base but takes a different and intriguing instructional-based approach.
HighLevel offers a comprehensive tool that consolidates various marketing functions, such as email marketing and two-way text messaging, into a single platform.
If you are interested in GoHighLevel training, you have the option to register for the GoHighLevel University onboarding course, which is free. Additionally, you can explore the live training events and webinar page for further information.
The GoHighLevel YouTube channels offer instructional and training videos, along with comprehensive walkthroughs in the GoHighLevel support portal.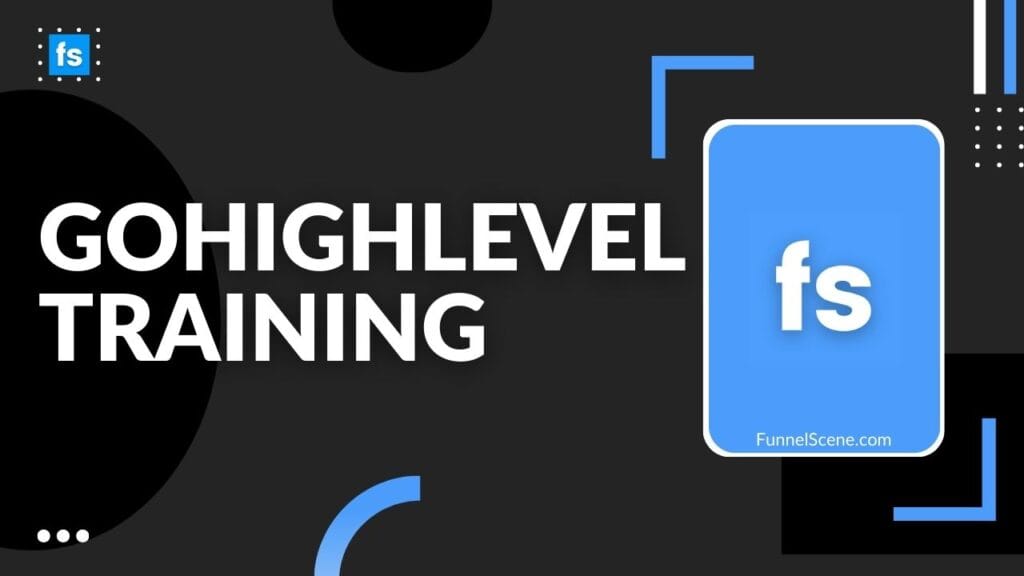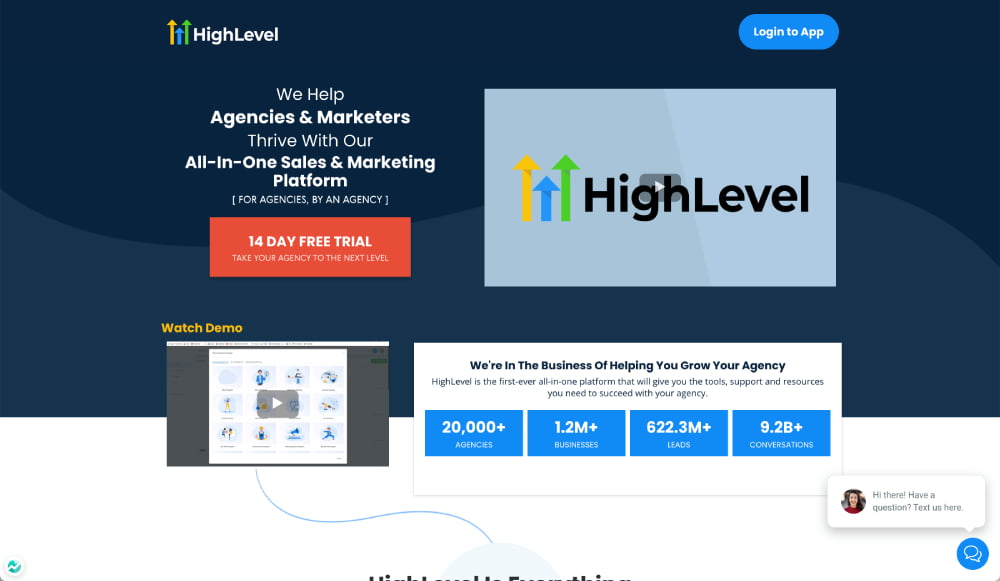 Why is GoHighLevel Training Necessary?
While GoHighLevel is packed with features and functionalities, mastering the platform can be a bit overwhelming for beginners. That's where GoHighLevel training comes into play. By undergoing proper training, you can learn how to navigate through the platform, utilize its features effectively, and maximize its potential to achieve your marketing goals.
Benefits of GoHighLevel Training:

1. Comprehensive Understanding: Training allows you to gain a comprehensive understanding of the platform, ensuring that you make the most out of its features. From setting up your account to creating effective marketing campaigns, training equips you with the necessary knowledge to succeed.
2. Time and Cost Savings: By undergoing training, you can save valuable time and money. Rather than spending hours figuring out how to use the platform, training provides you with step-by-step guidance, allowing you to quickly implement strategies and see results sooner.
3. Enhanced Efficiency: Training helps you unlock the full potential of GoHighLevel, enabling you to streamline your marketing efforts. By learning advanced techniques and best practices, you can automate tasks, optimize workflows, and increase your overall efficiency.
4. Stay Updated: The digital marketing landscape is constantly evolving, and GoHighLevel regularly updates its platform to stay ahead of the game. Training ensures that you stay up to date with the latest features and functionalities, enabling you to leverage them effectively for your marketing campaigns.
GoHighLevel Welcome Course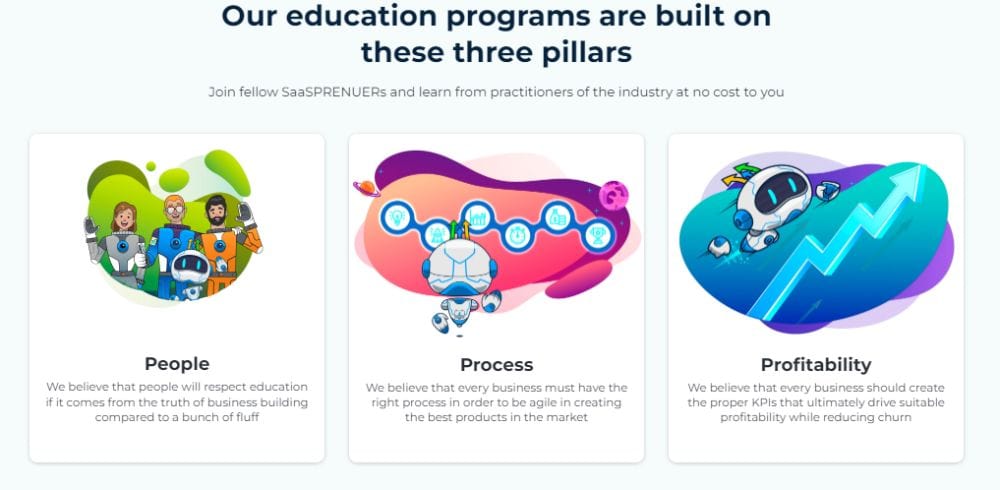 There is a free welcome course available for GoHighLevel that can be accessed by anyone, regardless of whether they have a GoHighLevel subscription or not.
Once you have registered for the welcome course, you will have access to a range of videos that you can watch at your own convenience.
How to Sign Up for the GoHighLevel Welcome Course
To access the welcome course, please input your name and email address on the designated page. GoHighLevel will then send you an email containing your login details.
After obtaining your login details, proceed to:
After logging in, users have the ability to access their course library and the GoHighLevel University onboarding course.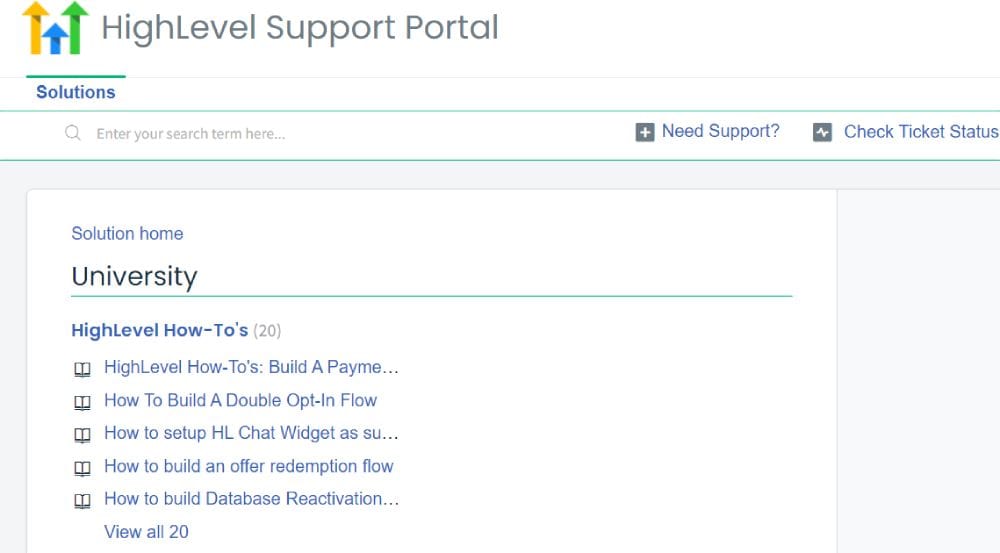 The GoHighLevel University offers a comprehensive 15-lesson onboarding course that aims to provide a clear understanding of the platform's functionality and effective utilization.
Onboarding with the Customer Success Team
There are several welcome videos available that introduce you to GoHighLevel and provide information on the support you can receive for setting yourself up.
Sessions for onboarding.
Q&A
Ways to Receive Assistance with Advanced Setup
Provide assistance.
Quickstart Guides
This is a collection of videos that provide a comprehensive overview of the GoHighLevel platform and its various features.
Here's a quick overview.
Take a quick tour of GoHighLevel.
Creating contacts: A quick guide.
Lead nurturing made easy.
Unlock the Power: Mastering Pipelines and Dominating the Sales Process
Summary
SMS, Email, and White Labeling
There are instructional videos available on how to do the following activities.
Install Mailgun.
Set Up Twilio
You can establish your white-label domain.
GoHighLevel YouTube Channel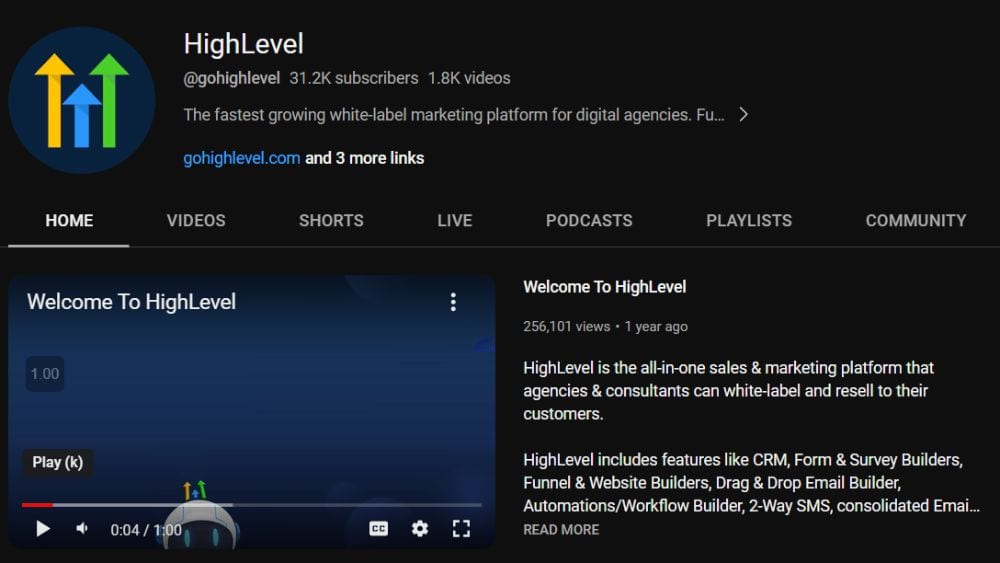 GoHighLevel is known for being active on its YouTube channel, regularly posting multiple videos per day. The playlists provide a wide range of training materials, including replays of past live training events and webinars.
Additionally, GoHighLevel frequently communicates updates regarding its platform enhancements, offering thorough explanations of the different features and updates.
The playlists and videos available include the following.
Onboarding course
"How to" guides
Spotlight sessions
Masterclasses
GoHighLevel Free Live Courses and Webinars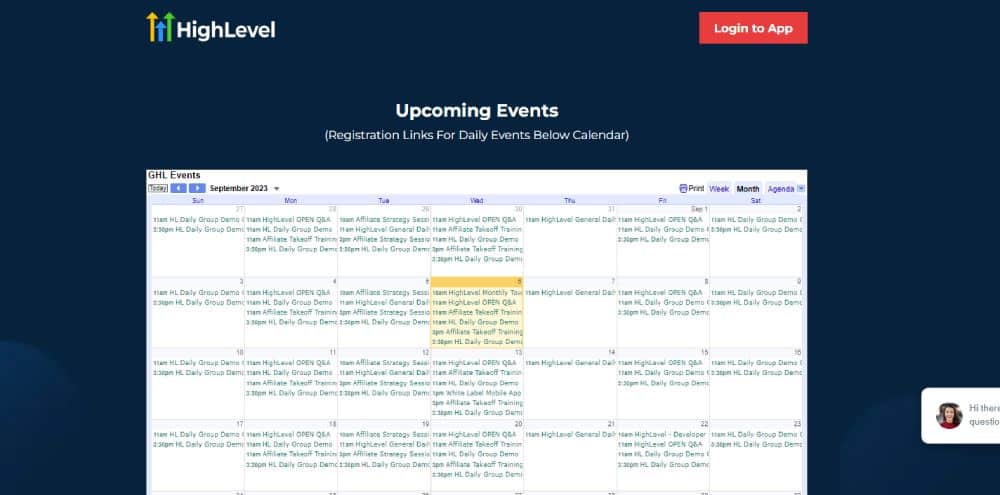 GoHighLevel offers regular live courses, training events, online events, and workshops that are open to everyone, regardless of whether they are a GoHighLevel subscriber.
These courses usually include the study of sales strategies and the utilization of the GoHighLevel platform for business expansion.
In 2022, GoHighLevel organized the following events.
Lead Generation Guide

We have 100 SaaS clients.
Webinars and Q&A sessions are frequently provided.
To see the courses that are currently available and those that will be offered in the future, please visit:
How to Stay Updated About Future Live Courses
By utilizing the provided link, you have the option of registering your contact information. GoHighLevel will then notify you via email whenever a new course or webinar is offered. If you do not wish for email notifications, you can simply monitor the event calendar and register for specific sessions as needed.
Replays of all GoHighLevel training events and webinars can be accessed on its YouTube channel for those unable to attend the live sessions.
The Facts About GoHighlevel Training
SMTP services like SendGrid or Gmail offer a user-friendly interface that simplifies the initial setup process. The control panel displays a visual representation of the marketing funnel for each client, including various statistics such as prospects, pipeline worth, opportunities, visits won, and conversion rate.
Campaigns is the designated location for organizing outbound activities, such as emails, text messages, and voice calls, that provide a comprehensive overview of the results from your marketing efforts for your customers.
Gohighlevel Training for Dummies
The "first" condition refers specifically, in a time-limited manner, a lead being added into a campaign in order for triggers and automation processes.
The inclusion of the lead is contingent upon its generation within a designated time frame; otherwise, it will be excluded.
If there are multiple users or colleagues in your firm, the leads will be assigned in a round-robin fashion. Another useful feature is "next campaign," which allows the leads from one campaign to be forwarded to a different campaign. (GoHighlevel training)
If the current project's outcomes are not satisfactory and you are seeking a different outcome, this will be a helpful tool. It halts and concludes the automation series once the desired action is accomplished.
For instance, let's consider the campaign's objective is to secure a booking and the project includes an email, a text message, and an automated voice call series. If the consumer responds and confirms the reservation solely through the initial contact, which is the email, the following text and voice call will be deactivated.
Triggers in projects can be stored in separate folders to improve organization and client management. Reviews are essential for establishing an online presence for local businesses.
HighLevel provides a straightforward method for generating reviews by sending review requests to clients within a designated time frame. Additionally, there is an evaluation widget available for installation.
Get This Report on Gohighlevel Training
The site gathers reviews from Google and Facebook. You can set conditions for minimum stars to be displayed. HighLevel has a funnel builder that is user-friendly. It assists in creating a marketing funnel for clients, which includes forms and landing pages. This helps save time and money
GoHighLevel Support Portal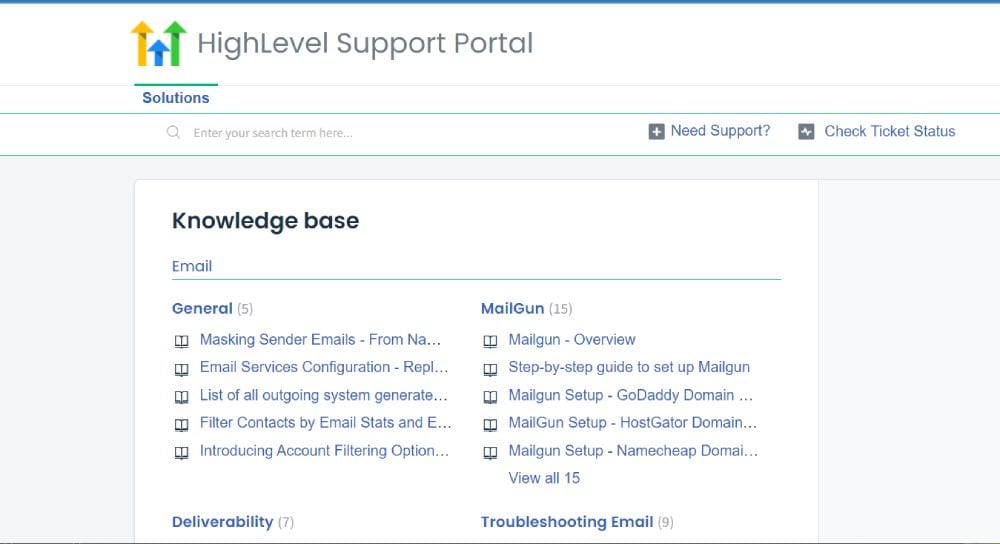 If you require assistance with navigating the GoHighLevel platform and its features, the support portal is available to provide you with the necessary information.
On this website, you can access guides, walkthroughs, and videos that provide step-by-step instructions for various processes.
The support portal is organized into categories, making it simple to locate the information you need. The guides are clear and easy to understand, allowing you to learn a process without needing to reach out to customer support.
What makes Gohighlevel unique?
Gohighlevel is designed by agencies to cater to the needs of other agencies.
Gohighlevel provides tools that are used by over 40k agencies, generating over 150 million leads. They also consistently add new features.
There is no need to build complex systems, string together multiple software, create numerous zaps, and worry about potential system failures, as everything is native.
The platform is regularly updated, which includes;
Adding additional features to existing systems, such as improving email capabilities and providing more tagging options, is a common practice.
They have introduced new systems, such as their recently launched full website builder.
Improving the platform's speed to enhance productivity for both your team and clients within GHL.
They have a platform where users can share suggestions and vote on new features, which are then implemented.
You have the option to white label it, preventing clients from unauthorized use and non-payment. It is an effective solution.
How to Get GoHighLevel Training: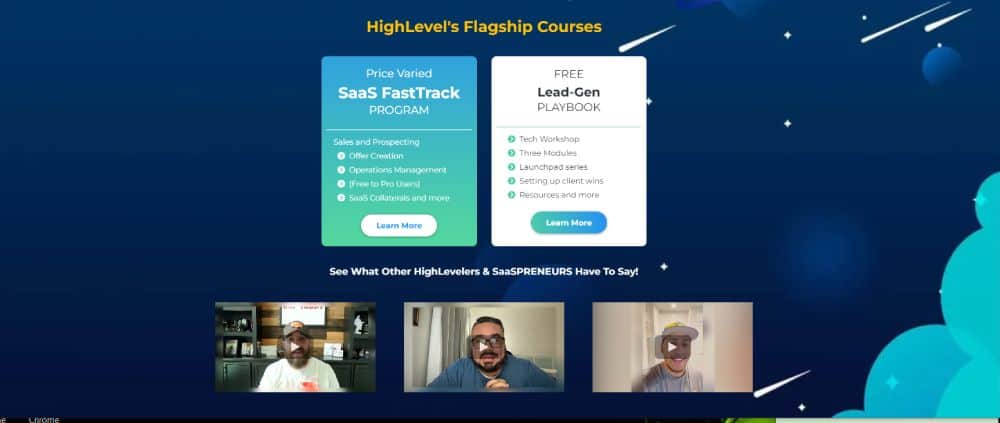 1. Official GoHighLevel Resources: GoHighLevel provides a variety of educational resources, including video tutorials, webinars, and documentation. These resources offer a great starting point to familiarize yourself with the platform.
2. Online Courses: Many digital marketing experts and agencies offer online courses specifically tailored to GoHighLevel training. These courses provide in-depth knowledge, practical examples, and insider tips to help you become a GoHighLevel pro.
3. Community Support: Joining online communities and forums dedicated to GoHighLevel can be a valuable source of training. You can interact with experienced users, ask questions, and learn from their experiences, ultimately enhancing your understanding of the platform.
4. Personalized Coaching: For those seeking a more hands-on approach, personalized coaching or mentorship programs are available. These options provide one-on-one guidance, allowing you to receive tailored training and advice based on your specific goals and needs.
Whether you're a seasoned marketer or just starting your digital marketing journey, GoHighLevel training is essential to unlock the full potential of this powerful platform. By investing in training, you can enhance your skills, optimize your marketing efforts, and achieve remarkable results. So, what are you waiting for? Get started with GoHighLevel training and take your marketing game to new heights.
Frequently Asked Questions
Is There Any GoHighLevel Training?
GoHighLevel offers various training options for users to learn about the platform's features.There are various options available for you to explore, such as signing up for the onboarding course, visiting the GoHighLevel YouTube channel, attending live events, or accessing guides in the Support Portal.
How Do I Get GoHighLevel Training?
There are multiple options available for GoHighLevel training.
Check out the free welcome course at gohighlevel.com.
YouTube has videos.
Attend live events and webinars at GoHighLevel.
Get the GoHighLevel platform guides by clicking here.
Is GoHighLevel Training Free?
The GoHighLevel training is available to both paid customers and non-subscribers without any charge.
GoHighLevel training is designed to help businesses get the most out of their software investment. The GoHighLevel system offers interactive courses, tutorials, and webinars that are designed to provide users with an in-depth understanding of the software's features and functions.