All-in-one marketing software is an option for those considering to begin an online business.
With fully-integrated software, you can streamline the creation, marketing, and launching of your online business.
Kartra is a popular choice amongst the available platforms, but it may not be the best fit.
This comprehensive review will discuss Kartra's features, pricing and more, to facilitate your decision as to whether the platform is suitable for you and your business.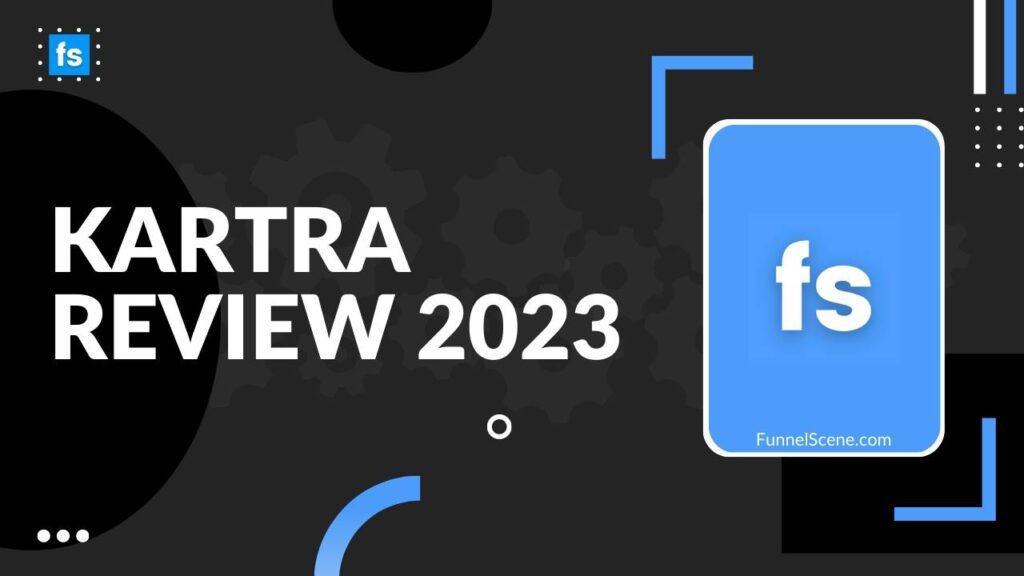 What Is Kartra and What Is It Used For?
Kartra is a comprehensive platform where all components are interlinked to facilitate efficient operations in your business.
In 2018, Genesis Digital established the product and is the same entity behind WebinarJam.
Kartra provides comprehensive services for online businesses, including email marketing, webinars, cart checkout features and various other integrated tools.
When a user finishes filling out a form in Kartra, they can be added to your mailing list with Kartra Mail.
Kartra is designed for users with various levels of online business experience.
An additional advantage of Kartra is that it operates on a cloud-hosted platform.
Storing data in the cloud ensures that your company's information will remain secure.
After downloading Kartra, you will not need to download additional software, as the platform will be up-to-date.
Additionally, Kartra provides pre-built sales funnels for convenience and efficiency.
Kartra seems to have positive reviews.
Let's examine some of Kartra's primary features to gain an understanding of its capabilities.
So how do business owners use Kartra?
Karta is an all-in-one business management platform, offering automated connections between processes.
Kartra can be used to facilitate hosting a video course, collecting emails, recruiting affiliates, and accepting payments.
The membership site offers tiers to facilitate tracking and content delivery, as well as supporting recurring payments.
You can access everything through one platform.
Kartra may not be the best option for everyone, despite its ease of use.
If your current business setup is functioning efficiently, introducing Kartra may not be worth the additional effort.
It is generally accepted that if something is not broken, it should not be fixed.
Kartra provides cost- and time-efficient solutions for entrepreneurs to build their online businesses.
This software aims to reduce time wasted on troubleshooting and allow more time to focus on sales.
Kartra is an option to consider for those looking for a substitute to well-known marketing platforms like Clickfunnels and Leadpages.
Ultimately, Leadpages is the most popular landing page builder but it can be expensive.
We will examine Kartra's features in detail.
In this section, I will explain the drawbacks of Kartra and who they primarily affect.
Karta is not suitable for…
Retail stores selling physical products.
Kartra is not suitable for those needing to create an eCommerce store and sell products. Shopify may be the best option for this purpose.
Individuals who lack financial resources
Do you believe that access to jogging should be free?
Many people have expressed their displeasure with the price of certain products. While it may be considered expensive when compared to eBook or coaching packages, you will find few similar tools at a comparable affordable rate.
Karta is available for $99/mo and offers additional savings when purchased annually.
If you are looking for a cost effective option, there are several cheaper or free alternatives available.
If you decide to use Kartra for your business, it may be difficult to transition away from the platform in the future.
Individuals with large lead databases.
Kartra caps lead limits on its plans. The Starter plan has a limit of 2,500 and the Silver plan has a limit of 12,500. For those who have an abundance of warm prospects, uncapped plans are available from other providers (see alternatives section).
Those who enjoy doing mundane tasks.
It is common to experience errors and have to contact customer support when running an online business on multiple software platforms.
What Are the Benefits of Using Kartra
Kartra is an advantageous, comprehensive platform for you.
Kartra offers the capability to replace multiple, costly tools with no transaction fees on sales.
Finding ways to save money is beneficial.
Kartra can be a cost-effective replacement for numerous tools.
You will not incur any transaction fees on your sales.
Streamline your online sales and marketing with impactful, optimised templates and proven sales funnels. You have an extensive selection of tools to increase your online business: including but not limited to; campaigns, surveys, membership portals, calendars, emails and more.
Increase your online sales and marketing effectiveness through the use of customised templates and successful sales funnels.
There is a wide range of templates available to help you start your online business, including website building blocks such as webpages, signup forms, sales journeys, surveys, membership portals, calendars for booking appointments, and email lists.
Kartra is designed for easy use; elements can be arranged simply by dragging and dropping.
Kartra is designed with simplicity in mind. It utilizes a drag-and-drop approach for ease of use.
Storing content as favorites within the application can help save time, as it allows for quick access and reuse.
Bookmark pages, sections or emails for easy access and retrieval.
Implementing smart checkout capabilities can ensure a simplified transaction workflow with potential up-selling opportunities.
Utilize smart checkout features for ease of use and potential additional sales opportunities.
Track your metrics to optimize business performance, providing a comprehensive view of each lead journey with tags.
Increase the effectiveness of your business.
You can monitor and label the journey of your leads through tracking their metrics.
Kartra's email marketing features allow you to do split testing, scheduling, tagging, and setting up automated sequences.
Establish a stronger connection with your audience.
Kartra's email marketing features provide the ability to conduct A/B testing, scheduling, tagging and automations.
Kartra helpdesk facilitates the satisfaction of your customers.
The amount of features is extensive and cannot be adequately described in a single review.
In this discussion, we will cover the key features of the platform to help you gain a clearer understanding.
Is Kartra comprehensive enough to support the running of an online business?
It is nearly there. Let us begin.
The success of an online business relies heavily on the building of effective websites and landing pages, something which Kartra understands.
They offer a drag and drops page builder to make building custom pages easy without the need of additional third-party solutions.
Kartra's WYSIWYG editor allows users to quickly create and modify websites and pages without any design or programming expertise.
There are over 500 professionally-created templates available to choose from, making it easy to produce any type of landing page quickly and efficiently.
With this platform, you can create a variety of page types including sales pages, homepages, blog pages, membership site pages, webinar pages, checkout and thank you pages.
The templates are designed to be 100% responsive, providing a consistent appearance across mobile and tablet devices.
Shall we evaluate whether Kartra page builder meets expectations?
How to Use Kartra Page Builder
In order to create a page, access the 'MyPages' tab from the left sidebar and select the green square with a + at its bottom-right side.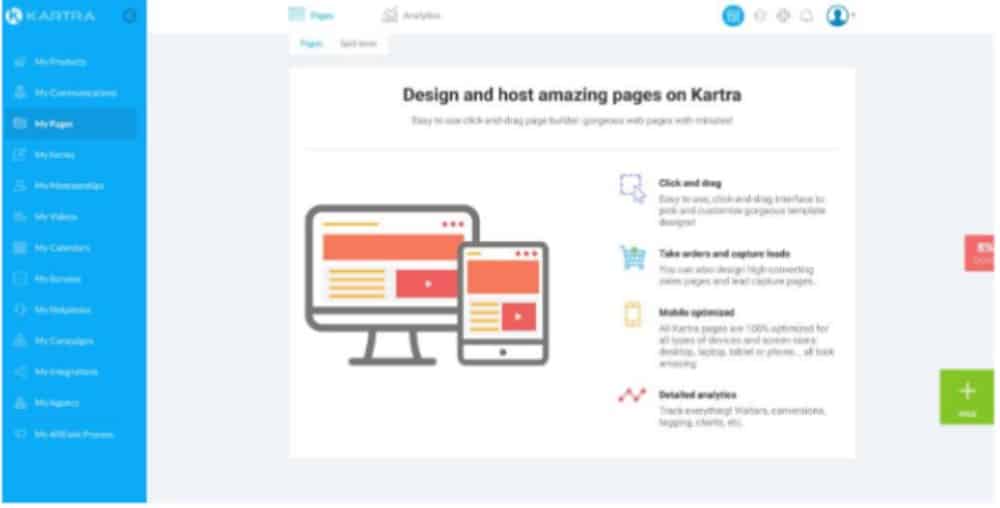 You can create your own design or select a pre-designed template from the options provided and launch the builder.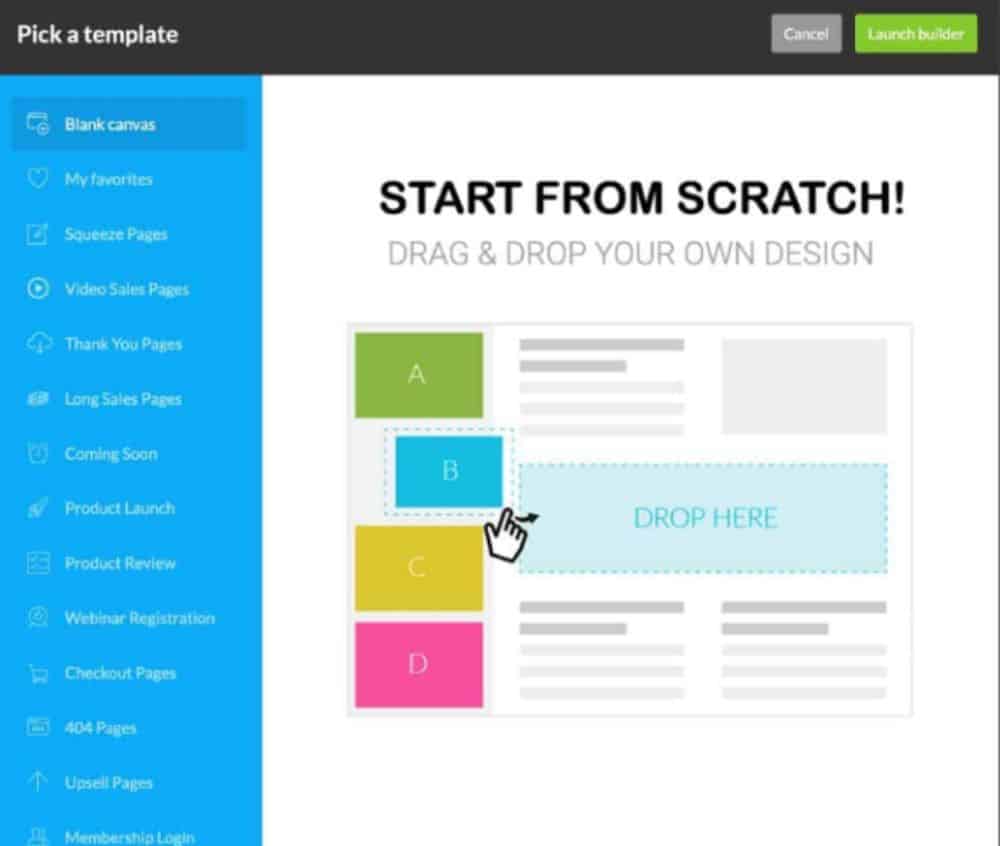 To create a new page, you must specify a name for it and, if applicable, assign it to a category and/or site. Finally, click the 'Create' button.
It is straightforward to make modifications to the template after it has been uploaded.
To access the editing options for any element (image, text, icons, etc.), simply move your cursor over it and select the orange 'Pencil' icon.
Selecting a device type in the top menu bar will enable you to make changes to the mobile and tablet versions of a page, as illustrated in the image below.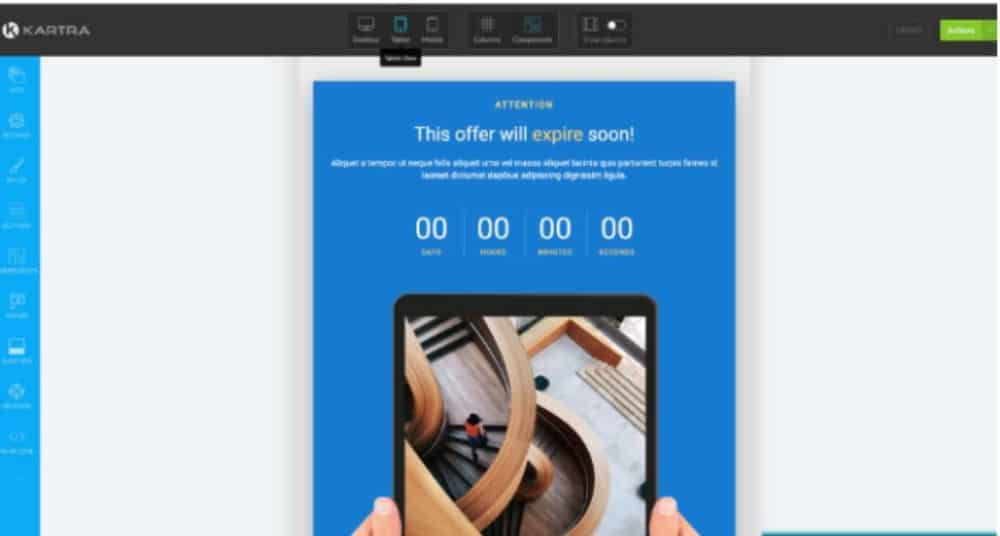 It is possible to rearrange elements on the page by drag and drop, as well as add pop-up forms, elements, and sections.
The Styles tab allows for modifications to fonts, background colors, and page widths, as well as the addition of custom styles with CSS knowledge.
The result?
After working with various popular page builders, I found Kartra page builder to be comparable in terms of quality, though the column widths were a bit tricky to edit.
Kartra's A/B testing allows you to evaluate the performance of different webpages by obtaining accurate test data quickly.
Presenting two versions of the same page to users, testing for the one with better results, and displaying it.
You have obtained fast, free and accurate market research within a matter of days. This is the power of the internet.
Kartra's A/B testing is straightforward and streamlined, taking only 10 minutes to set up. The data it generates is also integrated into the Kartra platform.
Unless you require many A/B tests for multiple pages, it is not necessary to invest in an Optimizely subscription.
All the features are pretty standard:
Display four versions of the same page.
Adjust the traffic percentage across pages according to your preferences (it can be different from a 50/50 split, e.g. 60/40 or 80/20).
Tracking progress towards goals.
Kartra's Certainty Ratio is a metric used to measure statistical certainty.
Kartra Checkouts (Shopping Cart)
Let's consider the facts.
If your checkout process offers limited features, is complex, and does not reflect your website's brand, customers may be dissuaded from making purchases.
The Kartra checkout offers a straightforward and effective shopping cart option for this issue.
You can access checkout pages which have been specifically designed to maximize sales, featuring one-click upselling, down selling, order bumps and cross-selling.
It is possible to customize the checkout page appearance to align with your brand and add custom fields to gather additional customer data.
Subscriptions for products and services can be paid by customers with credit card or PayPal. Recurring and one-time payments can be enabled via specific integrations.
Authorize.net
Stripe
Braintree
PayPal
As a coach, freelancer or author, you may be offering online courses, services or books and shipping products to customers.
Kartra checkout streamlines the technical aspects of product or service sales, allowing businesses to focus on other aspects.
Offering discounts and coupon codes to customers can be an effective measure for encouraging sales.
Additional features available on the Kartra checkout include:
Rules regarding abandoning a shopping cart.
Customer management is a key area to consider.
Analytical data tracking sales and revenue is available.
Sales tax and VAT calculation is automated.
The system is configured to support twelve different languages and forty currencies.

This product meets the GDPR, PCI, and SCA compliance requirements.
Kartra Checkout provides security for customer information.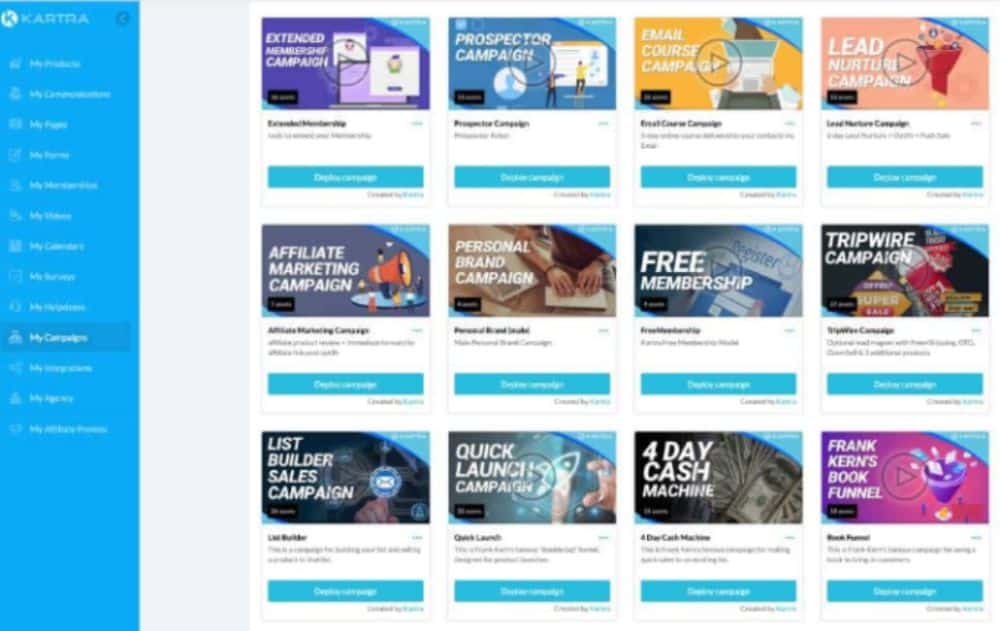 Kartra offers powerful features, like funnels and pre-made campaigns.
A sales funnel is an automated process that guides leads through the different stages of your business, encompassing products and services, to turn them into customers and generate revenue.
Kartra provides the tools needed to create custom funnels, yet building and optimizing a sales funnel is complex.
Kartra offers pre-made sales funnel campaigns to assist in quickly creating email lists and generating sales.
There are 30 pre-existing campaigns available, including Four Day Cash Machine, Book Publisher Model and Quick Launch, developed by online marketing experts Frank Kern and Andy Jenkins.
It is possible to upload campaigns created by other users in the Kartra community. If you possess technical skills and marketing knowledge, then you can customize them to suit your needs.
Through Kartra, users can design custom funnels and campaigns and either share them with the community or offer them for sale in the Marketplace.
Kartra Mail (Email Marketing and SMS Marketing)
Kartra Mail provides the capability to send tailored messages to users based on their behavior, allowing for testing and optimization of emails for greater conversion rates. This tool offers effective sequence building.
The email marketing tool has a modern design, with an intuitive editor. It enables users to quickly create emails.
Kartra's email marketing platform offers several advantages.
Next-gen automations: Kartra's automations offer more advanced capabilities than many other platforms, increasing the chances of open rates and conversions by providing tailored emails to recipients. Specifically, emails can be triggered in response to user clicks, tags, purchases or subscriptions.
Behavior-based automations: Kartra offers behavior-driven automations, providing users with the opportunity to respond to scenarios such as unopened emails or link clicks that did not lead to a purchase with follow-up messages or discount coupons.
Splittesting: Split testing is a simple way to boost sales. Email campaigns can be tracked for success rate, and the most effective tactics should be focused on for further refinement.
Full analytics: Kartra offers full integration of the email marketing platform. The data collected will show what emails are most successful and effective, amount earned, and which goals have been achieved. User behavior informs Kartra to determine the best time of day to send emails.
SMS: By leveraging SMS, companies can create a new revenue stream. Consumers may prefer to receive relevant coupons, updates, and other promotional offerings via text compared to emails. Research suggests up to one-third of Americans are open to these sources of communication (Source).
The funnel builder is easy to use and saves time. Users can drag an element onto the canvas, go through the setup wizard, or select a high-converting template and customize it as desired.
Kartra is highly efficient.
Kartra facilitates membership options beneficial for businesses offering courses, premium content, or group coaching.
Customers experience exclusivity, which serves to enhance the learning process.
Certain engagement features are not included in this membership scheme, which some other products provide.
Using Kartra memberships, progress tracking for each course participant is not available.
Kartra provides a visual indication when a student has viewed a lesson, in the form of an eye icon.
Membership sites offer multiple themes following a shared structure, with limited layout customization options.
Kartra provides many features for operating successful memberships for businesses.
Lead Management (CRM) via Kartra Leads
This feature can help you reduce costs and increase profits.
I am positive about Kartra's CRM.
This tool enables you to monitor, label, and assess your leads in order to maximize their potential.
Increase conversion rates.
Maximize customer lifespan.
Decrease your acquisition cost.
Maximize sales opportunities.
Let's begin by addressing the fundamentals.
Kartra Leads keeps track of all information relating to a person's leads and customers, including their personal details, tags, subscriptions and behaviors. This makes it easy to view all relevant data in one location. Are they making any purchases? Have they started a free trial? Are there any support issues? All these questions can be answered instantly.
The two main features are lead tagging and scoring.
Lead tagging involves assigning a custom tag to customers depending on their past behavior. Having this custom tag assists in determining the status of customers, from super-customers to those who need more encouragement.
Kartra's Lead Scoring feature uses a metric to assess the quality of potential leads.
For Example: I have an SEO course with a webinar, lead magnet and free video, each of which are allotted 5 points in my CRM. If someone signs up for all three, they are assigned 15 points and deemed a "VIP" in my system. This enables me to send them a sequence of emails offering 20% discounts on the course if they buy it immediately. Without Kartra Leads, I wouldn't be able to acquire this personalized customization.
Video content has the potential to increase sales and engagement with browsers compared to other types of content.
Video content is given priority on major social media platforms such as Facebook, Twitter, and Instagram compared to images and written text.
Video hosting services such as YouTube and Vimeo are commonly considered.
Kartra provides a video hosting platform as well.
Kartra allows you to easily embed uploaded marketing or product content videos into various pages.
This includes websites using WordPress, membership portals, and other landing pages.
Kartra's video hosting platform provides distinct features, including CTA pop-ups that appear during video playback.
It is possible to produce videos for different purposes such as opting in, selling pages, and offers.
Kartra's video hosting capabilities are not extensive when compared to other hosting services, such as YouTube and Vimeo.
Uploading videos can be difficult; compression of footage can reduce buffering issues.
As your business becomes successful, it can become challenging to manage your emails with incoming inquiries and requests.
Kartra helpdesk can assist in this situation.
Kartra helpdesk enables users to set up a ticketing system in order to track queries from customers or web browsers about products and businesses.
This email management system facilitates answering questions.
Customers can contact the company via a ticket, chat, Skype, or phone call and tickets will be logged according to opened, waiting, or resolved statuses.
Customers can provide feedback on their assistance experience, helping you and your customer service team assess performance.
With Kartra analytics, it is possible to determine the average time taken to address customer queries or requests.
When a helpdesk ticket is received, the user can be registered in the mailing list and be labeled with relevant tags from the initial system request.
Frequently asked questions may be observed.
This can be utilized to generate blog material or an FAQ section, allowing you to diminish the amount of emails received.
Currently, there is no mobile app to access live chat support; therefore, the computer must be open in order to provide assistance to customers.
Kartra has indicated that they are addressing this issue.
This feature in an integrated marketing platform is favourable.
Kartra users are able to exchange campaigns with each other in the Kartra marketplace.
You can explore specialized campaigns that may be a good fit for your business, but there is an associated cost.
Exploring new and diverse strategies can be beneficial for your business.
Developing proficiency in creating marketing campaigns can be advantageous in terms of gaining additional income.
To create a successful marketing campaign, one must first develop it, as well as compile any necessary resources.
You could charge approximately $250 for granting access to your campaign assets (pages, lists, automation), allowing users to gain advantage from them without necessitating their own creation.
Additional services, such as reworking the campaign style for users or administering their Kartra software may be offered for a monthly fee.
Kartra analytics is not particularly beneficial.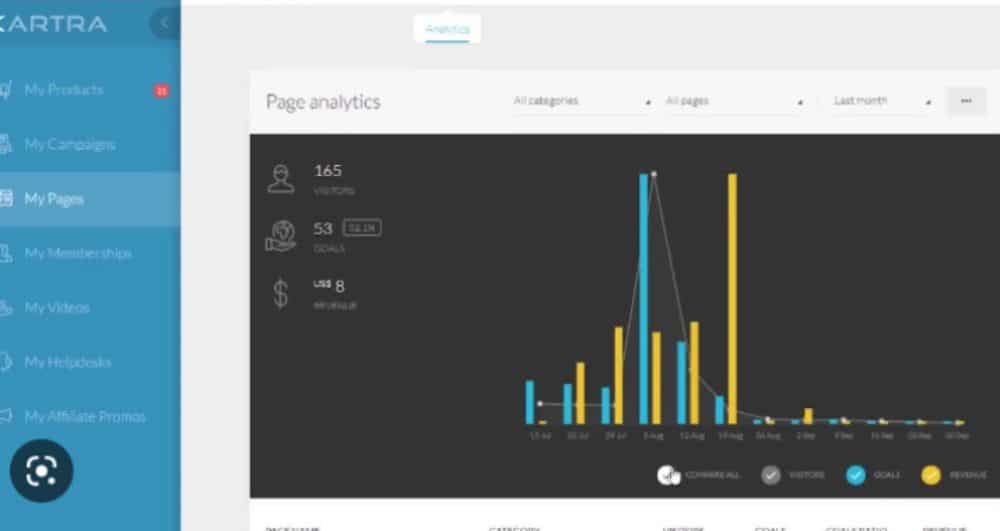 This tool can help you to monitor sales for your online business.
It is possible to calculate revenue and subscriber value, with clear directions provided.
There are limited ways to work with the data.
Despite exploring the tool, it was not possible to determine the location at which people left a funnel.
There is limited segmentation available.
The system is complicated.
The "My Communications" section of the platform includes a sequence tab that can be found in both analytics and communications.

That is something that can be overcome.
It can be difficult to locate centralized analytics information.
The analytics data is distributed across multiple tabs, making it difficult to locate the desired information.
Utilizing Google Analytics may be of use.
Adding the tag to the source code is an option for Kartra pages.
Otherwise, you need to work within the given system.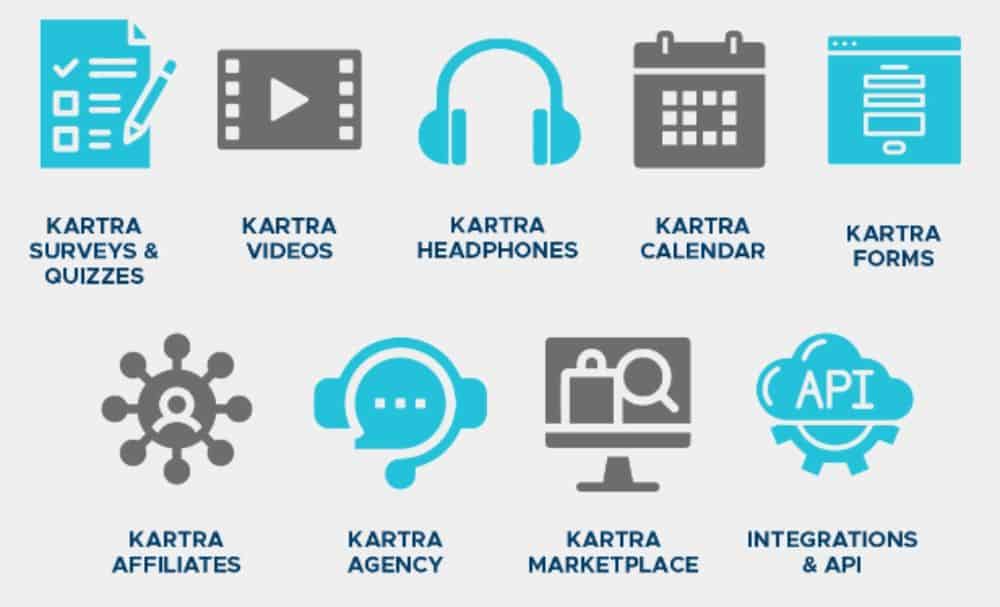 In addition to the features you have already obtained, there are several supplementary features that may enhance your experience.
This subscription plan includes many features and offers additional features at no extra costs, forming a complete marketing system.
Calendars: Karta offers a native calendar with superior functionality, simplicity and usability compared to Calendly and its $12/month subscription offer. Customers can see your available times and dates directly from your website and there are pre-designed templates for gyms, consultants, recurrence classes or live events.
Forms: Form templates with underlying marketing automation offer the potential to increase conversions by subscribing customers to a mail list, assign CRM tags or initiate custom automations. Choosing a form and template is simple; then adjust settings like color and custom fields for a specific user.
Affiliates: Kartra Affiliates makes managing affiliates for your business easier and hands off. It offers custom landing pages, multiple commission tiers, quick payments, simple analytics and performance down to earnings per click. Daily reports show who's earned what amount and the payment method of choice can be PayPal, bank or even a regular physical cheque. This method is much more efficient than third-party software or tracking email.
API and Integrations: Kartra offers a range of options. It can be kept simple and everything done in-house, or seamlessly connect with third party systems such as Zapier, Stripe, SendGrid and Twilio to make up for any deficiencies. With its API, IPN and custom app system, users can also build their own solutions if desired.
Kartra Academy is an exclusive training platform providing members access to advanced marketing and platform lessons from experts, without any cost.
Many platforms provide the tools necessary to operate a business.
Kartra provides you with marketing tools and guides to leverage their usage and optimize your financial returns by minimizing effort, time, and expenditure.
The training offered not only shows users how to use each feature, but also delves into more complex topics such as funnel marketing, customer psychology, email marketing, and landers.
Learning how to sequence emails and offer discounts based on customer persona through Frank Kern's Four Day Cash Machine had a significant impact on my understanding of digital marketing.
The library consists of free training videos, FAQ resources and templates.
What can you learn in Kartra Academy?
A funnel designed to facilitate the creation of lists.
The quick launch funnel is available.
A book funnel is a tool used for acquiring readers.
Agency promotional activities.
Lead magnet campaigns are a marketing strategy.
Promoting goods and services via eCommerce.
Campaigns offering free Kartra memberships are available.
That's why I keep telling everyone Kartra is ideal for new solopreneurs:
With a single subscription, you will gain access to advanced marketing training as well as the necessary tools. Without it, you would have to expend vast amounts of money on seminars and consultants or staff members to acquire the same amount of knowledge. It is a wise and economical decision.
Kartra Pricing – Is Kartra Worth it?
Kartra offers many features at a reasonable price. Its 4-tier pricing plan is flexible, allowing you to only pay for the features you need. You don't have to worry about paying for more than necessary.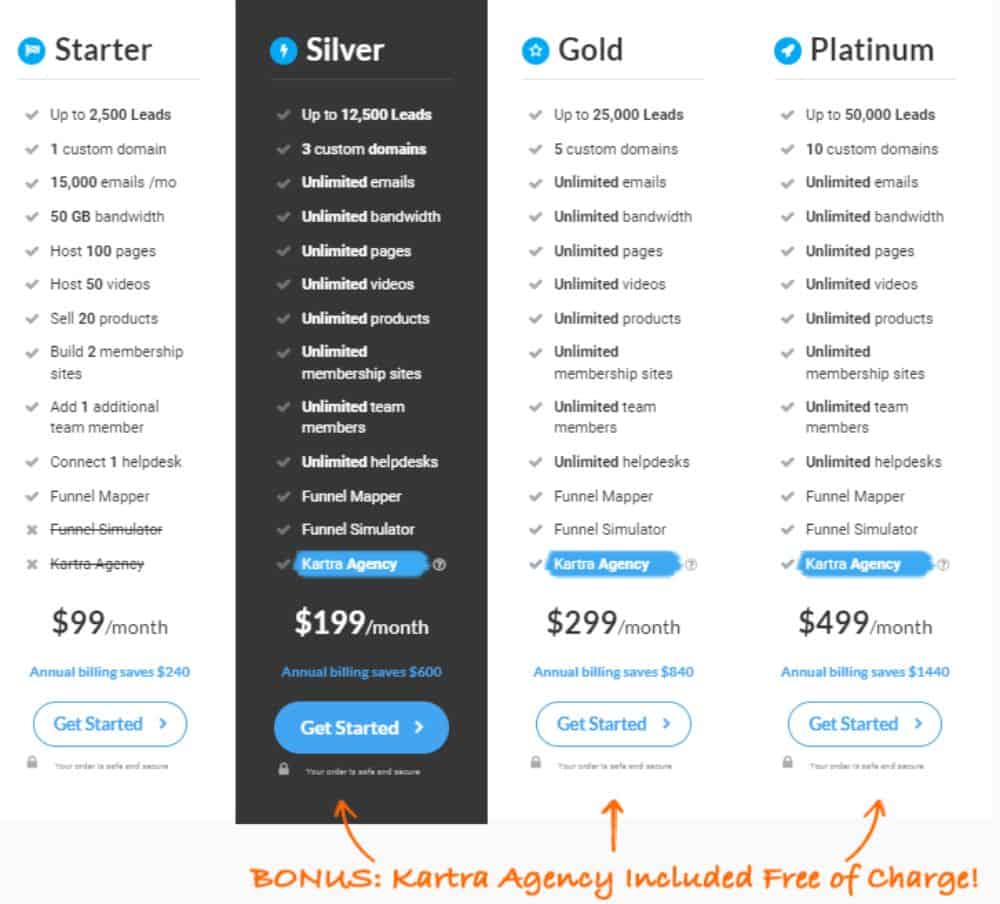 The Starter Plan is suitable for newly established online businesses and small-scale coaches and consultants with limited email subscriber numbers.
The total number of leads is 2,500.
There are 15,000 emails.
There are one hundred pages.
There are 50 videos.
There are 20 products.
1 helpdesk
I initially used the Silver package, and it was sufficient until my success grew. It is convenient that when you upgrade your services, the cost is not a major concern.
Key features:
The number of leads is 12,500.
Three customized domains.
There is no limit to the amount of GB bandwidth, pages, videos, products, membership sites and help desks available.
When your enterprise marketing operations grows and you employ a large team, upgrading to the next tier of service may be beneficial, providing extra features.
Key features:
There are 25,000 leads.
There are five custom domains.
There is no limit on the number of team members.
The Platinum plan offers 50,000 leads and 10 custom domains, double that of the regular plan. It is recommended for larger enterprises.
The pricing for this marketing tool is simple and straightforward, with no extra fees or complicated charges. A single monthly fee gives you access to amazing features.
For $99, you can obtain a service that provides an alternative to Teachable, Leadpages, Mailchimp, Salesforce, Vimeo and Calendly.
You can return the product within 30 days for a full refund.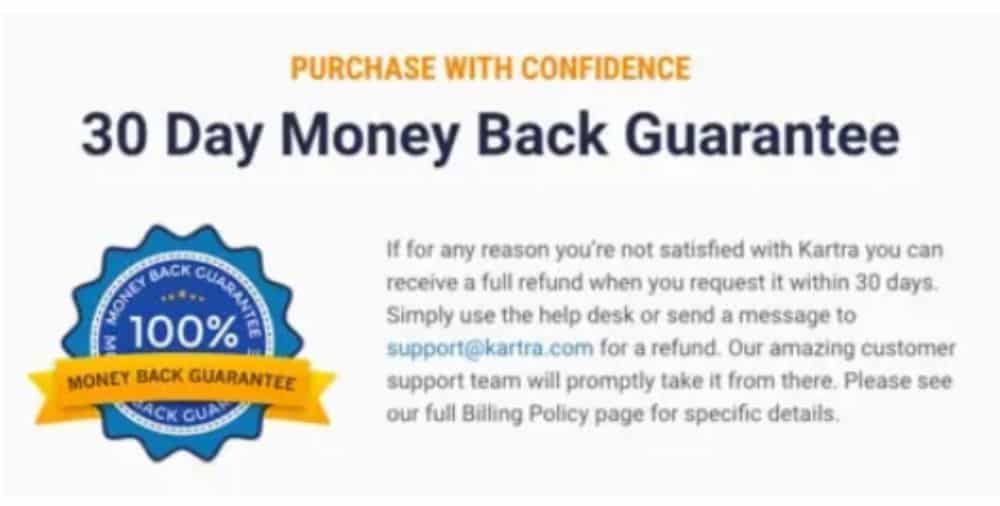 This product offers a lot of features for an affordable price, and a money-return policy if you're not satisfied.
Kartra Customer Support – Is It Any Good?
Kartra provides a helpful support system with a community of thousands available to help. The Kartra community encourages users to interact and provide each other with assistance, including technical support, funnel advice, and more. Live chat and email are available 24/7 with email tickets also available for slower responses.
Kartra provides three support options.
1- Facebook Group
The Kartra Facebook group has over 23,000 members who are available to assist you with any queries you may have, regardless of your free trial status.
2- FAQs
Kartra's FAQ section provides insight about various topics, from pausing an account to requesting a refund and monitoring payments. It is akin to being the Wikipedia of the platform, offering enough information to address your issues without having too much detail.
3- Concierge Services
Kartra's concierge services offer you tools to help you learn and market. Their setup of landing pages, sales funnels and more is available for a limited fee. No prior experience is necessary to start using Kartra for your business.
It should be noted that Karta is not designed to be the top-tier platform, and is not intended for such a purpose.
This subscription-based tool integrates different services into a single interconnected platform, aiming to make managing your business easier and stress-free.
This theme should be a consistent reference point when evaluating the pros and cons.
This system unifies your sales, website, marketing, and communications.
This product includes multiple functions for customer relationship management.
You can try the product with a free trial period before deciding if you want to buy it.
It provides a full range of automation and customization options.
This platform offers the tools and training materials necessary to construct a business.
The interface is straightforward and templates are preconfigured, making it more efficient to use.
Efficiency is gained by utilizing this method.
It includes instructional videos.
Customers have the option to receive a refund within 30 days of purchase.
It enables internal hosting of videos.
The system enables the automatic tagging of buyers.
Utilizing this tool can help in managing client and lead relationships.
This builder encompasses a multitude of features.
The company is compliant with GDPR and CCPA.
It accommodates businesses of various sizes and different sectors.
Subscription payments are handled securely and automated.
It provides various support options.
This platform does not support the creation of blogs or facilitate advertising.
The platform is suitable for services, but not businesses that provide products.
The platform does not include a webinar feature.
The form editor permits only basic customization.
The video hosting capability of this service has no distinct edge over other similar services in the market.
Membership sites have limited options for customizing the layout.
Live chat for the mobile app is not available.
The user interface may be less efficient and have a darker color scheme than its competitors.
The onboarding process is time-consuming but beneficial.
The interface is straightforward with a traditional aesthetic.
The import of data in email marketing is time consuming.
To link landing pages to Facebook, you must install the Facebook pixel on each page individually.
There are additional features in each section that will only become visible when the main feature dashboard is accessed.
The dashboard lacks a search button to facilitate direct navigation to specific sections.
The platform appears to be primarily focused on schools and courses, which may not cater to businesses.
It can be expensive for those starting out.
Kartra's Reputation – What Are Users Saying?
It is important to exercise caution when taking anything you've seen online as fact unless it is from a reputable source.
To ensure accuracy, I often research the opinions of others on the internet. By doing this, I can provide an informed opinion and cross-reference my statements.
Kartra has received positive reviews on Capterra.
4.5 out of 5 is a good rating; the advantages included convenience, effective training, and straightforward templates. The primary critique was customer support.
Four out of five on G2.
The reviews generally highlighted its convenient one-stop-shop structure, its capacity for training, and the absence of email automations.
GetApp's rating of Kartra is 4.51 out of 5.
Simplicity and connectivity are key.
I am engaging in training.
A single subscription fee.
Sales pipelines are commonly used in business.
Integrations are available.
Customers Complained About:
Expressing support.
Insufficient email features.
Insects.
There is substantial agreement among review sites that Kartra offers an excellent business management solution and provides users with the necessary education to make full use of it.
Email and funnel marketing are not highly developed tools.
Kartra Alternatives – How Does It Stack Up to Competitors?
I plan to complete my review of Kartra and perform calf raises at the beach, however I am open to better suggestions.
It is recommended that you read a Kartra review, along with alternatives, before making a decision.
The three most common options are as follows.
Teachable is a platform for creating and selling online courses and digital products. It is well-known for its offering of online courses.
Teachable enables you to create your own branded website, so you are not obligated to develop a separate site or blog.
Teachable provides technical support for activities such as creating accounts for students and securing payment channels, monitoring student progress, and facilitating communications between instructors and affiliates.
Teachable's main feature is its user-friendly interface. Users can easily drag and drop elements, while being able to view the outcome of their pages immediately with the visual editor.
Teachable enables content creators to easily create online courses and digital products by simply integrating videos, PDFs or blocks of text into their course structure.
You have autonomy over the pricing of your products and how you interact with customers, compared to course marketplaces such as Udemy or Skillshare.
With Teachable, you have your own standalone website to sell your products, giving you control and avoiding the need to compete with other course designers in a marketplace.
Teachable offers an advantage over WordPress sites when it comes to course sales, as fewer plugins need to be managed and there is a lower risk of hacking if security software fails to be updated.
With Teachable, the technical details are managed so your focuses can be dedicated to developing quality products and improving sales.
Teachable is designed for people who wish to monetize their skills or knowledge.
Kajabi is a popular course creation and membership site. It features many great features and has an entry-level plan that allows for 10,000 contacts and unlimited emails, making it suitable for small businesses.
As we search under the mountain for resources to build our business, we uncover some issues.
Kajabi does not provide help desks or robust scheduling tools, and their video hosting is mediocre. As such, any activities involving tutorials, webinars, or workshops will be hindered.
To access features like affiliates or advanced marketing automation, one must upgrade to a higher price point. Kajabi is particularly suitable for membership sites while Kartra excels in business development.
When launching a new online marketing business, creating a website that can capture leads and convert sales is the initial step.
Design-building a website from the ground up can be difficult without an advanced website creator.
ClickFunnels is a marketing automation tool that facilitates businesses of any size to realize their marketing objectives without having intense technical expertise.
ClickFunnels can be used to easily create pages for customer data collection and sales. To effectively use ClickFunnels, it is important to understand the company's goals and the role of digital marketing, especially sales funnels.
Conclusion – Is Kartra Worth it?
We trust that you have found our thorough review of Kartra useful.
Kartra is a comprehensive platform that facilitates ecommerce and marketing. It enables users to develop efficient campaigns and funnels to benefit their online business.
This product comes with numerous features that can be used to enhance your organization's capabilities.
Kartra pricing packages offer cost-effective solutions compared to other platforms, allowing businesses to choose a package that meets their needs without wasting money.
If you are not satisfied, you can return the product within 30 days for a full refund.
Kartra offers a 14-day trial period for $1, giving users the opportunity to try out the platform with little risk.
Kartra is a beneficial marketing software for business management as it offers all necessary tools in one platform. It is especially effective for the sale of digital products such as courses or membership sites. Overall, Kartra provides versatile capabilities and successful outcomes.
How much does Kartra cost?
Kartra's starter plan is $99 per month, though it has limited features. The unlimited feature plan costs a minimum of $199 per month. There are discounts available for those paying yearly.
Kartra is an effective, comprehensive platform for online businesses. It offers reliable protection for users.
Kartra was created by Andy Jenkins and Mike Filaime, with the support of Frank Kern. It is operated by Genesis Digital, LLC, and is generally well-received in most reviews found online.
Does Kartra have a free trial?
Kartra offers a 14-day trial for $1 and a 30-day money-back guarantee, but there is no free trial available.
Kartra operates as a CRM, facilitating efficient management of customer databases.
Is Kartra good for a small business?
Kartra is well-suited for any small business, particularly those dealing in digital products and services. It provides all the tools necessary to run such a business, and none of its shortcomings will be hindrances to small businesses. Therefore, it is recommended that all small business owners use it.
What does Kartra come with?
Kartra is an online marketing system which provides multiple tools such as a shopping cart, landing page builder, email automation tool (the sequence builder), web hosting and dynamic follow-up. It also offers unlimited GB bandwidth and CRM, as well as affiliate management capabilities. The platform comes at various price points and provides a comprehensive range of marketing functions.