Kartra and Kajabi are popular platforms for sales funnels and course creation. They have some distinctive features catering to different audiences.
This blog post will provide an overview of Kartra and Kajabi so that readers can compare the two platforms and make an informed decision for their online business.
Establish good course content, market it effectively, and make it available to customers quickly in order to attract more clients and develop the business.
This article will compare Kajabi and Kartra to assist in determining the ideal online course platform for your business.
Let's begin.
Kartra vs Kajabi – Our Verdict
Kartra and Kajabi are both suitable for different user requirements, but have distinct advantages depending on the user.
The following is a brief response.
An integrated marketing platform can be used to create successful sales funnels, host multiple marketing campaigns and access features such as email marketing, web hosting, shopping carts, split-testing, webinars, videos, customer support, an affiliate program and a membership site.
An entrepreneur who manages a small business can pursue an online business model.
You have the option to offer both digital and physical products.
An integrated platform is available to create, sell, and launch membership sites, providing services such as email marketing, creating landing pages or funnels, processing payments, managing affiliates, and enabling automation.
As a course creator, you can generate revenue through digital products.
The focus of the business is on digital products (e.g. online courses, memberships).
Main Differences Between Kartra and Kajabi
This platform offers comprehensive marketing solutions for physical and digital products.
There is no free trial available.
Does not provide quizzes, surveys, or assignments.
This product includes a comprehensive helpdesk solution.
The starter plan of the native video hosting provides up to 50GB storage, while higher-price plans offer unlimited storage.
Interactive video features like call-to-actions, tags, and next video recommendations are available.
Does not provide blog functionality.
There is no comment section available on video pages.
The popular plan costs $149/month when billed on an annual basis.
This marketing platform provides comprehensive features tailored for digital products such as online courses.
A 30-day free trial is available with a credit card.
Every lesson comes with associated quizzes, surveys, and assignments.
There is no such functionality.
Wistia provides unlimited video hosting for all plans.
There are no such features.
It is possible to set up a typical blog using any website.
The student comments section associated with each lesson is available.
The plan with the most subscribers costs $159/month when paying on an annual basis.
KartravsKajabi – Our Detailed Comparison
Kartra features a drag-and-drop page builder and editor with extensive customization options. There are more than 500 editable page designs, sections templates, and sales, lead capture, checkout page options you can use according to your needs.
Designs are responsive across devices such as mobile, desktop, laptop and tablet. Moreover, businesses can use analytics and split testing to identify the design most suitable for their target audience.
The drag-and-drop editor of this software simplifies editing and picking what to modify. A blank canvas also provides you with the chance to build your landing pages from the beginning. Furthermore, it permits multiple sections on one page, like CTA, navigation bar, hero section, testimony, and more.
The software allows users to generate pop-ups and footers for their websites with responsive designs. Through A/B split testing, up to four designs can be compared on the same page in real-time, providing an indication of which design yields the best conversion rate.
Kajabi provides a user-friendly drag-and-drop website builder without any coding knowledge required, allowing for the creation of full websites and sales funnels. Additionally, there is a selection of hundreds of page templates to choose from such as home pages, lead pages, and sales pages.
With the page builder and theme editor, you can construct a webpage by editing its sections and subsections, as well as customizing its color, font, and style.
Kajabi design settings can be modified to your liking, such as altering colors, sections, and mobile responsiveness. Additionally, you have the option of adding social media links for navigation.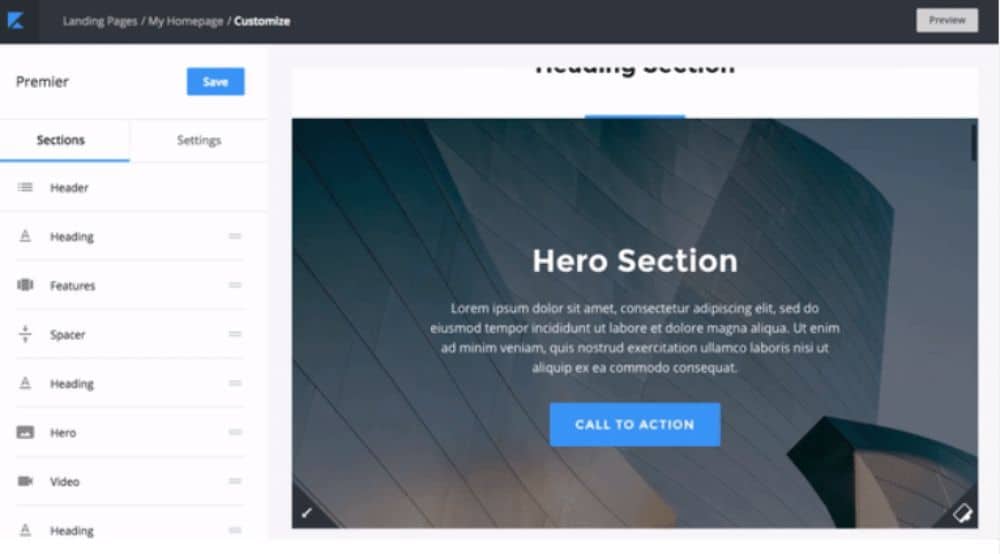 Email Marketing and Automation
Kartra Mail allows for advanced email marketing and automation. Features include automated optimization and personalization of customer emails based on their behavior.
The tool enables automation according to customer behavior, such as when emails are opened, subscriptions are made, links are followed, purchases are made, and items are added to carts. It sends out messages that encourage customer action.
This system allows you to monitor your customer's activity, ranging from clicking on a link to buying a product. Additionally, it permits testing of emails for the identification of the best-suited subject line, content, timing, geographic area and other relevant factors.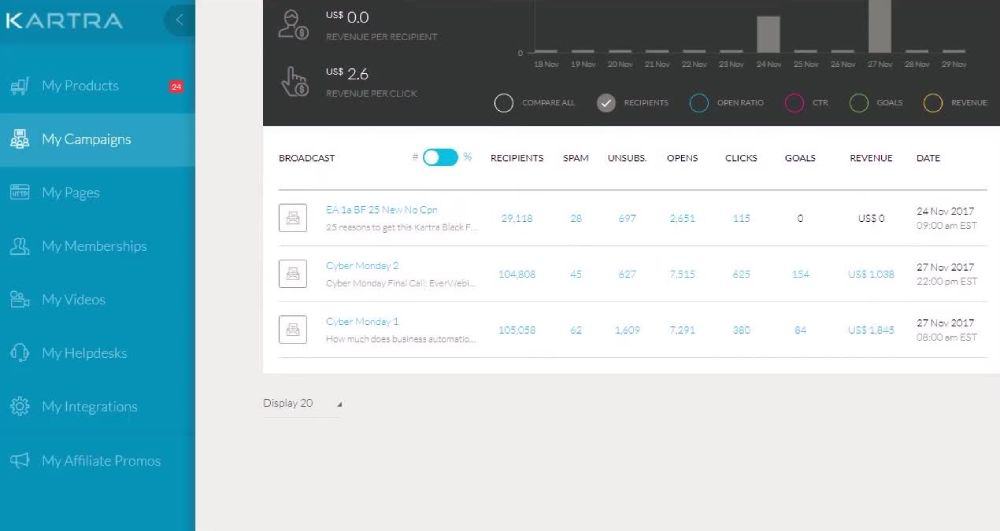 Kajabi offers email marketing and automation, though it is not as sophisticated as Kartra. You can use Kajabi to create campaigns for lead generation and personalization.
Kajabi enables you to send emails to your entire customer list or selected segments of customers. Customers can be further sectioned by their order history, geographical location and other factors. Emails can also be personalized according to the user's requirements.
Kajabi logs and classifies leads based on their campaigns. This allows you to target marketing campaigns that meet their needs.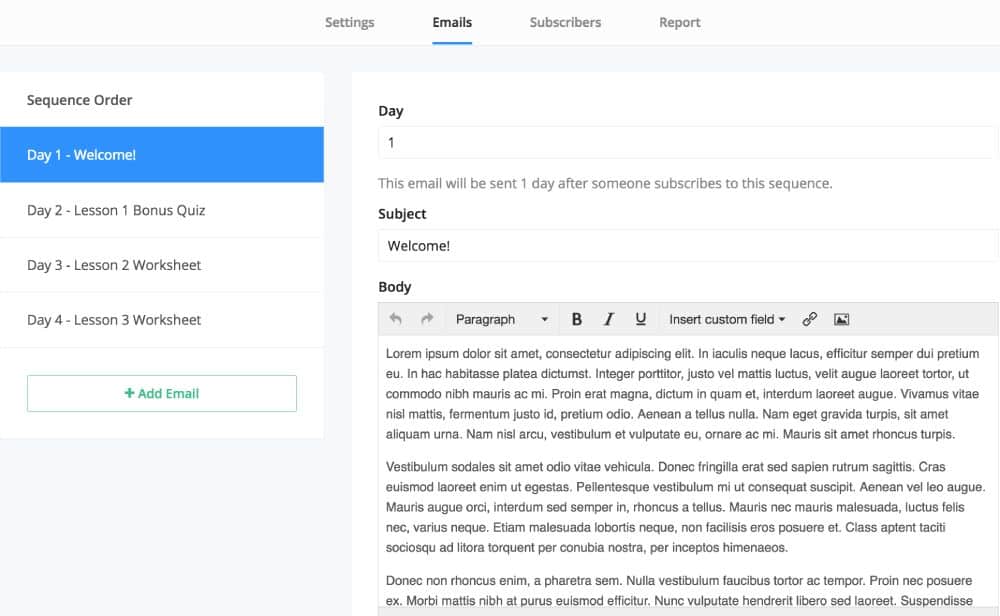 Courses and Membership Sites
Kartra allows for the creation of attractive membership sites. It provides video and audio tools to facilitate uploading content. There are size limits on uploaded content on membership sites, depending on the pack chosen.
The membership site builder has multiple payment options, enabling content creators to process payments through various gateways. Additionally, the platform will generate usernames and passwords and create login pages upon registration.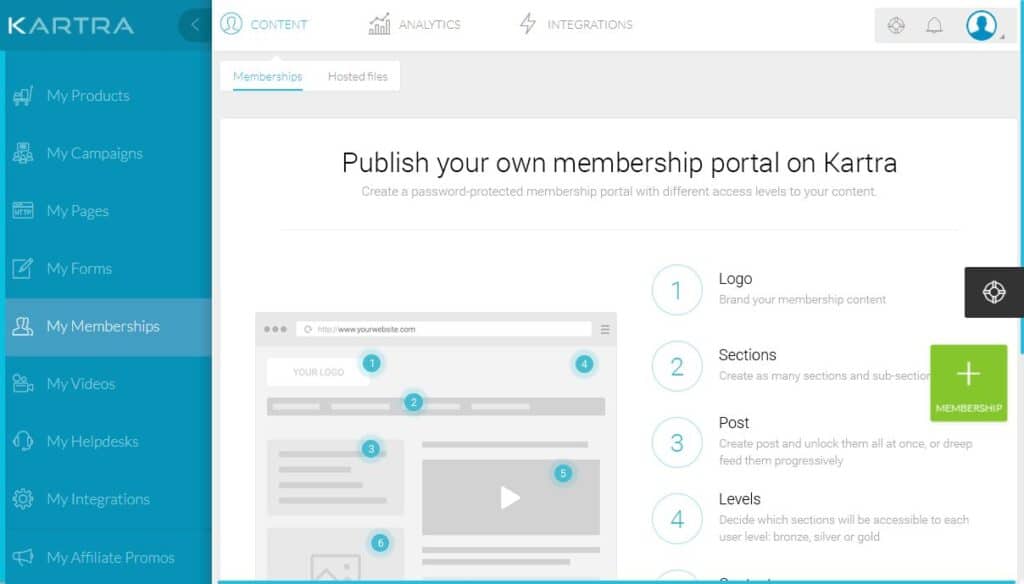 Kajabi offers powerful tools for creating membership sites, providing an effective platform to produce the highest quality courses.
The product themes provided allow users to customize the page in accordance with their preferences. Additionally, the site has a media player which enables users to add audio, pdf documents and videos.
Kajabi facilitates the addition of a range of features to membership sites, from social media links and custom domains, to FAQ sections and comments sections. Additionally, every feature is fully optimized for creating courses.
OpenVid does not have a limit on streaming and downloads, making it well-suited for online course creators.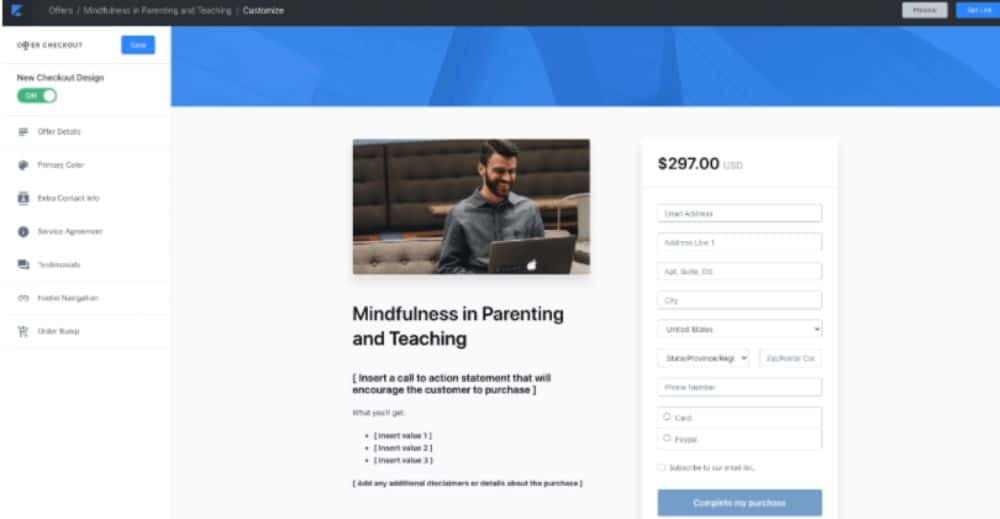 Kartra's lead generation tool collects customer information and behavior, helping you understand how customers are interacting with your website and product. Kartra's unified lead system, Kartra Lead, provides an overview of all your collected data in one place. This allows you to easily evaluate if your sales funnel is performing as intended.
Kartra's lead score feature helps businesses identify their most profitable customers. It also includes a lead tracker to monitor leads' progress so any issues with the product page can be identified. This assists in maximizing sales opportunities.
Kajabi's lead generation system operates on a contractual basis, permitting contacts to be either leads or clients. Additionally, it enables importing contacts from third-party applications through its integrations, allowing for the importing of contact segments or whole lists.
With a single click, you can use tags, grant offers and subscribe your leads to your marketing campaigns. This tool also has powerful analytics to track and observe your leads, collecting information about their behavior. With this insight you can plan your next move and identify areas for improvement.
Kartra's sales funnels feature offers the ability to craft custom funnels and provides pre-made templates for partial or full edits.
Kartra's Done For You campaign provides users with sales funnels that are pre-configured with automation, email marketing, pages, tagging and other features. After importing this feature, users do not need to take any further action to make the funnel operational.
Kartra allows users to both purchase and sell campaigns from other users. Additionally, members can also export and use existing campaigns from other members.
Kajabi's Pipelines funnel builder offers a variety of features, plus templates that organize the sales funnel layout. Additionally, Kartra provides more advanced features for this tool.
The sales funnel allows for customization, allowing you to edit individual sections or to construct one from the ground up. Basic customizations are available.
Kartra features a comprehensive customer support system with a dedicated helpdesk. This includes training portal, Facebook group, live support, and emailing support to provide answers to queries around the clock. Service is available every day of the week, 24*7.
Kartra's helpdesk provides a range of services, such as ticketing and knowledge base management, removing the need for any additional help desk management tools. Moreover, its Calendar integration allows customers to book appointments.
Kajabi does not have a dedicated helpdesk solution, however 24/7 live chat is available to assist users with any queries. Additionally, there are video training materials which provide an introduction to the platform features and builders.
Kajabi does not have a Calendar feature, meaning that customers are unable to make real-time appointments. They can contact the company by email should they need to report an issue.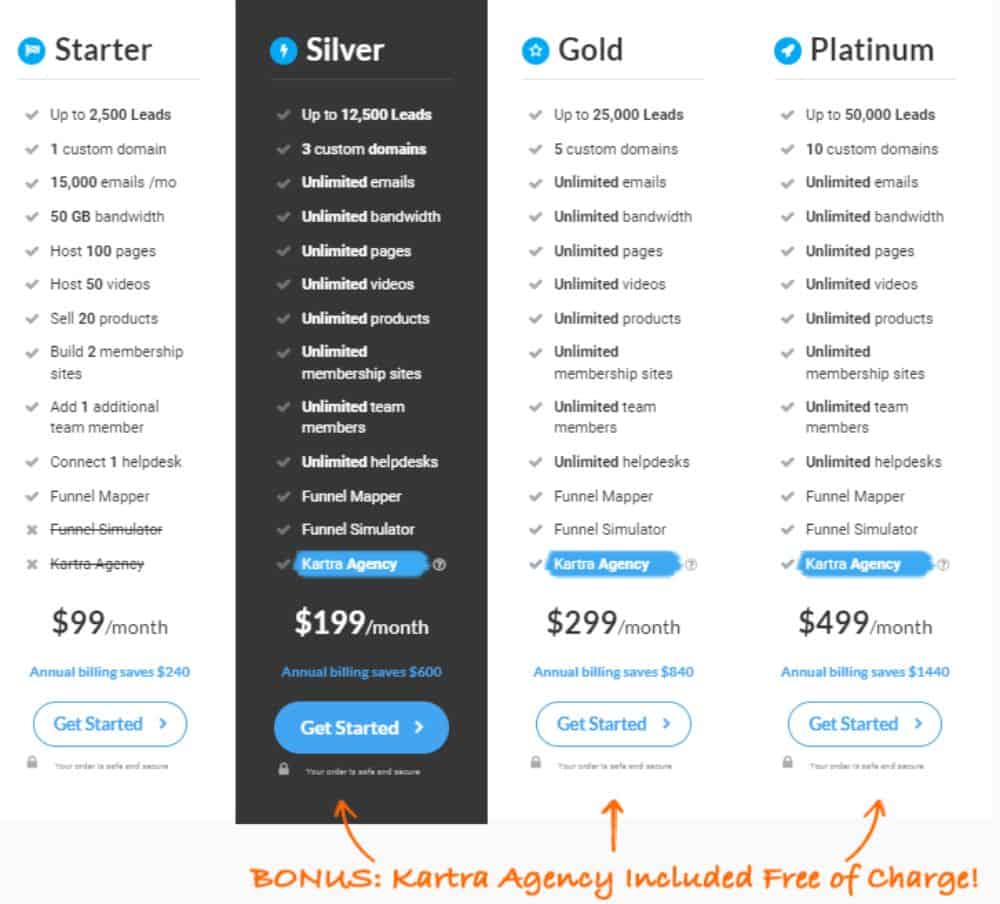 Starter plan – $99/month
There are up to 2,500 potential leads.
One custom domain.
Send 15,000 emails per month.
Fifty gigabytes of video bandwidth.
Hosting 100 pages.
There are twenty products.
Create two membership sites.
Add one additional team member.
Assistance is available from the help desk.
Silver plan – $199/month
The maximum number of leads is 12,500.
There are three custom domains.
An unlimited number of emails.
There is no limit to the bandwidth.
Create an unlimited number of pages.
An extensive selection of products.
Subscription sites with unlimited access.
Team membership is unlimited.
Helpdesks with no limits.
TheKartra Agency provides services.
Gold plan – $299/month
The Silver plan has the same features, except for…
There is potential to reach up to 25,000 leads.
There are five custom domains.
Platinum plan – $499/month
The Silver plan is the same except for…
There is a potential for up to 50,000 leads.
There are 10 custom domains.
Kartra offers discounts of up to 25% when paying for plans annually.
Kajabi offers three subscription plans, each with their own features.
Landing pages with no limit.
Unlimited email access.
If you don't wish to keep the Kajabi subscription, you have the option of cancelling within 30 days and obtaining a refund.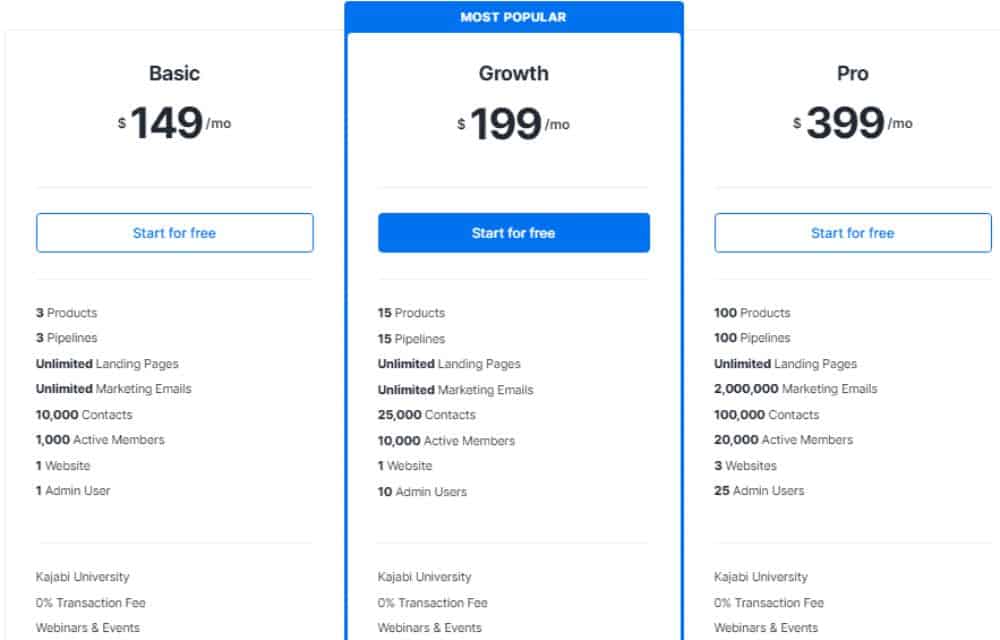 Basic Plan – $149/month
Develop and market three products.
There are three pipelines.
10,000 contacts have been recorded.
One thousand students/members.
There is one website.
There is 1 admin user.
Growth Plan – $199/month
There are fifteen products.
There are 15 pipelines.
There are 25,000 contacts.
The membership count is 10,000.
There is one website.
There are 10 administrative users.
Pages should have their Kajabi branding removed.
Automation Accessibility
Affiliate management is the process of managing affiliations.
Chat Support is available 24 hours a day, 7 days a week.
PRO Plan – $399/month
There are 100 products.
One hundred pipelines.
There are 100,000 contacts.
The organization has 20,000 members.
There are three websites.
There are 25 administrative users.
Pages should not display Kajabi branding.
Automation Access
Affiliate Program Management is a service offered.
Chat Support is available 24/7.
Editing themes is a task that can be done in many programming applications.
Admission to the Experts Academy is available.
Get a 20% discount when paying for Kajabi's plans yearly.
Karta vs Kajabi – The Pros and Cons
This website builder has world-class features.
This platform provides a variety of customizable templates.
Automation triggers have been created for all tasks.
This platform provides advanced features for email marketing.
Offers pricing plans suitable for beginners.
Provides detailed analytics.
There are various payment gateways available.
This product is not tailored to course creators.
Provides average student experience.
There are no quizzes or assessments.
No student data is available.
The starter plan has a bandwidth limit.
No free trial or free plan available.
The platform provides features for creating and promoting courses with high scalability.
Use pre-built templates to develop marketing funnels.
Email marketing and automation capabilities are available.
Students can expect an uninterrupted experience with minimal distractions.
Webinars can be conducted via live streaming, pre-recording or scheduling.
Kartra is more affordable than other options.
Certificates of completion are not available.
Payment gateways are limited.
Which Tool Is Right for You?
Kartra and Kajabi are both powerful platforms with different capabilities. Kajabi is suited to building online courses, whereas Kartra provides additional features such as marketing, selling, customizations, and automation. To create online courses, Kajabi is the better solution. If the user wishes to utilize the other features provided by Kartra too, it is likely their best option.
Choose Kartra if: If you're on a budget or starting out, you can access unique marketing features such as advanced OTOs and behavioral adaptive marketing.
Kartra is competitively priced at $99/month and it provides additional features compared to Kajabi.
The platform features ready-made campaigns that can be copied to your account, allowing you to save time and effort.
Kartra users have the ability to share campaigns and sales funnels with others through the platform's "share" feature. Video-based marketing is possible on the platform and users can create pre- and post-videos as well as CTAs for audience engagement.
Choose Kajabi if: If you are looking for a premium platform with advanced automation features and community capabilities, then this is the right choice.
This platform has a monthly cost of $149 and contains advanced features at the lower tier plans, making it an option for those who want more sophisticated features than Kartra's offer.
An alternative approach to creating a community around your course is using a platform such as Kajabi, which provides access to comment sections under lectures. This enables you to engage with students, answer questions and receive feedback on your content.
The platform provides multiple assessment options for courses, including quizzes and surveys. Automation functionality can be utilized on a lecture-level for sending emails or notifications to students at predetermined intervals during the course.
Kajabi includes a blog platform. Course creators can create blogs using various templates, which may increase SEO traffic when correctly optimized.