This is our review of Landingi.
Landing pages are necessary for any modern business, and it is important to have the appropriate tool to assist in their creation.
Many landing page software options do not meet expectations. Landingi is a popular tool to consider when choosing a landing page solution.
This review will provide an analysis of Landingi, a landing page platform, including its pros and cons.
Based on this article, you can determine if it is suitable for creating effective marketing funnels.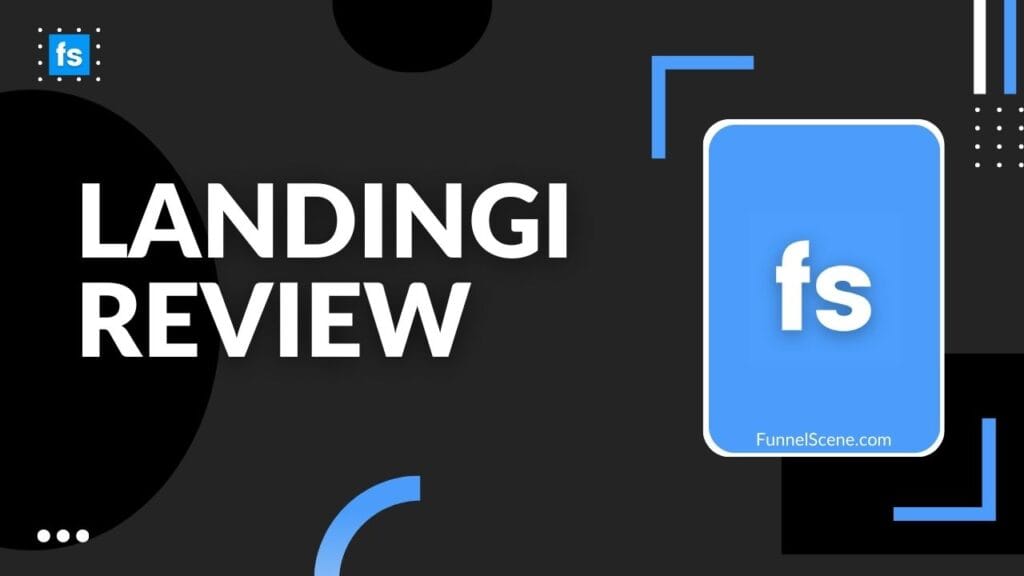 What is Landingi – An Overview
The Landingi platform is a drag-and-drop landing page builder that allows users to create and optimize landing pages for improved conversions. It also offers features such as popup creation, sales funnel integration, and A/B testing to help businesses maximize sales and optimize their performance.
Landingi is an affordable platform that offers advanced conversion-focused features. Additionally, it allows you to create highly convertible landing pages and other assets for your business without requiring design skills or technical knowledge.
In the next section, I will examine the key features of Landingi to help you determine if it provides the required features for your business. If you'd like to explore the platform as you read this review, you can sign up using the provided link and take advantage of a 14-day free trial (no credit card required).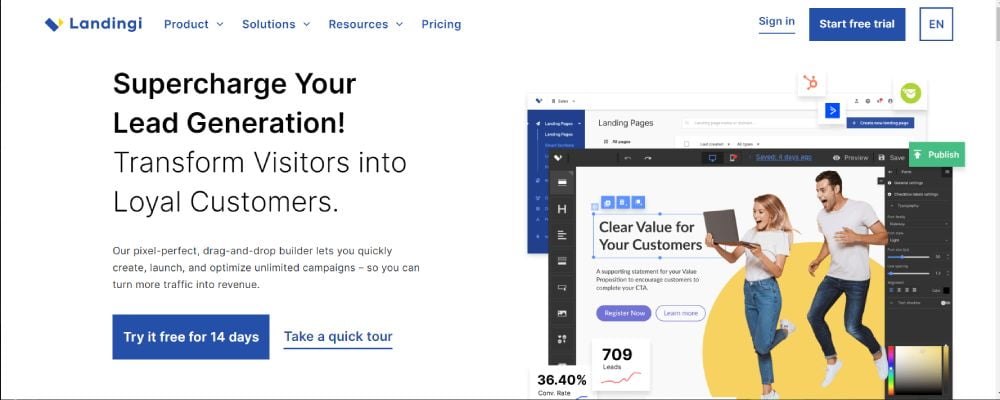 The use of landing pages is widely regarded as the most effective method for generating leads. It is a commonly accepted fact that only 22% of businesses are satisfied with their current conversion rate.
It is time to start using landing pages as they have been proven effective.
Landingi provides a comprehensive and powerful tool for creating landing pages. It offers a user-friendly, drag and drop interface that does not necessitate any programming or design expertise. Users have the freedom to place, resize, and move every element on their landing pages.
If you have limited design skills, you can utilize the free templates provided on the Landingi platform. These templates have been carefully designed to optimize conversion rates and provide a user-friendly experience. Additionally, they can be fully customized for both desktop and mobile devices.
Landingi is a platform that can be used without any coding skills. However, if you have knowledge about coding, you can further customize your landing pages with custom JS, HTML, or CSS codes.
This Platform has the potential to make you more independent in the field of IT.
Creating a landing page typically requires coordination with designers, programmers, and copywriters, as well as multiple rounds of revisions, which can take anywhere from a few days to a few weeks.
Utilizing templates and generating original content can significantly reduce the amount of time and effort required, and the affordable pricing for platform access (starting at $29/month) adds to its attractiveness.

What Makes Landingi Powerful?
Landingi provides a comprehensive set of features, including a varied range of templates and free images, flexible options, and no restrictions.
A flexible offer
Landingi offers seven different plans for businesses and agencies, including Core, Create, Automate, Suite, Consultant, Agency, and Agency Pro.
Customers have the option to select a tier that meets their specific needs, avoiding unnecessary expenses on unused items.
You have the option to choose your preferred payment frequency, either monthly or yearly. If you choose the yearly option, you will receive an additional 25% discount.
Rich template repository
A landing page platform is only effective when it includes dedicated templates.
Landingi provides 150 professionally designed templates for all users, along with an additional 50 premium templates for Create and higher plans, resulting in a total of 200 templates for a wide range of purposes and industries.
Image, font and icon library
Landingi can offer help in obtaining more stock photos if necessary.
The library contains over 5,000 free images divided into 10 categories, as well as a collection of more than 800 fonts from the Google Fonts library and 800 icons.Utilize them to create distinct landing pages for every occasion
Landingi Review: Key Features
In this section, we will explore the following list of features that Landingi provides.
Landing Page Templates
Page Builder
PageInsider
Pop Up Builder
Funnel Builder
A/B testing
Analytics & Reporting

1. Landing Page Templates:
Landingi has over 400 landing page templates for all your campaign needs.
Furthermore, templates are available for creating your funnel. Funnels are a series of steps that guide visitors to becoming potential customers. To create this journey, you can utilize squeeze pages, sales pages, upsells, and thank you pages to identify and capture leads that can be converted.
With this set of pixel-perfect designs, you have the ability achieve your goals without any limitations. All you need is a clear understanding of your needs, select a template, write an engaging copy, and publish. Landingi will handle all the necessary work for you, allowing you the opportunity sit back and relax.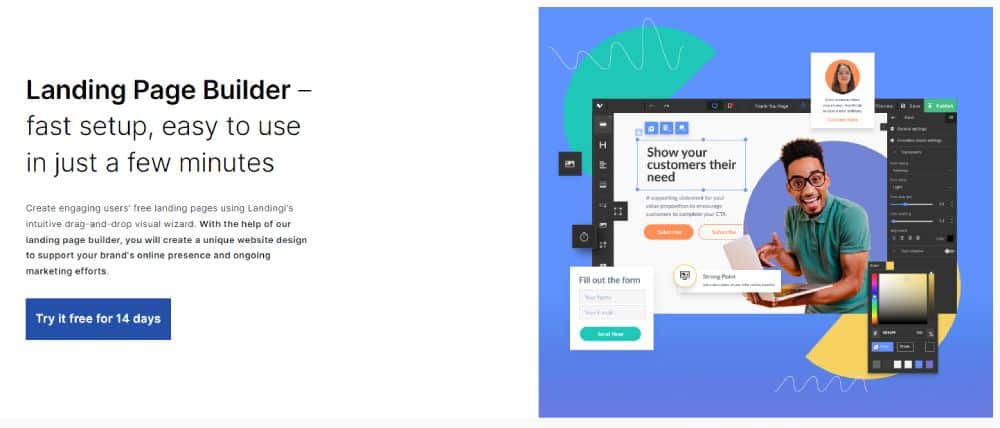 2. Page Builder:
Landingi provides a user-friendly drag-and-drop editor for creating landing pages and thank you pages. Text customization can be easily done by double-clicking on any text and accessing the settings on the right sidebar.
Landingi offers a variety of widgets, including sections, text, forms, payment buttons, videos, counters, images, icons, and CTAs, among others. Additionally, advanced functionalities such as embedding HTML and CSS codes are available for custom styles.
One of the notable widgets to mention is the Smart Section. This feature allows you to easily add and update the same section across multiple landing pages with just one click.
Both the desktop and mobile view are important factors to consider. Any changes made on the desktop version will also impact the mobile design. You have the option to switch to mobile view and make manual adjustments, or you can click on the "rebuild mobile" button to automatically optimize the page design for mobile devices.
Landingi's page builder has a drag-and-drop feature that makes it easy for anyone to create beautifully designed, conversion-optimized landing pages.
3. PageInsider:
PageInsider is Landingi's AI technology that is specifically designed to enhance the conversion rates of your landing pages. It includes a heatmap generator known as Smart Maps, which utilizes predictive eye technology based on deep learning.
The heatmap analysis tool does not rely on traffic data like other heatmaps. Instead, its AI algorithm utilizes pre-recorded data from actual tracking studies to quickly generate the heatmap.
You have the option to test both your landing pages and thank pages first. After selecting the desired page, the PageInsider begins its analysis, which may take a few minutes.
After the analysis, heatmaps and clarity scores can be used to visualize the engagement levels and areas for improvement on your page.
Additionally, the Clarity Score provides information on the intuitiveness, clarity, and accessibility of your landing page to visitors. It also indicates the benchmark required for future page upgrades.
Whether you want to enhance CRO, validate design concepts, evaluate project performance, analyze benchmarks, or test marketing pages for A/B testing, Landingi's PageInsider is the ideal tool for you.
4. Popup builder
The process of building popups is similar to that of landing pages. It offers over 50 pre-built popup templates that are aesthetically pleasing and cater to your specific goals.
Increasing the number of subscribers on an email list.
Increase revenue with cross-selling and discounts.
Join the fun and win prizes!
Contact us through various methods: Virtual Appointments, scheduled calls, feedback, and more.
Depending on your marketing objective, you have the option to select a suitable template and customize it using the drag-and-drop editor provided.
The display rules for popups can be adjusted to create a customized user experience for visitors based on their engagement. There are three available options to establish a rule.
Where do you want the popup to appear – on your landing pages or external websites?
Choose actions for your popup: Time on site, Scroll, Exit, Click.
Choose how often you want your popup to appear: every visit, first visit only, after a certain number of visits, or on 'X' visits.
Once you've set up the above steps, your popup is ready to engage with visitors. It will be published automatically on your landing page, but for external websites, you'll need to install the code.
5. Funnel Builder
Landingi allows users to create landing pages and integrate them to form conversion funnels.
It allows for the creation of funnels in two different ways.
After submitting the form, visitors will be redirected to another landing page.
You can redirect visitors to different pages by clicking buttons.
The landingi funnel building functionality is limited as it lacks a dedicated section for managing and tracking funnel performance. Users must rely on their analytical abilities to gather data from connected landing pages and analyze funnel conversion rates.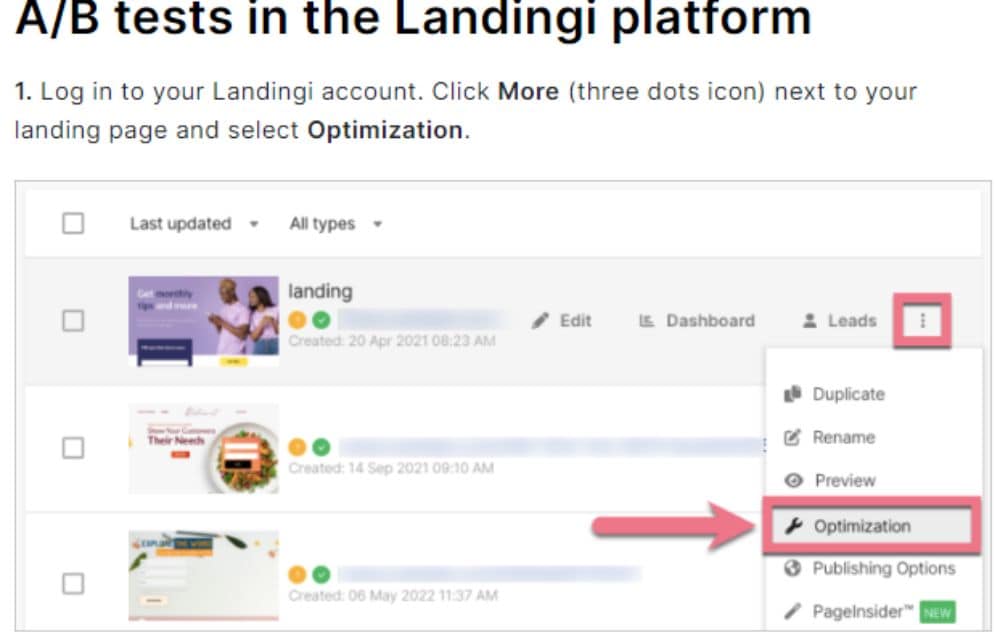 6. A/B Testing
In Landingi, A/B Testing helps you compare different landing page versions to choose the best converting one. Just select the main and additional variants, then distribute traffic to both.
Choose how you want your test to end by selecting one of these options –
You have the option to manually stop the test at any given time.
After 'X' visits, it will happen automatically.
After a certain number of conversions, the process is automated.
After a certain number of days, it will happen automatically.
After specifying all the details, the A/B test can be initiated. The test will conclude based on the chosen condition, and the winner/champion will be determined from the tested variants.
A/B testing is easy. Just go to the test management panel to see how each variant performs.

7. Analytics and Reporting
Landingi includes basic built-in analytics features. On the dashboard, users can access data on visits, leads, conversion rate, and sales by selecting the desired date range.
Additionally, for a more comprehensive understanding of the performance of your landing pages, integration with prominent analytic software such as –
Google Analytics
Heap Analytics
Yandex Metrica
Mixpanel
Hotjar
Kissmetrics
In addition, it provides support for tracking various platforms such as TikTok Pixel, Facebook Conversions API, Pinterest Tag, LinkedIn Insights, and more.
Landingi Analytics reporting is less extensive compared to other landing page builders such as Unbounce and Instapage. However, Landingi offers free analytics tools and affordable pricing plans, making it a worthwhile option.
However, it would be beneficial for Landingi to include an in-built analytics tool to offer a comprehensive solution for users who may not be proficient with analytics tools.
Landingi Review: Integrations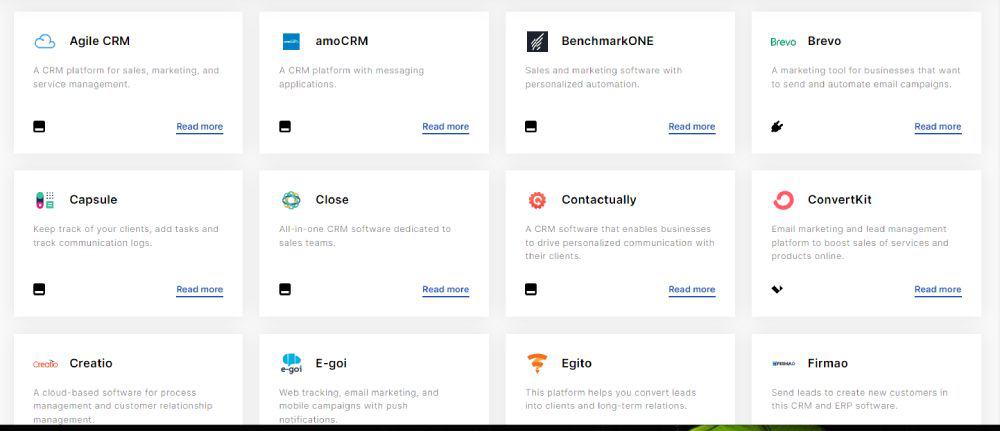 Landingi provides three integration options.
Integrations can be accessed through the platform and editor.
External integrations can be implemented using Javascript or HTML code.
Integrations are available through Zapier.
These are the various types of tools that can be easily integrated with Landingi.
CRM – The available software options include Mango, Egito, Salesforce, Agile CRM, Zoho, HubSpot, and others.
Email Marketing –Popular email marketing platforms include Mailchimp, SendGrid, GetResponse, Campaign Monitor, Mailerlite, SendFox, and ActiveCampaign.
Callback & Chat – The available messaging platforms include Freshchat, Facebook Messenger, Intercom, Whatsapp, and CallPage.
Analytics & Tracking –Some popular web analytics tools include Yandex Metrica, CrazyEgg, Google Analytics 4, Universal Google Analytics, Heap, Facebook Conversion API, and Tiktok Pixel.
Ecommerce – The Shopify Buy Button and SendOwl allow for accepting payments through Stripe, PayU, and PayPal.
Others – Some of the tools and platforms used include LeadByte, Ohmylead, 123 form builder, Slack, Gmail, MySQL, Webhook, WordPress for publishing, VWO, and more.
It is clear that there are many integration options available to make your landing pages dynamic and interactive.

Landingi Review: Customer Support
Landingi is a platform that provides thorough support to its users, both before and after onboarding. It offers a wide range of helpful guides in its help center to assist with resolving common challenges.
If you need assistance, you can reach out to their support team through email, chat, or phone customer support during their operating hours.
Landingi Review: Pricing & Plans

The pricing plans for Landingi are primarily determined by three factors-
Visits are counted once.
Custom domains: quantity.
Number of users.
Here is a breakdown of the pricing plans.
Lite plan – The cost is $29 per month for 5,000 visits and includes 1 custom domain.
Professional Plan – For $49 per month, you can receive 50,000 visits and have access to 10 custom domains.
Agency Plan – The pricing is $149 per month, and it includes 50,000 visits and 20 custom domains.
Unlimited Plan – The price for this package is $1000 per month and includes unlimited visits and 100 connected domains.
All plans include features such as unlimited landing pages, conversions, a drag & drop editor, over 300 templates, secure cloud hosting, forced SSL, a WordPress plugin, basic analytics, dynamic content, and a payment button.
The basic plan does not include popups and lightboxes, but the higher plans offer additional CRO-focused features such as autoresponders, funnels, A/B testing, and PageInsider.
Landing provides a 14-day free trial and a 30-day money-back guarantee for all its plans. If you think it meets your requirements as a landing page builder, please sign up and start exploring it today.
Landingi Review: Pros and Cons
Now that you've got a clear picture of what all Landingi has to offer, here are a few pointers highlighting the ups and downs of the tool.
Pros of Landingi –
Access to 400+ responsive landing page templates
Unsplash integration to browse and upload images quickly
Reuse the same section in any landing page using smart sections
Ability to grow your funnel via different targeting options
Improve personalization in your landing page via dynamic text
Automatically send responses to visitors when they complete the form
Tons of integration options
Customer support is available on all the paid plans
Cons of Landingi –
The mobile editor is slightly clunky.
No unlimited unique visits, even on higher plans.
There are more restrictions for features on the Starter plan.
Final Verdict – Is Landingi Worth it?
Landingi is a landing page builder that offers tools for creating attractive landing pages, popups, and marketing/sales funnels, making it easier to generate leads, increase conversions, and sell digital products/services.
Landingi is the affordable and powerful landing page building tool for business owners, marketing gurus, and agencies to strengthen marketing campaigns.
Sign up for Landingi, no credit card needed.
This article provides an overview of Landingi and its features to assist you in making a decision. If you are interested in trying the tool, you can sign up using the button above and receive a 14-day free trial without the need for a credit card. Feel free to sign up now.
Landingi Frequently Asked Questions (FAQs)
Below are some frequently asked questions about Landingi-
1. Does Landingi offer a Free plan?
Landingi does not offer a free plan, however, they do provide a 14-day free trial that can be accessed without the need to provide payment details.
2. What payment methods does Landingi support?
Landingi integrates with Stripe, PayU, and PayPal for easy payment acceptance on your landing pages and Popups.
3. What do you get in Landingi free trial?
You can try Landingi for free for 14 days. It allows unlimited landing pages, but has a limit of 200 unique visits and four custom domains. You can upgrade or extend your plan.