In order to fully comprehend the potential benefits of switching to a different online course platform, it is essential to first gain a thorough understanding of New Zenler and its capabilities.
New Zenler is a comprehensive platform that offers course creation, promotion, and publishing services to businesses of all kinds.
The platform offers a range of tools that allow for the creation of online courses, marketing funnels, email automation campaigns, website design, community building, and live sessions hosting.
Using these tools from a central location eliminates the need for multiple plugins, resulting in improved website performance and a better learning experience.
Now, let's discuss some of the primary reasons why seeking alternative options may be necessary.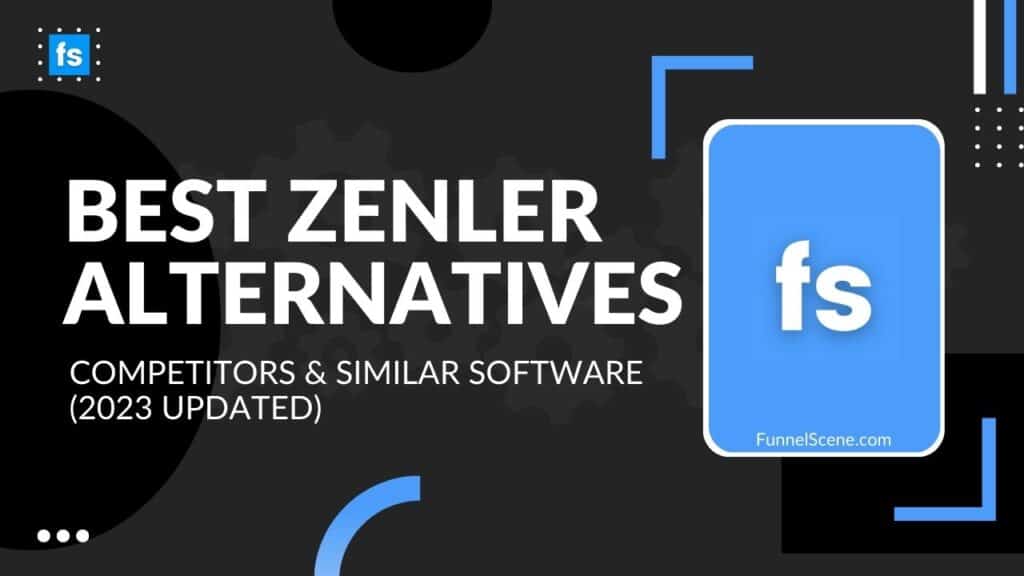 Why you should consider Zenler alternatives
Although Zenler provides templates, their design and creativity are limited, which can impact the user experience. If you're seeking a platform that enables you to develop a comprehensive learning experience for your members, Zenler may not be the best option.
Before launching your course on Zenler, it is necessary to work extensively due to its complexity. However, gamification features to engage members and encourage retention are not available.
Due to the lack of mobile app features on Zenler, users may not visit your website frequently, which could result in decreased retention and loss of interest.
Zenler has limited email design options, which may result in less unique newsletters.
1. Scenes
2. Teachable
3. LearnWorlds
4. LearnDash
5. Thinkific
6. Ruzuku
7. SamCart Courses
8. Kajabi
9. Mighty Networks
10. Podia
11. Udemy
12. Tribe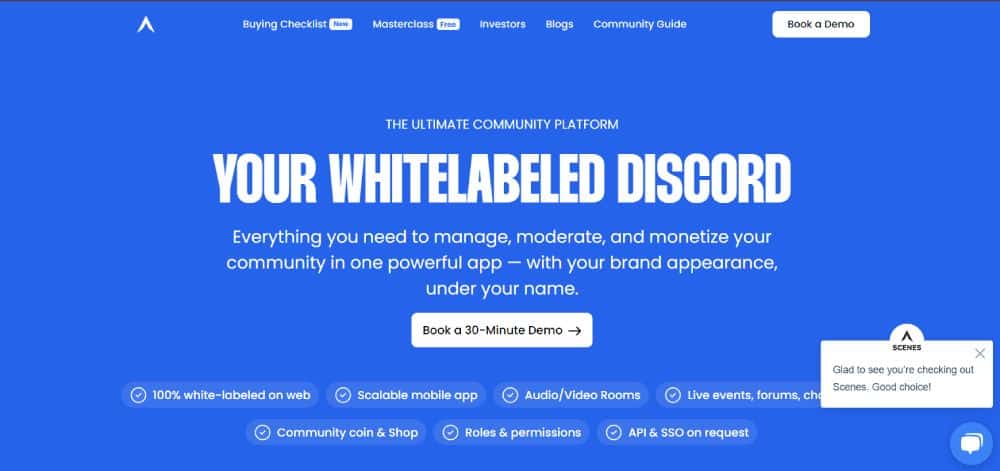 Scenes is a community platform that offers features for building and managing your community, including the ability to sell courses and host live events. It allows for moderation and monetization, all under your brand appearance and custom domain. Additionally, Scenes can generate a mobile app that can be listed on the Play Store and App Store.
Scenes Features
High level of customization: The platform Scenes allows users to easily incorporate their own domain, branding, and maintain consistent colors and UI through custom CSS.
Built-in store: The platform offers a built-in store for selling various products such as courses, digital goods, and merchandise. Additionally, it has the lowest transaction fees compared to similar platforms.
Push notifications on mobile: With over 60% of internet users worldwide accessing the internet via mobile devices, it's important that your community members have access to your platform while on the move. Using push notifications through a mobile app can help keep your users engaged no matter where they are.
Pros
Our product is available in various formats and avatars, including web apps, native whitelabeled apps on Android and iOS, integrations within existing apps, and API-based integrations.
Scenes utilizes advanced auto-scaling technology to ensure optimal speed for your community, regardless of the number of visitors across various platforms. The platform scales accordingly to accommodate your growth.
This platform allows for custom CSS to customize user interface design to match the look of your app or website, providing granular-level customization options.
The platform includes a coin system that can provide incentives for community members to increase engagement.
Our platform offers live audio-video features for events, webinars, and classes, with the added convenience of member notifications and RSVP options.
Cons
It is possible that there may be a decrease in membership during the platform migration process.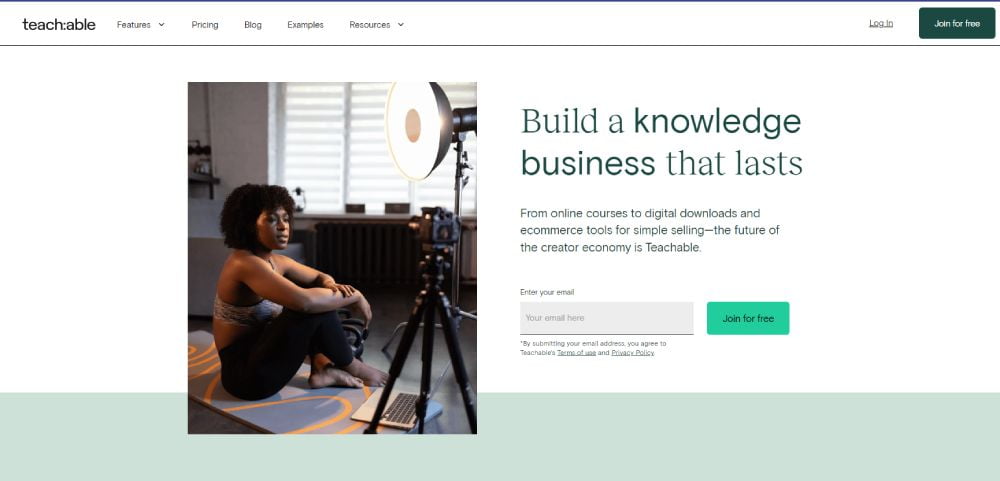 Teachable is an online platform that provides various features such as course creation, coaching services, web hosting, and payment processing. It allows users to share their expertise and improve their business productivity. The platform handles branding and provides access to necessary tools for course creation and sales.
The platform offers customizable tools that can showcase a brand's unique perspective and personalize their content. Its features include custom domains, integrations, coaching sessions, a comprehensive dashboard for tracking sales and student insights, and the ability to create profitable sales. Additionally, the software facilitates productive team collaboration by defining roles to support team members, authors, and contributors.
Teachable Features
 Drag and drop builder:
Teachable's course building process may initially seem overwhelming, but tutorials are available to simplify the process.
Quizzes: Including multiple choice questions in lectures allows students to evaluate their understanding and progression of the material.
Promotional offers: One method to boost sales on your courses is by offering discounts through the use of coupon codes.
Pros
The course creation features are highly effective.
The offer includes unlimited courses, bandwidth, and students.
The product design is intuitive.
The page builder has an extensive range of features.
Various payment methods are available for students, including PayPal, Google Pay, and Credit/Debit Card.
Our pricing plans are designed with beginners in mind.
Cons
The software has a limited range of sales and marketing features.
There are no automation features included.
The transaction fees are high.
There are no extra website themes available.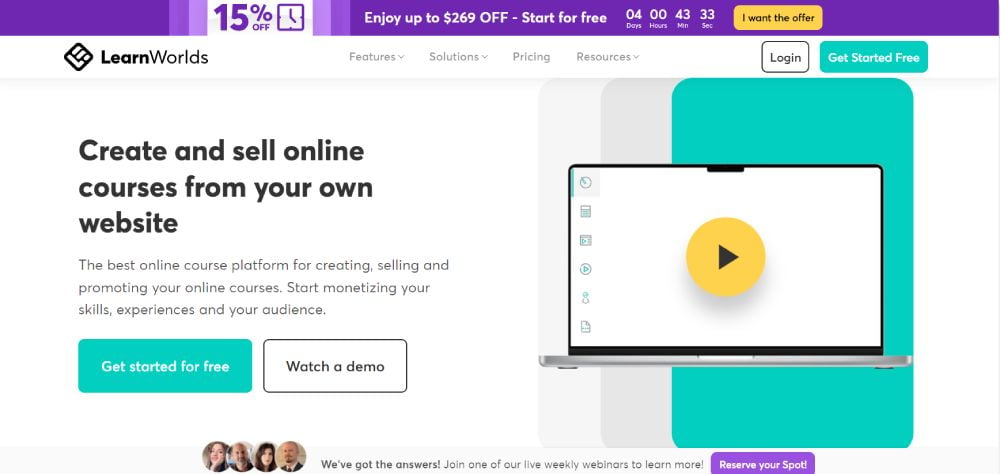 LearnWorlds offers a variety of course creation features, including content hosting, quizzes, content dripping, certificates, and more. It is not a typical hosted course platform.
The platform provides multiple tools to generate interactive learning opportunities.
The incorporation of interactive videos into your course.
The process of designing e-books with interactive features.
Hosting virtual meetings through the platform Zoom.
The creation of a learning community that is actively involved.
LearnWorlds offers a unique capability for creating interactive online courses that is not found in other hosted course platforms.
In my opinion, LearnWorld's website building and customization features are superior to Teachable.
LearnWorlds Features
Offers gamification tools: Badges can be used to recognize efforts and encourage positive behavior.
In-built shop: This platform allows you to showcase the specifics of your courses and market them in a single location.
A broad range of assessment tools: Assessments are used by educators and students to measure learning progress.
Pros
LearnWorlds offers the option to establish student communities where members can exchange experiences, ideas, and knowledge.
LearnWorlds' course builder enables students to engage with course content and have a positive learning experience.
LearnWorld's live online classes promote interactive sessions and encourage discussions among students.
Cons
The interface of LearnWorld can be challenging to navigate, and there are currently no available tutorials to aid in the initial setup process.
LearnWorlds has a limited selection of email management and funnel-building tools.
Users of LearnWorld have reported issues with certain features not functioning properly when courses are published, which may negatively impact the learning experience.
LearnWorlds requires numerous integrations and additional management, which may divert your attention away from your business operations.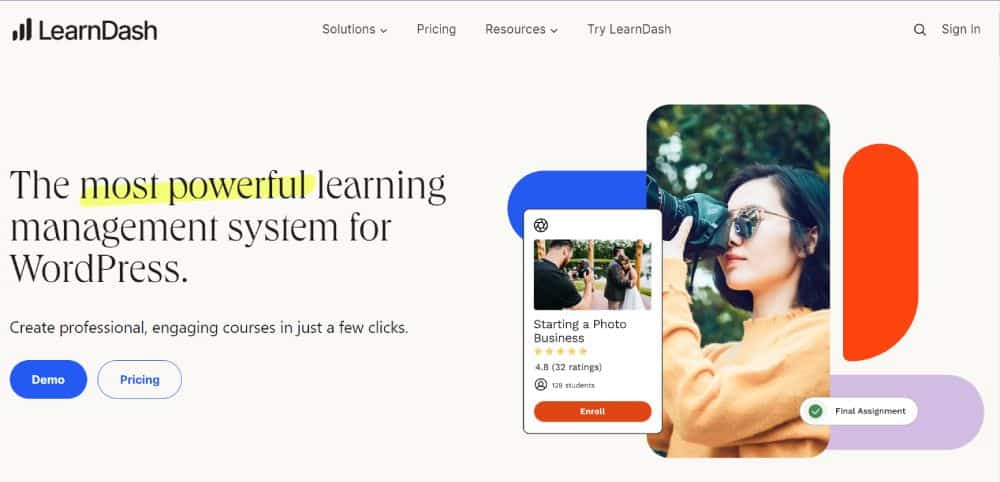 LearnDash is a well-known plugin for learning management systems (LMS) that enables the creation and sale of courses on WordPress sites.
LearnDash Features
The core plugin provides comprehensive features for creating courses, which include:
The course builder utilizes a drag-and-drop function.
There are tools available for advanced quizzing.
There are tasks that need to be completed.
The items offered are badges and certificates.
Content dripping is a marketing strategy that involves releasing content gradually over a period of time.
Factors that initiate commitment.
Additional features can be incorporated into your online courses through add-ons. LearnDash has a vast array of third-party plugins, offering limitless extendability for your LMS.
Although LearnDash does not have built-in note-taking capabilities, it is possible to integrate with Notes for LearnDash to add this functionality.
WordPress LMS offers greater flexibility and extendability compared to Teachable.
It should be noted that utilizing LeanDash and WordPress to develop a course requires a significant level of technical proficiency. The management of hosting, security, updates, and maintenance for the training platform can be a daunting undertaking for course creators without technical expertise.
Pros
The video preview feature provides students with a preview of video lessons, enhancing the engagement level of the course.
The quiz builder provides flexibility in creating questions and answers.
The platform offers gamification tools to increase member engagement in courses.
Cons
The URL structure is complex, which presents challenges for SEO. Shortening it is not possible.
There is a learning curve associated with adapting to the new features. It may take some time to become familiar with them.
This platform operates solely on WordPress, requiring proficiency in its functionalities.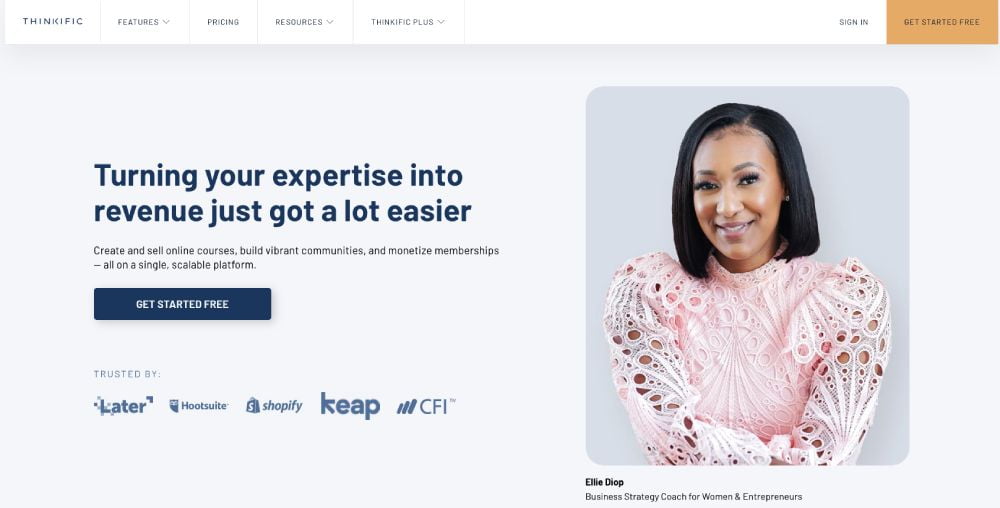 Thinkific and Teachable are two platforms with similar capabilities, and Thinkific is considered to be one of the most popular alternatives to Teachable.
Thinkific offers a range of services, including hosting course content, building a curriculum, delivering content, creating a website, and selling courses, similar to Teachable.
Thinkific outperforms in a few specific areas.
Thinkific Features:
The platform provides various assessments such as quizzes, engagement surveys, assignments, exams, and certificates.
Our progress tracking feature provides detailed reports to monitor student progress.
The platform offers the ability to provide live lessons through audio and video, allowing for real-time interaction with students via integration with Zoom.
There is a notable distinction between the two platforms regarding the Thinkific App Store, which offers various third-party apps to enhance the features of your course platform.
While Thinkific excels in many areas, its sales and marketing capabilities could use improvement, particularly in terms of optimizing the checkout process and handling taxes.
Thinkific offers a range of pricing plans, including a free option. The paid plans begin at $49/month, while the most commonly chosen plan is priced at $99/month.
One advantage of its pricing is that it does not impose transaction fees on any of its plans, unlike Teachable.
If you are seeking improved learning and engagement tools or site-building capabilities, Thinkific may serve as a suitable alternative to Teachable.
 Additionally, Thinkific offers the ability to expand its capabilities through the use of apps.
Pros
The user interface on Thinkific is designed to enhance the experience of running courses.
The support system offers quick responses to customer inquiries and issues, and includes a Facebook group consisting of Thinkific customers.
The interface allows for the design of the access portal, courses, and payment methods without requiring third-party integrations.
Cons
In order to effectively run courses in 2023, an LMS needs to have comprehensive community engagement capabilities. Thinkific is currently lacking key features such as gamification and incentive systems.
Managing multiple cohorts in the same location may become challenging as your courses expand and offer more diversity.
The pricing is higher than other options and may be unclear to some.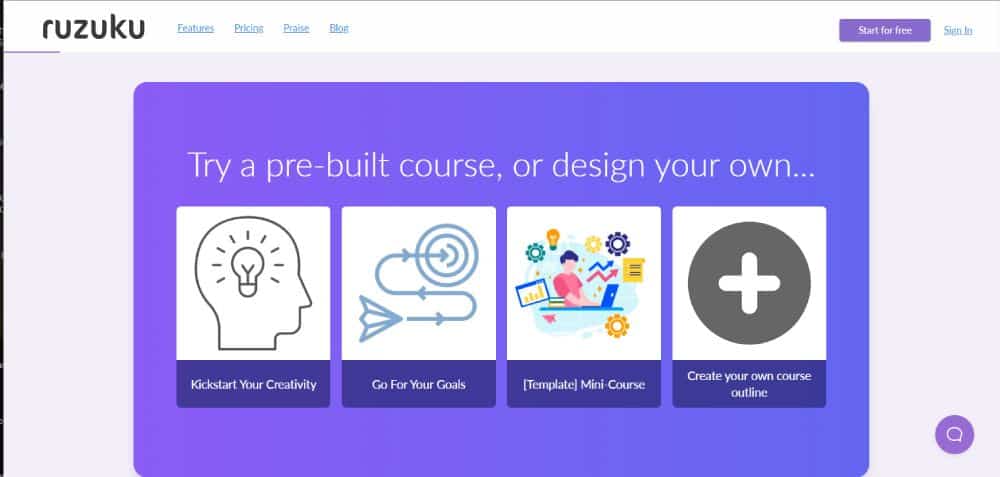 The online platform, Ruzuku, allows students worldwide to take courses uploaded by educational institutions. It facilitates tracking of student progress and managing financial transactions, resulting in improved interactions between students and professors, and increased prestige for institutions.
Ruzuku Features
The tool enables users to create and manage various types of course content, such images, videos, quizzes, and lists, without requiring any coding skills.
Tracking student progress through courses is an important function for online tutors to have access to, through the use of course analytics.
Our subscription system offers flexibility, allowing you to select whether you prefer a monthly or annual billing cycle.
Pros
The system allows students to indicate when they have finished each activity and monitor their own advancement.
The platform offers a user-friendly interface for creating online courses and customizing payment options, including setting prices for each course.
Ruzuku is capable of managing both enrollment and payment processing, ensuring that students are charged accurately according to their selections and your course pricing schedule
Cons
It is not possible to provide a trial version of the course.
There is currently no centralized forum available for promoting ongoing and open discussion.
A product may experience feature bloat if it contains an excessive amount of features and functionalities.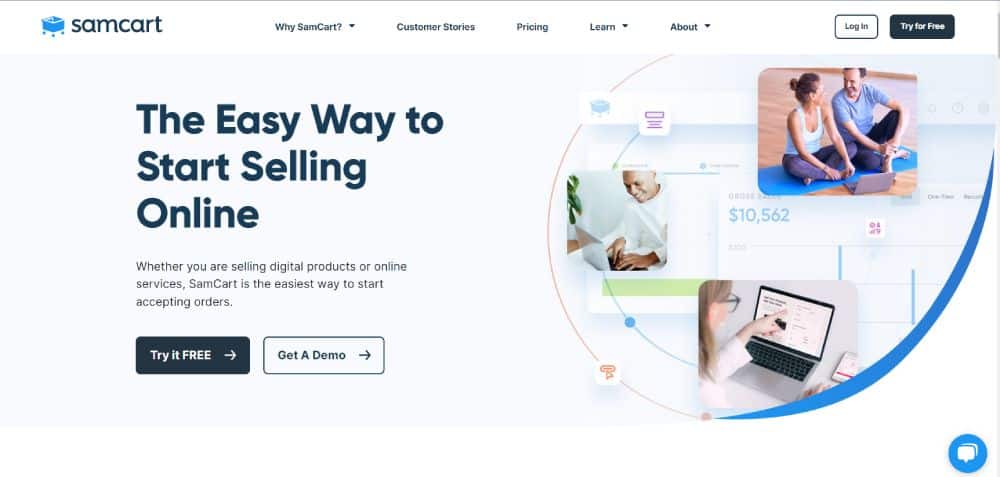 SamCart courses is an e-commerce platform that enables creators to develop and market courses, offers, templates, and digital products using a single platform. The platform provides full control over pricing, content, and branding.
Samcart Courses Features
Drag & Drop Builder: The product allows for customization without the need for coding expertise, enabling users to highlight features as desired.
Pre-Designed Templates: Customizable website templates are available to help you create an attractive website and start selling easily.
Conversion Rate Optimization: Applying optimization techniques to every page on your site can facilitate the improvement of conversion rates.
Pros
The affiliate management system is user-friendly. Enabling or disabling the affiliates option is available for each product.
The process of creating sales pages and facilitating the checkout process for customers is straightforward and efficient.
The addition of Google Pay and Apple Pay to the check-out flow can simplify the payment process for customers.
Cons
SamCart's platform does not include an autoresponder feature, which means that sending reminders through your lists is not possible and the email process must be managed manually.
SamCart's customer service has been reported to have issues in addressing customer inquiries, resulting in unanswered questions.
Utilizing multiple tools is necessary for email marketing and website building, which may require a significant amount of time and effort.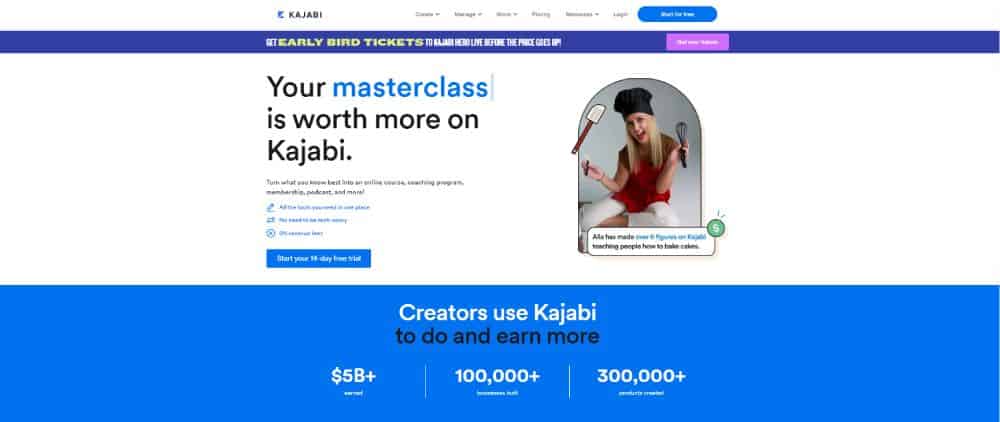 Kajabi is an all-in-one course platform that provides tools for course creation, funnel building, and email marketing, which can minimize the need for other applications.
The platform provides necessary features for hosting content, building curriculum, delivering courses, engaging members, and selling products.
Kajabi Features
There are no limitations on bandwidth or storage, allowing for the uploading of all videos, photos, and other files without concern for space or bandwidth restrictions.
The LMS offers comprehensive features that allow for efficient course management and student administration.
The integrated checkout system allows for payment acceptance from all over the world through the use of Stripe or PayPal. It also provides immediate access to content that is behind a paywall.
Kajabi outperforms Teachable in terms of course creation with its superior quizzing tools, course player design options, and built-in community builder.
Kajabi provides mobile apps for iOS and Android, which enhances the learning experience for students on mobile devices.
Kajabi offers two plans, the Basic plan at $149/month and the Growth plan at $199/month. The pricing may not be suitable for beginners, but it may be more understandable when used in conjunction with the all-in-one platform.
Kajabi provides a comprehensive solution to Teachable, allowing users to create, oversee, and operate their entire knowledge enterprise on a single platform, negating the need to learn and employ numerous tools.
Pros
Kajabi's platform includes rich-text and media capabilities for uploading various content types to the online content library.
The platform provides tools to monitor student progress, grades, and analytics on content comprehension.
Kajabi provides free trials for potential students to sample the content before transitioning to a paid subscription.
Cons
Kajabi is considered to be a costly option for LMS and community platforms.
The customer support is inadequate and there are limited options for customizing the course community.
To access your content, students will need to download the Kajabi app as there is no native branded mobile app available.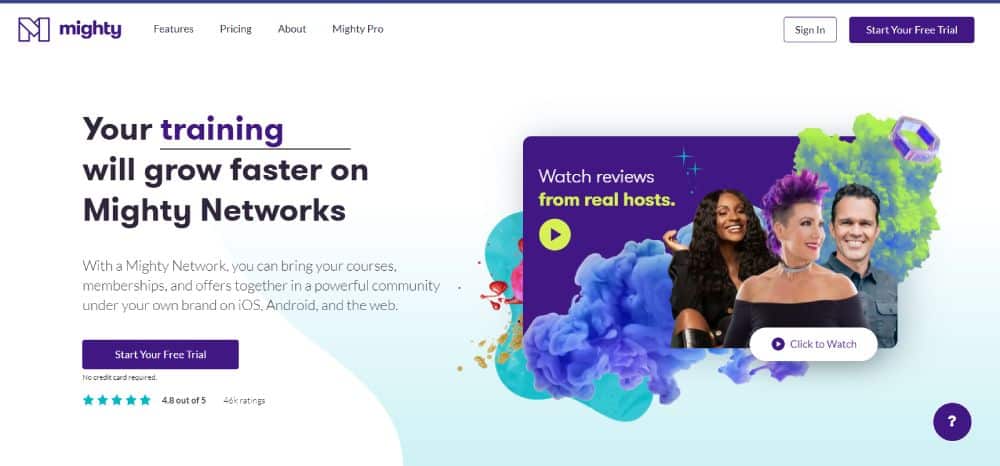 Mighty Networks is a platform that provides tools for creating an engaged online community on your website, and is considered a Teachable alternative with a focus on community building.
A variety of content can be generated within your community, including posts, articles, and polls.
It is possible to create events and conduct live streams.
It is possible to arrange group discussions in your community using various topics and sub-groups.
The messaging feature allows members to communicate with each other, while group chats can also be arranged.
Members are able to access the community and its content through both web and mobile applications.
Mighty Networks offers the ability to create online courses within your community, using a drag-and-drop course builder, inbuilt video hosting, and features such as content dripping and content locking.
The course builder lacks necessary learning tools such as quizzes, assignments, and certificates.
There is an option to charge a fee, either one-time or recurring, for the main community, sub-groups, and courses. Additionally, there is the possibility to bundle the community and courses and sell them as a package.
When considering Mighty Networks, it's important to note that the Community plan has a monthly cost of $39 (+3% transaction fee) and the Business plan has a monthly cost of $119 (+2% transaction fee). To sell online courses, the Business plan is required.
Mighty Networks is suitable for creating a committed community and selling courses, as well as building a membership site based on community.
Pros
The platform provides social engagement features such as live audio/video and chat, facilitating member interaction.
The Mighty Pro plan includes a fully Whitelabeled native mobile app.
The web interface is designed to be user-friendly and bears some resemblance to Facebook groups.
Cons
The user-interface of the community has limited customization options, which may require owners to operate within specific constraints.
The native mobile app costs $30,000, which is the highest price compared to other available options.
Several paying customers have reported that the process of creating a course can be difficult.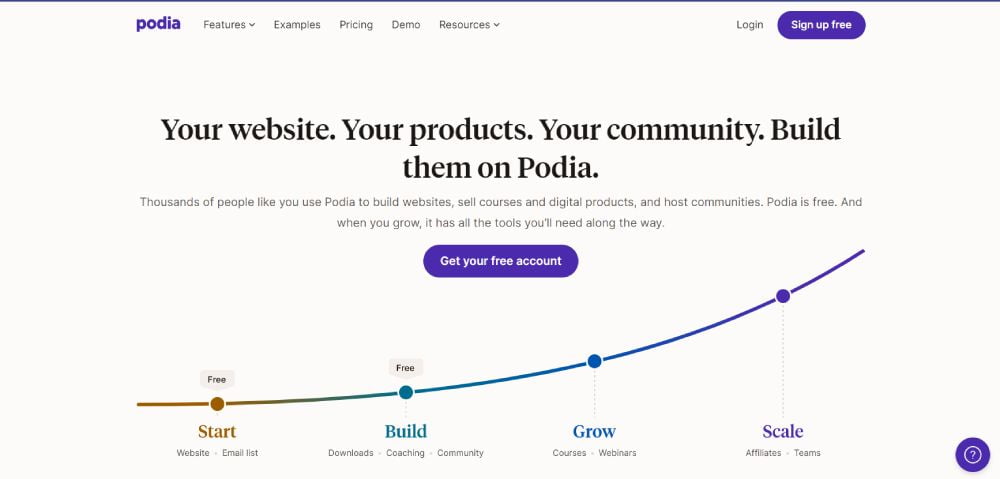 Podia is a course platform that is highly user-friendly. Its interface is intuitive, and all of its tools are designed to be easy to use.
Podia is a platform that operates independently, allowing users to develop online courses, establish a website, and sell their courses. Additionally, they have the ability to create memberships, digital downloads, webinars, coaching, and a community.
Although Podia has numerous features listed, some of them, such as the quizzing tool, community builder, coaching tool, and email marketing features, are incomplete and lack advanced functionality.
Teachable offers a more flexible course builder and stronger learning and engagement tools, while its website-building and sales and marketing capabilities are comparable.
When comparing the pricing of Podia and Teachable, it can be observed that Podia's paid plans are more cost-effective.
The basic plan costs $39 per month and doesn't have any transaction fees. It includes the majority of Podia's course creation features. If these features meet your needs, Podia would be a more cost-efficient option.
When comparing Podia to Teachable in terms of features, it appears that Podia does not have any significant advantages. However, if you only require basic features, Podia may be a more straightforward and cost-effective alternative.
Podia is a platform that provides the ability to create membership sites with customizable plans that include courses, webinars, community, and coaching, and allows for monthly or annual charges to members.
Pros
Webinars can be provided to your audience through platforms such as YouTube Live, Zoom, and Podia.
Creating a professional and functional website does not require technical skills or coding knowledge.
Podia allows for seamless integration of payments, scheduling, and sales pages in a matter of minutes.
Cons
Podia currently does not offer a mobile app for course building, which may limit accessibility for members on mobile devices.
Podia provides limited information on student progress, with only basic reports available for review. In-depth lesson reports are not offered.
Podia's assessment methods rely solely on multiple choice questions, which may not be ideal for all courses as they lack the ability to include open-ended questions.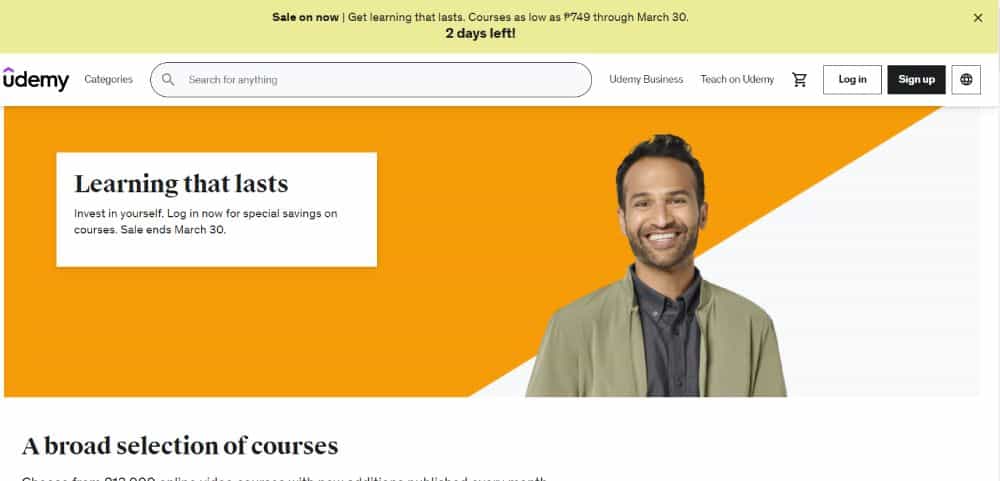 Udemy is an online platform that facilitates the listing and payment for courses created by educators.
The platform provides the ability to host course content, create a curriculum, sell courses, deliver them, and interact with students, similar to Teachable.
The business model of Udemy differs significantly.
Rather than constructing your own website or brand, the strategy is to sell through the Udemy marketplace, which allows access to a vast audience and minimizes the need for extensive marketing efforts.
In contrast to a fixed periodic payment, the platform requires a revenue share of 63% in most cases.
It is important to note that selling on Udemy does not involve building your own brand or audience. The platform's policies dictate revenue sharing, promotions, pricing, and other aspects.
Udemy may be a suitable alternative to Teachable for novice course creators who wish to experiment or pursue online courses as a supplementary source of income.
Udemy Features
Udemy offers lectures in various formats, including video, audio, and text, allowing for self-paced learning.
Supplementary materials may be incorporated into the courses.
The course instructors offer individual chat sessions with students.
Pros
Udemy offers an extensive range of courses, providing teams with a vast array of options to choose from based on their interests.
Udemy for Business offers apps on multiple platforms, allowing employees to learn at their own pace and convenience.
The analysis of data and metrics helps me understand the level of engagement my employees have with their Udemy for Business courses.
Cons
Navigation can present challenges, as it may be difficult to access your personal learning paths from the homepage.
Udemy's platform may be considered outdated due to the absence of gamification features and motivating factors. Additionally, there are no external tools available to encourage users to remain on schedule with their coursework.
Udemy currently does not offer direct support, leaving users without a clear means of contact. This may cause inconvenience when seeking assistance with important inquiries.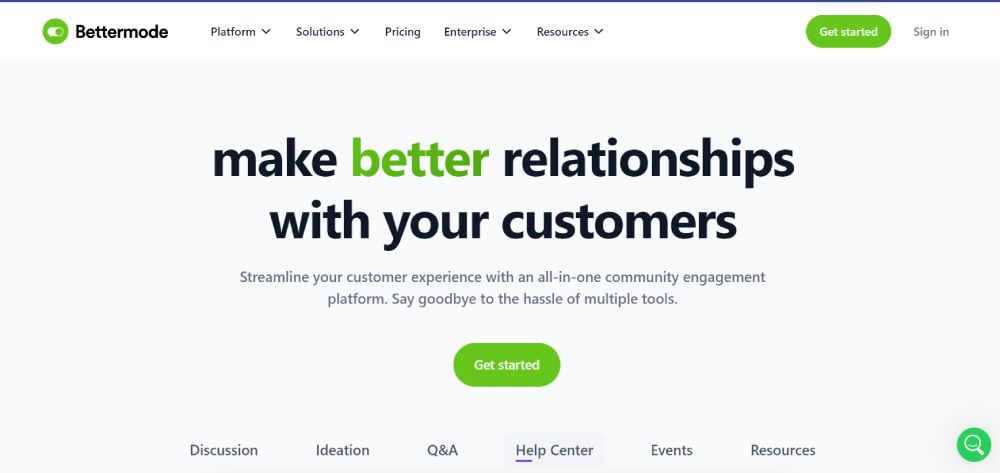 Tribe is a community platform designed for businesses. It is known for its versatility and ability to integrate with other systems. Its primary focus is on text-based communication through forums, polls, and similar features.
Tribe Features
The user interface is designed to be user-friendly and includes customizable blocks referred to as 'spaces'.
The platform provides users with robust text formatting options for delivering content in their desired presentation.
The moderation panel allows for effective management of your community.
Pros
The community platform provides white-label options and customizable features to align with your brand's aesthetics.
The software features widgets and APIs that enable integration with various third-party applications.
The free plan allows for up to 500 members to be housed, but does not include the Paywall feature.
Cons
This tool is more geared towards forum-style communication rather than offering real-time audio and video features found in modern community platforms.
The platform does not have sufficient incentive and gamification features to encourage community engagement. It is important to provide users with incentives for engagement.
The platform lacks a shop/paywall system that allows users to make purchases such as premium memberships and courses.