Having a strong digital presence is crucial for brands, yet only a small number have taken steps to enhance and comprehend it. Our aim is to inform you about online reputation management tools and their potential advantages for your business.
Online reputation management software provide valuable insights into how users perceive and express themselves in the digital world. In this article, we will offer an overview of these platforms, a list of top performers, and some practical tips for using them effectively. But first, let's start with the fundamentals.
This article will provide detailed information on practical steps and sofware that can help improve your online reputation.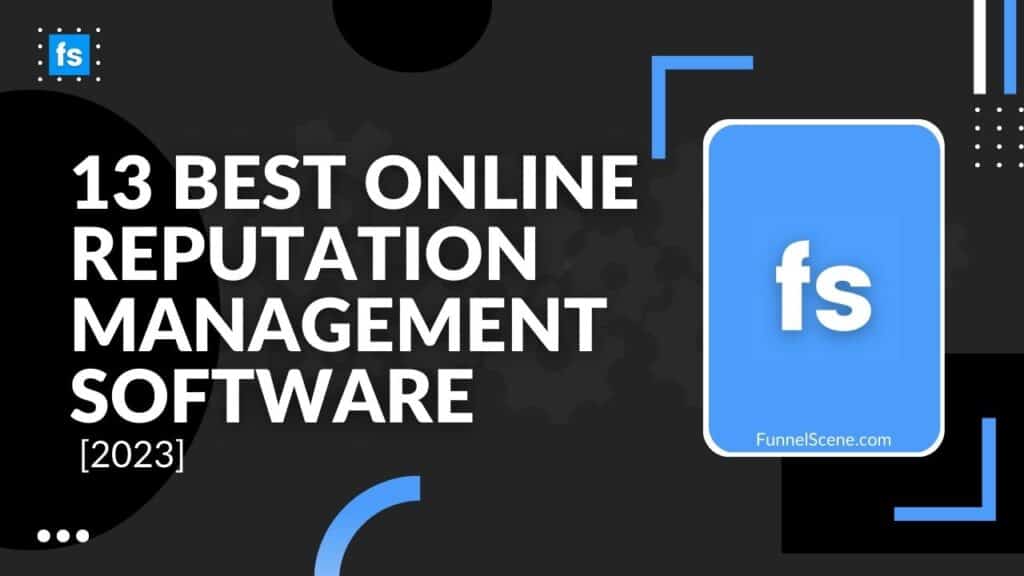 13 Best Online Reputation Management Softwares:
1. Brand24
2. Brandwatch
3. Mention
4. Reputology
5. BirdEye
6. Podium
7. Reputation
8. Yext
9. Sprout Social
10. Hootsuite
11. BrandYourself
12. Digimind
13. ReviewTrackers
There is a free 14-day trial available, and an individual plan is priced at $69.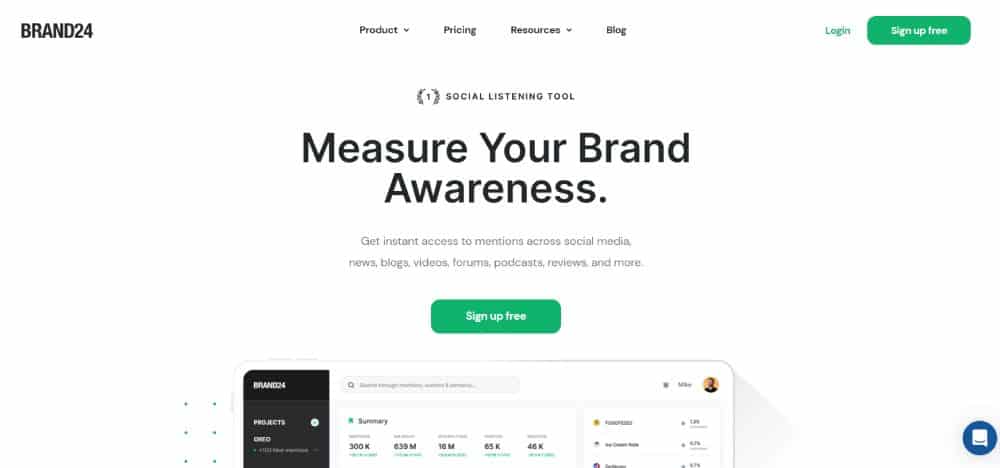 Brand24 offers the creation of Projects, which are designed to monitor social media mentions of a particular entity. It also allows for the tracking of multiple Projects at higher levels, allowing for the monitoring of various brands or specific campaigns.
There are two ways to search for things: by typing in keywords or by specifying which keywords to include and exclude to ensure accurate results.
Brand24's search function extends beyond social media and scans the entire internet for any instances of non-excluded keywords. It gathers publicly available mentions from various sources such as news sites, videos, blogs, websites, discussion forums, and Google reviews in real-time.
Brand24 offers various filters to sort your data. You can filter by day, week, or month. You can also sort by source and other criteria to identify your most important and influential supporters. If someone has been speaking negatively about you, you can even filter by sentiment to identify them. Additionally, you can analyze the data using a report that is full of information.
Brand24's comparison tool allows users to compare project results in a side-by-side format.
Pricing information can be provided upon request with further details.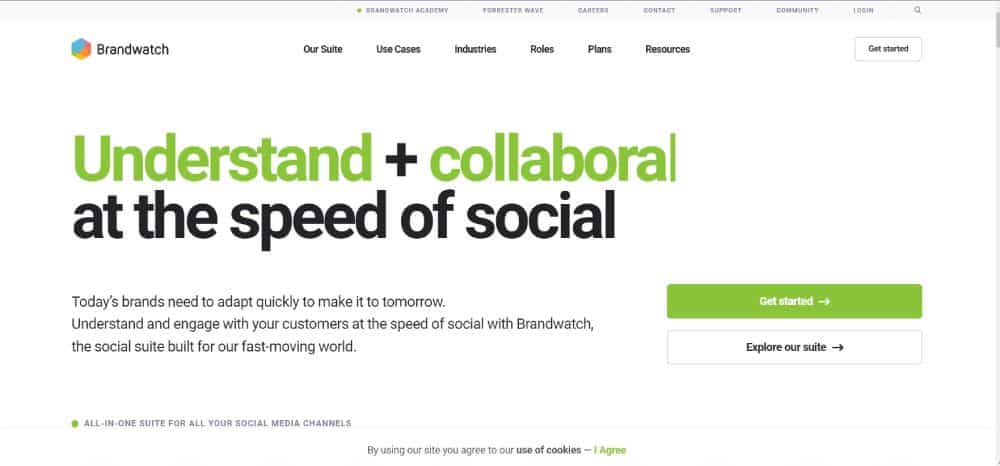 Brandwatch is a versatile platform that addresses important concerns for brands aiming to excel on social media. It offers solutions for monitoring online reputation and handling potential problems.
Brandwatch's interface is customizable and intuitive, with notable search, filtering, labeling, and tracking features.
Brandwatch offers various modules for publishing, engaging, advertising, audience analytics, measuring, and benchmarking, but its social listening capabilities are particularly useful for businesses seeking to improve their online reputation management. The Brandwatch-powered module, called "Listen," monitors brands across 100 million online sources and can help identify emerging trends and analyze online conversations.
The Listen tool provides real-time trend discovery for brand, product, and competitor mentions. It allows for monitoring of customer mentions to gain insight into preferences and resonating content. Sentiment and brand perception analysis is made easier without manual dataset sifting.
Listen utilizes artificial intelligence to identify fluctuations in your data, alerting you to any irregular activity. It also sends automatic notifications when it detects negative feedback, enabling your team to respond promptly in case of a potential crisis.
The Listen module is integrated with Brandwatch's unified social inbox, allowing for customization. Social media, forums, review sites, and other sources can be analyzed, monitored, and acted upon.
The monthly cost for the Solo plan is $49.
Mentions is a software tool that monitors and controls online reputation by tracking company mentions across various social media and websites, making it one of the top web and social media monitoring tools available.
In addition, there is a tool specifically designed for monitoring and analyzing online reputation management called The Brand Grader.
In order to access the sentiment analysis feature, purchasing a Pro plan is required at a cost of $99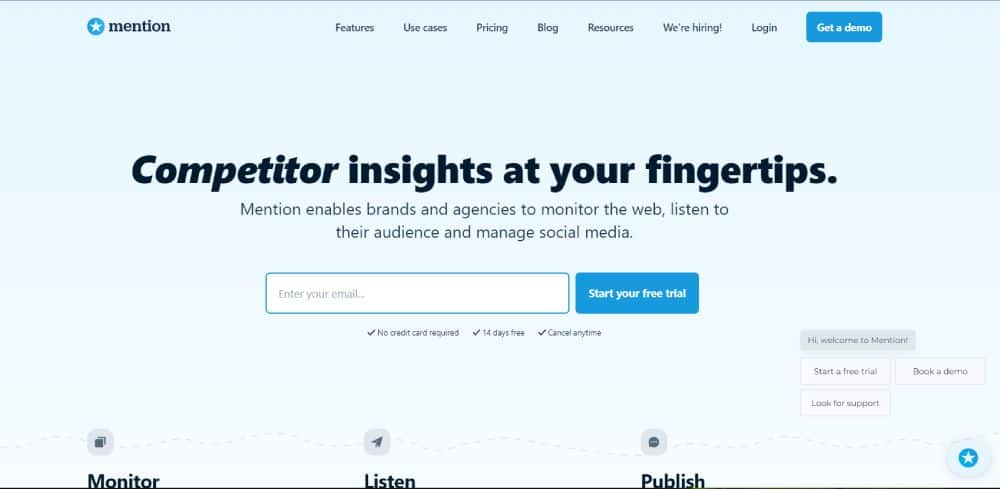 The cost of the Single Location plan ranges from $29 to $49 per month per location.
Reputology is a review tracking tool that can help brands monitor their reputation online.
Online reviews are becoming increasingly important for businesses as more consumers rely on them to make purchasing decisions. This tool can help businesses manage their reviews from platforms such as Yelp, TripAdvisor, and Facebook.
One advantage of Reputology compared to other brand reputation management tools is its specificity to location, which can be crucial for physical businesses.
Suppose you possess five fruit and vegetable stores, which we may refer to as "Melonor Rigby" (name available for use).
By utilizing Reputology, it is possible to monitor and compare reviews for each individual shop location. Analyzing the discrepancies in ratings between the Main Street and High Street locations can help identify the underlying factors contributing to the difference.
Reputology provides a centralized location for all reviews and allows for easy response from the platform. It is a straightforward process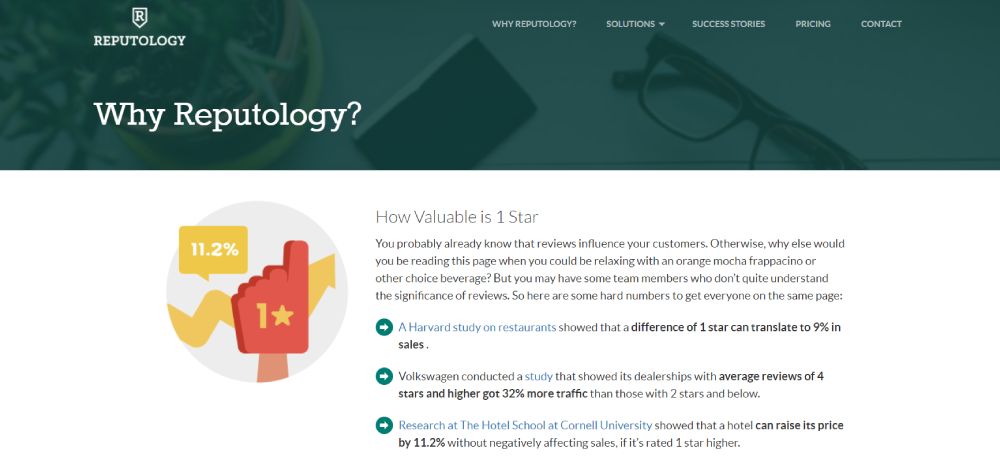 Pricing information can be obtained upon request.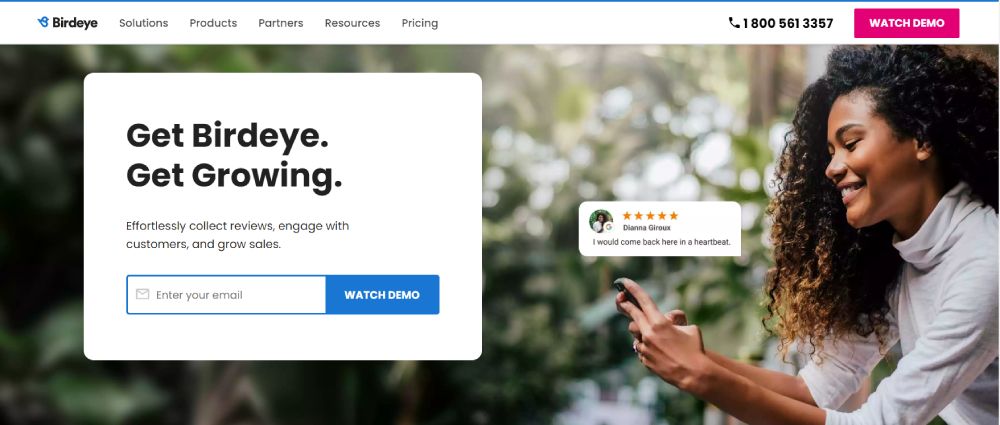 For large businesses and review acquisition, our top pick for online reputation management software is Birdeye. It offers various ways to prompt customers for reviews, like text messages, emails, company websites, Facebook plugins, and mobile kiosks. Birdeye also has tools for managing and monitoring reviews, such as alerts and updates. It can also track social networks, provide detailed analytics, and keep business listings current.
The process of review acquisition and management is explained through comprehensive demonstrations.
The cost of the Essentials plan is $49 per month.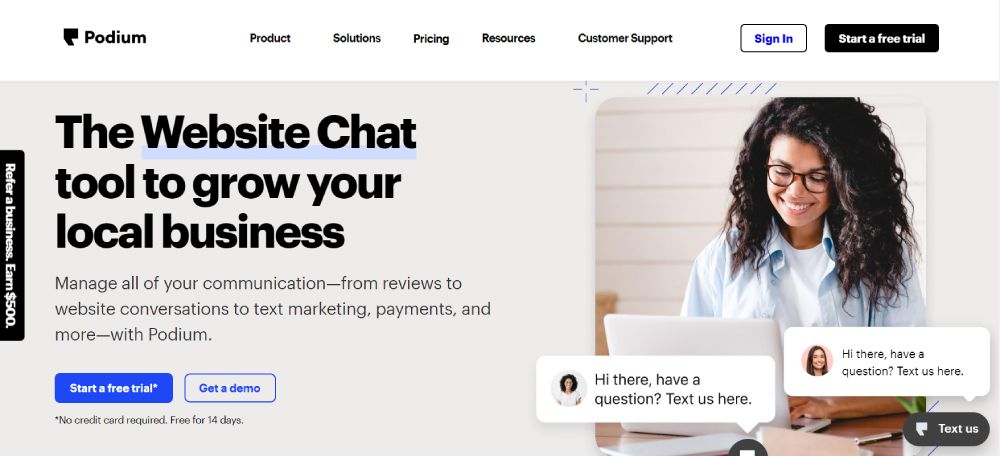 Podium is a good online tool for review management. It's easy to use and helps you get new reviews and manage them. The tool uses text messaging to encourage customers to leave reviews. You can send customized text messages to ask customers to leave a review. Customers can easily leave a review from the link in the message and choose where they want it posted, like Google or Facebook.
Podium provides detailed analytics on your reviews, allowing you to identify trends in negative and positive feedback. This information can help you improve your operations. Podium also offers a web-chat widget, which encourages customers to leave their names and mobile phone numbers.
This allows you to answer their questions via text message, providing another convenient way for customers to communicate with you.
Pricing information can be obtained upon request.
Reputation.com, founded in 2013 in Silicon Valley, is a prominent company in the online reputation management category and claims to have pioneered it.
The platform provides a comprehensive solution for improving social search rankings, enhancing star ratings, and managing customer reviews.
The platform is utilized by various well-known brands that have multiple locations and operations. These brands include Nissan, US Bank, Ford, Pearle Vision, and Public Storage.
Reputation.com offers a proprietary Reputation Score that provides brands with insights into their strengths and weaknesses.
This information can be utilized to understand the discovery process, reasons for selection, and user experience of your business. The data encompasses both online and offline interactions.
The grading scale is determined by nine specific factors and ranges from 100 to 1,000.
Reputation.com is designed to accommodate large-scale businesses with a nationwide presence, making it less suitable for smaller or medium-sized enterprises.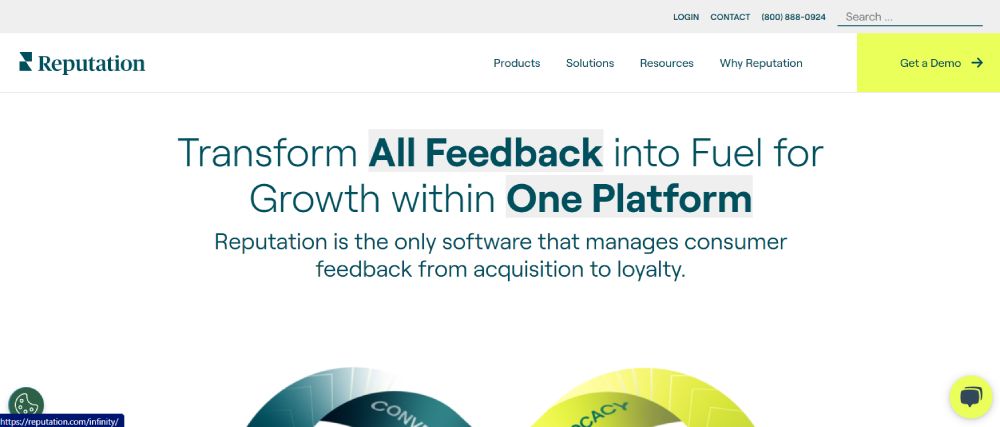 Pricing information can be provided upon request.
Yext offers great customization options. Users can personalize most aspects of the reputation management tool, from review invitations to analysis. APIs allow for customizations to be taken to the next level, especially for those with programming skills. However, Yext lacks a good tool to track customers and generate repeat business.
Yext provides extensive customization options both in the app and the content delivered to customers.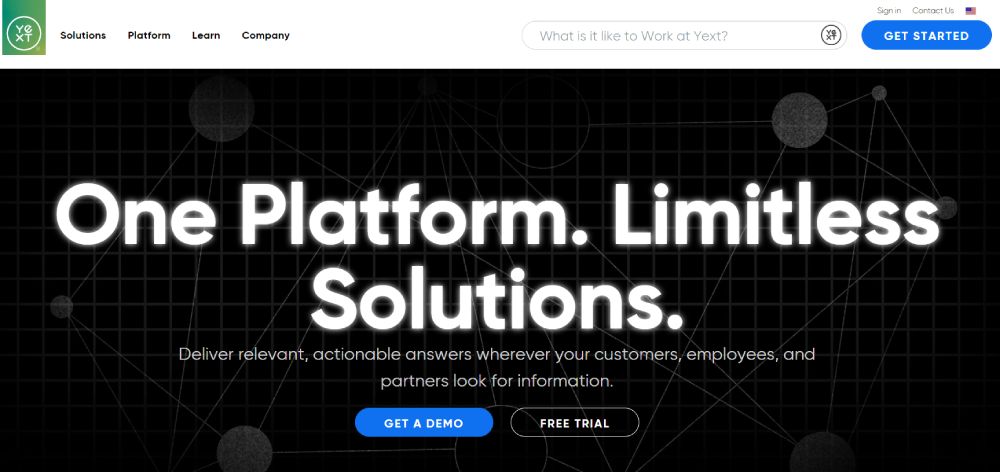 The cost of the Standard plan is $249 per month.
Sprout Social is a social media monitoring tool that can be utilized for managing one's online reputation.
Sprout Social offers features to assist businesses in monitoring their online reputation and addressing customer feedback, although it does not have a dedicated reputation management solution.
The platform offers sentiment analysis, reporting, review management, and other tools to assist in managing your reputation.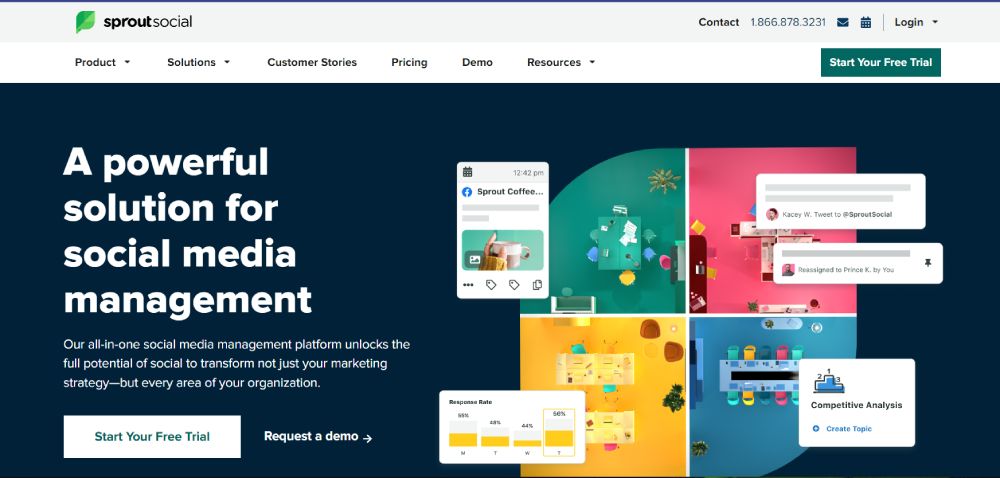 Hootsuite is a social relationship software that helps organizations create social media strategies. It has a minimum of 10 million users in over 175 countries. The solution allows users to manage multiple social media accounts from a single hub using a single password, eliminating the need to visit individual social media sites.
The software allows companies to post updates, interact with customers and analyze feedback on various social media platforms such as LinkedIn, Foursquare, Facebook and Google+. It also supports third party applications like Vimeo, Instagram, Evernote and MailChimp.
The software is compatible with Android and iOS mobile devices and offers multi-language support in English and Chinese. It is available in three pricing options: Free, Pro at a cost of $8.99 per month, and Enterprise, which requires a quote request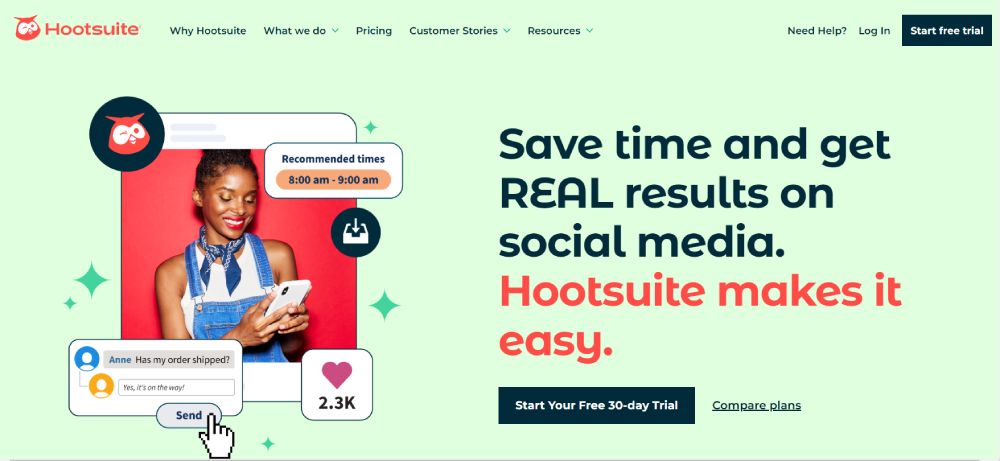 The online reputation management platform BrandYourself aims to remove unwanted Google search results, enhancing the profiles of both individuals and businesses by elevating them in the search rankings. It also assists in developing strong brand identities to improve reputation.
The tool provides monthly reports and analytics to inform users of their Google search results standing. It also offers guidance on how to improve search results and helps businesses push up their social media profiles in search results. Additionally, it ensures that search results for companies only reflect positive reviews and comments.
The tool offers personalized services for individuals and organizations, assisting them in developing strategies based on Google's most recent algorithms. Additionally, it provides a team of professionals who ensure that users' strategies remain optimal.
The premium package of the solution costs $99 annually and includes all features and functionalities. Alternatively, a free version with limited features is also available.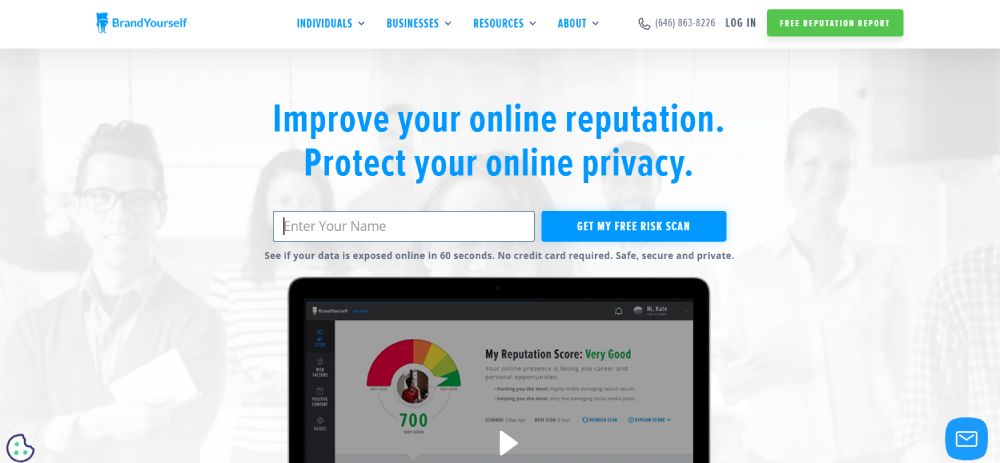 Pricing information can be provided upon request.
Digimind is a software tool used for social media monitoring and analytics, providing businesses with insights into their online reputation and other related data.
Digimind enables businesses to conduct real-time monitoring of their brand mentions on various online sources, including social media platforms, news sites, and blogs.
The tool offers sentiment analysis, enabling businesses to monitor the mood of discussions related to their brand and detect possible problems before they escalate into emergencies.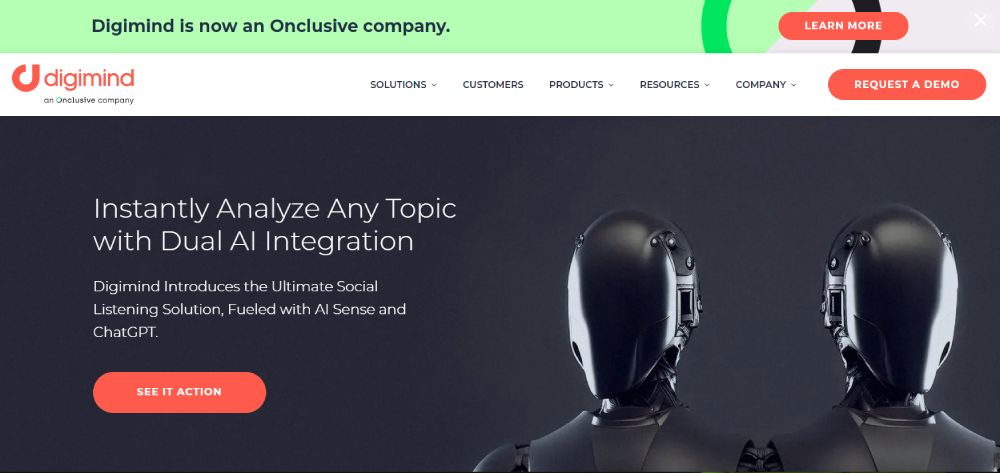 Pricing information can be provided upon request.
ReviewTrackers is a review management software that enables users to track and manage their reviews on various sites such as Google, Yelp, and Facebook. The platform also offers the ability to respond to reviews directly from the app.
The tool provides insight into customer experience by tracking reviews and activity on social media platforms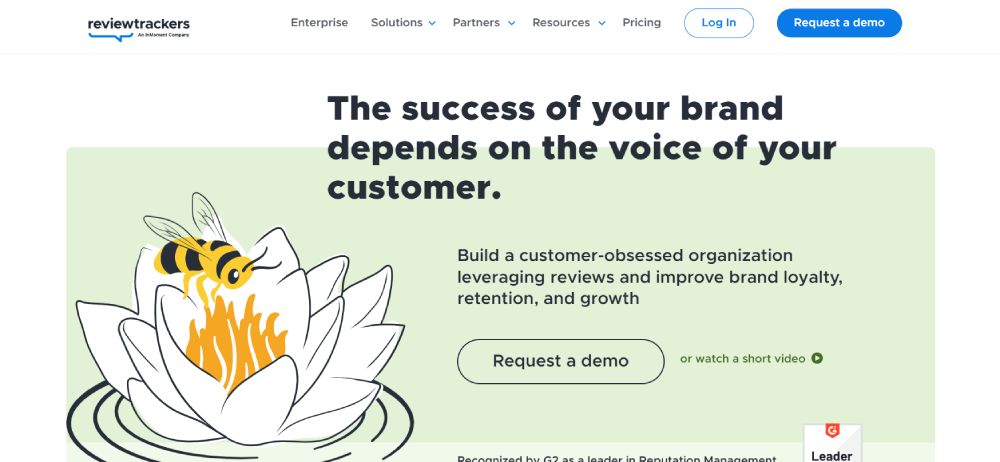 How to choose an online reputation management tool?
When selecting a tool, it can be difficult to determine the best fit for your needs. Consider the following factors.
Decide on your goals. Do you want to boost your online presence or fix previous damage? Depending on your objectives, you'll need to seek out specific features in a tool.
Consider your budget when deciding on tools to help you achieve your goals, as some powerful options may require investment.
Consider your familiarity with the brand's online reputation management when selecting a tool. Opt for a user-friendly tool if you lack experience, and choose a more advanced tool if you have prior knowledge.
It is recommended to examine reviews and testimonials of potential online reputation management services, including both positive and negative feedback, to gain a comprehensive perspective.
By considering these factors, one can select appropriate software.
Can you manage the brand reputation for free?
Smaller or medium-sized companies may not have the financial capacity to invest in high-end reputation management tools due to their cost.
Google Alerts is a free reputation management software that offers basic Internet monitoring. However, it may not meet the necessary requirements for an effective online reputation management platform.
For those interested in further understanding Google Alerts, a comparison to its alternative, Brand24, can be found here.
There are reputation management tools available that are both affordable and effective in monitoring online mentions of your business, products, and services.
The impact of an online reputation on a business in today's digital age cannot be underestimated.
It is important to monitor your brand's online presence due to the abundance of available platforms. Additionally, addressing any potential issues promptly is necessary.
Online reputation management tools are utilized for this purpose.
With the use of an online media monitoring tool, one can effectively track their brand's online presence, detect possible problems, and take proactive measures.
These tools offer features such as sentiment analysis, storm alerts, and reputation score that can assist in staying informed and making informed decisions.