If you've heard of Systeme.io and you're wondering what's actually included in each level, then this Systeme io pricing guide is perfect for you. 
Systeme is a powerful all-in-one marketing tool which has recently been seeing a lot of growth since they launched their free plan, which we'll cover soon.
The great thing about this, is now businesses and entrepreneurs who are running on a tight budget, can get all the marketing tools required to successfully run an online business without the bottleneck.
In this guide, we'll cover:
What features are included in each plan

All of the Systeme io pricing plans
Limitations of each plan
How to get free migration from your existing platforms
Bonus: Systeme io Course for new users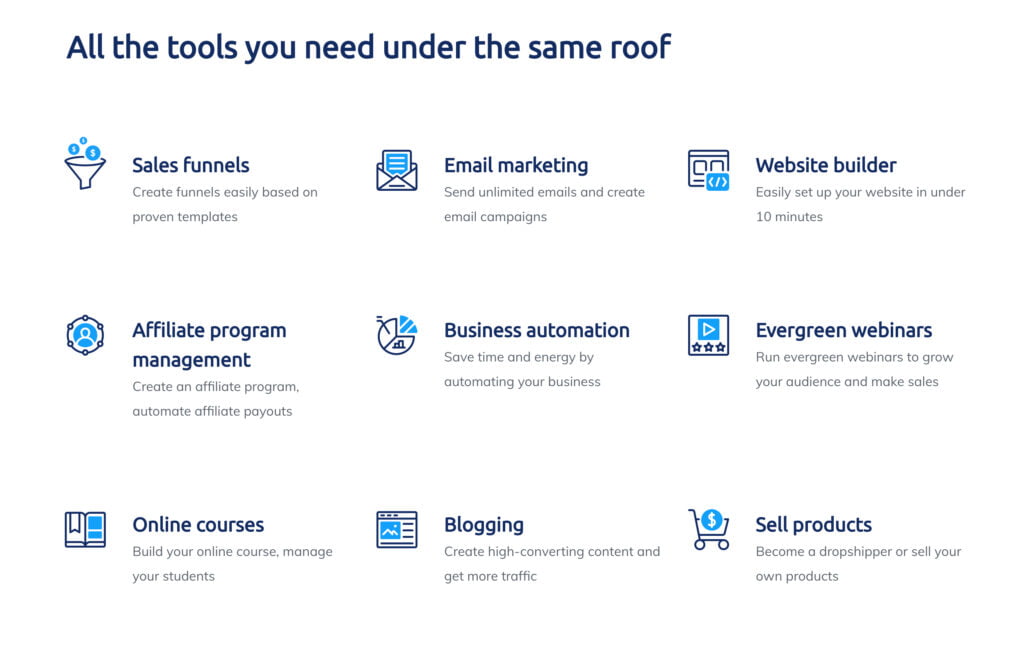 A lot of the times, choosing the right plan would be determined by the set of features available to each plan. 
With the Systeme io pricing plans, it's not the case.
On every plan (including the free plan), you get access to:
Drag and drop page builder

Email marketing automation
Sales funnel builder
Affiliate management system
Course builder
Blogging platform
Automation workflows
1-click upsells
Order bumps
A/B testing tool
In-depth analytics
Communities
Payment Gateway integrations
Contacts & Tags
In fact, the only feature you don't get access to, is the
Evergreen webinars
, which is reserved for the Webinar and Unlimited pricing plans.
On every pricing plan in Systeme io, you also get:

Unlimited email sending
Unlimited blog posts
Unlimited course students
Unlimited community members
Unlimited file storage
Unlimited assistant accounts
Deadline funnels
Stripe integration
Paypal integration
Razorpay integration
Flutterwave integration
Affiliate Program Access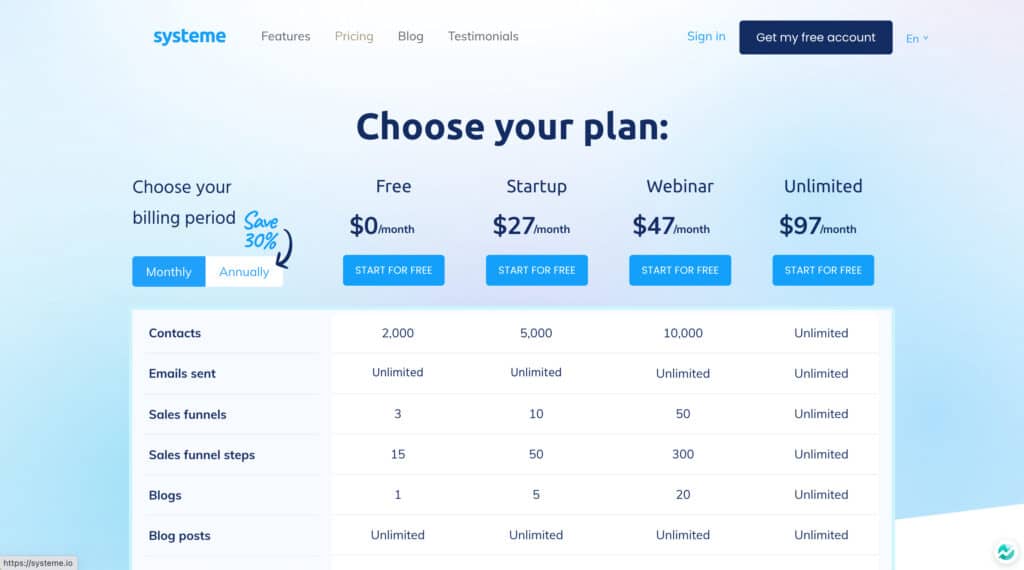 There are 4x different plans inside of Systeme io which are created specifically for people in certain stages of their business.
Each of the plans includes the majority of features available on the Systeme platform, they just have different limits per pricing plan.
| | Free Plan | Startup | Webinar | Unlimited |
| --- | --- | --- | --- | --- |
| Monthly | $0 | $27 p/m | $47 p/m | $97 p/m |
| Yearly | $0 | $228 p/yr | $396 p/yr | $828 p/yr |
Free Plan (no credit card required)
The Systeme io Free plan is the 100% free to get started, all you need is to have an email address, and you can create an account. 
This is the perfect entry point for new online entrepreneurs, business owners, or just someone who wants to first test the platform before deciding to migrate over.
You can have up to 2000 contacts, build your own blog website, create funnels, send unlimited emails, host an online course, and more! 
Free plan allowances:
Up to 2000 contacts

3 sales funnels with up to 15 total funnel steps

1 online course
1 custom domain
1 online community
1 automation workflow
1 contact tag
1 email campaign
1 1-click upsell
1 order bump
1 A/B test
1 coupon code
Startup Plan
The Startup plan is the most cost-effective option and is what the majority of entry level businesses purchase.
This plan costs $27 per month, but if you decide to pay annually it's only $228 for the year, or an equivalent of $19 on a monthly basis PLUS you can get a free migration from your existing business on annual plans.
Those with over 2000 contacts, more than one blog, and wanting to make more sales should find this tool especially useful for digital entrepreneurs/business owners and marketers.
Startup Plan allowances:
Up to 5000 contacts
10 sales funnels with up to 50 total funnel steps.
5 blogs with an unlimited number of blog posts.
Unlimited emails with 10 email campaigns
3 custom domains
There are 5 membership sites, plus lots more.
Additionally, you'll get free migrations and unlimited file storage, but no 1-on-1 kickstart coaching or Evergreen webinars.
Webinar Plan
The Systeme.io Webinar plan is the medium-priced option, costing $47 per month or discounted to $33 per month when billed annually for $396.
Those with 5000+ contacts and 5+ blogs who desire additional sales funnels and email campaigns especially benefit from digital entrepreneurship, business ownership, and online marketing.
chat support and automated backups.This plan offers a variety of features, such as chat support and automated backups.
Up to 10,000 contacts
There are 50 total sales funnel steps.
An unlimited number of blogs, each with up to 20 posts.
100 email campaigns per month with unlimited emails.

10 custom domains

20 membership sites
You'll also get 100 1-click upsells and much more.
Additionally, you're granted access to free migration, an abundance of storage space and 10 Evergreen webinars, but not 1-on-1 kickstart coaching sessions.
Unlimited Plan
The Systeme.io Unlimited pricing plan is the most expensive option. It is billed at a rate of $97 per month, or alternatively, $828 per year or $69 per month when paying annually.
For those with 10,000+ contacts and over 20 blogs who need extra sales funnels and email campaigns, the Webinar Pricing Plan is perfect.
phone and video call servicesThis plan offers various features, such as phone and video calls.
Up to 15,000 contacts
Unlimited sales pipeline with an unlimited number of stages.
You can have an endless amount of blogs and blog posts.
Unlimited emails and email campaigns with no limits.
Unlimited custom domains
Unlimited membership sites
You'll also get unlimited 1-click upsells and much more.
This Unlimited Plan gives you unlimited access to everything—evergreen webinars, file storage, free migration—and the only one with a 1-on-1 kickstart coaching session.
Nevertheless, Systeme.io provides different subscription plans for businesses and firms with more than 15,000 contacts. The pricing starts from $147 monthly up to $547 or more for 100k+ connections.
Systeme io Pricing Plan limits:
To give you a better comparison between the plan, this table will show you what the limits are for each account.
| | Free Plan | Startup | Webinar | Unlimited |
| --- | --- | --- | --- | --- |
| Contacts | 2,000 | 5,000 | 10,000 | Unlimited |
| Sales Funnels | 3 | 10 | 50 | Unlimited |
| Funnel Steps | 3 | 10 | 50 | Unlimited |
| Blog Websites | 1 | 5 | 20 | Unlimited |
| Courses | 1 | 5 | 20 | Unlimited |
| Communities | 1 | 5 | 20 | Unlimited |
| Automation Rules | 1 | 10 | 100 | Unlimited |
| Workflows | 1 | 5 | 20 | Unlimited |
| Tags | 1 | 10 | 100 | Unlimited |
| Email Campaigns | 1 | 10 | 100 | Unlimited |
| 1-Click Upsells | 1 | 10 | 100 | Unlimited |
| Order Bumps | 1 | 10 | 100 | Unlimited |
| A/B Tests | 1 | 10 | 50 | Unlimited |
| Coupon Codes | 1 | 10 | 50 | Unlimited |
| Custom Domains | 1 | 3 | 10 | Unlimited |
| Evergreen Webinars | 0 | 0 | 10 | Unlimited |

Get Free Migration to Systeme io
A little trick that not many people realise, is if you are interested in moving to Systeme.io, you can actually get their team to migrate your entire business to Systeme, for free!
You simply need to either subscribe to the Unlimited Monthly plan.
Or you could choose the Startup, Webinar, or Unlimited yearly plan and also get the free migration included.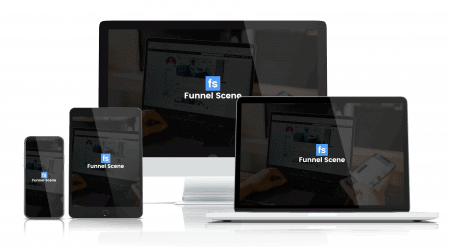 As a special bonus for those interested in getting started with Systeme.io and who aren't already registered, we're happy to offer our Systeme Accelerator course (value $97) for free for those who register using our referral link. 
The Systeme Accelerator is the best Systeme.io Kickstarter course available which includes everything from funnel templates, website templates, course templates, and a full run down of how to use the platform from A-Z.
If you are already a member of Systeme.io, you can also purchase the Systeme Accelerator course, and help support our work.
Are there any Systeme io Discounts?
You can get 30% discount on all annual plans
Is there a Free Systeme io Trial?
Since launching, they have removed their free trial and have a new Free Plan. See above for more details.
Is there a cancellation cooling down period?
No, you can cancel at anytime.
How do I access the Bonus Systeme io Course?
Once you register to Systeme.io using our referral link, you will be added to a register our team checks daily, and provides free access for referrals. You will receive email instructions with access within 48 hours.
Who is the Free Systeme.io Plan for?
Systeme.io's Free plan is an ideal choice for small business owners or those who are just starting out.
You can try out the platform with the free plan before deciding whether to invest money.
This free plan from Systeme.io allows you to explore the platform's features.
Furthermore, you can learn how to utilize all features of the system, create successful funnels, establish membership sites, set up your affiliate program, and much more.