Landing pages are frequently utilized in marketing initiatives, but it can prove difficult to attain success with standard templates and differentiate oneself from competitors.
Unbounce streamlines the creation of customized landing pages for marketing, resulting in increased audience conversion rates.
Leadpages offers the capability to generate a landing page that efficiently grabs attention and transforms visitors into potential customers.
The article presents a detailed comparison of Unbounce and Leadpages, covering aspects such as pricing, features, and design options. Its objective is to aid in the selection of a suitable platform for one's business.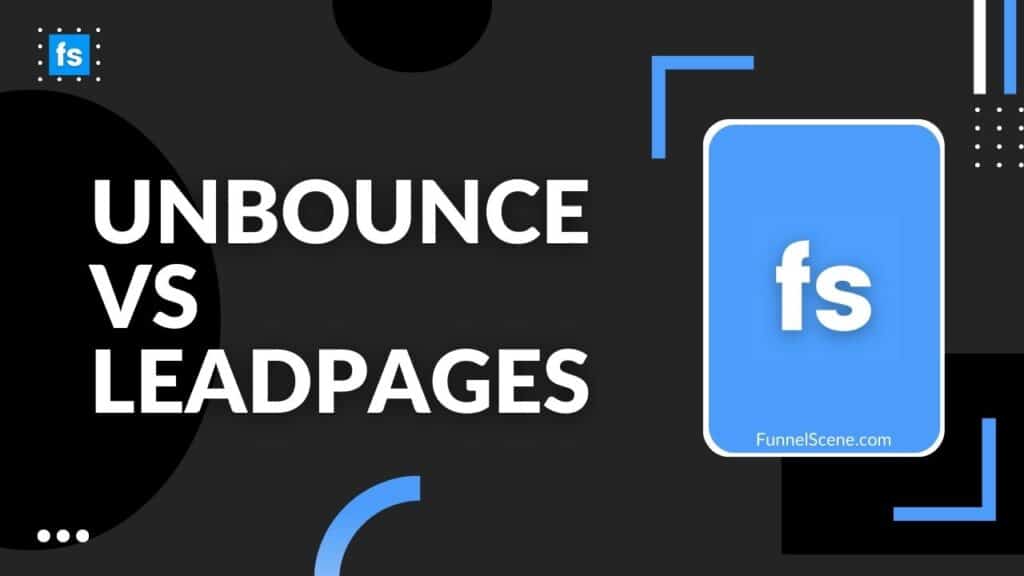 LeadPages is a relatively new page building software compared to others in the market. However, it has demonstrated impressive outcomes to its users in a short amount of time. It is capable of producing high-quality landing pages.
Leadpages, a landing page builder, has amassed over 40,000 customers in its three-year existence and has generated approximately one million landing pages for its users.
Leadpages offers templates and optimization services that can benefit businesses of various sizes. By utilizing multichannel linking within Leadpages, businesses can expand the reach of their products.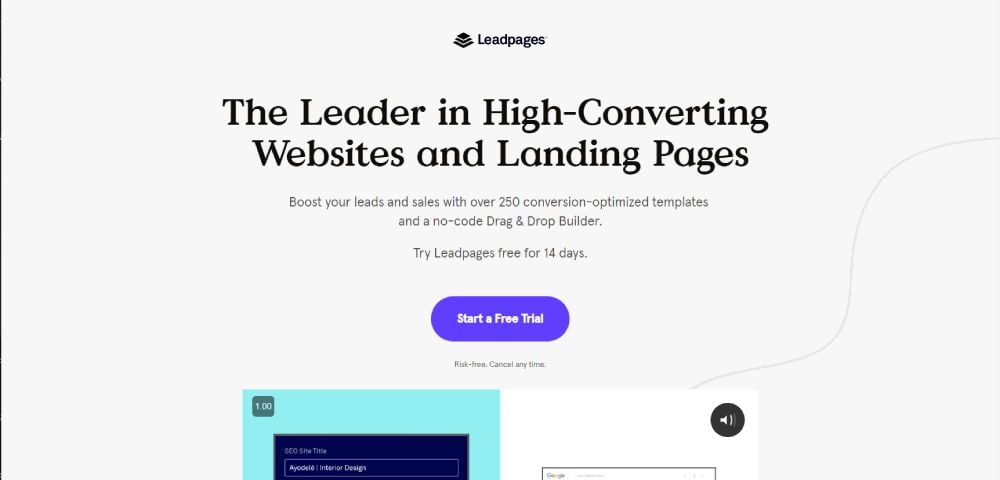 Enlyft's study of nearly 10,000 companies reveals that Leadpages primarily serves small businesses based on revenue and employee count.
Leadpages has always been designed for small business owners and entrepreneurs with limited budgets, according to their emphasis from inception to present day.
Leadpages is utilized by the marketing and advertising, health, wellness and fitness, and professional training and coaching industries. The countries with the highest usage of Leadpages are the USA, the UK, Australia, and Canada.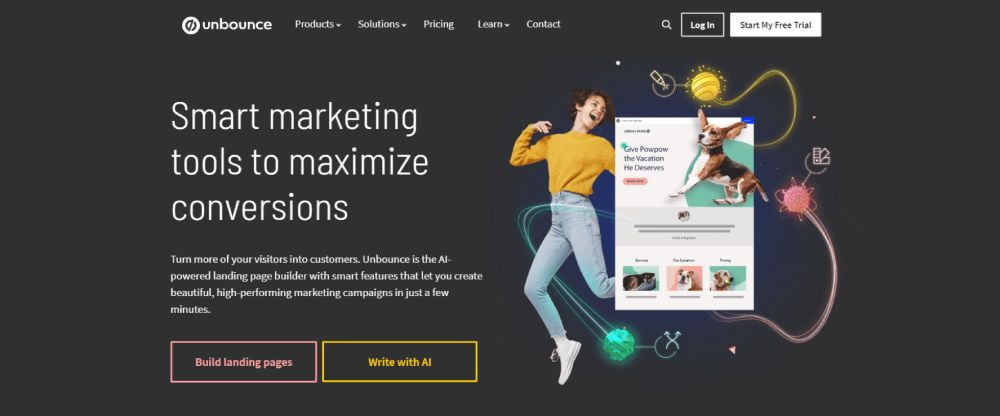 Unbounce was established in 2009 and is recognized within the digital marketing industry.
Unbounce utilizes advanced design and marketing automation tools, as well as a landing page builder and editor, to provide clients with a complete design experience without requiring coding expertise, resulting in their success.
Unbounce offers additional website features, such as the ability to add and personalize pop-ups and sticky bars to your landing page, similar to Leadpages.
During a campaign, Unbounce provides analysis of relevant data to deliver performance analytics that go beyond what is offered by Google Analytics.
The analytics will be used to assess insights and make adjustments to enhance the conversion system as a whole.
The website provides details about Unbounce, with search outcomes similar to those discovered on Leadpages.
According to a study of 11,000 companies, most clients who opt for Unbounce as their main conversion optimization software are small businesses. The USA, UK, and Canada are the top three countries with the largest number of companies using Unbounce. However, the primary industries differ slightly, with computer software, marketing and advertising, and information technology and services being the top three.
The Most Important Features
Leadpages' Most Important Features

Leadpages offers its clientele with:
The product offers a user-friendly analytics dashboard and software for real-time data analysis.
The system includes integrated checkout features.
The technique of unlimited split-testing allows for the creation of multiple versions of a webpage.
The page loads at a speed that is 2.4 seconds faster than the average.
Pop-ups and alert bars can be helpful.
One option is to allow individuals to opt-in via SMS message.
While Leadpages does offer a blogging feature, DropInBlog is regarded as a superior choice. Integrating and utilizing this blog in conjunction with capturing leads with Leadpages is also a straightforward process.
One notable feature of the platform is the Leadmeter.
The Leadmeter technology was developed by the Leadpages team in 2018. Its function is to predict page performance in terms of conversion and provide suggestions for improvement, ultimately aiming to increase conversion rates.
How does this software work?
Leadmeter helps you build pages that convert by analyzing data and suggesting strategies. It uses insights from analytics to offer the templates with the highest conversion rates for you to choose from.
Improve conversion rates with Leadmeter by making small changes like tweaking headlines, refining calls to action, shortening text, and adding social proof.Not selling: features, consultations, thank-you pages, or website templates.
Unbounce's Most Important Features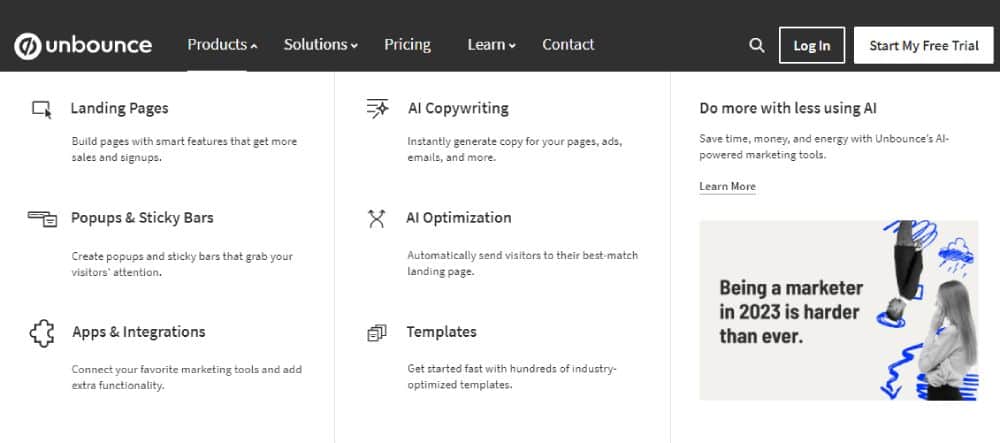 Unbounce offers numerous useful features such as:
AMP landing pages are available on the Premium plan, and they can signal to Google that your page is optimized for fast loading on mobile devices.
Real-time analytics are a type of data analysis that occurs immediately as data is collected.
The monitoring of traffic and conversion rates is being conducted.
The website features pop-ups and sticky bars.
I would like to direct attention to one of Unbounce's innovative and forward-thinking features, Smart Traffic.
Smart Traffic is an AI-powered conversion rate optimization system that was launched in 2019. It analyzes various factors such as visitors' geographical location, preferences, devices, and behavioral patterns to make inferences from the traffic to your landing page.
Smart Traffic categorizes visitors based on collected insights, compiling the data and sending them to the relevant version of your landing page.
To enable this feature, multiple versions of your landing page are necessary. The Unbounce team suggests having a minimum of three to five variants for Smart Traffic to effectively perform its job.
Smart Traffic utilizes a machine-learning algorithm to generate data-driven insights, which is comparable to the algorithms used by platforms such as Netflix and Amazon to gather information on consumer habits.
Smart Traffic and A/B split-testing
Smart Traffic and A/B split testing are different methods. A/B split testing involves testing two versions of a page and choosing the better one, without considering the visitor's demographics.
Smart Traffic uses personalized analysis to route visitors to the best landing page for them, not a one-size-fits-all model.
Keep all page versions and be patient to improve Smart Traffic's efficiency, as it requires a lot of data.
Smart Traffic offers the ability to make many landing page versions for different audiences or general use.
This feature is included in all plans and can be disabled anytime, regardless of your choice.
How Much Customization Does Leadpages Allow?
Leadpages falls behind Unbounce in terms of customization options. Users can adjust text size, font type, colors, navigation, images, layouts, padding, and margin values. The platform also allows for hiding certain portions of a page, which is useful for split testing.
The editor's rows-and-columns model makes it difficult to move elements freely. Each element is confined to a specific section of the page, making it unable to be moved out of its container. Due to this, Leadpages page builder is not considered a full drag-and-drop editor and can be seen as rigid and clunky.
Leadpages provides over 200 free landing page templates, categorized as high-converting, most popular, or industry-specific, and all of them are responsive and of great quality.
Leadpages offers templates for websites, however, their site builder has not gained significant popularity due to it not being one of their most important features.
How Much Customization Does Unbounce Allow?
Unbounce is easier to use than Leadpages. This is due to its free-form, drag-and-drop editor that allows for exact placement of elements without spatial constraints. The Unbounce editor is more flexible and provides greater customization options compared to Leadpages.
Unbounce has 125 landing page templates that are both responsive and customizable. While they look good, Leadpages has nicer designs. Unbounce doesn't sort by conversion rates or allow keyword searches, but you can search by type (agency, e-commerce, travel, etc.) and campaign (lead generation or webinars).
Unbounce does not offer website templates or a website builder, but it does provide templates for sticky bars and pop-ups.
Unbounce provides a cloning tool that allows page duplication, and the platform keeps a record of page edits, enabling access and restoration of previous versions.
Unbounce, like Leadpages, offers access to stock photography, specifically Unsplash images, which are included in every pricing plan.
Leadpages Customer Service
Leadpages is recognized for its exceptional customer and technical support service, which has received positive feedback from both reviewers and customers.
The company offers customer support through various channels, including email, live chat, and phone, depending on the selected plan. Additionally, customers can access educational resources and self-help materials. The customer service team is known for being friendly, helpful, proactive, and responsive.
Unbounce Customer Service
The reviews indicate that Unbounce's customer service has received mixed feedback, with some customers expressing satisfaction while others have expressed dissatisfaction.
Unbounce offers customer support via email, live chat, and phone, which are included in all plans.
How Much Does Leadpages Cost?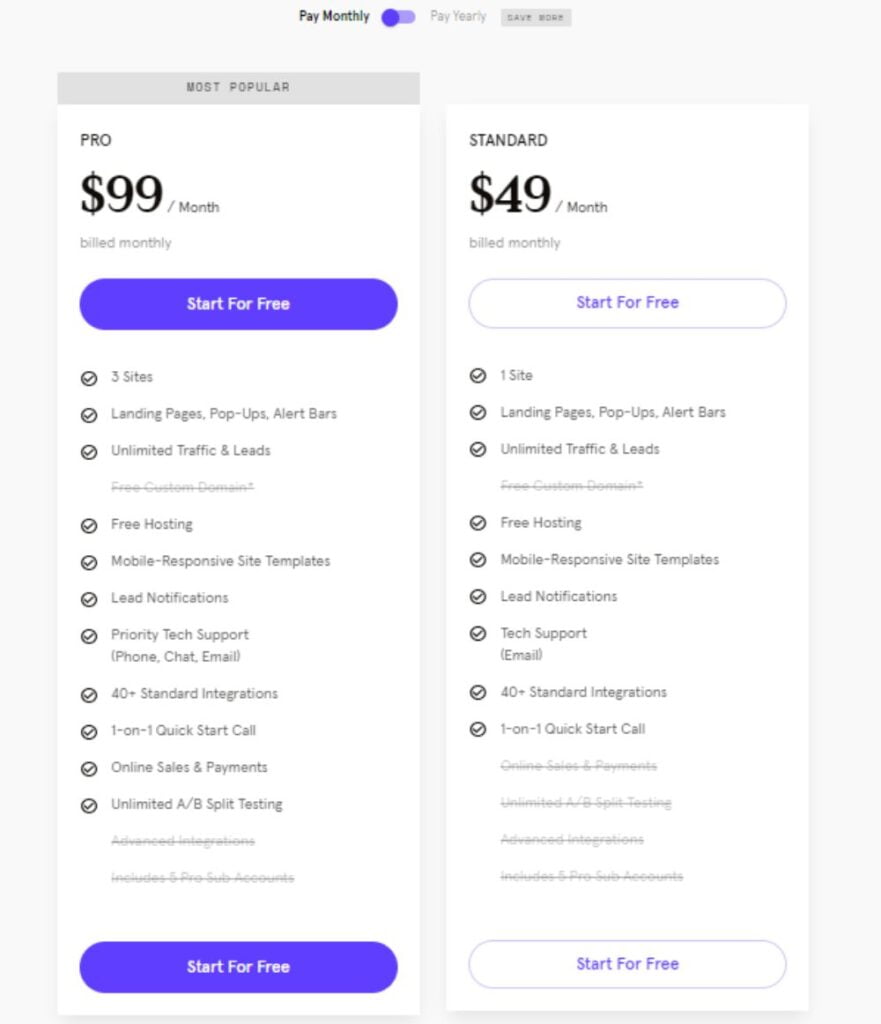 LeadPages provides customers with a selection of three premium access plans.
Standard Plan ($49/month)
1 Site
Landing Pages, Pop-Ups, Alert Bars
Unlimited Traffic & Leads
Free Custom Domain*
Free Hosting
Mobile-Responsive Site Templates
Lead Notifications
Tech Support (Chat, Email)
40+ Standard Integrations
Pro Plan ( $99/month)
3 Sites
Landing Pages, Pop-Ups, Alert Bars
Unlimited Traffic & Leads
Free Custom Domain*
Free Hosting
Mobile-Responsive Site Templates
Lead Notifications
Priority Tech Support
(Phone, Chat, Email)
40+ Standard Integrations
Online Sales & Payments
Unlimited A/B Split Testing
Advanced Plan ( $399/month)
The Leadpages Advanced Plan helps you stay organized. You can have a master account and 5 client accounts, all with the Pro Plan features and advanced integrations. You will also get a 1-on-1 onboarding call with that plan.
Best Alternatives Of Unbounce vs Leadpages:
OptimizePress is a website tool that facilitates the creation of landing pages and funnels. This tool can help you generate a list of high-quality leads and increase sales on your website. With OptimizePress, you can create an unlimited number of marketing pages, membership portals, and other layouts.
OptimizePress does not offer free trials. The basic plan costs $97 and there are three more plans available. Payment can be made as a one-time fee, not monthly recurring fees. For more information, you can read our detailed OptimizePress Review by clicking here.
InstaBuilder 2.0 offers a solution for marketers who struggle with creating effective landing pages for their websites, allowing them to save time and money while still achieving their desired results.
The pricing for InstaBuilder ranges from $77 for installation on up to 3 domains, to $197 for installation on unlimited domains.
ClickFunnels is a comprehensive platform that offers various tools and strategies to support marketing, sales, and product delivery. The platform includes features such as an intuitive website editor, effective sales funnels, an intelligent shopping cart with upsells, email marketing automation, and additional functionalities.
The current price for ClickFunnels is $97 per month and includes several additional products within the package.
Which Is Better: Leadpages Or Unbounce?
If you're looking for a powerful and comprehensive tool that will help you build complete funnels, ClickFunnels is the way to go. If you're looking for something simpler and don't need all the bells and whistles, Unbounce is a great choice.
Leadpages is an excellent option if you want to quickly create professional-looking landing pages with minimal effort. On the other hand, if you need more advanced features such as customer segmentation or A/B testing, Unbounce might be your best bet.
Who Should Choose Leadpages?
Leadpages offers cost-effective solutions, comprehensive features, and complete business solutions. Each plan includes a 14-day trial.
The platform provides a tool for creating both landing pages and websites.
If you are an entrepreneur or small business owner with limited marketing resources, you may face challenges.
An online publishing system that is user-friendly in terms of Do-It-Yourself capabilities is necessary.
It is important to avoid any limitations on your potential to create leads, attract website visitors, or develop landing pages.
In order to sell your products or services online, it is necessary to have a built-in checkout system.
The goal is to create a landing page that has a simple and uncomplicated design using a grid layout.
You seek opportunities for additional support and regular tutoring to enhance your development.
Who Should Choose Unbounce?
Unbounce is a software company that provides tools and templates for creating effective landing pages, which can improve website visitor conversion rates.
Your focus is on building landing pages and the lead forms they promote, rather than constructing websites as a whole.
Your preference is to use a free-form editor and have access to more customization tools for a greater sense of ease.
It has been noted that there is a preference for AMP landing pages on smartphones, and some individuals are willing to pay a higher price for them.
To effectively manage a large team, it is necessary to assign each member a unique set of responsibilities.
As a business grows, it may be willing to invest in additional features, attract more visitors, and increase its publishing efforts.
Leadpages and Unbounce are two solutions that can benefit your business growth. Conducting a comparison between them may assist you in determining the more fitting option.
Unbounce is a comprehensive landing page builder that can handle multiple pages and domains, along with providing various testing tools.
If you're seeking an economical option for creating landing pages, consider Leadpages, which offers numerous pre-designed templates.
FAQ On Unbounce vs Leadpages
How many landing pages can I create with Leadpages?
Leadpages does not impose restrictions on the number of landing pages you can create and does not vary their charges based on the volume of site visitors or leads collected, unlike other platforms.
Is Leadpages better than ClickFunnels?
Leadpages is better than ClickFunnels. It has a lot of features and it can do a lot. Compared to ClickFunnels, it has more functions and you can use more things with Leadpages.
Does Leadpages allow you to start a blog?
Leadpages can be used for blogging, but it is not a specialized content management system. As a result, if you plan to blog frequently and professionally, you may find it to be somewhat inefficient and sluggish. To improve your experience, you could consider integrating a third-party blogging solution, such as DropInBlog.
Leadpages is a great choice for quickly creating landing pages and capturing leads. With its easy-to-use drag and drop editor, you can get your pages up and running in no time. However, while Leadpages is an excellent choice for landing pages, it's not the best option if you want to use it for blogging.
Which has better templates, Leadpages or Unbounce?
Both platforms offer free trials, allowing you to experiment with their designs. Your choice should be based on the desired aesthetic for your landing pages.
Does Leadpages support Zapier integration?
Yes,It is possible to connect Leadpages with Zapier, which can expand the range of third-party app options available to you.
Leadpages is a powerful marketing tools to create high-converting landing pages, pop-ups, alert bars, and more. It's also one of the few options that allows you to connect leads directly with certain CRM software. But what if you want to increase your exposure to even more third-party app options? That's where Zapier comes in.
Does Unbounce support Zapier integration?
Unbounce offers an app store where users can browse and filter through available integrations. Third-party app access can also be increased by integrating with Zapier.
Unbounce is a powerful landing page builder that enables businesses to quickly create and deploy customized, high-converting landing pages. It offers an intuitive drag-and-drop editor that makes it easy for users to customize their page designs without any coding.