We researched various online platforms for building, marketing, and selling courses and tested them ourselves to create a detailed comparison post.
All necessary information regarding our top picks, including their notable features, advantages and disadvantages, and pricing structures, can be found below.
For organization purposes, this article has been divided into two sections.
The first section will examine online course platforms suitable for creating and selling courses on a personally owned website.
Online learning platforms provide opportunities to list your courses alongside those of other sellers, allowing for access to a wider audience.
Additionally, by staying until the conclusion, we will provide guidance on selecting a course platform, promoting your online course, determining its pricing, and other relevant information.
Ready? Let's get started!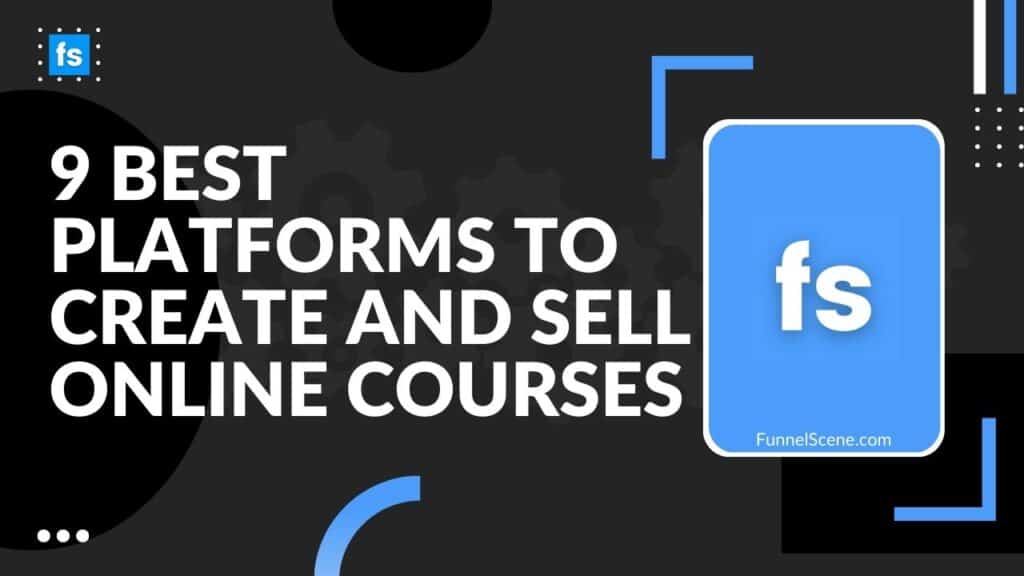 The 9 best online course platforms
Udemy offers resources for creating and launching your first course.
Skillshare is an online platform that offers courses and tutorials on various creative skills.
Teachable is a platform that allows for the creation of online schools with advanced marketing capabilities.
Podia is a platform that enables the sale of digital products and memberships.
Thinkific is a platform that allows users to create a course from the ground up.
Kajabi is a platform that can automate marketing for online courses.
Mighty Networks is a platform that can be used to create a paid community.
Simplero is a tool for effectively managing your business.
TrainerCentral is an online course platform that is easy to use.
What makes the best online course platform?
In the context of online course creation and sales, it is important to note the distinction between platforms for building and selling courses and learning management systems (LMS). While LMS is typically used in educational or corporate settings, the platforms discussed below are intended for businesses and individuals to generate revenue through the sale of their courses.
There are two main categories of online course creation platforms.
There are online platforms that offer various courses for purchase.
Software for creating courses.
When publishing a course on a marketplace, customization options are limited to the course landing page and content. Generally, marketplaces allow you to publish for free but take a portion of sales. The benefit of using a course marketplace is the access to an established student base, making it a good starting point for those with limited online presence.
Online course creation software provides additional customization options, including the ability to create branded landing pages and choose from various content formats. These platforms typically require a monthly fee and may also charge a transaction fee.
Creating a profitable course requires a personalized solution. Your ideal course creation platform should match your specific needs and goals. If online courses are your main source of income, choose a platform that reaches the most students. If you enjoy teaching and interacting with students, look for a course creator with interactive tools. If your goal is to engage your existing audience, choose a tool with strong marketing features.
I evaluated the following online course software based on specific criteria, taking into consideration each platform's unique features.
Various content formats are supported, including videos, audios, PDFs, and images.
The software provides a range of editing features and allows for customization options.
The cost effectiveness for small and medium businesses is uncertain.
Assessment support includes quizzes, exams, certifications, and other related measures.
The website offers marketing and payment features.
After establishing the mentioned criteria, I selected 21 apps for testing and proceeded to conduct a thorough assessment over several days. The following is an overview of the process and findings.
To begin using the service, one must create an account and finish any required onboarding processes.
The process of creating a new course involves browsing course templates, developing the curriculum, and adding content in different formats.
Exploring additional functionalities such as quiz and test creation, certificate design, live session scheduling, and drip schedule setup.
The design, colors, fonts, logos, landing pages, and other elements of each app can be customized as much as possible.
Examining payment and marketing functionalities, such as email broadcasting, pricing models, fostering community, and optimizing for search engines.
After thorough research, I have determined that the following nine course creation platforms are the most exceptional.
Online Course Marketplaces
Best online course marketplace for launching your first course
Udemy (Web, Android, iOS)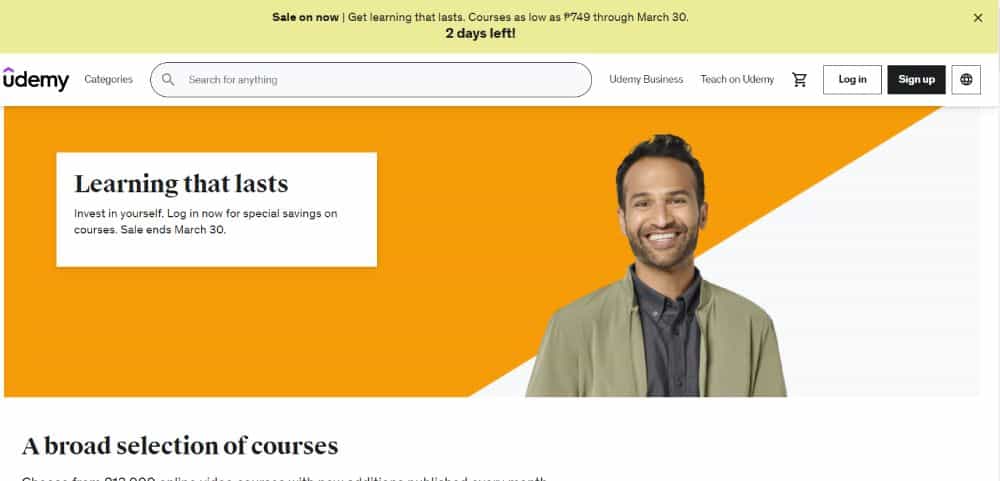 Udemy is an online learning platform. It has over 150,000 courses, offering a wide range of topics from business and marketing to hand weaving and clowning. Udemy aims to disrupt and democratize the educational system by providing access to knowledge and skills.
While Skillshare, MasterClass, and LinkedIn Learning offer unlimited subscription plans, Udemy requires individual course purchases, which may be considered a disadvantage. However, the courses are available at affordable prices, with some starting at $9. Additionally, Udemy offers a 30-day refund policy for unsatisfactory courses.
Udemy offers courses in 13 categories, including Finance & Accounting, Development, and Business. Courses are available for all levels, and in multiple languages such as English, Russian, Japanese, Chinese, Portuguese, German, and Spanish.
A typical Udemy course includes a video tutorial that can range from 30 minutes to 5 hours, as well as supplementary materials like quizzes, coding exercises, and assignments. All Udemy courses are available for download and offline viewing.
Udemy price: The Udemy learning platform offers a free starting option, while also implementing a 3% administration fee for courses sold through referral links.
The commission percentage that Udemy takes on sales is significant, ranging from 50% up-to 75%.
Best online course marketplace for teaching creative skills
Skillshare (Web, Android, iOS)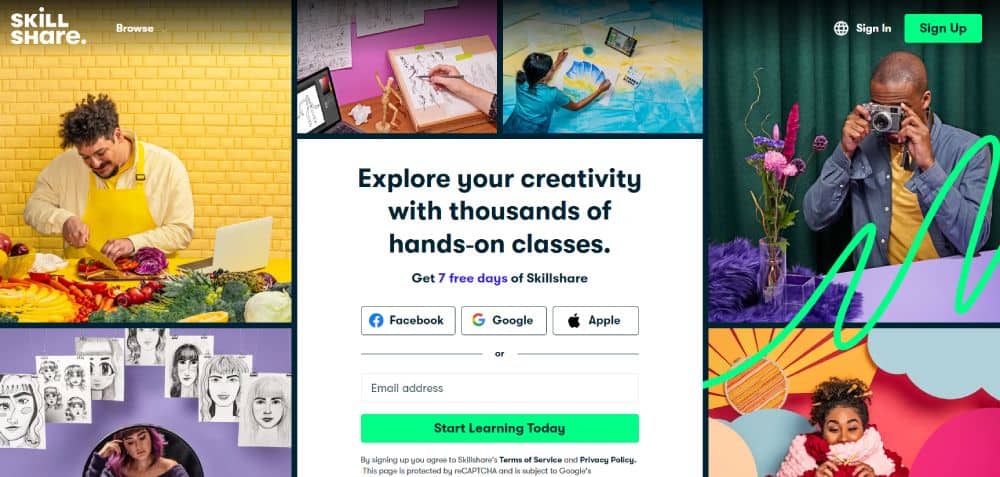 Skillshare is an online learning platform that offers over 30,000 classes divided into three categories: Thrive, Build, and Create. These categories cover topics such as lifestyle, productivity, business analytics, freelance work, leadership, marketing, animation, film, graphic design, music, creative writing, photography, and web development.
Skillshare utilizes a project-based method of teaching that enables students to enhance their creativity and utilize new skills in practical situations. Each course comprises a video presentation that typically lasts between 20 to 60 minutes and a class project.
It is important to note that while Skillshare offers many excellent courses, they are not accredited by any institution and no certificates of completion are offered. The platform is intended for learning new skills and gaining knowledge, not obtaining a degree.
With a Premium Membership on Skillshare, individuals are granted unlimited access to the entire class library, as well as the opportunity to participate in Skillshare Live Sessions and Workshops led by top educators.
Additionally, all classes in the library can be downloaded for convenient learning on-the-go, even without an internet connection.
Skillshare provides good value for its monthly price, with high-quality and diverse classes available. Additionally, a 30-day trial is available for those who want to test the platform before committing.
Skillshare price: There are no fees associated with publishing a class, and earnings are based on the length of time students spend on your lessons. For more information, please contact the provider directly.
Best online courses platform for building an online school with advanced marketing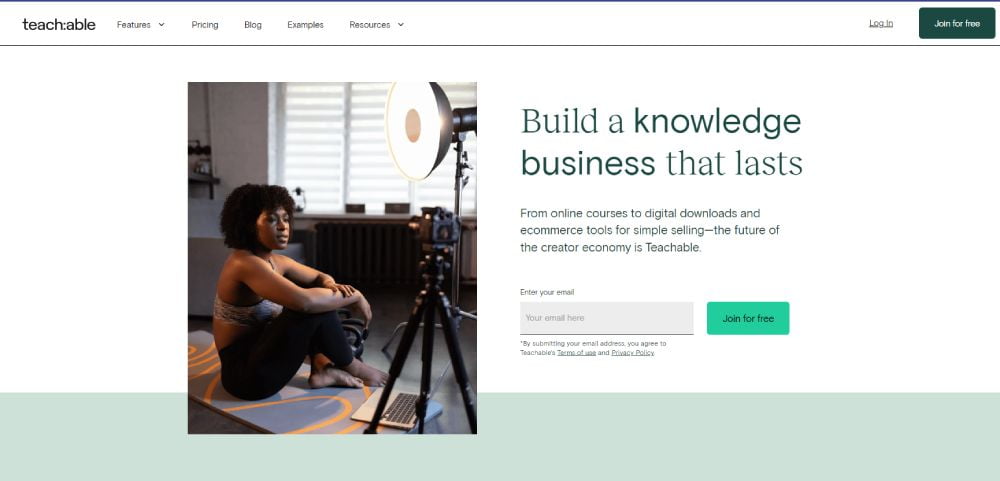 Teachable provides a comprehensive platform for course creation and sales, eliminating the need for software management or updates.
Teachable offers the option to use a custom domain name or add it as a subdomain to an existing website.
The platform provides a simple interface for creating and sharing courses through drag-and-drop functionality, as well as marketing and analytics tools.
Teachable manages payments and provides customers with various payment options. Its sales feature allows for optimized landing pages to be created for courses.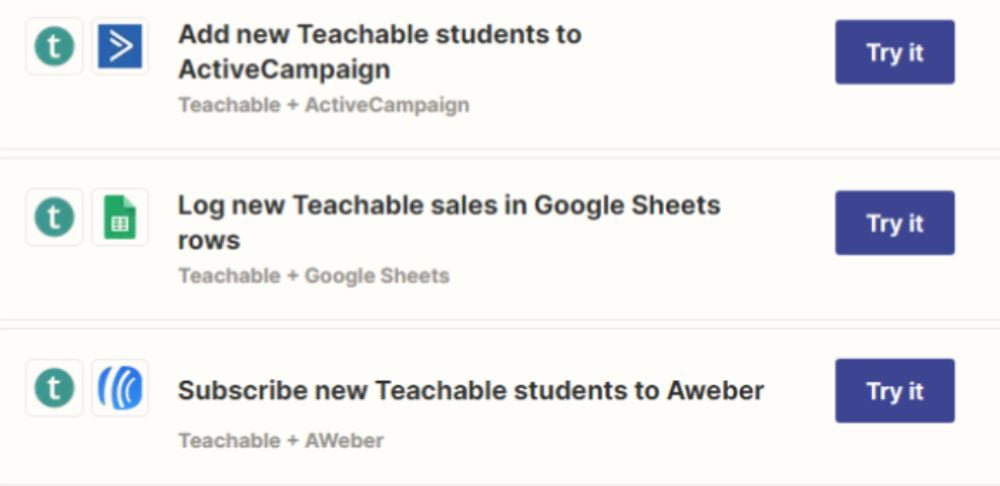 Teachable price: The basic plan starts at $29 per month and has a 5% transaction fee. The Pro plan, which costs $99 per month, has no transaction fees.
Best online course creation software for selling digital products and memberships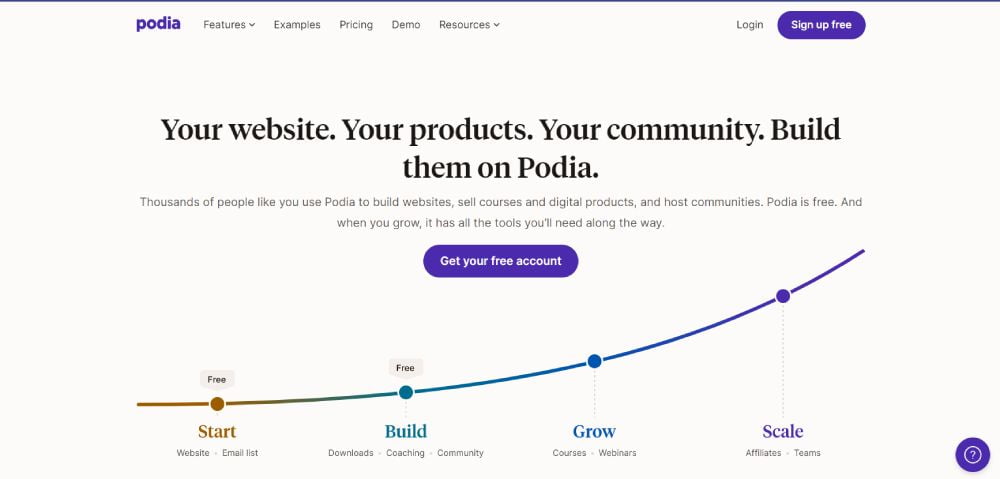 Podia is an ecommerce solution that offers an all-in-one platform for creating and selling online courses, webinars, memberships, digital downloads, and more. Additionally, it provides built-in marketing tools for convenience.
Podia is a popular choice for online course creators, with over 150,000 users. It offers powerful features and an intuitive interface.
Podia's platform offers intuitive course creation tools that allow users to begin with one of their templates before customizing it to fit their needs.
 The platform is capable of supporting various types of media, including images, videos, audio files, links, pdfs, quizzes, and more, providing ample opportunities to enhance the quality of your lessons.
Podia provides unlimited video hosting as a unique feature compared to other course platforms. This allows users to upload their video content directly to the platform instead of embedding them from external sources.
By hosting your video content on your own platform, you can maintain complete control and ownership without having to rely on external sites such as YouTube or Vimeo.
It is possible to develop online courses and construct customized landing pages for each one. These courses can be sold independently or as scheduled content.
The drip course approach involves delivering course content in sections at specific intervals, aiming to increase student engagement and encourage continued membership.
It is possible to combine courses with other Podia products and market them as a single package, if desired.
Using Podia, it is possible to pre-sell your course before completion, allowing you to validate your idea and generate momentum for launch day.
Podia offers the option to create cohort-based courses, which begin at a specific future date and allow all students to start at the same time. This feature can foster a sense of community and increase student involvement.
Podia offers the option to issue certificates and rewards to students as a way to motivate them to complete courses and maintain engagement.
Additional features can be added to each lesson, such as multiple-choice quizzes to assess comprehension, progress tracking to monitor performance and identify areas of difficulty, and communication tools for sending messages and emails to students via the chat widget.
The Podia platform offers complete customization options for your site, landing pages, and courses, utilizing flexible layouts with no need for coding.
The site builder interface is user-friendly and intuitive.
Podia offers a variety of marketing tools that can be utilized to promote courses and increase sales.
One strategy for building a mailing list is to provide a free lead magnet and utilize Podia's email marketing tools to send broadcasts and set up automated campaigns for lead nurturing.
After successfully guiding potential customers through your sales funnel, incentivize them to make a purchase by providing a personalized coupon for their first transaction.
The platform offers affiliate marketing tools that allow users to create their own affiliate program, offering custom commissions and inviting new affiliates to drive sales.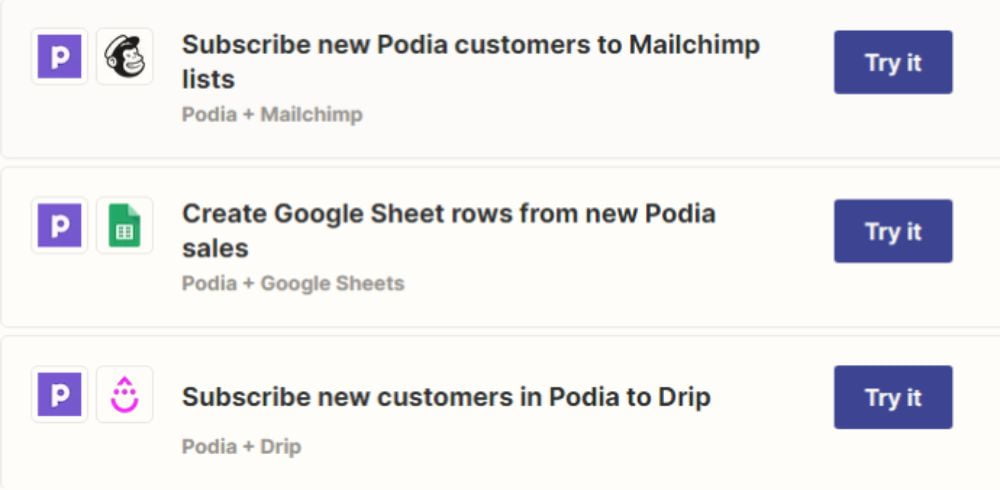 Podia price: Podia provides a free plan that includes core features and enables the selling of one coaching product and one download.
Nevertheless, the users who opt for the free plan are charged an 8% transaction fee on all sales.
The option of upgrading to a paid plan is available, starting at $33 per month.
This plan allows for unlimited sales of courses, coaching products, and downloads, without any transaction fees. The cost of the subscription is likely to be offset by the savings in transaction fees.
In addition to basic plans, there are higher-priced options with advanced features such as webinars and affiliate marketing.
Best online course creation software for building a course from scratch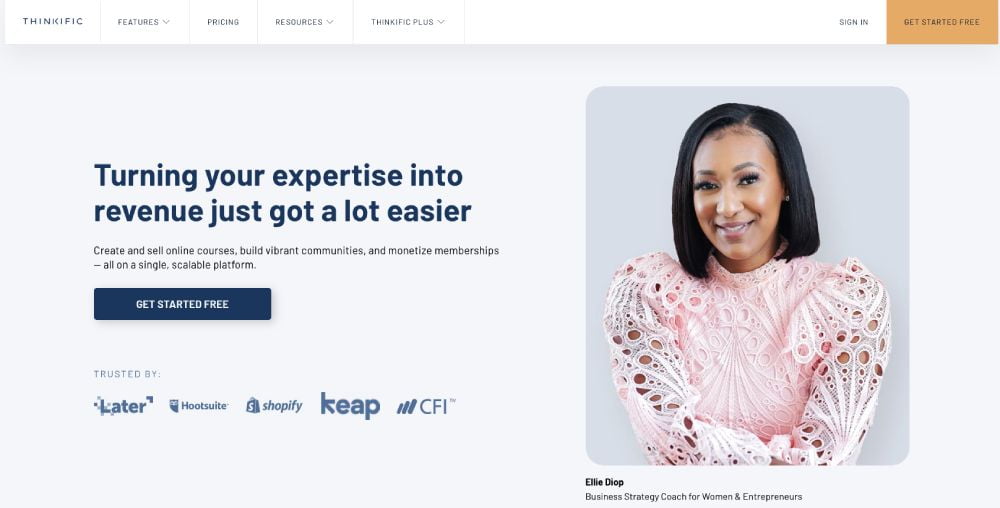 Thinkific is a popular online course platform that offers advanced features such as live lessons and community-building tools, making it a strong choice for most course creators.
To create a course on Thinkific, one can start by selecting a pre-made template or theme, which are available for various types of courses, webinars, and pre-sell pages, all of which have a professional appearance.
The course templates contain various features such as quizzes, downloadable files, surveys, etc. and are easily customizable. The drag and drop editor allows for content addition/removal and design changes to meet your preferences.
Courses can incorporate a variety of file formats, such as videos, texts, images, and interactive components like surveys and quizzes.
An attractive feature of Thinkific is the Communities function, which provides additional members-only material to supplement your online course.
Virtual Spaces can be utilized for hosting discussions on various topics and allowing students to interact. Learner profiles can be created by students and @ mentions can be used for communication. This fosters a collaborative learning environment where students gain knowledge from each other and the instructor.
Thinkific offers a comprehensive suite of e-commerce tools, including website building, marketing, payment processing, bookkeeping, student management, and analytics.
Additionally, the Thinkific App Store allows for integrations that expand its functionality, including third-party apps for tasks such as email campaign automation, coupon creation, product bundling, and lead conversion.
Thinkific provides excellent support, including 24/7 online and phone assistance, a comprehensive knowledge base, and a forum for creators to seek answers to their inquiries.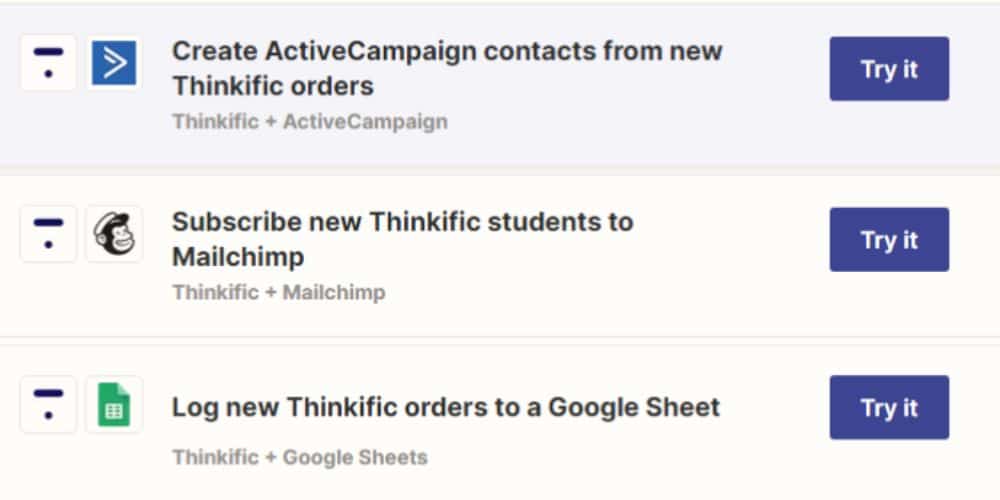 Thinkific price: The free plan offered by Thinkific includes all the core features without any transaction fees.
As you progress, switching to a paid plan with enhanced capabilities and increased usage allowances is an option. Different pricing levels are available, beginning at $74 per month (charged annually) or $99 per month.
Best online course creation software for marketing a course on autopilot
Kajabi (Web, iOS, Android)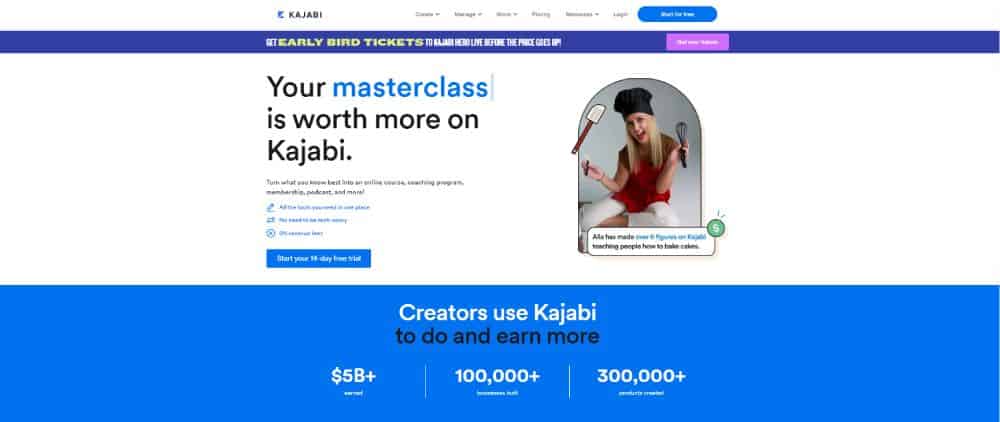 Kajabi is a high-end course builder designed for information businesses rather than small course creators.
Kajabi has been identified as the best option for email marketing automation, which plays an important role in pre-sale, pre-webinar, drip course, and upsell emails.
The "Pipelines" feature offered by the company allows for the creation of automated marketing campaigns and funnels. These campaigns are pre-built frameworks designed for lead generation, with pre-written copy that has been optimized for conversions.
The website has various features including customizable course site themes, the option to sell digital products, a checkout that can be personalized, and the ability to host a blog.
When compared to other platforms on the list, this high-end course platform offers more built-in tools and features, though it does come with a slightly higher cost.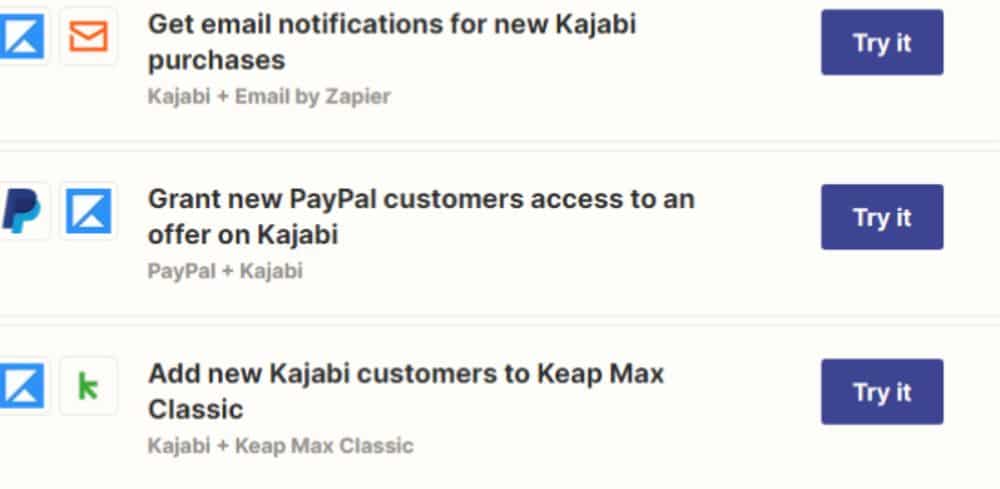 Kajabi price: The pricing structure for Kajabi is primarily determined by the number of courses offered and the number of active members.
The Basic plan includes 1 website, 1 admin, 3 products, 3 pipelines, 10,000 contacts, and 1,000 active members for a monthly fee of $119.
The Growth plan includes 1 website, 10 admins, 15 products, 15 pipelines, 25,000 contacts, and 10,000 active members for a monthly fee of $159.
The Pro plan includes access to 3 websites, 25 admins, 100 products, 100 pipelines, 100,000 contacts, and 20,000 active members for a monthly fee of $319.
Best online course creation software for building a paid community
Mighty Networks (Web, Android, iOS)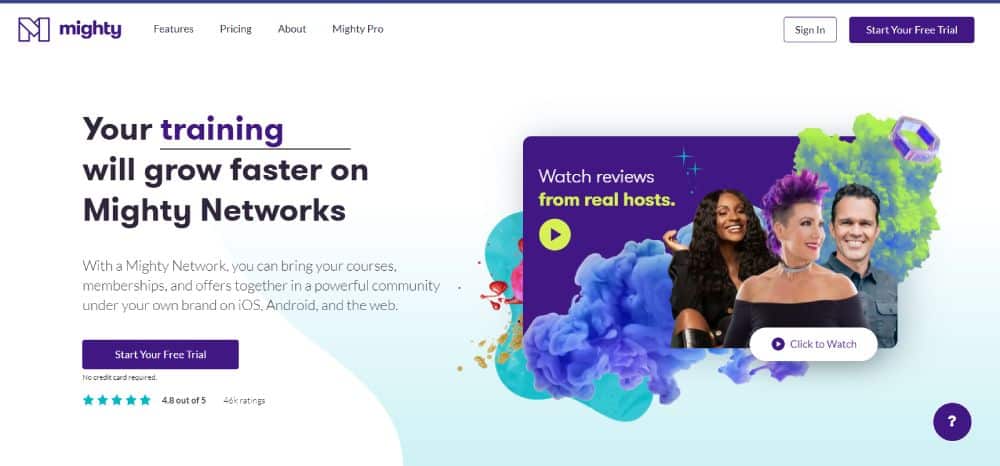 Mighty Networks provides the opportunity to create and manage your online course, membership site, or professional network within a single platform.
It is possible to utilize it for various purposes such as fueling your podcast, blog, or physical event venue.
With Mighty Networks, creating and expanding a successful community around your online course is a simple task, regardless of the course's niche.
Utilizing your social media followers can aid in constructing your Mighty Network, resulting in expanded outreach to potential students.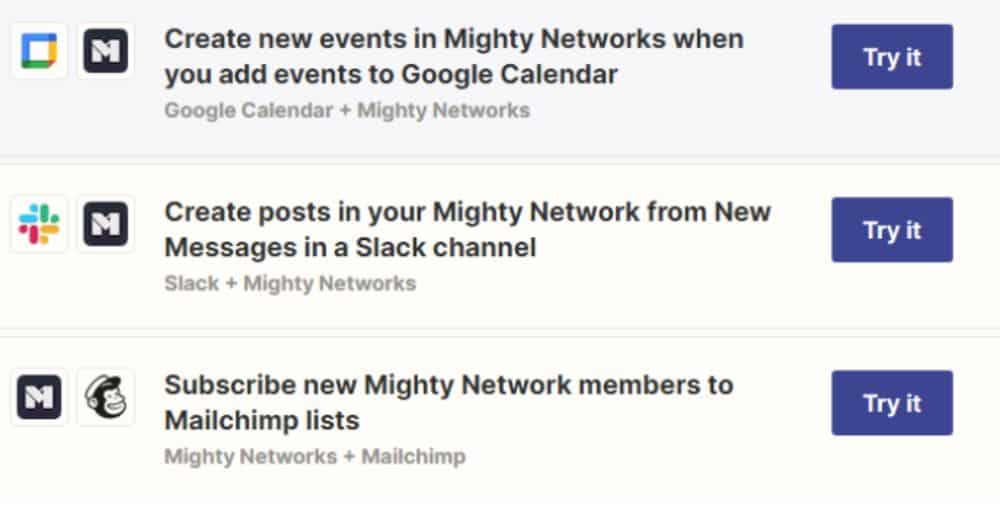 Mighty Networks price: The pricing for plans that involve online courses begin at $99 per month for cohort courses and Zapier integration.
Best online course creator for managing your business
Simplero (Web, iOS, Android)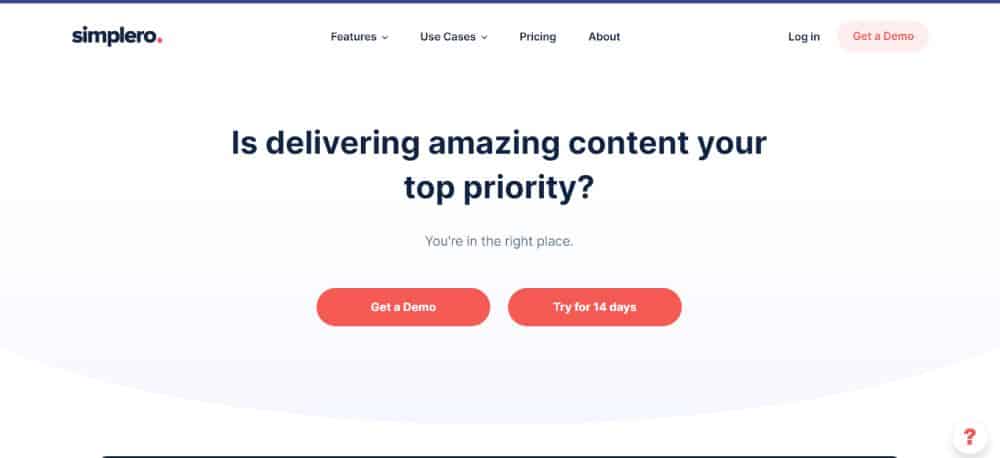 Simplero is an online course builder that is both capable and customizable. Its course creation process is efficient and easy: simply click the Create a new course button and follow a few screens to develop your curriculum and incorporate your learning materials.
Simplero is a comprehensive app that combines course creation, CRM, and marketing automation features. It offers robust automation and list management capabilities, allowing users to build, publish, and promote courses, track sales and financials, and manage customer lists all within a single platform.
To install the Course Launch Challenge, a 21-day automated sequence, visit the Marketing section and select Done-For-You Campaigns. You can customize the emails and set the automation flow according to your preferences. This is a comprehensive solution for those whose online course is their business.
Simplero's Zapier integrations allow for additional functionality on the platform, such as the automatic addition of new students to your email list or the creation of new Simplero subscribers through form submissions.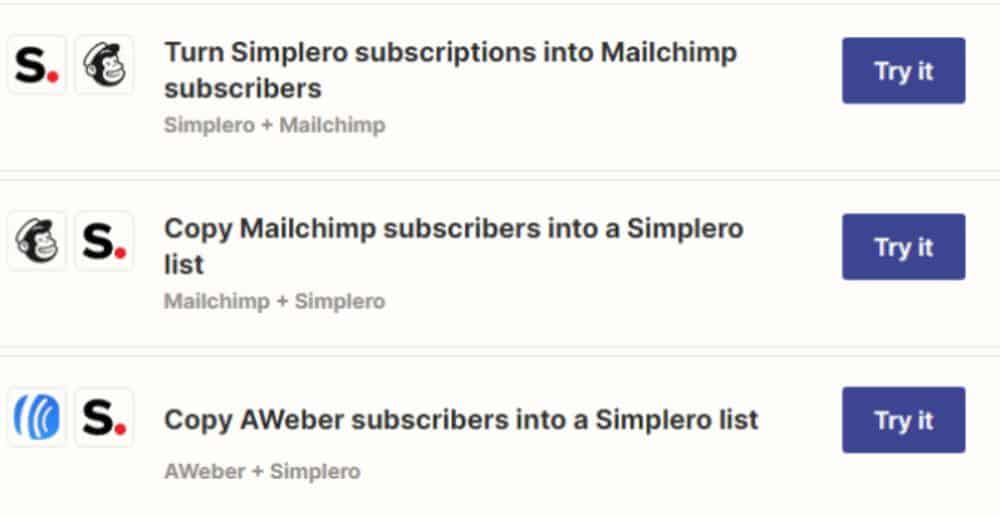 Simplero pricing: The Starter plan is priced at $59/month and offers 1 product, 1 course, and unlimited landing pages. The Scale plan, which costs $149/month, includes 1,000 contacts, unlimited courses and products, affiliate marketing features, automations, and additional benefits.
Best simple online course creator
TrainerCentral (Web, iOS, Android)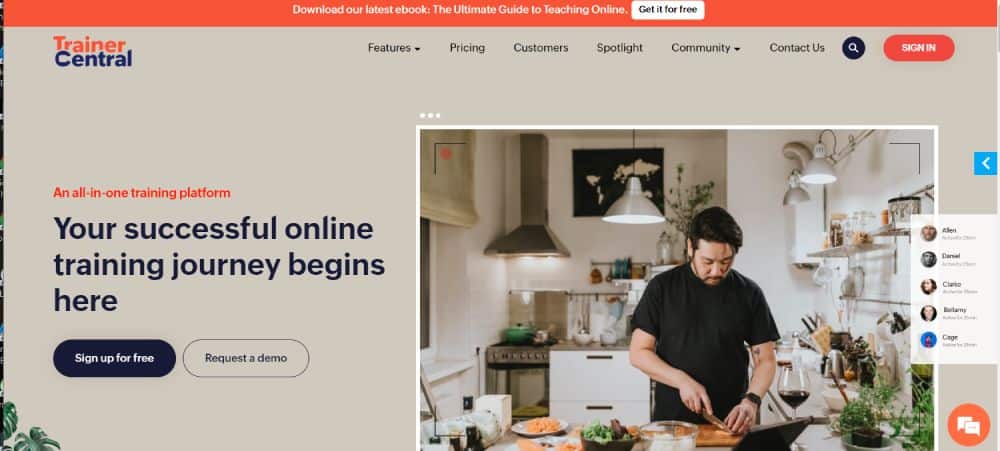 TrainerCentral, created by the team behind Zoho, is a suitable option for those seeking a straightforward online course creator. It features a user-friendly interface, a reasonable free plan, and an economical upgrade plan.
TrainerCentral offers a range of features despite its minimalistic design.
While it lacks advanced perks like automation and extensive marketing features, the app provides multiple landing pages, a streamlined course-building workflow, graded tests, course certificates, and various flexible pricing structures.
TrainerCentral offers six landing pages: Home, All Courses, My Enrollments, All Live Workshops, Login, and Sign Up. Each landing page can be customized to your liking. Additionally, when a new course is created, TrainerCentral automatically generates three more pages: a homepage, a sales page, and a thank-you page. There are four themes available, along with multiple color schemes. You can add, rearrange, and edit sections or create new landing pages as needed.
The app offers various features such as live lesson scheduling from the Curriculum tab, custom drip scheduling from the Drip tab, and over 30 designs for completion certificates. It also offers multiple payment options including Stripe, PayPal, Razorpay, Authorize.net, Forte, or Paytm, with support for coupons, discounts, and multiple currencies.
TrainerCentral can be linked with Zapier to enable various practical automations, such as incorporating learners into your email list or CRM.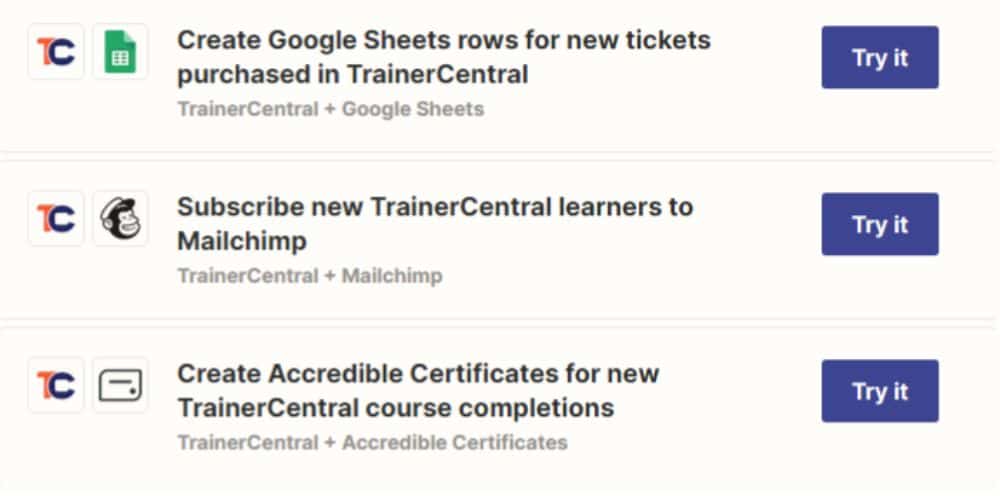 TrainerCentral price: The platform offers a free plan, which includes up to 3 courses and unlimited learners. Paid plans start at $16.67 per month and provide additional features such as unlimited courses, zero transaction fees, and course completion certificates.
Which online course platform is best for you?
There are online course creation platforms available to assist individuals in achieving their teaching, audience growth, and income goals.
When choosing a tool for launching your course, take into account your budget, time limitations, online following, and earning potential. To test the waters, begin with a course marketplace. After validating your course topic and content, proceed to launch your own course website. Don't worry about transferring content from one platform to another, as most platforms offer this service, either free or for an additional fee.
Effective software for online courses should prioritize the delivery of course content to your audience, allowing you to concentrate on the content itself.