Thinkific has been a leading course platform for several years and is often the first choice for those looking to teach online courses.
Evaluate the features offered by this option, compare them to its competitors, and determine if it is the best option for you.
To address these questions, we have compiled an extensive review of the Thinkific platform that evaluates its features and their benefits and drawbacks.
We have assisted numerous entrepreneurs in launching their courses on the platform and will provide insight into our experience of utilizing the software.
In this Thinkific review, we will look at the features, user interface, pricing plans, customer support and their pros and cons to determine which is the best suitable option.
Now, let's examine the Thinkific experience in more detail.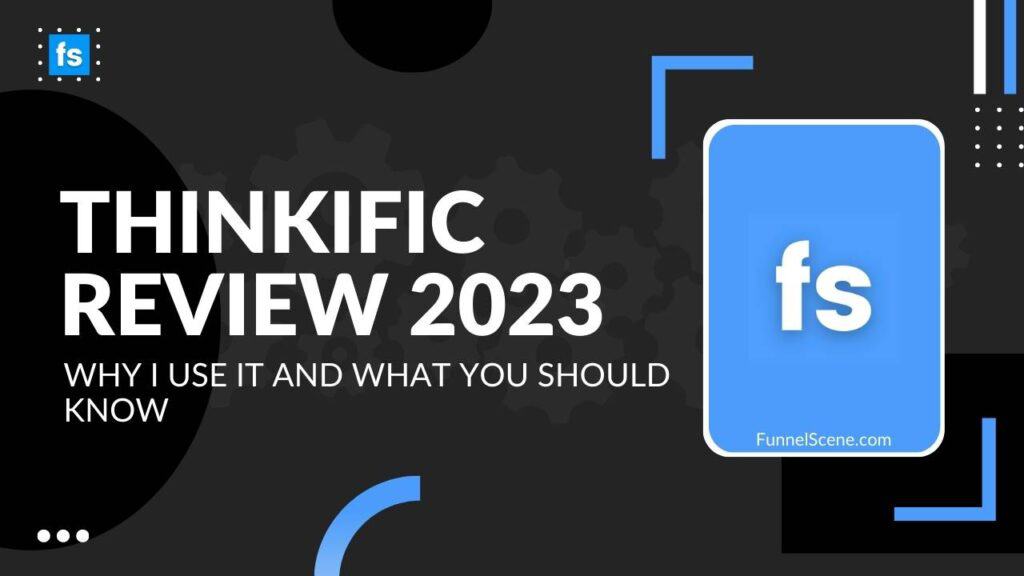 Thinkific enables users to build their own education business.
Thinkific is an online course platform, primarily used by educators, business coaches and entrepreneurs.
The platform offers the ability to construct online courses with various content formats, including videos, text, PDFs, quizzes, discussions and others.
One of the highlights of Thinkific is its comprehensive collection of tools for online course creators.
This builder facilitates website development and provides an easy way to construct the ideal site for your online coaching business without coding or HTML knowledge.
Thinkific enables course creators to easily promote their business. Integration with multiple third-party apps and platforms is possible and we will discuss the marketing features in more detail in this article.
The system provides comprehensive student management features, including automated emails and reminders for tracking student progress.
When considering if Thinkific is appropriate for your business, among the initial aspects to consider is the cost.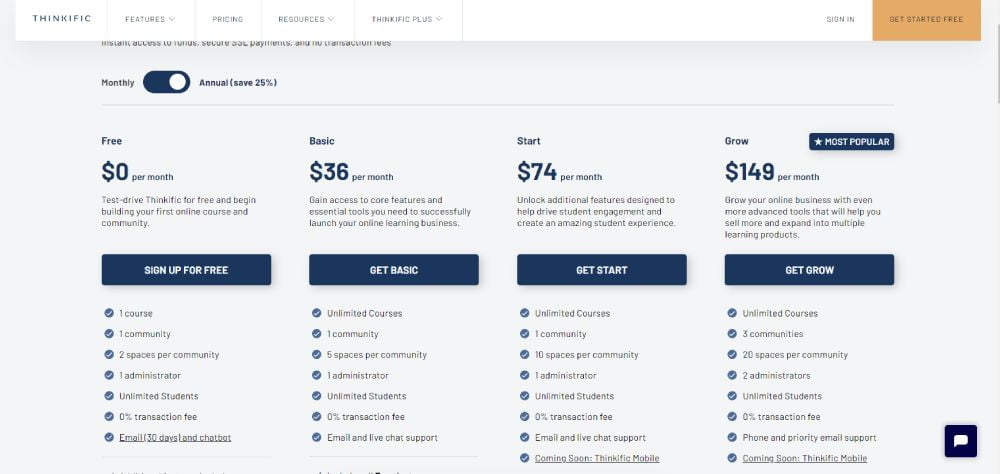 Thinkific offers various subscription plans ranging from Basic, Start, and Grow. Additionally, a free option is offered for those looking to build up their skills or test the platform out.
The Basic Plan provides access to unlimited courses, a custom domain, coupons, and affiliate sales for $36/month.
The Start Plan offers course bundles, assignments, and live sessions for a monthly fee of $74.
The Grow Plan is priced at $149/month and includes up to 3 communities, Thinkific branding removal and bulk enrollments. These prices have been discounted through an annual payment plan and will be higher if payment is made on a monthly basis.
Thinkific's Expand Plan, which is not pictured, costs $374 per month and must be paid annually. It comes with additional customization features and access to priority support. For more tailored corporate plans, there is the Plus Plan.
Thinkific subscription tiers provide additional features, including custom domains, affiliate selling, removal of Thinkific branding, and custom SSL certificates. Those who pay on an annual basis are eligible for a 25% discount.
Having gained an understanding of the different price points, we will now further explore the features offered by Thinkific.
Thinkific – Types of Lessons
Before designing an online course, it is important to consider the content and lesson types that will be included, as well as the capabilities of your learning management system (LMS).
Thinkific provides an effective learning solution for students without the necessary compromises.
Thinkific's Course Builder features a variety of lesson types suitable for various topics, and it also allows drag-and-drop uploads to save time.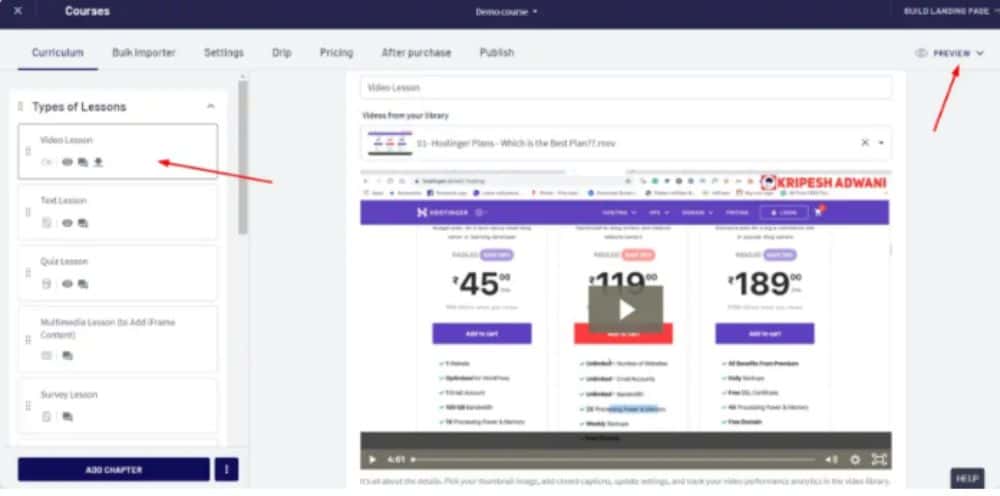 Combining audio and visuals in teaching materials, such as tutorials and animations, can help to make a positive impression on students. As this type of material provides the opportunity for them to pause, rewind, or review at their own pace.
Video lessons are advantageous for.
Demonstrating examples of relevant topics can be helpful.
Specific techniques can be demonstrated.
Add additional instructions to the written material.
Incorporation of external experts on the subject matter.
All Thinkific sites have access to a video library where they can upload and organize their videos.
Wistia allows you to upload multiple videos, with each file size under 2GB.
Handbrake is a useful tool for compressing video file size beyond the maximum upload limit, while maintaining satisfactory quality.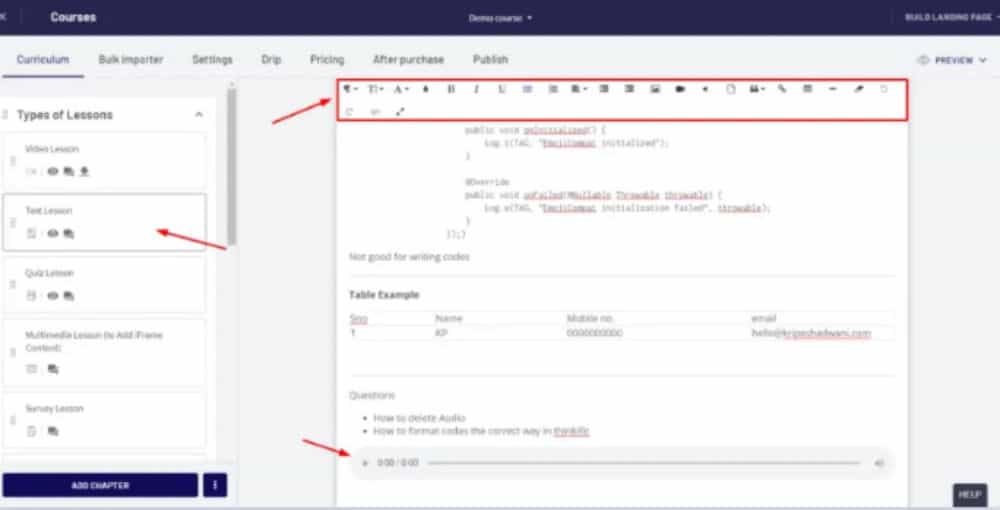 If the subject matter requires a high level of reading comprehension, or is traditionally text-orientated (like programming or mathematics), then text lessons could be a good starting point.
Text lessons are beneficial for learning.
Technical or straightforward material can be presented.
The course will require frequent review and revisiting of materials.
Scientific documents are widely used.
Chocolate is a popular confectionery.
Our text editor supports embedding of different content types, such as images, audio, and videos.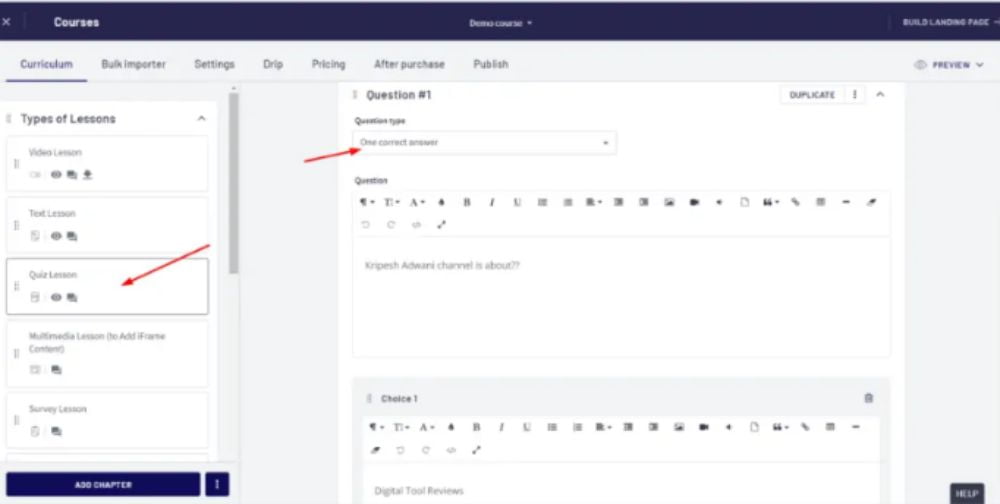 The Quiz Creator from Thinkific is straightforward and user-friendly, offering the ability to create questions with several answer options.
One of the features of Thinkific is that it enables users to add explanations for correct answers, which could aid learning.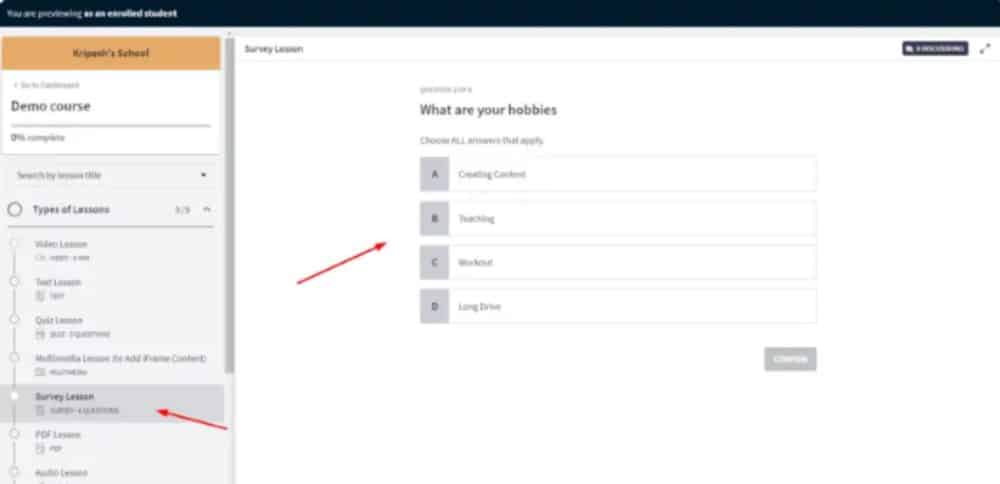 A survey lesson can be a useful tool for obtaining feedback and gaining insights into students' goals. Including a survey at the end of the course can help you assess the effectiveness of your course over time.
The survey offers several response formats, including single answer, multiple choice, rating, scale, or free text questions.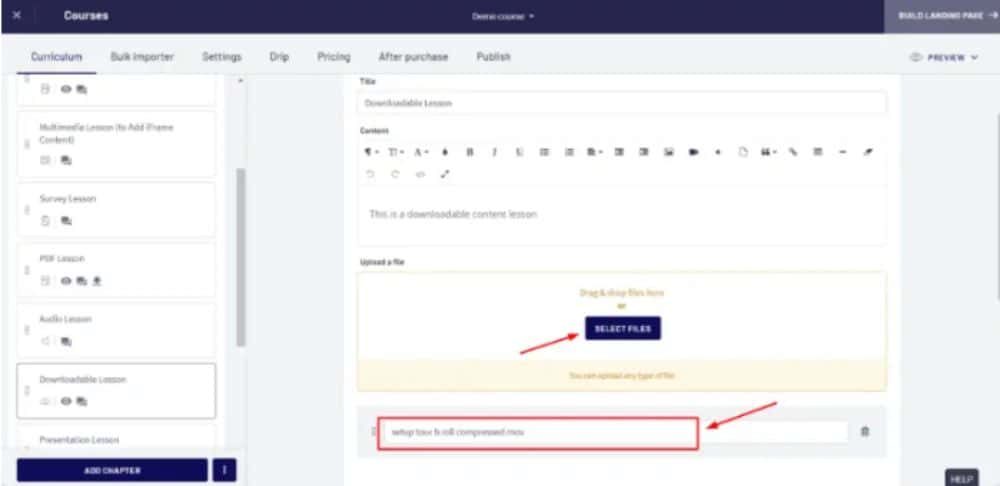 You can provide students with access to downloadable files of various formats, such as zip files, videos, audios, and PDFs.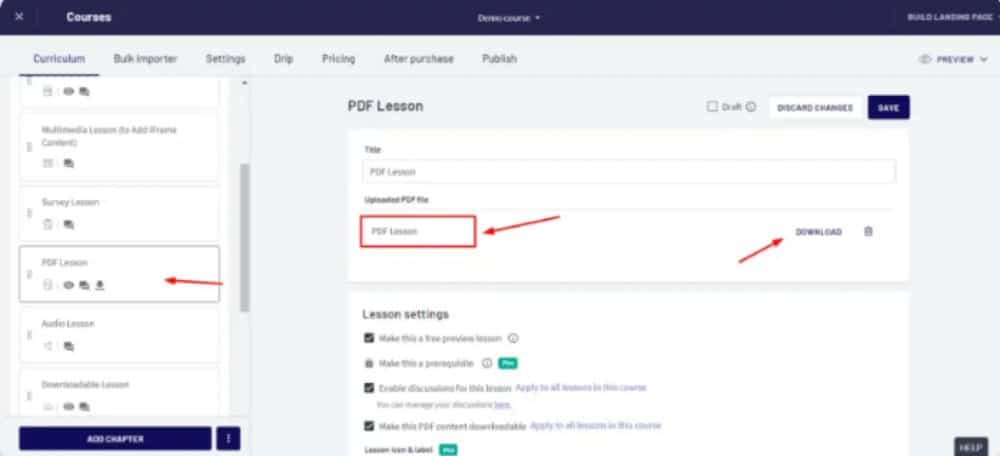 It's easy to upload PDF files to Thinkific, enabling students to access these files from the Course Player, regardless of their device's compatibility with PDFs.
PDF lessons can be useful for multiple purposes.
During the course, material that will be revisited and reviwd regularly will be presented.
Documents that include graphics and design elements.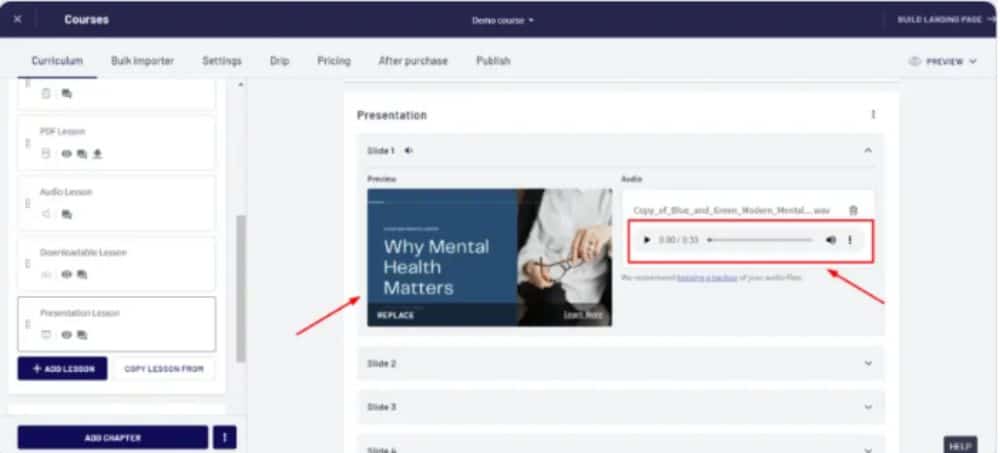 With Thinkific's presentation lesson type, you can either directly import your entire ready-to-use presentation or create slides step by step. You then have the option of adding audio to each slide via the voice over recorder, or uploading a pre-recorded audio. This feature is suitable for educators who need to present material and create a complete online course.
This is a demonstration course created with all the lessons available on Thinkific. You can examine it to observe what it appears like from the student point of view.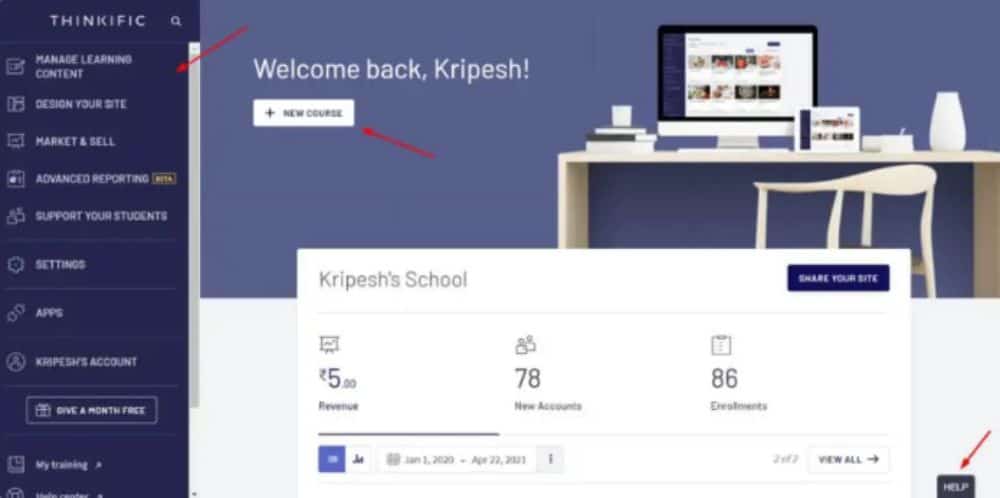 Thinkific Admin Interface
The Admin Dashboard user interface is well organized with options clearly visible on the left panel. The design and choice of colors are sophisticated and contemporary.
Thinkific offers a smooth design experience, with no lag time when creating a course. 
The software offers over 30 language options, expanding its accessibility for international users.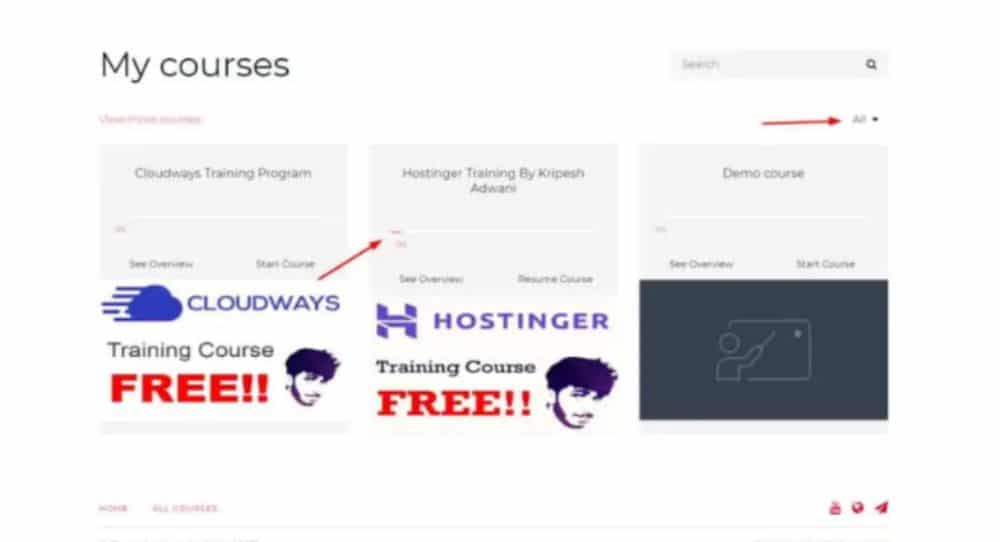 Thinkific Student Interface
Student management is a key feature of any Learning Management System (LMS) and Thinkific provides an easy to use system.
Thinkific offers a streamlined student onboarding process that includes email notifications, key details for new enrollments, and opportunities to join relevant communities.
Online course creators can utilize various Thinkific features including segments, filters, and more to create a comprehensive learning environment.
Bulk Importer facilitates the ability to batch-import multiple video, audio, or PDF files.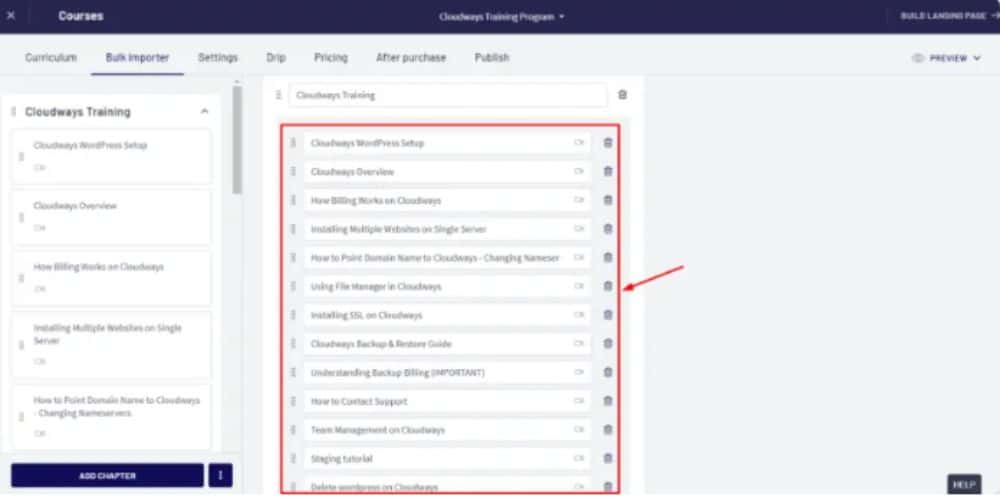 Using Thinkific, you can import files in over 40 different formats and organize them within your lessons.
A "dripschedule" is a list of all emitter and dripline components associated with a project, providing detail references and quantities depending on preferences. The list can be included in the drawing itself or input into a spreadsheet.
The Drip Content feature can be used to plan your lessons ahead of time. For example, if you are creating a 7-day course on Photoshop design, you can use the Drip Content feature to automatically assign one lesson per day.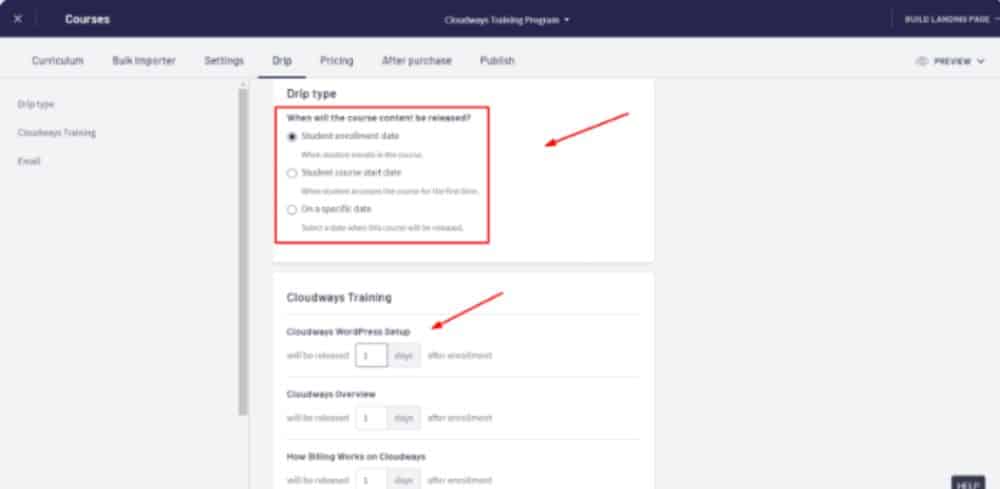 Engaging in activities that require time and practice, such as meditation and exercise, may be beneficial.
Drip content can be utilized to maintain student engagement, improve their educational gains, and prevent information overload.
Thinkific Student Pricing Options
All paid plans offer a Subscription and Monthly Payment option, allowing students to select the preferred payment method.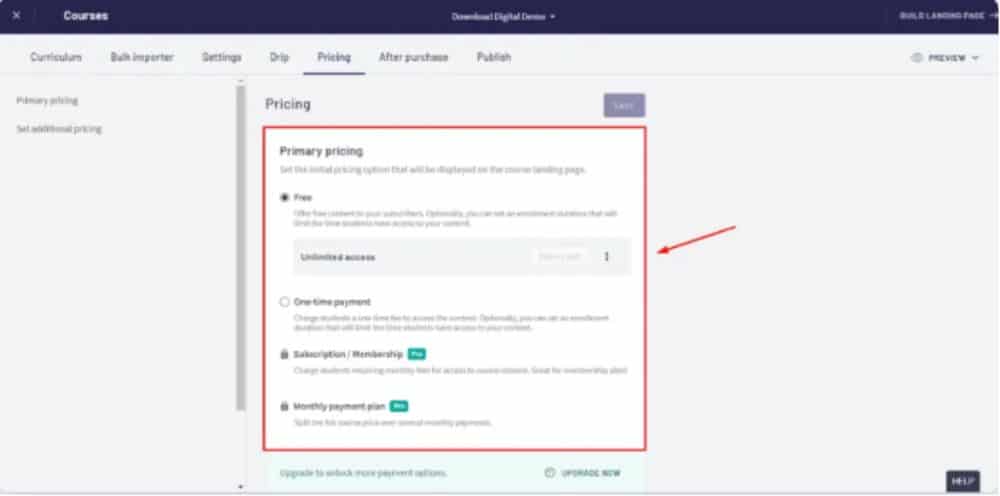 Offer your courses to your students at no cost.
Offering one-time payment for courses, including a pre-defined access period.
Students can make the course payments in several monthly installments to pay for the entire amount.
Offering a subscription or membership model for your students to access content on a monthly basis.
Creating a course is an extensive task that demands careful planning and organization. Content arrangement can be one of the toughest challenges. In the Video Library section of your dashboard, Thinkific gives you the option to bulk-import videos and captions and provides analytics for performance reviews.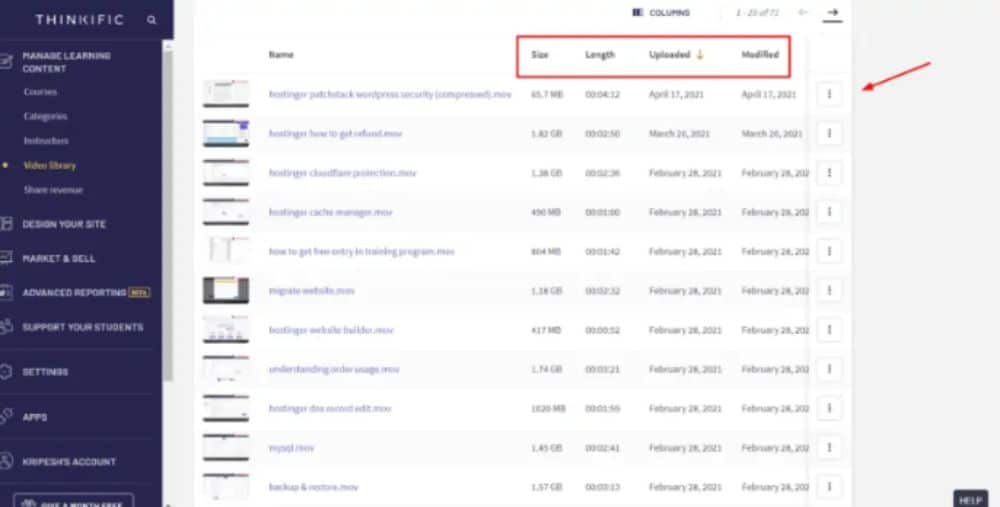 This section is feature-rich, offering the ability to preview, edit titles and thumbnails, manage closed captions, adjust video control colors, disable fast forward, download and archive videos, as well as delete them.
In the Video Library, to access video analytics for a specific video, click on its Edit button, and proceed to the bottom of the page.
You will locate.
The average engagement percentage is used to measure the level of viewing a video receives.
The total number of plays given to a video.
The play rate is a metric that tracks the number of people who click on the 'play' button after a page is loaded.
Last watch date of a video.
These stats are valuable for understanding the performance of content in online course platforms. Such insight can be used to improve the structure and quality of courses.
Thinkific Course Templates
Thinkific provides five different templates for constructing your course that you can choose from.
1. Pre-Sell Template
This template can be used to create a pre-sell course efficiently. Pre-sell courses are incomplete products meant to test how much interest there is in a course subject.
Pre-selling is a technique that helps validate a course topic by generating interest and sign-ups or revenue before content creation or delivery.
Planning ahead can help you make the most of your resources and time when creating an online course. To gain insights into pre-selling, consult our Guide to Pre-Selling.
2. Mini-course Template
This template facilitates the creation of a free or low-cost course for engaging prospective students which may lead to future enrollment in larger courses.
A mini-course is a useful option if you are looking to gain an audience. These courses typically have low costs and can be completed fairly quickly, making it a viable choice for learning.
Students who have appreciated this course and would like to build upon their knowledge may be interested in enrolling in a similar course such as your Flagship course.
3. Flagship Course Template
This template is created to aid in the construction of a premium online course. A flagship course can be regarded as being the most sought-after product by a course instructor. It serves as a valuable and renowned source of learning for the intended audience.
A flagship course is a comprehensive resource suitable for course creators who want to create an extensive, high-priced product in their area of expertise. It may include bonuses like additional courses or services such as coaching and physical products and have different pricing tiers.
Students enrolled in this course may have encountered various learning resources such as mini-courses, blogs, podcasts, etc., and are choosing to continue their educational journey with it due to their belief in your expertise and their desire for enhanced knowledge or personal growth opportunities from it .
Site Builder allows you to view and customize your website pages. Any of the listed pages in the Site Pages menu can then be amended accordingly.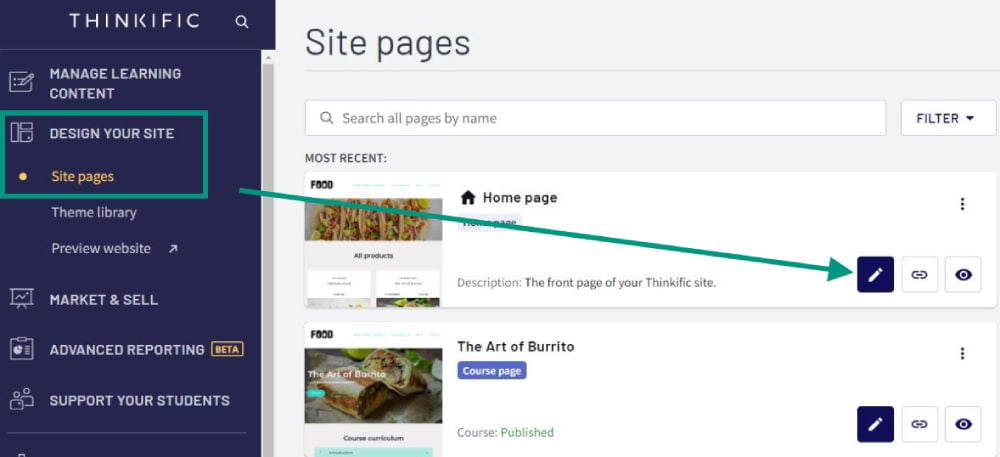 A Landing Page is a key page on your website, as it typically displays all of the courses you offer. Effective design can help to encourage subscription to your online courses.
Thinkific's Site Builder offers three internal themes to create professional-looking website pages, as well as the ability to import external themes and add extra sections.
When visitors access your site, they will be taken to the initial page.
The homepage provides students with an overview of all courses available.
 Homepage Builder offers various pre-designed sections that can be quickly added to the home page, including FAQs, countdowns, image galleries, testimonials, instructor details, CTAs and upsells.
The Site Builder has been improved since last year, offering customization options for colors, images, icons and sections layout.
A Course Page is a dedicated page for each of your courses which includes pricing and curriculum information.
You may include banners, checklists, instructors, lead capture forms, call-to-actions, reviews, videos and bonus materials in order to enhance the appearance of your product.
The Sales Page Builder consists of three pages, designed to provide a smooth checkout process for students.
This is the initial page of the checkout process displayed to users who are purchasing or subscribing to your courses.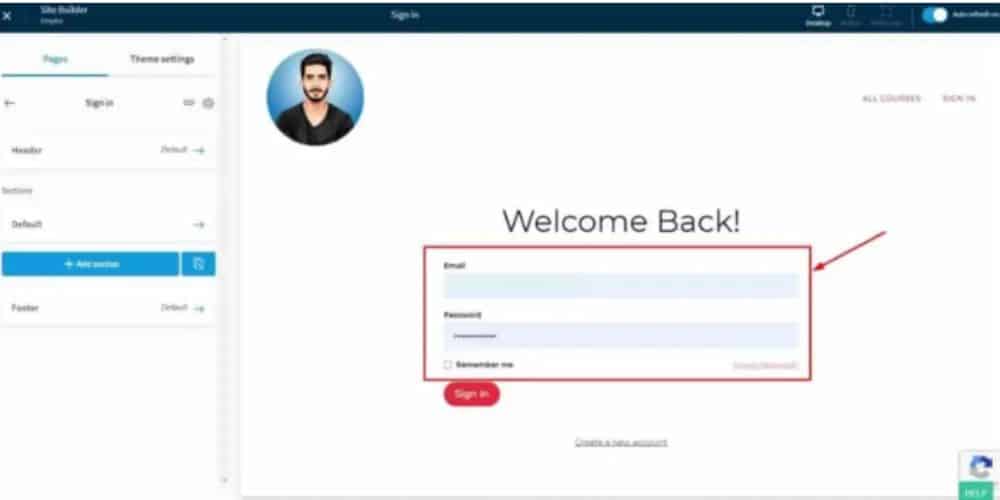 The course you have ordered will display a preview on the right, and an account is required to gain access.
The payment page is located on the second page of the checkout process.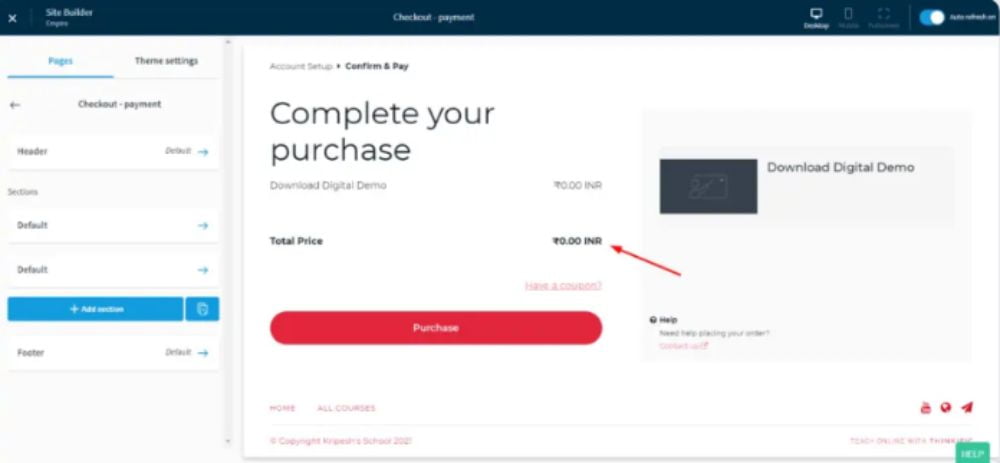 After setting up a Thinkific account, users must log in and make the payment with either Stripe or PayPal. The option of Stripe payments exist in Thinkific.
Upon completion of payment on the last page of the checkout process, users will be directed to the Thank You page.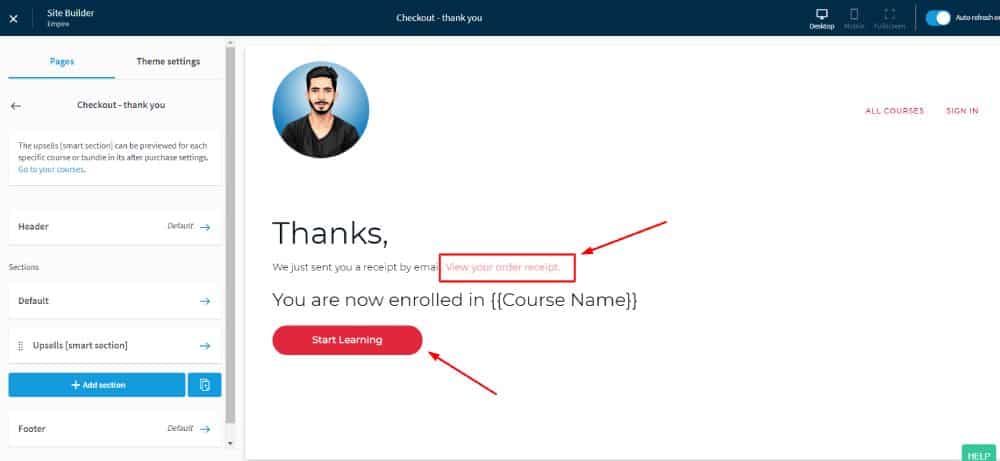 It is composed of the default elements.
Thank you for your assistance.
You will receive a receipt of your purchase.
Here is the link to access your course.
Adding additional sections can personalize these pages.
The sign up page requires students to provide their first name, last name, email and password in order to register an account.
The All Courses page contains a compilation of all your courses.
The Student Dashboard Page displays a list of enrolled courses, along with the progress percentage in each course. Users can filter their view by Completed, In-progress, or Expired.
A Coming Soon Page allows users to enter their details for an upcoming course.
This page displays a template for a certificate to be awarded to students upon completion of a course.
If you are looking for promotions, offers and discounts on Thinkific, you may be in luck.
We have an offer available exclusively to our visitors.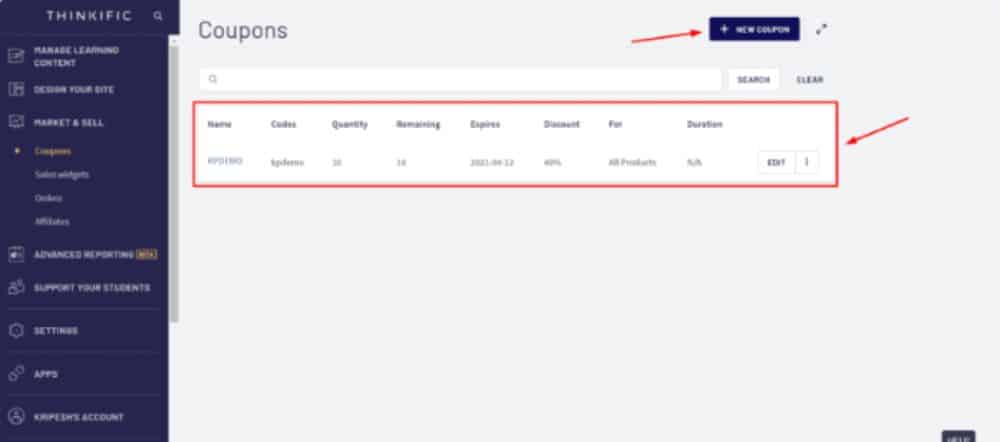 The setup for affiliate programs can be difficult. However, an increase in the online course platform market has offered improved solutions. Thinkific enables affiliates to be assigned to any account and provides them with individual links to direct traffic to a site. Cookies last 30 days, and affiliates receive payment for courses or bundles previously chosen by the instructor.
Thinkific is equipped to monitor and provide data on the referrals each affiliate has generated, and it is up to the school owner to manage affiliated payments. The affiliated dashboard in Thinkific facilitates recording of payments that have been made.
Thinkific is the only course platform that hosts an app store. This feature has been mentioned a few times in this Thinkific review and will be further discussed here.
The app store includes standard tools such as Zapier and Google Analytics, but its main focus lies in enabling third-party developers to build custom apps.
This provides creators with the ability to extend their functionality without relying on Thinkific to release new features or engaging developers for a custom solution.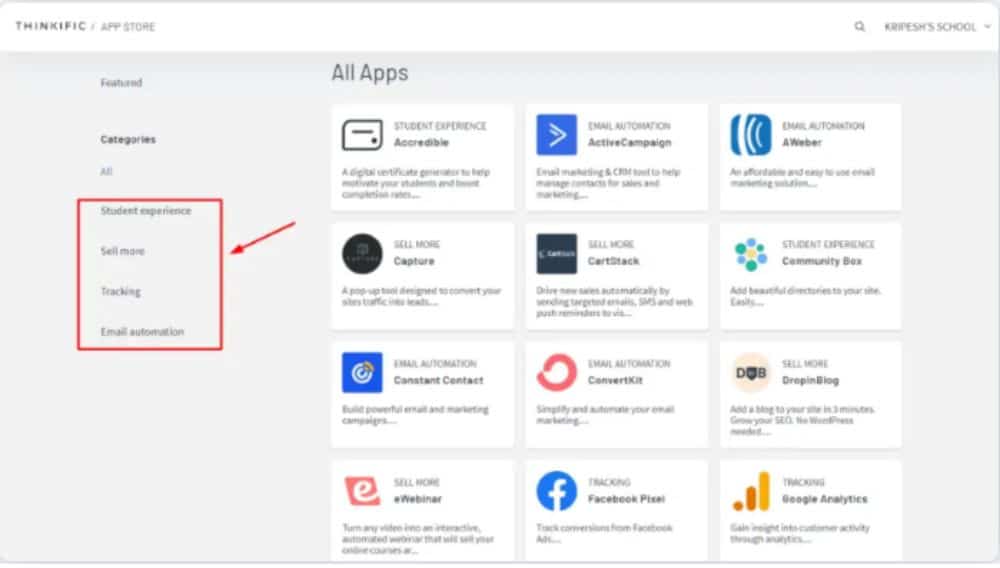 The Thinkific app store offers a range of free and premium apps to support student experience, automate marketing tasks and more.
Here are some examples of apps that can expand the functionality of your platform.
Omnisearch enables students to access lesson content such as videos and PDFs.
Circle SSO facilitates the integration of Thinkific and Circle, providing an enhanced community experience.
Shopify enables businesses to host and offer courses on its platform using Thinkific's eCommerce tools.
Flix enables you to access your student dashboard in a streaming experience similar to Netflix.
Additional apps are available, and non-native functions can potentially be accessed through the Thinkific app.
No other course platform has created an ecosystem around their product like this, which significantly influences how things are done.
How to Install Apps through Thinkific App Store?
You can learn how to download apps from the App Store on any paid Thinkific plan.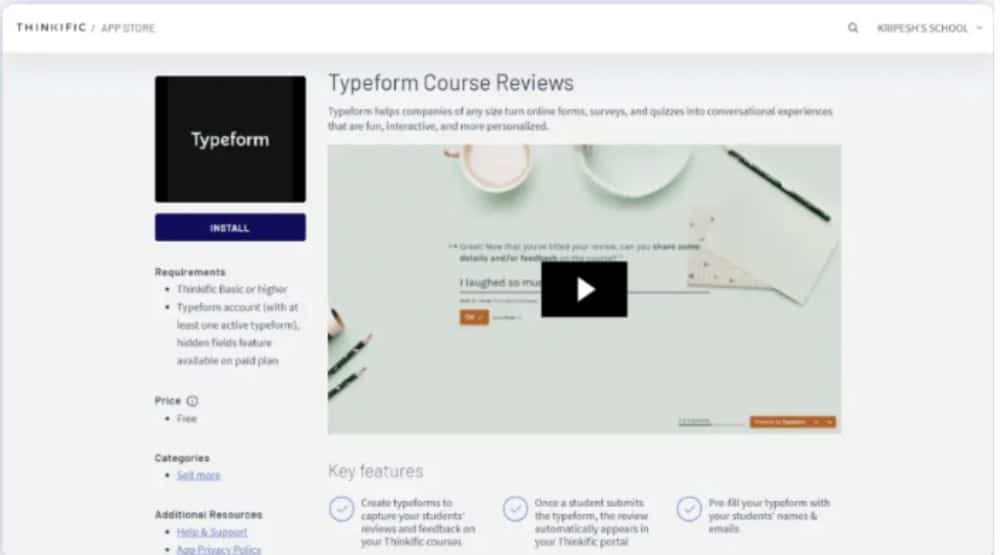 To access an app that is covered by your plan, go to the Thinkific App Store.
Different apps have varying requirement plans, with some being free and some requiring payment.
After verifying the requirements of the app, proceed to install it.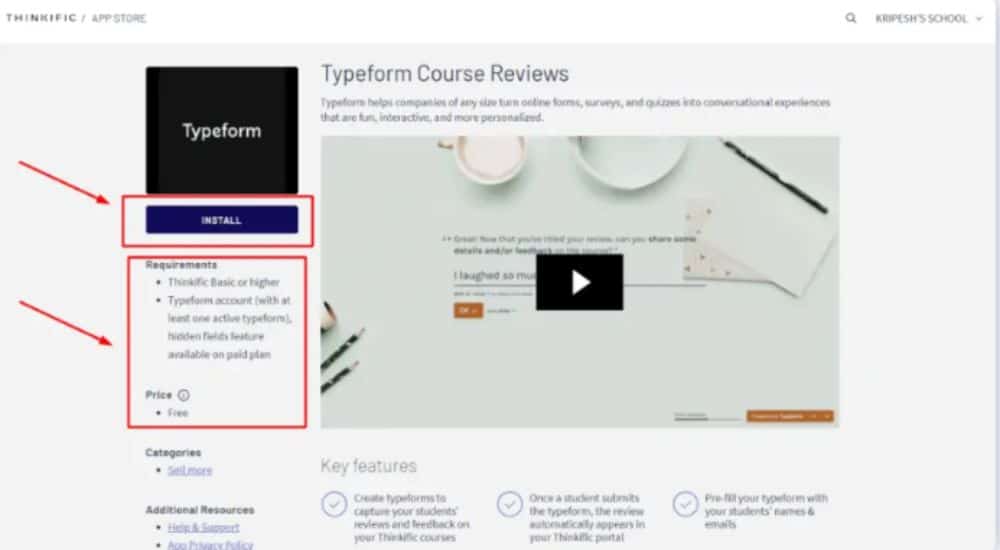 You will be directed to set up an account or to sign in to the chosen tool. After that, you must authorize the tool to access your Thinkific account.
Once you complete the required steps for your application, it can be installed on your Thinkific site.
The Thinkific App Store offers more customization options for online courses than traditional integrations.
We can anticipate what integrations will be made available on the Thinkific App Store in the future.
My Favourite Integrations
These are some of the integrations I find favorable.
Analytics:
Integrating Google Analytics and site verification code is a basic step that can be completed with Thinkific. Additionally, the platform offers integrations with Facebook (to track referrals from the social media site), Mixpanel (for advanced analytics) and Segment (which can be used to access other sales and marketing platforms).
Zapier Integration:
Zapier is a tool for automated tasks. Thinkific has Zapier Triggers available on its free plan, so new students signing up can be added to an email marketing list. This is an example of using Zapier Triggers.
To access Zapier Actions, upgrading to the Grow or Expand plan is required.
Thinkific Payment Options
As Thinkific is a global platform, not all users have access to all payment gateways.
Thinkific supports PayPal and Stripe as payment platforms for monetizing courses, and there is the option to select an alternative integration.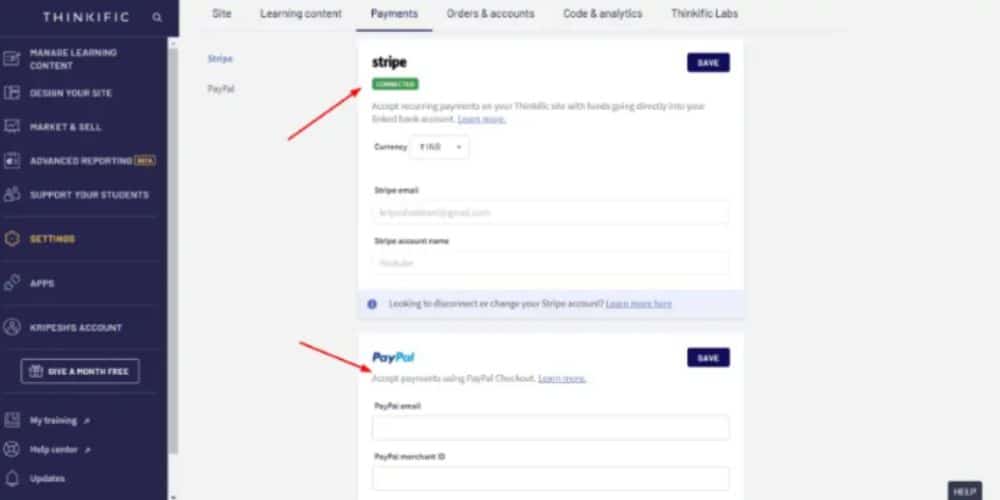 When selecting a payment gateway, here are a few factors to keep in mind.
Different regions have access to this product.
The services available have varied characteristics and costs.
Ability to adapt to different business models.
The processing speed and time of transfers are important factors to consider.
Integration is straightforward and secure.
Merchant analytics and funds management that are efficient.
Thinkific has developed a new Community feature in recognition of the benefits of collaboration for different learning styles.
This feature provides course owners with the ability to generate and oversee a forum that facilitates students' interactions, knowledge exchange, and connection establishment while preserving the emphasis on the brand.
Students who join Thinkific Communities can post and comment on content such as images, videos and files. The board is accessible to all members of the community for an engaged and collaborative experience.
Building a community can be done as an extension of your course, or as a separate subscription service. There are various payment models available such as monthly, annually, or a one-time payment.
Select "Communities" from the "Manage Learning Products" section of the admin page to access and utilize this feature. The free, Basic, and Start packages include one community while the Grow plan gives access to three.
Notifications options are available for both students and admins.
You can decide to notify your students.
Upon account creation.
They replied to their discussion post.
When they sign up for a new course.
Upon completing a course.
Their progress in the courses has been monitored.
Customers will receive a purchase receipt when buying a course.
You can customize notifications on Thinkific, which can include external links like those to your social media profiles.
The administrator can receive notifications for new sign-ups, subscriptions and student engagements.
When you create an account with Thinkific, they'll provide you with a sub-domain URL for your website. However, this can be switched to a custom domain.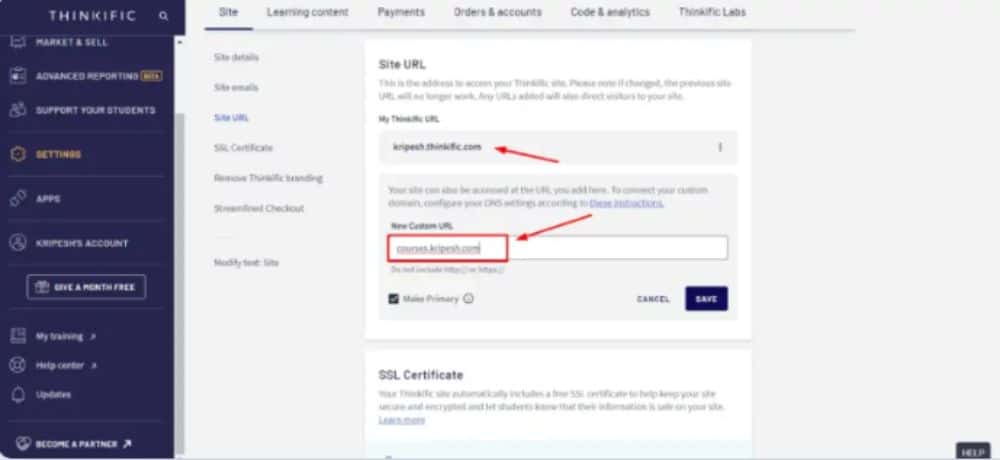 With paid plans, users can customize the URL from "Kripesh.thinkific.com" to "courses.kripesh.com".
Adding a custom URL to online courses is a professional way to increase brand visibility.
Thinkific Customer Support
This section will explore the user support options available through Thinkific, an online course platform.
Thinkific offers a help center with over 800 articles relating to different aspects of the platform.
If you do not resolve your issue through the help center, contact support via email, phone or live chat. Live chat is available in the Pacific Standard Time Zone, Monday through Friday from 6 AM to 5 PM.
Customer support from Thinkific is prompt and friendly, and our experience has been positive.
With Thinkific's Facebook group, you can access support and engage with other users through asking questions.
In addition, Thinkific Academy offers free courses to those who have opted for a subscription plan, helping them create and expand their online course businesses.
Thinkific's expert marketplace allows you to hire specialists in various fields.
The Thinkific Free plan is ideal for those who want to get started with developing online courses. It provides unlimited student access to a single course.
The Start plan of Thinkific is priced at $39 per month, or $74 when paid annually. It offers a range of features, smooth performance, an intuitive interface, and customer support. I believe the Start plan should be sufficient for most users.
If you would like to explore the extended capabilities of Thinkific's Start and Grow plans, I have arranged a 30-day free trial available through my link.
A number of Learning Management System (LMS) platforms are available, with some seen as the most comparable alternatives to Thinkific.
1. Teachable
This platform offers the best content.
Teachable is an option that can be used in lieu of Thinkific.
Teachable offers a wide range of features to enable course creation, student enrollment, and payments. Instructors can upload multimedia materials, generate quizzes and make use of custom domains with links to external webpages. Additionally, the affiliate feature provides an opportunity to promote courses and facilitate growth through recommendations.
Teachable is similar to Thinkific in its offerings, although it does not have the same level of community building capabilities or app as Mighty Networks or comprehensive emailing or marketing as Kajabi. Nonetheless, it is still a viable alternative.
2. Learnyst
Learnyst is an LMS platform that supports Indian payment options, has 0% transaction fees and provides DRM Encryption and a free plan for beginners.
Learnyst starts at a ₹3499/month subscription plan. This platform may lack coding lessons, and has a complex and buggy interface. With the code KRIPESH25, however, there is a 25% discount on all Learnyst plans.
3. Kajabi
Kajabi offers an all-in-one solution for selling courses, digital products, coaching, memberships and podcasts. It also provides features for email marketing, affiliate programs website creation and analytics tracking.
Kajabi provides customizable sales funnels known as pipelines. These pipelines are designed to automate a process, such as lead nurturing or product introduction.
4. Udemy
Udemy is an online learning platform which provides users with the opportunity to reach a broader audience by selling their course content and videos. It manages marketing processes to facilitate success.
This platform is suitable for content creators who wish to passively sell courses as it has a substantial worldwide student base of 40+ million.
Udemy distributes revenue according to a revenue-sharing model.
Free basic plan: Thinkific is a course creation platform that offers a free basic plan with the ability to immediately deploy a course. Upgrading options are available, but no initial charges apply.
Nil transaction charges: Thinkific has no extra transaction fees, which is beneficial for most educators.
Instant fund access for all plans: Thinkific provides immediate access to your funds regardless of the plan selected, a feature not offered by platforms such as Teachable and Udemy.
Custom domain: Thinkific's Basic plans offer custom domains for those who wish to use their own domain.
Phone support: Thinkific provides phone support, and its email response times are generally prompt.
White-labeling solution: Thinkific.com's Growth packages offer white labeling for business coaches or small businesses, allowing them to fully remove Thinkific branding from the platform.
Robust third-party integrations: Thinkific does not include email support or a marketing module. However, these features can be added through third-party integrations, including popular email marketing platforms, analytics platforms, and two payment gateways.
Tricky navigation: Thinific performs satisfactorily in most areas, though navigation and visual appearance have room for improvement compared to its competitors.
Two-step checkout process: Thinkific has a two-step checkout process which might lead to an increase in card abandonment. Users need to make an account prior to buying a course, with 22% of users dropping out when asked to do so. Thinkific needs to improve the checkout process for better results.
No course marketplace: Thinkific does not provide a course marketplace for its free users, which could be a challenge. Additionally, there are no email integrations or marketing plugins available on the free plan, making it difficult for course creators to promote their course.
Should you buy Thinkific?
The Thinkific Free and Start plans offer a range of advanced features, such as a friendly interface across both desktop and mobile devices, improved landing page designs, and various other options for course creation.
Through my link, you can avail the 30-days free trial of Thinkific's premium plans. Unfortunately, it does not support programming courses that require coding snippets.
Thinkific is a highly regarded standalone online course platform.
The platform offers a variety of features including course creation and engagement, support for multiple content types, a course player, Zoom classes, quizzes and assignments, community builder, and cohort-based learning.
It has powerful features for creating course pages, payment processing, and affiliate program management.
The course platform combines the convenience of a hosted system with the customization options of WordPress, and includes an app store.
We believe Thinkific is the ideal choice for those looking to produce and sell interactive online courses, and we suggest considering it.
1. Does Thinkific have a free plan?
Thinkific offers a free plan allowing for the creation of one course and unlimited student access. Moreover, you can include quizzes and various media such as audio, video and PDFs in your course.
2. How many courses are on the Thinkific free plan?
Thinkific has recently simplified its Free plan to provide participants with the ability to create, host, and sell only one course.
3. How long is the Thinkific free trial?
A free plan with basic features is available to those who are just starting out.You can get a 30-day free trial of Thinkific if you want to explore their premium plans.
4. Is Thinkific mobile-friendly?
Thinkific is mobile-friendly, loading and working well on mobile browsers. Students can easily access their lessons from mobile devices, however there is currently no dedicated app.
5. Does Thinkific charge transaction fees?
Thinkific does not impose any transaction fees. However, payment processing services like PayPal and Stripe may levy a small percentage-based fee per transaction.
6. How much does Thinkific cost?
Thinkific has three paid plans, the Start Plan ($74/month), Grow Plan ($1499/month) and Expand Plan ($374/month).
Beginners can take advantage of the free plan which includes a range of features, or use my link to get a 30-day free trial of the paid plans.
7. What type of integrations are available in Thinkific?
Thinkific has integrations with certain platforms.Analytics services including Google Analytics, MixPanel, Segment.io, and Facebook Pixel are available.
Automation services, such as Zapier, are available.Email marketing services including MailChimp, ConvertKit, Constant Contact, AWeber and Active Campaign are available.
Thinkific Apps integration has been improved.