Builderall is a versatile all-in-one solution that is commonly used, but its effectiveness may vary depending on the specific needs of each online business.
There are several tools available in the market that are similar to Builderall, making it easy to find a suitable alternative.
By exploring our curated list of Builderall alternatives, you can easily find a suitable platform for your online business.
Before we discuss the list of alternatives, let's review the features and offerings of Builderall.
It is recommended that we start.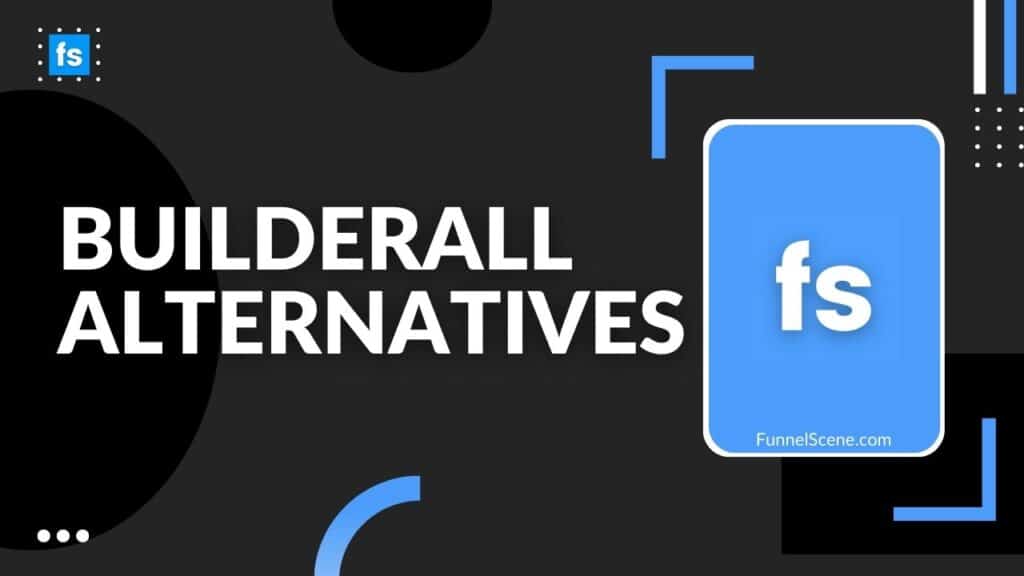 Builderall offers a comprehensive platform that includes all the necessary features to build websites, sales funnels, an ecommerce store, and more.
The platform offers a comprehensive range of features, including over 45 tools and hundreds of website and funnel templates.
Before discussing the reasons why someone might be looking for an alternative, let's examine what Builderall has to offer.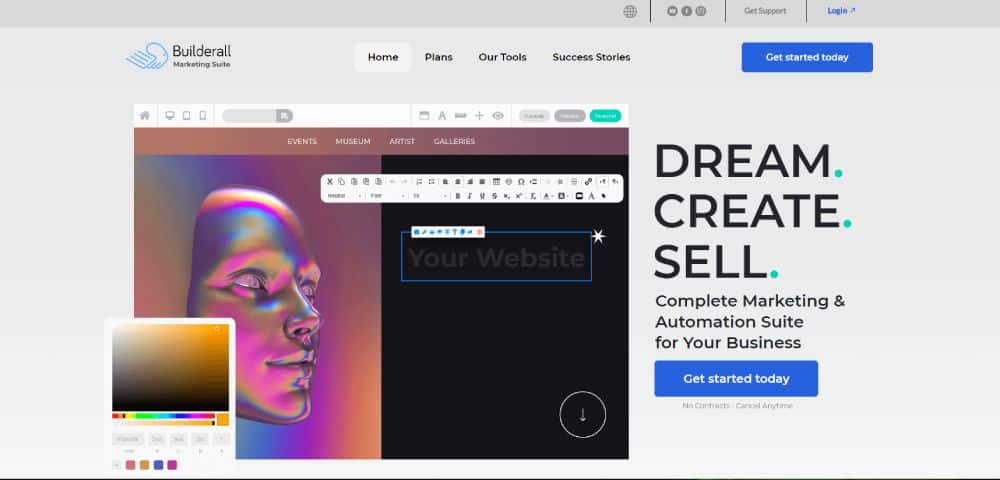 1.1. All the tools on offer with Builderall
In addition to its promise of creating fast websites, Builderall also offers the following features:
Start and manage your own affiliate program.
Create comprehensive sales funnels that include upsells, downsells, and order bumps.
Our email marketing platform offers unlimited email sending, lead collection and management, A/B testing, and email automation.
Users can utilize different payment integrations and ecommerce features to create and sell their products and courses.
You can create a blog using their drag-and-drop builder.
One can create animated or sales videos and share them on platforms like Youtube or Facebook.
More!
Builderall offers the ability to build an online presence and automate visitor steps in sales funnels, among other features, but it is important to consider the associated costs.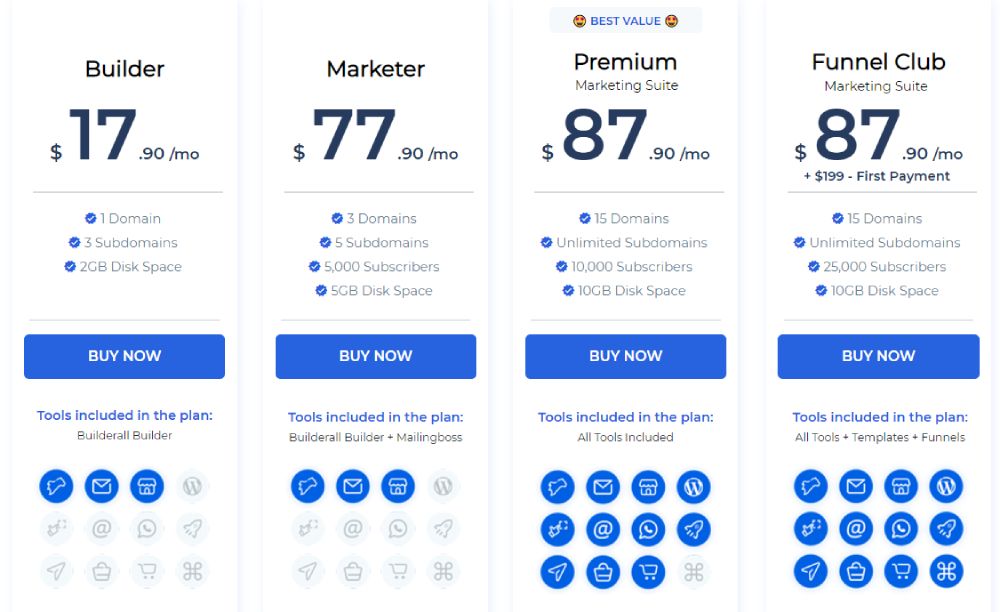 1.2. Builderall's pricing
Both the Starter and Marketer plans provide access to the same features, which include, but are not limited to:
Email marketing
Website builder
Membership areas with unlimited access.
Ecommerce tools
Split testing
Sales techniques include upsells, downsells, and order bumps.
Certain tools are not included in these two plans.
The sales funnel builder
Course and webinar builder.
CRM tools.
The difference in price between the Starter plan and the Marketer plan is due to the plan limits being higher in the Marketer plan.
The Starter plan for $17/month gives you:
1 domain
3 subdomains
2,000 subscribers
2GB disk space
The Marketer plan for $77/month gives you:
3 domains
5 subdomains
Unlimited subscribers
5GB disk space
The Premium plan, priced at $87.90/month, offers additional features and increased benefits for an extra $10.
15 domains
Unlimited subdomains
Unlimited subscribers
10GB disk space
Tools and website templates.
The Funnel Club plan is available for $87 per month, with an initial payment of $199.The plan includes the Premium plan features and over 400 funnel templates.
Unfortunately, Builderall does not have a Free plan, and access to their 14-day trial for $1 can only be obtained through an invitation from one of their affiliates.
1.3. Builderall's pros and cons
These are the primary pros and cons of using Builderall, as stated by their customers.
Pros:
The platform offers a comprehensive package of over 45 tools.
The software receives regular updates, which have both benefits and drawbacks.
The affiliate program is financially rewarding.
They provide a variety of helpful training materials.
Cons:
The learning curve can be challenging and overwhelming because of the wide range of tools available.
The 14-day trial is available exclusively through an affiliate invitation.
The response time of the support team is inconsistent.
Sometimes, features may not work as expected.
In addition to the learning curve associated with a lengthy list of tools, how many of them would you truly utilize?
It is commonly acknowledged that simplicity and user-friendliness are desirable qualities, although this does not apply to the aspect of support.
Whether you are seeking dependable assistance or a more cost-effective and straightforward solution, we can meet your needs.
Now, let's explore seven alternatives to Builderall.
2. Builderall alternatives: Top 7 marketing tools
Before discussing the specific details of each tool, it is necessary to give a brief summary of their similarities and differences.It should be noted that Unbounce offers a Free plan, but it is exclusively for their Smart Copy package.
This AI copywriting assistant offers support in creating and adapting marketing content.
2.1. Systeme.io: The best Builderall alternative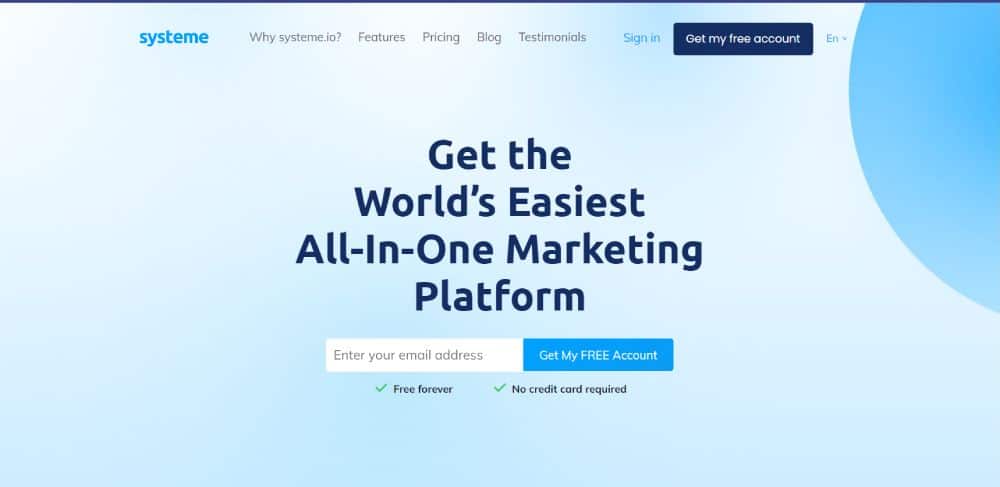 Our marketing tool offers a comprehensive platform that includes all the necessary features. Systeme.io provides all the necessary tools to start, expand, and enhance your online business.
By switching over to systeme.io, you can also save at least $320/month since there is no need for third-party software integrations.
Our platform enables users to build their online businesses without the need for complex integrations, inadequate support, challenging learning curves, or excessive costs.
2.1.1. Systeme.io's features
With Systeme.io, you have access to a comprehensive platform.
A sales funnel builder — Create sales funnels that are designed to convert, including elements such as squeeze pages, sales pages, upsells, downsells, and more.
Email marketing tools — Our email service allows for unlimited emails, the creation of marketing campaigns, list segmentation, and the automation of marketing efforts.
Drag-and-drop website builder — Our platform offers a user-friendly interface and a selection of proven templates that make website building easy.
Affiliate marketing — You can run your own affiliate program, and easily manage your affiliates and their payouts, all in one convenient location.
Ecommerce features — Consider becoming a dropshipper or selling your own products or services online.
Course builder — You can create, market, and sell your online courses, and provide options for drip or full access to your content.
Automation features — Our software can simplify the process of growing your business.
Additionally,
What are the advantages of systeme.io as a Builderall alternative?
In addition to providing all of the features mentioned on one platform, systeme.io offers competitive pricing and user-friendly functionality, making it a versatile solution for businesses of any size.
2.1.2. Systeme.io's pricing
The pricing of Systeme io is competitively priced compared to other alternatives such as Kartra or ClickFunnels.
There are four pricing plans available.
Free plan – $0/month
Startup plan – $27/month
Webinar plan – $47/month
Enterprise plan – $97/month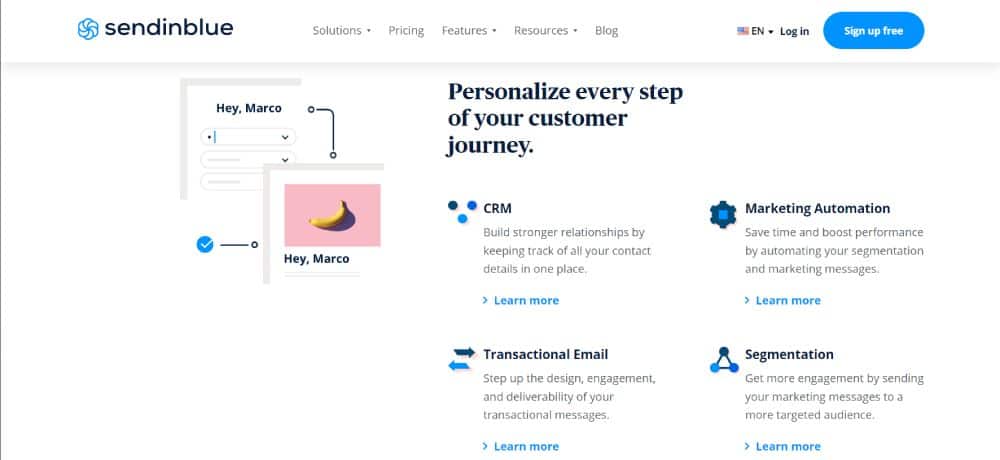 Sendinblue is an email marketing platform that offers a comprehensive suite of marketing and sales tools.This includes various marketing techniques such as email and SMS marketing, advertising, lead generation, and more.
Now, let's examine the offerings of Sendinblue in more detail.
2.2.1. Sendinblue's features
Sendinblue offers a comprehensive set of features to fulfill your digital marketing requirements. With this platform, you receive:
Email marketing tools — You have the ability utilize email marketing campaigns, segment your list, and conduct A/B tests.
SMS marketing — You can use bulk SMS campaigns to send time-sensitive offers or to send order confirmations, shipping updates, and more.
CRM tools — Maintain organization of your customer's details.
Drag-and-drop editor — Landing pages and signup forms can be created using either custom designs or pre-made templates.
Run Facebook ads — Increase your customer base and monitor the success of your advertising campaigns.
Gain insight — Utilize reports, email heat maps, A/B testing, and real-time statistics to enhance your marketing strategy.
Integrations — There are various popular platforms and tools available, such as WordPress, Shopify, Stripe, Mailchimp, Zapier, and Google Analytics, among others.
Now, let's examine the details and costs of each of their plans.
2.2.2. Sendinblue's pricing
Sendinblue offers four different plans, all of them providing unlimited contacts. Sendinblue provides four distinct plans, each of which includes unlimited contacts.
The Free plan, which costs $0 per month, only requires an email address and includes the following benefits:
300 emails per day.
1 user chatted.
Email campaigns and templates.
SMS marketing
Segmentation is advanced.
CRM tools are used for managing customer relationships.
Reporting in real time.
Contact support via email.
This plan excludes:
A/B testing is a common practice in data analysis.
A landing page builder is available.
There are Facebook ads.
Heatmaps and stats
Contact support.
You can't remove the Sendinblue logo from your marketing on this plan.
The price of the paid plans depends on how many emails you send each month.
The Lite plan starts at $25/month for 10,000 emails and goes up to $99/month for 100,000 emails.
This plan includes everything from the Free plan and more.
There is no limit to the number of daily sends.
A/B testing is a method used in research and analysis.
The option to remove the Sendinblue logo is available.
The Lite plan also does not provide you with:
This is a tool used to create landing pages.
Facebook displays advertisements.
Heat map reporting and advanced statistics are useful tools.
The Premium plan costs between $65/month for 20,000 emails and $599/month for 1,000,000 emails.
This plan includes everything in the Lite plan, as well as additional features like the landing page builder and heat map reporting.
On this plan, you can only build 5 landing pages. But, you can create 20 landing pages if you're willing to pay €20 for an extra 5.
To get more features, just request a quote for the Enterprise plan. It includes all the features.
More than 20 landing pages.
Email volume customization.
Send and support are top priorities.
2.2.3. Sendinblue's pros and cons
Here are the primary pros and cons of utilizing Sendinblue.
Pros:
All plans offer unlimited contacts.
The free plan includes a daily allowance of 300 emails.
The interface is user-friendly, and the templates have a polished appearance.
There are analytics and reporting tools of high quality that can be accessed.
Cons:
Contact verification requires a certain amount of time.
The interface's speed varies.
There are various integration options that can be considered.
There have been multiple complaints about the level of support.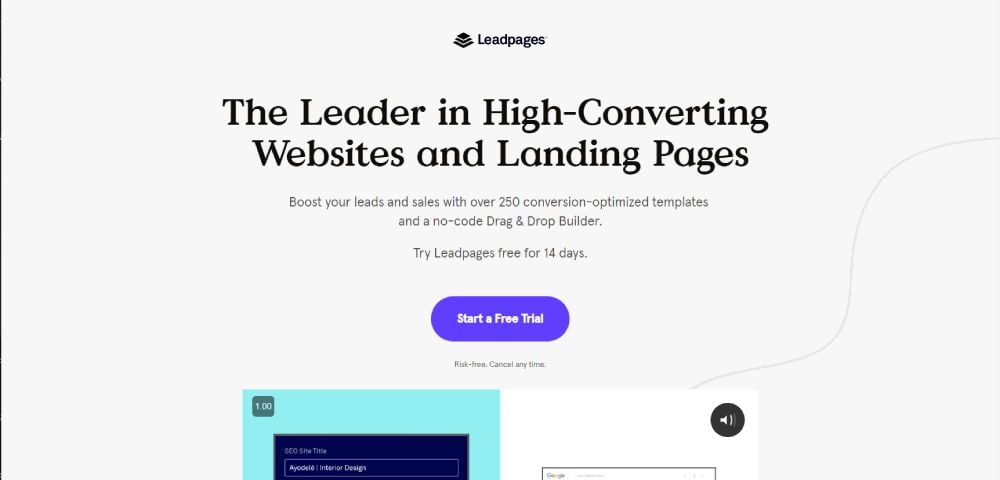 Leadpages is a landing page builder that provides additional features, but it does not offer a comprehensive all-in-one solution.Leadpages provides a variety of tools, including landing pages, pop-ups, alert bars, and more, to assist in attracting and converting leads into paying customers.
Now, let's examine the features and offerings of Leadpages.
2.3.1. Leadpages' features
Leadpages offers a variety of main features.
Landing page builder — Create landing pages using a wide selection of templates, including both free and paid options.
Other lead conversion tools —On your website, there are various options available such as pop-ups, alert bars, and trigger links that can be used to prompt specific actions from visitors.
The product offers real-time analytics and unlimited A/B testing capabilities.
Drag-and-drop website builder — You have the option to build your websites either from scratch or using pre-built templates.
Over 40 integrations Some examples of tools for email marketing, CRM, and payment gateways include Stripe, AWeber, GetResponse, and Shopify.
Sell digital products — You can incorporate a checkout page or a pop-up on any landing page and easily accept payments using Stripe.
Lead notifications — Notifications will be sent when new leads are collected or forms are submitted.
The customization options are limited, which may result in your web pages looking similar to others created with Leadpages.Leadpages does not offer email marketing, a course builder, or webinar support as part of its features.
While the option to integrate with other tools is beneficial, it is important to consider the potential cost and complexity of using multiple tools.Let's find out the cost of Leadpages on its own.
2.3.2. Leadpages' pricing
LeadPages Pricing
Standard – $37 / Month
Pro – $74 / Month
Advanced – $299 / Month
2.3.3. Leadpages' pros and cons
Here are some pros and cons of Leadpages, as reported by their customers.
Pros :
There is a wide selection of landing page templates available in the library.
The interface is straightforward and easy to learn.
There are multiple functional integrations available.
The service offers unlimited traffic, leads, and page publishing.
Cons :
There is a limited amount of customization available, resulting in a lack of creative freedom.
The drag-and-drop editor has a lower level of efficiency in terms of performance.
Integrations may result in additional expenses.
The analytics have a basic level and have room for improvement.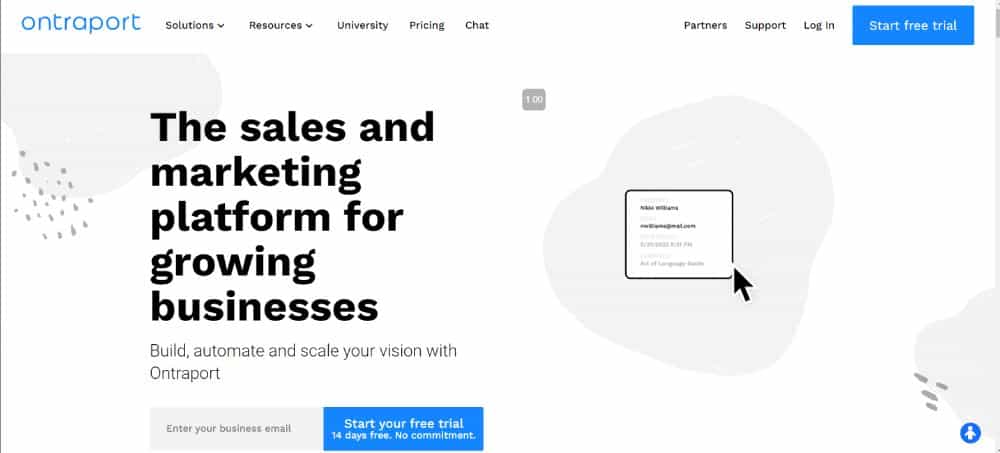 Ontraport is a software platform that combines CRM and marketing automation to streamline sales, marketing, and business operations in one central location.
Now, let's examine some of Ontraport's main features.
2.4.1. Ontraport's features
Ontraport offers the following benefits:
Ecommerce tools — You can operate an online store that includes order forms and incorporates order bumps, upsells, and downsells to optimize your order value.
CRM — You can effectively manage your contacts using features like segmentation and lead scoring.
Page builder — Forms and landing pages can be easily created using drag-and-drop functionality.
Membership site —One can create a membership site with or without a WordPress website and have the option to offer either drip or full access to the content.
Email marketing — Users have the ability to create and automate marketing campaigns, while also conducting A/B tests to analyze effectiveness.
Integrations — Some of the popular platforms include Shopify, PayKickStart, Zapier, ClickBank, and WordPress, among others.
Ontraport offers Smart Pipelines, which allow you to track your customers' journeys through a sales pipeline. Now, let's discuss the pricing for these tools.
2.4.2. Ontraport's pricing
Ontraport offers four different plans, with prices starting at $24 per month for the Basic plan and going up to $249 per month for the Enterprise plan.
The Basic plan gives you:
Up to 1,000 contacts
1 account user
The Basic plan offers limited IF/THEN automation and does not provide access to ecommerce features, lead tracking, or membership sites.
The Basic, Plus, and Pro plans offer unlimited email usage, while the Enterprise plan has a limit of 200,000 emails.
The Plus plan for $83/month gives you:
Up to 2,500 contacts
2 account users
The Pro plan for $124 more gives you:
10,000 contacts
3 account users
The Enterprise plan for $249/month gives you:
Up to 20,000 contacts
5 account users
If you require more users, there will be an additional charge of $47 per month. Additional features are available, but not for your subscription. If you are interested in trying Ontraport before committing to a paid plan, they offer a 14-day free trial.
2.4.3. Ontraport's pros and cons
These are some of the main pros and cons experienced by customers of Ontraport.
Pros:
The landing page editor is user-friendly and straightforward to navigate.
The customer support provided is of high quality.
It is compatible with shopping carts and payment gateways.
On the Basic, Plus, and Pro plans, users receive unlimited emails.
Cons :
There is a lack of comprehensive reporting capabilities.
The Free plan is not available, only a 14-day free trial.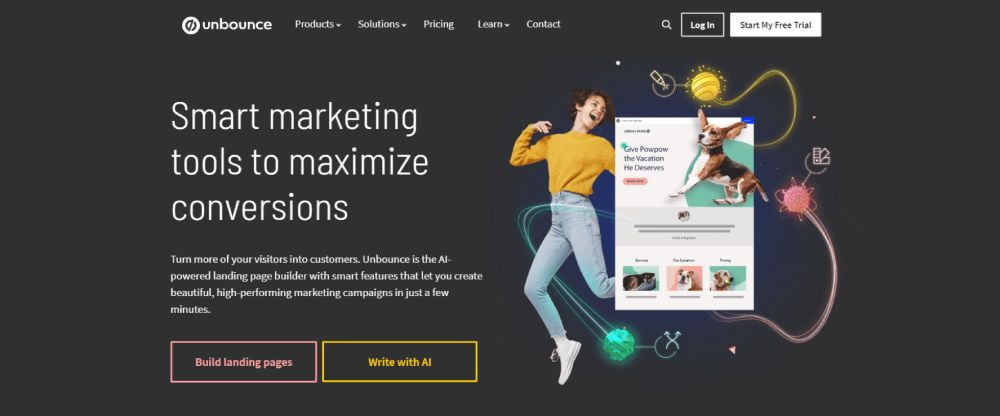 Unbounce is a well-known landing page builder that incorporates AI technology to enhance your marketing endeavors. This results in simpler and faster campaign creation and optimization. Now, let's delve into Unbounce's array of advanced features and the associated cost.
2.5.1. Unbounce's features
Unbounce offers a variety of features.
Classic Builder — The original drag-and-drop builder allows experienced digital marketers to create personalized campaigns.
Smart Builder — The drag-and-drop interface allows for the creation of landing pages with over 100 templates.
Smart Copy — Utilize AI technology to generate and enhance your copy for landing pages, advertisements, and email content.
Smart Traffic —To improve conversions, direct visitors to the landing page that is most relevant to them.
Marketing integrations — You can send your leads to various platforms such as AWeber, Mailchimp, HubSpot, and many others.
WordPress plugin — It is possible to publish your landing pages to your WordPress website.
Unbounce offers tools for gathering email addresses and boosting online sales, but it is important to take into account the associated expenses.
2.5.2. Unbounce's pricing
Unbounce offers two packages: the Smart Builder+ package with three plans and the Smart Copy package with two plans. Both packages offer the option of monthly or yearly billing. The monthly prices and limits for the Smart Builder+ plans are listed below.
Launch —
$99/month
1 domain
Up to 500 conversions and 20,000 visitors
Optimize —
$145/month
5 domains
Up to 1,000 conversions and 30,000 visitors
Accelerate —
$240/month
10 domains
Up to 2,500 conversions and 50,000 visitors
Concierge –
$625/month
25 domains
Up to 5,000 conversions and 100,000 visitors
Smart Traffic is available on the Optimize and Accelerate plans but not on the Launch plan.
2.5.3. Unbounce's pros and cons
Unbounce has both pros and cons, just like any other tool.
Pros :
There are many convenient templates available.
The Smart Builder+ plans offer unlimited landing pages, pop-ups, and sticky bars.
It is compatible with various other tools.
Smart Copy offers a Free plan that does not require any card details.
Cons :
The price is higher compared to other platforms.
If you exceed the monthly limits, your plan will be automatically upgraded.
There is not a feature available to save sections of a page for future use.
The analytics have room for improvement.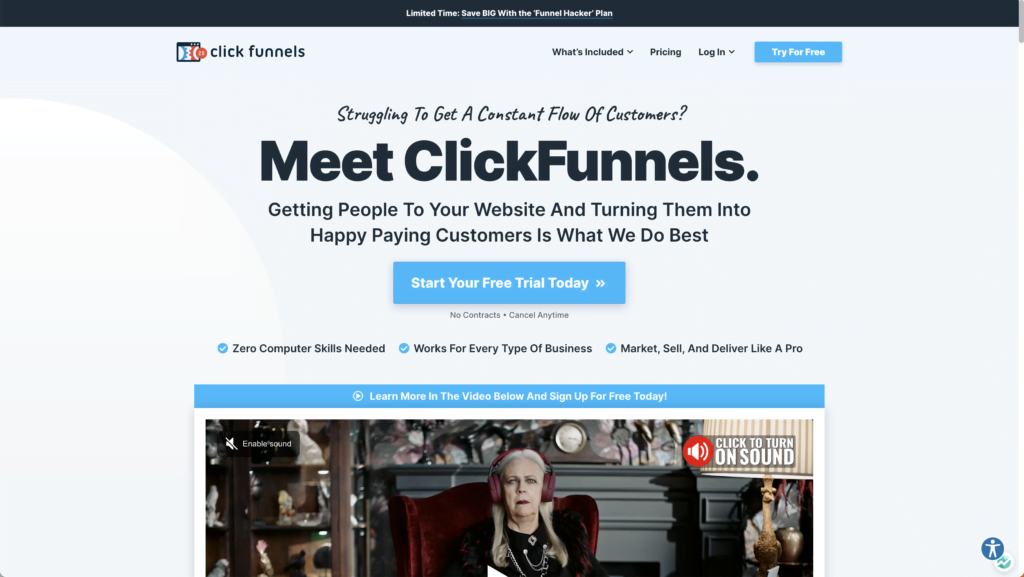 ClickFunnels is a website and sales funnel builder that offers an automated sales process. While it is popular, it does come with a significant cost that may be difficult to justify.
Now, let's examine what ClickFunnels has to offer.
2.6.1. ClickFunnels' features
The funnel builder allows users to easily create various types of funnels, such as sales funnels, squeeze page funnels, and upsell funnels. Additionally, ClickFunnels offers several other important features.
Email marketing — You can create and organize your list, implement marketing campaigns, and streamline your marketing processes.
Ecommerce — Increase your product sales with the use of sales pages, 1-click upsells, and downsells.
Affiliate marketing — The Backpack feature can be used to create an affiliate program.
FunnelFlix — Obtain access to a wide range of teachings and training materials that cover various aspects of digital marketing.
Use A/B testing and analytics software to improve your conversion rate.
ClickFunnels can be used with different payment gateways and autoresponders, offering multiple integration options.
Billing — Some popular online payment platforms include PayPal, Stripe, and Clickbank.
Autoresponders — Some popular email marketing platforms include 

ActiveCampaign, AWeber, ConvertKit, and HubSpot, among others.
2.6.2. ClickFunnels' pricing
ClickFunnels offers three different plans.
Basic – $127/month
Pro – $157/month
Funnel – $208/month
2.6.3. ClickFunnels' pros and cons
When considering ClickFunnels, it is important to weigh both the pros and cons.
Pros:
The software offers robust A/B testing and data tracking capabilities.
The software is compatible with widely-used email marketing platforms.
The software is user-friendly for most people.
Using pre-built templates can be time-saving when building a sales funnel.
Cons:
The price is higher in comparison to other platforms.
The free trial period is only 14 days, and there is no Free plan available.
The email functionality is not sufficient.
The editor and page load speeds are both slow.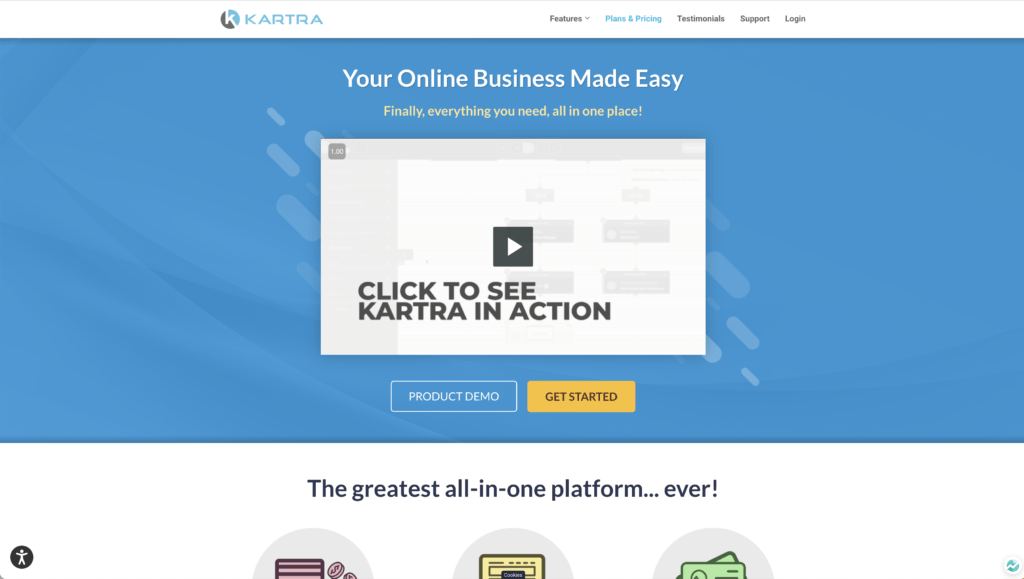 Kartra is a comprehensive marketing platform that offers a range of integrated marketing and sales tools to assist with business operations.
The digital marketing features on Kartra are designed to assist you in generating leads and increasing your online sales. Let's explore the capabilities of Kartra and determine if the price is justified.
Kartra offers a wide range of features.
Kartra Checkouts — Increase sales by utilizing various features like checkout pages, order bumps, upsells, downsells, and more for your products or services.
Kartra Pages — Landing pages can be created easily using the drag-and-drop builder and a wide selection of templates.
Kartra Leads and Forms — You can create lead capture forms with a wide selection of templates, and easily organize your leads using custom tags and lead scoring.
Kartra Funnels and Campaigns — To effectively manage your marketing efforts, create a marketing funnel, utilize IF/THEN automation rules, and carefully track your progress.
Kartra Mail — Users have the ability to create and automate their email or SMS marketing campaigns, as well as test their email components using split testing.
Kartra Memberships — The content or course material can be delivered using the drag-and-drop membership builder.
Kartra Helpdesks — Provide ticket and live chat support for your customers.
Starter plan – $119/month
Silver plan – $229/month
Gold plan – $339/month
Platinum plan – $549/month
2.7.3. Kartra's pros and cons
Here are some important pros and cons of using Kartra.
Pros:
It is beneficial for agencies that need to manage multiple client accounts.
Provides comprehensive training and documentation with clear instructions.
There are integrations available for email, payment, and membership platforms that can be helpful.
Cons:
There are no options for a Free plan or free trial available.
The email interface is not very intuitive.
Builderall Alternatives Final Words
There are several alternatives to Builderall, and the right choice will depend on your current stage in your online business.
Are you looking for an all-inclusive platform, or do you have specific features in mind?The best software for you would depend on your specific needs and preferences.
Kartra is a comprehensive all-in-one platform that is considered a strong alternative to Builderall. One of the reasons for this is that Kartra offers a 30-day trial, allowing users ample time to test it out.If you are looking for a highly advanced email marketing platform with an AI-powered website builder, GetResponse is a great option at a very affordable price.
For those who are new and seeking a free alternative to Builderall, Systeme.io is a highly recommended option.
I hope this review has provided assistance, and I wish you success in your business, regardless of the software you select. It's important to utilize your skills, talents, and gifts to serve the world.
Frequently Asked Questions
What Is the Best BuilderAll Alternative?
ClickFunnels 2.0 is considered a strong alternative to BuilderAll as it offers similar features, advanced funnel builders, improved support, and effective lead-generation tools.
Is There a Free BuilderAll Alternative?
There are several alternative platforms to BuilderAll that offer free options, including System.io, Thinkific, and Teachable.
What Is the Cheapest BuilderAll Alternative?
Here are four alternative platforms that are more budget-friendly than BuilderAll: Systeme.io, Mighty Networks, Thinkific, and Teachable.