If you're in search of effective ClickFunnels alternatives for streamlining all your marketing channels into a single sales funnel, you've found the right destination.
Digital marketers employ various tools and web elements to generate website traffic and convert potential leads into sales prospects.
ClickFunnels is a comprehensive marketing platform that combines various tools and tactics for running effective campaigns. However, it may not be appropriate for all eCommerce or digital marketing plans, requiring an alternative solution.
This article presents a list of popular alternatives to ClickFunnels that can be used to increase revenue.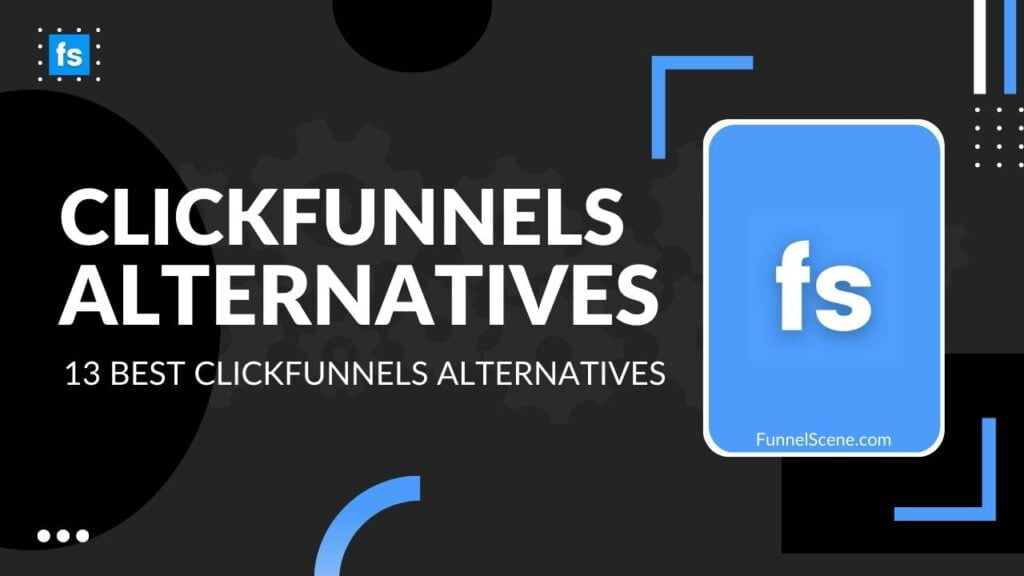 Should You Use a ClickFunnels Alternative?
What is ClickFunnels?
ClickFunnels is an internet-based software that facilitates eCommerce and digital marketing professionals in creating sales funnels. The sales funnel is an essential channel for generating leads, promoting products/services, and managing all intermediary processes.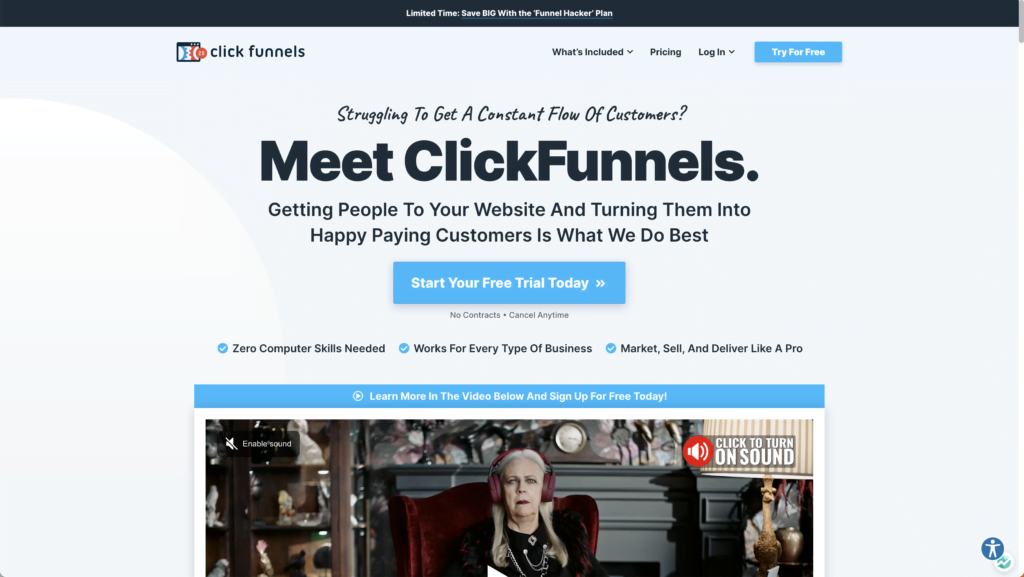 This tool offers a solution to avoid manual digital marketing approaches, through various sales funnel templates that require payment to use.
Pros and Cons of ClickFunnels
ClickFunnels provides a range of useful features for individuals seeking to establish an online presence, including several significant advantages.
The drag-and-drop builder is designed to be user-friendly, allowing individuals without coding skills to create attractive landing pages.
A/B split testing is an important aspect of having a strong online presence. ClickFunnels provides the capability to experiment with multiple variations of your landing pages and enhance them accordingly.
ClickFunnels provides advanced sales analytics to assist in tracking various metrics, such as gross income, earning per click, and conversion rate.
ClickFunnels provides various payment gateways, including PayPal, Stripe, and Recurly, to enable the collection of payments from potential customers.
ClickFunnels simplifies the process of creating email lists without third-party tools and also facilitates the development of follow-up funnels for cross-selling sequences and email confirmations.
ClickFunnels provides a 14-day trial period to evaluate its services without any obligation.
Although Clickfunnels has advantages and aims to assist numerous online business owners, it lacks in certain aspects.
While Clickfunnels is known for its ease of use in creating visually appealing landing pages, it should be noted that many other individuals and businesses also utilize these templates. Therefore, it may result in generic landing pages that lack uniqueness and distinctive brand identity.
ClickFunnels has a higher price point compared to other similar services available in the market.
In terms of page builder tools, ClickFunnels has comparatively limited page customization options and only allows for a restricted number of funnels and visitors.
Some ClickFunnels users have reported encountering issues and sluggish performance while using specific features, particularly with the UI.

ClickFunnels offers customers support through various channels, such as email, live chat, and ticket. Nevertheless, some customers express dissatisfaction with unaddressed technical problems and prolonged wait times for responses from the support team.
Top Features in a ClickFunnels Alternative
When deciding on a ClickFunnels alternative for your company, it's important to take into account the following factors.
What is the monthly and yearly cost in comparison to the expected revenue generation?
When it comes to fixing a broken sales funnel, getting assistance is critical as any misstep can result in significant loss of sales. What options are available for obtaining help?
Is it possible to customize your funnel according to your branding or do you have limited options with the landing page templates available?
Is there compatibility between your sales funnel builder and other marketing software in your tech stack, including your email service provider (ESP), payment processor or webinar software?
Different ClickFunnels competitors may have varying levels of effectiveness depending on the type of product or service being offered.
We discovered some funnel builders that are comparable to ClickFunnels. Let's examine them.
Best ClickFunnels Alternatives in 2022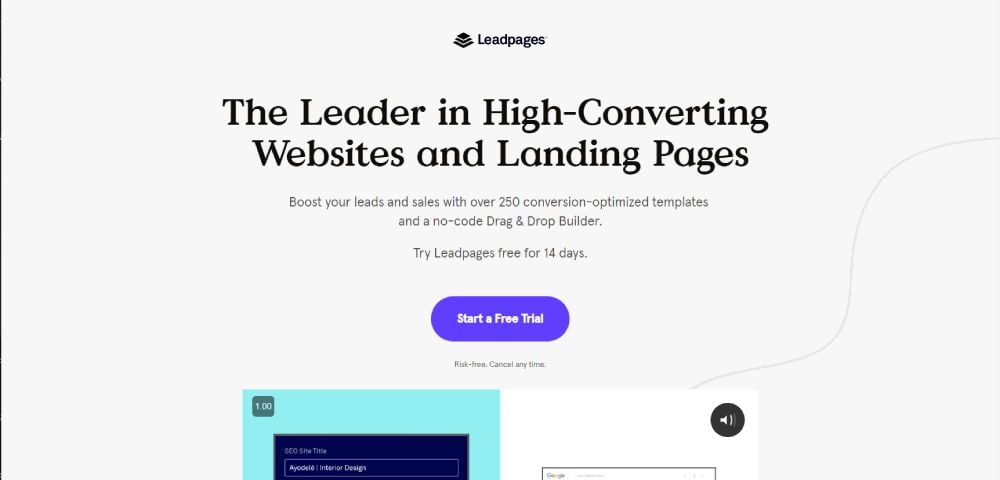 LeadPages is a competition of ClickFunnels, as it provides similar features and integrations at a lower cost.
LeadPages offers various necessary features for lead generation and funnel building, including landing pages, website creation, pop-up forms, and alert bars.
Additionally, LeadPages has the capability to resend stored data from integrations in the event of a disconnection. This feature allows for uninterrupted functionality, even when technical issues arise with various tools.
LeadPages offers various customer support options such as phone, ticket, email, and chat. Additionally, they provide a Knowledge Base and FAQ section along with virtual workshops and coaching sessions.
The system allows for an unrestricted amount of funnels and visitors.
The drag-and-drop page builder offers a wide range of customization options, delivering powerful performance.
This product is compatible with Zapier, Drip, MailChimp, and Infusionsoft.
Templates that are designed to be responsive to mobile devices.
A/B testing without limits.
The topic of lead notifications pertains to the matter of GDPR compliance.
Analytics that occur in real-time.
Both custom domains and hosting are provided free of charge.
LeadPages offers two tiers: Standard and Pro, at $37 per month and $74 per month respectively. You can opt for an annual subscription. A 14-day free trial is also available to assess the service.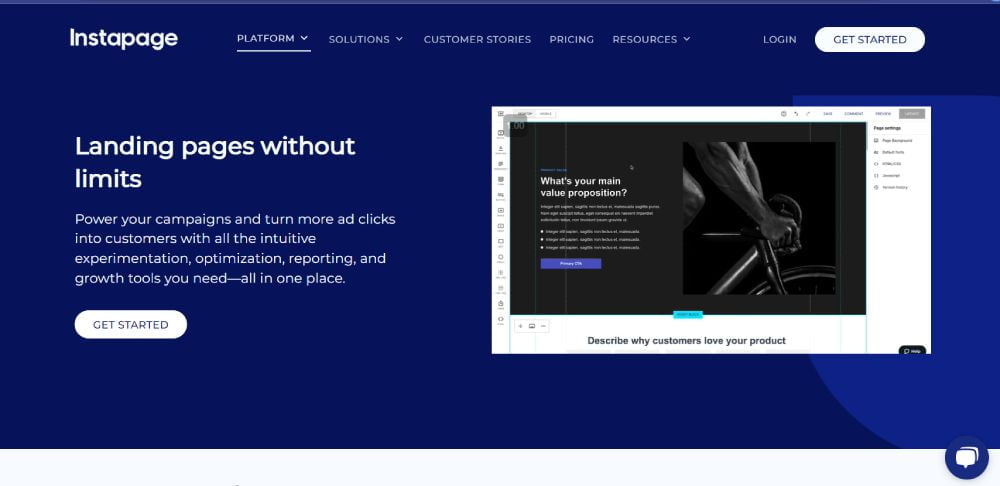 If you're looking for a quick and advanced alternative to ClickFunnels and managing remote teams in your organization is not an issue, then Instapage is worth considering.
Instapage is a landing page builder focused on conversion, offering advanced drag-and-drop tools for businesses looking to grow. With over 500 layouts and integration capabilities for WordPress, Zapier, HubSpot, and Marketo, Instapage rivals ClickFunnel's offerings.
The AdMap tool is a notable feature that enables visualization of the alignment between ads and landing pages. With this, evaluating campaign success becomes simpler.
Instapage's heat map function can be utilized to track website activity and optimize the site for better user experience.
Instapage is well-known for its A/B testing tools and detailed analytics, including the ability to easily track page activity, monitor link functionality, and identify areas for improvement.
Various support options are offered, including live chat, email, and a ticket system. Additionally, the Help Center provides self-help articles and tutorials.
The landing page builder offers 500+ layouts that are robust.
The Thor Render Engine utilizes advanced technology to achieve high processing speeds.
The package includes both unlimited A/B testing and an extensive range of analytics tools.
A trial period of 14 days is available free of charge.
The term "Instablocks."
Heatmaps and Google Tag Manager are two tools commonly used in digital marketing.
Visual collaboration in real-time.
There is no limit to the number of conversions.
The website implements SSL encryption and ensures GDPR compliance.
The pricing information is as follows.
ClickFunnels is cheaper than Instapage, but Instapage provides superior landing page resources and faster performance. Instapage offers a Building plan for $299 per month or $199 annually, with an option for a Custom package that requires contacting the sales team. You can take advantage of their 14-day free trial and ask for a demo to test out the service before committing to it.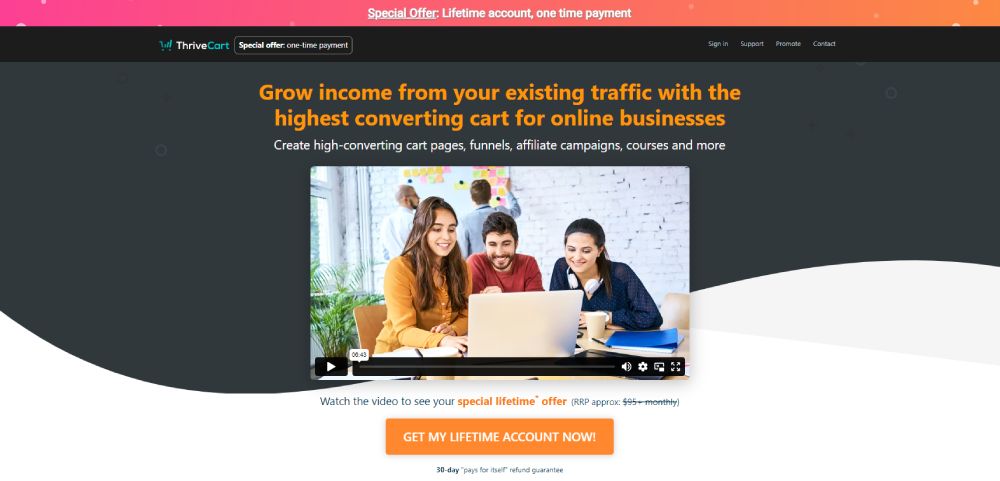 ThriveCart is a software that facilitates businesses in promoting and making sales for a variety of products ranging from digital content, services, subscriptions, to physical goods.
This product offers a cart with unlimited embedding capabilities to enhance sales performance.
It is possible to incorporate bump offers to boost profits.
This tool allows for the efficient creation of high-converting funnels within a short amount of time.
This software has the capability to be seamlessly paired with marketing tools such as Mailchimp and HubSpot.
ThriveCart comes with an integrated feature to calculate sales tax.
This software allows for integration with various platforms including Stripe, Demio, Drip, ShipStation, Infusionsoft, ActiveCampaign, Shippo, Zapier, Slack, Hubspot, Moosend, Mailchimp and Convertri.
This platform adheres to compliance standards, including GDPR.
The encryption offered employs AES 256-bit.
Offers analytical features for both Google and Facebook.
The available templates include standard, sales cart, embeddable, and popup options.
The platform offers a range of features including one-click upsells, an embeddable cart, two-step cart, video carts, auto-followup, retargeting, link tracking, product upgrades, unlimited carts, customer hub, coupon URL, webhooks, 2-factor authentication and additional options.
The price for this item is a one-time payment of $495.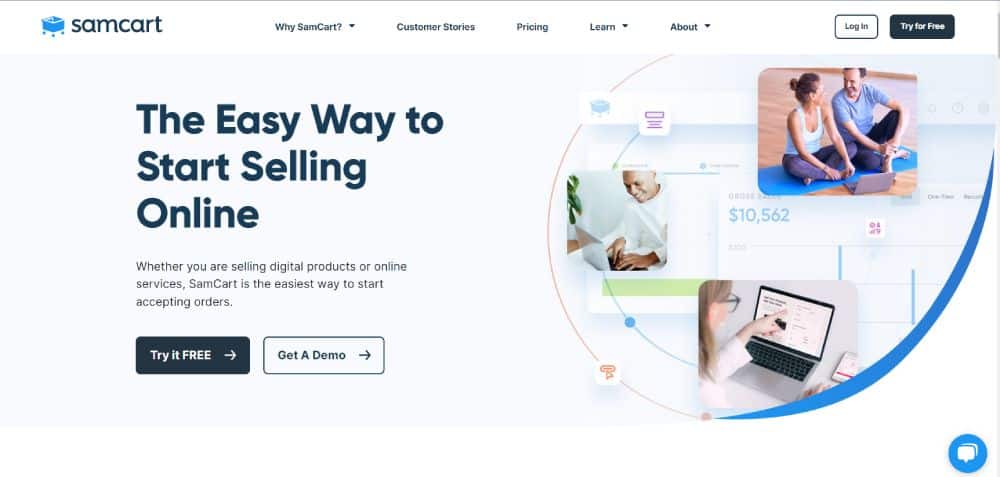 SamCart is an alternative option to ClickFunnels, and its focus is on the purchase stage, which is considered the most crucial part in a sales funnel. It aids online retailers in optimizing their checkout pages with appealing designs to ensure a seamless buying experience.
SamCart offers pre-designed templates that can be customized using their drag-and-drop editor, allowing for split testing. Payment processing is facilitated through PayPal and Stripe. SamCart is effective in terms of upselling and coupon usage.
SamCart offers the option of using pop-up displays to increase user engagement and reduce cart abandonment on the checkout page. Additionally, it provides a trust seal that can be added to further enhance user confidence. It is also possible to transform the entire checkout page into a pop-up window if desired.
While ClickFunnels may have more marketing options, SamCart offers a range of email marketing services and seamless integrations with Zapier for over 700 applications, enabling you to enhance your digital marketing strategies.
The website offers a page builder that allows users to drag and drop elements.
Collections for order bumps.
The available features include unlimited products, pages, video uploads, and membership.
This is an effective A/B split testing tool.
There are no fees for processing or adding.
White-label branding refers to a marketing practice where a company's products or services are sold under another brand's name.
Upsells can be made after an order has been placed.
CRM integrations are a process of integrating different CRM systems to optimize business operations.
The affiliate tracking feature is known for its high level of accuracy.
SamCart offers different packages categorized into Launch, Grow, and Scale. The monthly or yearly subscription can be selected with prices ranging from $49 to $199 per month.
SamCart provides a 7-day free trial for users and an annual subscription comes with a 30-day money-back guarantee.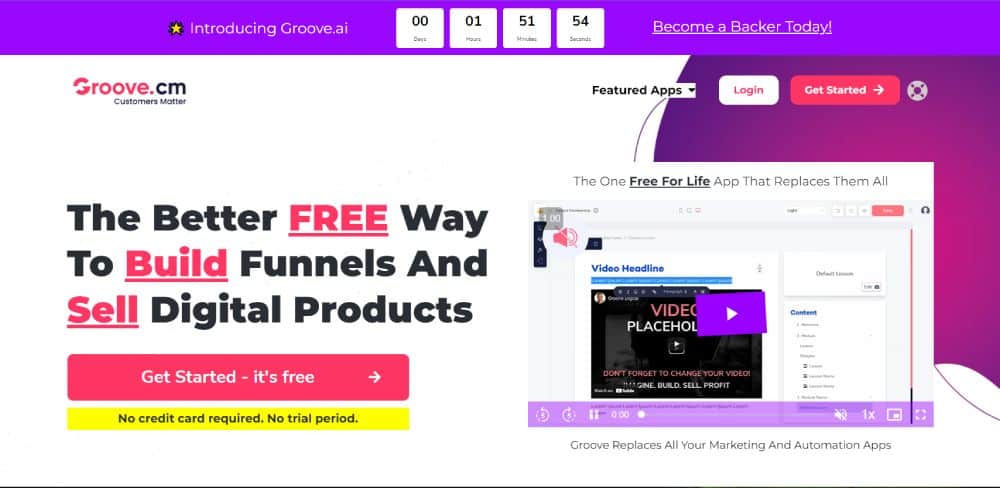 GroveFunnels can be considered as an alternative to ClickFunnels if Builderall doesn't meet your requirements. The GrooveFunnels system offers a wide range of sales and automation services like GroovePages, GrooveSell, GrooveMember, GrooveMail, GrooveKart, and GrooveVideo.
GroovePages is a tool for building pages and funnels that has high conversion rates and is user-friendly. There are several premade templates available for selection during content creation. The editor performs better than ClickFunnels' as it uses VueJS.
GrooveSell offers OTO features, such as one-click upsells, downsells, and order bumps, enabling you to forego the need for external shopping carts.
GrooveFunnels offers an email marketing service called GrooveMail, which features modern email automation tools such as split testing, sequencing, text message and voice broadcasting plugins, behavior-based automation, and broadcasting. It is similar to ActiveCampaign and MailChimp.
There are over 350 templates and funnels available.
The builder features a drag-and-drop function which is highly efficient.
There are a wide range of email marketing tools available.
There are no monthly fees.
This package offers a variety of features, including unlimited funnels, products, estores, page hosting, custom domains, and integrations.
Sites that require membership.
The tools include funnel management, sales CRM, and video hosting.
GrooveFunnels offers a lifetime free plan, called the Start Up bundle, which provides access to an extensive range of resources and features. Additionally, there are various premium options available at different costs: $99 monthly or $79 annually up to $299 per month or $239 annually.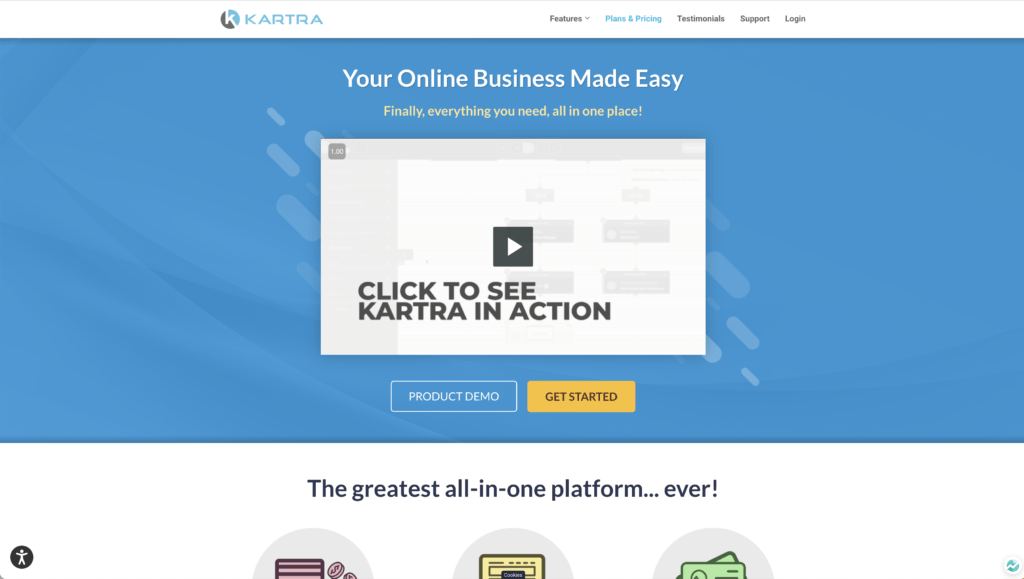 Kartra is a comprehensive digital marketing solution, completely based on the cloud. The suite of services offered includes building websites and landing pages, as well as email marketing and automation. Clients can also utilize a lead database (CRM), opt-in forms, checkouts, and membership building features.
The significant distinction between Kartra and ClickFunnels is that Kartra has the potential to support your entire business, whereas the latter focuses on creating sales funnels.
Kartra offers a comprehensive solution to synchronize multiple functions in one platform and can be considered as an alternative to ClickFunnels.
When a person visits your Kartra page, the analytics feature on Kartra will keep a record of the visit. If they fill out your Kartra form, their contact details will be added to your newsletter subscription list through Kartra email.
Kartra provides the option to self-host your videos which eliminates the need for external video hosting services such as Vimeo or Wistia. Additionally, Kartra offers numerous funnel templates and a user-friendly drag-and-drop builder for easy layout customization. This sets it apart from ClickFunnels.
The tools referred to as One-time Offer (OTO), scarcity marketing, and behavioral marketing are known for their effectiveness.
The feature allows for the transfer of funnels and campaigns from one user's account to another.
An unlimited amount of sales funnels is available.
The package includes video marketing and a built-in calendar tool.
Conducting split testing for both subject lines and email body is a common practice.
An affiliate program can assist in obtaining and organizing affiliates to enhance product marketing.
The platform offers both native integrations and an extensive API.
Kartra offers four different plans at varying price points, but all packages have the same features. Differences arise only in the number of sales funnels, domains, bandwidth, hosted videos, and contacts allowed.
The Starter plan starts at $99 per month and goes up to $499 per month with the Platinum package. Customers can avail discounts on annual subscriptions and a 14-day trial period for $1 is also available.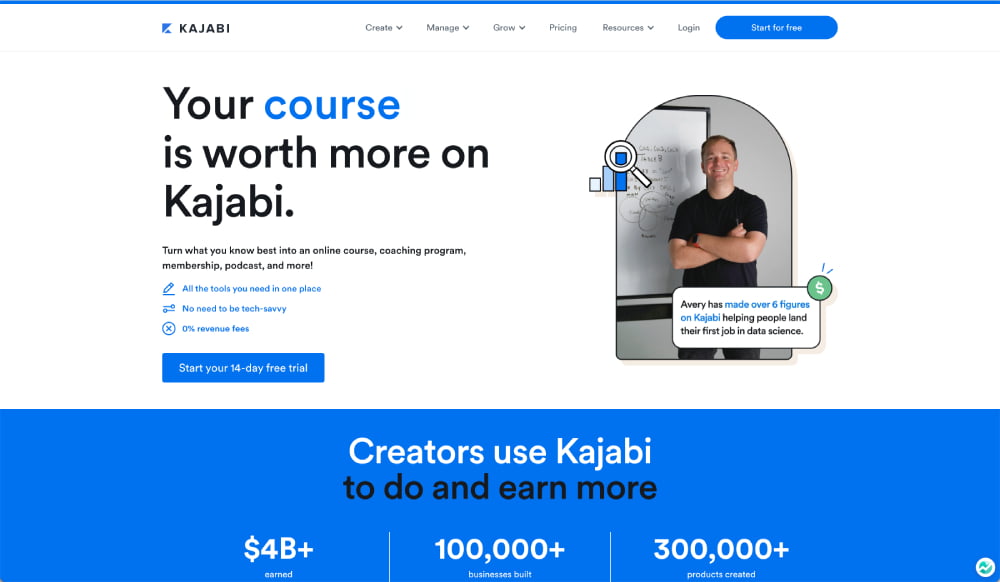 Kajabi is a comprehensive platform worth considering as an alternative to ClickFunnels, particularly for speakers, coaches, or authors who aim to enhance their digital presence.
Kajabi offers the ability to create and advertise products such as podcasts, memberships, coaching sessions, and courses. The platform supports formats like mini-courses, mentoring, and drip courses without any limitations on video hosting or bandwidth.
Kajabi utilizes the term "pipelines" to describe their funnels, which consist of email campaigns, landing pages, and offers. Each funnel contains prewritten content derived from successful sales funnels of the company's leading entrepreneurs.
The landing page builder of Kajabi is designed to be intuitive and user-friendly. It allows users to customize every detail of the page to ensure it looks great on any device.
The platform provides the option of creating cart abandonment emails to retrieve lost sales, promoting upsells and order bumps, as well as offering coupons to attract more customers among other features.
The available features include unlimited landing pages and marketing emails.
This range includes 3 to 100 funnels.
The number of contacts ranges from 10,000 to 100,000.
The number of active customers is up to 20,000.
Templates that are already designed aesthetically.
The page and funnel builder is designed to be easy for users to navigate.
There are no transaction fees.
The services provided include round-the-clock chat support and extensive documentation.
Kajabi offers three membership levels: Basic, Growth, and Pro. The monthly fees for each are $119, $159, and $319. You can try the service for 14 days at no cost. Additionally, Kajabi offers a 30-day money-back guarantee. Like ClickFunnels, Kajabi's pricing is considered expensive.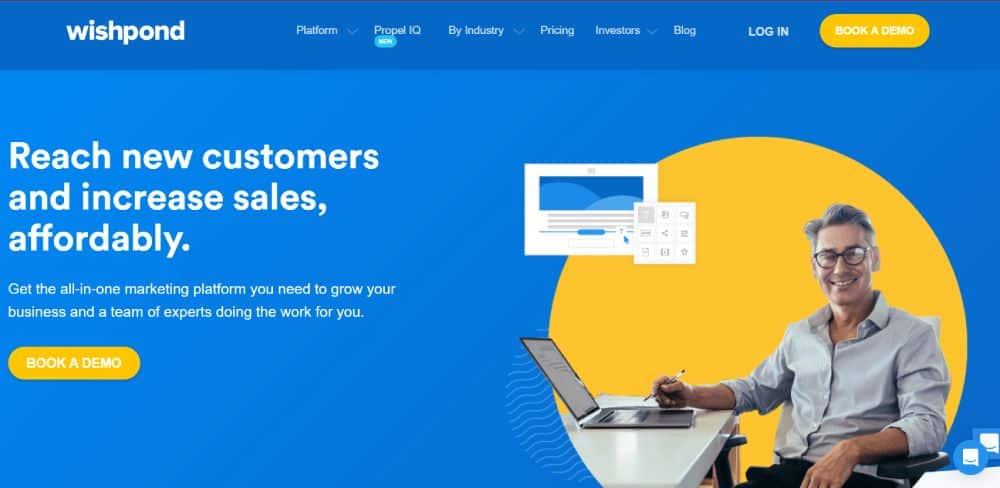 Wishpond is a marketing and lead generation platform that provides a variety of tools for tracking lead activity, creating websites, online forms, landing pages, social media campaigns, pop-ups and other features. This company caters to marketers looking for a ClickFunnels alternative with multiple features.
Wishpond has over 300 integrations with various tools, which includes email, analytics, sales, payment, and collaboration apps to ensure seamless integration.
Creating and publishing a landing page is a straightforward process that can be completed in minutes. There are over 100 mobile-responsive designs available to choose from, catering to various business types. Additionally, it's possible to create a landing page from scratch.
Wishpond's Contest and Promotion feature can aid in promoting your brand by incentivizing both existing and potential clients with an invitation to "Enter and win!" In addition, the Referral suite contains a range of tools that can enhance your online presence.
If you find Wishpond's vast array of features overwhelming, don't worry. You can reach out to their support team through live chat, email or tickets. Additionally, they offer self-help resources such as guides, blog posts, the Wishpond Academy and ebooks to assist you.
The conversion of leads into sales is contingent on real-time activity through automation.
The platform offers over 300 integrations, including Zapier.
This service has connectivity to over 30 marketing platforms.
It is possible to create landing pages optimized for mobile devices within a short amount of time.
The building contains pop-up elements and utilizes behavioral triggers.
The practice of A/B testing is commonly used in marketing and website optimization.
The features provided include unrestricted landing pages, site visitors, pop-ups, forms, user accounts, and social contests.
The marketing strategy known as drip campaigns.
Wishpond provides a free 14-day trial period for its premium packages, which are available in three options ranging from $49 to $199 per month and are billed on an annual basis.
In addition to the top-rated options, there are other hosted marketing solutions available that specialize in certain functionalities similar to those integrated in ClickFunnels.
The company is called Hubspot.
The word is "Ontraport".
The name of the company is GetResponse.
The word "Unbounce".
The word "Landingi" is stated.
Best ClickFunnels WordPress Alternative Plugins
For those who possess a WordPress site, there are plugins that can act as a replacement for Clickfunnels. These plugins grant users the ability to build their funnel on WordPress and make use of its customization tools. Furthermore, they tend to be more cost-effective than hosted alternatives offered by Clickfunnel, making it an economical option for small business owners.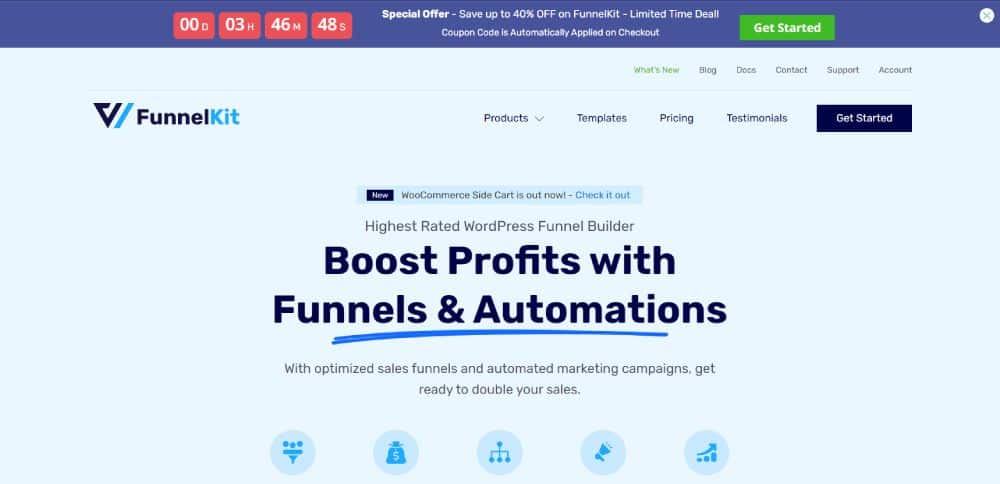 FunnelKit is a WordPress ClickFunnels alternative that offers various features for WooCommerce optimization like optimized checkouts, order bumps, upsells, opt-in pages, abandoned cart recovery, landing pages and more. The plugin also includes split testing that enables evaluating the effectiveness of copy, headlines and CTA's in terms of boosting conversion rates.
FunnelKit works with any WordPress builder, including Elementor and Divi. It's also compatible with other plugins used for building online courses or memberships. The plugin connects smoothly with payment processors like Stripe and Paypal as it is designed to work seamlessly with WooCommerce. Their support team is highly responsive, setting you up promptly.
The starting price for the product is $179 per year.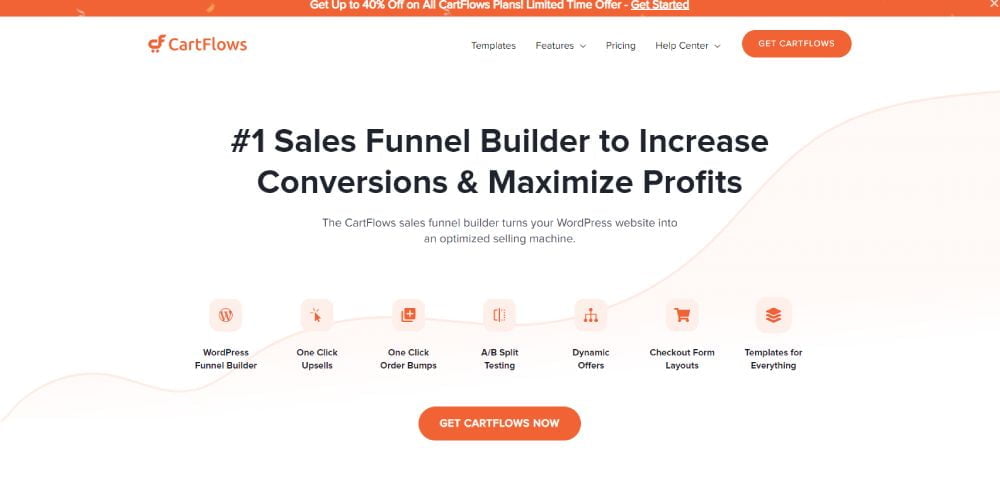 CartFlows is a cost-effective and user-friendly option for achieving similar goals as ClickFunnels.
CartFlows is a tool that offers features like sales funnel building, upsell addition, order bumps, dynamic offers, and cart abandonment email sending – all necessary for a successful online business.
The plugin has incorporated many features including a drag and drop funnel builder, A/B split testing tools, conversion templates, optimized checkout pages for user ease of use, as well as compatibility with various CRM, email platforms and marketing tools.
The cart abandonment features of CartFlows are helpful in minimizing lost conversions during the purchasing process.
Various resources are available, including documentation, a knowledge base, videos, a blog, and support from the developers themselves. These resources aim to aid you in maximizing the plugin's functionality.
The version that is available without charge.
Templates for various purposes are available, designed professionally.
This is a tool for building sales funnels through a drag-and-drop interface.
The usage of A/B testing and insight tools is recommended for optimizing results.
The page editor for checkout.
Tools for order bumping and upselling.
The offer feature is dynamic.
The function for abandoning a cart.
This software is compatible with commonly used CRM and email platforms.
CartFlows is available for a yearly payment of $299 or a one-time payment of $999 for lifetime access. The lifetime plan also includes a split-pay option and both plans are backed by a 30-day money-back guarantee.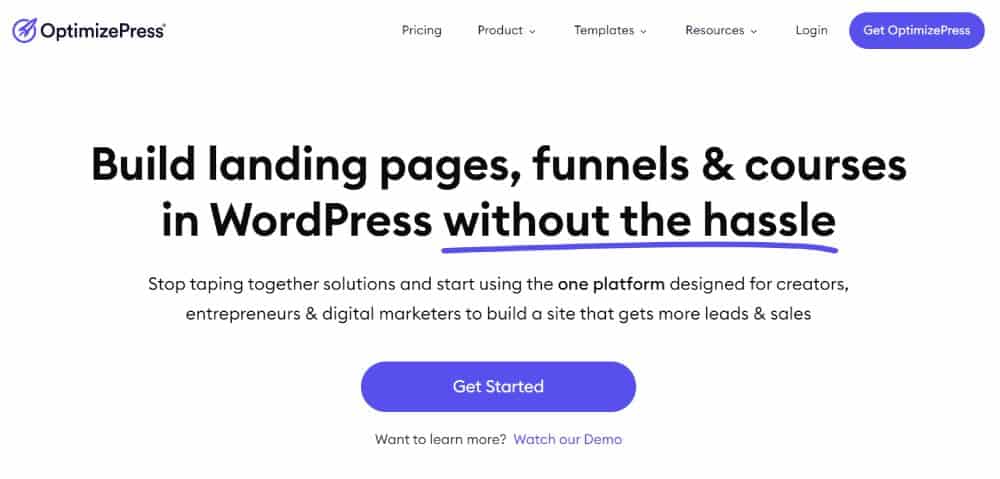 For those who utilize WordPress, OptimizePress is a cost-efficient alternative to ClickFunnels that can yield successful results.
OptimizePress is a plugin designed for WordPress that serves as a conversion funnel used by over 120,000 entrepreneurs. Its features allow users to create various types of landing pages, ranging from sales and registration pages to checkout and membership portals, including upsells and downsells.
The OptimizePress dashboard is designed with a simple and minimalistic interface that offers easy-to-use command options. Users can choose from over 250 pre-made templates, which they can customize to their liking. Additionally, the page editor is fast, allowing users to work on their projects in under an hour without the need to navigate to the sidebar consistently.
OptimizePress has a diverse library of building components that can be used for websites, sales pages, and landing sites, providing a significant advantage.
To contact support, there are two options available – using the website wizard or submitting a ticket. Additionally, self-help resources such as manuals and FAQ sections can also provide assistance.
This website is optimized for WordPress and designed with fast loading times in mind.
There are over 30 integrations available.
The software includes over 250 templates optimized for conversions.
This offer includes unlimited pages, leads, and traffic.
The methodology of conducting A/B split testing is commonly used in the field of marketing.
The study of conversion analytics.
"Two-step opt-in forms and boxes are commonly utilized."
Layouts that are compatible with mobile devices.
OptimizePress provides three different plans, namely Essential, Suite, and Agency Standard. The pricing starts at $99 per year and can go up to $399 per year. Unfortunately, there's no free trial provided; however, there's a 30-day 100% money-back guarantee included.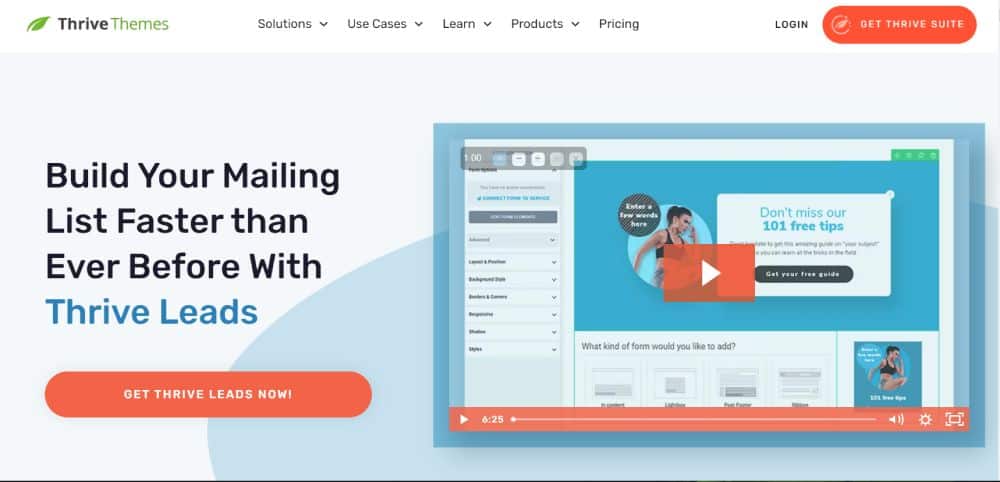 Thrive Suite is a platform that enables WordPress users to build sales funnels, and it serves as one of the ClickFunnels alternatives.
This particular landing page builder is an affordable alternative to ClickFunnels that can effectively convert website visitors into repeat customers on WordPress.
Thrive Suite offers a set of website-building and marketing tools along with other plugins, with a focus on conversions, to generate sales funnels.
The suite of products is referred to as the Thrive Collection.
An online tool for creating opt-in forms.
A tool for creating quizzes to generate leads.
The drag-and-drop page builder is a convenient tool that effectively enhances conversion rates.
You can incorporate both evergreen and time-specific countdown campaigns onto your website.
The landing page is capable of automatically gathering and showcasing testimonials that can enhance conversions.
Analytics tools for A/B testing are available.
The Thrive Suite provides the option to obtain access by paying and comes with a 30-day money-back guarantee, serving as an alternative to ClickFunnels.
The payment for this service is $90 every three months.
The billing cycle for this subscription is every 12 months, with a total cost of $228 annually.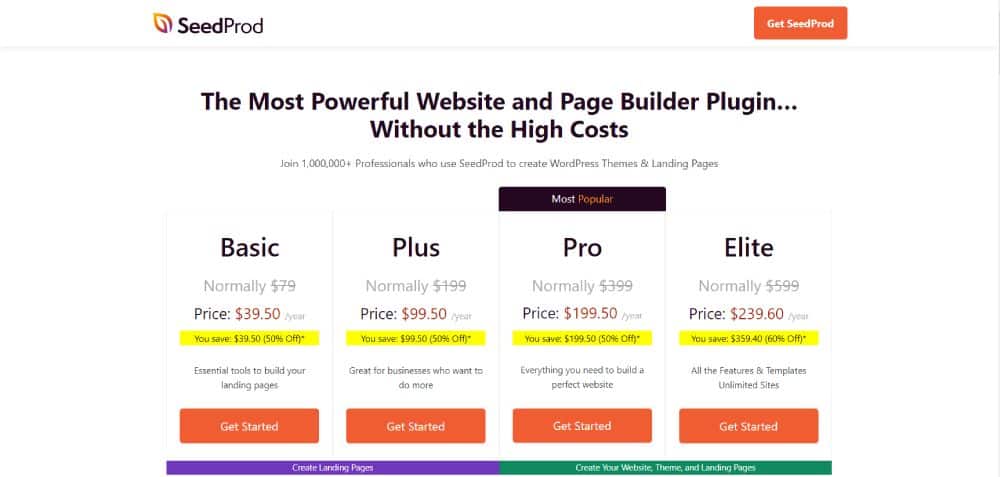 For those looking to create landing or sales pages without committing to a full funnel, SeedProd is worth considering. This WordPress builder simplifies the process of creating necessary pages for your business.
If you don't have any coding experience, the drag-and-drop editor is still easy to use. SeedProd can be integrated with WooCommerce to create custom checkout and product pages. It's also possible to design a WordPress theme using SeedProd. For more information, check out our comprehensive SeedProd review.
The pricing for the product commences at a yearly rate of $39.50.
The options available are Builderall, Elementor, and Divi.
There are various alternatives to ClickFunnels available for selection. These choices differ in terms of comprehensiveness, and one should consider their necessity of features before making a decision.
GetResponse is a recommended choice for email marketing and automation, given that it specializes in email services. However, Systeme.io and HubSpot also offer similar capabilities and provide free options to get started.
For those using WordPress and interested in professionally designed landing pages that drive results, Thrive Suite may be a suitable choice. However, it's recommended to explore these free landing page builders first if you only require landing pages.