Having the opportunity to promote tools or products that you have personally used and enjoy sharing with others can be a rewarding experience. Generating income through online product promotion, such as a funnel builder, email tool, or course, can serve as a valuable source of additional earnings.
Today, we will explore the DropFunnels Affiliate Program to understand its offerings, ease of sign-up, and whether it is worth promoting to your audience.
If you are in the field of video creation, network marketing, or blogging and are interested in generating a monthly recurring income by promoting a single product, this opportunity may be worth considering.
By the end of this article, you will be able to determine if Dropfunnels Affiliate Program is the right choice for you.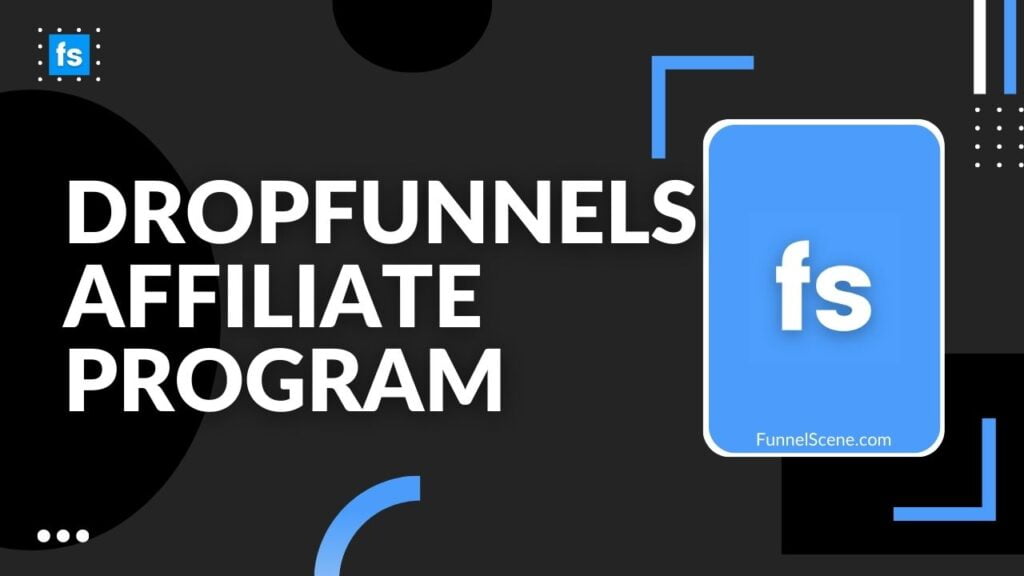 For a detailed evaluation of DropFunnels, please consult the DropFunnels Review. If you are short on time and prefer a condensed version, DropFunnels is primarily a WordPress-based platform focused on building funnels and landing pages.
It is possible to use it as a replacement for funnel building platforms such as GrooveFunnels, ClickFunnels, or Thrive Architect.
DropFunnels utilizes a drag and drop style builder, which simplifies tasks significantly. It is advisable to try it out before considering joining their affiliate program as firsthand experience with the tool can aid in the application process.
Who Is DropFunnels Used By?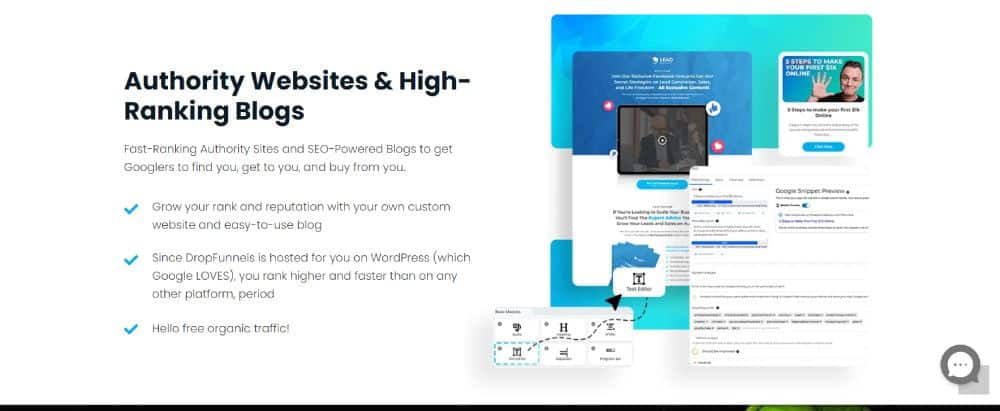 DropFunnels can be utilized by individuals or businesses with various requirements.
Collect emails.
Create a website, like a blog or sales pages.
Start a membership or course.
It has applications across various industries, niches, and for entrepreneurs, not solely restricted to affiliate marketers.
Professionals in dentistry, physical therapy, and window cleaning, like those in other industries, have utilized funnel builders to effectively schedule appointments with new clients, offer valuable information in exchange for email addresses, and accomplish various other goals.
How Do I Sign Up To The DropFunnels Affiliate Program?

To participate in the DropFunnels affiliate program, kindly complete the application on their official website.
The platform they utilize for managing and monitoring their affiliate applications, campaigns, and marketing material is called PayKickStart. If you already have an account, whether it be from promoting GrooveFunnels or other products on the platform, the application process is straightforward and hassle-free.
Creating a PayKickStart account is necessary, but it is free.
DropFunnels may require further information, depending on your promotion history.
Promotion Strategies
Experience levels
YouTube or social media channels
This is becoming a common practice nowadays, particularly due to the increasing competitiveness in marketing and promotion. DropFunnels specifically seeks active affiliates and appears to remove those who are inactive.
They also express a desire to prioritize the customer experience and platform over the affiliate program. This may be seen as a slight reference or criticism of ClickFunnels, who have faced previous scrutiny for their extensive affiliate program and lack of product updates.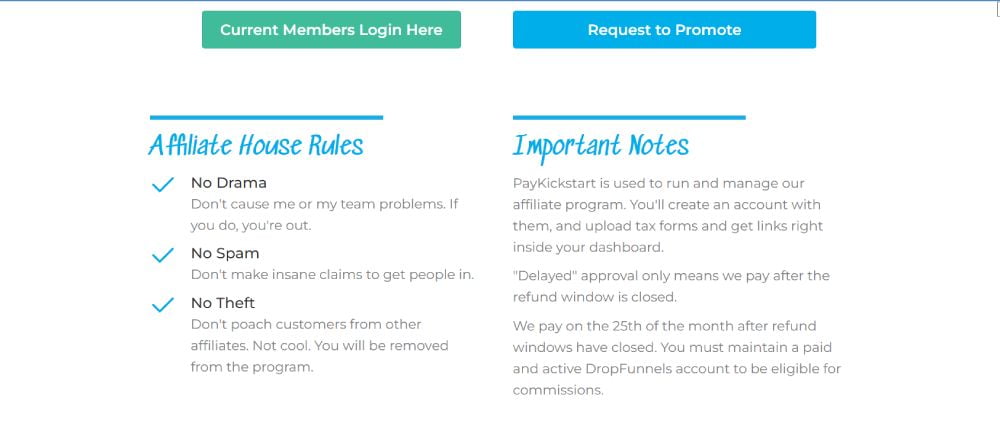 These are the additional bonuses included at no extra cost when you buy DropFunnels through my affiliate link.
Bonus #1: Unlimited Software-in-a-Box Membership Access ($1,997/yr Value)
The purpose of Software-in-a-Box is to assist individuals in generating high ticket sales and commissions.
Software-in-a-Box is a package of software products that can be used as bonuses to enhance your affiliate offers.
With an active DropFunnels account, you will have unlimited access to your personal Software-in-a-Box membership. This includes the ability to create unlimited Group Convert and Watcher Spy software accounts.
GroupConvert is a Facebook-based software that assists in building email lists through Facebook groups. This software is highly recommended as it allows you to capture emails from leads who want to join your Facebook group and send them to your email marketing software to initiate a follow-up campaign.
Watcher Spy is a chrome extension that allows users to track their favorite influencers. It can be utilized to pursue your Dream 100, generate fresh content ideas, acquire knowledge, forge profitable relationships, and expand your reach to new audiences.
Both Group Convert and Watcher Spy have high value and their Lifetime Accounts are currently priced at $197 each. Furthermore, Chris Fong has plans to expand the range of software available in Software-in-a-Box in the future, and customers will also receive additional rights to them. This will include his upcoming software, FP Affiliate Extractor.
Bonus #2: Unlimited ELMessenger Pro Access ($497/yr Value)
If you utilize Facebook for generating leads and sales online without paid advertising, then you may find ELMessenger Pro to be beneficial.
ELMessenger is designed for entrepreneurs who prioritize efficiency and want to increase their business's qualified leads and sales without relying on Facebook advertising.ELMessenger is a tool that transforms your Facebook messenger into a color-coded CRM, assisting you in effortlessly generating targeted traffic, leads, and sales through your Facebook profile.
Here is what ELMessenger Pro can do for you:
Automate certain tasks to save time and add efficiency, while still maintaining a personal touch.
Send automated friend requests to targeted individuals in your niche, along with a personalized welcome message using their first name. This way, you can prioritize your time on individuals who respond to you.
A method to reach specific members of a group is by utilizing profile tags that are associated with your target customers, such as Affiliate Marketer, Founder, CEO, Coach, etc.
You can effectively manage your messenger inbox by creating color-coded tags, such as "Follow Up," "Hot Lead," and "Interested." This allows you to easily identify individuals and track their position in your sales cycle.
You can easily organize your leads by tagging them, ensuring that you never miss a sale due to lack of follow-up.
It offers the convenience of having a virtual assistant available 24/7.
ELMessenger Pro is priced at $67 per month, while tools like Pepper range from $97 to $249 per month.
Bonus #3: Unlimited ELMLink Pro Access ($72/yr Value)
ELMLink is a link tracking software that enables users to shorten and track their affiliate links, along with the ability to create personalized and easily customizable pages.
It can be compared to a combination of Bitly and Linktree, but with significantly more capabilities.
ELMLink assists in a variety of tasks.
Create a webpage that includes links to all your important information.
The option to create short links is available, and can be easily enabled or disabled.
Make small funnels.
Create small membership training sessions.
Products can be sold by incorporating customized HTML checkout forms.
You have the option to add additional social media channels like YouTube, Twitter, Facebook, Twitch, TikTok, LinkedIn, and more.
Tracking referrers, country, device browsers, languages, and operating systems is a straightforward process.
Please conduct an analysis of the data for unique visitors and impressions.
Can you please provide the schedule links for the launches as soon as possible?
There are additional items available.
The tool typically has a monthly cost of $6 and is comparable to Link Wizard, which has a monthly cost of $47.As an additional benefit, active DropFunnels users will have free unlimited access to ELMLink Pro.
Bonus #4: Unlimited ELMOptimizer Pro Access ($288/yr Value)
ELMoptimizer is a comprehensive web analytics tool that allows you to track user activity on your website, including session replays, heatmap collection, and more.
This tool is comparable to Google analytics, but it features a more streamlined and user-friendly interface.Unlike Google Analytics, this tool tracks your visitors' sessions, allowing you to observe their journey through your funnel.
The items on which they click.
The way in which they interact with your sales funnel.
Their preferences and areas of confusion.
ELMoptimizer offers the feature of session replays, allowing users to observe how their site is interacted with. This tool is priced at $24 per month, while Hotjar, a similar tool, costs $39 per month.
Bonus #5: Unlimited ELMatic Pro Access ($348/yr Value)
ELMatic is a web application that enables website users to showcase notifications, including genuine customer reviews.
According to statistics, doing this alone can increase the conversion rate of your funnels and significantly increase your leads and sales.ELMatic is a comprehensive software that provides social proof and utility widgets for all your needs.
It can be used for various purposes:
Generate personalized informational messages for your users with complete customization options.
Show your users the coupons to inform them that a sale is currently happening.
Displaying the number of people on your site can enhance trust among visitors.
Display your most recent conversions on your site to establish social proof.
Please display a small widget containing an informative YouTube video.
Allow others to share your content and increase traffic to your website.
Here is a testimonial from one of our clients to provide social proof.
The tool has a regular price of $29 per month and is comparable to Provely, which has a cost of $37 per month.
Bonus #6: Ultimate List of Recurring Affiliate Programs + White Label Rights (Worth $47)
This resource contains a comprehensive list of over 130+ lifetime recurring affiliate programs, tools, and services that can be promoted as an affiliate.
This list includes programs and services that operate on a subscription-based model and provide affiliates with monthly payments for each payment made by their customers.
This list is significantly large. Lifetime recurring affiliate programs are beneficial for generating a substantial passive income online.
To achieve success in affiliate marketing, it is important to regularly discover and incorporate new recurring affiliate programs into this list.
Additionally, the list has been categorized for easy sorting and finding of the preferred programs you wish.
I can assist you in saving time by providing information on the best recurring affiliate programs that can help you earn money.
Furthermore, the white label rights to this resource will be included. This means:
The links can be replaced.
Utilize this as a lead magnet to expand your email subscriber base.
You can present it as an additional incentive to promote your affiliate offers.
One can generate recurring passive income online.
Bonus #7: Million Dollar Ad Swipe Library + White Label Rights (Worth $47)
The final DropFunnels bonus includes a collection of the precise Facebook Ads utilized by 40 internet marketers.
Inside, you will find Facebook Ads that have a high conversion rate.
The name is Russell Brunson.
The person's name is Kevin David.
The name is Dan Henry.
Peng Joon
There are additional options available.
You can review these Facebook Ads for inspiration when creating your own ads to increase traffic to your website.
Furthermore, the Million Dollar Swipe File also includes white label rights.
This indicates that it can be utilized as a lead magnet to expand your email list.
Additionally, it can be included as an added benefit to your affiliate offers.
As a bonus, I'll provide you with immediate access to the Million Dollar Ad Swipe as my seventh DropFunnels offering.
Bonus #8: Unlimited Personal Chat/Email Support (PRICELESS)
One of the benefits of my last DropFunnels bonus is the opportunity to receive personal support, coaching, and accountability.
If you purchase DropFunnels through me, I will provide you with my personal time, which I consider to be very valuable.
When using DropFunnels, you will have unlimited access to me through FB messenger and email at no additional cost, allowing you to ask any questions you may have.
Whether it's about traffic, funnels, or any current challenges with DropFunnels…
I will make an effort to ensure your success with the DropFunnels software, understanding that it can be confusing and overwhelming at times.
DropFunnels Bonuses Frequently Asked Questions
How Do I Get Your DropFunnels Bonuses?
Here is a guide on how to obtain my DropFunnels bonuses.
To access the DropFunnels homepage, please open the provided link in an incognito or private window.
Registration for DropFunnels is available.
Please send your receipt to my email address: [email protected].
I will send you the bonuses within 24 hours after confirming.
I will see you on the other side.
Will Your bonuses be available forever?
The availability of these bonuses is limited due to a fixed number of software licenses and Software-in-a-Box membership access. Once these resources are exhausted, they will no longer be available.
If they are present at the time of your reading, then the offer is currently available. However, please be aware that I reserve the right to remove it at any moment without prior notice. Therefore, please contact me promptly to receive your access today.