Get ready to step into a world of mystery and excitement with the mere mention of "Kickpages." This enigmatic software, wrapped in intrigue, stands out from the crowd, hiding in the shadows, eagerly awaiting exploration.
The digital landscape, like a vibrant tapestry, is a sight to behold. While giants like HubSpot hold their dominion, the emergence of gems like GrooveFunnels and ConvertKit shines with an awe-inspiring brilliance, poised to reshape the very fabric of the industry.
Let's see if Kickpages can compete with the big players in our review.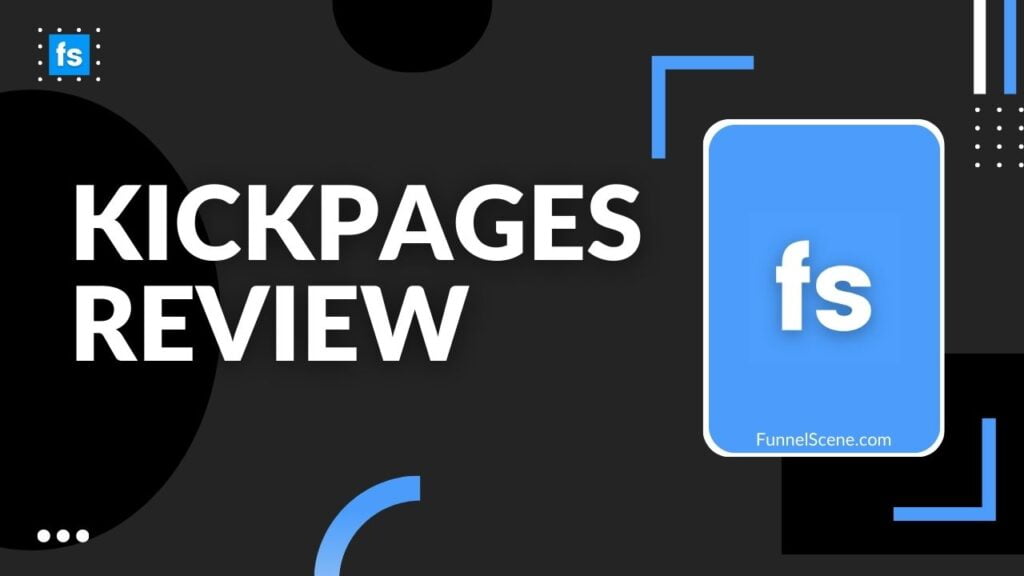 KickPages was founded in 2018 by Martin Crumlish. The company has a global design and development team as stated on its about page. The platform was created to address the issues of expense and lack of features found in other platforms, according to the founder.
Typically, third-party resources are utilized for supplementary research. However, it can be challenging to locate relevant information.
There is a website mentioning a person named Martin Crumlish. This website provides information about his experience and qualifications. However, it cannot be confirmed if this is the same Martin Crumlish being referred to.
After conducting a thorough search across multiple sources, including an inactive Facebook page, no results were found. The three posts available were dated back to 2019 and it can be inferred that the creators are from Ireland.
Their blog is still active, which helps them maintain the project to some extent. However, the landing page software creates a sense of unease, leaving me unsure of what to expect, which is a cause for concern.
Additional research is needed to determine whether this tool is valuable or if the project should be abandoned again.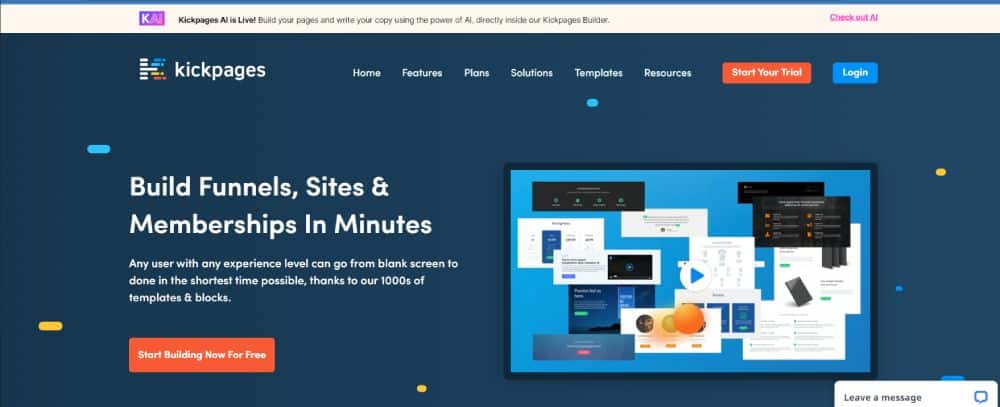 Who is Kickpages best for?
Kickpages is a suitable alternative to Clickfunnels for solopreneurs and small businesses looking for a cost-effective option. However, it is important to consider the company's unconventional marketing strategies, which may involve some level of risk.
There are concerns about this project being inactive due to a lack of marketing and interaction. However, the company behind Kickpages has announced on their blog that they will be adding templates over time. Despite this, there doesn't appear to be much progress from the company.
The tools themselves are reliable, but there is a possibility that the site could experience downtime. However, there is potential value to be found if you are willing to take the risk.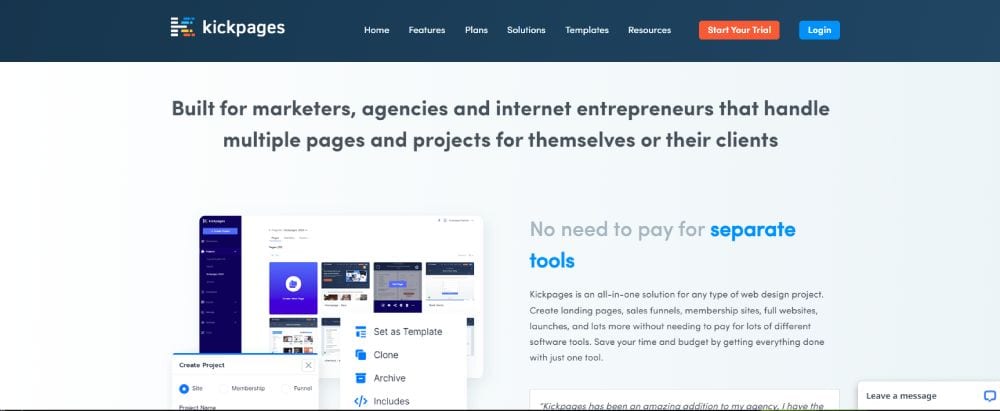 Pros:
There is a 14-day free trial available.
Refunds and cancellations within 30 days.
Page Builder is user-friendly.
Creating pages is easy.
Building courses is easy and flexible.
Cons:
The background has not been proven.
The lack of public presence is a cause for concern.
The tutorial resources are currently being worked on.
The builder is cluttered and has unnecessary menu items.
The editor operates on a grid system, which may have some limitations.
It is not possible to build from scratch.
The platform does not have integrated email marketing features.
Kickpages Pricing and Plans: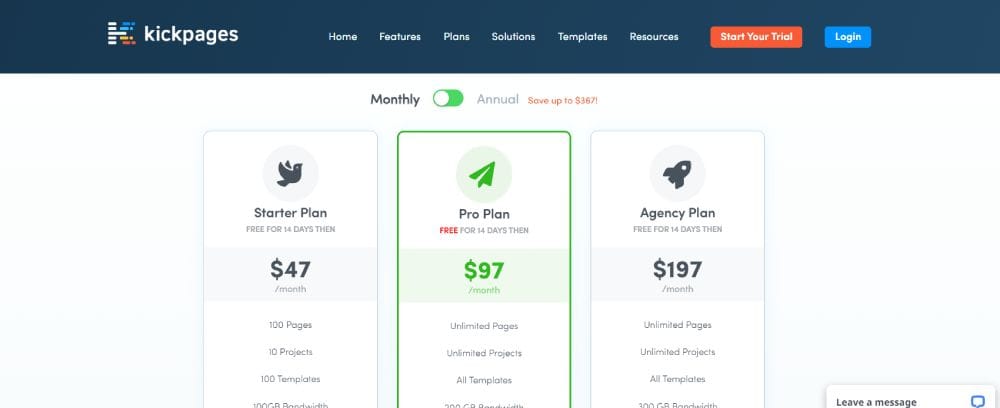 Kickpages offers three different plans for you to choose from. You can opt for either monthly or annual payments, and all plans come with a 14-day free trial period for you to try them out.
Kickpages offers a 30-day money-back guarantee, making it a no-risk opportunity to try for yourself, even if you pay for the first year or month.
If you choose to make a payment, here are three options available to you.
The Starter Plan:
The Starter Plan is priced at $47 per month. Here are the benefits included with this plan.
There are a total of 100 pages and templates.
There are ten projects available with custom domains.
The bandwidth is 100GB.
There are no limitations on the number of pages.
There are approximately 10,000 leads.
There are 100 design blocks.
These features are typical for an entry-level plan. However, the strength of this model lies in its emphasis on customer acquisition. There is no need to be concerned about spending too much to attract visitors, as there are unlimited visits available.
The Pro Plan:
The pro plan costs $97 per month and offers unlimited features.
No limits on pages, projects, domains, visits, or leads.
There is availability of design blocks and templates for use.
The available bandwidth is 200 GB.
There are three additional users.
Exporting pages is possible.
The plan offers numerous benefits and stands out with its unique feature of providing access to unlimited domains, which is not commonly found with other providers.
The Agency Plan:
The cost of the Agency Plan is $197 per month. With this plan, you can keep the unlimited items from above. The main benefit of choosing this plan is the ability to create ten user accounts. Additionally, you will receive 300 GB of bandwidth.
This review will provide a detailed analysis of the pro plan.
Getting started with Kickpages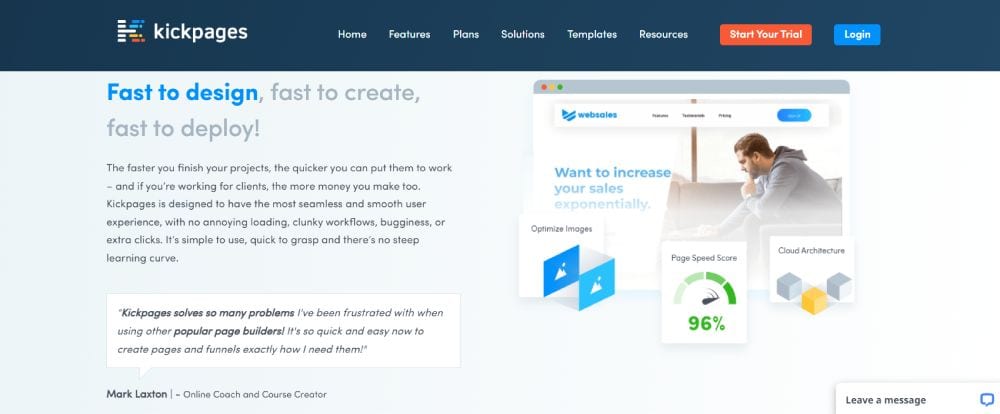 Kickpages has a layout that resembles typical dashboards and offers information on traffic and revenue, as well as access to various learning resources.
Kickpages University is not available now.
My big concern with Kickpages
Updates are expected, but more details are needed. Kickpages does not have an active social media presence, except for an inactive Facebook page. Moreover, their blogs do not provide any announcements about Kickpages 2.0.
Kickpages appears to have limited activity and engagement, which is unusual for a landing page builder. Typically, platforms like this require active promotion and consistent social media presence.
The lack of updates does not necessarily indicate that Kickpages will be around for the long term, as there is no evidence to support this.
To address this concern, the owner can utilize their digital channels. Providing regular updates on upcoming plans can help reassure users that there is a future for this marketing tool.
Creating a site on Kickpages

When you click the "create project" button on Kickpages, you are presented with three options: a regular site, a membership site, or a marketing funnel. Starting with a standard site, you will be asked to name the project, specify the number of pages, and optionally add a tag for sorting purposes.
After completing the initial stage, you will have the opportunity to name your first page. From there, you can select a page template from over 1000 options based on what is available in the pro plan.
Upon initial observation, there appear to be some discrepancies, as the quantity of templates provided is approximately 500.
There may be additional templates available, but we will assess their accuracy based on the information found on other project pages.
Before proceeding to the page editor, please choose the templates you wish to use. The final page will display your selection for confirmation before you click the "create" button.
Using the Kickpages drag-and-drop editor
The page builder presents a significant amount of information on one screen, which may feel overwhelming due to the clustered environment.
The allocation of screen space to tools affects the desktop view, resulting in a somewhat distracting work environment.
Navigating the page-building software
The straightforward navigation is due to the visibility of everything.
The left bar has elements, templates, and blocks.
Page elements like headers, text, images, and videos are the building blocks of your website. There are plenty of them here, so you can create an engaging website.
You can also choose templates that are the same as the ones you looked at before. If you want to start fresh, pick something from this menu.
Blocks are sections within templates that contain different design choices, and this is where Kickpages stands out with its 1000+ templates.
The top menu allows you to navigate, preview, save, publish, and download.
The right-hand menu has settings, undo/redo buttons, a delete site button, and a sign-out button. The "inspector" has style options and general information for different website elements.
The media gallery is my favorite part because it lets you access your images and videos without any extra cost.
I don't like the pointless menu items. The inspector button is useless because the menu opens automatically when you click anything on the page. Plus, why would you need to sign out from the builder page?
Rearrange the menu to make it less cluttered. Move the undo/redo and settings buttons, place the clear button under settings, and move the media gallery to the top. Removing the right-hand menu will free up more screen space.
Adding elements and editing elements on the page
Use drag and drop to add blocks and elements to the screen.
To edit page elements, simply click on them and a detailed edit screen will appear. This screen offers various editing options, such as adding a video URL, adjusting width, and enabling autoplay.
The building system used is grid-based, which means new items are placed relative to current items. However, there are no layout blocks, so you can't create a blank layout to place elements as desired. You can only start with a blank page.
When adding buttons, you have options for different link types. These options include external pages, internal pages, pop-ups, or different areas within the same page. These choices allow you to connect pages. Don't forget to publish the page in order to use internal linking.
When adding forms, the information collected is sent directly and securely. Password fields and required fields are available, although not necessary for these pages as they do not connect with your membership site.
Using the Foundry to build page templates
The foundry is one of the unique features of Kickpages, allowing for a quicker assembly of blocks.
The standard page builder has several features that contribute to its slower performance. The foundry addresses this issue by allowing you to organize your pages into blocks, enabling easy loading and future reuse.
This tool can be found by scrolling down the navigation bar and clicking on "tools," which may be a bit inconvenient. It is worth noting that there is no button for this in the main page builder, which may seem unusual.
Is the page builder good?
The page builder is quite reliable, which puts it on par with ClickFunnels. However, I found it to be cluttered, making it difficult to concentrate on your project. Additionally, I noticed a lack of blank layouts.
I do not consider these two issues to be a major obstacle. Landingi is better than other builders because it organizes automatically and solves my biggest problem.
Building a membership site on Kickpages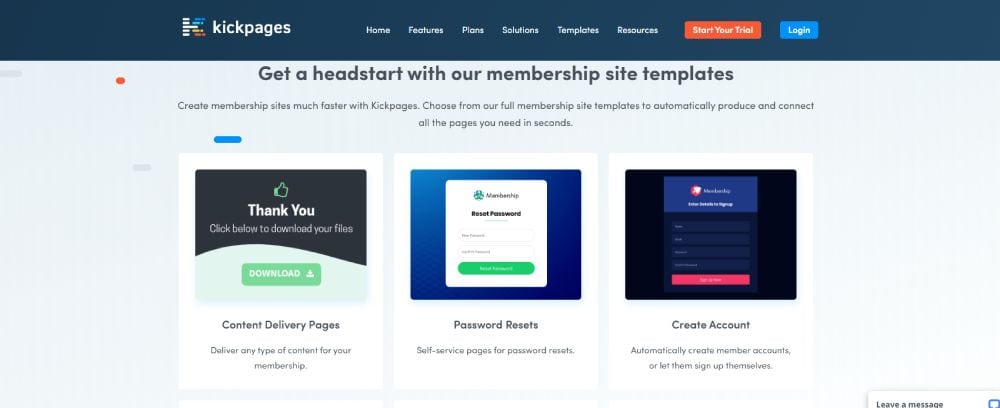 The membership site builder begins by providing you with basic information, assuming that you will be offering video courses. This is evident from the fact that it immediately asks for a content page video URL.
Users are given the choice to select from a variety of templates, although the number of templates available is smaller compared to traditional site-building methods.
After selecting a template, you have the option of creating multiple membership levels. These levels allow you the ability organize different types of content and determine who can access them. For instance, you can differentiate between an entry-level course and a higher-priced mastermind course.
After confirming the information on the last page, you can return to the standard page editor. Since both use the same system, we will not go into detail about course building.
However, it is possible to incorporate PDF files or text on the webpage instead, indicating that there is flexibility in terms of content formats.
Building a course is a straightforward and efficient process, allowing you to have your site up and running in a matter of moments. But what about funnel building?
Building a sales funnel on Kickpages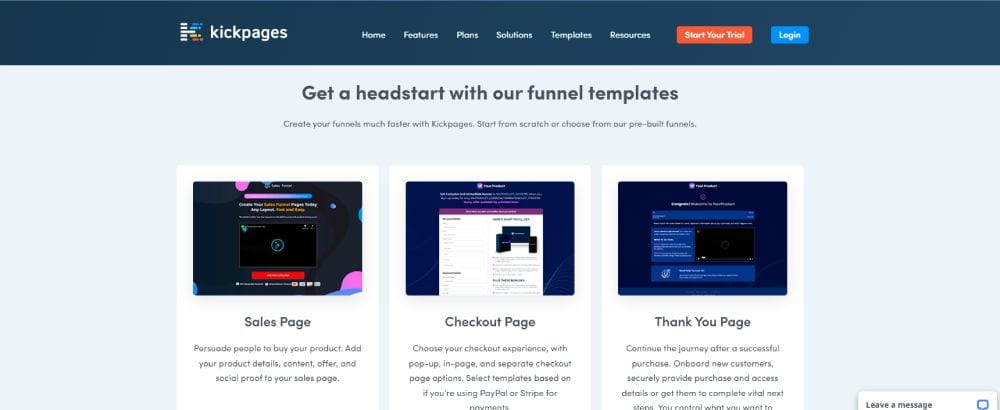 The main distinction between standard and funnel pages is their purpose: one is for gathering information and the other is for making a sale. Consequently, the process for creating a funnel is the same.
The only difference is two more options: creating products and integrating payments.
Kickpages allows you to add a URL and set prices for products on the same page, only in USD.
You can only use PayPal Business and Stripe as payment gateways. They are standard and accepted options, nothing unique.
After creating pages, you can access a page dashboard. The funnel page has the most information as it is the only page where payment data is collected.
This dashboard allows you to:
You have the ability to make changes to your pages.
Discover the mesmerizing web of connections between pages in the enchanting realm of the Builder.
Unlock the secrets to your website's success by delving into the captivating world of analytics and revenue.
Make sure to double-check all your forms and carefully review the data you've gathered.
Power up, power down, and customize your products!
Take a peek at your financial journey!
Please configure an automated email response, such as a receipt or a thank you message.
Please ensure that you regularly check and manage your payments and other integrations.
Using the manage tab on Kickpages
The dashboard navigation contains a section dedicated to assets and a tab titled "manage."
Get your hands on some assets! These are the goodies and templates that will make your website truly amazing. We're talking stunning images and user-friendly templates. Oh, and guess what? Kickpages won't host your videos, but no need to fret. You can effortlessly organize all your digital treasures under the collections tab.
Welcome to the manage tab, a treasure trove of eclectic wonders just waiting to be explored. Get ready for a wild and whimsical assortment of goodies!
Co-projects are a menu option that allows for the creation of collaborative site-building projects, providing a convenient way to share information with clients or marketing teams.
An archive is a collection of projects that are no longer in use or have been deprecated.
This is a list of integrations for payment, CRM, and email marketing platforms.
Leads refer to a compilation of customer information obtained from your forms.
Categories are used to organize websites.
Coupons are utilized as a means to create coupon codes for sales funnels.
The "manage" tab contains a variety of useful tools for organizational purposes.
It should be noted that there is a lower than average number of site integrations available with Kickpages. However, considering its relatively young age, it is compatible with some powerful tools.
Accessing your account settings
Below that, there is an option for general account settings. Each menu item has its own purpose and functionality.
The app settings include options for subdomain adjustments, autosave features, and email notifications.
The Users and User Roles feature allows for the addition of users and the definition of their roles.
Domains store your custom domains for application to websites.
Published pages include a list of pages that have been published by clicking the "publish" button.
One of the useful features of this list is the option to create various user roles, link them to users, and notify them via email to provide them with a subaccount.
The roles you can select provide them with similar access as yourself, excluding account and billing information. You can also restrict their access to certain sections or give them view-only permission, which is useful for allowing clients to view the site without being able to make changes.
What do users say about Kickpages?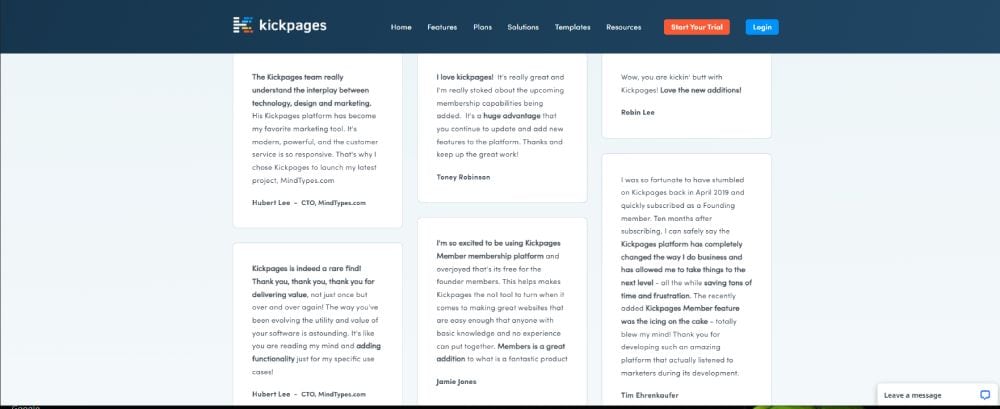 Based on the limited number of reviews across Capterra, G2, and Facebook, it appears that Kickpages is a page builder with positive feedback. However, in order to reach a consensus, more reviews are needed. Therefore, it seems that Kickpages may have a relatively small user base.
The majority of these reviews were received during the company's marketing push between 2019 and 2020. However, due to various distractions, the company's presence has declined.
Overall, Kickpages appears to be a well-designed page builder with a range of features. Reviews on Capterra unanimously rated the product at 4 or higher out of 5 stars. On G2, users gave it a 3.5 out of 5 star rating, while Facebook reviews were mainly positive.
The main criticisms from customers include pricing and customer service responsiveness. The company also faced criticisms for not having a mobile app.
From the limited reviews available, Kickpages appears to be a decent page builder with a focus on simplicity and ease of use. However, due to the small number of reviews, it is difficult to accurately assess the quality of the product. Therefore, further research and more comprehensive reviews are needed before making a decision about this product.
FAQs (Frequently Asked Questions)
Is Kickpages worth the money?
After a general review, it is evident that significant effort and consideration were put into the development of the Kickpages toolset. It features solid organization, satisfactory page editing capabilities, and straightforward integrations. However, when evaluating its value for the price, there are some notable concerns regarding confidence.
The lack of social presence suggests that the owner may not be involved in the project. It is possible that another more profitable project has arisen or that the company is preparing for another marketing campaign. The absence of information provided to the public does not inspire confidence in business owners.
Due to certain uncertainties, it is difficult to determine the value of Kickpages. There is a sense of potential risk involved in choosing them, as there is a possibility of the website being taken down in the near future.
However, I hope that my assumption is incorrect and that the effort put into the builder is not wasted. I wish Kickpages and its staff the best of luck in their future endeavors.