Strategic marketing techniques can improve the online sales process by focusing on checkout conversions.
While traditional websites may have advantages for eCommerce and info product sellers, they can present challenges in directing customer attention to a specific product or service. Sales funnels can be a useful tool in guiding customers towards a desired action, such as completing a purchase.
Creating an effective landing page for an online business may pose challenges for those without coding skills or an ecommerce platform.
Efficiently transitioning from informative to persuasive language is important for maximizing sales as extended attention spans are not beneficial for either consumers or the sales process.
Online businesses utilize ClickFunnels and SamCart to optimize their sales funnel strategies.
Two sales funnel platforms, SamCart and Clickfunnels, are being compared to determine which one is best for online product sales. These platforms streamline the marketing campaign process for marketers.
This article will provide a comparison between ClickFunnels and SamCart, highlighting their differences beyond credit card processing and purchase button design. Our aim is to help you choose the most suitable marketing platform to boost your sales.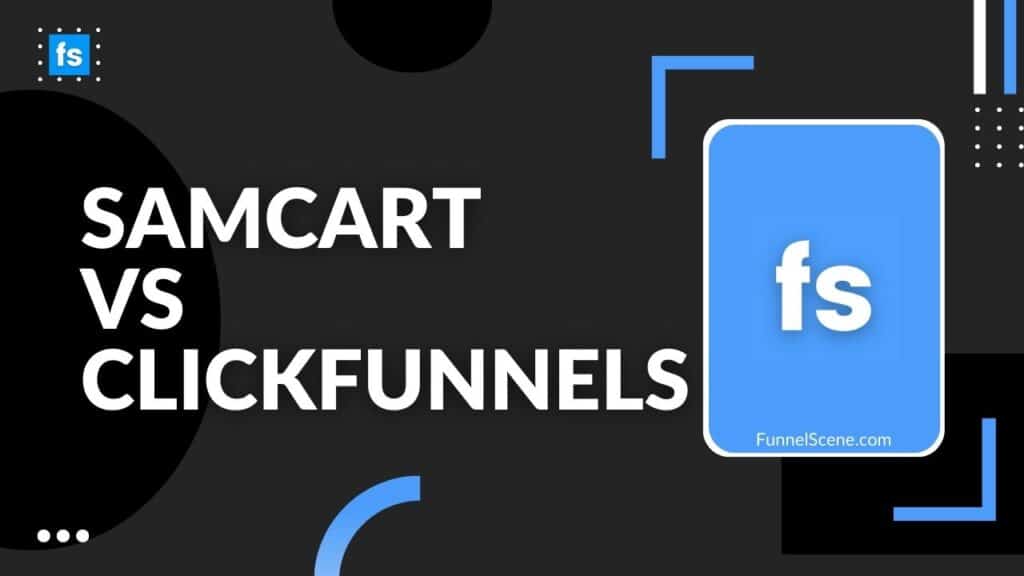 ClickFunnels vs SamCart Differences
To effectively use ClickFunnels or SamCart, it's important to have a clear understanding of the fundamental differences between the two platforms.
In the following section, we analyze the distinctive characteristics that distinguish these two services:
ClickFunnels provides a complete platform for creating sales funnels, while SamCart focuses mainly on post-checkout checkout and landing pages.
A comparison of pricing plans reveals that SamCart's costs are lower than Clickfunnel's Startup and Etison Suite plans (now named Clickfunnels Platinum).
SamCart and ClickFunnels differ in their checkout and shopping cart abandonment features, with SamCart offering more extensive options.
ClickFunnels provides a wider range of features and flexible drag-and-drop tools, while SamCarts is perceived as less flexible.
ClickFunnels offers email marketing automation capabilities, whereas SamCart only allows for email integration with third-party email service providers.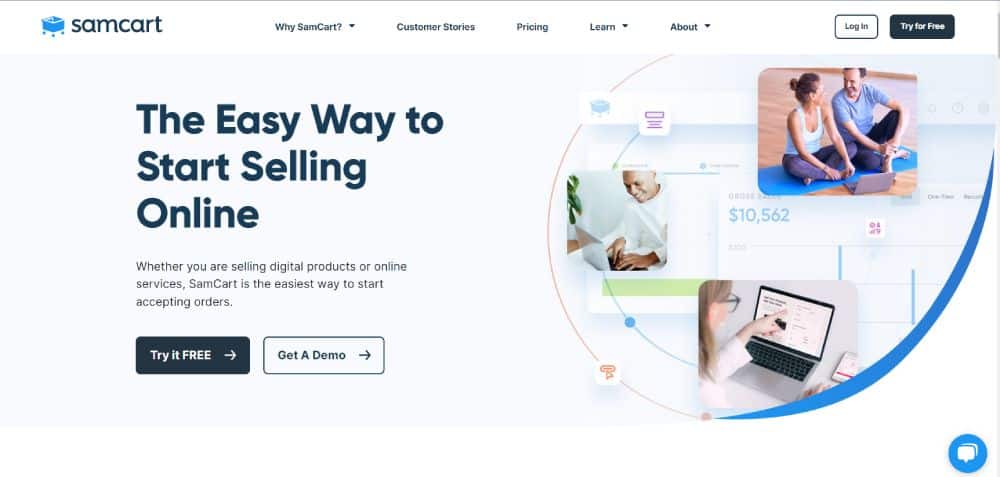 SamCart is an online service that offers checkout page hosting for businesses. The checkout page is an important factor to consider in converting visitors to paying customers, in addition to the website or sales funnel.
SamCart is a company that specializes in creating checkout pages that have a high conversion rate by focusing on simplicity. Due to the high number of web users abandoning the purchasing process after placing a product in the shopping cart, a practical design is crucial.
SamCart provides essential funnel features such as shopping cart abandonment and marketing automation, as well as A/B split testing, down-sell pages, and one-click upsell options. However, it is not a conventional A-Z sales funnel builder.
The landing page software is limited and unable to create opt-in squeeze pages or traditional sales pages.
SamCart's checkout platform offers advanced features such as abandoned cart tracking and one-click conversions.
SamCart is a useful tool for eCommerce shop owners who face challenges during the checkout process. While it may not have an extensive range of sales funnel features, it can be easily integrated with email marketing platforms.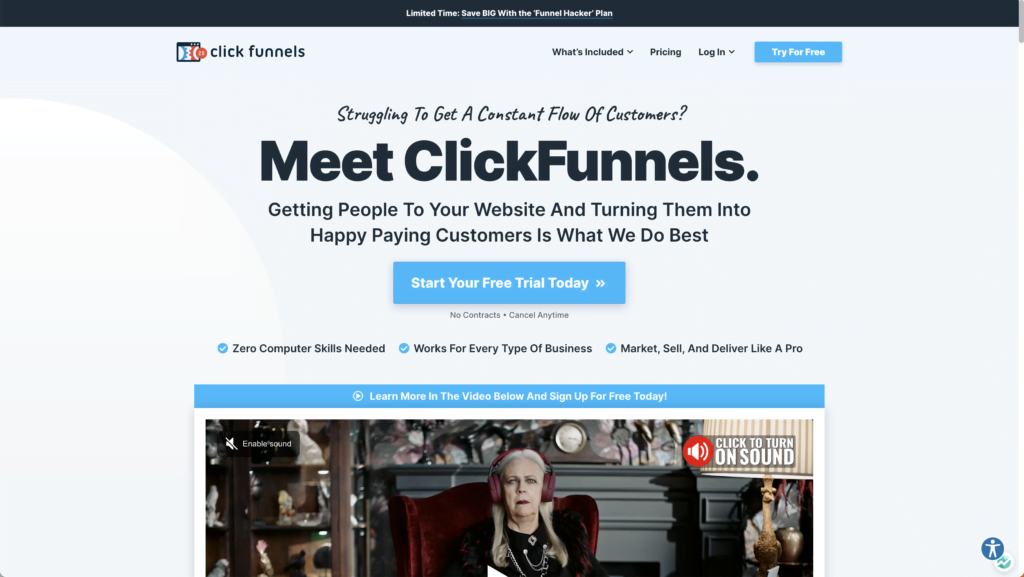 ClickFunnels is an eCommerce platform that enables users to create and oversee complex sales funnels.
The system appeals to online business owners without prior experience in creating successful landing pages.
ClickFunnels is a tool that specializes in creating sales funnels aimed at converting website visitors into customers, without the need for multiple website elements.
ClickFunnels is a platform designed with intuitive designs and minimal distractions specifically for creating sales funnels that generate high conversions.
ClickFunnels users often pair the platform with a paid advertising campaign to easily monitor ROI and identify the most effective funnels.
ClickFunnels has developed a streamlined and user-friendly purchasing process for customers.
Samcart vs ClickFunnels Features Comparison
To understand the comparison between SamCart and ClickFunnels, it is important to examine the distinctive characteristics of each platform. A closer examination of the various elements has been conducted.
Page Builder and Sales Funnel Templates
Some companies experience difficulty retaining consumers on their checkout pages, potentially due to inadequate optimization of conversion features despite functional pages.
SamCart offers a checkout page builder that prioritizes design, functionality, and conversion to address the issue.
SamCart offers the option to create one-page checkout layouts using either single-column vertical patterns or multiple columns.
The different layouts address different concerns, such as adaptability and screen dimensions.
SamCart's themes are designed to be mobile-friendly, customizable, and compatible with various media formats such as images and videos.
SamCart offers the option to incorporate trust seals on checkout pages, which may enhance customer confidence and alleviate any concerns during the transaction process.
SamCart has a feature that enables the addition of pop-up pages during checkout, potentially boosting engagement and reducing cart abandonment rates. Additionally, the checkout page can be accessed as required.
The ClickFunnels platform categorizes templates based on objective and funnel stage, as opposed to using a singular template.
ClickFunnels provides a range of pages, such as a squeeze page, purchase page, sales page, order confirmation page, and thank-you page, along with the checkout page.
On ClickFunnels, order pages are distinct from checkout pages. It offers more order template options in comparison to SamCart, where users may select prebuilt or blank pages and then personalise them with the drag and drop editor.
SamCart offers a notable advantage with its straightforward process for creating checkout pages that are optimized for conversions. Additionally, its checkout process is structured to fit on a single page.
Despite this, ClickFunnels fulfills the necessary functions of a Checkout page, resulting in a mutually beneficial outcome for both parties involved.
Analyzing your sales plan and split testing various product versions can be an effective technique for online business owners to increase conversions and boost sales.
A/B testing, also known as split testing, is a marketing strategy that involves dividing your audience into two groups to evaluate multiple campaigns and determine the most effective one.
Completing this task with ClickFunnels is easy, and can be accomplished without the use of a mouse.
SamCart simplifies the optimization process with a straightforward interface that requires only a few changes. This practical approach has improved the optimization experience.
Both platforms exhibit the same level of ability in performing A/B testing.
One limitation of SamCart is that it lacks a built-in autoresponder, meaning it cannot be used for sending emails or follow-up sequences to customers.
In order to complete those tasks, third-party integrations such as Aweber, MailChimp, or Convertkit are necessary.
SamCart does not have a marketing automation feature, requiring integration with other tools such as HubSpot or Ontraport to automate the marketing flow.
ClickFunnels has a sequence builder for follow-up orders, but it lacks a graphical automation builder present in many other funnel-building programs, such as Kartra.
ClickFunnels offers email follow-up pipelines that allow users to group and tag leads for easier organization.
ClickFunnels offers over 40 software integrations for marketing purposes, which facilitates the delivery of broadcast emails.
ClickFunnels includes automation tools, although it may not be as sophisticated as other sales funnel development applications such as Kartra.
ClickFunnels has been successful in this area and offers various integrations to enhance your sales process.
Sales And Conversion Feature
When it comes to improving conversions with methods like upselling, cart abandonment tactics, and promotional offers, ClickFunnels appears to outperform SamCart.
The SamCart upsell page layouts are designed efficiently, offering a streamlined purchase process for customers, although lacking in variety.
ClickFunnels provides various features aimed at enhancing conversions, including Actionetics, an independent email marketing tool, and Click Optins.
ClickFunnels offers a unique feature called Click Optins that allows for direct opt-in from emails, rather than redirecting users to a separate opt-in site.
The same goes for cart abandonment. SamCart has a basic feature, but it's not as advanced as ClickFunnels. On the other hand, ClickFunnels provides an automated cart abandonment system with a countdown timer and two-step checkout process.
Finally, when it comes to boost offers, ClickFunnels shines compared to SamCart.
The SamCart conversion boosters have limited funnel features and are effective, while ClickFunnels offers more advanced features for a more profitable sales process.
Listing Digital And Physical Products
The listing of services and products on your shopping cart website can significantly impact the success rates of your marketing and sales process.
Select the appropriate system for generating attractive landing pages, showcasing your products, and streamlining your sales process.
To utilize SamCart's features for digital product marketing and sales, users must first log in to the website and navigate to the "New Products" section on the dashboard. From there, they can input necessary details about their product.
The product is referred to by its name.
The word "price."
The sentence above pertains to a description.
The type of product.
The process includes uploading a picture and selecting a payment method, which can be recurring monthly or weekly. Additionally, the system enables users to set discounts and coupons.
SamCart offers various eCommerce features, including partial refunds, monthly subscriptions, and CRM connectors, among others.
What is your opinion on ClickFunnels?
The process of uploading a product's information on this platform is straightforward.
To provide details about the product, begin by clicking "Product Details." This will allow you to add a title, set a price, and access other features such as volume limits and the bump tool.
To get started, it is necessary to create your product, design an order form, and set up a payment gateway. ClickFunnels provides a tutorial to assist with these tasks.
SamCart has a straightforward, systematic, and user-friendly interface, but in the comparison with ClickFunnels, the latter comes out as the winner due to its multiple areas of functionality.
When working in marketing, it is crucial to choose a shopping cart platform that offers advanced reporting capabilities in order to effectively monitor, analyze, and improve sales data.
The basic SamCart plan provides sales reports, but upgrading to a higher plan grants access to all necessary data for sales and conversion analysis.
The reports are categorized into various sections including traffic, date, product, and subscription by the system.
Exporting reports is a straightforward process. The reports can be saved as CSV files or can provide more in-depth information about sales funnels.
The "Grow" and "Scale" plans from SamCart include reports upon purchase.
The subscription provides information on the workings of memberships, free trials, payment plans, and other related items.
The report containing information about payments can be accessed from the "Activity" drop-down menu. It allows you to track payments, their sources, and planned collections.
This report on traffic helps locate sales and track UTM codes gathered from sites using the referrer's database. The UTM chart displays this information.
ClickFunnels offers comprehensive analytics reports that are user-friendly and provide detailed insights on various metrics, including conversion rates and orders.
One advantage of this platform is its user-friendly features that enable the tracking of sales funnel performance immediately upon launch.
SamCart's reporting system is easier to comprehend compared to ClickFunnels', which makes it a more viable choice for individuals who are new to this.
ClickFunnels provides advanced analytics and report tools, making it a preferred choice for experienced marketers.
When considering the use of affiliates, it is recommended to choose a system with an appropriate affiliate management solution. A comparison of the performance of SamCart and ClickFunnels can be made.
The affiliate management set of SamCart is designed in a way that is easy for new users to understand.
The dashboard allows for affiliate activation or deactivation for multiple products, and provides a summary of significant affiliate metrics and overall earnings.
The premium subscription offers a significant advantage as the affiliate center provides access to a group of affiliates who can aid in selling your services and products.
In order to access this particular feature, it is necessary to subscribe to the "Scale" subscription, which is priced at $199 per month.
Affiliate marketing is a common strategy used by businesses to increase revenue, particularly when offering competitive compensation.
The "Backpack" feature of ClickFunnels enables the creation of affiliate links, but it is only available on their higher-priced plans. Those who wish to utilize affiliates must subscribe to the more expensive plan.
ClickFunnels' affiliate center uses sticky cookies to identify and track consumers who have previously made purchases through the affiliate link.
The sticky rookies allow affiliates to earn ongoing commissions on additional purchases made by a customer.
One of the unique features of ClickFunnels is a major factor that could influence the decision of an online marketer to choose it over SamCart.
The affiliate center offered by ClickFunnels is notable. For those who primarily earn through affiliate marketing, it may be beneficial despite only being available with the platinum plan.
When choosing a solution for your company, it is important to carefully evaluate its integration capabilities.
When choosing a platform, it is important to select one that can easily integrate with other marketing tools and applications in your technology stack.
By utilizing Zapier connectivity, it is possible to integrate all of your services and applications, even ones that may not have direct compatibility with SamCart or ClickFunnels.
SamCart provides integrations for a wide range of features.
Accepted payment methods include PayPal, Braintree, and Stripe.
Some popular email marketing tools include Hubspot, MaroPost, Drip, MailChimp, and Ontraport.
These are examples of membership sites: Kajabi, MemberMouse, and Thinkific.
Two examples of fulfillment services are ShipStation and Zapier.
A webinar featuring Zapier and Kajabi will be taking place.
Using SamCart's sandbox feature to verify the functionality of your sales funnels is a crucial step prior to publication.
Stripe offers the ability to conduct payment tests without affecting statistics. However, ClickFunnels lacks this feature, giving SamCart an advantage.
ClickFunnels offers various integration options.
The accepted payment methods include PayPal, EasyPayDirect, Stripe, as well as Apple and Android Pay.
In addition, ClickFunnels has the ability to integrate with various marketing automation tools, payment gateways, checkout pages, autoresponders, and e-commerce platforms such as Clickbank and Shopify.
The system has the capability to seamlessly integrate with WordPress for the creation of an e-commerce website.
Based on a thorough analysis of the available integrations, ClickFunnels emerges as the victor in this particular category.
This is a shopping cart page builder with excellent features.
The platform offers one-click upsells, abandoned cart, and order bumps as features.
Managing affiliates.
This product offers extensive integration capabilities with email marketing tools.
The basic plan for this service starts at $19 per month, making it more affordable than ClickFunnels.
There is a variety of checkout pages that have been optimized.
This product is user-friendly.
There are no features for marketing automation.
The affiliate center is exclusively accessible with the $199 per month subscription suite.
This sales funnel builder has comprehensive capabilities, including the ability to build landig pages and manage market automation.
The website includes checkout pages.
There is a diverse selection of pre-made funnels available.
This product has a user-friendly interface.
Pages designed for one-click upsells.
The affiliate program is strong and efficient.
The check out page feature of this shopping cart is not as comprehensive as SamCart's.

The option for affiliate management is exclusively offered in the $297 per month package.

The price is higher in comparison to SamCart.
When comparing SamCart and ClickFunnels, it's important to consider pricing in order to choose the best shopping cart platform for your business.
Examining the various pricing plans allows for ensuring that you receive full value for your money.
SamCart provides a 14-day trial period and offers various subscription plans starting at a monthly fee of $59, which includes different levels to select from.
Launch ($59/month): This option is suitable for starting your business. It allows you to design a single webpage for displaying your products on the internet.
Grow ($119/month): SamCart's most popular package includes features such as bump orders and post-purchase one-click upsells that aim to increase the conversion rate and enhance the value of transactions.
Scale ($299/month): The Scale plan includes essential features for eCommerce businesses, including A/B testing, cart abandonment, and an affiliate center.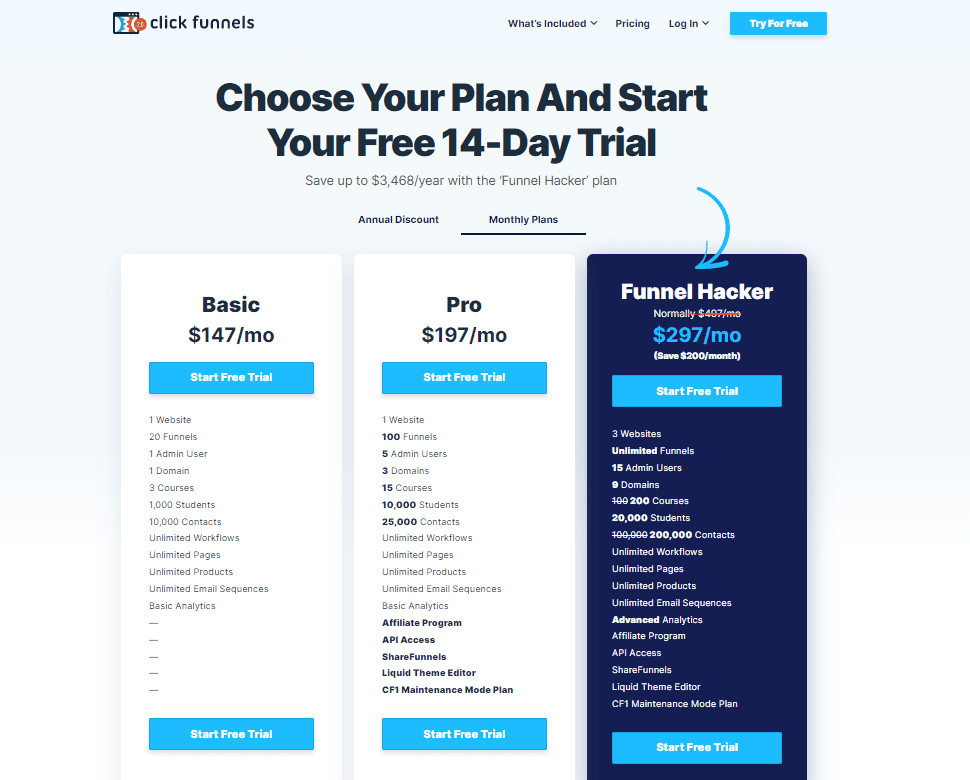 Like SamCart, ClickFunnels also offers a 14-day free trial, and both these platforms require you to insert your credit card information to use the trial. However, the pricing between the two is very different. Pricing for ClickFunnels starts at $147/month, and the various plans are as follows:
Basic ($147/month): This is ClickFunnels' basic plan includes everything you need to build and share up to unlimited pages and 20 sales funnels. This plan also consists of 1 domains.
Pro ($197/month): Formally called the Etison Suite plan, this plan comes with 100 funnels and unlimited pages (even with conversion-optimized checkout pages, upsell pages, landing page, and sales funnels) 3 domains. You can also build unlimited follow-up funnels and get priority chat support.
Funnel Hacker ($297/month): This plan is designed for businesses that want to sell at scale. It has unlimited funnels and pages, and 9 domains. It also includes priority support via chat and phone and hours of additional training for maximizing your sales.
SamCart is great for businesses that are just starting out and need a simple platform to get their eCommerce business off the ground. On the other hand, ClickFunnels is more suited for those who want to take their business to the next level with an expansive range of features. Ultimately, it will depend on your budget and needs in order to make the best choice.
Frequently Asked Questions:
Which is more expensive, ClickFunnels or Samcart?
The pricing plans for Clickfunnels and Samcart vary, with Clickfunnels' entry-level plan starting at $147/month and Samcart's starting as low as $59/month.
The Basic plan of Samcart does not offer features such as one-click upsell and split testing, as well as limited access to the affiliate center and subscription. These features are only available on the Premium plan.
When evaluating Samcart's plans, it's important to take into account how they align with the needs of your business and the desired features.
SamCart does not provide hosting or webinar capabilities for digital products, while ClickFunnels offers a members' area feature for monetizing knowledge.
SamCart does not provide any native marketing automation tools, but allows for integration with other preferred tools.
Is ClickFunnels Better Than Samcart?
The answer to this question is subjective and dependent on personal goals.
When comparing ClickFunnels and Samcart as marketing software, ClickFunnels appears to be superior overall. However, Samcart excels specifically as a checkout platform.
Which is better for building funnels – ClickFunnels or Samcart?
ClickFunnels was created with the purpose of creating funnels.
When it comes to building professional, checkout, and one-page funnel, it is important to consider which option is better. However, Samcart may not be the best choice in this department.